Air fryer waffle fries come out hot, crispy and so crunchy you'll never go back to your old cooking method. Cook frozen waffle fries in the air fryer without the oil, in ten minutes.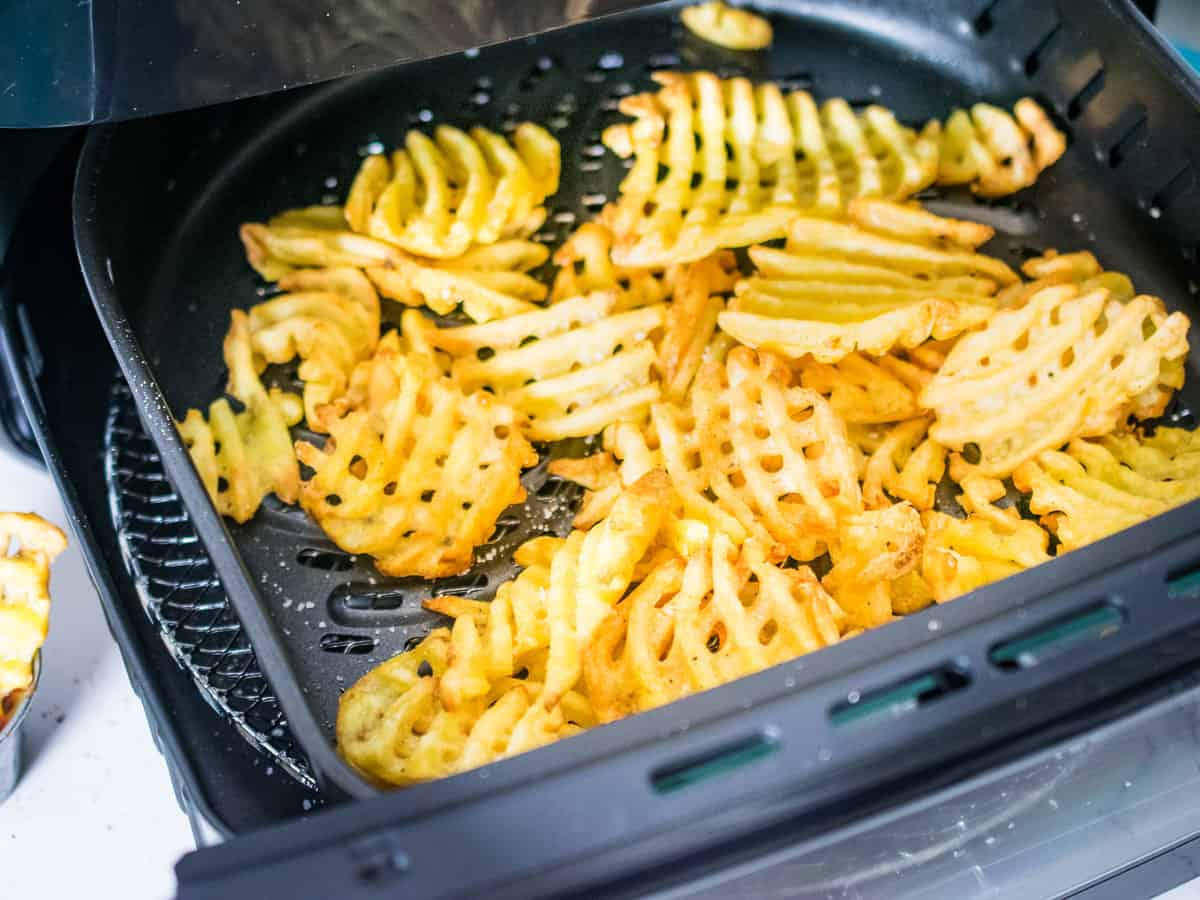 The beauty of air fried waffle fries is that they don't need to be deep-fried to be crispy, making them practically guilt-free.
Cooking frozen waffle fries in the air fryer results in even crispier waffle fries than when baked or even deep fried.
Air fryer waffle fries can be hot, crispy, and ready to serve in as little as 10 minutes.
Ingredients and Supplies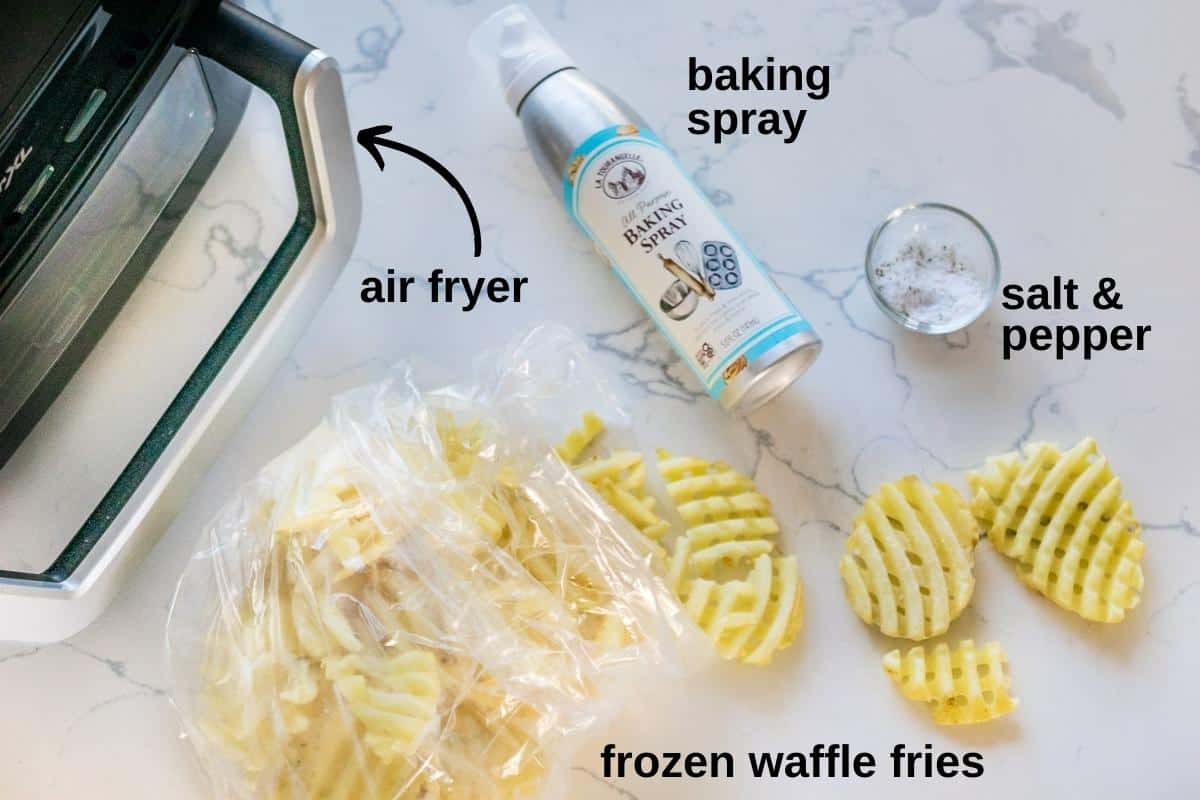 Air fryer- any size will do.
Waffle fries- any brand of frozen waffle fries, and don't thaw them.
Baking spray- optional, to prevent sticking while also helping to crisp edges.
Salt and pepper- optional, to taste, or substitute seasoned salt.
Instructions
Spray the inner basket of the air fryer lightly with baking spray oil to prevent sticking (optional).
Arrange the frozen waffle fries in the air fryer basket in an even layer. Sprinkle with salt and pepper.
Close the air fryer, and cook the frozen waffle fries for 10 minutes, shaking the basket and tossing the fries halfway through.
For extra crispiness and a darker golden color, add another 2-3 minutes to the cooking time.
When the fries are hot and crisped to your liking, serve them with your favorite dipping sauces.
Crisping Tips
For extra crispy fries, spray the waffle fries with cooking oil spray, then dust lightly with rice flour.
Don't overfill the basket. For crispy fries of any kind, air fryer baskets shouldn't exceed more than halfway full, and not more than a few layers deep.
Air fry the fries in more than one batch if necessary to cook more fries than what your air fryer has the capacity for.
Shaking the basket and tossing the fries is key. Halfway through the air frying time, bring the bottom layers up and top layers to the bottom to allow for even crisping.
While it's possible to lightly spray the fries themselves with cooking oil to increase the crisping during air frying, it's easy to overdo it, causing a steam effect that results in soggy fries.
How long to cook waffle fries in the air fryer?
Air fry waffle fries in the air fryer for 10-14 minutes at 400 degrees in an un-preheated air fryer, shaking the basket and tossing halfway through. If the air fryer is preheated, reduce cooking time by 2-3 minutes.
What makes air fryer fries soggy?
Usually, air fryer fries become soggy due to too much oil being sprayed in an attempt to make them crispy. Also, it can be caused from water or other moisture in the air fryer, causing a steam effect.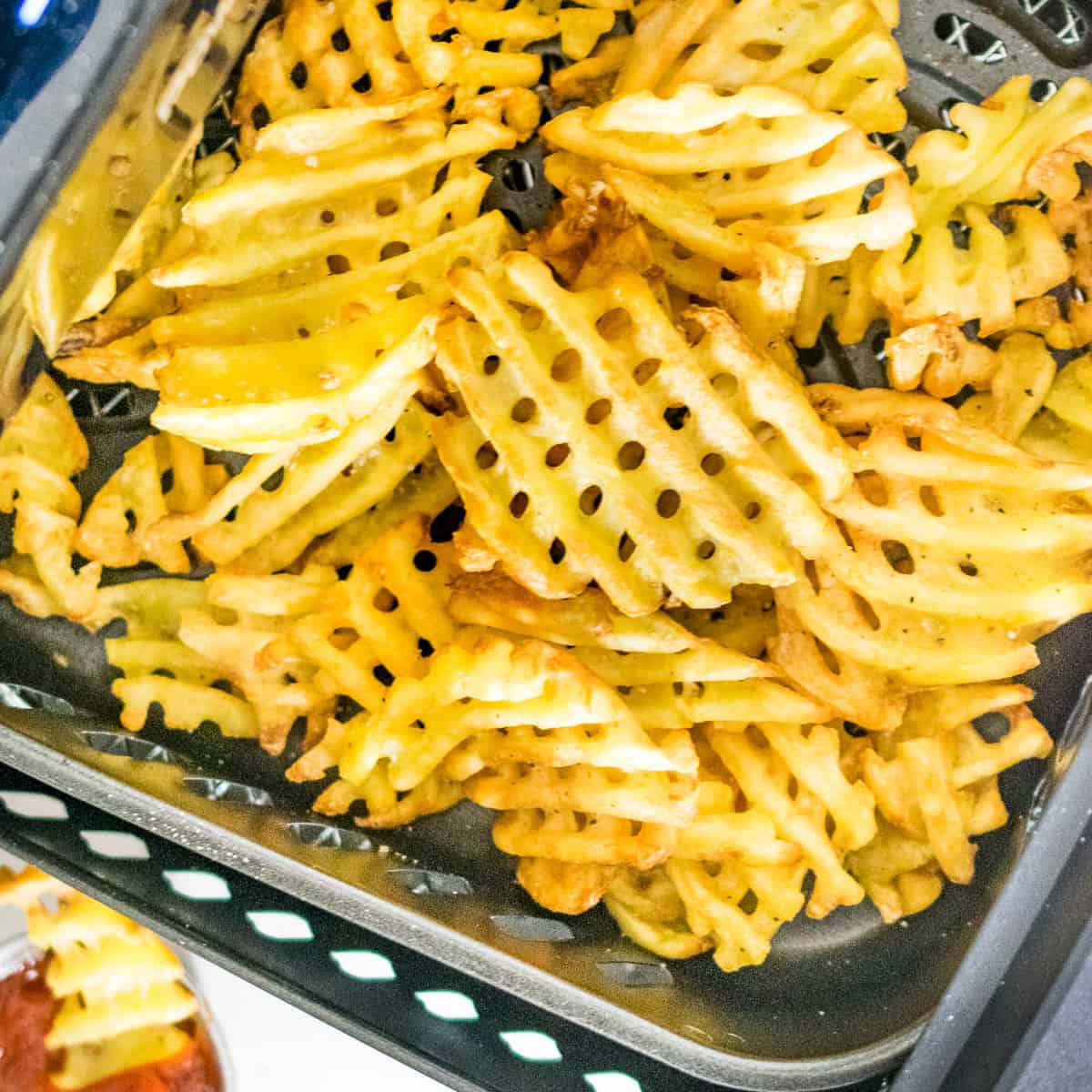 See below for similar recipes.
Have any questions about these air-fried waffle fries? Leave a comment below.
If you made these air fryer waffle fries, leave a rating in the recipe card!
Air Fryer Waffle Fries
Hot, salty, crispy, crunchy waffle fries fresh from the air fryer.
Print
Pin
Rate
Ingredients
12

oz

frozen waffle fries

⅛

teaspoon

salt

optional

⅛

teaspoon

pepper

optional

baking spray

optional
Instructions
If necessary, lightly spray the inner basket of the air fryer with baking spray to prevent sticking.

Arrange frozen waffle fries in even layers within the air fryer inner basket, but do not crown the basket more than half full.

Sprinkle the waffle fries with salt and pepper, and close the air fryer.

Cook the waffle fries for 10-12 minutes, removing the basket and giving it a shake and the fries a toss halfway through.

Add an additional few minutes if you desire crunchier waffle fries.

Once they are done to your liking, remove them from the air fryer basket and serve with your favorite dipping sauces.
Notes
Crispy Air Fryer Waffle Fries Tips
Don't overdo the oil spray, if you are using it on the inner basket or even lightly over the waffle fries for extra crispiness, because too much will create too much moisture and make them all soggy. 
Don't overcrowd the basket. Roughly a 4-5 quart basket shouldn't exceed 10-12 ounces of frozen fries per batch, and a full bag of frozen fries would require a large 10-12 quart basket, although they should be split into two batches for crispier results.
Shake and toss the basket of fries once or twice through cooking time to evenly disperse the heat and crisping effect. 
Nutrition
Serving:
1
g
|
Calories:
221
kcal
|
Carbohydrates:
26
g
|
Protein:
2
g
|
Fat:
13
g
|
Saturated Fat:
4
g
|
Polyunsaturated Fat:
1
g
|
Monounsaturated Fat:
7
g
|
Sodium:
489
mg
|
Potassium:
367
mg
|
Fiber:
4
g
|
Vitamin A:
1
IU
|
Vitamin C:
5
mg
|
Calcium:
8
mg
|
Iron:
1
mg