I have been so excited to do this post because the flavor of this basting sauce is crazy good. I had already planned on grilling chicken thighs last night with the sauce, when an unexpected rain shower came through. I mean it poured cats and dogs and every other domestic pet you could name. My sweet husband though, pitched a tent cover up over and stood out there to grill them for me anyways. What a guy, now that is true love, am I right? He wasn't regretting it after one bite of that chicken though 🙂 The sauce is sweet and slightly savory with a hint of garlic and the slightest tang. The light apricot flavor that caramelizes onto the meat is perfect for spring and summer time grilling.
This apricot basting sauce is best when used on meat that you plan on grilling outside. You can do it in or on the stove, but the flavors that come out on the barbecue are completely different, and super delicious. I use chicken thighs and drumsticks, I think it's best that way, but this would work well on a breast, or even pork or beef.
The recipe instructs to use a blender or processor of some sort, and while that is a good idea, I have just used a whisk before, depending on the consistency of the preserves. If they are extremely big and chunky, blend those puppies up. Also note that if you don't use a blending machine, make sure to mince the garlic up really well.
You don't need to marinate the chicken in this sauce. It's pretty thick, and as long as you are tending to the grill and basting very frequently while the chicken is cooking, the sauce is going to grill right onto the meat and stay there in all the best ways.
Print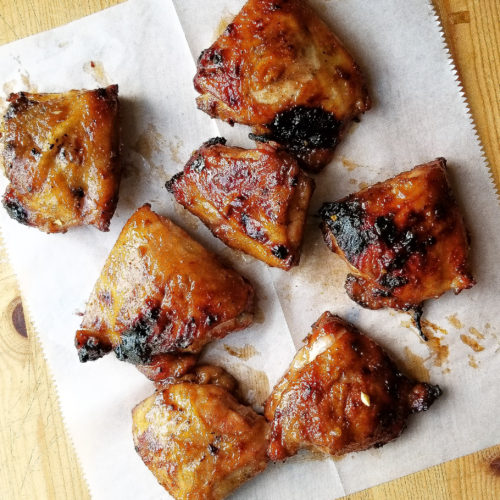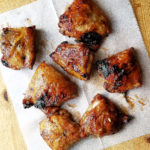 Apricot Grill Basting Sauce
Yield:

1 cup

sauce

1

x
---
Description
A sweet and slightly savory apricot basting sauce, perfect for spring and summer grilling. Great on chicken thighs and drumsticks. Recipe for 3 pounds of chicken.
---
Scale
Ingredients
1 cup

apricot preserves

4

cloves garlic

1

medium shallot

2 tbsp

apple cider vinegar

1 tbsp

soy sauce

1 tbsp

molasses

1 tsp

salt

1 tbsp

olive oil

1 tsp

garlic powder

1 tsp

onion powder

1/2 tsp

ground black or white pepper
---
Instructions
In a blender or food processor, pulse/blend ingredients until just combined. It doesn't need to be perfectly smooth, a few chunks are fine.
Baste frequently while grilling meat until done. Do not use sauce contaminated with basters or tongs without cooking first, as risk of salmonella occurs.
---