Make your own restaurant quality Caesar dressing from scratch, at home! Fresh lemon juice, grated Parmesan cheese and cracked black pepper are just a few of the simple ingredients in this delicious Caesar salad dressing.
what's in Caesar salad dressing?
The star ingredients that make up a classic Caesar dressing are lemon juice, Parmesan cheese, anchovy, and cracked black pepper. There are many variations and ways to make it, but the best recipes use these ingredients. 
are there anchovies in Caesar salad dressing?
Traditionally, yes. But they don't have to be in whole form. This recipe uses anchovy paste, which has the salty flavor of anchovy. Many people don't recognize that they are tasting anchovy, even though it is a classic flavor in traditional or restaurant quality Caesar dressing. It' won't make the dressing taste fishy, if that's what you're afraid of. The dressing needs it to give it that signature flavor. Anchovy paste can be found next to the canned tuna at the grocery store.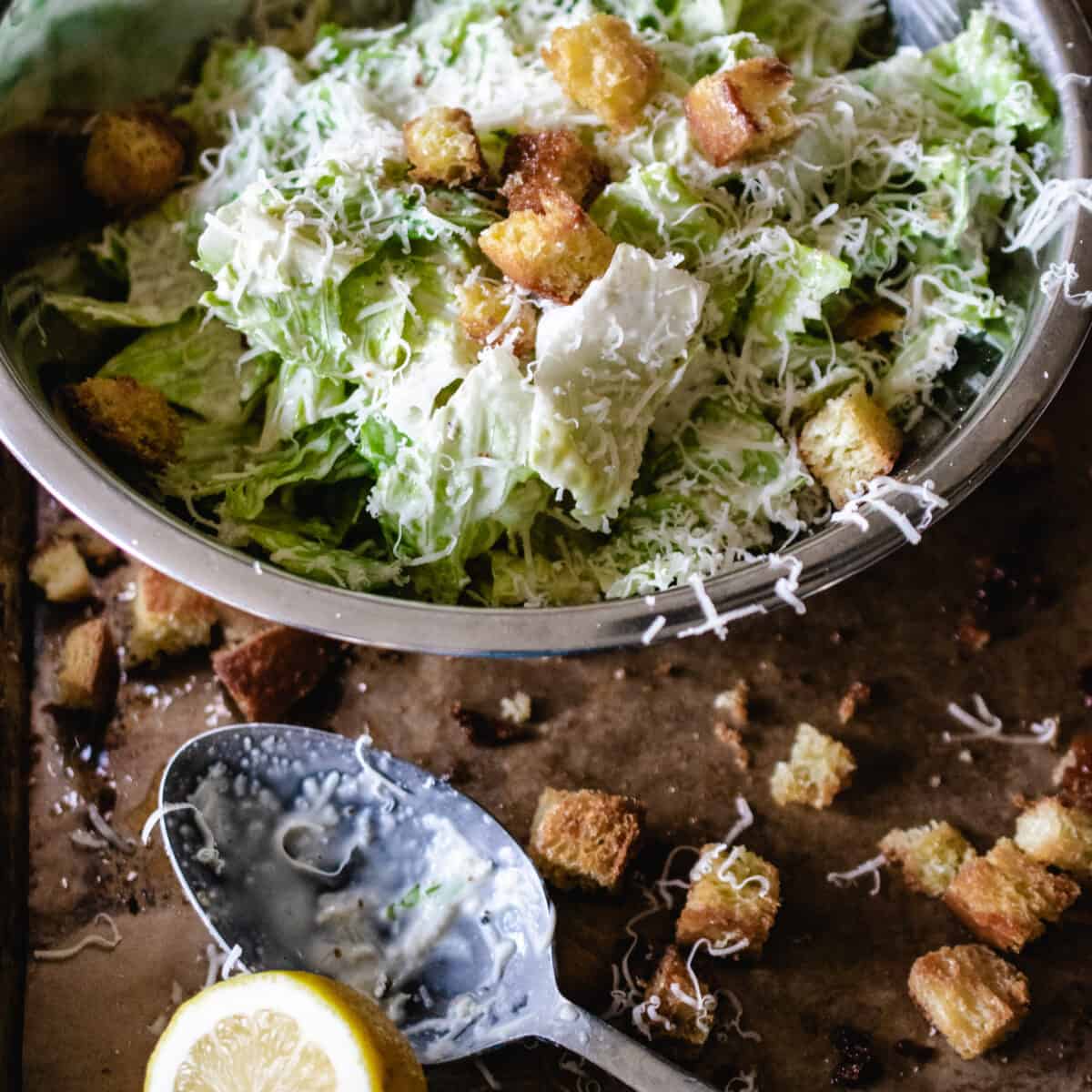 how do you make Caesar salad dressing?
Caesar salad dressing can be made from scratch by combining store bought or homemade mayonnaise  with traditional Caesar salad ingredients like lemon, anchovy paste, garlic and Parmesan cheese, and fresh ground black pepper. 
Whisk the ingredients together with a whisk or fork, and toss with crisp Romaine lettuce, croutons, extra fresh squeezed lemon and freshly grated Parmesan cheese. Sprinkle on a bit more cracked pepper and serve immediately. 
to make homemade croutons
Homemade croutons are a great way to get that restaurant style Caesar salad at home. It's also a perfect way to use up old bread! Simply dice bread into even cubes, drizzle with a bit of olive oil, season as desired (salt and pepper, garlic powder and dried herbs are all optional) and toss. Bake in a 350 degree oven for 7 to 20 minutes until golden brown. 
Other condiment recipes to try are: