A go-to pot luck and church dish. This casserole is rich, creamy and has the lightest crunch thanks to the poppy seeds and the buttery cracker topping. Best served with rice, as God intended.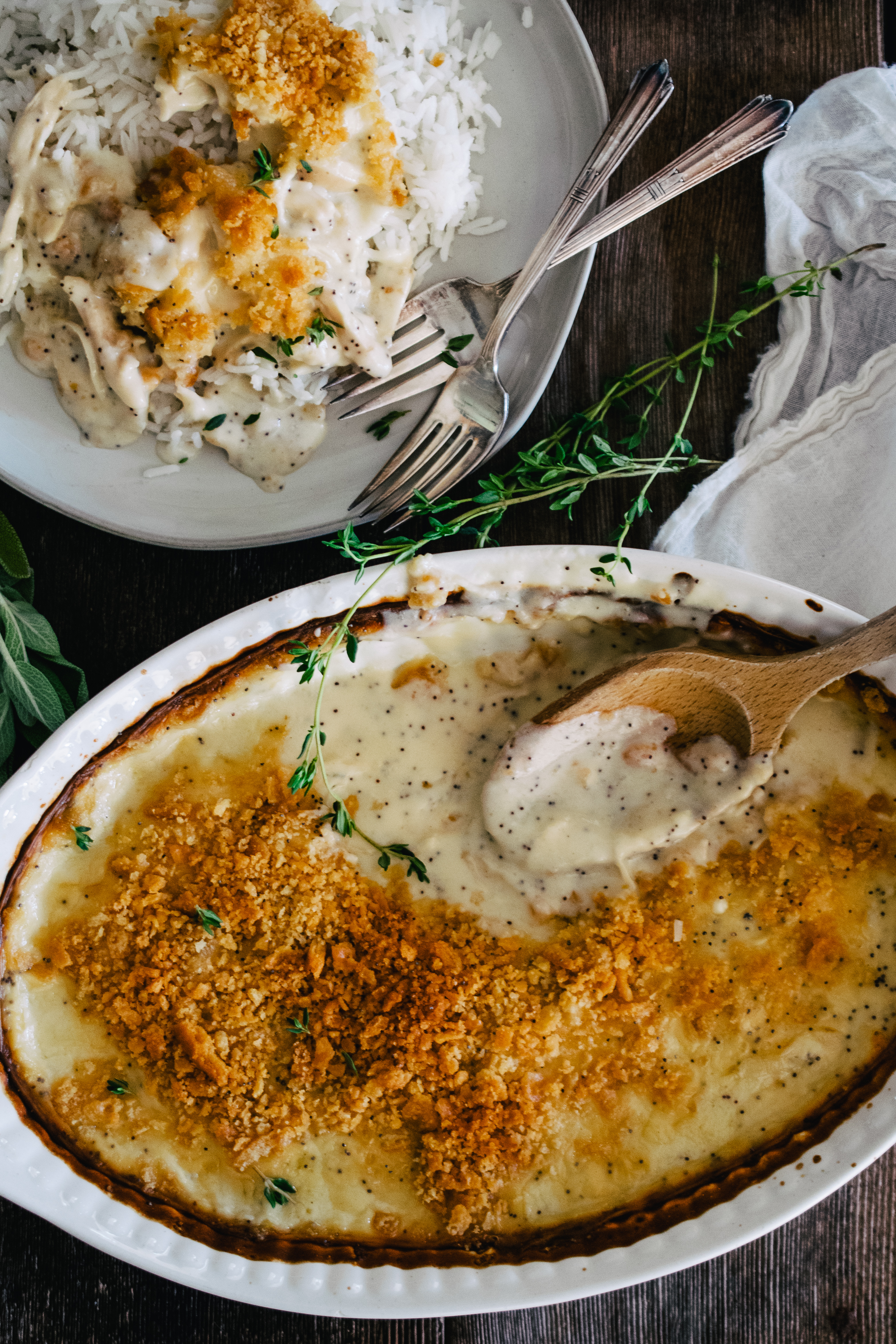 I came across a recipe for this dish in a Southern magazine, although there are many variations of it. People have been bringing Chicken Poppy Seed Casserole to church potlucks and holiday gatherings for years. It's a really delicious tasting dish, and I am always here for anything saucy served over rice.
No canned, condensed soup!
The only problem I have with traditional Chicken Poppy Seed Casserole, is the ingredients. It's very much a product of the canned, condensed soup casserole craze that started in the 1950's. Don't get me wrong, condensed soup makes very tasty casseroles. But have you ever looked at the ingredient list on the side of those cans? Not cute. Luckily, I live to remake the classics with a more readable ingredient list. 
If you are trying to stay away from long lists of unpronounceable ingredients, you might want to avoid the condensed soup aisle, completely. If you are into whole-ingredient copy cat recipes like this, try my Hamburger Helper Copycat recipe, and un-boxed brownie recipe that tastes just like boxed brownies. 

how to make cream of chicken soup
Instead of the canned, condensed soup, it's very easy to make that base of the dish from scratch and have it come out tasting just as good. The key is to simmer the stock with some large cut vegetables to infuse the flavors, and then toss them aside. Thicken the stock with a mixture of corn starch and water and season liberally. Add the vinegar. This might sound weird, but anytime I make a sauce from scratch I always consider the addition of an acid of some kind. It does not necessarily make things taste sour, it just bumps up the flavor. The way that salt does in cookies, or sugar in a red sauce. Simmer this until the flour has thickened everything up and the "flour taste" disappears. It should only take a few minutes.  
assembling and serving poppy seed chicken casserole
from there, the process is a snap. Remove the creamed soup from the heat and stir in the shredded cheese, sour cream and shredded chicken. If you have any leftover rotisserie chicken on hand, that works great. I often use leftover chicken breast from another meal and pull that apart. Basically, try to utilize any leftover chicken that you already have available, because this recipe is great for that. If you don't have any, bake up 3 chicken breasts, (salt and peppered) and pull apart ahead of time, or purchase a rotisserie chicken to pull apart. 
Don't forget to stir in the poppy seeds! Yes. I've forgot to add the poppy seeds to my poppy seed chicken casserole before. Sad, but true. 
Traditionally, Poppy Seed Chicken Casserole Comes with a signature topping of crushed Ritz crackers. I know, right? Who would want to mess with that? You can crush up one sleeve worth of Ritz crackers, or try this recipe for Homemade Ritz Crackers that I use from time to time. While I try to make things from scratch as much as possible, I have used store bought Ritz before too. Either way, I don't recommend subbing breadcrumbs here because it's just not the same. Melt a few tablespoons of butter to toss the crumbs in before sprinkling them over the casserole. 
Bake at 400 degrees for 20 minutes and serve over rice!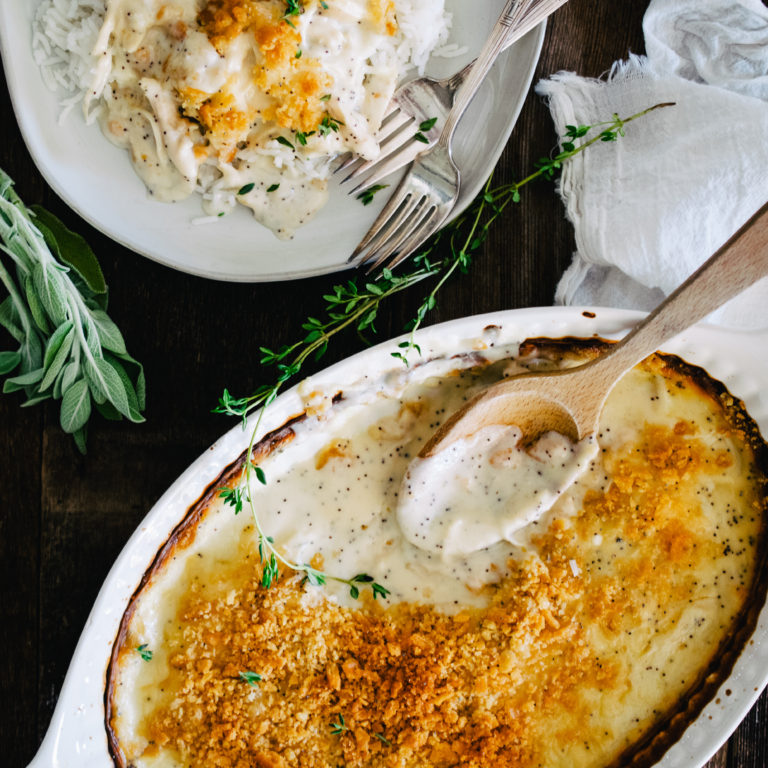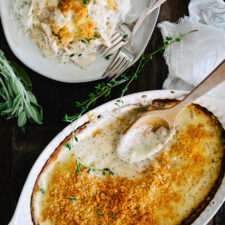 Chicken Poppy Seed Casserole
A classic dish without the condensed soup! Creamy chicken and poppy seed casserole baked with a rich and buttery crumbled cracker topping.
Print
Pin
Rate
Ingredients
3

chicken breasts or rotisserie chicken

pulled apart or shredded into pieces
For the Topping
1 1/2

cups

crushed crackers

either homemade, or store bought Ritz

4

tbsp

butter

melted
Cream of Chicken Soup
32

oz

chicken stock

1/4

cup

corn starch

whisked in 1/4 cup of water until lumps are gone

1/2

large onion

3

cloves

garlic

1

stalk celery

fresh thyme and sage

optional

1/2

teaspoon

white wine vinegar

1

cup

sour cream

1

cup

shredded sharp cheese like Parmesan

sharp cheddar, or other sharp variety

2

teaspoons

poppy seeds

salt and pepper to taste
The Rice
2

cups

Basmati rice

4

cups

water

1/2

tsp

salt
Instructions
Preheat oven to 400 degrees

In a small bowl, toss crushed crackers, (I do this by placing the crackers in a large zip lock bag and smashing with a rolling pin) with melted butter.

In a large skillet, add stock with whole vegetables cuts and vinegar and bring to a boil for 10 minutes until slightly reduced and flavors have infused. Remove large vegetable pieces and herbs.

Reduce heat to medium. Whisk in corn starch and water mixture until smooth and simmer until thickened; about 2-3 minutes. Salt and pepper to taste.

Remove from heat. In a casserole dish (or the same skillet if it's oven safe) combine cream of chicken soup, sour cream, shredded cheese, chicken and poppy seeds.

Top with cracker crumb and butter mixture; bake in a 400 degree oven for 20 minutes, until golden brown and bubbly. Serve on steamed rice.
For the Rice
Bring water and salt to a boil, add rice, cover and reduce heat to low. Leave covered and undisturbed for 20 minutes (or according to package directions). Lift lid, fluff with fork.