Extra crunchy-on-the-outside, juicy-on-the-inside, buttermilk fried chicken, gooey, melted sharp cheddar cheese, topped with a radish, carrot and cabbage slaw in an extra saucy, creamy and tangy dressing; all piled high on a buttery, brioche bun. Grab some napkins for this one.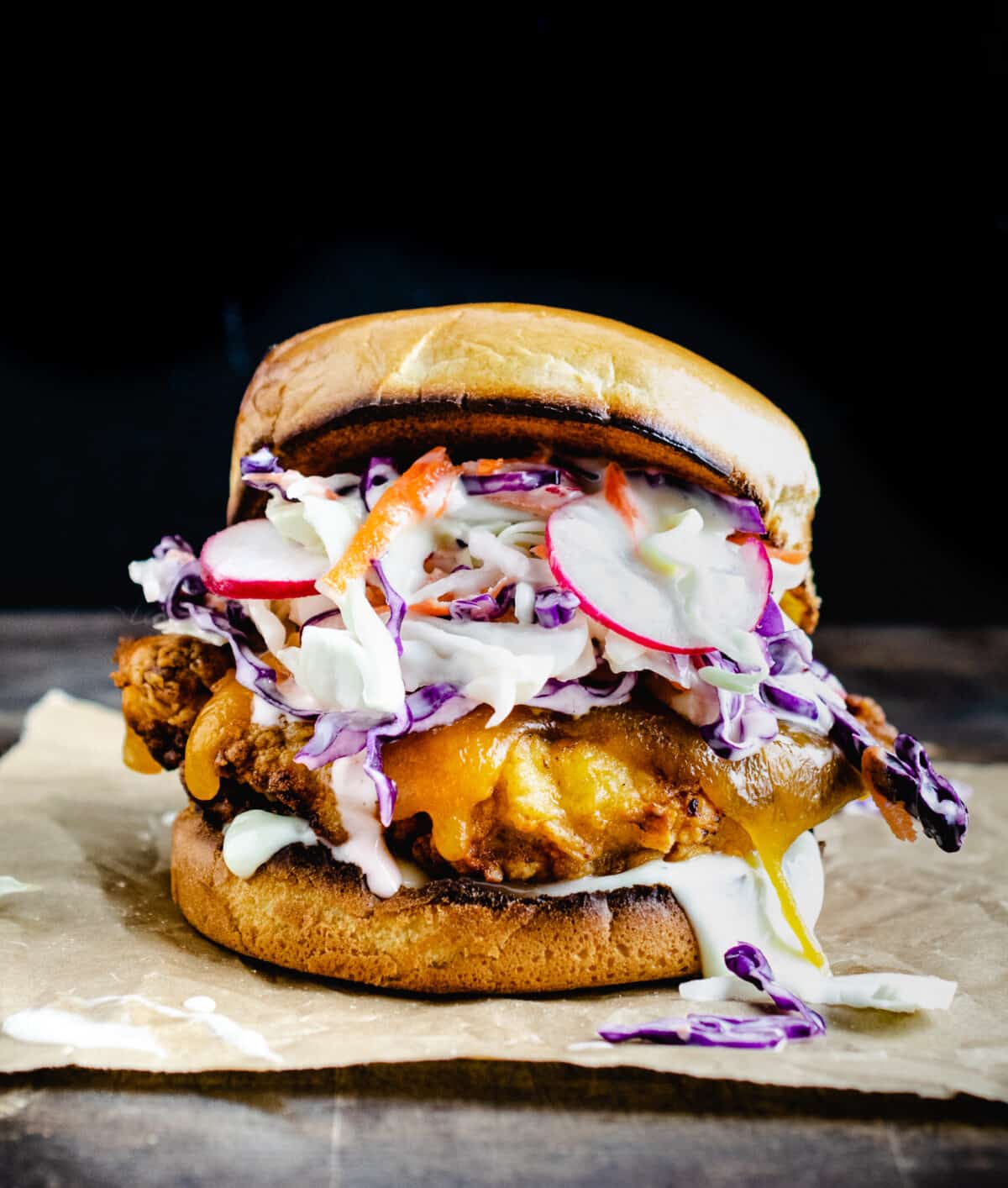 Looking for a lighter chicken sandwich? Try this fresh and updated take on a Chicken Salad Sandwich, packed full of fresh garden greens and veggies and a light poppy seed dressing.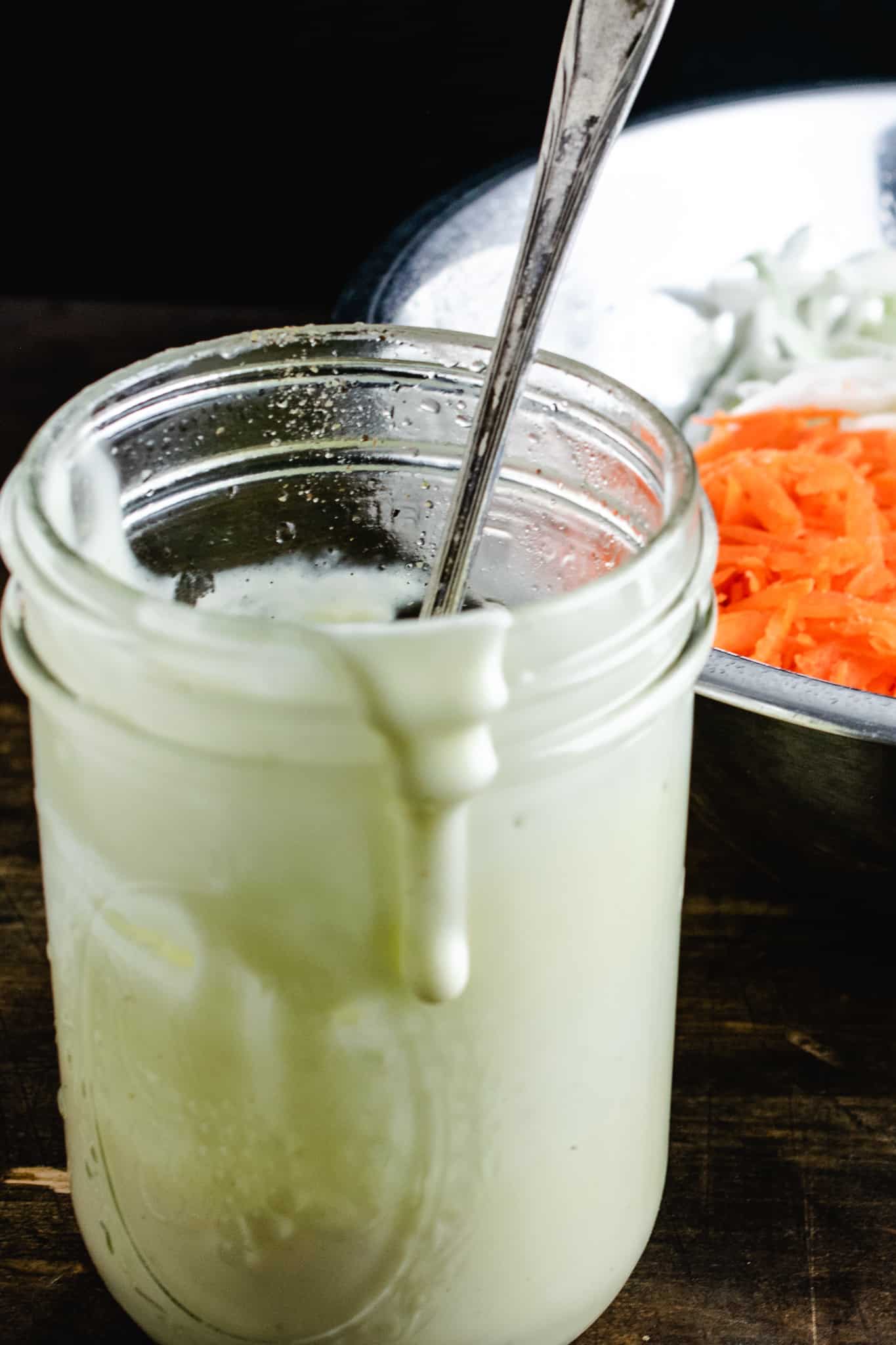 I love a good chicken sandwich. Who doesn't? Extra crunchy, fried chicken is incredibly juicy on the inside--thanks to a little tenderizing bath in buttermilk (don't have buttermilk? Click for buttermilk substitute instructions); extra sharp cheddar cheese, and a sweet and tangy slaw. Don't even get me started on this slaw. It is all about the slaw with these sandwiches. Shredded cabbage, carrots and radish in a sweet and tangy dressing, drips out of the sandwich with every crunchy, messy bite.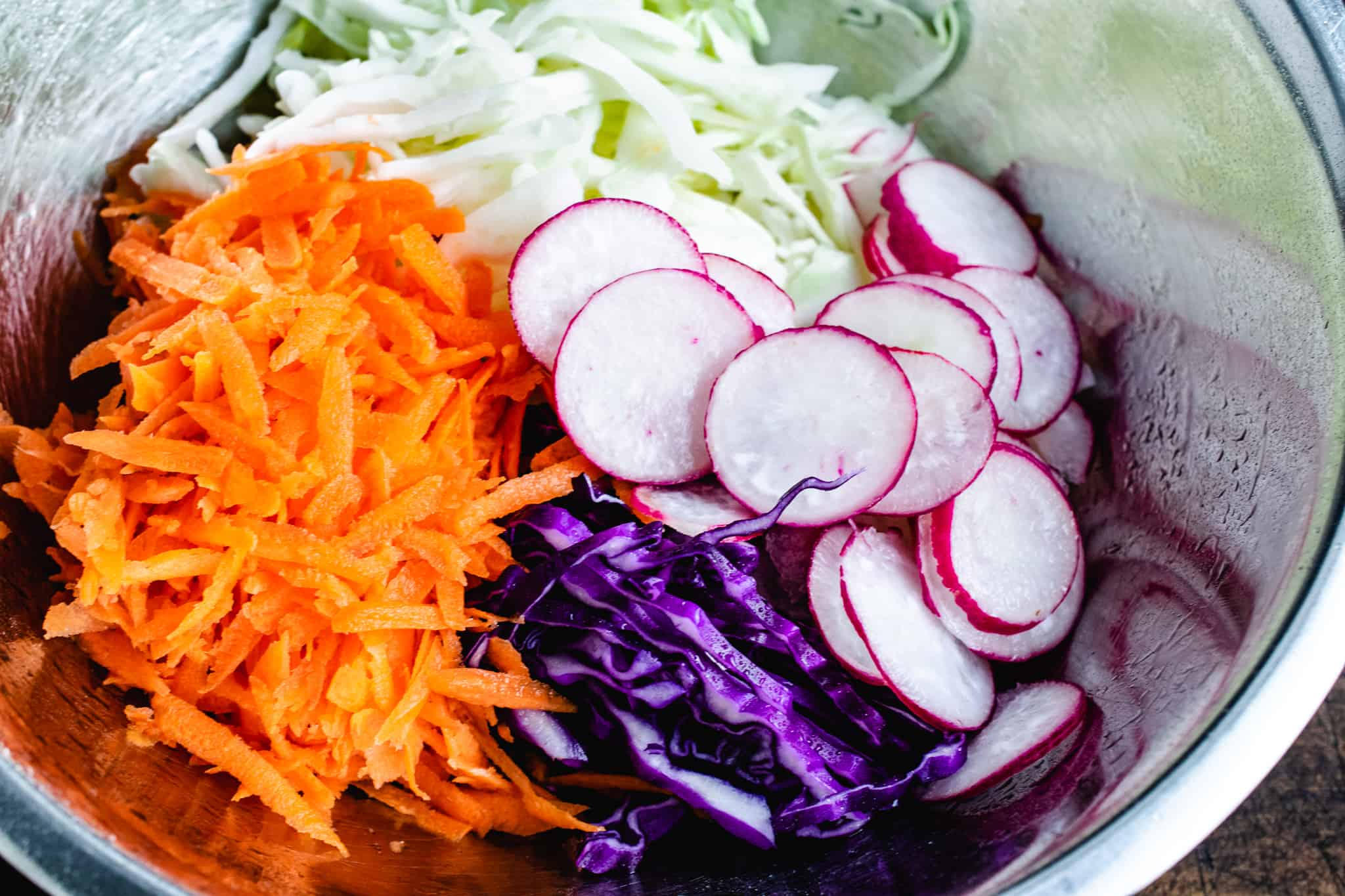 how to keep fried chicken crispy
Actually, how to keep fried anything crispy. Because after all, that's the point of frying, right?
Don't drain fried anything on paper towels. It will immediately take them from crispy town to soggy city. Don't lie them on a flat, solid surface like a plate or pan at all, and definitely nothing with sides. It's not as bad as the paper towels, but it still makes crispy breaded things soft. Things with sides, like dishes will create even more of a steam affect, which is what also contributes to loss of crispiness.
Use a cooling rack over something else to catch the drips. What ever is underneath doesn't matter so much, it's the actual getting the fried pieces elevated and allowing heat to escape rather than trapping it and steaming it. Keeping plenty of room between the pieces is also extremely helpful; this goes for the frying process and the draining process.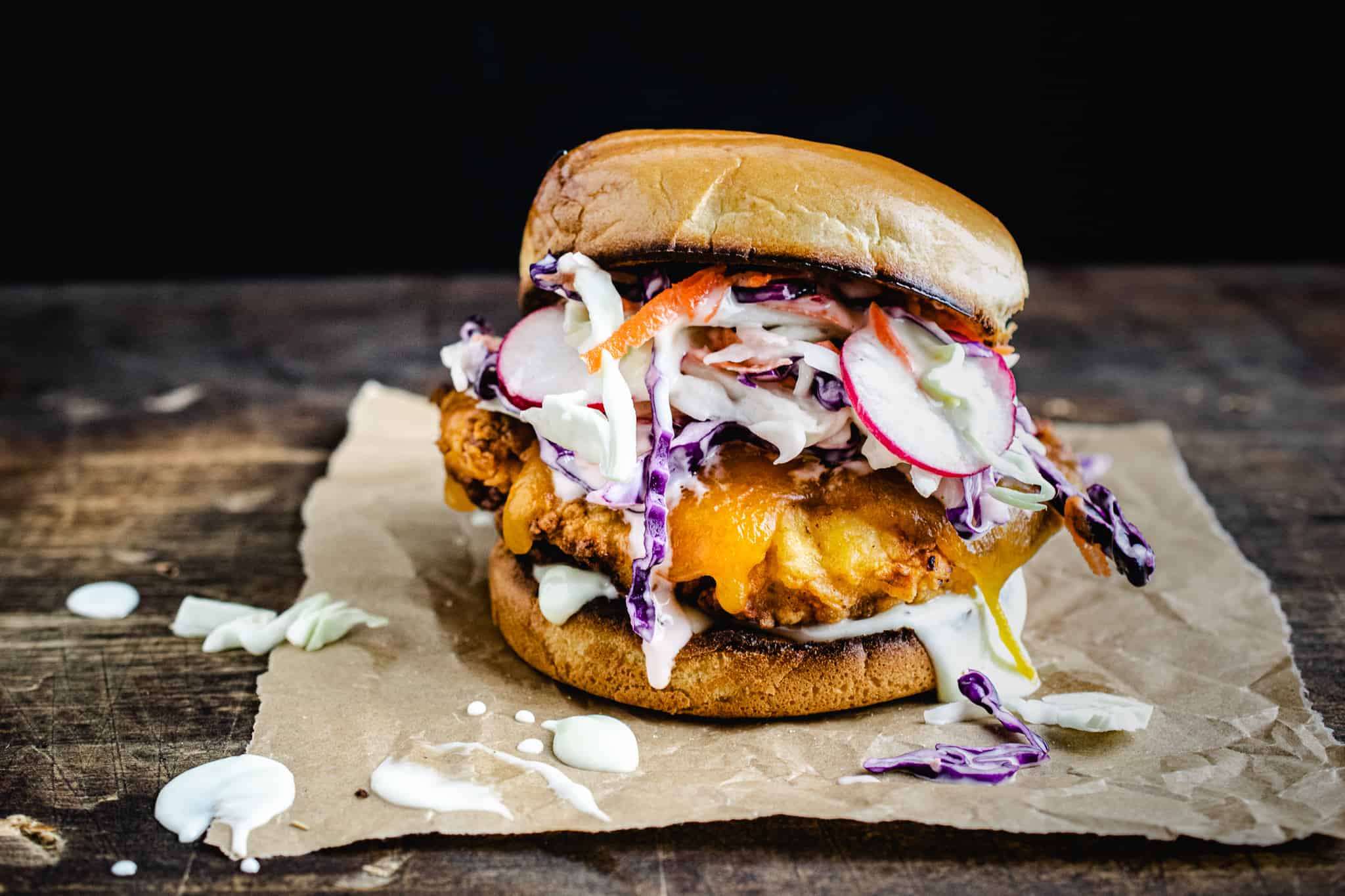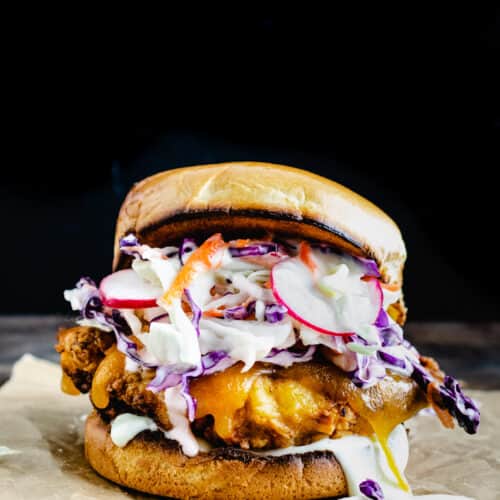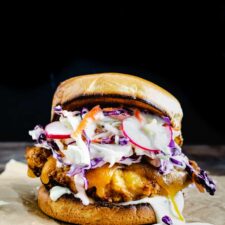 Crispy Buttermilk Fried Chicken Sandwiches with Summer Slaw
Juicy, buttermilk tenderized chicken fried extra crispy, topped with melted extra sharp cheddar cheese, and a creamy, sweet and tangy cabbage, carrot and radish slaw. Served on a toasted brioche bun.
Print
Pin
Rate
Ingredients
For the Chicken
3

whole chicken breasts

2

cups

buttermilk

1

teaspoon

salt and coarse ground pepper
For the Dredge
2

cups

flour

1 ½

teaspoon

salt

1

teaspoon

garlic powder

1

teaspoon

onion powder

1

teaspoon

Spanish paprika

not smoked paprika

2

teaspoon

sugar
For the Slaw
2

large carrots

peeled and shredded

5-6

radish

thinly sliced using mandolin or cheese slicer on box grater

¼

head red cabbage

thinly sliced

½

head green cabbage

thinly sliced

1

cup

mayonnaise

1

large lemon

juice of

½

teaspoon

sugar

1

tablespoon

milk

½

teaspoon

each salt and pepper

more or less to taste
Additional Ingredients
6

brioche buns

sharp cheddar cheese

cut slices

oil for frying
Instructions
For the Slaw
Shred the carrot, cabbage and radish into a bowl. Set aside in refrigerator.

In a small bowl, whisk together the 1 cup mayonnaise, juice of one lemon, ½ teaspoon sugar, 1 tablespoon milk and the salt and pepper. Set aside in the refrigerator.

Toss the slaw veggies with the dressing right before topping the sandwiches, to maintain crunch. The slaw can be made ahead of time and chilled in the refrigerator, but not that the color from the red cabbage with color the dressing as it sits for a long period of time.
For the Chicken
Cut each of the 6 chicken breasts in half diagonal ways to create a more uniform thickness (as much as possible) and place in a zip locking bag.

Using a meat tenderizer, or just a heavy rolling pin, pound the chicken breasts until uniform thickness of about ¾ of an inch. Salt and pepper both sides of each piece of chicken.

Pour the 2 cups of buttermilk into the bag and close the zipper. Let the chicken soak in the buttermilk for 30-60 minutes. (Don't go past 30 minutes, if you are using a homemade buttermilk made with lemon/vinegar mixed with regular milk; the acid can begin to toughen and "cook" the chicken. Store bought buttermilk should be ok for longer periods of time.)

Pour oil one half inch deep in a large cast iron skillet and heat oil on medium high heat. (About 350 degrees.)

In a shallow dish, combine the 2 cups flour, 1 ½ teaspoon salt, 1 teaspoon each of onion powder, garlic powder, and paprika, and the 2 teaspoon sugar until evenly mixed.

Once chicken has soaked in the buttermilk mixture, one by one dredge in the flour mixture until evenly coated, and set on a plate. (Discard extra buttermilk left in bag.)

With the hot oil fully heated (it should sizzle when you drop a pinch of flour in), lay the chicken pieces in the oil leaving at least an inch of space between each piece; you may need to work in batches if they don't all fit. Fry on one side for 4-6 minutes and flip over to fry on the other side until both sides are golden brown and chicken is cooked through. Transfer finished chicken pieces to wire rack to drain, over a plate or parchment line baking sheet. (Do not lay them directly on paper towels or on plate, see notes.)
Assemble the Sandwiches
Toast buns first; with chicken fresh and hot, top bottom bun with fried chicken and cheese.

If you haven't done so already, toss the slaw veggies and dressing together.

Pile slaw on top of the cheese and cover with top bun. Grab some extra napkins, you're going to need them!
Notes
If you are using homemade buttermilk that you've made with lemon juice or vinegar, don't let chicken soak in the buttermilk longer than 30 minutes, it can cause the chicken to get though and look like it's cooked.
Be careful not to use SMOKED paprika. Sweet paprika, Spanish style paprika, or simply paprika is ok.
Work in batches of 2 or 3 when frying the chicken. Don't crowd the chicken and allow 1-2 inches space in between because this will also make them crispier. Crowding them creates a steaming affect and can make the breading soft.
Do not lay finished, fried chicken on paper towels. They'll get soggy and soft. Don't lay them directly on a plate or pan either. Instead, use a cooling rack over a lined baking sheet or plate (to catch drips). This way it allows air under the fresh crunchy chicken and keeps them crispy.
While slaw can be combined ahead of time, it will discolor the dressing due to the natural dyes in the red cabbage and carrot. It's helpful to cut and prepare the veggies as well as the dressing, and toss it before plating.
Toasting the buns adds to the crunchy, crispy effect.
Top chicken with cheese while still hot, so that it melts.
Get extra napkins! It's a messy one. In a good way 🙂
Nutritional info is altered to only account for 1 cup of buttermilk, as excess gets discarded. (Using homemade buttermilk will likely lower the calorie and fat content.) Nutritional info also accounts for discarded oil after frying.