Oooh summer is right around the corner, and I am SO ready for it! I'm not sure why, but as the weather warms up, I start making more dishes with seafood. Maybe because I'm thinkin' about the beach. And how very, very far away from it I am. Whatever the reason, these little spicy, crispy shrimp are so delicious on a bed of lemony, (and also spicy) linguine. You can definitely turn the heat down on this, or turn in up for that matter. I think the heat of the chili goes really well with the bright lemon. It's best to use a hot, red chili like a Thai chili; but if you are insane enough, a Habanero would be excellent too. I oil up my hands first if I'm gonna pull out that stick of dynamite, though. (And I make sure to wash them directly afterwards because I have a little baby, and just the smallest amount of residue could inflict a decent amount pain if it got in his mouth–just a thought if you have a little ones.)
When I go to make this dish, I like to get my little "stations" all set up first, because once it's time to work with the shrimp, it goes fast. You wanna go quick with those little suckers because if you take to long with the fryer, they get rubbery and "fishy". And there is nothing yummy about rubbery, fishy shrimp. Also, when they are finished, its best to have the pasta ready to plate, so that everything is perfectly hot, and fresh. I cook the pasta first and as it is doing so, I get my shrimp prepared and patted dry. When the pasta finishes it can just be set aside in the colander (save a cup of the starchy water though). Then, set up your dredging, egg wash, and breading station, in that order, and bring your hot oil, to temperature. Also, combine the ingredients that are going to make the light pasta sauce. This all sounds like a lot, and maybe I have made it sound confusing. It should look like this:
Pasta cooked, drained and set aside (cup of starchy water reserved)
Shrimp, cleaned and patted dry.
Shrimp breading station set up.
Pasta light sauce ingredients combined and set aside.
Once these things are done, set out, and ready to go, you can get your sauce cooking while you wait for the oil to come to temperature. Start by browning the garlic and butter in the pan. Once the garlic is fragrant, and the butter browned, immediately add the sauce mixture and let it reduce by about half. While that reduces, dredge and bread all the shrimp, and set them on a plate until the last one is dredged. By then the oil should be ready; fry the shrimp about a minute and a half, turning halfway in between. They are done when the tails are pink and curled, and breading is golden and crispy. Do this in small batches, as they cook so quickly, setting finished shrimp aside to be plated. Then add the pasta to the sauce pan, along with the starchy water. Toss to coat. Add some Parmesan, toss again. Serve with a lemon wedge, extra chili for garnish, and top with fried shrimp.
Print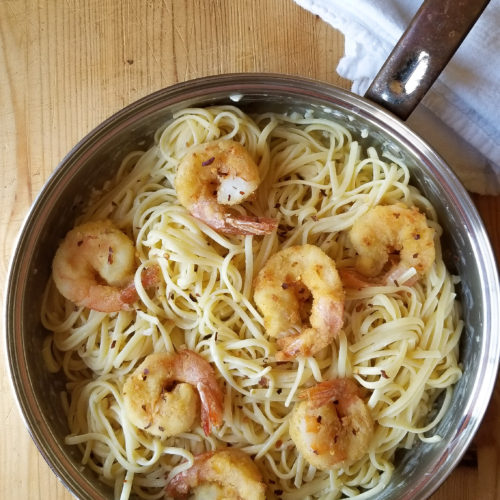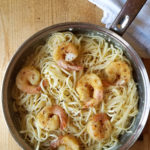 Chile Fried Crispy Shrimp with Linguine
Prep Time:

15 minutes

Cook Time:

12 minutes

Total Time:

27 minutes

Yield:

4

people

1

x
Category:

Main Course

Cuisine:

Italian
---
Description
Crispy, spicy fried shrimp, on top of linguine in a light and spicy, lemony sauce.
---
Scale
Ingredients
8

oz linguine pasta

1

lb shrimp (large, jumbo )

4 cup

s oil, for frying
Parmesan cheese (freshly grated)
For the Pasta Sauce
10

–

14

cloves garlic ( basically a whole head)

4 tbsp

butter

1

–

2

hot chilis (minced)

1 cup

sherry

1

shallot (minced)
zest and juice of one lemon

1 tbsp

honey
pinch salt to taste

2 tbsp

heavy cream
For the Shrimp Breading
1/2 cup

cornstarch

1/2 cup

flour

1 tsp

salt

1/2 tsp

crushed red pepper flake

1 tsp

sugar

1

cup fine bread crumbs (like Panko, finely crushed)

1 tsp

garlic powder

1/2 tsp

crushed red pepper flake

1 tsp

salt

1 tsp

sugar
For the Shrimp Egg Wash
1/2 tsp

white wine vinegar

1 tsp

honey
---
Instructions
Cook pasta to al dente, reserve about a half cup starchy water, drain, set aside.
In a small mixing bowl, combine minced chili, sherry, minced shallot, zest and juice of lemon, honey and pinch of salt, set aside. This will be used in the pasta sauce.
Prepare shrimp by removing legs, outer shell, and deveining rinsing, and patting dry.
Set up shrimp dredging and breading by using 3 bowls; one with the dredging ingredients, one for the egg wash ingredients, and the last for the breading, each one mixed thoroughly.
Begin to heat the frying oil to 350 degrees.
Heat butter and garlic in a skillet and brown. Add pasta sauce and simmer until reduced by about half.
While sauce reduces, begin to bread shrimp. First dredge, shake off excess, dip in egg wash, shake off excess, and finally pat in bread crumbs. Work with one shrimp at a time and set on a plate.
Fry the shrimp a few at a time, about one and a half to 2 minutes, max. Flip halfway through, moving finished shrimp to a clean plate.
When sauce has reduced and shrimp is finished, add pasta, cream, starchy water, and toss. Turn off heat. Add freshly grated Parmesan, give another quick toss.
Plate pasta, and top with fried shrimp. Serve with lemon wedge, and garnish with extra chili, if desired.
---