These homemade cinnamon rolls with whipped cream cheese frosting rival Cinnabon! Bake these now, or let them rise in the fridge for fresh baked cinnamon rolls in the morning.
There's not much better than warm, soft and gooey cinnamon rolls with cream cheese frosting. Not only are these going to be your new Cinnabon fix at home-but they are totally customizable to your schedule.
You can make these cinnamon rolls with cream cheese frosting outright from start to finish and bake them, or make them ahead of time and bake the next day.
You can even prepare the rolls and freeze them for later. What's great about that? That means when you need your Cinnabon fix, you can bake one... or 12.
What's great about this recipe
These have whipped cream cheese frosting-- just like our favorite Cinnabon rolls.
The rolls can be made a day in advance, and can rise in the fridge overnight, or in the freezer (up to 2 months).
The recipe can accommodate 12 regular sized or 6 jumbo sized (Cinnabon sized) cinnamon rolls.
The ingredients are inexpensive and simple and likely already in your kitchen.
How to make these delicious rolls
Combine the dough ingredients in a stand mixer with dough hook until dough is formed. Once the dough comes together, transfer the dough into a greased bowl and cover loosely. Let it rise until doubled in size and then punch the dough back down before transferring it to a floured work surface, as shown below.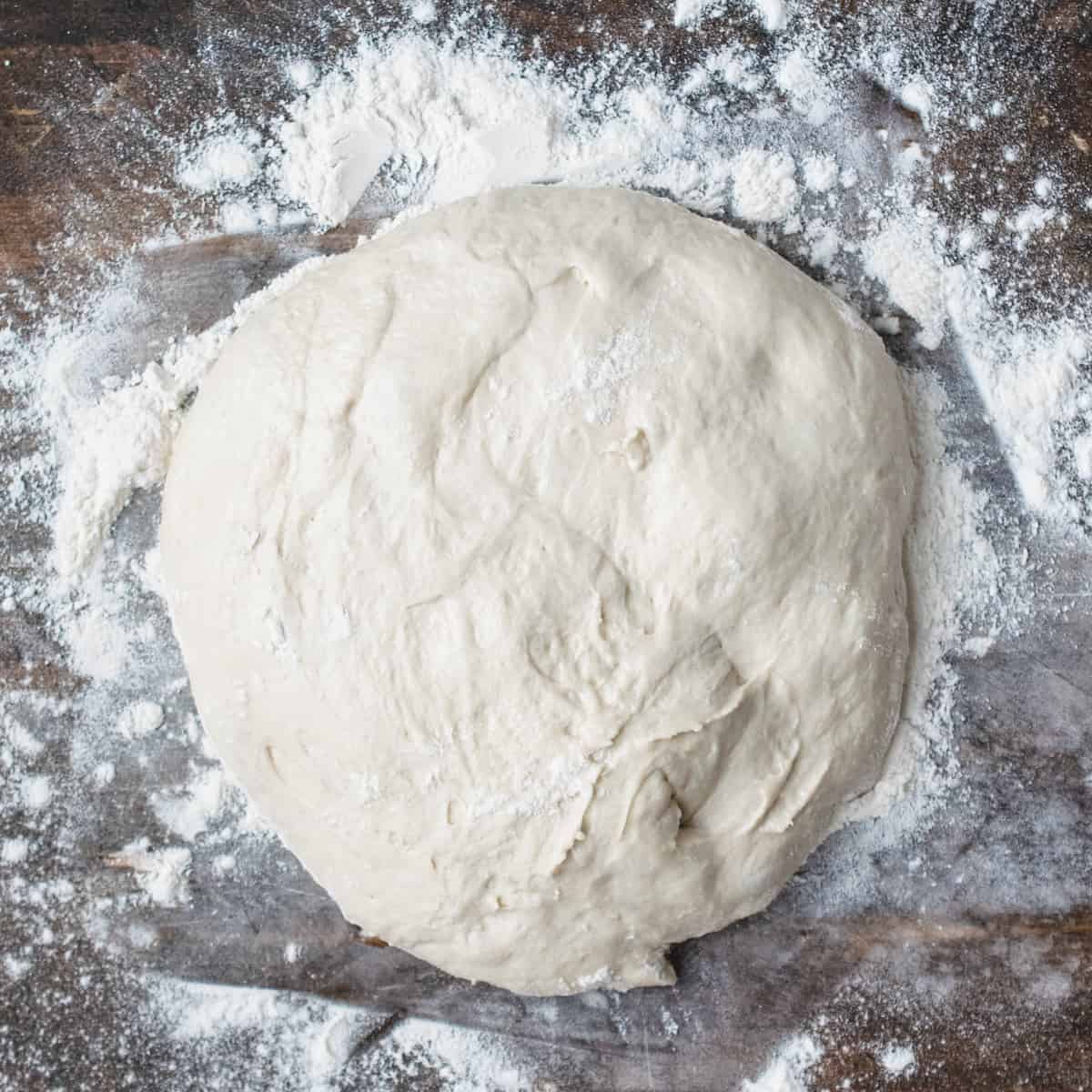 Combine the cinnamon, brown sugar, flour and butter for the filling ingredients (photo 1). Roll out the dough on a floured surface so that it doesn't stick, into about about a 10x15 inch large rectangle. Sprinkle the cinnamon and brown sugar mixture evenly over the rectangle as (photo 2). Beginning on the longer side, roll the dough up into an even log shape. Cut the uneven ends off, then score the dough as shown below. (photo 3) Start by marking the middle, then mark the two halves in the middle, then mark each of those quarters into 3 even pieces. Use floss, string or a very sharp knife to slice where your marks were made (photo 4).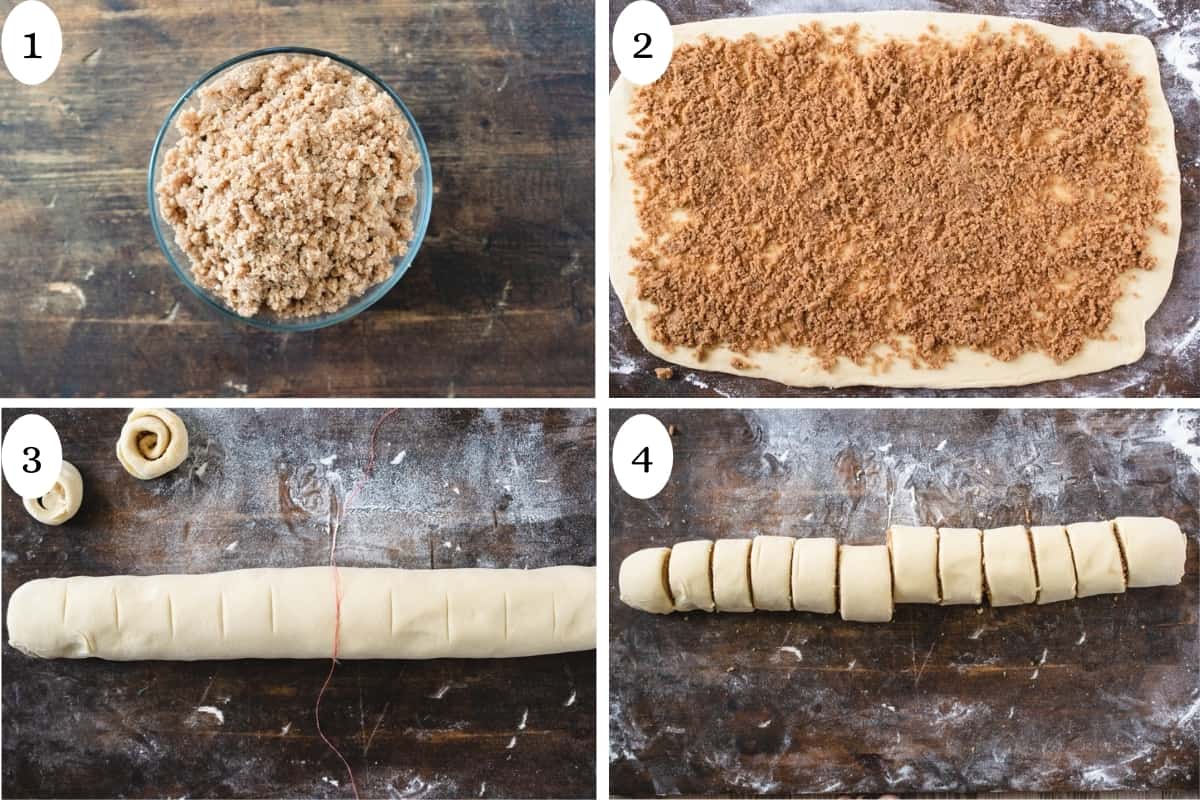 Either grease a 13x9 inch pan with butter, or line it with parchment paper. Place the cinnamon rolls into the pan in three rows of four cinnamon rolls, as shown below (photo 5). Allow the cinnamon rolls to rise a second time, at room temperature for about 60-90 minutes until doubled in size (photo 6), or in the fridge overnight where they will rise. (See recipe notes in recipe card for how to freeze the cinnamon rolls.)

Bake the cinnamon rolls until edges are golden brown, and tops are set. Be careful not to over bake them, a gooey cinnamon roll is better, and they continue to cook through as the set outside of the oven.
Recipe Tips
To make jumbo sized rolls, roll the dough into approximately a 12x12 inch large square, and cut into 6 jumbo sized rolls.
Using a piece of floss to cut the rolls by squeezing it around the roll until it cuts through, results in a perfectly shaped, round rolls.
Can I freeze cinnamon rolls?
To freeze cinnamon rolls, place the freshly cut, uncooked cinnamon rolls, pre-rise, on a baking sheet an inch or two apart. Freeze for one hour, or until cinnamon rolls are solid enough to toss into a zip lock freezer bag for up to 2 months.
How do I bake frozen cinnamon rolls?
Place frozen cinnamon rolls into a greased or parchment paper lined baking pan 1-2 inches apart, cover and allow to rise overnight in the fridge, or on the counter top at room temperature for 3-5 hours until doubled in size, then bake 22-28 minutes at 350 degrees Fahrenheit.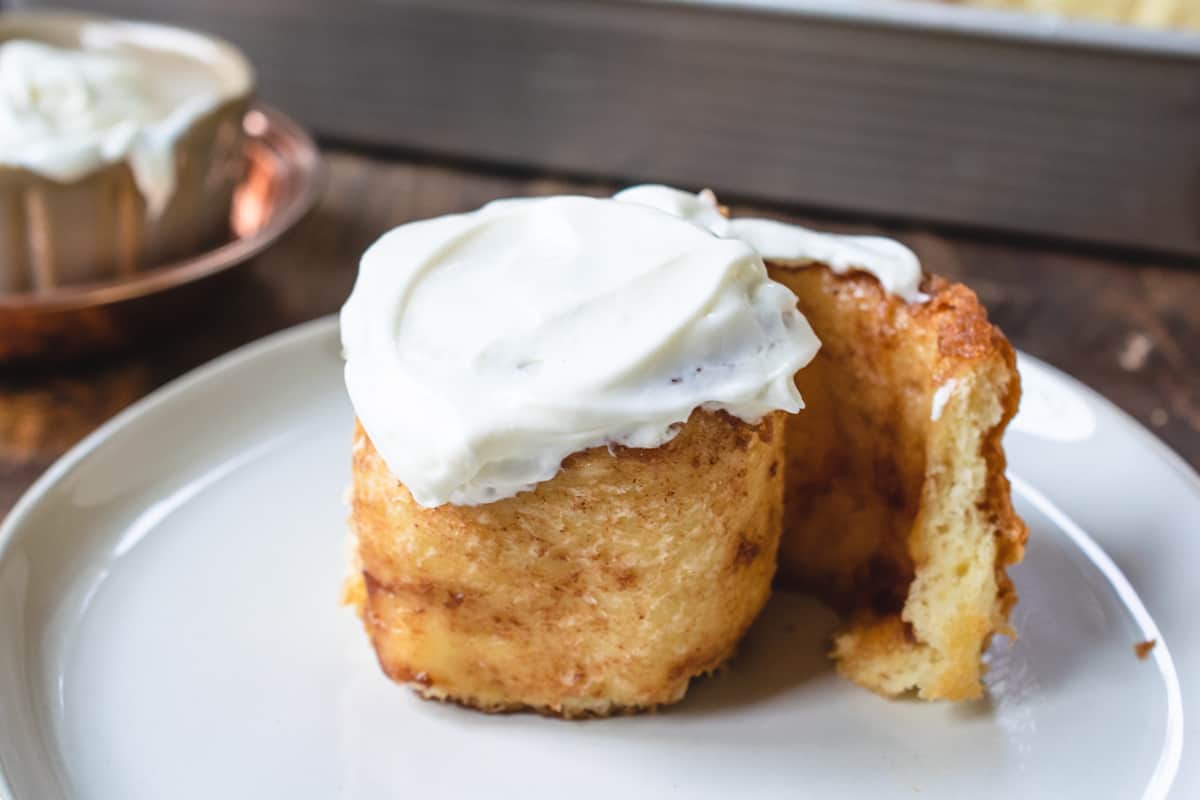 Want more cinnamon-y sweet recipes like this? Try these Streusel Lover's Apple Bars, thick and soft Molasses Cookies, Cinnamon Swirl French Toast, and grab and go Pumpkin Spice Pop Tarts!
Try this recipe? Go give it a 1-5 rating using the stars in the recipe card below, so that more people can find these homemade Cinnabon-esque cinnamon rolls!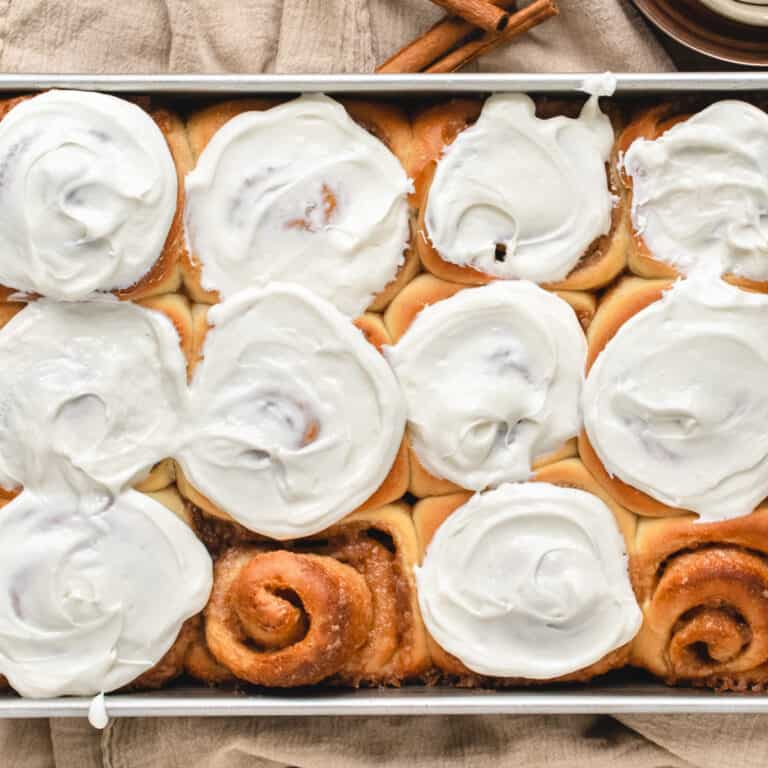 Cinnamon Rolls with Cream Cheese Frosting (Copycat Cinnabon)
Perfected to taste just like a Cinnabon! Big, gooey dough layers swirled with buttery, cinnamon brown sugar; then slathered with whipped cream cheese frosting.
Print
Pin
Rate
Ingredients
1

cup

buttermilk

or whole regular milk

2

large eggs + one egg yolk

2

tablespoons

sugar

¼

cup

salted butter

softened (½ stick)

1

teaspoon

salt

4 ⅓

cups

flour

all purpose

2 ½

teaspoons

instant yeast
Cinnamon Filling
½

cup

salted butter

softened (1 stick)

1

cup

brown sugar

1

tablespoon

flour

all purpose

1

tablespoon

cinnamon
Frosting
8

ounces

cream cheese

softened (1 package)

⅓

cup

heavy whipping cream

½

teaspoon

vanilla extract

⅛

teaspoon

fine salt

1 ½

cups

powdered sugar
Instructions
Combine dough ingredients in a mixer using the dough hook (or by hand with bowl and spoon) until dough forms.

Knead for 5 minutes by hand on a floured surface or 1-2 minutes using dough hook attachment on mixer.

Grease a 13x9 inch baking baking pan with butter, or line with parchment paper.

On a large, lightly floured work space, roll dough out into a large 10x15 inch rectangle.

Combine the cinnamon filling ingredients (stick of softened butter, brown sugar, tablespoon flour, and cinnamon) in a bowl with a fork until it resembles the consistency of wet sand.

Sprinkle mixture evenly over dough. 

Starting at long edge, roll the dough, until completely rolled up like a log. If desired, trim off the end inch of uneven dough roll.

Make marks using the knife or string first in the middle. Then mark those two halves in half. Mark each of those fourths into 3 equal portion to yield 12 sections of equal thickness.

Using a piece of unflavored floss, pull the string around each mark as if trying to tie it, but go all the way through so that it cuts. If you don't have floss, use a very sharp knife and light sawing motions so that you don't smash the rolls.

Preheat oven to 350 degrees. 

Place rolls evenly spaced apart in the baking dish, cover lightly with saran wrap, and let rise again, until doubled in size (about 60 minutes). You can also allow them to rise in the fridge overnight.

Bake for 20 to 30 minutes, until just barely golden brown. 

Beat the softened cream cheese, heavy whipping cream, salt, vanilla, and powdered sugar until fluffy, about 5 minutes. Spread over cinnamon rolls.
Notes
if using active dry yeast instead of instant yeast, dissolve it into the ½ cup lukewarm water first for 5-10 minutes before adding to mix to "activate" it. Instant yeast can be added as is. 
You can substitute regular whole milk for butter milk, or make "faux" buttermilk by adding a teaspoon lemon juice to the milk and letting it stand for 5 minutes until thickened. 
Soften cream cheese and butter completely at room temperature before incorporating. 
String or floss is preferred to cut the rolls, because it makes a perfect cut and leaves the cinnamon rolls round. 
If a knife is used, the sharper the better.
If desired, the uncooked cinnamon rolls can go through their second rise overnight in the fridge, in the pan that they will bake in, and then baked the next day for the same amount of time (they won't need to rise further on the counter). 
Store unused frosting in the fridge, as it has heavy cream in it. 
Nutrition
Serving:
1
g
|
Calories:
525
kcal
|
Carbohydrates:
73
g
|
Protein:
9
g
|
Fat:
22
g
|
Saturated Fat:
13
g
|
Cholesterol:
90
mg
|
Sodium:
422
mg
|
Potassium:
165
mg
|
Fiber:
2
g
|
Sugar:
36
g
|
Vitamin A:
778
IU
|
Calcium:
82
mg
|
Iron:
3
mg
1111111111