These homemade cinnamon rolls rival Cinnabon. Tender, flaky layers rolled up with buttery cinnamon and brown sugar, baked until large and soft, with an ooey gooey center, and then slathered with whipped cream cheese frosting.
The best cinnamon rolls, are warm, soft and have a center that you don't want to share. They are covered in thick, whipped cream cheese frosting and they just make you feel good inside. 
Let the dough rest
The key to making delicious homemade cinnamon rolls from scratch, is to let the dough rest. 
This can be done on the counter, for anywhere from 30-90 minutes, or as I mentioned before, in the refrigerator overnight. Letting it rise in the refrigerator will slow the rise, but allow more flavor to develop.
If you let it rise on the counter, make sure to do so in a warm, non drafty area. 
Once the dough has risen either in the refrigerator overnight, or on the counter, place it onto a floured surface to prevent sticking.
Create a rectangle
Start by flattening the dough with your finger tips, and stretching it with your palms. Eventually use a rolling pin to make a rectangle of about 18x25 inches, give or take. 
Make the filling
Use a fork or pastry cutter to combine the softened butter, cinnamon, and brown sugar until crumbly. Use your finger tips to spread the mixture evenly over the rectangle.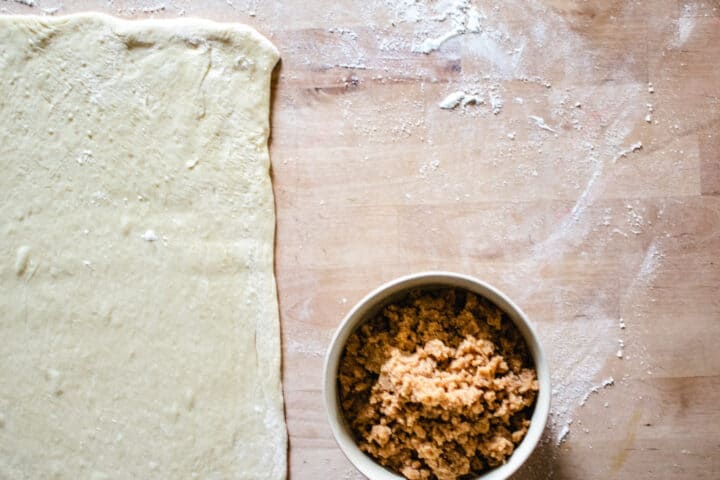 Roll and cut
Carefully begin to roll up the cinnamon roll dough into a log, working one roll at a time. Don't roll it too tight; give it a little room to rise and puff up again.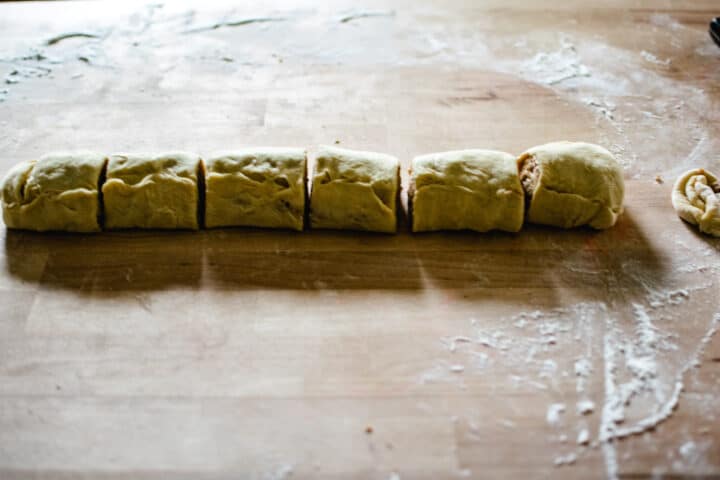 Once you've rolled it into a log, pinch the seam together and roll that side seam down on the counter, so that it is underneath. Using the sharpest knife you have, cut into six even sections (for jumbo rolls; for smaller, cut into 12). For six large rolls, slice the log in the middle first. This helps you eyeball the two halves into thirds, creating 6 even rolls.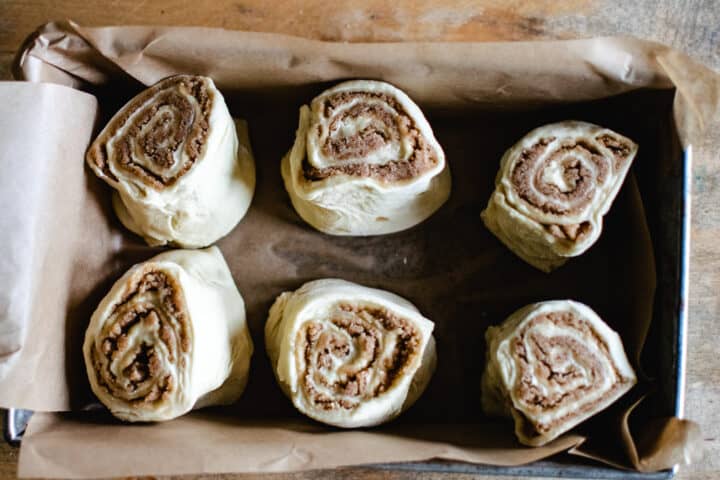 Give the rolls a second rise
Place the six rolls into a greased, or parchment lined pan. Use a 10x6 inch pan, or something close to it, or a round cake pan. Preheat oven to 350 degrees. Cover them loosely with plastic wrap and let rise again, until doubled in size, 30-90 minutes. 
Baking them
Once the rolls have risen again in the pan, and are doubled in size, bake them for roughly 20-30 minutes. Keep an eye on them, and take them out when they are just barely done. Over browning them can cause them to lose some gooey-ness.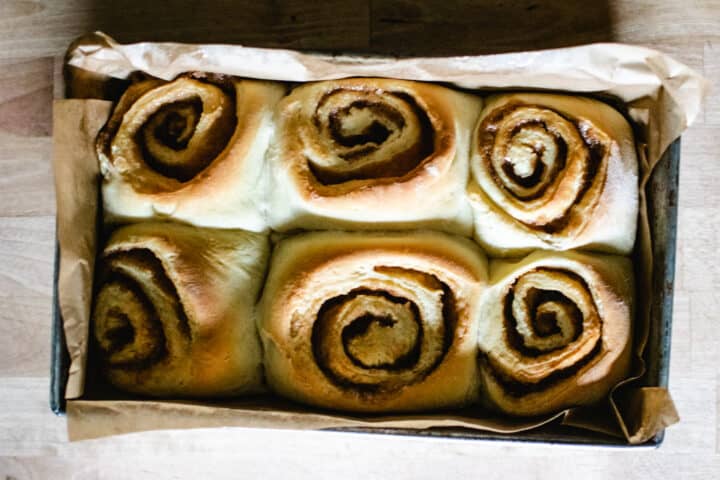 The cream cheese frosting
Use completely softened cream cheese that has been softened at room temperature. Whip the frosting ingredients together until fluffy. Spread it over the rolls and enjoy warm!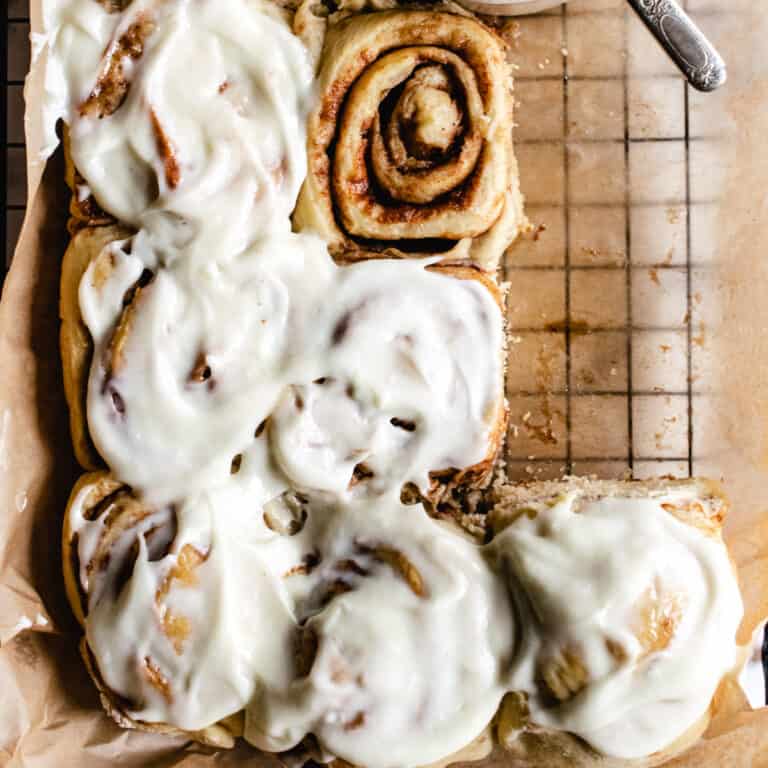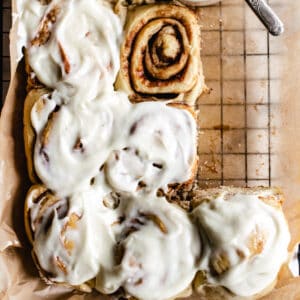 Cinnamon Rolls with Cream Cheese Frosting (Copycat Cinnabon)
Perfected to taste just like a Cinnabon; big, gooey, rich and buttery; with tons of whipped cream cheese frosting.
Print
Pin
Rate
Ingredients
1/2

cup

buttermilk

can sub regular milk

1/2

cup

lukewarm water

2

large eggs + one egg yolk

1/4

cup

sugar

1/2

stick salted butter

1

tsp

salt

4 1/3

cups

all purpose flour

2 1/2

tsp

instant yeast
Cinnamon Filling
1

stick softened butter

3/4

cup

brown sugar

2

tbsp

flour

1

tbsp

cinnamon
Frosting
16

ounces

cream cheese

softened

2

tbsp

heavy whipping cream

1

tsp

vanilla

1/8

tsp

fine salt

1

cup

powdered sugar
Instructions
Combine the 1/2 cups each of buttermilk and water, 2 large eggs plus one yolk, the 1/4 cup granulated sugar, 1/2 stick softened butter, tsp salt, 4 1/3 cups all purpose flour, and 2 1/2 cups instant yeast. Knead by hand or in standing mixer for 5-10 minutes until smooth. If the dough seems sticky, add another tablespoon of flour, but wait until 5 minutes of kneading has passed, as the dough will form a smooth ball eventually.

Grease a 10x6 inch baking dish, or similar size, or 9 inch round cake pan (or line with parchment paper).

On a large, floured work space, roll dough out into a large 18 inch by 14 inch rectangle.

Combine the stick of softened butter, with the 3/4 cup brown sugar, the 2 tablespoons flour, and the tablespoon of cinnamon in a bowl with a fork until crumbly.

Sprinkle mixture evenly over dough. 

Starting at edges and working way to middle, roll the dough up 1/2 inch at a time, until completely rolled  up. Using a very sharp knife, cut the log in half, and then those two halves into thirds, yielding 6 equal rolls.

Place rolls evenly spaced apart in the baking dish, cover lightly with saran wrap, and let rise again, until doubled in size (30-90 min). Preheat oven to 350 degrees. 

Bake for 20 to 30 minutes, until just barely golden brown. 

Beat the 16 oz softened cream cheese, 2 tablespoons heavy whipping cream, 1/2 teaspoon fine salt, teaspoon vanilla, and cup of powdered sugar until fluffy, about 5 minutes. Spread over cinnamon rolls while slightly warm. 
Notes
if using active dry yeast instead of instant yeast, dissolve it into the 1/2 cup lukewarm water first for 5-10 minutes before adding to mix to "activate" it. Instant yeast can be added as is. 
You can substitute regular milk for butter milk, or make "faux" buttermilk by adding a teaspoon lemon juice to the milk and letting it stand for 5 minutes. 
Soften cream cheese and butter completely at room temperature before incorporating. 
Nutrition
Calories:
863
kcal
|
Carbohydrates:
133
g
|
Protein:
17
g
|
Fat:
30
g
|
Saturated Fat:
16
g
|
Cholesterol:
93
mg
|
Sodium:
716
mg
|
Potassium:
312
mg
|
Fiber:
5
g
|
Sugar:
58
g
|
Vitamin A:
1122
IU
|
Calcium:
150
mg
|
Iron:
5
mg