Expression of one's self is something to be encouraged. Be your unique self, be original, blah blah, that's all great and so inspiring. But sometimes, we forget the value in emulating greatness. The greatness I am referring to in this case, is the almighty Cinnabon. I would not be mad, if I made a batch of cinnamon rolls and they tasted like Cinnabons. These come pretty darn close, if not smack on. The dough is chewy and dense enough to support a gigantic, fifty thousand calorie roll, where the center (I lovingly term the nucleus) is worth its weight in gold; and covered in an almost whipped, sweetened cream cheese frosting. I use my bread machine for the dough, but if you don't have one, don't let that stop you. The old fashioned way isn't that difficult, and the fruits, or rolls, of your labor are totally worth it.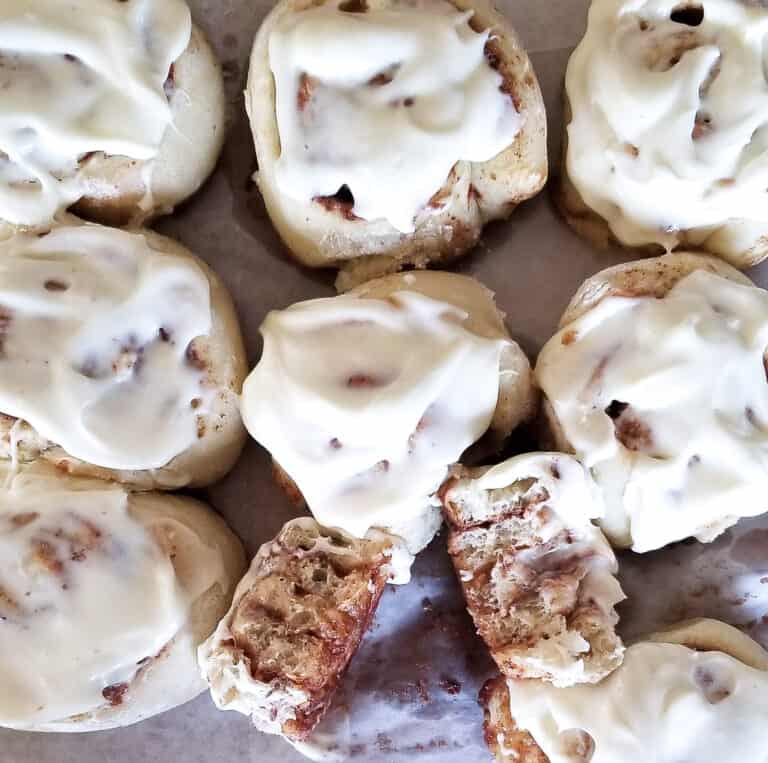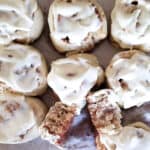 Print Recipe
Cinnabon Copycat Cinnamon Rolls
Perfected to taste just like a Cinnabon; big, gooey, rich and buttery; with tons of whipped cream cheese frosting.
Ingredients
1/4

cup

lukewarm milk, plus 2 tablespoons

1/4

cup

lukewarm water

1

large

egg

1/3

cup

sugar

2

tbsp

salted butter

1

tsp

salt

2 1/2

cups

bread/pizza flour

2 1/4

tsp

active dry yeast
Cinnamon Filling
2

tbsp

softened butter

1/2

cup

brown sugar

1/4

cup

sugar

1/4

tsp

salt

1

tbsp

cinnamon
Frosting
16

ounces

cream cheese

softened

2

tbsp

butter

1/8

tsp

salt

1/2

tsp

vanilla

3/4

cups

powdered sugar
Instructions
In a bread machine, on the dough cycle, add dough ingredients (if using hand method, knead for a good 10 minutes, and place dough into a large, greased bowl, covered, in a non drafty area; let rise until doubled in size).

Grease a 13×9 inch baking dish.

On a large, floured work space, roll dough out into a large 10 inch by 15 inch rectangle.

Spread with softened butter.

Combine sugars and salt and cinnamon, sprinkle mixture evenly over dough.

Starting at edges and working way to middle, roll the dough up 1/2 inch at a time, until completely rolled up. Using light pressure of a knife, just enough to mark middle of "log", then middle of the two halves, the each fourth into 3 sections, yielding 12 equal slices.

Using thin string, such as unflavored floss or sewing thread, cut log at each marking by tying around with floss, and pulling tight until cut through.

Place 3 rolls by 4 rolls in the baking dish, cover with a light towel, and let rise again, until doubled in size (45 min or so). Preheat oven to 375 degrees.

Bake for 15 to 20 minutes, until slightly golden brown.

Using an electric mixer, standing mixer, or food processor, beat frosting ingredients until fluffy, about 5 minutes. Spread over cinnamon rolls when completely cooled.