If you love Loftthouse brand cookies, you will fall in love with these homemade cream cheese sugar cookies! A bit of a Lofthouse cookie copycat, these are thick, soft, and have a touch of sweet cream cheese. They are amazing!
The texture is just like a the Lofthouse cookies from the store. It's a super soft, thick cookie that's moist and almost cake-like. Dangerous, I know.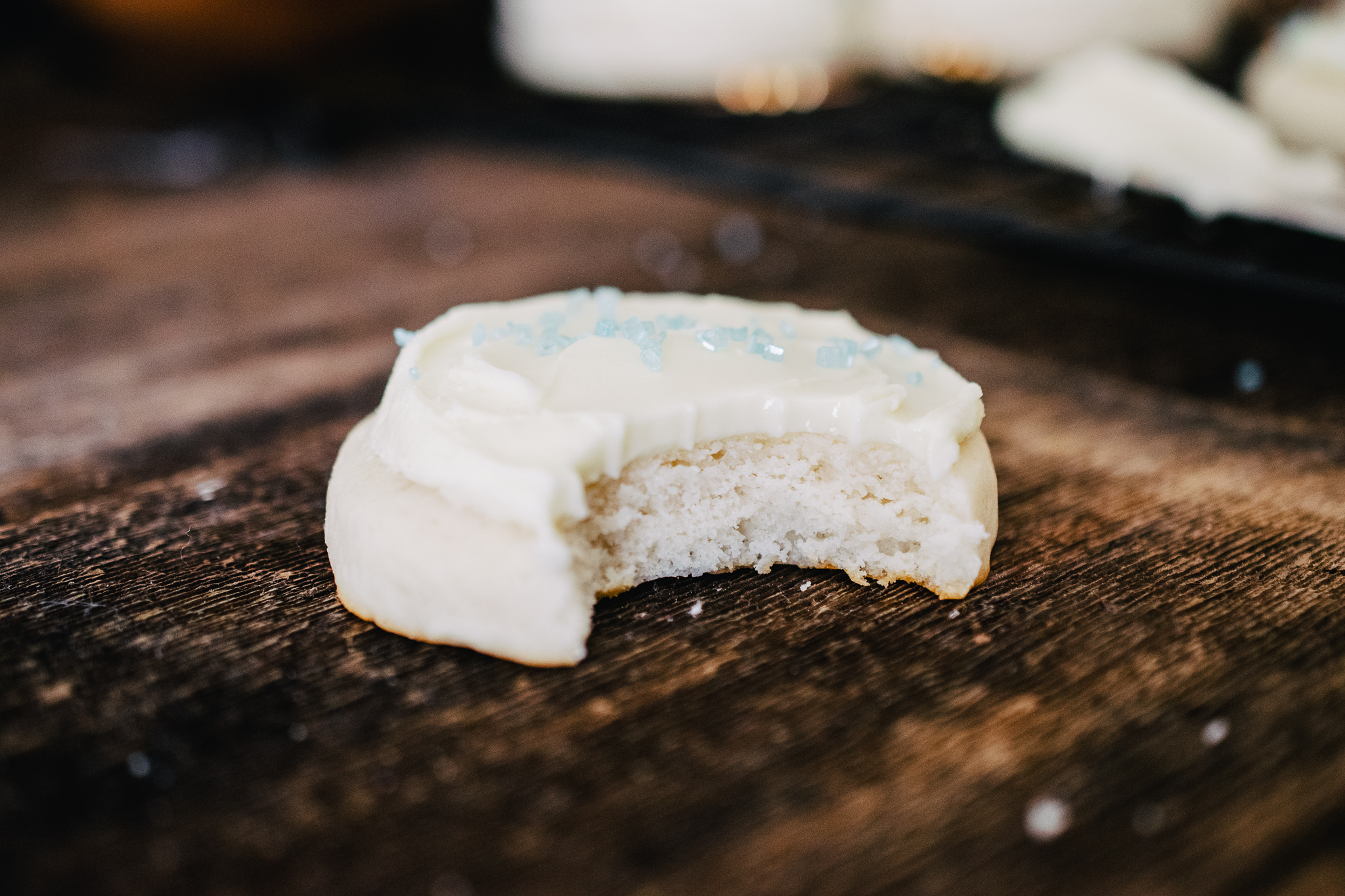 how to roll out the sugar cookie dough
It's easiest to chill the dough for a good while before attempting to roll it out. You'll notice when mixing the dough that it's very soft. To get perfectly round cookies that have the perfect thickness, it's important to roll them out and cut them with a round biscuit cutter. This will ensure perfection. Flatten it slightly between two sheets of parchment paper before sticking it in the fridge. A minimum of 30 minutes, but preferably an hour will do the trick. It can also be made in advance and refrigerated overnight until you're ready to bake them.
Roll a section of the dough out between two large pieces of parchment paper until its a quarter inch thick. Dip a round biscuit cutter into flour (to prevent sticking) and press it into the dough until you've made as many circles as possible. Transfer the round cutouts to a baking sheet, roll up the scraps and repeat the process. The cookie dough circles need about an inch space between to bake in the oven.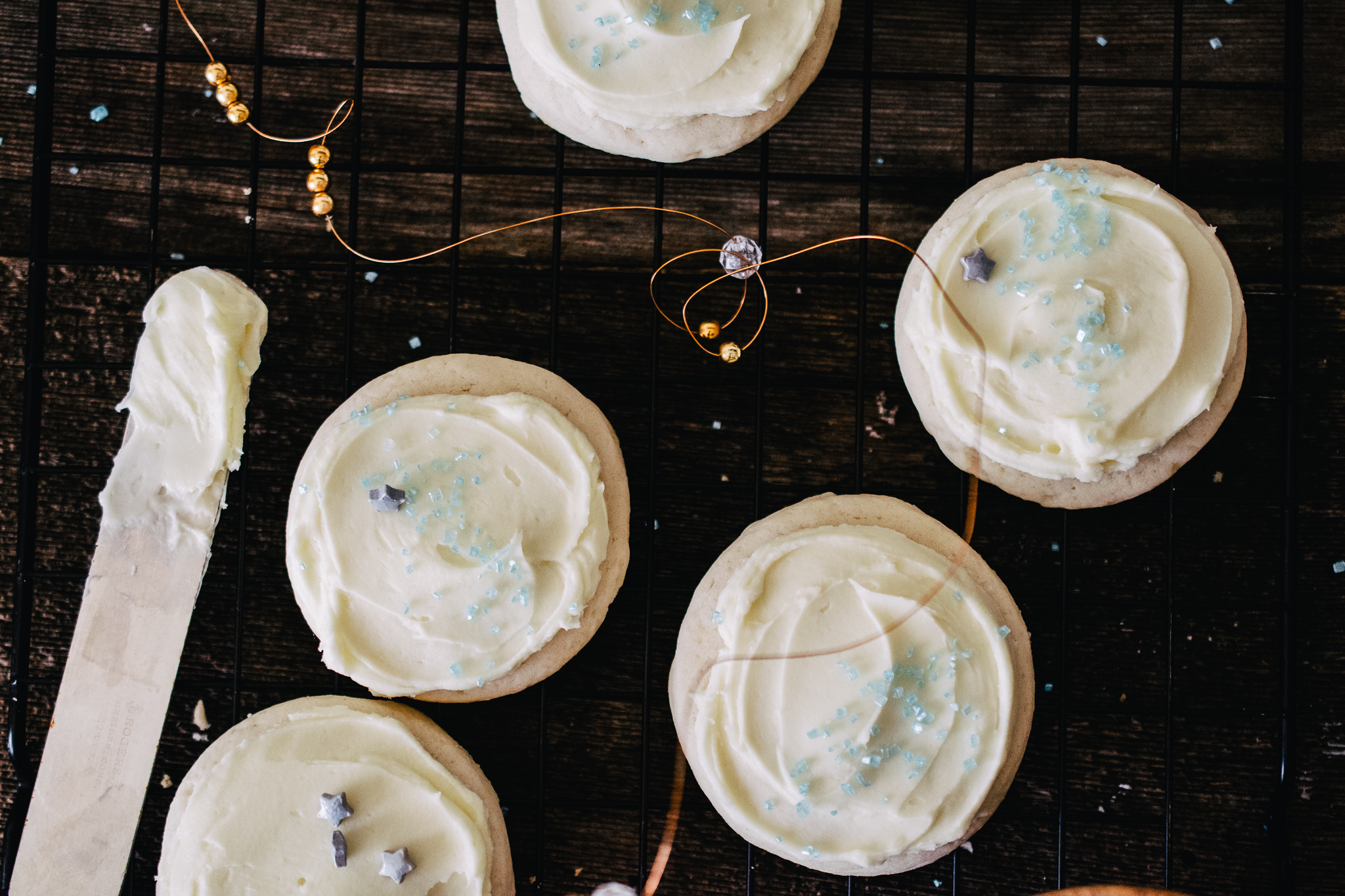 frosting the cookies
When mixing the Lofthouse cookie frosting ingredients, the cream cheese and butter must be completely softened. Pull them out of the refrigerator as soon as you begin the cookie dough, or at least a couple of hours before attempting to mix it up. Trying to soften it in the microwave isn't the best method because it will result in overly warm, or melted spots. That's not going to work for your frosting's consistency. Patience is a virtue with butter softening and it's best to let it do it's thing at room temp for as long as it takes.
To create the Lofthouse sugar cookie with it's signature icing, you need to cool the cookies completely before attempting to frost them. Easier said than done, right? But a must! Slap your own hand if you have to, you gotta wait all the way on this. Any residual warmth from the baking process with only heat the frosting and cause it to lose its shape, or to slide off. Not the cutest look for a cookie.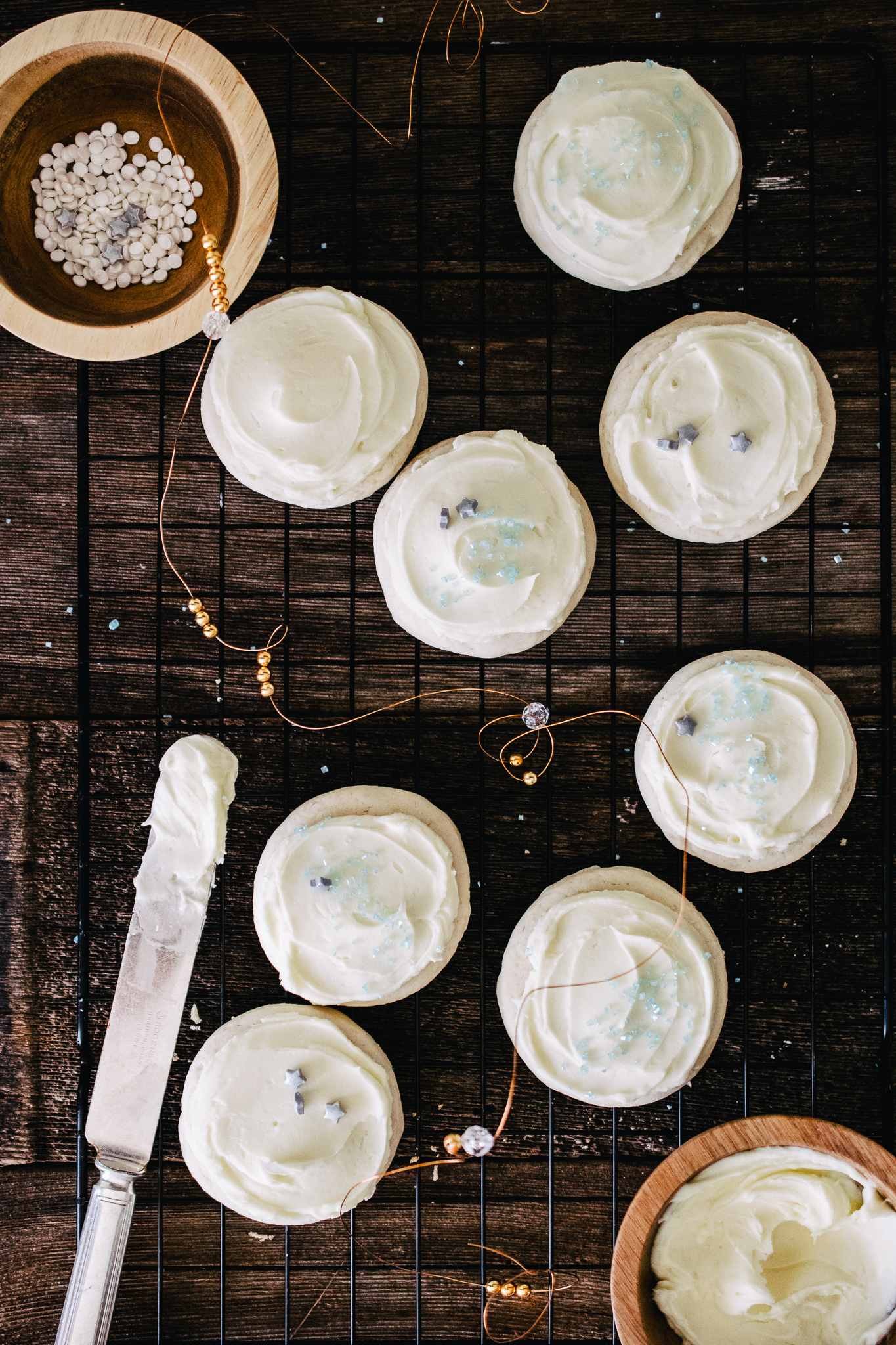 If you are making it up ahead of time, it's fine to store in the fridge, just make sure to give it ample time to re-soften on the counter before frosting.
These copycat Lofthouse sugar cookies are great any time of the year, but I always get a hankering for a good sugar cookie during the holidays. Plus, sprinkles are so much fun! I might get more into it that my kids do. They also make great holiday gifts for friends and family.
The best part about sugar cookies is the decorating. But have you seen the sprinkle game out there? It is strong! I've included some links to some of the cutest and prettiest sprinkles to top these cookies with this season, including some edible glitter to get you through New Year's! Full disclosure, I will earn a commission on any purchases made through these links, but either way I like to share some of the sprinkle fun that's out there right now. 'Tis the season!
Happy sprinkling!
For more holiday cookie fixes, take a peek at these decadent, ganache filled, Thin Mint Chocolate Sandwich Cookies and these tried and true Big and Soft Molasses Cookies.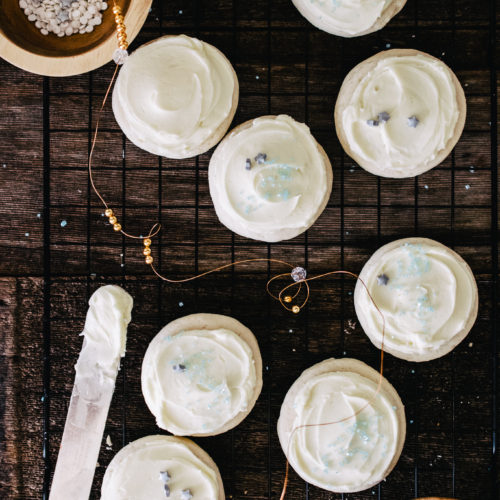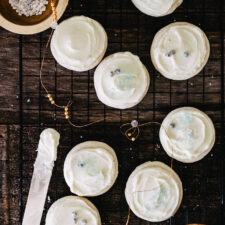 Cream Cheese Sugar Cookies
Super soft, thick, and rich cream cheese sugar cookies with a perfected sweet cream cheese icing on top
Print
Pin
Rate
Ingredients
8

oz

cream cheese

softened

3

egg whites

1

stick butter

softened

1/2

cup

vegetable shortening

1 1/2

cups

sugar

1

tsp

vanilla extract

1

tsp

cream of tartar

1/2

tsp

baking soda

1 1/4

tsp

salt

4

cups

all purpose flour
Frosting
8

oz

cream cheese

softened

1/2

tsp

vanilla

1

cup

powdered sugar

1

tbsp

heavy cream

1/2

tsp

fine salt
Instructions
Cream together butter, shortening, vanilla, sugar, eggs.

Add cream cheese and mix until smooth.

Add remaining ingredients.

Flatten into a thick disc between two pieces of parchment paper and chill for at least 60 minutes.

Preheat oven to 375 degrees

Roll half the dough between two pieces of parchment paper with a rolling pin to between 1/4 and 1/2 inch thick.

Flour a round biscuit cutter, cut out circles and place on baking sheet(s) and bake for 9-10 minutes, removing from the oven before tops crack. Bottoms should be just starting to become light golden.

Repeat with remaining dough, re-rolling scraps until all the circle have been created and baked.

Let cool completely before frosting.
Frosting
Combine all ingredients with a mixer or food processor until smooth.

If the frosting is made in advance, store in refrigerator and let come to room temp before spreading onto completely cooled cookies.