Super soft, thick and delicious cream cheese sugar cookies with a smooth and rich cream cheese frosting, that can be decorated for any occasion.
The texture is just like a the Lofthouse cookies from the store. It's a super soft, thick cookie that's super moist and almost cake-like. Dangerous, I know.
The bonus is that the frosting can be colored and decorated for any holiday or occasion you need.
What you need to make them
To make the dough
The dough is fairly straight forward. You'll mix the "wet" ingredients and then add the dry in, and mix those up. (In the case of cookies, sugar is considered a wet ingredient.)
Some things you'll need to do before hand are:
Soften the cream cheese at room temperature
Soften the butter at room temperature
Preheat the oven
Softening the butter and cream cheese
The butter and cream cheese will take about 2 hours to fully soften, depending on how warm your house is. If it's super drafty it may take up to 3 hours.
One trick I've learned to speed up this process, or almost avoid it altogether is to soften it the microwave. This can get tricky though, and if you accidentally melt it, you'll have to start over.
Some microwaves have a butter softening setting on it, but if yours doesn't you can microwave on 10% power (that's usually the button marked 'cook power') in 30 second intervals. After each interval, flip the stick of butter over.
The same process works for the cream cheese, but make sure to take it out of the foil wrapping and put it on a plate.
Combine the butter, shortening, sugar, egg whites and vanilla first, then mix in the softened cream cheese. It's fine to have a few lumps at this stage.
After you've mixed in the cream cheese, add the remaining dry ingredients. This would be the flour, baking soda, cream of tartar and salt. The dough will be thick, but soft.
What if I don't have cream of tartar?
The cream of tartar acts as a leavener in this recipe, along with the baking soda. It also helps the cookies to become ultra soft and puffy.
Read this for more info on what cream of tartar is, and what substitutions can be made. 
Chill the dough
You can't skip this step. The cream cheese in the dough, while it is completely delicious, also makes the dough sticky. So if it's chilled, it's firmer and easier to work with.
Make sure to wrap the dough or cover the bowl that it's in to prevent it from drying out.
Tip: If you're rolling the dough out on parchment paper anyways, then you may as well wrap it in parchment paper to chill it. (See notes below on non stick dough rolling.)
Rolling out the dough
You might be wondering why you wouldn't just plop dough balls on the cookie sheet. The reason has everything to do with the consistency of these cookies.
They're not really a ball-type cookie. They are a cut out cookie, but like one you've never had because they're thick and soft and fluffy. I compare them to the likes of a Loft House copycat cookie. Do you know the ones I'm talking about?
About that non stick dough rolling. Unless you have a non stick mat like a Silpat mat, and a non stick rolling pin, you'll want to roll the dough between two pieces of parchment paper.
Don't go for a typical sugar cookie cut out, these need to be thick. Let the dough be an even, ½ inch thick and smooth. Then use a biscuit cutter or small water glass to cut out perfect circles. From there, transfer them to a baking sheet and bake until puffy.
How to bake them
When you bake these cookies, don't let the edges get golden. The centers shouldn't be dewy (raw), but if you touch them they should leave an indent that starts to spring back slightly.
You can also use the common toothpick inserted method, and if no crumbs come out wet, then they're done.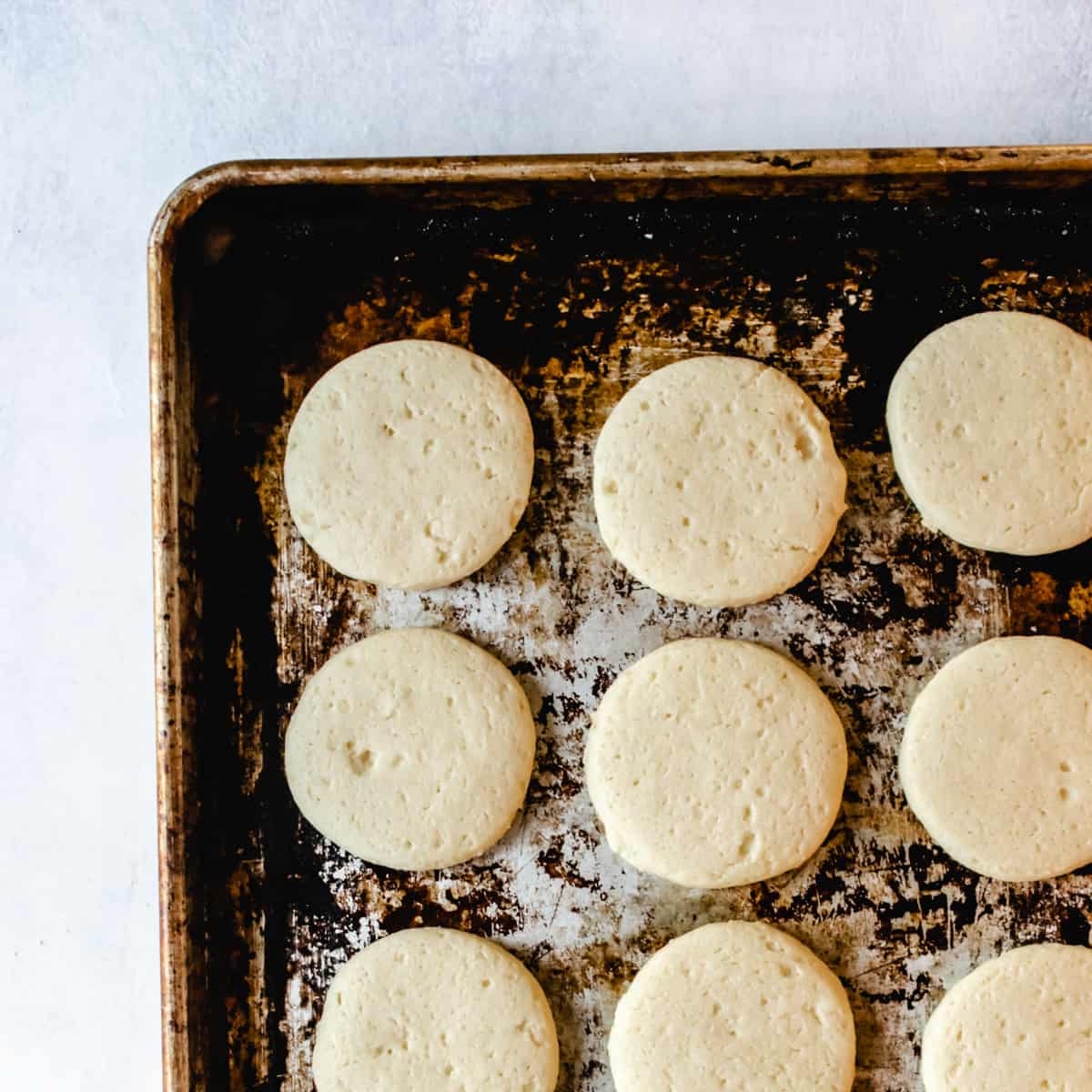 Roll a section of the dough out between two large pieces of parchment paper until its a quarter inch thick. Dip a round biscuit cutter into flour (to prevent sticking) and press it into the dough until you've made as many circles as possible. Transfer the round cutouts to a baking sheet, roll up the scraps and repeat the process. The cookie dough circles need about an inch space between to bake in the oven.
How to make the frosting
Like with the cookies, the cream cheese in the frosting needs to be softened completely also.
The cream cheese frosting is very easy to make. Cream together the softened cream cheese, vanilla and powdered sugar.
You can dye the frosting using any combination of food coloring. Check out this article on DIY food coloring!
Wait until the cookies are completely, I repeat, completely cooled before frosting.
Frosting can be made ahead in advance and stored in the fridge until frost time. Let it come to room temp for 20 minutes or so to soften, if it feels too stiff.
Decorate the cookies while the frosting is fresh, if you plan on using sprinkles-they'll stick better. (Here's one of my favorite resources for Homemade Sprinkles!)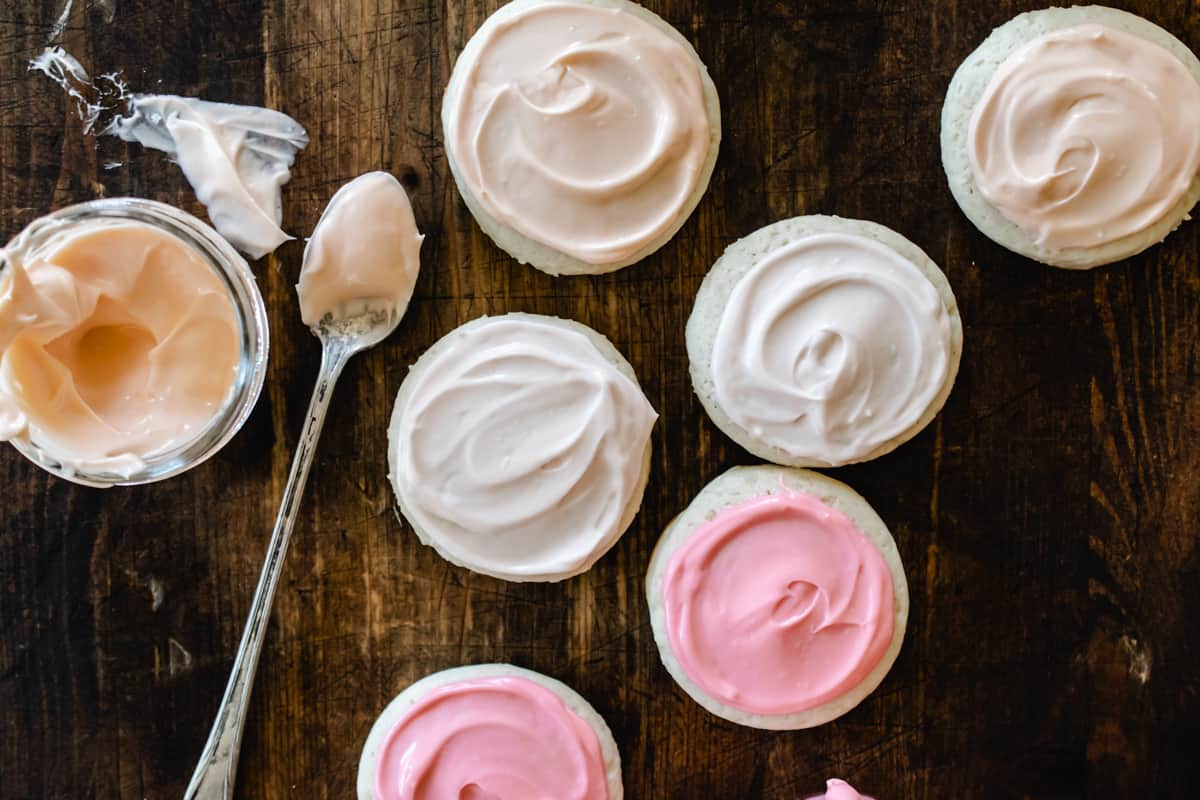 When to make these
These cookies are like a delicious, blank canvas for you to decorate however you wish, for parties, pot lucks, holidays, and all kinds of occasions. Have fun with them!
Try these other decorative cookies: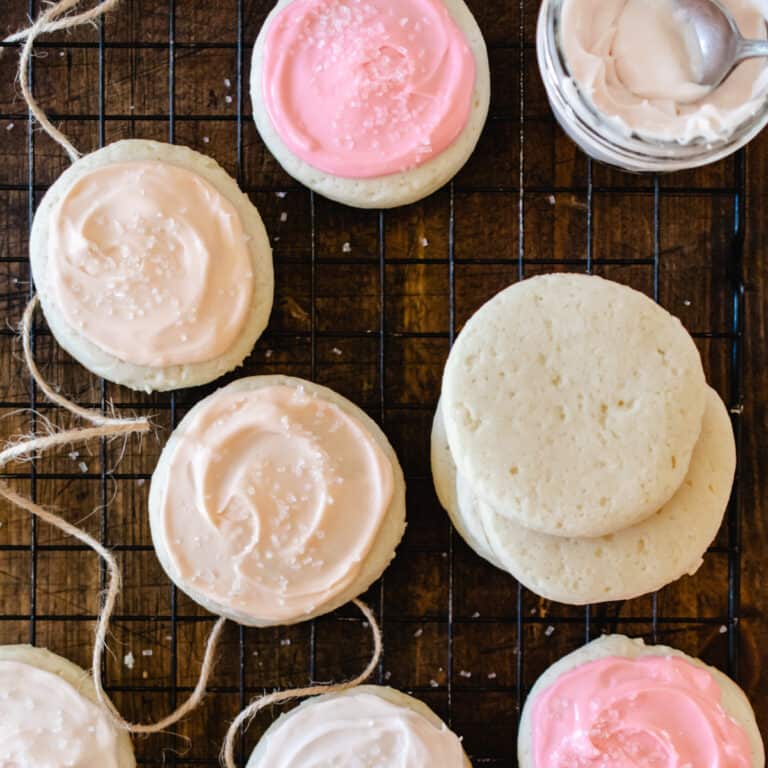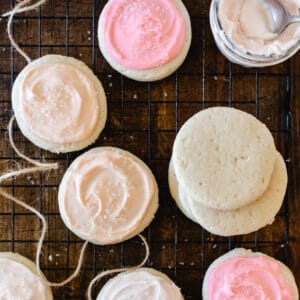 Cream Cheese Sugar Cookies
Soft and thick cream cheese sugar cookies with a perfected sweet cream cheese frosting.
Print
Pin
Rate
Ingredients
1

stick butter

softened

½

cup

vegetable shortening

1 ¾

cups

sugar

3

egg whites

whites only

1

teaspoon

vanilla extract

8

oz

cream cheese

softened

1

teaspoon

cream of tartar

½

teaspoon

baking soda

½

teaspoon

salt

4

cups

all purpose flour
Frosting
8

oz

cream cheese

softened

1

teaspoon

vanilla

1

cup

powdered sugar

1-2

tablespoon

milk
Instructions
Cream together butter, shortening, sugar, vanilla, and eggs whites.

Add cream cheese and mix; batter may have small lumps at this point.

Add flour, baking soda, cream of tartar and salt; mix until thick dough is formed.

Wrap dough and chill for at least 60 minutes to overnight.

Preheat oven to 375 degrees

Roll half the dough between two pieces of parchment paper with a rolling pin to between ½ inch thick.

Flour a round biscuit cutter, cut out circles and place on baking sheet.

Bake for 8-10 minutes, removing from the oven before tops crack, and before edges become golden. (Use a toothpick to test that the centers are not raw, by inserting the toothpick and verifying that no wet crumbs are stuck to it when it's removed from the cookie.)

Repeat with remaining dough, re-rolling scraps until all the circle have been created and baked.

Mix frosting ingredients: cream cheese, vanilla, powdered sugar, milk, until smooth; color as desired. Wait until cookies are completely cooled to frost.
Notes
Soften both butter and cream cheese at room temperature until soft. 
Roll dough between parchment paper or use a Silpat mat or nonstick rolling pin. 
Wait until cookies are completely cooled to frost. 
Dough may be chilled overnight, but a minimum of 1 hour before rolling. 
Frosting may be made in advance and stored, covered in the fridge. 
Store cookies covered, at room temperature for 2-3 days or in fridge for up to 1 week. 
Nutrition
Serving:
1
g
|
Calories:
258
kcal
|
Carbohydrates:
36
g
|
Protein:
4
g
|
Fat:
11
g
|
Saturated Fat:
5
g
|
Cholesterol:
21
mg
|
Sodium:
143
mg
|
Potassium:
75
mg
|
Fiber:
1
g
|
Sugar:
20
g
|
Vitamin A:
254
IU
|
Calcium:
22
mg
|
Iron:
1
mg