It's that time of year.... school is back in session, the evenings are becoming a little earlier each day, and the need for a quick and filling family dinner arises about five times a week. With as little dishes as possible, please. Enter, Creamy Chicken and Dumplings.
Creamy Chicken and Dumplings is a one pan wonder that is a bit of a cross between a chicken pot pie, and chicken and dumplings soup. It's thick, and creamy with hand cut country veggies and soft, fluffy dumplings dolloped throughout. I am humongous fan of a meal that doesn't call for any sides, or excessive pots and pans to get the job done. This is definitely one of those meals.
how to make chicken and dumplings creamy.
These chicken and dumplings are a little different than most, because these dumplings live in a thick and luscious creamy base, rather than a broth like one. It's all about the sauce with these, and it's the heart and soul of the dish. To make the base or the otherwise broth like part of the dish thick and creamy, dissolve all purpose flour into a bit of water until it's smooth (it should be the thickness of pancake batter) and then whisk that into the broth or stock. It must simmer on low for a few minutes, which is the time that it will begin to thicken. Without the simmer going, it won't thicken, so be sure there's adequate heat once the flour mixture is mixed in.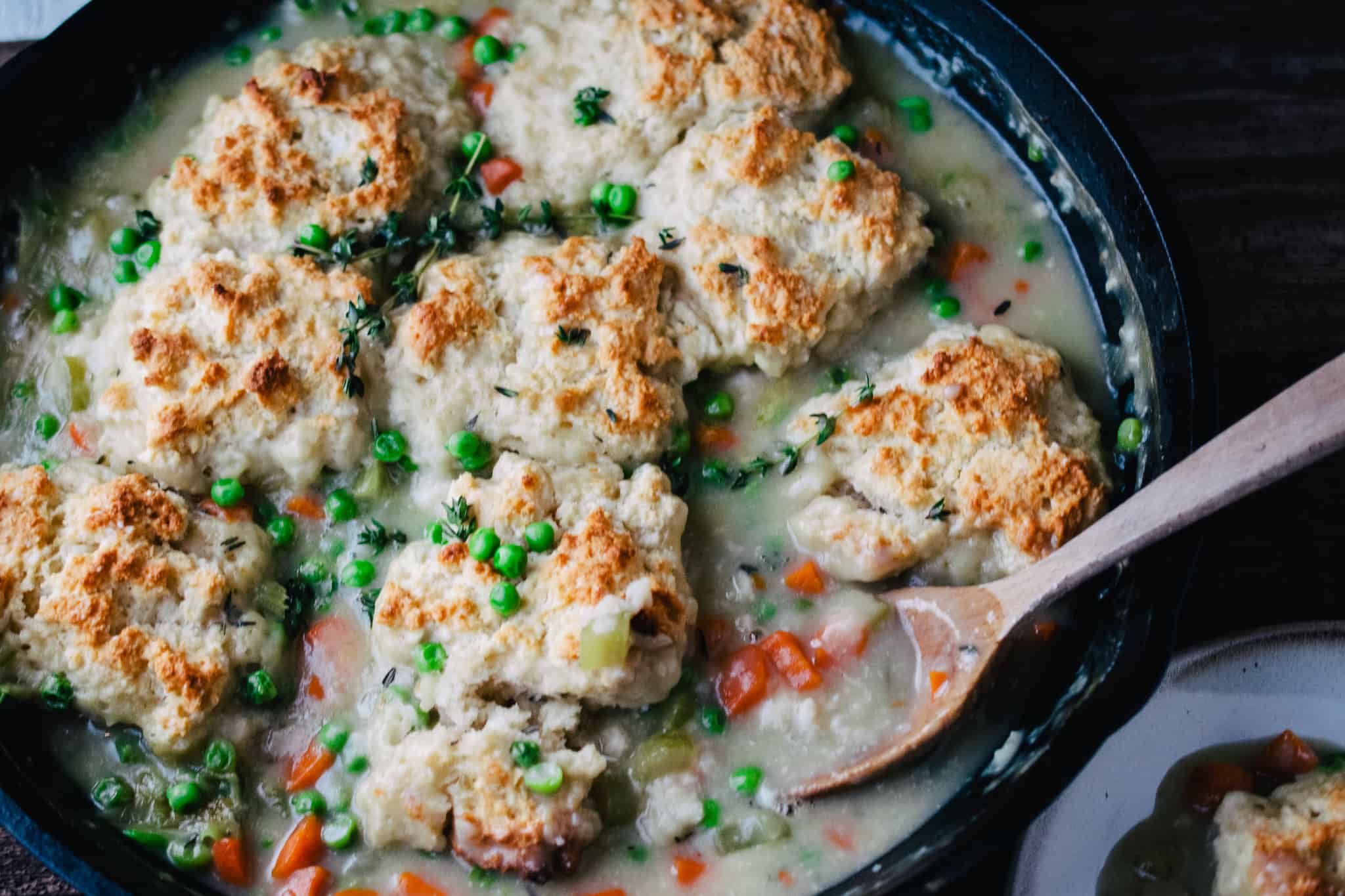 the perfect drop dumpling
The dumplings that are dropped in are much like a biscuit. Basically, they are a biscuit but they don't have to be rolled out and cut. Just dolloped in, perfectly imperfect.
When it comes to biscuits and dumplings, I am team shortening all the way. Normally, when there is an option for butter, I always lean towards butter because usually butter makes everything better. I think we can all agree on that. However, there are always exceptions to the rules, and I believe that biscuit and dumpling dough is one of them. Using shortening for the biscuit dough rather than butter, makes a way fluffier biscuit. Think KFC biscuits. Super soft and pillow like. Using butter still makes a good biscuit, it just results in a different texture. The texture will be more crumbly and less fluffy.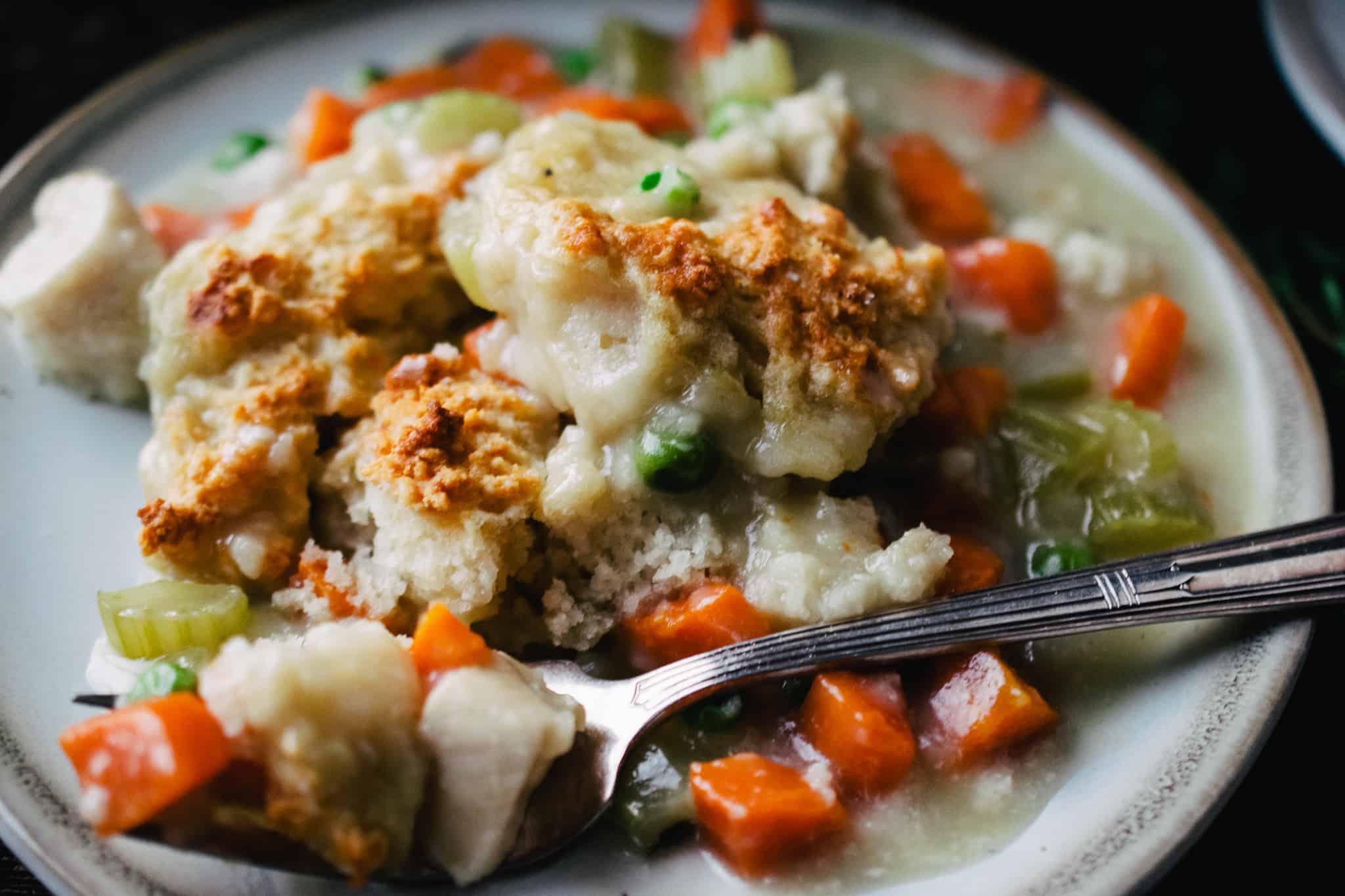 Make sure to cut the dry ingredients with the shortening first, until it looks like fine crumbles. You can use a fork, a biscuit cutter, or even a few quick pulses in the food processor like I do. (This is a finer crumb than you would want for biscuits on their own, but it's perfect for dumplings that are going to be submerged in sauce.)
how to make buttermilk
When it comes to biscuits or dumplings of any kind, buttermilk is always superior. Not everyone always has buttermilk on hand, but it could not be easier to make. Simply pour a cup of regular milk into a mixing bowl or measuring cup, and add one tablespoon of either white vinegar or lemon juice. Stir it up, and let it sit for 5 to 10 minutes. It will thicken and form curds and one final whisk will combine everything and poof! Buttermilk.
what vegetables go in chicken and dumplings?
This is the wonderful thing about chicken and dumplings. You can be a little flexible with what you want to put into your chicken and dumpling dish. I always include carrots, peas (fresh or frozen) and onions. If I have celery on hand, that goes in as well.
Sometimes if I have some odds and ends like a small amount of corn or potatoes I will add those in too, but only to use them up. This dish is a great way to use up any lone vegetable or leftover ends.
The herbs are also a flexible addition here, but don't get too wild with them. Thyme, sage, rosemary and bay leaf all add wonderful fragrance and flavor to the dish. Any single variety or combination will really make for a delicious addition.
Note that when using peas, wait until right before dropping in the dumplings to stir in the peas so that they don't overcook.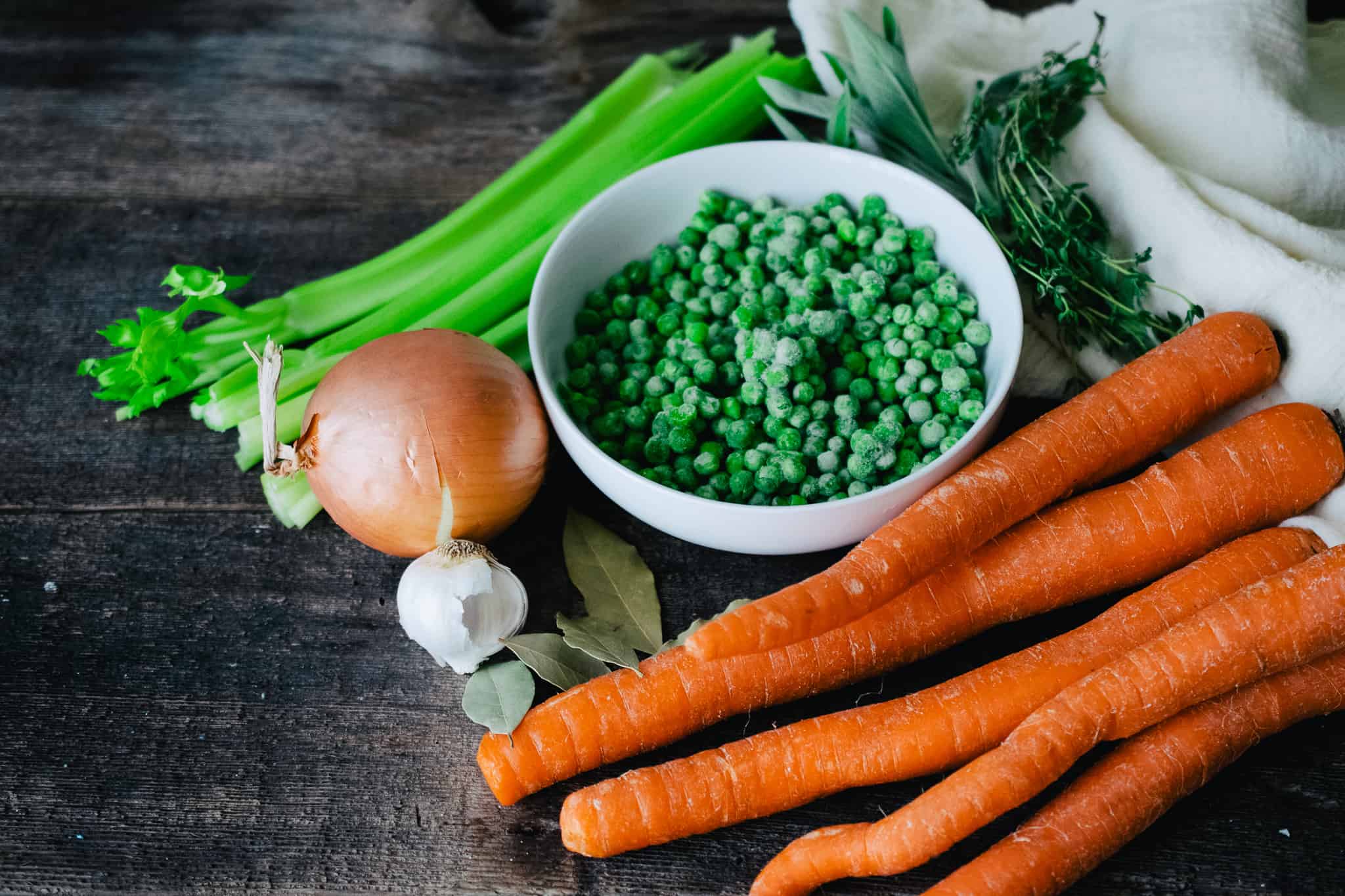 how to thicken a sauce
There are a variety of ways to thicken a sauce, but for this dish flour works the best. Cornstarch can be used, but it will give a silkier sauce rather than the gravy like consistency that is perfect for these Creamy Chicken and Dumplings. If you opt to go for cornstarch instead of the flour route, just use half the amount of cornstarch that you would if using flour.
Don't just add the flour right into the simmering liquid; it will get very clumpy and won't break up. You must whisk it separately with another liquid until smooth and lump-free, and then whisk that flour mixture in.
I don't normally opt for flour as a thickener, or as a way to make things creamy. This dish is an exception in that way as well. The no-canned, condensed soup recipe for Chicken Poppy Seed Casserole for example, calls for corn starch. And I often use heavy cream to "cream up" my sauces, like in this irresistibly rich and creamy Acorn Squash and Sausage Pasta. I might have a slight obsession with heavy cream. But the old flour and water thickener just works best for this particular recipe.
what to serve with chicken and dumplings
And now we have arrived at the best thing about this recipe. You don't have to serve it with anything! Everything you would need to suffice as a well-rounded meal is all right there baked up into that skillet. The only serving suggestion I can come up with if you are making this dish on a chilly evening, is a pair of cozy socks and a glass of wine.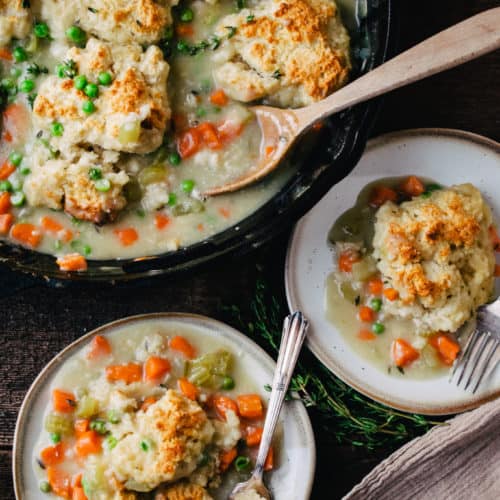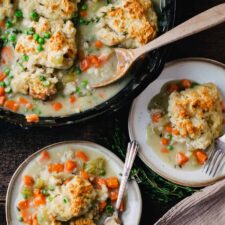 Creamy Chicken and Dumplings
Soft, fluffy dumplings served in a thick and creamy chicken soup with thick cut country vegetables and herbs.
Print
Pin
Rate
Ingredients
2

chicken breasts

cut into bite size chunks

2

tablespoon

butter

½

medium onion

diced

5

medium carrots

peeled and diced

3

stalks celery

optional (diced)

2

cloves

garlic

peeled and minced

1 ½

cup

green peas

fresh or frozen

6

cups

chicken stock

2

teaspoon

white wine vinegar

1

teaspoon

sugar

1

teaspoon

garlic powder

1

teaspoon

onion powder

½

cup

all purpose flour

whisked in ¾ cup water until smooth and lump free

1

tablespoon

fresh or dried thyme

4

bay leaves

salt and pepper to taste
Dumplings
2 ¼

cups

all purpose flour

1

tablespoon

baking powder

1

teaspoon

baking soda

1

teaspoon

salt

2

teaspoon

sugar

½

cup

shortening

1

cup

buttermilk or milk
Instructions
Preheat or set oven temperature to 400 degrees.

In a skillet, on medium high heat saute carrots, onion, celery and garlic in butter until they soften, between 5 and 10 minutes.

Whisk together flour and ¾ cup of water until smooth and lump free.

Add stock, vinegar, garlic and onion powders, sugar and herbs to the skillet

Simmer on medium high for 10 minutes until slightly reduced, whisking in the flour/water mixture during the last couple of minutes. Salt and pepper to taste

While the skillet is simmering, mix up the biscuit dough. Combine dumpling ingredients by mixing flour, baking powder, soda, sugar and salt; cut in the shortening until mixture resembles fine crumbs.

Add buttermilk and mix until sticky dough is formed.

Remove skillet from heat. Mix in chicken pieces and peas.

Drop dollops of biscuit dough evenly into the skillet

Bake in a 400 degree oven for 20-25 minutes, until tops are golden brown and crispy.
Notes
For best results, use only fresh or frozen peas, not canned.
If using chicken broth instead of chicken stock, be aware of salt. Often times chicken broth has more added sodium, therefore you may not want to add any salt at all.