Quick and easy creamy, homemade Indian butter chicken could not be more simple and is made in one pan, under 30 minutes. Serve with a garnish of fresh cilantro, basmati rice and naan bread; it's better than takeout!
what is butter chicken
If you've never had butter chicken, or maybe you've never heard of it you're probably wondering what's in it. The sauce is like a gravy made with a bit of tomato, butter and cream and simmered with certain warm spices like turmeric, ginger and coriander, plus others. The sauce has pieces of tender chicken, and is served with Basmati rice. (Basmati rice is a super long grain rice.)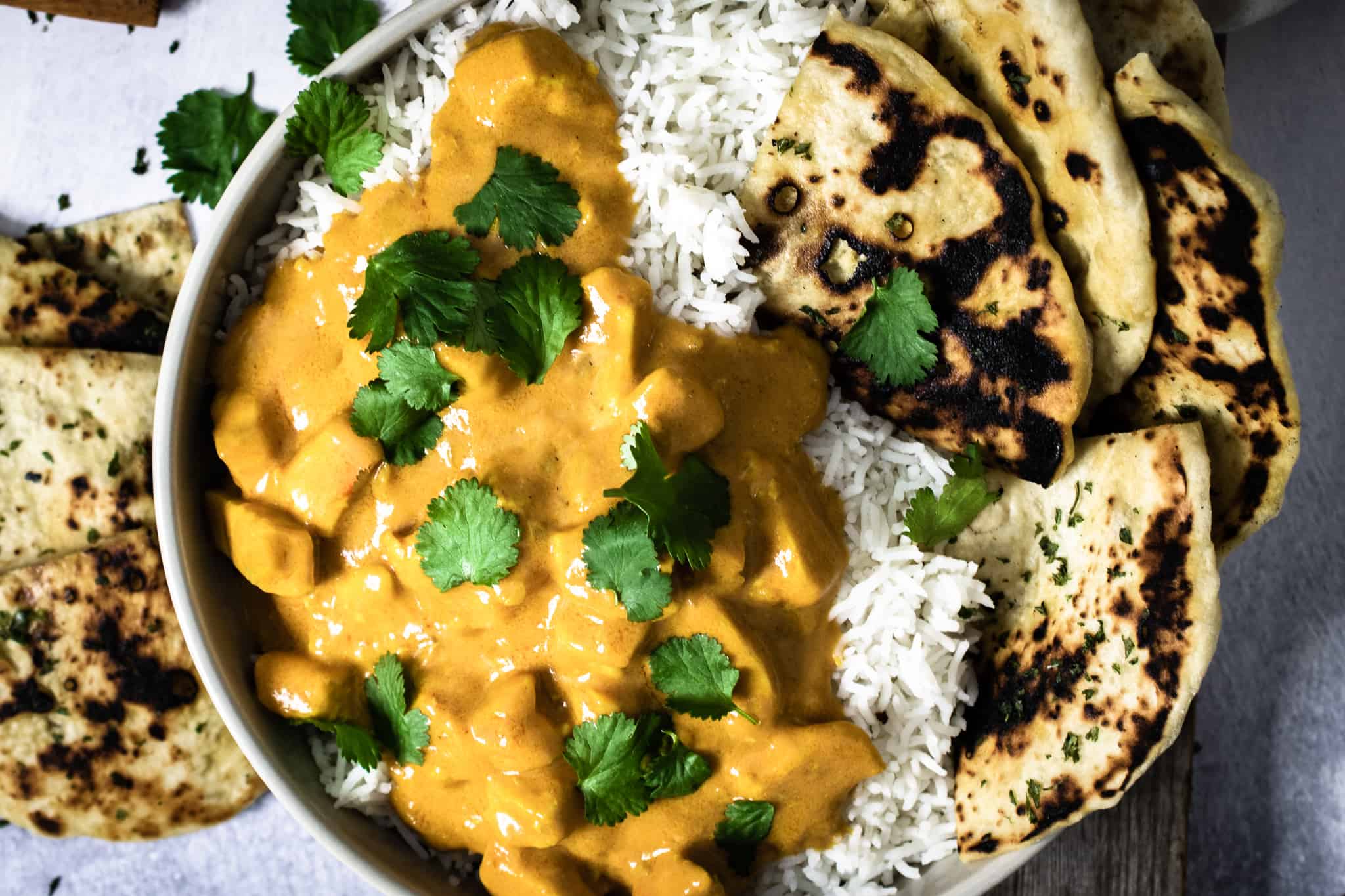 garam masala ingredients
Some recipes call for garam masala, which is not a single spice. garam masala is a blend of several spices, including some of the ones previously mentioned, along with cinnamon, cumin, cardamom, clove, nutmeg and pepper. (Like curry, which is a blend of tons of different spices, and sold as curry powder.) There are variations, and everyone's garam masala can be a little different but they all have most of these spices in common. For this recipe, I like to use the spices individually, rather than garam masala. The reason being, that some people don't have garam masala, but they likely have these other spices that make up a typical garam masala. Additionally, I find that since I have control over how much of each of these spices goes in, I've pin pointed the perfect balance of sweet and warm and spice.
If you do have garam masala, and not the other spices, go ahead and use the garam and add the ginger and turmeric in addition. Do some taste testing along the way, depending what's in your garam masala and it what proportions, you may need to add a bit more cinnamon, or coriander, or something else. I can't make any promises if you go the garam masala route, but if you follow the recipe using the individual spices, you're sure to come out with the right result.
how to serve butter chicken
Some recipes stop at serving the butter chicken with rice, but to get the entire experience of what makes homemade butter chicken so incredibly delicious, you want to serve it with cilantro to garnish and naan bread. This is where it gets you. You take the naan bread and scoop little piles of the rice and the butter chicken onto it and bite it like a soft, Indian nacho and let me tell you: It's highly addictive. I always make enough for leftovers, and I've actually woken up in the middle of the night and snacked on this stuff. It's that good.
I am posting my naan recipe soon and will link to it, but for now, this is a really good naan recipe in my opinion. It's from Jo Cooks; make sure to brush with the melted butter and sprinkle with parsley.
easy indian butter chicken
You can have butter chicken on the table in less than 30 minutes. Cooking the chicken pieces in the butter and then removing them to a plate while you cook the rest of the sauce, ensures that they stay nice and tender. They don't have to be completely cooked through when you removed them, they'll finish cooking in the sauce. But a nice sear on the outside of the meat gives it more flavor.
Once the chicken is removed, add the minced onion and garlic to the the pan with the rest of the butter and saute until softened. Add the spices and tomato paste and get them nice and toasted; this helps release their flavors and makes the spices or garam masala fragrant. Once the spices become fragrant, add the stock and cinnamon stick. You can substitute ground cinnamon. Simmer the sauce for 10 minutes.
[easy-image-collage id=3331]
Reduce heat to low, and add the cream and chicken back in and stir. Simmer for a few minutes, until chicken is cooked through.
Serve with steamed, basmati rice and naan bread. Garnish with fresh cilantro.
Looking for more take out at home? Try these:
Creamy Coconut Chicken Curry
Homemade General Tso's Chicken
Takeout Style Aloha Burger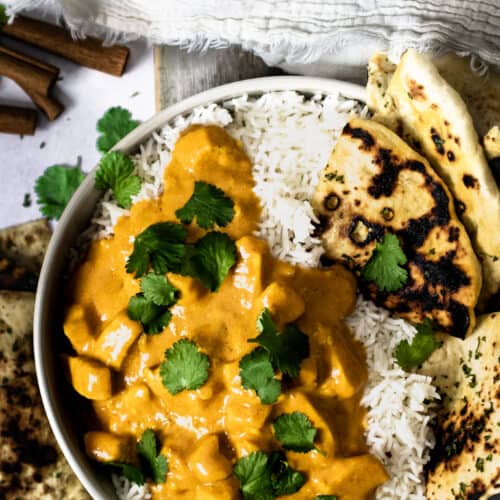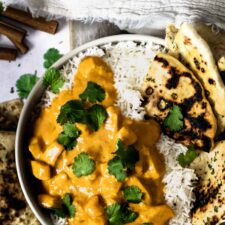 Indian Butter Chicken
Creamy, Indian butter chicken, chalked full of Indian spices, chicken and butter in a tomato and cream sauce. Serve with basmati rice.
Print
Pin
Rate
Ingredients
3

regular chicken breasts

cut into 1 inch cubes

1

stick butter

divided

½

medium yellow sweet onion

minced finely

2

cloves

garlic

minced finely

1

teaspoon

freshly grated or ground ginger

2

teaspoon

turmeric

½

teaspoon

cumin

⅛

teaspoon

cardamom

⅛

teaspoon

coriander

½

teaspoon

ground mustard

small pinch cayenne pepper

use more for desired heat level

1

cinnamon stick

can substitute ¼ teaspoon ground cinnamon

4

tablespoon

tomato paste

3

cups

chicken stock or broth

¾

cup

heavy whipping cream

salt to taste

fresh cilantro to garnish

basmati rice for serving

naan bread for serving

store bought or homemade
Instructions
In a heavy skillet, on medium high heat, add 2 tablespoon of the butter and the cubed chicken and saute until the edges brown. Remove the chicken from the pan and set on a plate (they won't be all the way cooked through, and that's fine for now.)

In that skillet, add the rest of the butter and the ½ minced onion and 2 cloves minced garlic; saute until soft.

Add the spices (all but the cinnamon stick) and tomato paste. Fry in the pan on medium high heat still for 2-3 minutes until spices become fragrant and the tomato paste deepens in color.

Pour in the 3 cups of chicken stock, and add the cinnamon stick. Stir up everything off the bottom of the pan and simmer for 5-10 minutes on medium high heat.

Reduce heat to medium low. Add the chicken and ¾ cup heavy whipping cream and stir until evenly combine. Simmer on medium low heat for 5 minutes until chicken is cooked through.

Serve with basmati rice, and naan bread. Garnish with fresh cilantro leaves.
Notes
Don't substitute margarine for butter. 
Use freshly grated or ground ginger; both in the amount of 1 tsp.
If substituting ground cinnamon for a cinnamon stick, use ¼ tsp, and add it to the pan with the other spices and tomato paste to toast. 
When simmering the chicken stock with the rest of the ingredients, let it do so at a fairly high simmer, allowing the spices to further develop their flavors. 
Once you pour in the heavy whipping cream, be sure to do so in the skillet once the high simmer has reduced to a very low one. Heating the cream at too high of heat will cause it to curdle. 
If the cream does get too hot and curdles, you'll see little white dots in the sauce. That's the separated curds. It's completely harmless to eat it that way, it just affects the look and presentation of the dish. There is absolutely nothing unsafe about eating the sauce if the cream got too hot and curdled though, if it happens accidentally. Better luck next time!
Serve with basmati rice. Basmati is a very long, thin grain rice and the texture is perfect for butter chicken. However, long grain rice can be substituted. 
Serve with naan bread to scoop! See original post notes for how to make homemade naan, or buy store bought naan.
Store leftovers up to 4 days. Reheat at low heat, or in the microwave on 50% power until heated through.