ingredients in an authentic alfredo sauce.
Did you know that it only takes 3 ingredients to make an authentic alfredo sauce? Cream, butter, and a block of delicious Parmigiano-Reggiano. That's the bare minimum that will qualify it as the real deal. Of course, there's the additions of garlic, nutmeg or white wine that can always be added. That's a personal preference thing, but they are not required. I've done all of them, but I have to say that my family as a whole, seems the happiest with the cream, butter, cheese and garlic combo, and that's what this recipe is going to follow. The results are so incredible that there is just no need to ever reach for the jarred stuff again.
what kind of cheese to use in alfredo sauce.
Alfredo sauce calls for a very specific variety of cheese. Authentically, Parmigiano-Reggiano. Known in America as parmesan. There is one important distinction between the two. Parmigiano-Reggiano is made from a specific region in Italy; it's the real deal. It has a stamp on the rind and everything and there are laws that dictate what's allowed to have the honor of the rind stamp. Parmesan cheese made in America, can only be called 'parmesan' and it is not allowed the stamp of authenticity that you'll find on Parmigiano-Reggiano from Italy.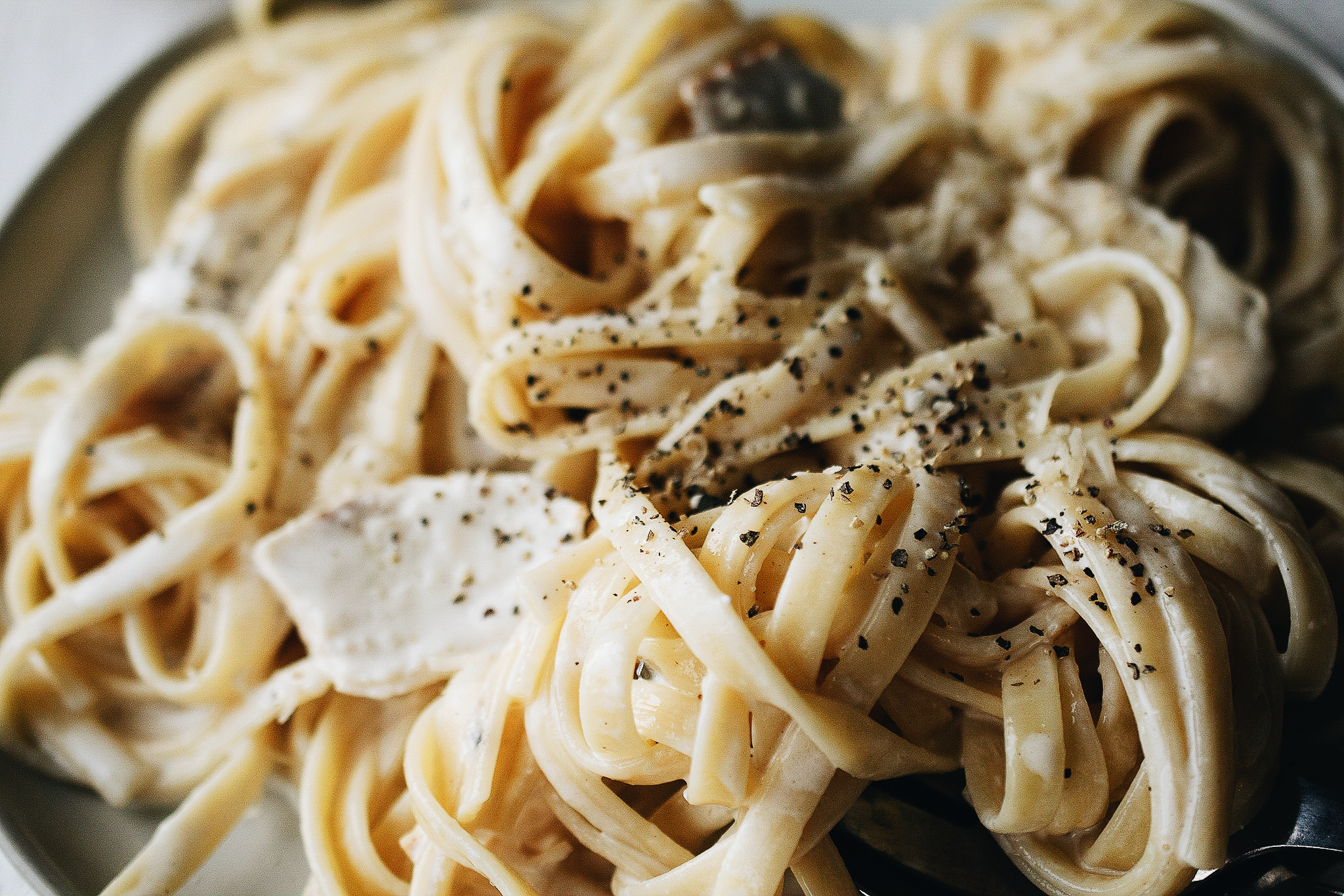 The other major difference here is the price tag. You'll pay a lot more for the Italian stuff versus the American made wedge. To be perfectly honest, I purchase both kinds, and our budget determines whether or not I can spring for the good stuff. Either way, you are guaranteed to get a fantastic, mind blowingly delicious alfredo sauce no matter which one you use. I promise you that.
The only must here, is that you must shred it off the block. No pre-shredded bagged cheese. It's got anti-caking ingredients in it that prevents smooth melting. So roll those sleeves up and get shredding! It's worth the extra two minutes.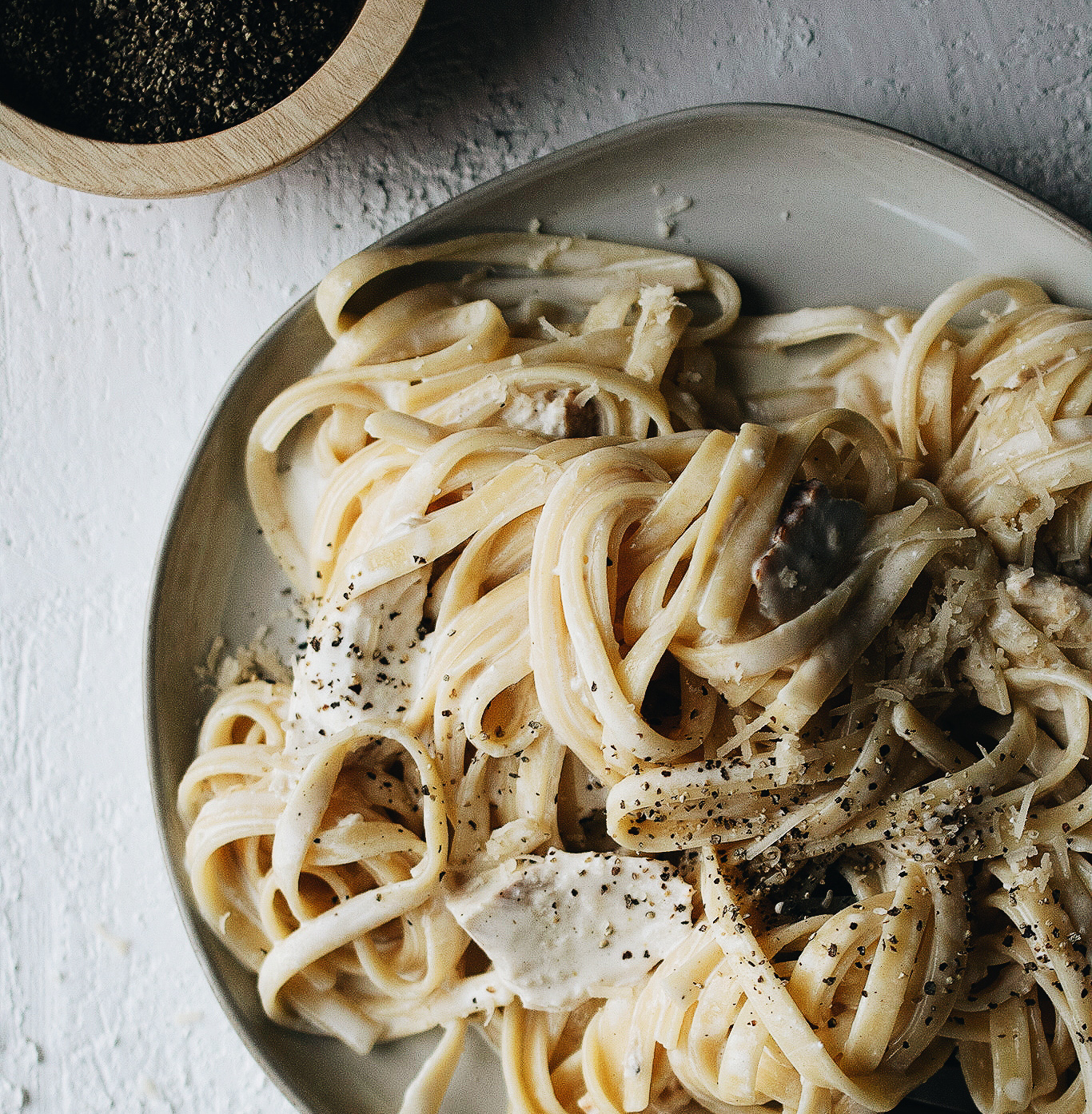 how to make fettuccine alfredo with chicken.
So, to state the obvious: fettuccine is the pasta, alfredo is the sauce. Get the chicken going first; use two to three chicken breasts for a 4-6 serving meal. Generously salt and pepper both sides and bake them on an iron skillet or other baking sheet for about 25 minutes at 350 degree until internal temp reaches 165. Don't slice into them until at least 5 minutes after they've come out of the oven. This gives them a resting period where the juices will distribute, making it juicier. When the are ready to be sliced, slice in strips across the grain.
While the chicken is going, start the pasta and the sauce. Feel free to make your own homemade fettuccine pasta using this super simple recipe for homemade pasta dough, or purchase fettuccine pasta from the store. In salted water (about a tablespoon for a full pot), cook them at a rolling boil to al dente. Al dente just means "firm bite". If you don't like a firmer bite, then go with what you and your family like to have.
While the pasta is cooking, add butter and minced garlic to a skillet and sauté on medium heat until butter begins to brown and garlic becomes fragrant. Reduce the heat to low and add the cream and freshly shredded cheese. Whisking, melt until combined and smooth. Toss with drained pasta until evenly coated. Add sliced chicken and toss again. Salt and pepper to taste.
Serve in pasta bowls, topped with more fresh ground pepper and cheese. Devour.
If you're reading this during peak zucchini and squash season, you've got to try this garden fresh fettucine alfredo recipe.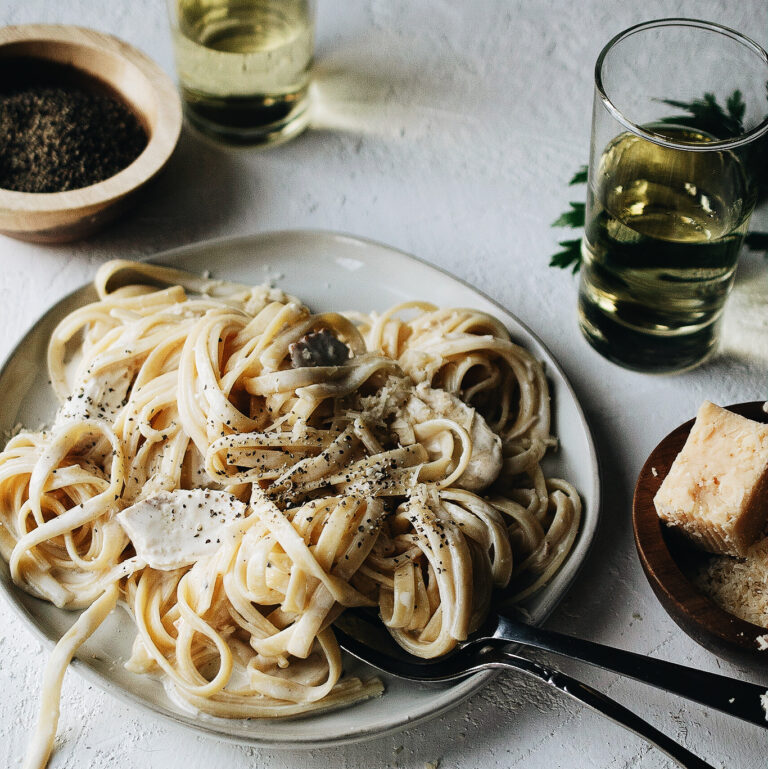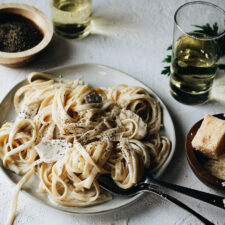 Authentic Fettuccine Alfredo with Chicken
Homemade, authentic alfredo sauce, tossed with tender fettuccine pasta and chicken
Print
Pin
Rate
Ingredients
2-3

chicken breasts

1

lb

fettuccine pasta

3

tablespoon

butter

4

cloves

garlic

minced

6

oz

parmesan cheese or Parmigiano-Reggiano

shredded

1 ¼

cups

heavy cream

salt and coarse ground black pepper to taste
Instructions
Preheat oven to 350 degrees and bring a large stock pot of salted water to a rolling boil.

Generously salt and pepper both sides of chicken breast. Bake on a cast iron skillet or baking sheet for 25 minutes until cooked through to 165 degrees. Don't immediately cut into them, instead, letting them rest and juices distribute before slicing.

Begin to cook pasta to al dente or desired doneness, draining promptly when done.

In a skillet, saute butter and garlic on medium heat until fragrant; garlic and butter should be just beginning to brown.

Reduce heat to low, add cream and cheese and whisk until completely melted. Toss with pasta, and sliced chicken; salt and pepper to taste.

Serve with extra black pepper and cheese.