Have you tried to make homemade fish and chips that start out crispy, but then become soft and soggy in minutes? There are a few things you must do to ensure that fish and chips stay crispy. Scroll on for how to make super crispy fish and chips that go "crunch" when you bite into them, all the way to the very last bite. Every time!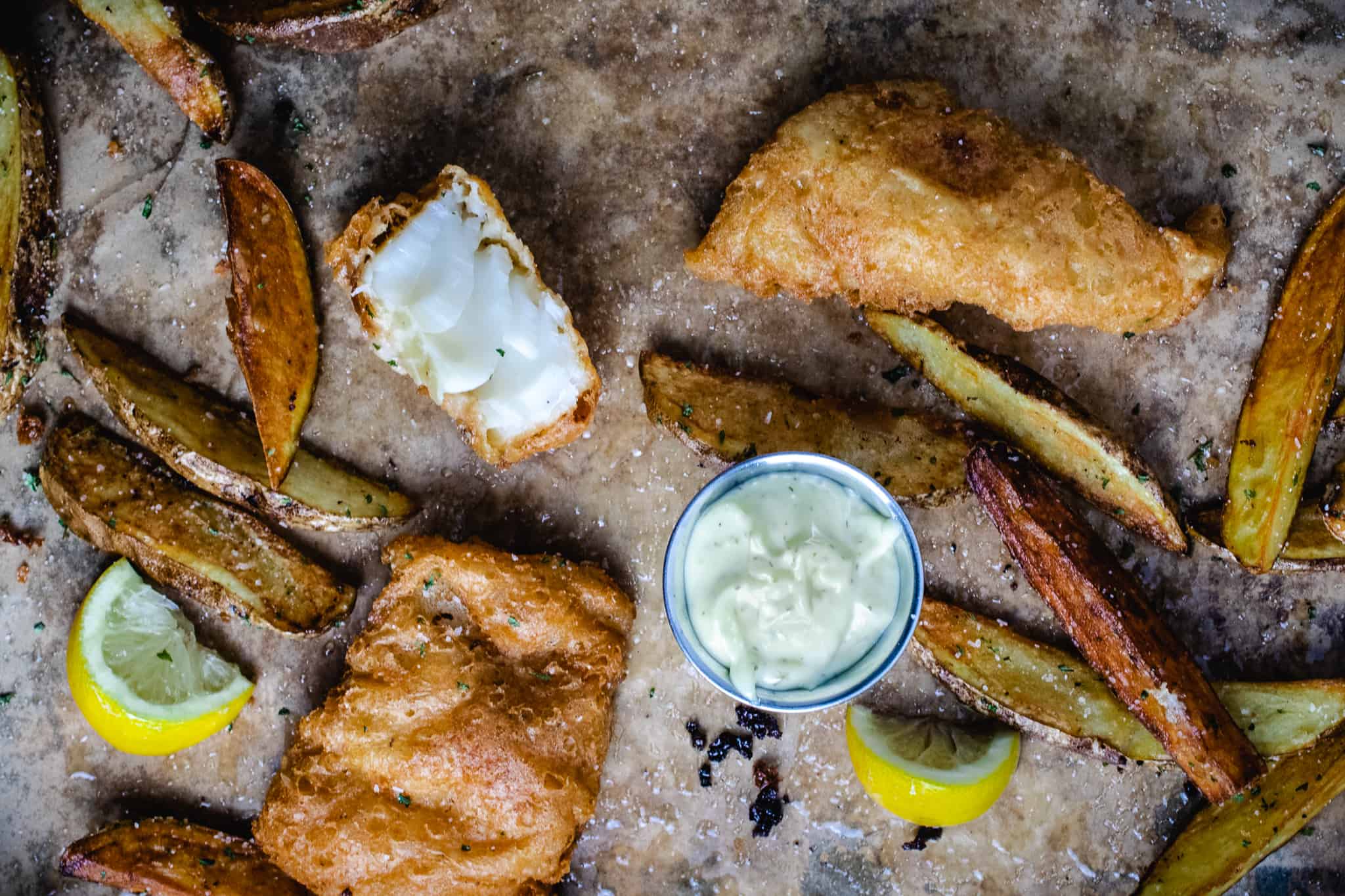 what kind of flour should I use?
Not all flours are created equal. More importantly, different flours have different ways of acting. It's not surprising that the flour you use to make fish and chips is going to influence the crunch factor. (I figured this out trying to keep my General Tso's Chicken Crispy.)
why use rice flour?
You may have heard or read that using rice flour is going to help that batter to crisp up light and crunchy in the fryer. This is because all purpose flour is not as light as rice flour and it yields a more bread like batter. Which is great for pancakes, but not so much for crunchy fried fish. So when we mix the two along with baking powder, we get a really nice crispy fish and chips batter.
gluten free baking mix
I have also had great success using gluten-free baking mix, such as King Arthur's Gluten Free Baking Mix when I have not been able to find rice flour. This is perhaps my favorite way to make crispy fried fish and chips because it's the easiest. This type of baking mix replaces the rice flour, all purpose flour, and the baking powder in the original recipe. This is because the baking powder is already included, along with other starches like potato starch and tapioca starch which help with the structure of the batter. This also makes it a great option for individuals who are gluten free and on the hunt for a delicious gluten free fish and chips recipe.
The recipe card includes instructions on how to make the substitution.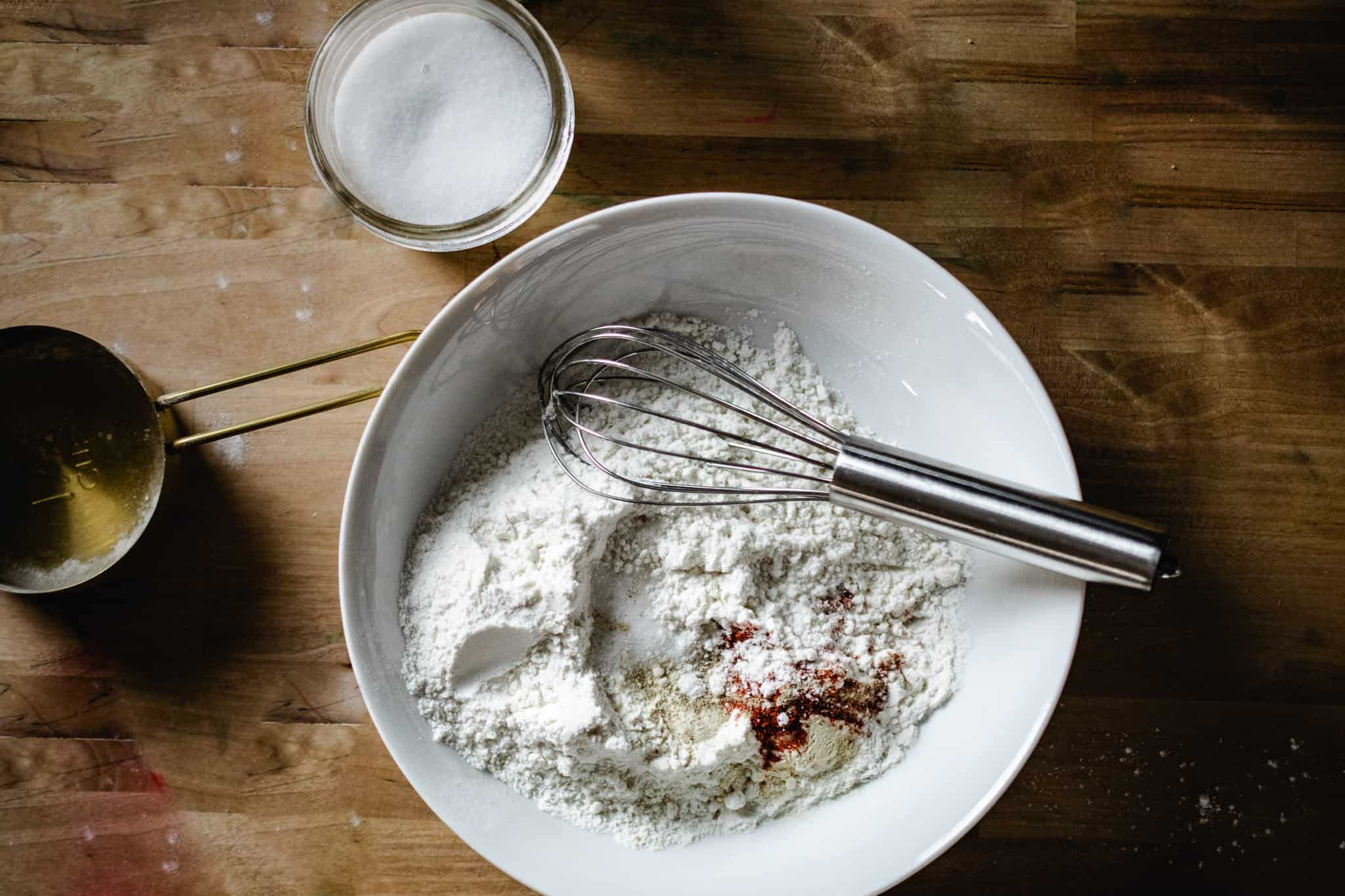 how do I make gluten free beer battered fish and chips?
Easily! The recipe below includes the substitution instructions if you wish to make the fish and chips gluten free. As previously mentioned, a gluten free baking mix (listing rice flour as it's first ingredients) is used in place of the rice flour, all purpose flour, and baking powder. The baking mix should contain rice flour(s), baking powder, and starches such as potato starch, and tapioca starch. Just look at the ingredients of any all-purpose gluten free baking mix.
Make sure you find a gluten free beer, or use club soda if you are looking to make crispy fish and chips without beer. If you are not sure what constitutes a gluten free beer, but would like more information I encourage you to read this current (at the time of this post, it was update a couple of weeks ago) medically-reviewed, and highly authoritative article on the subject.
what's the best fish for fish and chips?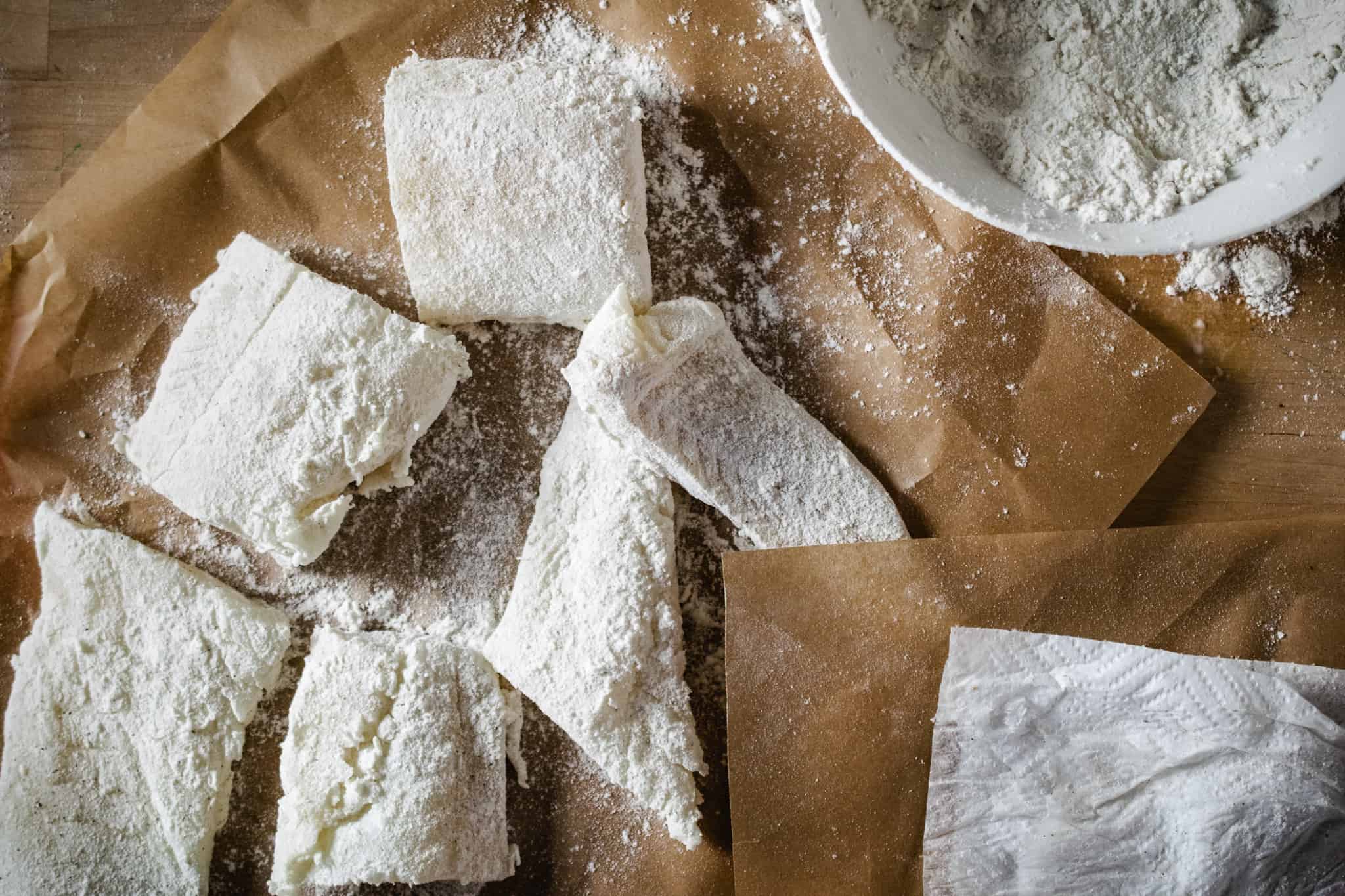 The best fish for fish and chips is the one you like the best. The most popular choice is cod, and it's what I like, because it's a firm and very flaky fish. It has a mild flavor and I just really like the way it flakes apart under the crispy beer batter and catches all the fresh lemon juice I squeeze over my next bite.
Haddock, is also popular, as well as halibut. Personally, I think halibut is too delicious (and expensive) to stick in the fryer. It's a personal preference though. If you are really looking for some (strong) opinions just read through the Chowhound thread on the topic.
But if you're asking me, cod all the way!
dry the fish well
This is almost as important as the type of flour you use, and is often a step that is overlooked in many recipes. The fish needs to be dry. Very dry. If you can pat it completely dry with paper towels, that's great, but if you can pat it dry, and then let it air dry for about an hour inside the fridge (on a dry plate), even better. The reason being, is that the moisture that is left on it is going to steam between the fish and the outside batter being formed and it can soften that. Which equals less crispy. So, the drier the better.
Don't air dry the fish on the counter though; fish doesn't need to rest the way steak or chicken does. It's actually better off kept and fried cold. Once dry, dredge them in the rice flour or baking mix. This will absorb any excess moisture and will actually help the batter stick to the fish.
how to keep fried fish crispy
This is often where things can go south. You fry up beautiful, battered crispy fish and lay them to drain and a few minutes later the crispy outside has turned soft and squishy. It's totally lost it's crunch. This happens if you lay the fish directly on paper towels or plates without a rack to elevate them and let air circulate. Laying them directly on anything causes them to steam, because they are so piping hot. And when you steam anything with a crispy breading, it softens it.
You can keep fried fish from getting soggy by draining them on a cooling rack over a parchment paper lined baking sheet and not crowding them! Crowding them also can trap steam. Trapped steam equals soggy fish.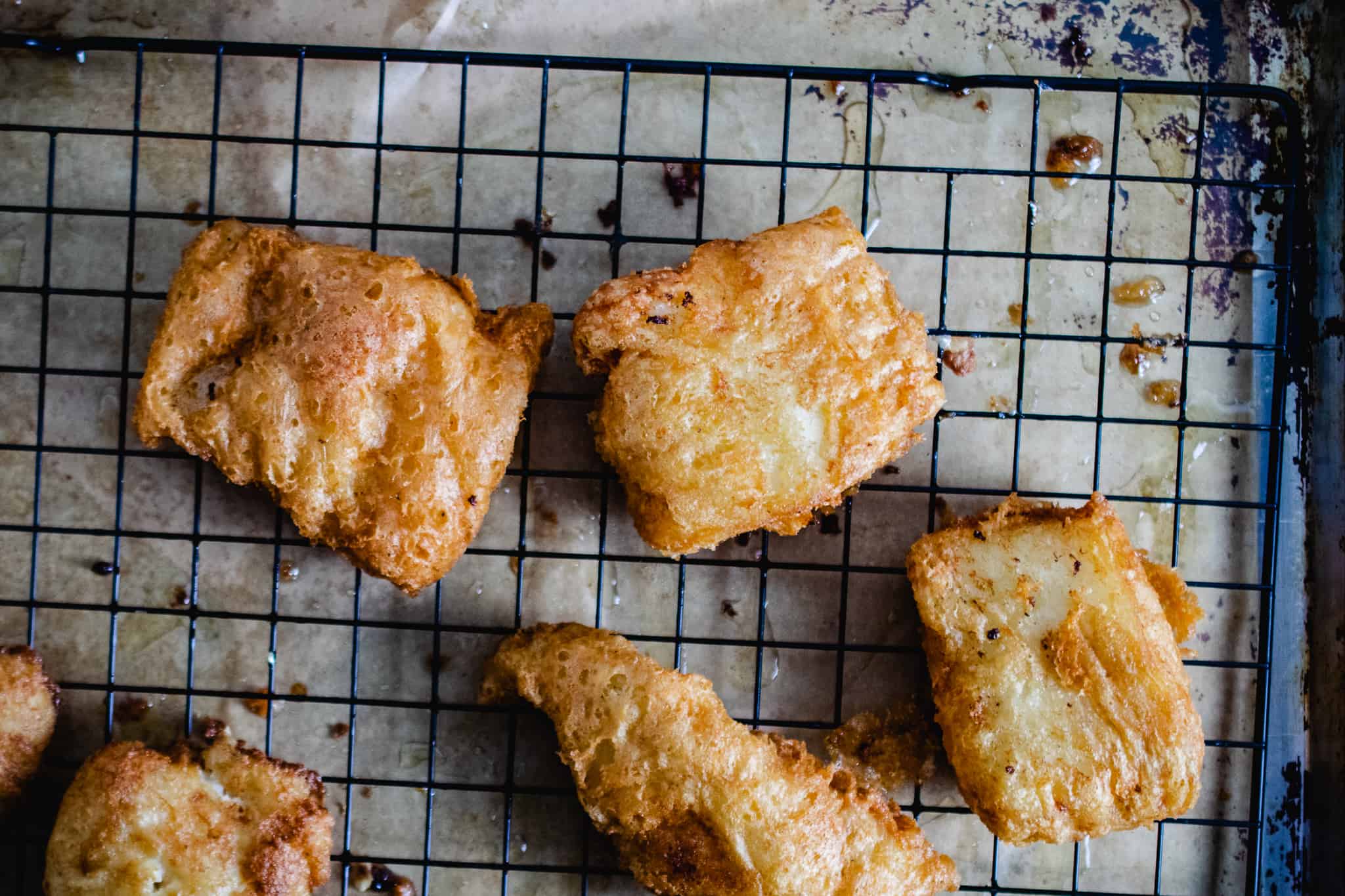 don't keep them warm in the oven
Once you've gone through the process of frying and correctly draining your beautiful, crunchy, crispy fish leave them on the counter until you serve them. They can last a good 10 minutes and still be hot, they did just come out of boiling grease. If you try to keep them warm in the oven this can make them soggy. The reason for this is because normally, when we keep something warm, we do so at a low temperature. This low temperature, along with the closed space of the oven creates another situation of trapped steam.
Technically, if you cranked up the heat to say, 450 degrees, this would be hot enough to sort of oven crisp them but then you run the risk of over cooking the fish (which will make them taste "fishy") and burning your beautiful, golden crispy breading.
Instead, time them so that they are the last thing you do, or so that you don't have to reheat them. The potatoes will take a good 30-40 minutes, and they are less sensitive than the fish, since they don't have a delicate breading on them. Start the potatoes and when they are closer to the end of their cooking time, begin to fry the fish. Have the oil heated to it's frying temperature of 375 degrees and the fish dried and dredged in flour. You'll likely need to fry them in a couple of batches so you don't crowd the pan.
make the tartar sauce
Homemade fish and chips deserve their own tartar sauce! Luckily, it's super simple to make tartar sauce. And quick too! Not only that, but the flavor of homemade tartar sauce doesn't compare; it's just one of those things that's so yummy homemade. A quick few pulses of an immersion blender or, food processor and a handful of ingredients is all you need for the best tartar sauce.
I know I said before that nothing beats homemade tartar sauce. I have to retract that statement, because there is one sauce. It's Beaver tartar sauce. But, if you know me then you probably know I couldn't help myself from creating a copy cat Beaver tartar sauce. Basically, it's the yummy basic tartar sauce recipe, with the addition of a bit of dill and garlic.
Serve extra crispy, homemade, beer battered fish and chips with plenty of homemade tartar sauce and lots of fresh lemon wedges!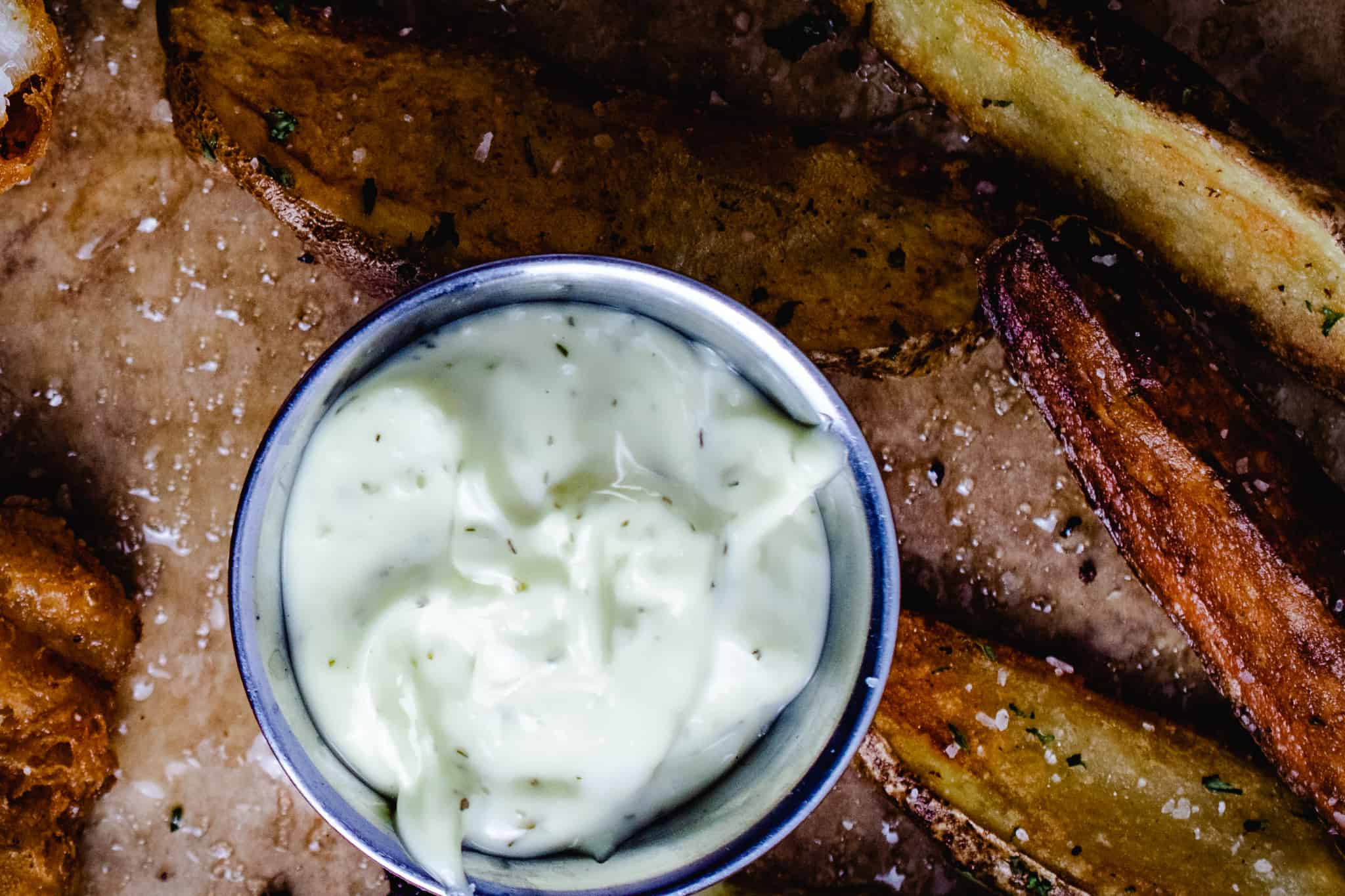 the best way to reheat fish and chips
The best way to reheat fish and chips, if you are aiming for crunchy, is the same way you made them. That means a dunk back in hot oil. Keep a good eye that they don't get too dark, and remember they're already cooked through. You just want to get them warm and crispy again. This shouldn't take more than one to two minutes, max. The same draining rules go for the second time around; don't lie them directly on anything except for a rack that gives them plenty of air. Definitely don't lay them on paper towels or a plate.
You absolutely can reheat them in the oven. However, you need to do so at a very high temperature for a short period of time in order for them to be crispy. You can do this in a preheated oven at 400 degrees, on a rack over a baking sheet (similar to when draining them). Give them lots of room. Remove them from the hot oven immediately and don't try to "keep them warm" or heat them at a low temperature; you'll only get soggy breading.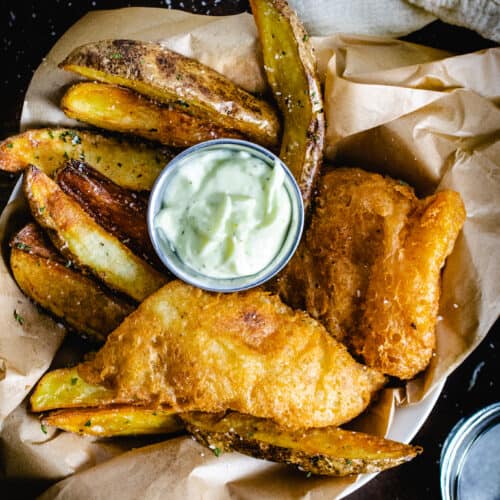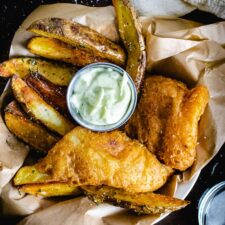 Crispy Beer Battered Fish and Chips
Crispy, beer battered fish that stays crispy through the last bite, with classic "chips" style potato wedges, and homemade tartar sauce. (Includes gluten free alternative.)
Print
Pin
Rate
Ingredients
For the Chips
4

large

russet potatoes

cleaned, cut into 12 wedges each

olive oil for drizzling

coarse salt and pepper to taste

parsley

optional
For the Fish
1

lb

cod

cut into fillets; can use haddock, halibut, or similar white fish

½

cup

rice flour, plus more for dredging

(see recipe notes below for gluten free option)

½

cup

all purpose flour

(see recipe notes below for gluten free option)

1

tablespoon

baking powder

(see recipe notes below for gluten free option)

1

teaspoon

sugar

1

teaspoon

salt

¼

teaspoon

garlic powder

¼

teaspoon

onion powder

¼

teaspoon

paprika

do not use smoked paprika

1

cup

beer or club soda

(see recipe notes below for gluten free option)

1

teaspoon

white or white wine vinegar

salt and white or black pepper to taste

vegetable oil for frying

fresh lemon wedges for serving
For the Homemade Tartar Sauce
1

cup

mayonnaise

1

large

lemon

squeezed, the juice of

2

tablespoon

capers

can substitute choice of sweet pickles or relish

¼

teaspoon

sugar

omit if using sweet pickles

pinch

salt and pepper

more or less, to taste

1

teaspoon

ground mustard powder

optional

1

tablespoon

minced dill

optional, add for Beaver copy cat tartar sauce

⅛

teaspoon

onion powder

optional, add for Beaver copy cat tartar sauce
Instructions
For the Chips
Preheat oven to 450 degrees.

Wash and dry the potatoes. Cut into 12 wedges (by first cutting into quarters, and then those quarters into thirds). Pat dry with towel.

Line a baking sheet with parchment paper and pile the potatoes on into a neat pile.

Drizzle with oil, and sprinkle generously with salt and pepper. Toss with fingers to evenly coat every potato.

Spread the potatoes out so that they are in a single layer with room in between to allow them to crisp.

Bake at 450 degrees for 30-40 minutes, until browned and crisped.

If desired, sprinkle with dried or fresh minced parsley before serving for garnish.
For the Fish
Line a baking sheet with parchment paper and set a cooling rack over it that is at least ½ inch off of the surface of the baking sheet.

Pour vegetable oil in a deep stock pot, about 3 inches deep, leaving at least 3-4 inches space to the top of the pan. (The oil level will rise rapidly once the fish is put in it, and it needs room to do so, to avoid boiling over hot oil.)

Heat the oil on medium to medium-high heat or use a thermometer to reach approximately 375 degrees. It should sizzle when flour is sprinkled in, but not smoke.

Cut the fish into 1 inch thick fillets, about 3 inches long. The thick parts of the fish can be cut in half long ways for a thinner fillet.

Pat the fish completely dry with paper towels, leaving no trace of surface moisture. If possible, allow fish to air dry uncovered in the fridge for up to one hour; though this is not required.

Lightly salt and pepper both sides of each fish fillet.

Take the dried fish and dredge in just the rice flour alone (or baking mix), and set aside on a plate.

Whisk together the ½ cup rice flour, ½ cup all purpose flour and 1 tablespoon baking powder in a bowl. (If you are using a gluten free baking mix, this mix replaces these 3 ingredients, so just add 1 cup of mix to a bowl instead of both flours and baking powder.)

Add 1 teaspoon each of sugar and salt, the ¼ teaspoon of garlic powder, onion powder, and paprika, and mix well.

Add the 1 cup of beer/club soda and the 1 teaspoon of white/white wine vinegar and whisk everything to form a batter.

When oil has reached 375 degrees, or sizzles when a bit of flour hits it, it's ready.

Take the dredged fish fillets and dip into the batter, lightly shaking off the excess.

Carefully drop into the hot oil, it should immediately bubble and fry. Work in batches of 2 to 3 fish fillets, depending on the size so that they aren't crowded in the oil. After 2-3 minutes, flip the fish to get an even color on the other side and fry an additional 1-2 minutes longer.

Use a slotted spoon, or frying strainer to remove the fish from the oil once they are dark golden brown and lay to drain on the cooling rack with plenty of room in between. Repeat with all the fish until it's done. Oil will stay very hot and dangerous until cooled, so make sure to keep the pot of oil in a safe place to cool.
Make the Tartar Sauce
To make the tartar sauce, use an immersion blender or pulse in a food processor the 1 cup mayonnaise, juice of lemon, 2 tablespoon capers/diced pickles/relish, and pinch of sugar, salt and pepper until just blended. If desired, blend in the teaspoon of ground mustard powder, ⅛ teaspoon onion powder, and the fresh or dried dill. Store in fridge up to one week.
Notes
To make fish gluten free, substitute the ½ cup rice flour, ½ cup all purpose flour, and 1 tablespoon baking powder, for 1 cup gluten free baking mix only. Use a mix like King Arthur Flour Gluten Free All Purpose Baking Mix that is primarily rice flour, with potato and tapioca starches added. Check list of ingredients on package. 
Cod is a flaky mild white fish, and probably the most popular choice. Haddock is also widely used, along with Halibut. Ask your Seafood department what they recommend. 
Be very careful with hot oil! Fry the fish on the back burner, to minimize the risk of accidental spills. Make sure small children are not near the stove; when the first pieces of fish go in, the oil can bubble and rise very quickly if it's too hot and it can boil over the pot and cause major injuries. When it's done, it will continue to be hot for quite some time, so make sure it's out of the way until completely cooled.
Be sure to drain fish on a rack over a parchment lined baking sheet so that air can circulate underneath. This prevents steaming which is what makes fish get soggy a few minutes later. 
To reheat fish, the best way to do so is in hot oil again, for just a minute or two. Just enough to warm and crisp it up without making the breading too dark. It can also be heated in the oven at 450 degrees for a few minutes and served immediately. Don't attempt to reheat fish at a low temperature, it will just get soggy.