Just like the food trucks serve! Seared chicken thigh meat, onions, carrots and cabbage fried on cast iron in a light sweet and savory Asian sauce.
What are Food Truck Style Noodles?
Do you know the Asian noodles at the fair, and at festivals and food trucks with the cabbage, carrot and onion? That they fry up on the big grill, with pieces of chicken in them? Those noodles. I'm obsessed with getting them. Anytime there's an outdoor event where food tents or food trucks are going to be, I sniff those noodles out and get a big plate of them every time. Sometimes I don't even go for the event, I just want those noodles. If you love those noodles too, and would like to have a plate of them whenever you want, look no further. Well, you'll have to look down, by scrolling to the recipe. But I think you'll be happy.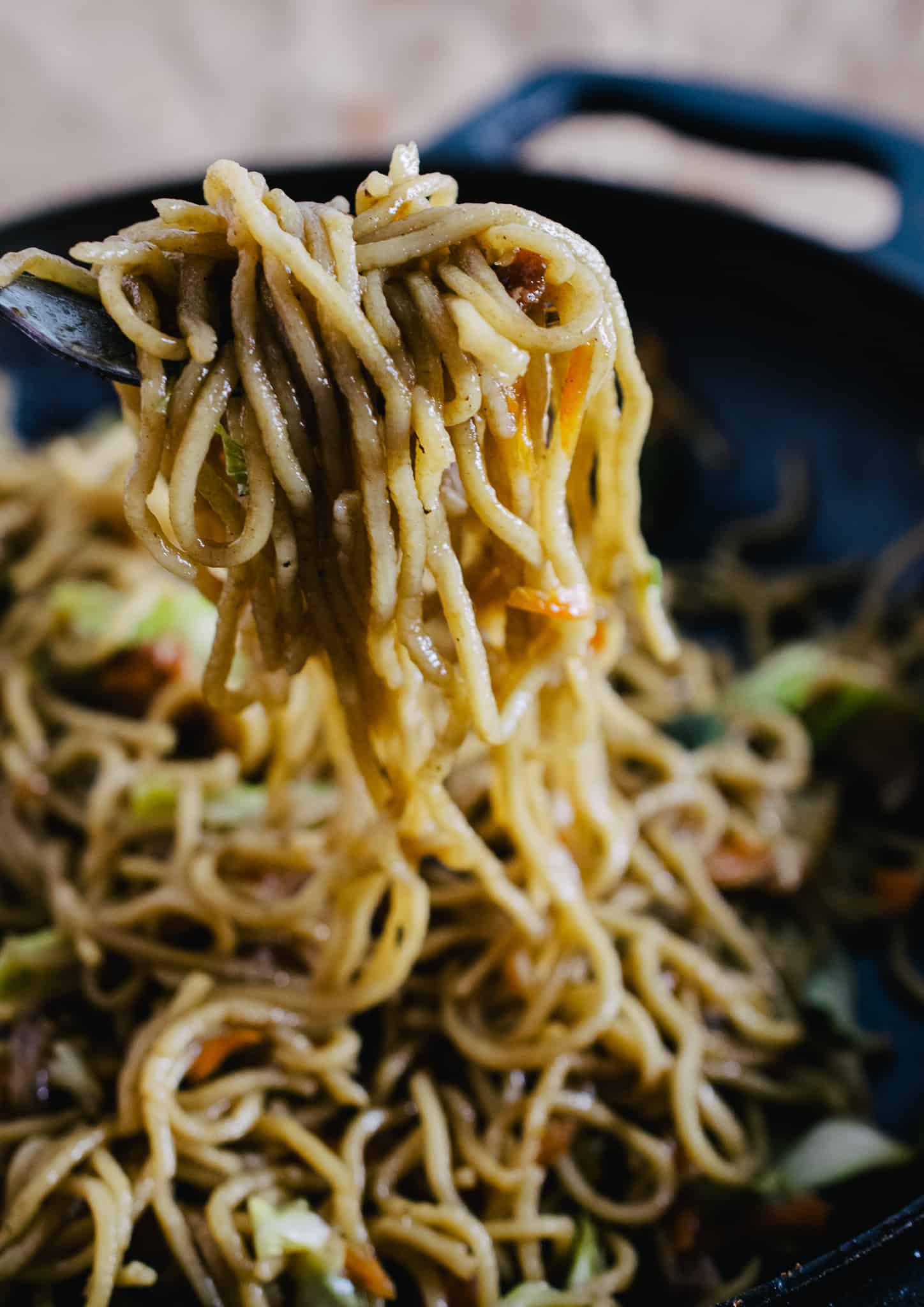 The Noodle is Important
As much as I love it when someone else is cooking these for me, I had to figure out how to make these myself. They are addicting that way. I've used spaghetti noodles, vermicelli...and the thing is, you have to use the right kind of egg noodle. The noodle itself is everything in this dish, so you need the chew and the bite that goes with a good stir fry egg noodle. You can find them at the grocery store in the Asian food aisle, or you can make them yourself with this fun recipe for Homemade Ramen Noodles. I usually just make them homemade, because I find the noodles difficult to locate and I also think they are way better homemade anyways. If you're not into the idea of noodle making, (it's really not as big of task as you might think), then do look around for some decent quality Asian egg noodles at the store. But, if you can't find the right Asian egg noodle, go for the vermicelli pasta. It's not quite the same, but it's still really, really delicious and it'll get you pretty close to those delicious noodles from the food truck or tent.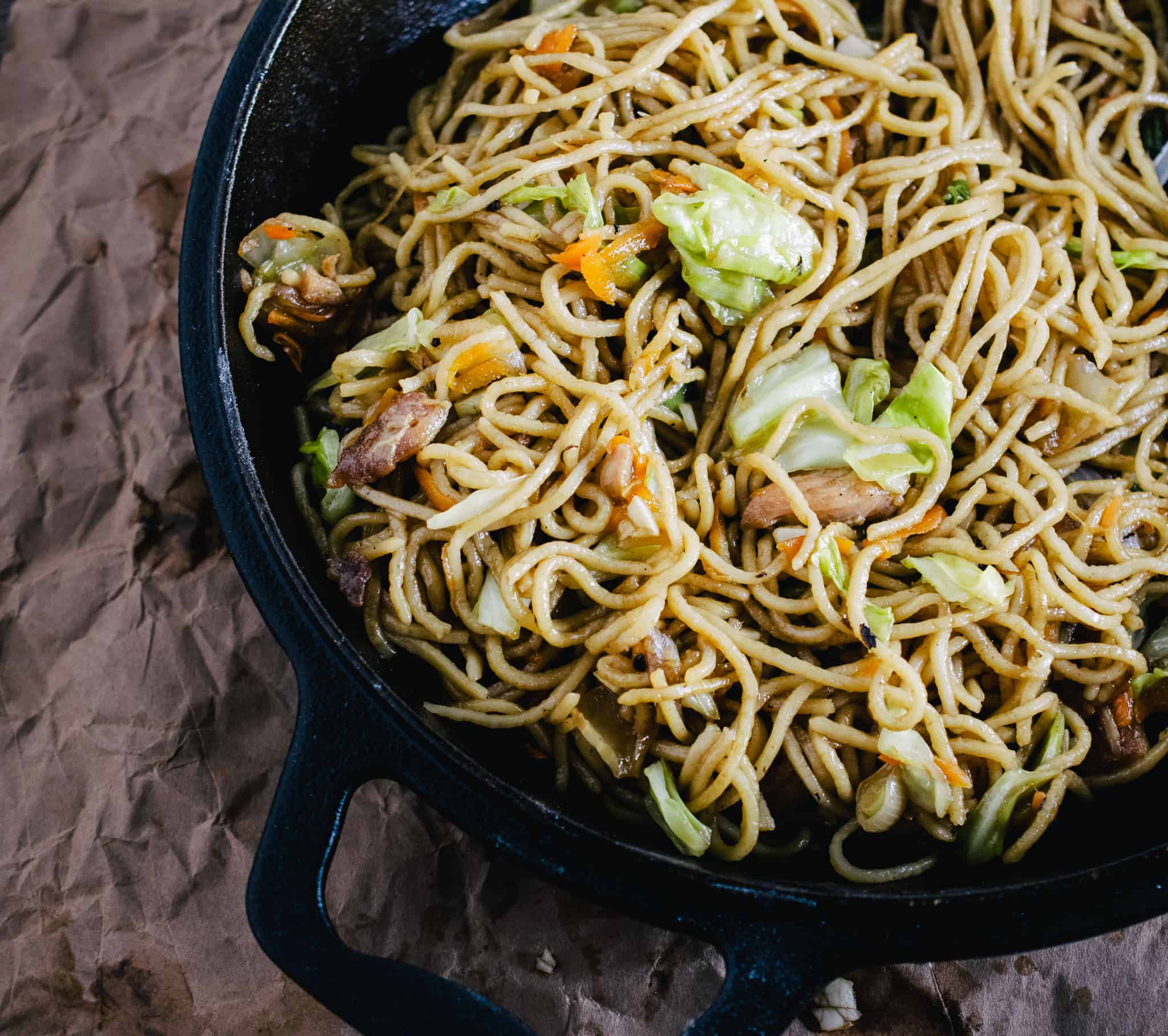 I'll link a packaged Asian egg noodle below in case you aren't sure what I'm referring to and you want to make sure you buy the right noodle, if you aren't going to make them. You can zoom in and take a look.
Use Cast Iron, if You Can
The sauce only has a few simple ingredients in it. Whisk it up in the beginning so that it's ready and set it aside. A lot of the flavor comes from the actual cooking part of it; the searing that you get on the chicken thigh meat, the caramelization of the onions, and the crunch of the veggies. Pouring that sauce onto the same hot pan, and frying it up together in that sauce is what finishes it off perfectly. Using a cast iron skillet is the best way to fry everything. It's another component of what makes the ones from the food trucks and fair tents so good; cooking on that iron surface adds so much flavor and a different kind of browning happens. I don't think it comes out the same with a normal pan, but like with the noodles, if you don't have one use your regular skillet and you're still in for a really tasty replica of those famous food truck noodles.
Shocking the Noodles
The end of the cooking process happens so fast and things move so quickly, that its very helpful to do the noodles in the beginning, and get it out of the way. Much like with the sauce. To do this, boil them for just two minutes if using the Homemade Ramen Noodle Recipe, or a minute under the recommended package cooking time if using store bought. When you drain them, shock them with cold water to stop the cooking process. This just means run cold water all through them, lifting them to make sure that all the noodles get cooled. They will finish cooking in the frying pan, but this ensures they don't over cook and become mushy. Remember, it's all about that noodle! They can then hang out in the colander while the rest of the meal is prepared, and then tossed into the pan to fry when it's time.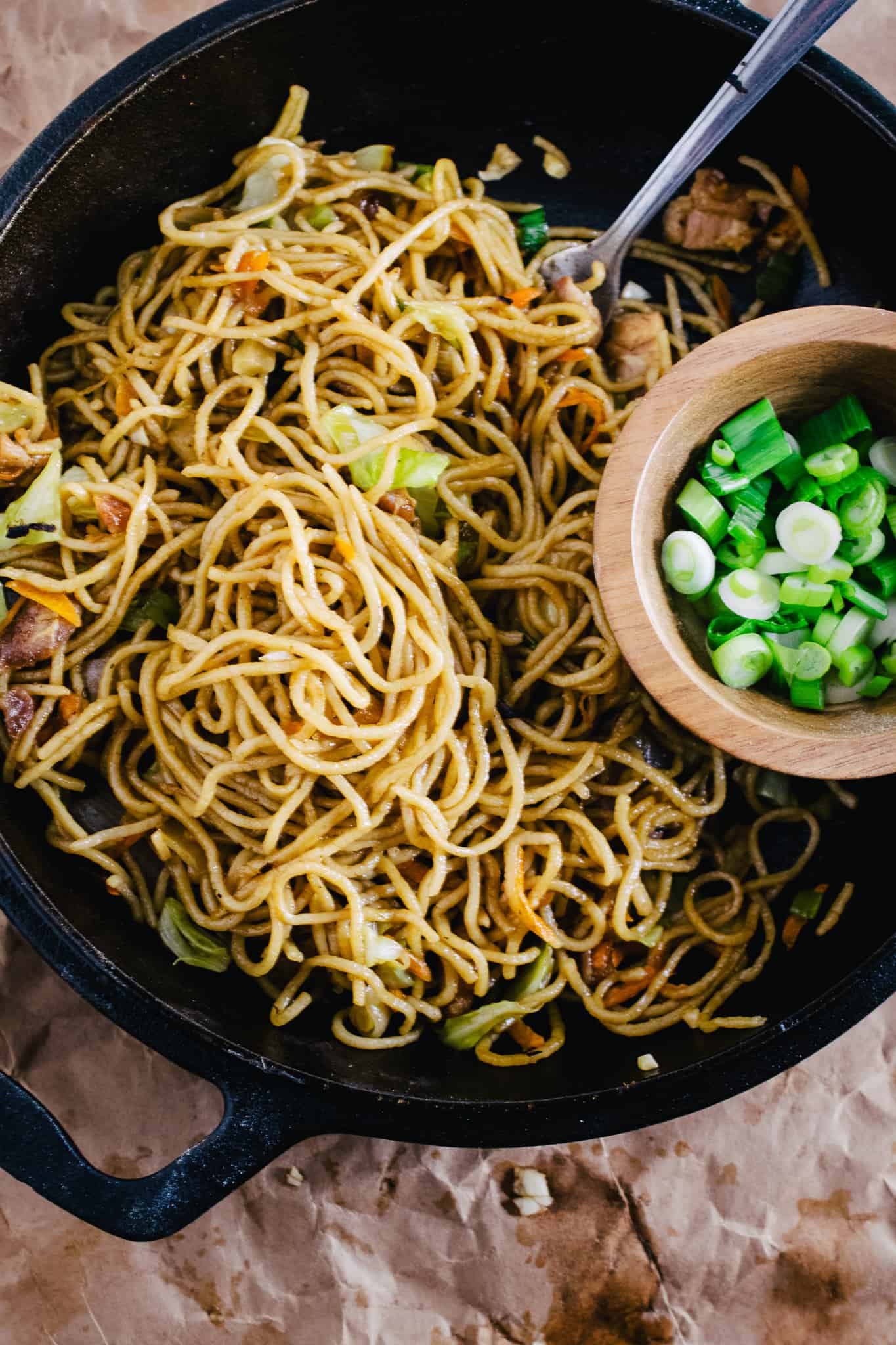 Use Chicken Thigh Meat
You want to use a light oil in your pan, that can get hot without smoking. Vegetable oil is perfect. Heat a little bit hotter than you normally would, you're looking for a quick, hot sear and lots of color on the meat. The pieces should be cut small enough that you don't need to worry about it not cooking through. When the chicken thigh meat goes in, let it sit undisturbed so it can get a nice, good sear on it, before giving it it's first move around with the spatula. Keep going until it's completely browned and crispy, and then remove it from the pan and set it aside on a plate.
Add the onions so they can also get browned on the edges. Remember, it needs to be on the high end of medium-high, so that it can really get that sear on everything. If you're comfortable enough with the timing side of things, the meat and onion can be cooked together. Personally, I find that the onion does good to go in about the time that I give the chicken it's first move around with the spatula. If you aren't sure and don't want to risk burning the onion, or under browning the meat, it's a good idea to just do them separately. (But using the same pan! All the flavor in one pan.)
Once you are happy with the dark brown edges of your chicken and onion, add the prepared sauce, the noodles, and the cabbage and carrot. Move fast. Fry everything up, together tossing it as you go. They are finished when everything is hot, and there is no liquid in the pan, because it's now a sauce that coats every thing. You should be looking at beautiful, fried noodles that look like they just got handed to you through a food truck window 🙂
For more recipes like this, try: