Perfectly crispy, hot and salty homemade french fries are inexpensive and really easy to make. Use this trick to get perfect drive through style french fries every time.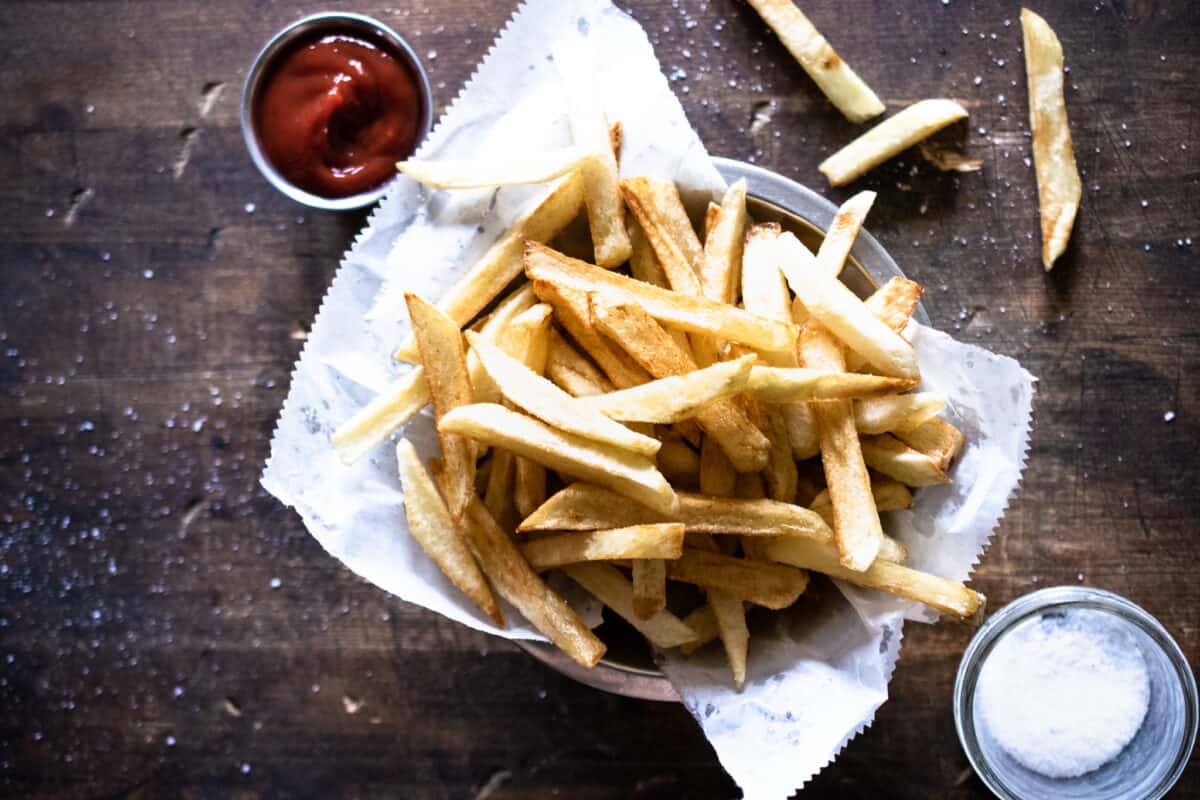 how to make crispy french fries
The secret to making homemade fries super crispy is to soak the cut potatoes in a bowl of ice water first. This removes excess starch from the potatoes that would otherwise make your fries gummy and soft. It also keeps them from turning brown as you're cutting them, so be sure to place cut fries in the ice bath as you cut them.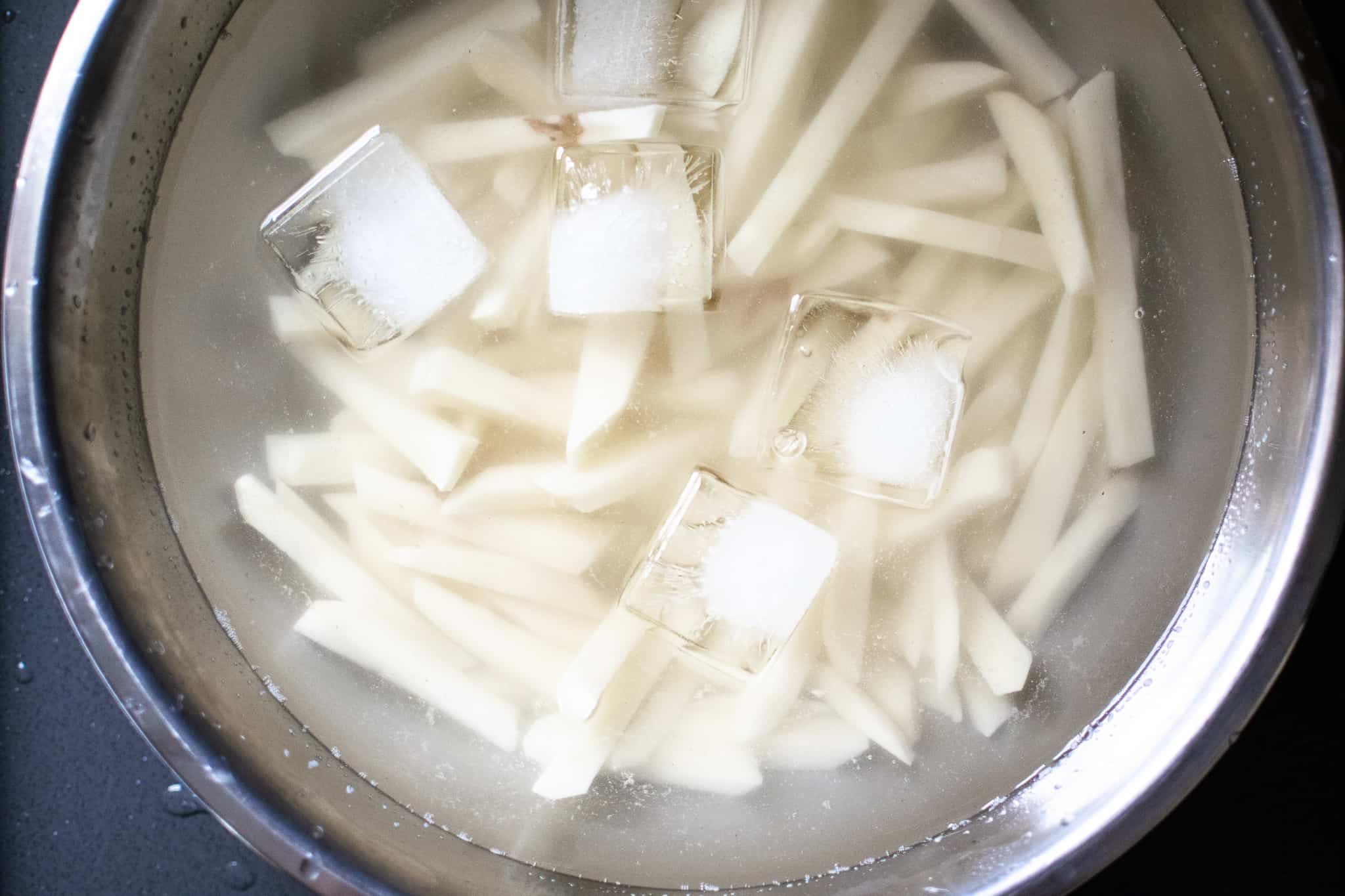 what temperature of oil do I fry in?
350 degrees is the perfect temperature to fry. This is about an 8 out of 10 on my stove, but if you have a thermometer, use that.
how to cut french fries
Cutting french fries is easy. You can choose to leave the skin on for a more diner style or steak house fry, or peel the skin first for a fast food type of fry. You can't go wrong with either way.
Start by cutting ¼ inch slices through the potato, long ways. You should have ¼ inch thick ovals. Then cut through the ovals, ¼ inch apart. It's easier and safer to split the stack of ovals in half with the largest face down, and cut both the stacks seperately. This just gives them a sturdy placement that doesn't wobble.
Place the cut fries in a bowl of ice water as you go. Let them soak for 20-30 minutes to remove the excess starch.
Heat a deep stock pot with about 2 inches deep of vegetable oil to 350 degrees.
Remove the french fries from the ice bath, and arrange on a towel to dry, patting excess moisture off. Make sure all the water is dried, because when it comes into contact with the hot oil, extra water can cause the hot oil to bubble up and over the pot.
how long do you fry them?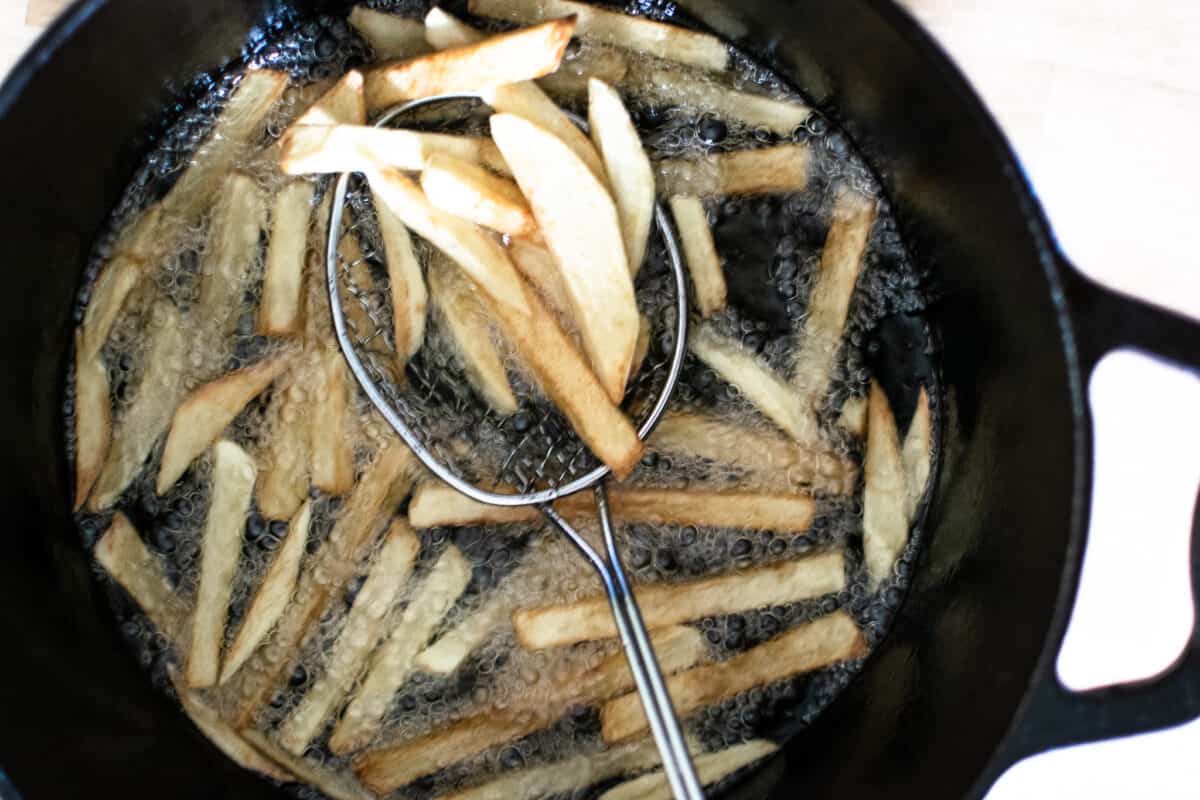 Fry in hot oil in batches of about 3-4 total batches. The fries are done when they begin to get golden, and look crispy. For these ¼ inch fries, that's about 3-5 minutes. Remove from the hot oil with a frying scooper or slotted spoon and scatter on a baking sheet.
how do you get salt to stick to fries?
Salt immediately after each batch is out, while they are still sizzling. This will help the salt to stick. They can be tossed in a large stainless steel bowl with salt if they are being served immedieately. Otherwise salt them while scattered on a baking sheet, so they don't steam eachother and become soft.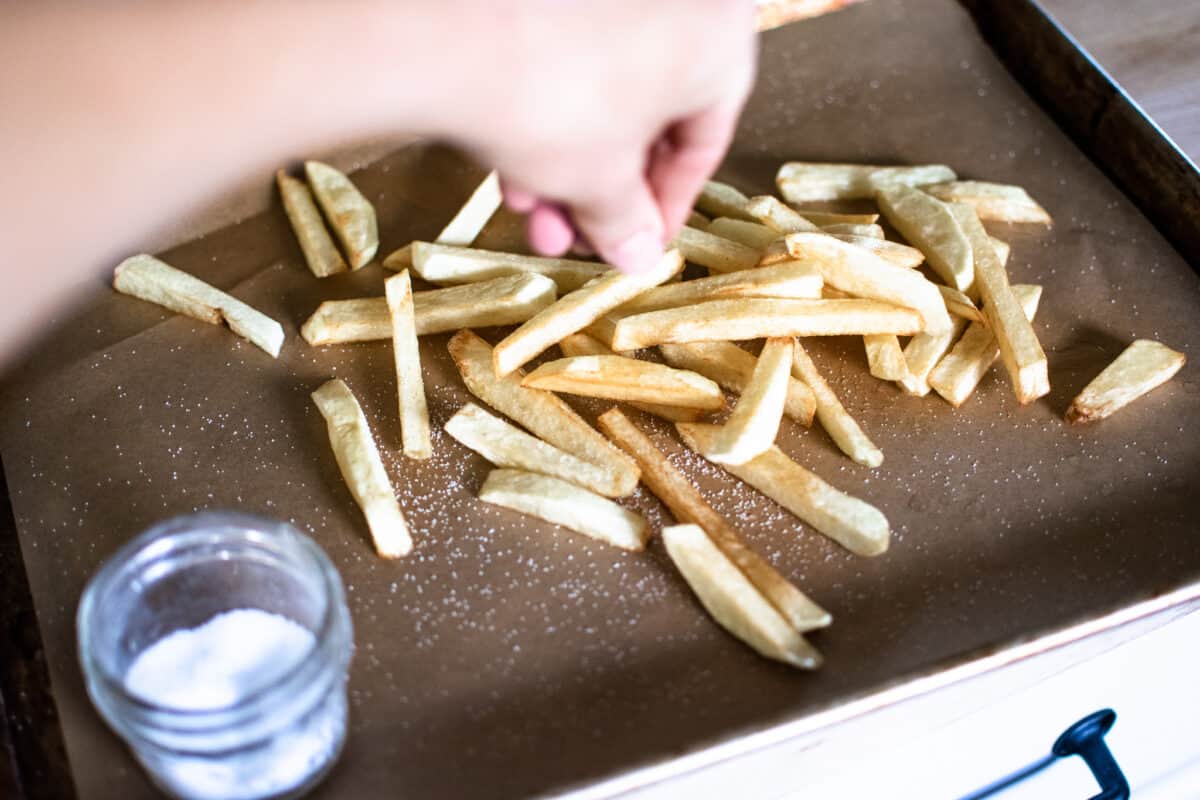 Use the same oil for every batch, keeping in mind the following tips associated with deep frying:
Only fill the oil a couple inches deep in a stock pot. This is especially important if you are not using a thermometer. When the fries are dropped into the hot oil, it will immediately, and furiously rise and bubble, and if there's too much oil, it can overflow. Make sure there are no little ones or pets at your feet or anywhere near the frying pot at any time.
Make sure the potatoes are DRY. Take them out of their ice bath and arrange on a towel, patting them off of excess moisture. Any extra water can cause the oil to bubble up and overflow once the fries hit the pot.
Lastly, be aware that when you are done frying the potatoes, the oil is still very hot, so if you are letting it cool down before dumping it down the drain do so in a safe place where it can't be knocked over or bumbed into.
If this is your first time making homemade french fries, you'll be instantly hooked! Hot and golden, crispy french fries are so delicious and cannot get fresher than homemade. Try them with all the homemade condiments your heart desires: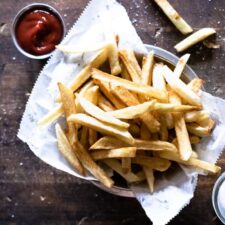 French Fries
Crispy, salty homemade french fries
Print
Pin
Rate
Ingredients
6-8

medium russet potatoes

cleaned and peeled, or skin on

bowl of ice water

oil

for frying (vegetable oil is ok)

salt
Instructions
Heat your oil to medium high heat. You will know oil is ready because when a test fry is placed in it, it will sizzle. You may also opt for a thermometer and go for about 350 degrees. (Note: do not use olive oil, you need an oil that tolerates high temperatures.)

Peel and cut potatoes into ¼ inch fries.

Let raw, cut potatoes soak in an ice water bath at least 20 minutes. This will help to draw the starch out, and let them fry up crispier.

Once soaked, lay cut, raw potatoes out on a large towel, allowing ALL of the water to absorb, patting off the rest. It's very important that potatoes are dry, any leftover water will cause the oil to immediately boil over the pot, and that can be very dangerous. Make sure the kids are away from the stove for this.

Once dry, and oil is ready, fry the potatoes in 3-5 separate batches, for about 3 to 5 minutes, or until crispy and golden on the tips. 

Remove from oil and salt immediately- so it sticks.
Notes
using a thermometer is the best way to make sure the oil temperature is accurate. If you are guessing, this is about the medium high setting, but will vary. 
Use a frying oil specifically for frying, or vegetable oil. Olive oil is not a good choice, and will smoke.
If vegetable or frying oil does start to smoke, it's too hot. 
Be very careful that fries are completely dry of moisture before adding to oil, as any excess water can cause hot oil to bubble over the edges of the pot resulting in serious injury.
Don't try to cram all the fries into the pot at once; work in seperate batches. 
Salt immediately after removing from oil so that salt sticks. 
Finished batches can remain scattered on baking sheet until the final batch is done. 
Nutrition
Serving:
1
g
|
Calories:
164
kcal
|
Carbohydrates:
37
g
|
Protein:
4
g
|
Fat:
1
g
|
Saturated Fat:
1
g
|
Sodium:
13
mg
|
Potassium:
897
mg
|
Fiber:
5
g
|
Sugar:
2
g
|
Vitamin C:
42
mg
|
Calcium:
26
mg
|
Iron:
2
mg