General Tso's Chicken is a Chinese food takeout favorite, and it can seem intimidating to try to recreate it at home. Trust me, it's not scary! And because you get to control the quality of ingredients, you are able to ditch dangerous additives like MSG.
If you've tried other recipes and still ended up going back to the take-out menu, you're in the right place now. I've been there before too. After a few (ok, a lot) of experimenting, and tweaking with this dish, I've totally nailed down a way to make Homemade General Tso's Chicken that has been a replay in our house time and time again.
If you're like me, and you love take-out food, check out my recipe for Food Truck Noodles. They're a sweet and savory stir fry noodle, that gives you food truck food, from your own kitchen.
how to get crispy general tso's chicken 
This recipe for General Tso's Chicken doesn't miss a beat. I've tried other recipes, including General's straight out of restaurants that start out ok, but the breading around the chicken gets really soggy, really fast. You know, when it just kind of comes off the chicken in floppy, bready patches? Kinda gross, I know. There's a couple remedies to this, and that's what makes this recipe so much better.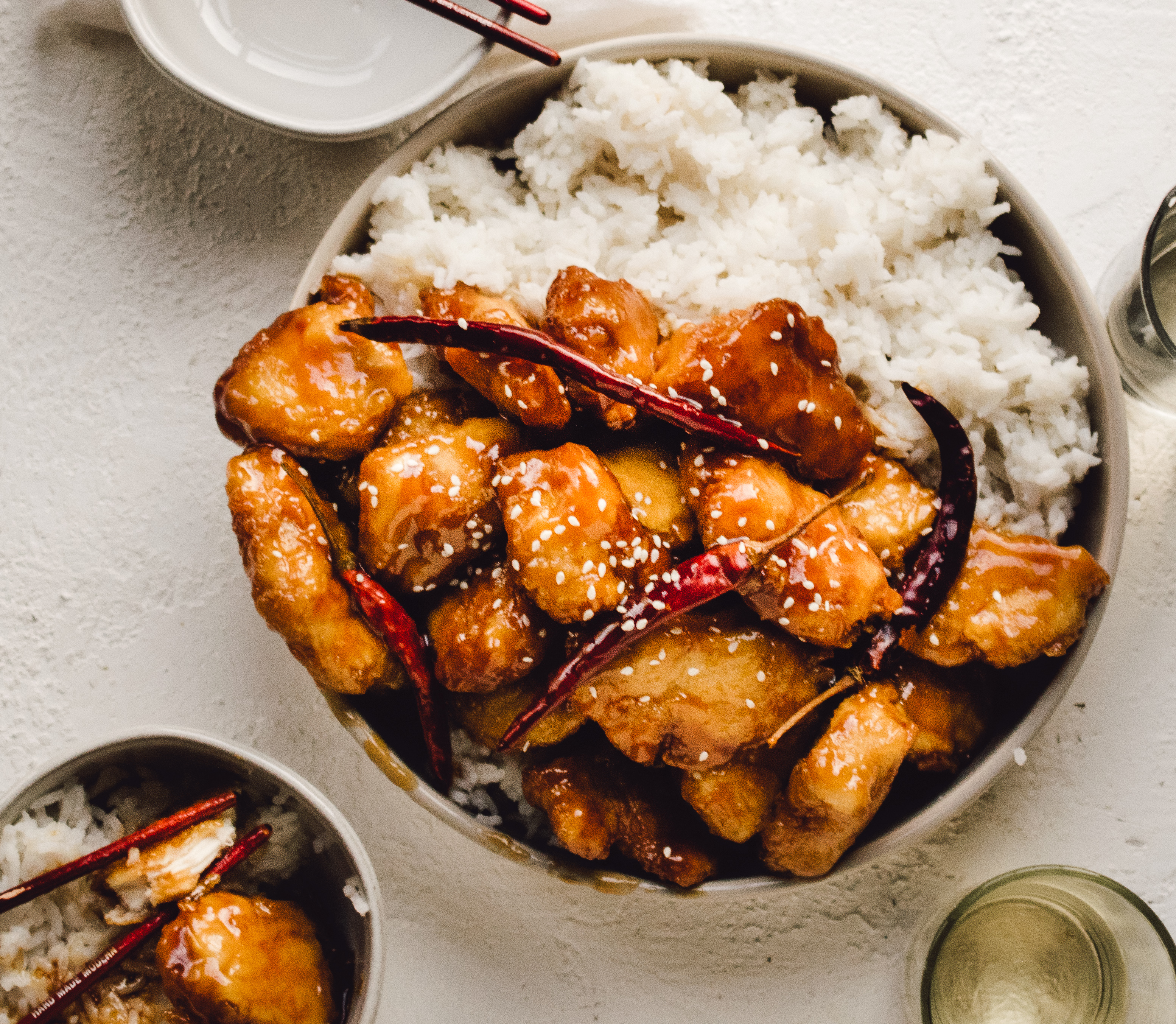 what kind of flour to use for crispy general tso's chicken
I cannot stress this part enough. I have been stubborn about this one in the past, and I'm telling you right now, if you want crispy chicken, you must move on from all-purpose flour this time. Rice flour is where it's at. Basically, it comes down to the gluten content. I won't go into the science of it, but if you're interested, I found this pretty interesting article on the various starches affect batters for frying. 
I also want to note that, I've used a basic gluten-free "baking mix", and that works too, but I'd only suggest that if rice flour is the first ingredient listed on the side of the container. When something is listed first, it just means it's the predominant ingredient, relative to the rest. And, because it's a gluten free mix, the other ingredients are going to be similar, non-wheat style flours. Cool, right?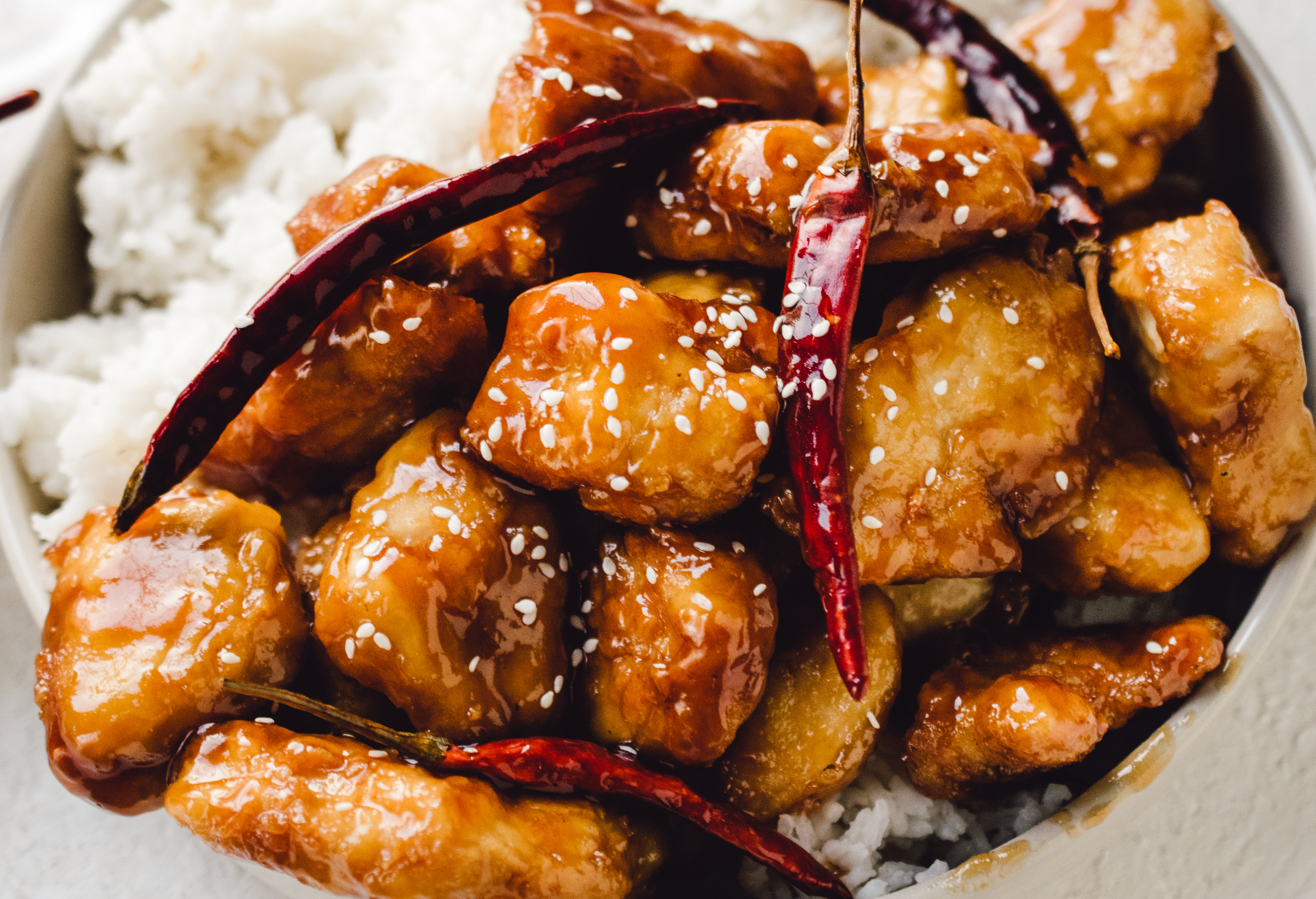 breading station
Here's another key step, that I cannot stress enough. The dredging and batter station must be done in a 3-part, double dredge fashion. You're going to dredge them in the rice flour dredging mix, then dip them in the egg mixture, then back into the rice flour dredging mix again. I know it's more common to do a two step dredge and dip, and I used to do it that way too. The truth is, the breading just isn't quite thick enough, and it pulls off really easily during frying. Giving a last re-dredge kind of seals the deal on a perfect, crispy crust that stays put while staying crispy. 
draining fried chicken
Finally, when it comes to transferring the fried chicken pieces out of the hot oil and onto an area to drain, avoid laying them directly on a paper towel. This is huge. For the third time, I actually cannot stress this enough. Yes, using paper towels absorbs excess oil, but it ruins the crispy breading you just spent time achieving. It seals in the hot steam and actually steams your chicken. That'll take crispy and crunchy, to soggy and sad in a matter of minutes.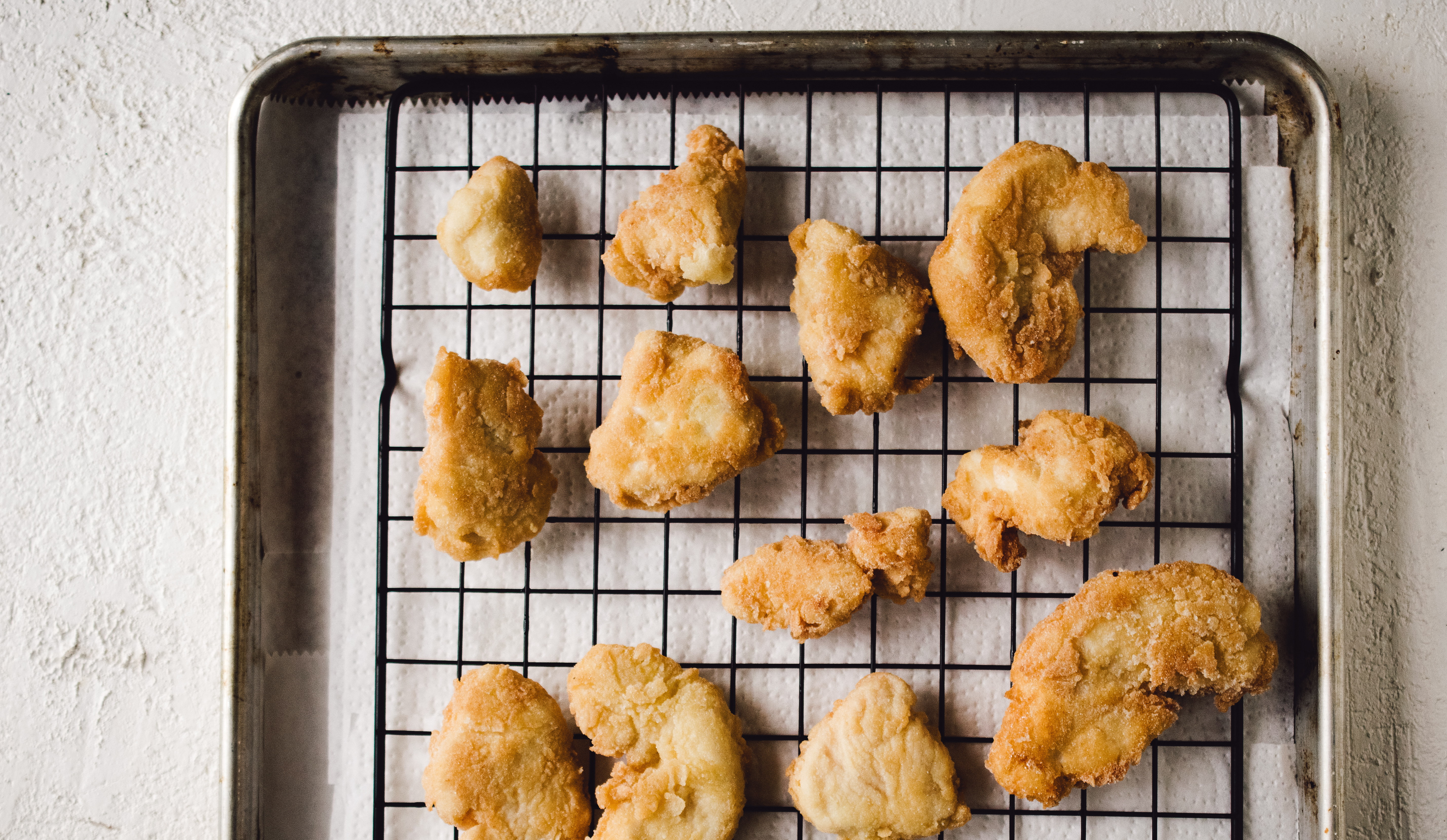 Instead, use a wire rack to elevate them. You can put a paper towel lined tray or plate under that to catch the drippings. I use a cookie sheet and paper towels, with a large rack over it. 
general tso's chicken sauce
The goal of making your own General Tso's Chicken in addition to being homemade, is that it needs to be fairly simple to make. As in, easy. After all, we're comparing it to take-out. The sauce can be made up anywhere from days in advance, and refrigerated, up to the right before the point you need to use it. It only takes seconds to whisk up, so I usually do it as I'm about to toss it all together.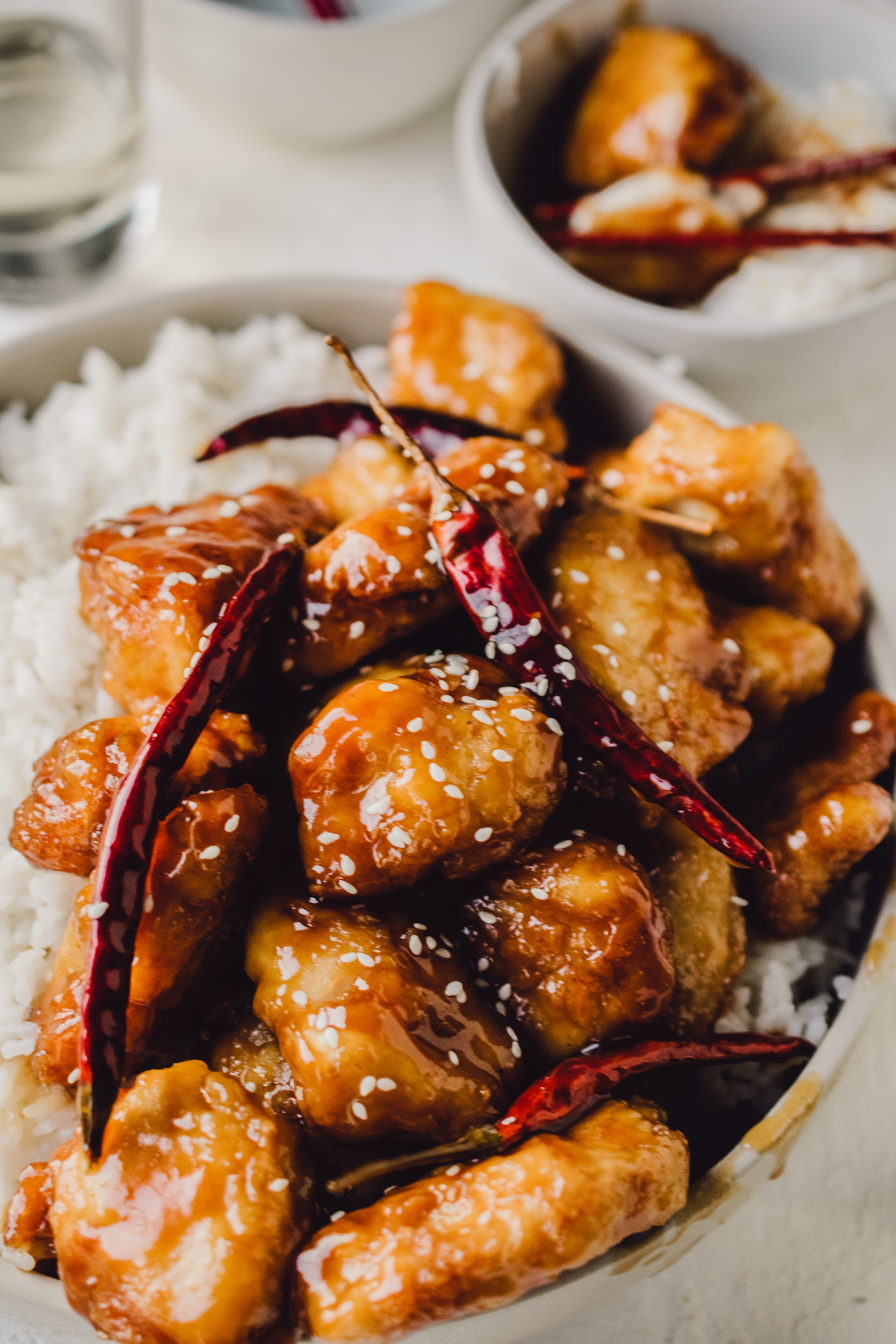 And that's all it is, simply whisk the sauce ingredients together and pour into a fully heated skillet, on medium-high heat, along with the dried, whole red chili peppers (you can find these in the Mexican or Asian section of the grocery store). The sauce should immediately begin to simmer. Let it simmer a few minutes until you see it thicken up. Then turn the heat off, add your fried chicken pieces, and toss to coat. Serve immediately with steamed rice, and sprinkle with sesame seeds.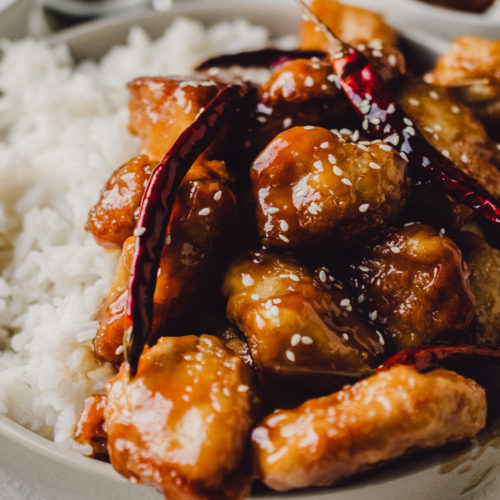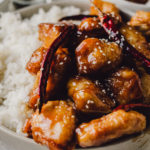 Print Recipe
Homemade General Tso's Chicken
Breaded, fried white meat chicken breast chunks, tossed in an Asian sweet and spicy, savory sauce with dried red pepper pods
Ingredients
For the Chicken
3

chicken breasts

cut into bite size pieces

2

cups

rice flour

1/2

tsp

salt

1/2

tsp

garlic powder

minced finely

1/2

tsp

ginger

1

tsp

granulated sugar

4

large

eggs

1

tbps

soy sauce

vegetable or frying oil
For the General's Sauce
1/2

cup

soy sauce

1/3

cup

granulated sugar

1

tsp

ginger

1

tsp

garlic powder or minced garlic clove

1/2

tsp

onion powder

1

tbsp

corn starch

1 1/2

tbsp

rice wine vinegar

1/4

cup

water

dried chili pepper pods
For Serving
sesame seeds

for garnish

steamed white rice

for serving
Instructions
Cut thawed chicken into bite size pieces, pat dry.

In a large, heavy skillet, heat 1 inch deep oil to medium heat, or 350 degrees with a thermometer.

Combine rice flour, salt and sugar, garlic powder and ginger. Set aside in one shallow bowl.

Combine eggs and the tablespoon of soy sauce, and beat, set aside in another shallow bowl.

Working with one piece of chicken at a time, dredge each chicken piece first in the flour mixture, then dip in the egg, then back in the flour mixture again to coat; set aside on a plate. Repeat with each chicken piece.

Once the oil has come to temperature, begin frying the prepared chicken pieces, working in batches. Set the pieces in the hot oil, with a little room between each of them. Fry on that side until golden brown, about 1 minutes. Turn, and repeat for other side. Set finished pieces onto a wire rack. Repeat batches until all the chicken is fried.

Mix together all sauce ingredients except chili peppers. Heat a shallow skillet to medium high heat, fully. Pour in sauce mix, and chili peppers, and simmer for 2-3 minutes until thickened. Turn off heat.

Add fried chicken pieces, toss to coat. Garnish with sesame seeds.

Serve with steamed white rice and sesame seeds.