Homemade pasta of different shapes and sizes, is so easy to make, and so delicious, that you may never go back to store bought pasta again.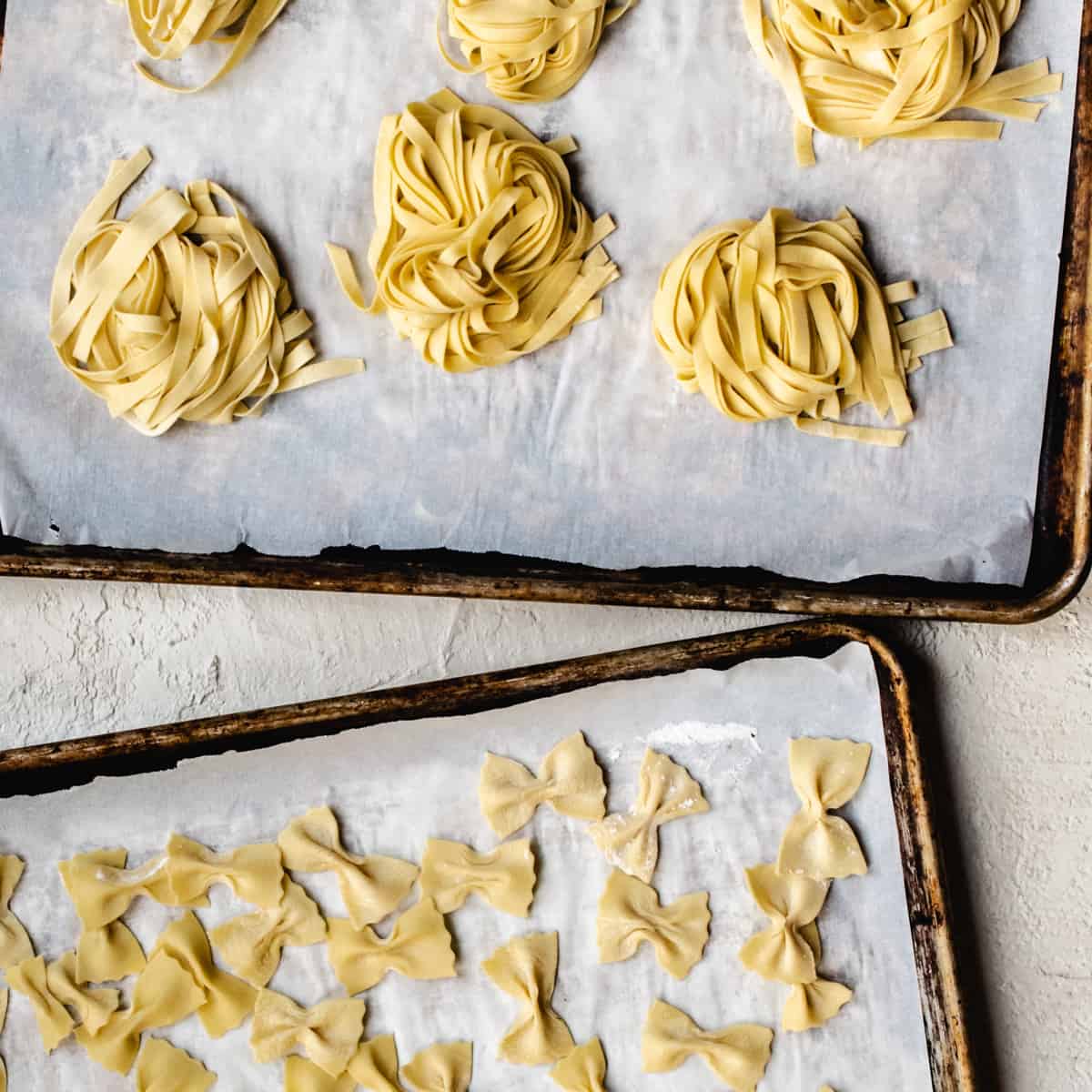 Making the dough
This recipe works using the old fashioned way of kneading the flour and eggs on a floured cutting board, but I prefer to use a stand mixer or food processor with a dough hook/dough blade.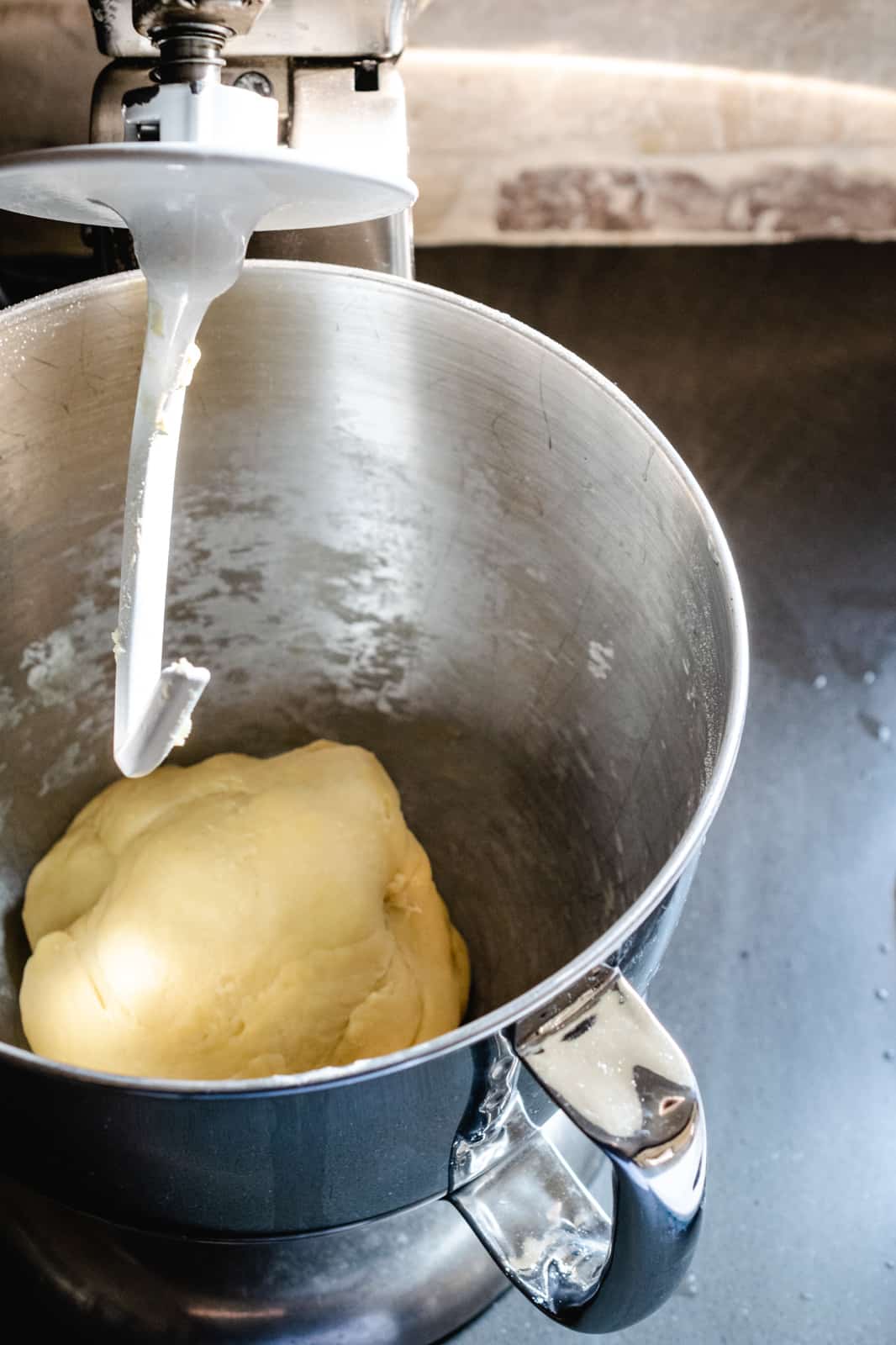 When you combine the homemade pasta dough ingredients, the dough will start off shaggy looking. It may be tempting to add a bit of water too soon. Don't do this, because often what happens is that the dough starts off looking dry, but continues to get kneaded and ends up perfectly hydrated.
Once it has come together, turn the dough out on to a floured surface, and divide into four sections. Work with one section at a time, keeping the other portions in waiting covered with plastic so they don't dry out.
Making the dough sheets
Now that the pasta dough is formed, and portioned out (for the purpose of keeping it hydrated) it's time to form dough sheets. Regardless of what pasta shape you will be making, you'll need to form these sheets first. (Unless you're doing homemade tube-shaped pasta, which requires a whole other set of equipment.)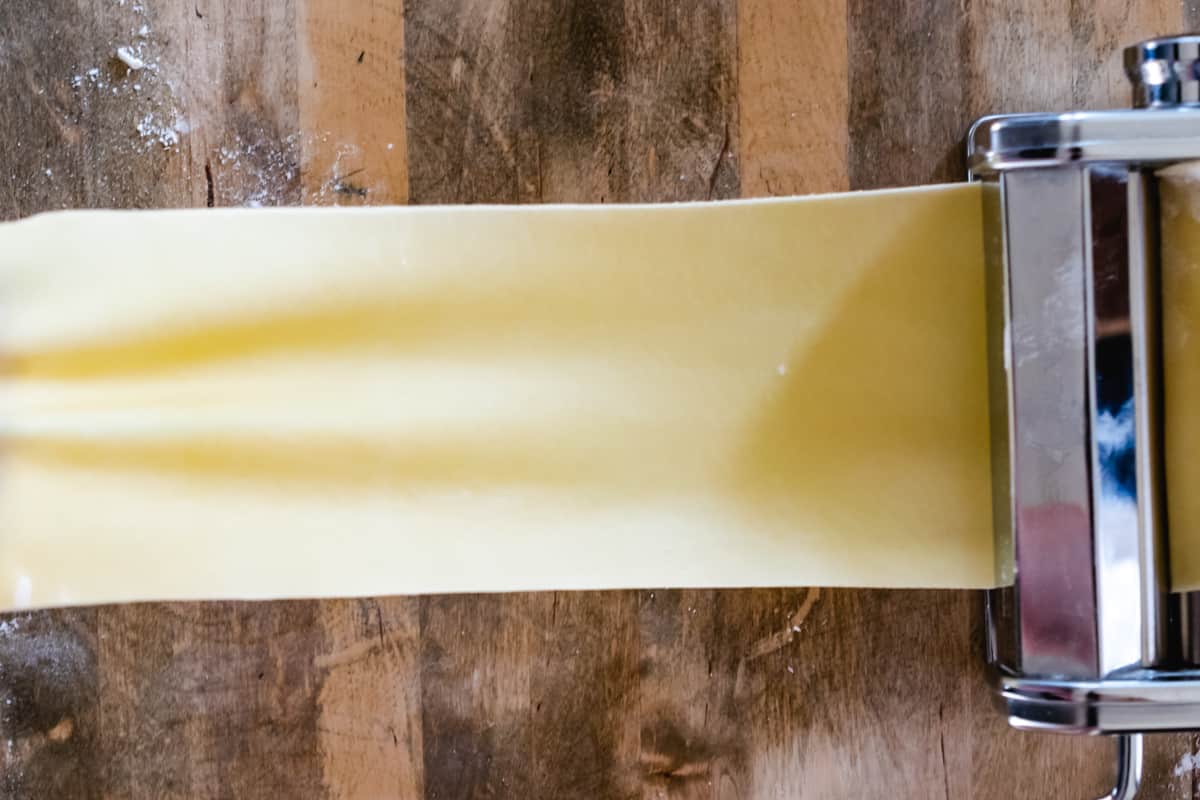 Start by rolling or pressing the first portion of dough as flat as possible, without exceeding the width of the pasta rolling blades. This will get it started, so that it can begin it's journey through the feed.
What settings to roll to
Start on the largest setting. Roll the pasta dough through it a few times, folding it in half each time, and re-rolling it through. Gradually reduce the setting width, until you have reached the desired thinness needed to form your shapes.
Most pasta rollers come with a fettuccine and angel hair (vermicelli) cutter.
Angel hair will require a somewhat thin setting around a 7 or even 8.
Silky fettuccine is perfect on a slightly thicker setting like a 6 or 7. Don't go too thin though, or you'll have noodles that are too delicate.
Keep in mind that these are just suggestions. Every pasta roller is a little bit different, so yours may need to go thinner or thicker.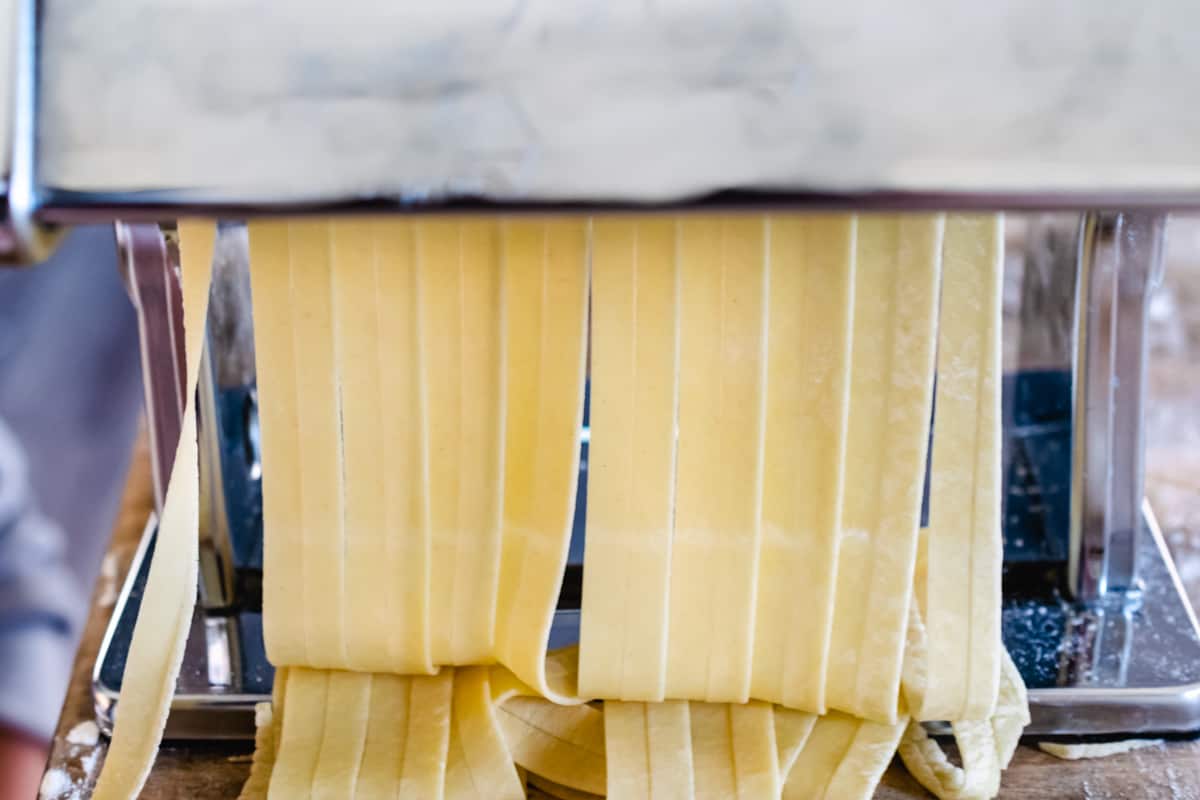 You can many more shapes and sizes without the cutting feeds though!
Think about the shape that you will be forming. Roll the final thinness that is best for that shape. Here are some examples:
How to make raviolis
Raviolis will need a thicker structure; on my machine that is about a 5 to 6. The thicker pasta will be able to be strong enough to hold on to delicious fillings, without splitting apart.
Use a knife to cut squares into your sheets, or a biscuit cutter for circles, fill, and press the edges with the tines of a fork. This with delicious Butternut Squash Ravioli with Fried Sage, Walnuts and Bacon.
How to make pappardelle
Pappardelle is my favorite pasta shape. Which means it's extra delicious when made from scratch. It's like an extra wide fettuccine. You'll likely not have a feed for this, but you'll make the sheets based off the same thickness that you would use for fettuccine.
Dust the sheets with a little flour and cut the edges off nice and even. Then cut ¾-inch to 1-inch wide strips. Dust with a bit of flour and set aside in nests.
Try this Fall-inspired pasta dish, with pappardelle, acorn squash, and crispy sausage.
How to make bowties
Hearty, short cut pasta, like bowties (farfelle) work best on a final setting of around a 6. Bowtie pasta is very easy to make.
Once the sheets are rolled out, cut them into 1 inch wide strips, then cut those into 2 inch long rectangles. Using a double sided ravioli cutter lets you cut the strips with the smooth side, and use the ruffled cutter to create those wavy edges.
If you only have a smooth cutter, that's just fine! Once you've got a bunch of 1x2 inch rectangles, pinch them all together in the middle.
Bowtie pasta is perfect to serve with Vodka Sauce.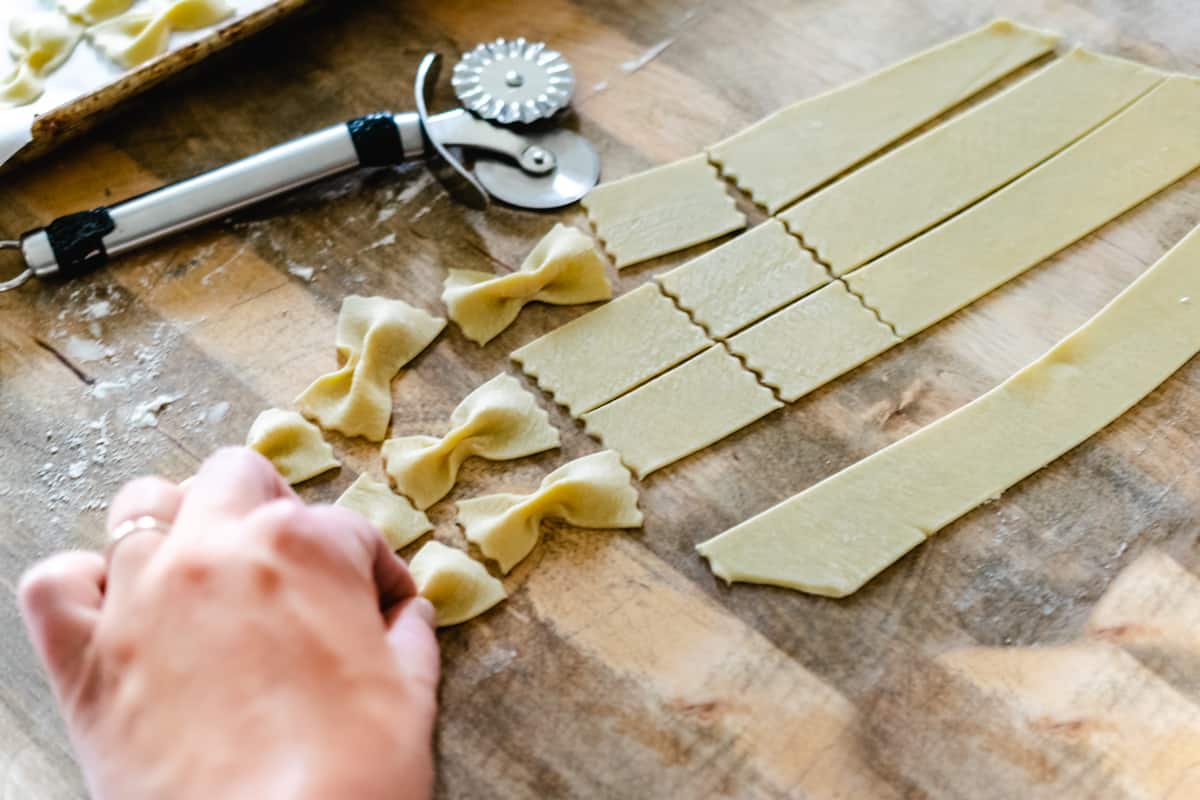 Looking for more pasta shapes that you can make without special equipment?
Head over to this amazing video with Gennaro Contaldo where he shows us how to make some really easy handmade pasta shapes! It's super entertaining too.
Cooking fresh pasta
Boiling fresh homemade pasta takes much less time than the dried, store bought kind, so don't wander too far away from the pot.
Make sure the water is salted, and at a rolling boil.
Fresh pasta will only take 1-3 minutes to cook, depending on the thickness so keep an eye on it and drain it right away when it's al dente. There will still be some carry over cooking.
Storing fresh pasta
If you want to make big batches of pasta dough, or store this pasta longer-term, you can air dry it, by hanging strands on a chair or pasta dryer, and letting the short cut pasta dry in a single layer, scattered on a baking sheet.
Alternatively, you can freeze it right away, without drying it first. It doesn't need to be shaped necessarily, either. I talk all about how to do that and give lots of examples in this post about storing and freezing fresh pasta.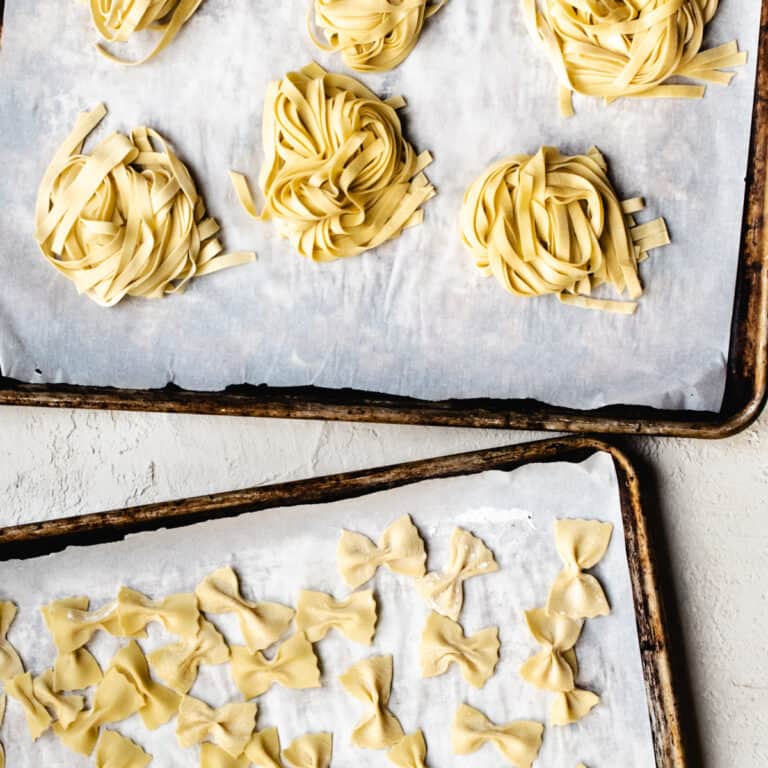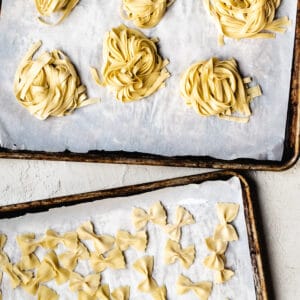 Homemade Pasta
A basic, egg and flour pasta dough recipe for making virtually any shape and size of homemade pasta.
Print
Pin
Rate
Ingredients
3

cups

all purpose flour

3

large

eggs

2

tablespoon

olive oil

2

tablespoon

water

plus or minus 1-2 tablespoons

salt

optional
Instructions
In a stand mixer or food processor, using the dough hook, combine all ingredients and continue to knead until smooth ball forms. Dough will look shaggy or dry at first, do not add more water unless it's too dry to come together after a couple of minutes of kneading it.

Turn dough ball out onto a floured surface.

Divide into four equal sections; cover with plastic wrap the sections that aren't being worked with to keep them from drying out.

Flatten or roll a portion of dough and begin feeding it through the pasta roller on the largest setting. Fold it in half and feed it through again, and work your way down to each setting, getting thinner as you go, and ending on the setting that is the appropriate thickness for the pasta shape that you are making.

Run through the cutting side of the machine, or cut pasta shapes by hand. Toss with a bit more flour to keep from sticking. If they are long strands, wrap loosely into nests until ready to cook.

Boil in salted water for 1-2 minutes until al dente.
Notes
Don't add more water if the dough seems to dry until you've tried kneading it for at least 3 minutes first. 
Keep dough and work surface floured. 
Keep dough sections covered until ready to work with them, to keep them from drying out. 
Nutrition
Calories:
152
kcal
|
Carbohydrates:
24
g
|
Protein:
5
g
|
Fat:
4
g
|
Saturated Fat:
1
g
|
Cholesterol:
47
mg
|
Sodium:
19
mg
|
Potassium:
51
mg
|
Fiber:
1
g
|
Sugar:
1
g
|
Vitamin A:
68
IU
|
Calcium:
12
mg
|
Iron:
2
mg