[wprm-recipe-snippet id="77″]
Nothing can replace a home style, homemade ranch dressing, especially if you are a ranch lover (aren't we all, at heart?) The recipe is so easy and so delicious; I've tested out all different variations and I believe this has the sugars, acids, and seasoning ratios just right. It's super thick and creamy ranch, and could be used as a ranch dip by just adjusting the milk (or buttermilk) measurement and adding sour cream along with the mayo. The recipe for both are included below.
Do you like ranch on your pizza? Try it on this Bourbon BBQ Chicken Pizza, it's the best!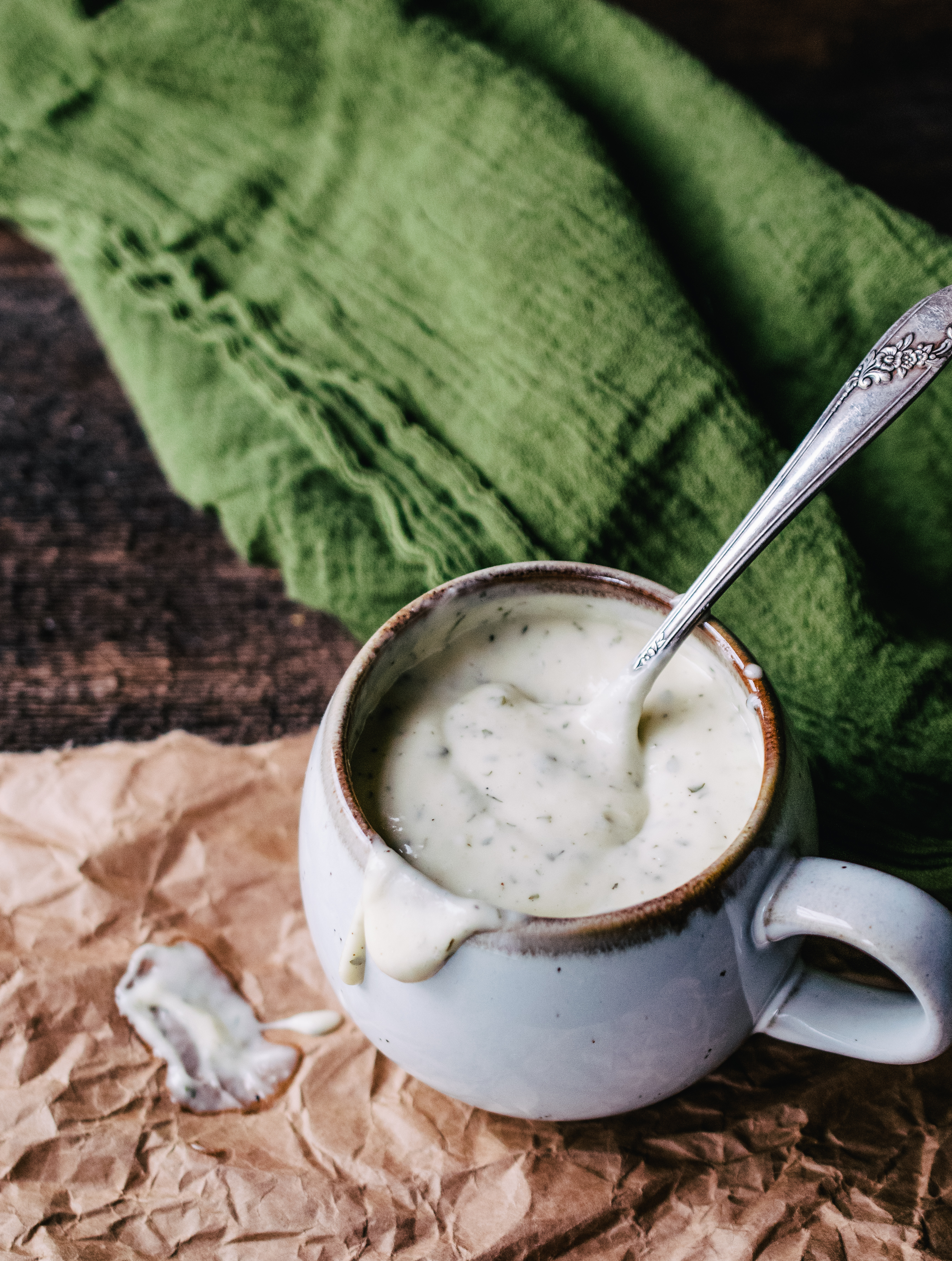 healthy homemade ranch dressing
It would take longer to go to the store than to whip this up, and it blows other bottled ranches away, with just a few simple ingredients. Plus, since it's homemade, you are avoiding dangerous additives that you don't want to give to your family. That's right people….this is a healthy(ish) ranch. Not exactly diet food, BUT… it does leave out the high fructose corn syrup that is in almost all store bought ranches, and a ton of other chemical additives and unnatural enhancers and preservatives. So for that reason, sure, it's healthy ranch!
it's so easy to make your own ranch
Making homemade ranch dressing is as easy as adding perfected blend of seasonings to a perfected ratio of milk and mayonnaise. I've gone through a lot of ranch dressing recipe tweaking to arrive at this recipe. Ranch has the obvious seasonings, like the herbs, and salt and pepper, but it's almost more important to get the balance of sweetness and acidity right. Almost all of the times that my ranch dressing has tasted off, it has been the result of not using the right amount of sugar, or not using the right amount of acid. Using a good quality mayonnaise can solve this problem, or you try my own (obsessively tweaked) How to make Homemade Mayonnaise. Once you have your hands on a good mayo, just whisk up the ingredients, and chill in the refrigerator for the most delicious Ranch Dressing ever!
buttermilk ranch dressing
I'm stating the obvious here, but the difference between regular ranch dressing, and buttermilk ranch dressing, is just the fact that you are opting for buttermilk over regular milk for the latter. Which, if you ask me, when given the option why would you not opt for buttermilk in a recipe? If you don't have buttermilk on hand, you can make a substitute by stirring 1 teaspoon of lemon juice or white vinegar into 1 cup of milk, and letting it sit for 5 minutes. What you'll notice after is a thickened, more acidic milk very similar to store bought buttermilk. I've done both, but I actually prefer real, farm fresh or store bought buttermilk over the substitute. It's relatively cheap (a quart will run you a buck and change). Just follow the recipe using buttermilk and you are on your way to the Best Buttermilk Ranch Dressing ever!
homemade ranch dip
Much like the previous dressing instructions, Homemade Ranch Dip is extremely easy. All you need to do is follow the recipe for the dressing, but cut the milk in half to one tablespoon, and do a half mayo, half sour cream blend. For example, the single recipe below calls for 1 cup of mayonnaise and 1/4 cup milk. Omit the milk completely. Instead of 1 cup mayonnaise, do 1/2 cup mayonnaise and 1/2 cup sour cream. Add all the other seasonings as the recipe calls for.
healthy ranch dressing
Yes, I said healthy ranch. Avocado Ranch Dressing, to be exact. Just when you thought ranch could not get better. The cool thing about this avocado ranch from Nourish Well, Move Often, is that it incorporates healthy fat and the most delicious fruit on the planet, the avocado. But, I'll let Kimberly tell you more about why this ranch is so good, especially if you are trying to watch it with the ranch. She's my go to for healthy food and lifestyle tips, because let's face it. Sometimes you need to pump the breaks on the regular ranch.
Print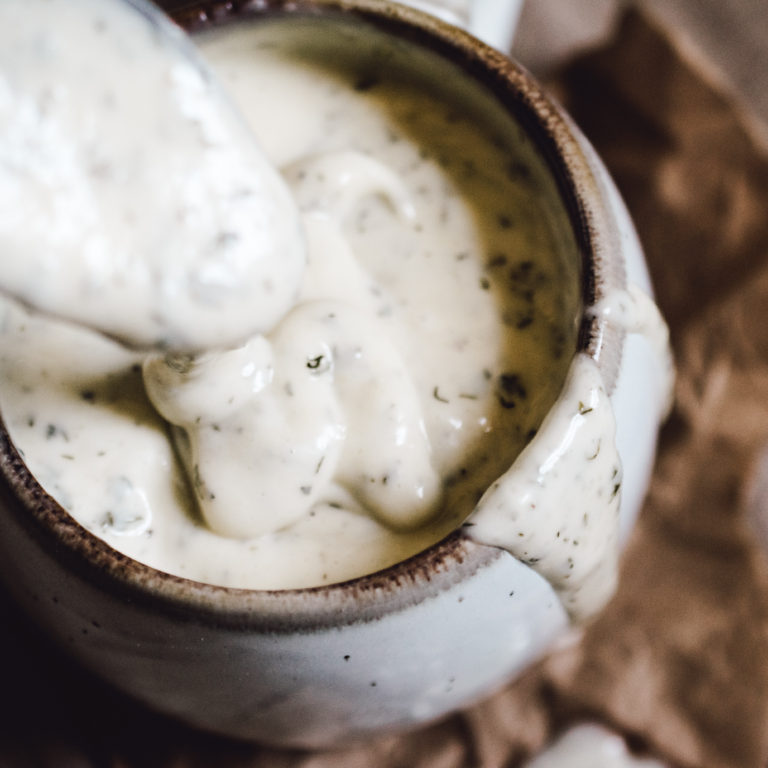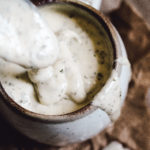 Buttermilk Ranch Dressing
Author:

Erin
Prep Time:

5 minutes

Total Time:

5 minutes

Yield:

1 cup

1

x
Category:

Salad

Cuisine:

American
---
Description
A delicious, creamy, perfectly seasoned ranch dressing.
---
Scale
Ingredients
1 cup

mayonnaise

1/4 cup

buttermilk or milk ((use

one tablespoon

if making dip))

1 tbsp

white vinegar, white wine vinegar or lemon juice

1 teaspoon

sugar

1/2 teaspoon

fine salt (more or less to taste, depending on salt in mayonnaise, aim low to start)

1/2 teaspoon

garlic powder

1/2 teaspoon

onion powder

1/2 teaspoon

dried or fresh dill (optional)

1 tablespoon

dried or fresh chives

1 teaspoon

dried or fresh parsley

1/8 teaspoon

pepper
---
Instructions
Whisk in the remaining ingredients well; don't leave any lumps.
Store in a mason jar or other container and let chill at least 1 hour before serving.

---
Notes
Ranch dressing is always better if it's been chilled for at least an hour, but it's not required. Just know that if you make it in advance, it's going to taste even more delicious after chilling in the fridge. Can be stored for up to one week. 
If you are making dip rather than dressing, you'll want it thicker and with the addition of sour cream. This is a very easy alteration. Make the recipe as is, but instead of using 1/4 cup milk, use 1 tablespoon of milk. Also, instead of using 1 full cup mayonnaise, use 1/2 cup mayonnaise plus 1/2 cup sour cream. Whisk together and chill for at least an hour or overnight. Can be stored up to one week. 
Take care when using salt. Depending on whether you use store bought mayonnaise or homemade mayonnaise, you may have to use more or less salt. So aim low to start, and add more as necessary for a more savory flavor.