I really like to keep stocked up on basic kitchen staples, so that I can always make what I need. My goal is to not have to run to the store. Save as much money as possible, be as self sufficient as possible, and really be able to rely on my own skills to care for and feed my family. Stock is one of those things, that gets utilized in meal preparation more often than it doesn't. It always needs to be in my pantry. So, instead of throwing the chicken carcasses out (what a word, I know), I make stock with them.
The nutrients that you get out of making your own stock, are not present in store bought stock. You will literally see this, when your own homemade stock becomes gelatinous when cooled below room temperature. THAT IS NOT FAT! That is collagen, and it is extremely good for your skin, hair, nails, bones and joints. Do not be afraid of gelatinous stock. People pay big bucks to take that stuff in vitamin form. So you can see, there are many reasons to make your own stock, and I have listed the simple steps to making and canning your own stock or broth.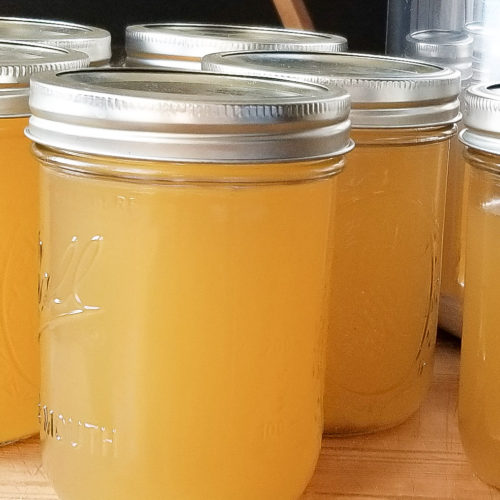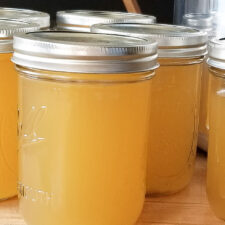 Homemade Canned Chicken Stock
Easy and nutrient rich, homemade and pressure canned chicken stock. (Technique is the same for beef stock).
Print
Pin
Rate
Ingredients
You will need
2-3

chicken carcasses

including back bones (roasted (or beef bones, turkey, etc.) )

water

pressure canner

not a water canner

clean mason jars with unused rings and lids

optional: carrot

celery stock, onion skins or any other leftover veggie odds and ends can always be added to the stock making process. This is optional, and I mainly don't add anything because I like to add the flavors I want when I am actually cooking the meals. (This can be a great way to use leftover veggie ends, onion skins, etc., that would have otherwise been discarded)

salt and pepper

optional, again, i leave these out
Instructions
Place chicken carcasses (or beef bones) in a large stock pot, along with (optional) vegetables and salt and pepper, if you choose to season. Using meaty pieces will give you a broth, whereas using just the bones and carcass makes a stock. I usually make the plain stock, without the addition of veggies and seasoning, but most people choose to add these things. Either way works!

Cover with water so they are completely submerged. Simmer on low all day long. (You'll want to start this process in the morning). As stock simmers, occasionally skim fats and foam off the top with a mesh strainer.

Once stock has simmered all day, strain into a large container, through a mesh strainer to remove last of debris, cover and refrigerate. The hardened white layer on the top (the fat) can then be removed. The gelatinous consistency is good! That means you have made a good stock--this is not the fat, this is collagen and other nutrients.

You may can right away, or the next day, whatever your schedule allows. When you are ready to can, heat your canner up with an inch or so of water, as you do to can anything else, and reheat your stock to a boil in a large stock pan, to reliquify. Ladle your stock into pint or quart jars, leaving a half to one inch head space, and seal with lids.

Refer to your pressure canner's manual for the correct setting to process at; it needs to be adjusted by altitude, and process for 20 minutes. Once finished, and jars are cooled, they can be stored in the pantry for future use.