Spring vegetables like asparagus, peas, yellow squash, and carrots, with are tossed with ribbons of fresh pasta, garlic and lemon, in a light and creamy sauce; then sprinkled with Parmesan cheese. (If desired, top with grilled chicken or shrimp for a quick and easy, one-pan meal.)
If I could only eat one type of food for the rest of my life, it would be pasta. I love it. To me, it's the 'jeans' of foods. You can dress it up with truffles and expensive cheese for a fancy pasta dish; or dress it down with a rustic sauce. We have our comfy pasta dishes, like a classic mac and cheese. I'd say this Pasta Primavera is one of my favorite pasta dishes. It's effortless, and screams spring with it's vibrant veggies and light and creamy sauce. It takes no time at all to throw together, which is perfect for when the evenings are getting warmer and we don't want to fuss over dinner.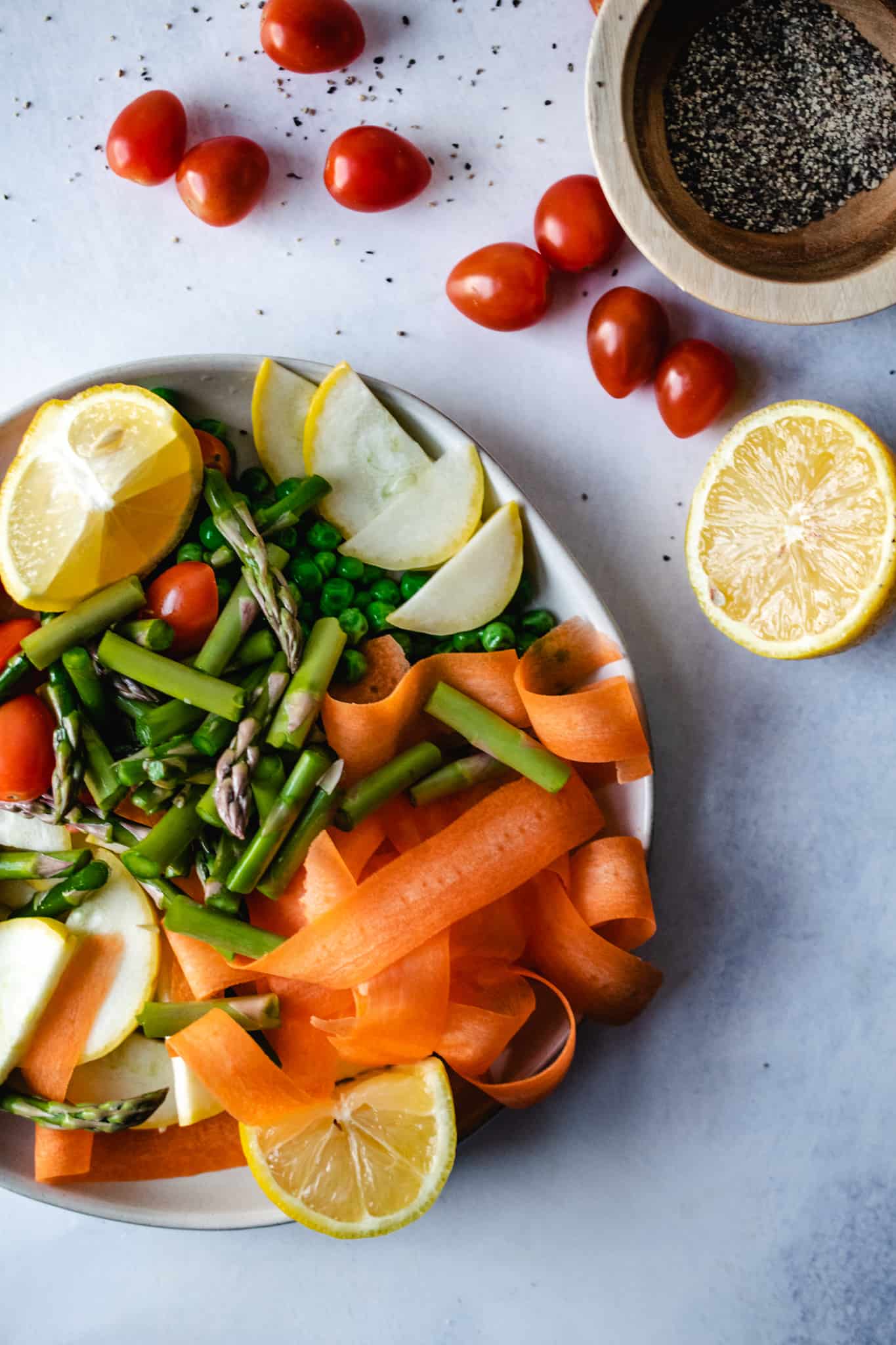 why is it called pasta primavera?
Primavera means "spring time" in Italian. A typical pasta Primavera has spring vegetables like peas, asparagus, zucchini, garlic and herbs among many others. A good pasta Primavera  uses these spring like vegetables, and gives us all the good Spring feels. It's meant to be easy, gorgeous to look at, and delicious. Everything Spring!
what is primavera sauce made of?
Primavera sauce is normally light, with a little lemon, fresh garlic, and sometimes people add a bit of cream. It can also have a little pasta water or wine to create a lighter sauce. It's usually on the lighter side though, not as heavy as Alfredo sauce.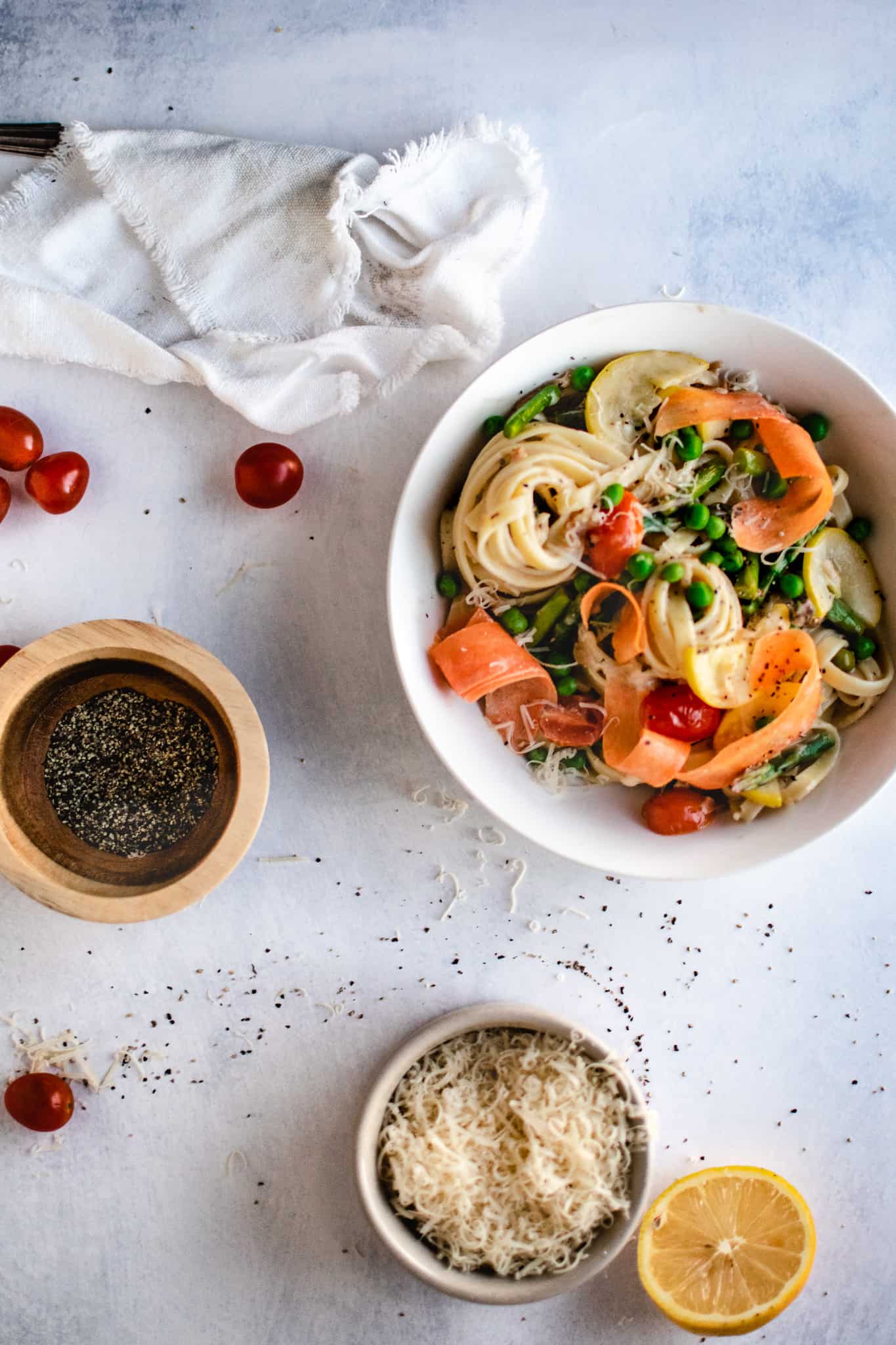 add chicken or shrimp for a weeknight family meal
You don't need to add meat. But... because I have a hungry family of 6 at dinner time, and because they usually expect a protein of some kind with their dinner, I often top this pasta dish with grilled, sliced chicken breast or shrimp. Doing so makes this truly, a complete meal in one pan, without the need for any side dishes. Which, works great for a quick, weeknight family dinner. I like to use my cast iron skillet to cook a couple salt and peppered chicken breasts in the oven until just juicy, and then slice them to top onto the pasta. If I'm doing shrimp, I cook those on the stove top, on medium high heat with some lemon and garlic. Using the cast iron skillet just gives the meat a good "grilled" like sear. This dish is complete on it's own, without meat; but it's just an option to keep in mind depending on your household's needs.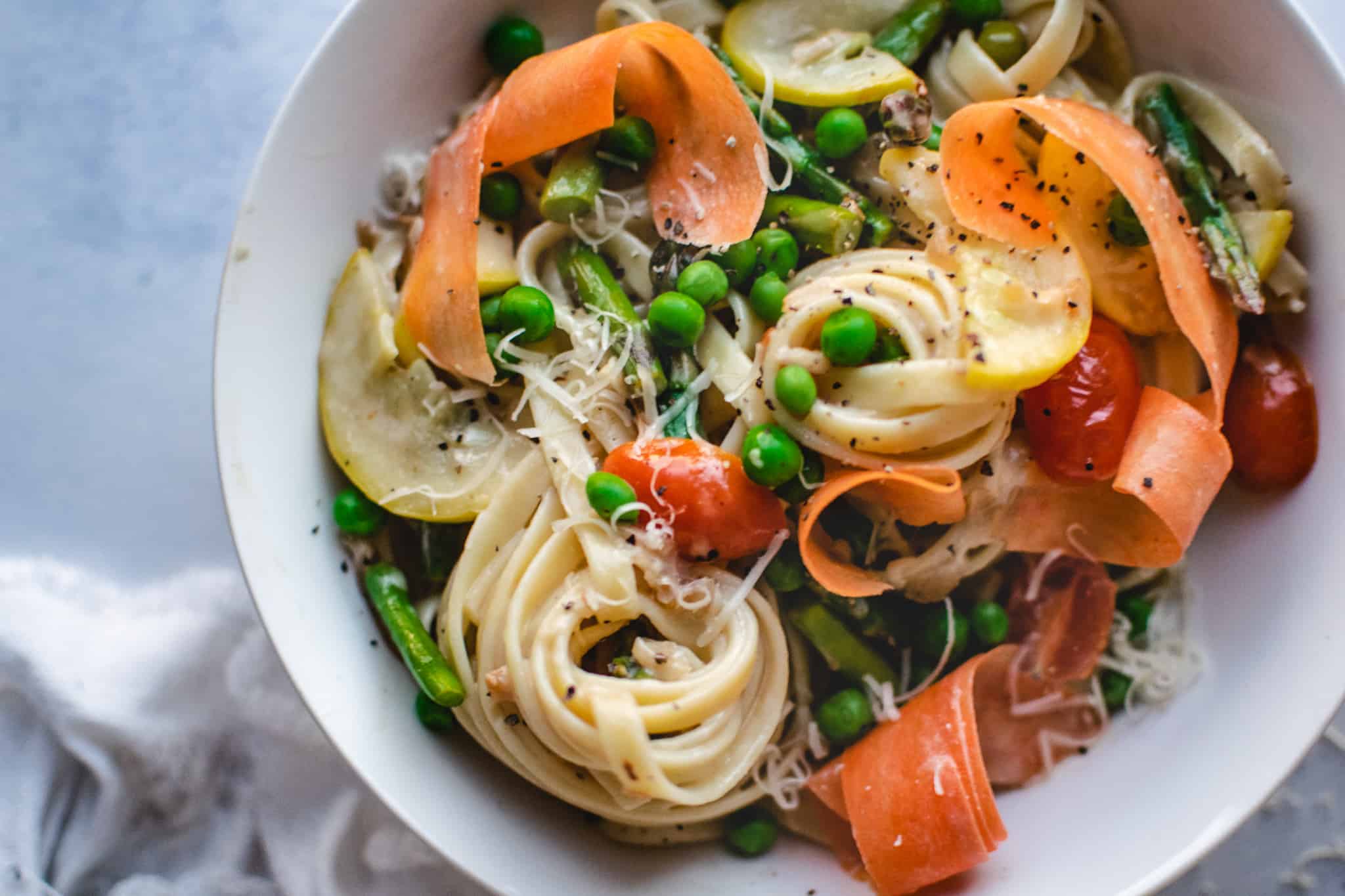 what kind of pasta do you use for pasta primavera?
Whatever you want! Typically, and my personal favorite, is a fettuccine or linguine pasta. Or some other long, ribbon style pasta. But you don't have to use any specific type at all, although these are all common because they work well holding onto the sauce and the ingredients. It's common to use penne, which is a short and hollow tube like pasta and many people use farfalle.
can I use gluten free pasta for pasta primavera?
Absolutely. Use your favorite brand of gluten free pasta in the same way that you would regular pasta. Using a long shape, like fettuccine or linguine is most common, but feel free to use a short cut gluten free pasta such as penne or farfalle. 
or, make your own pasta.
Since this is a from-scratch cooking blog, I must include my recipe for homemade pasta dough! Nothing beats homemade pasta, and it doesn't take as much time as you'd think to roll out your own pasta sheets and cut them into wide ribbons. It will definitely take your pasta primavera to the next level, if you use homemade pasta!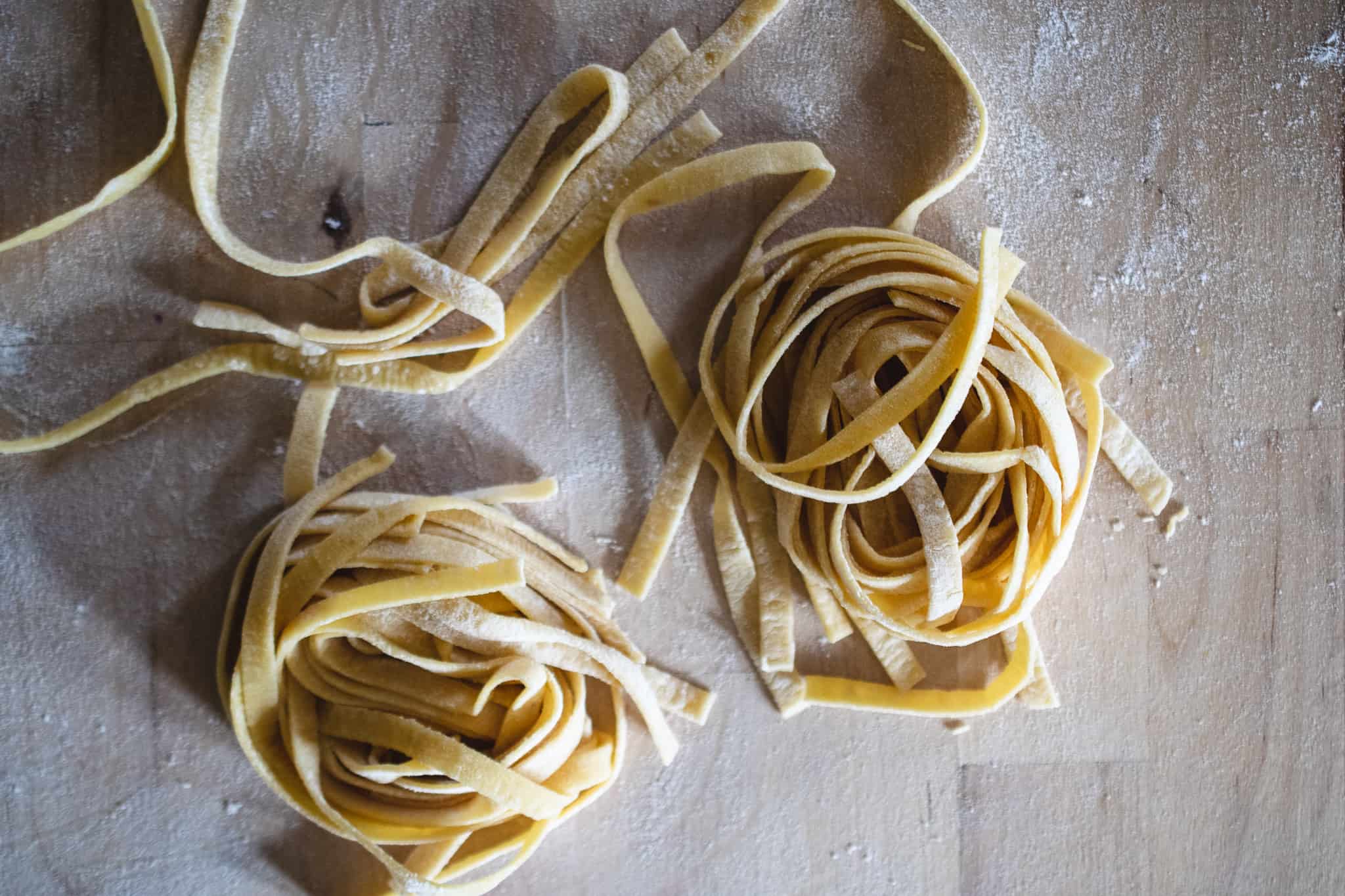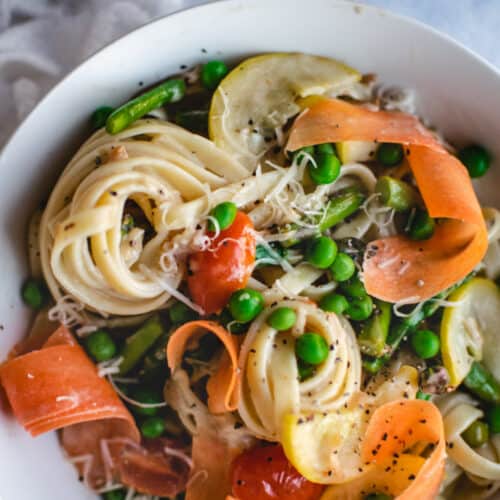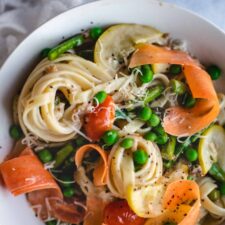 Pasta Primavera
Spring vegetables, and pasta tossed in a light, lemon cream sauce with Parmesan cheese
Print
Pin
Rate
Ingredients
1

lb

dry fettuccine

linguine, penne, tagliatelle, or other pasta shape of choice (or use gluten free pasta for gluten free dish) (cooked 2 minutes short of al dente, and 1 cup starchy cooking water reserved)

1/2

stick butter or olive oil

6

cloves

garlic

minced

1

shallot

minced

1/2

cup

green peas

fresh or frozen

2

large carrots

peeled, and sliced thinly into ribbons using peeler

1/2

lb

asparagus

woody ends trimmed, cut into 1 inch sticks

1

small yellow squash

cut into half moons

1/2

cup

cherry tomato

cut in half length wise

1

large lemon

juice of

1/8

cup

heavy cream

can sub half and half or milk

1

cup

freshly grated parmesan or Parmigiano-Reggiano

plus more for garnish

coarse black pepper
Instructions
Bring salted water to a boil and cook pasta til 2 minutes short of al dente. Reserve 1 cup pasta water.

In a large skillet, on medium high heat, add butter, and garlic and minced shallot and saute for 2 minutes until garlic becomes fragrant. Add vegetables and continue to cook for 2-3 minutes, or until desired tenderness. Keep in mind that carrot ribbons are thin and don't need to be cooked more than 2 minutes, so if you are cooking the other vegetables longer than that, add the carrots last.)

Skim a cup of pasta water after the pasta has cooked, right before draining, as this is when it's the starchiest and stickiest.

Add cooked pasta, and pasta water, and juice of a lemon, cream, Parmesan, and black pepper and toss to coat. (Salt to taste, if necessary.)

Serve with extra freshly grated Parmesan cheese, coarse black pepper, and fresh lemon wedge.
Notes
Use a variety of spring vegetables, depending on what you have available. Zucchini, bell pepper, and fresh herbs are great options. 
Can sub heavy cream for half and half or milk
It's not advised to use lemon juice from concentrate in this dish. 
Shredding the Parmesan off the block rather than pre-shredded in the bag will melt easier and have better texture. 
Coarse black pepper gives a nice texture, but fine pepper is ok too
It may not be necessary to salt, between the salted pasta water, the butter, and the cheese so be sure to taste before adding additional salt. 
For gluten free version, use gluten free pasta.