Pasta tossed in A "veggie pesto" made with healthy green veggies and creamy avocado, a lemon garlic wine sauce and Parmesan cheese. Add chicken for a one bowl pasta dinner. 
Even the picky eaters will eat it
You could call them Hulk Noodles in front of the kids 🙂 It's a one-pan meal. It takes less than 30 minutes. It's delicious. It also has the ability to get people who don't like veggies, eating way more greens for dinner than they every have before, because they are pulverized into the sauce itself.
Fresh minced garlic and shallot get saute`d with bite size pieces of white meat chicken breast in olive oil until browned and caramelized. Then, the pan gets deglazed with sherry and reduced to release every browned bit of flavor. Lemony, green veggies get "pesto-ed" with Parmesan cheese and pine nuts, then blended with ripe avocado until sauce-like and luscious. Finally, it all gets tossed together in the pan with tender cooked pasta.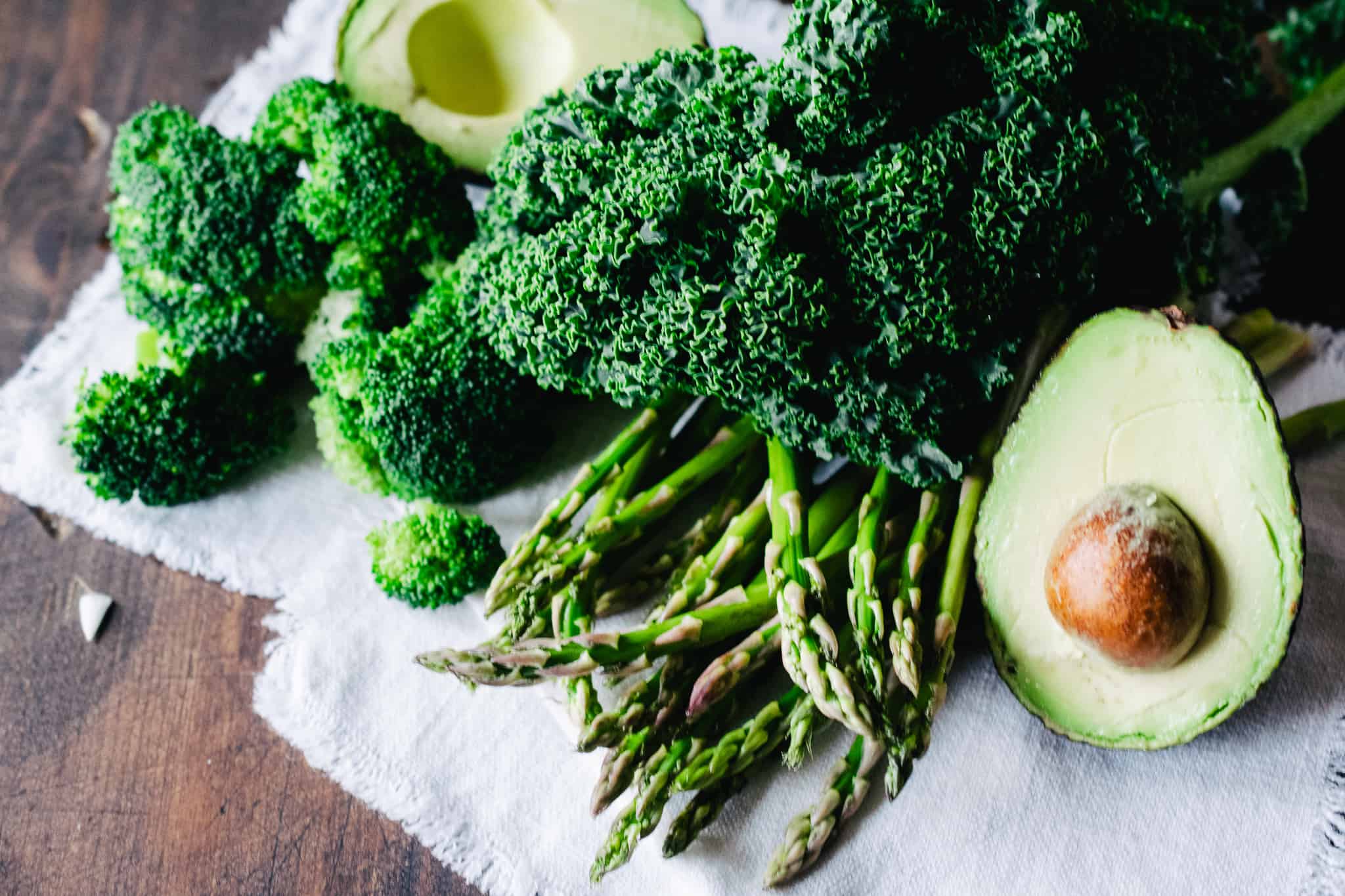 The thing with this pasta dish, is that it's a win for everyone. If you have picky eaters, this is a really great way to get them to eat their vegetables. Since they are pulverized into almost a pesto, along with creamy avocado and Parmesan, they feel more like part of the sauce that the pasta gets tossed with. It makes it easier (if not down right delicious) for those who have aversions to the textures of veggies, to eat them.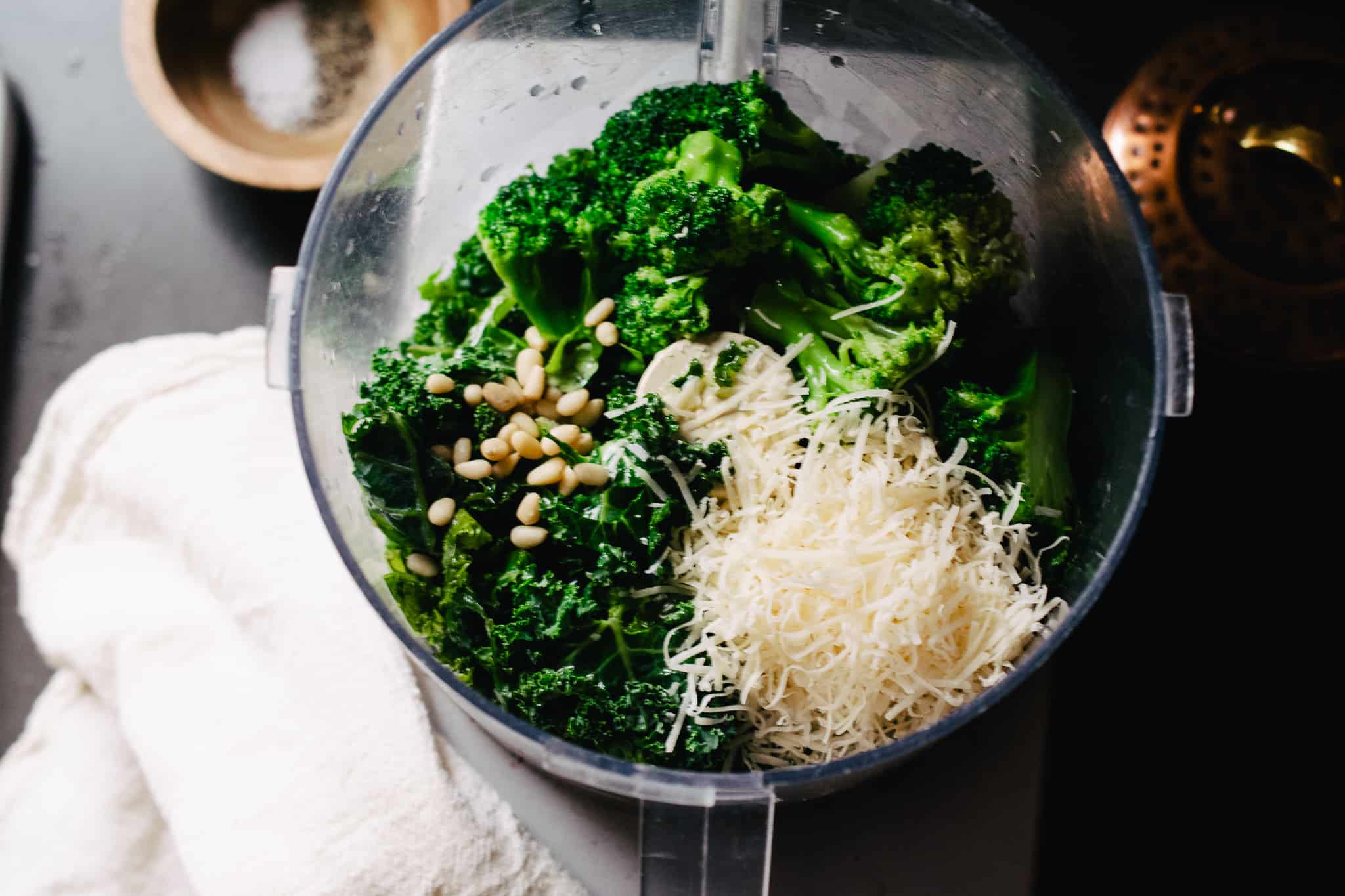 Choose a variety of greens that you feel your family would enjoy the most. Don't feel limited to leafy greens, although these are a great place to start. Mildly flavored greens, like kale, are a great choice for those who are very sensitive to the tastes of new vegetables. More noticeably vegetables like asparagus and broccoli add more flavor for those eaters who are more accepting of veggies. They also add some nice, extra texture.
make 'em tiny
This specific recipe calls for pretty neutral vegetables, so following it exactly is a safe bet. They get blended up very small into almost a pesto, making it delicious for everyone, and easy for non veggie lover's to eat. The addition of plenty of garlic, lemon and cheese don't hurt either.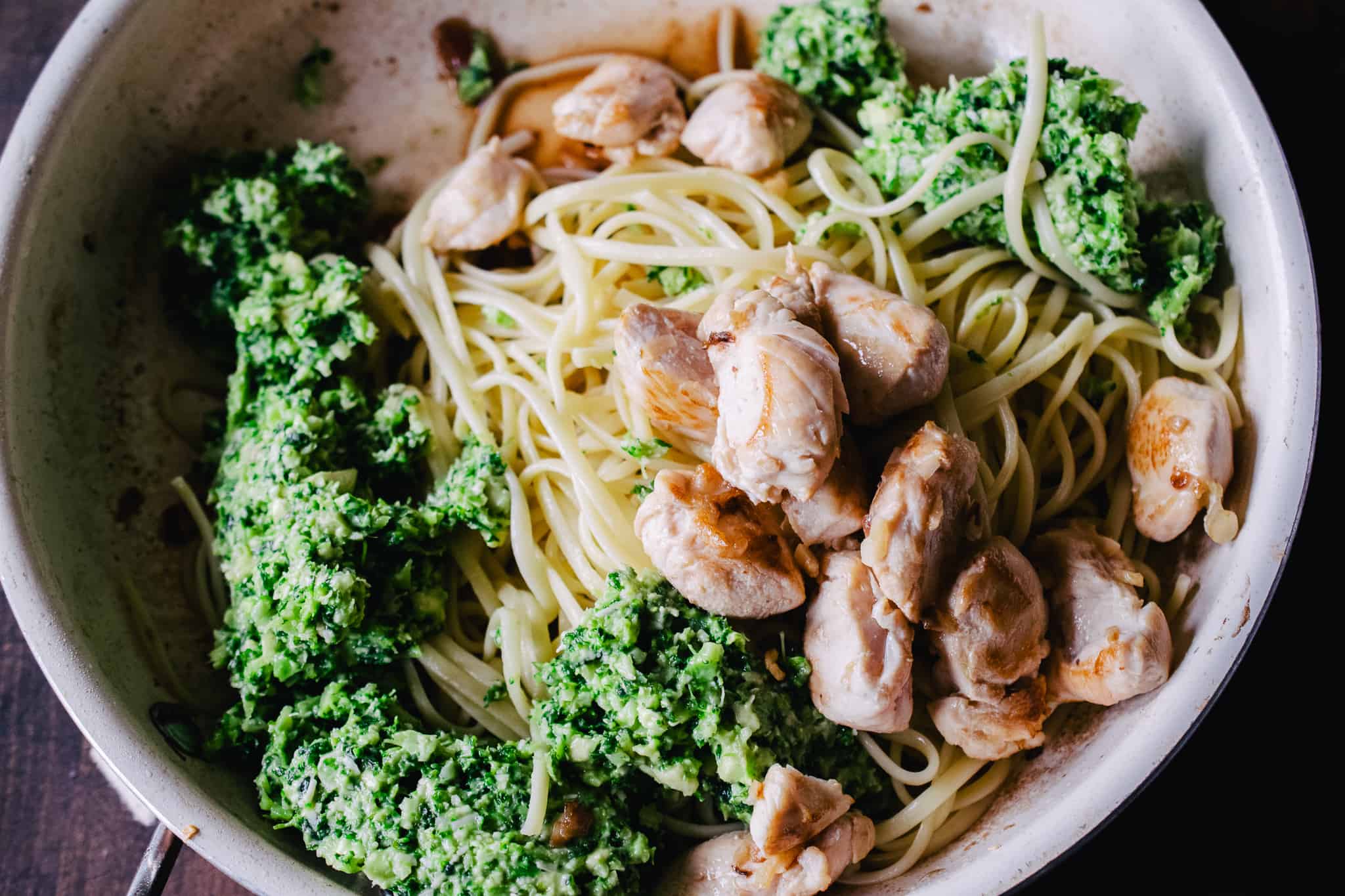 it's a one skillet meal
Because bite size pieces of chicken are tossed into the pasta, there's really no need for a side dish! It's a full, rounded dinner in one pan. You got your carbs, your protein, and your veggies. The dishes situation afterwords, is another win. There's not much clean up with it. Chicken is a great add-in choice, because it keeps it healthy and lean; but you can substitute in bacon, Pancetta, or sausage.
Once everything is tossed together, I highly recommend giving the pasta a heavy handed sprinkling of more Parmesan. If you like, finish with a bit of extra pine nuts, the way you would a salad and a squeeze of more fresh lemon.
Try these other veggie recipes for picky eaters: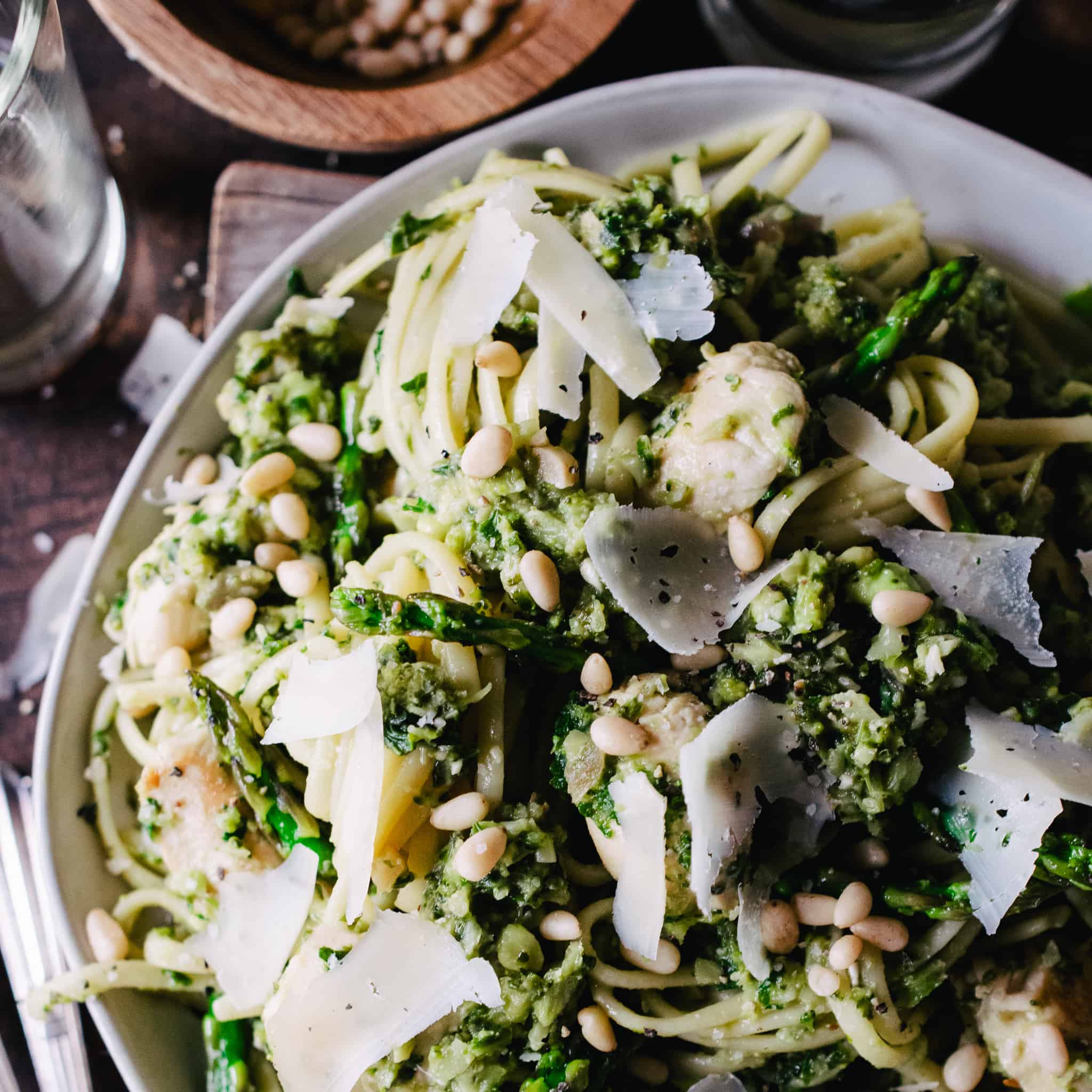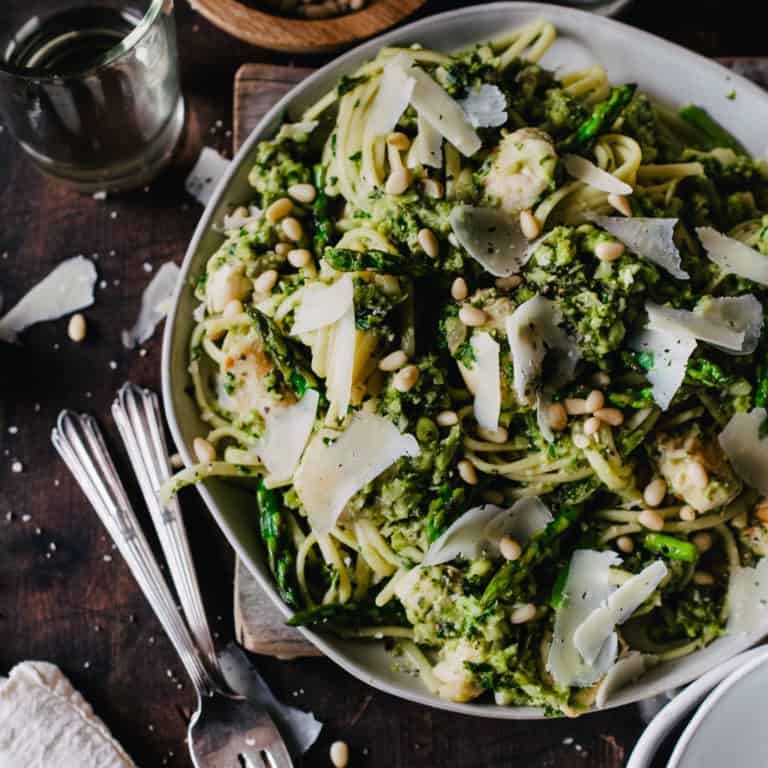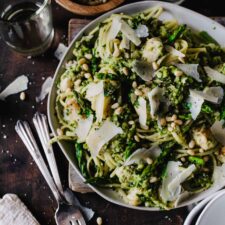 Pasta with Greens
Garlicky, lemony green vegetables and avocado tossed with pasta and bite size chicken breast, in a garlic and sherry sauce with lots of Parmesan cheese and pine nuts
Print
Pin
Rate
Ingredients
2

tablespoon

olive oil or butter

3

tablespoon

shallot or mild onion

minced

4

cloves

garlic

minced

2

chicken breasts

cut into bite size pieces

1

cup

sherry

8

oz

linguine

cooked to al dente

1

lemon

1

cup

kale

fresh or frozen

1

cup

broccoli

fresh or frozen

½

lb

asparagus

ends trimmed, chopped

1

tablespoon

basil

chopped (can sub 1 teaspoon dried)

¼

cup

pine nuts

6

oz

Parmesan

grated

salt and pepper to taste
Instructions
Cook pasta according to directions for al dente, minus one minute in salted water (pasta will finish cooking in the skillet). Drain, reserving ¾ cup of the starchy pasta water right before draining.

Add green veggies to food processor (or other blender), squeeze juice of lemon over them. Add also the pine nuts, a drizzle of olive oil, and pine nuts. Pulse until you have a very finely minced texture.

Add the avocado, blend until incorporated. Set aside.

Mince garlic and shallot/onion. Dice chicken. In a skillet, heat olive oil/butter on medium high heat; add shallot/onion, garlic and diced chicken.

Saute until caramelized and browned. Remove just the chicken pieces (leaving the garlic and shallot in pan) and set aside on a plate; this prevents them from overcooking and becoming though.

Pour sherry into the pan to deglaze, still on medium high heat.

Simmer on medium high heat until reduced by half, it should look thickened, darker and all the browned bits removed from the bottom. The bottom of the pan is "clean" and smooth.

Now comes the magic. Reduce heat to low. Add the cooked pasta to the skillet, along with the processed greens/pine nut/lemon/cheese mixture and chicken pieces.

Add half of the starchy cooking water, more Parmesan , whole pine nuts if desired, and juice of the other half of the lemon and toss to combine. Salt and pepper to taste. Remove from heat.

Serve immediately, and garnish with extra Parmesan and pine nuts. Salt and pepper to taste, if necessary.
Notes
Adjust the amount of pulsing or blending to fit your needs. More pulsing/blending results in a finer texture that resembles a pesto sauce. If you prefer larger pieces of green, pulse/blend less.