Whether you need a crowd pleasing appetizer, or just to shake up dinner time, these Dr. Pepper Pulled Pork Sliders check all the boxes. The recipe is so accommodating, you can make it in your oven, slow cooker, or pressure cooker!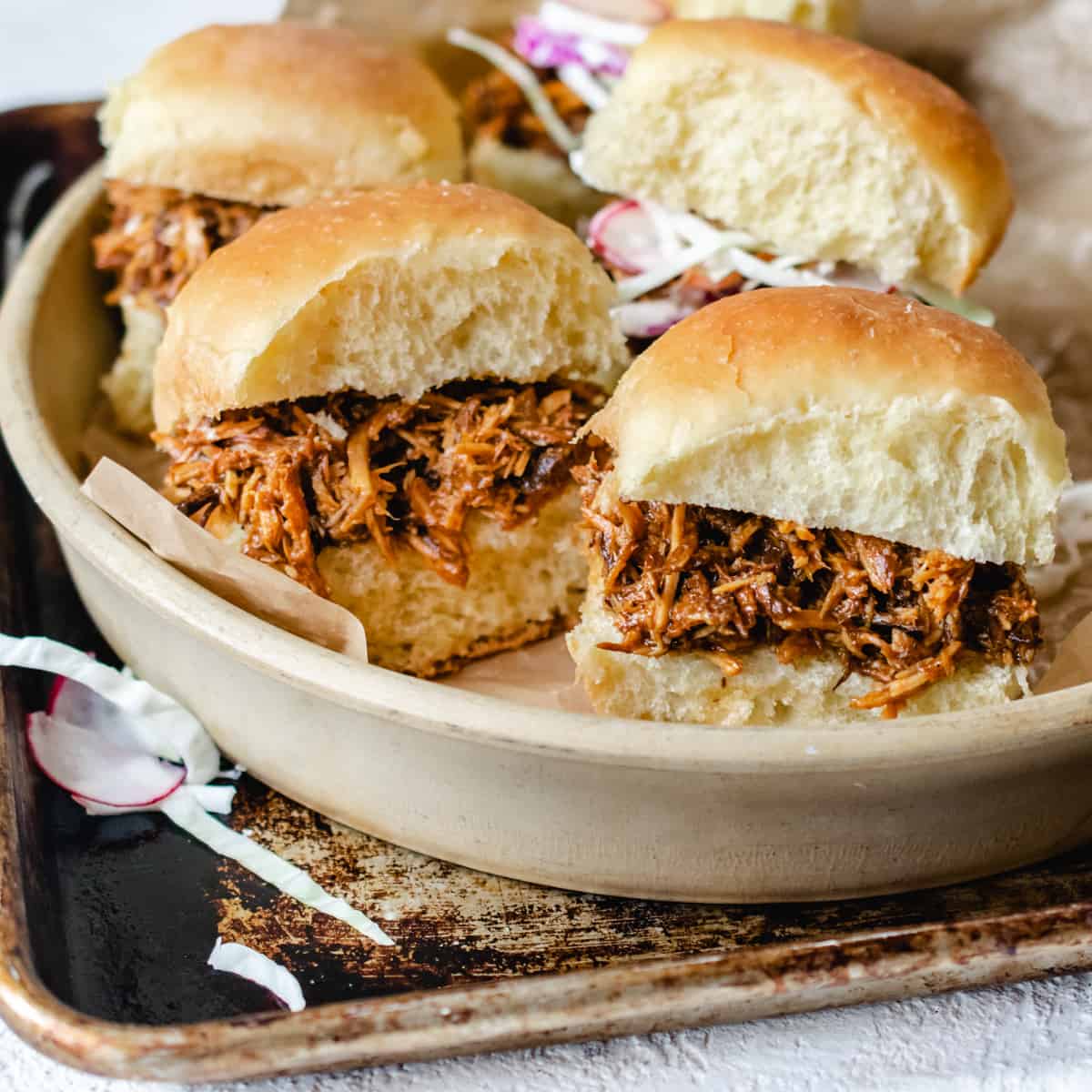 Everyone loves pulled pork, but have you had Dr. Pepper pulled pork yet? If not, you're in for a treat.
Personally, I don't even drink Dr. Pepper, and we don't even consume soda regularly in our house. But, if ever there were a time for an exception, these Dr. Pepper pulled pork sliders are it.
The most tender, juicy and succulent pulled pork ever gets even more delicious when it's infused with the soda, but it doesn't taste like Dr. Pepper. All of the "Dr. Pepper-ish" flavors die out, and what's left behind is the most amazing pulled pork for sandwiches that you've ever had.
Because the actual process of making pulled pork is pretty easy and hands off, you can do this one of many ways. Pick the one most convenient for you:
The old fashioned way in your oven, where you will slow cook the pork shoulder in the ingredients for around 6-7 hours on low heat,
In the slow cooker (Crock Pot) for 6-12 hours on low to high heat, until it's pull apart tender, or,
In the pressure cooker (Instant Pot) for 60-90 minutes after cutting it into smaller chunks until it's fall apart tender.
Each method does require you to first apply a (super simple) homemade spice rub, and sear it on a hot skillet for just a minute or two to seal in flavor.
Ingredients needed
Pork shoulder, (sometimes referred to as pork butt or Boston butt), boneless-see note on bone in instructions
12 oz. can of Dr. Pepper soda
Seasonings for rub
Slider rolls (store bought or make sliders with this recipe)
Extra BBQ sauce, for serving- try my Bourbon and Honey BBQ Sauce
Coleslaw for serving, if desired
How to make it
Whether you are making it in the oven, slow cooker (Crock Pot) or pressure cooker (Instant Pot), the process is almost the same. Slow cooker and pressure cooker variations are included at the end of this section.
Pork shoulder/pork butt should be thawed.
Preheat the oven to 300 degrees F.
Heat a heavy, oven safe skillet or Dutch oven on medium-high/high heat with a bit of olive oil. Combine the spice ingredients in a medium sized bowl (photo 1). Rub the spice mix all over every side of the pork roast (photo 2).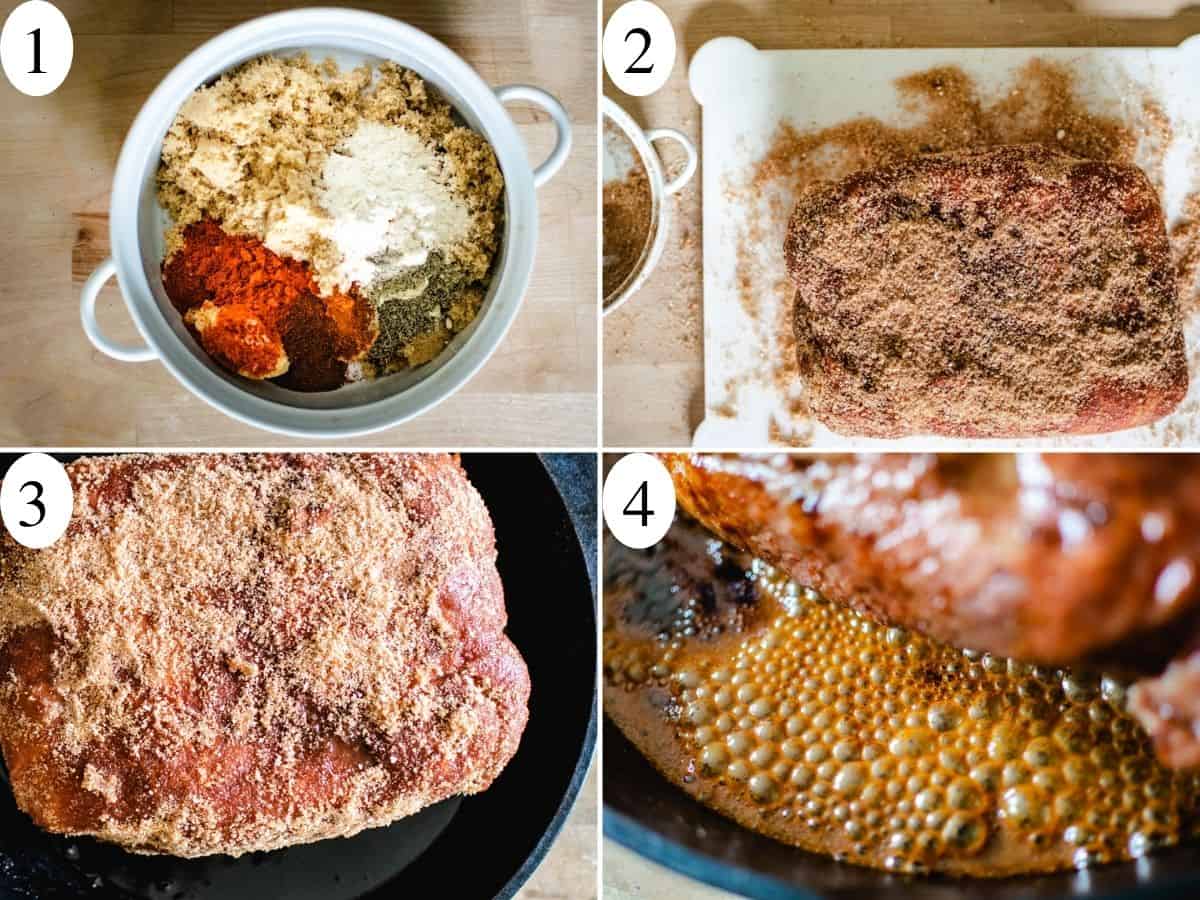 Sear the spices on every side on the hot skillet for 2-3 minutes per side until a dark brown crust forms (photo 3), sealing in the rub. Finally, pour in the Dr. Pepper (photo 4), cover loosely with a lid or foil, and transfer to the oven.
Note: if you are using your pressure cooker, cut the pork into 2-3 smaller pieces before rubbing seasoning and searing the pieces on all sides on the sauté setting for 4 minutes per side.
The pork needs to cook for 4-6 hours, depending on the size.
The ideal temperature for pork to be pulled apart is 205 degrees F. When it's fall apart tender, remove it from the oven and transfer it to a plate or shallow bowl to pull.
You will know it's ready when you can take a fork and pull the meat apart with little to no effort.
Add extra BBQ sauce if desired, and transfer the pulled pork back to the juices in the pot and toss to combine everything.
Slow cooker variation:
1. Follow recipe instructions on spice rub and searing searing, then
2. Transfer to slow cooker.
3. Pour in Dr. Pepper, and
4. Cook on high for 5-6 hours or low for 8-10 hours.
Pressure cooker (Instant Pot) variation:
1. Cut pork into 2-4 pieces depending on weight and cooker size.
2. Follow recipe instructions for spice rub on all sides, and sear in the pressure cooker on all sides on sauté setting for 4-5 minutes per side (you may have to do searing step in batches).
3. Pour in Dr. Pepper, and
4. Set to manual mode, cook on high pressure for 60 minutes, then do natural release for at least 10 minutes before quick release.
Recipe tips
Cutting the pork into pieces will allow it to cook faster.
Use something oven safe to sear the meat in, so that it can be directly transferred to the oven.
Keep pork lightly covered with foil or a lid during oven roasting.
Using a stand mixer with a paddle attachment is quick way to "pull" pork, and gives a finer texture.
People absolutely love pulled pork sliders which are made with Hawaiian rolls, and Dr. Pepper pulled pork is fantastic on those sweet rolls.
FAQ's
Do you cook pulled pork fat side up or down?
Cook pork fat side up.
Should I trim the fat cap on pork shoulder?
You can remove some of the fat, but don't remove it all. Leave at least a ¼ inch thick layer to aid in keeping the meat moist, resulting in tender, juicier and more flavorful pulled pork.
How many sliders per pound will pulled pork make?
You will get roughly 4-5 sliders per pound of uncooked, boneless pork shoulder.
What are the best toppings for pulled pork sliders?
The most common toppings are coleslaw and extra barbecue sauce, but you can also so serve them with pickles, pickled onions and radishes.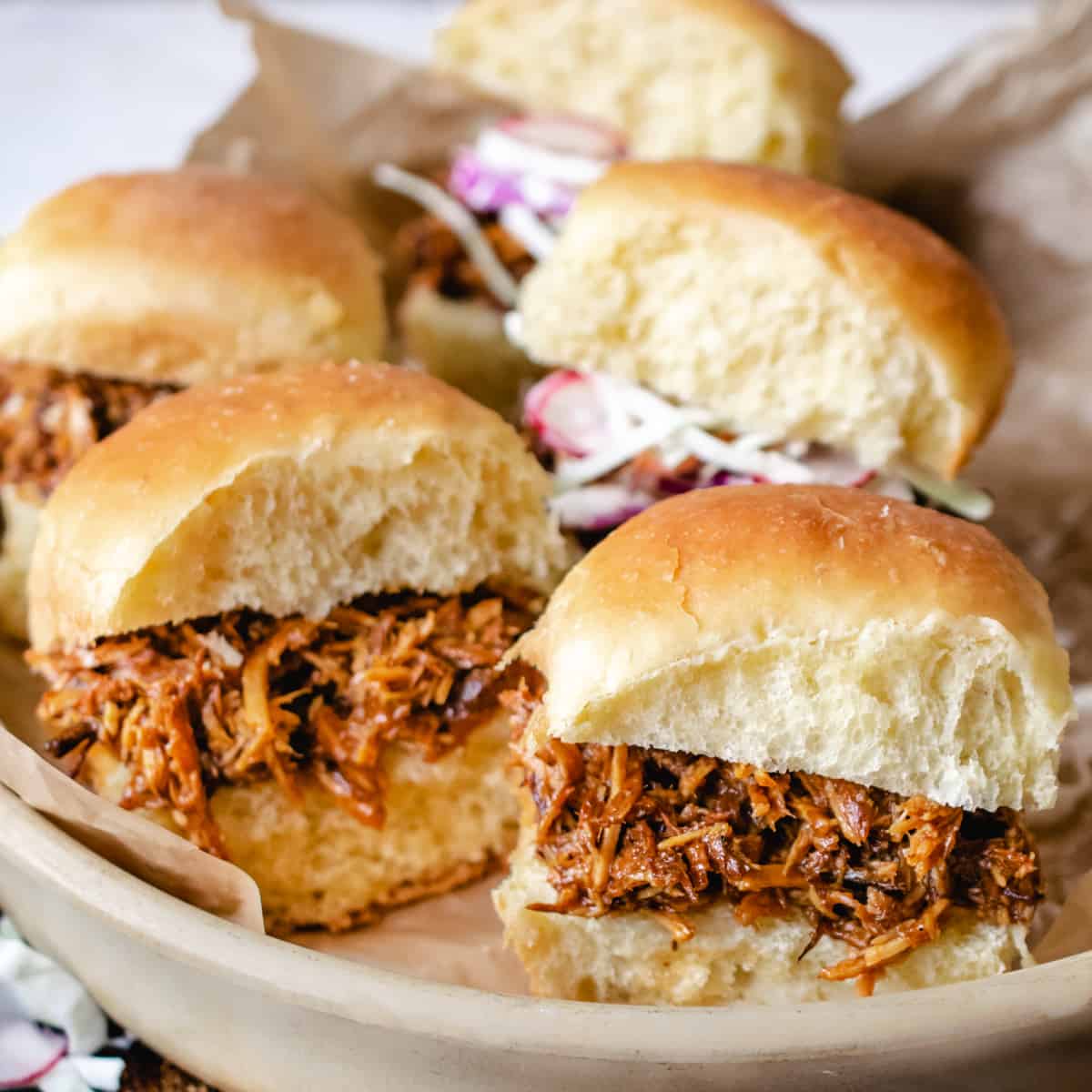 You might also like...
Did you make this recipe, or plan to? Leave a comment or rating using the stars in the recipe card below.
Nutrition information does not include slider rolls.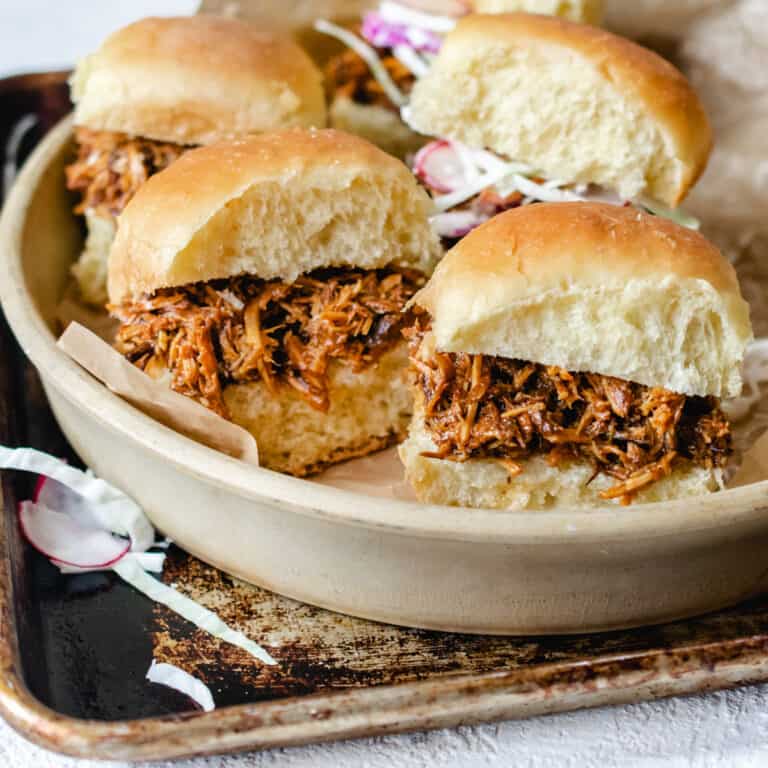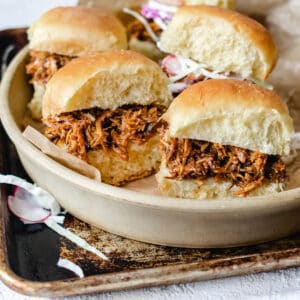 Dr. Pepper Pulled Pork Sandwiches
Sweet, tangy, savory and juicy pulled pork simmered in barbecue spices and Dr. Pepper until fall apart tender.
Print
Pin
Rate
Ingredients
5-6

lb

pork shoulder

(pork butt)

12

oz

Dr. Pepper soda

or beer, ginger ale

¼

cup

brown sugar

1

tsp

cumin

1

tsp

onion powder

1

tsp

garlic powder

2

tsp

sweet paprika

1

tsp

smoked paprika

1

tsp

chili powder

1

tbsp

coarse salt

¼

tsp

black pepper

slider rolls

for serving, like King's Hawaiian rolls

coleslaw (optional)

for serving
Instructions
½ hour before cooking, remove pork from fridge and set on countertop to bring to room temperature.

Preheat oven to 300 degrees F.

Heat a couple tablespoons of oil, in a large, oven safe deep skillet or Dutch oven on medium-high/high heat.

Mix together rub ingredients, and rub evenly all over the pork, on every side.

Sear rubbed pork on every side until very darkly seared. Set pork in a roasting pan or dutch oven.

Pour Dr. Pepper or soda or beer around the pork, cover and cook for about 5-6 hours in a 300 degree oven, until fall apart tender.

Transfer tender pork to a plate, and pull apart with two forks (or use a stand mixer and paddle attachment for 30-60 seconds).

Put the shredded, pulled pork back in the pan with the juices and toss. Add BBQ sauce if desired, and toss to combine.

Serve on slider rolls, as is, or top as desired (like with coleslaw or pickled onions, etc.).
Notes
Nutrition information does not include slider rolls or coleslaw, or any other topping.
To make in the slow cooker, rub and sear as instructions direct, and cook on low for 8-10 hours or on hi for 5-7 hours. 
To make in pressure cooker, cut raw pork into 3-4 pieces, rub and sear as instructions direct. Transfer to pressure cooker, pour over soda, and cook on hi pressure for 45-60 minutes, with at least a 15 minute natural pressure release.
Nutrition
Serving:
1
g
|
Calories:
205
kcal
|
Carbohydrates:
9
g
|
Protein:
23
g
|
Fat:
8
g
|
Saturated Fat:
3
g
|
Cholesterol:
77
mg
|
Sodium:
679
mg
|
Potassium:
420
mg
|
Fiber:
1
g
|
Sugar:
8
g
|
Vitamin A:
303
IU
|
Vitamin C:
1
mg
|
Calcium:
21
mg
|
Iron:
2
mg