Sweet, savory and succulent slow cooked pulled pork, topped with homemade coleslaw on a sesame and poppy seed bun.
Ah, the pulled pork sandwich. Always a little different depending on where you're getting it. I like that about it. I like that everyone has their own way to make a pulled pork sandwich. Legit BBQ pitmasters, potluck enthusiasts, and home cooks alike all have a special "secret" to the best pulled pork sandwich recipe. I think there is room for everyone. And here's mine!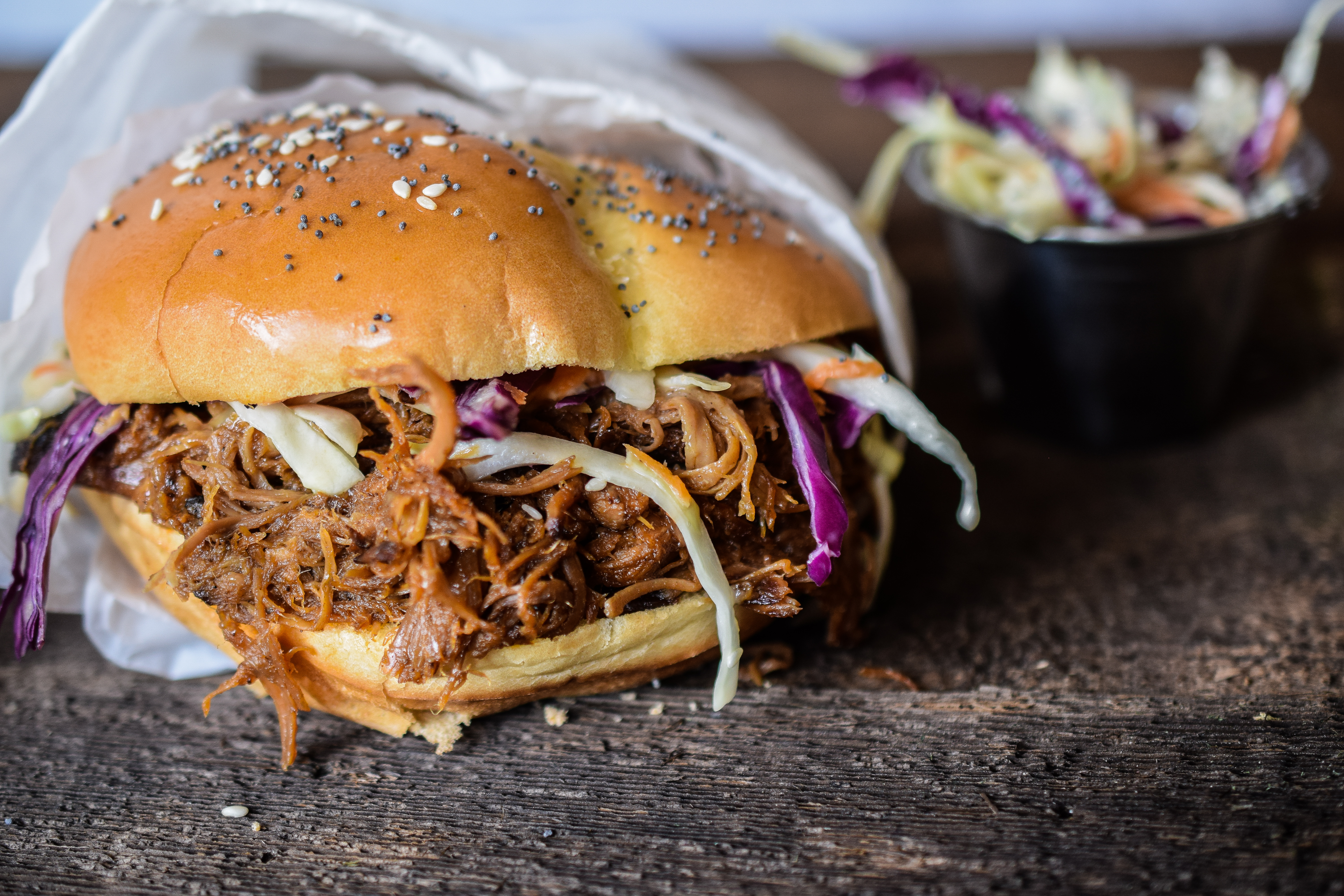 I have never met a pulled pork sandwich that I didn't finish, I don't discriminate, I love them all. But when I make my own, I have a way, and it's gotta follow the rules. It needs to be a little sweeter than it is tangy, it's gotta be on the saucy side, and it needs to include a pile of heavily dressed slaw on top. I like a little drip action. A little, lean-over-your-plate-to-catch-the mess going on. A little can't-see-my-kid's-face-under-all-that-sauce happening. Basically, you have to need a couple napkins to eat it.
My pulled pork sandwich recipe is very, very homemade. The spice rub, the BBQ sauce, and the slaw dressing are all from scratch. But they are very, very simple. And very worth it.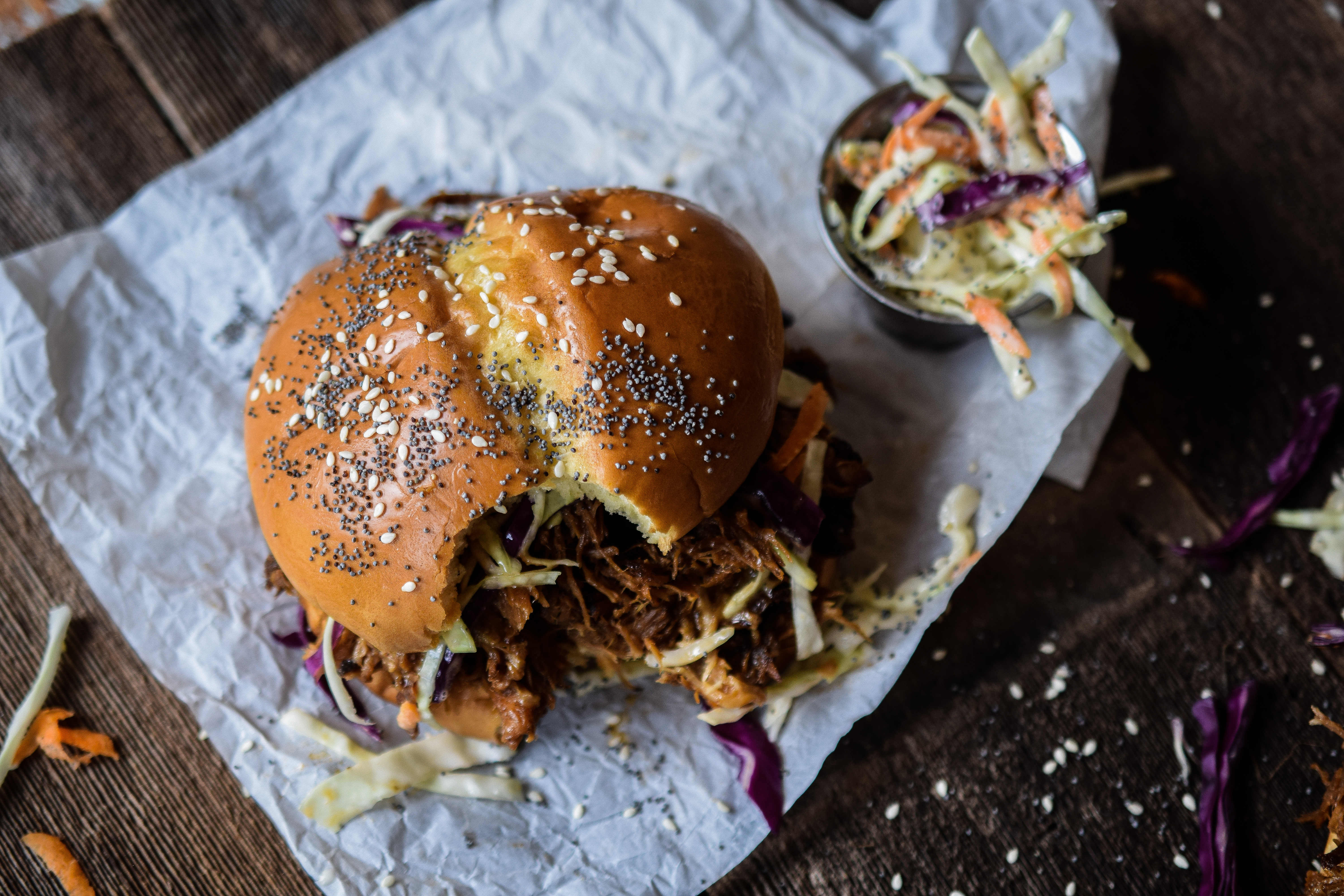 First, mix the spice rub up so that everything is completely and evenly distributed, then rub it all over the pork. Then, sear the seasoned pork on a very hot skillet on all sides, working quickly. You want a very dark sear. The point right before it's about to burn. Those will turn out to be crispy ends loaded with flavor. They are gold. They are the marshmallows to your Lucky Charms.
Once the pork butt is seared on all sides, place it in a large roasting pan, or a dutch oven. Pour beer or ginger ale around the pork to about an inch deep. Cover with a lid, or foil and cook at 300 degrees for about 7 hours; until a fork can be dragged through the pork and it pulls apart with very little effort.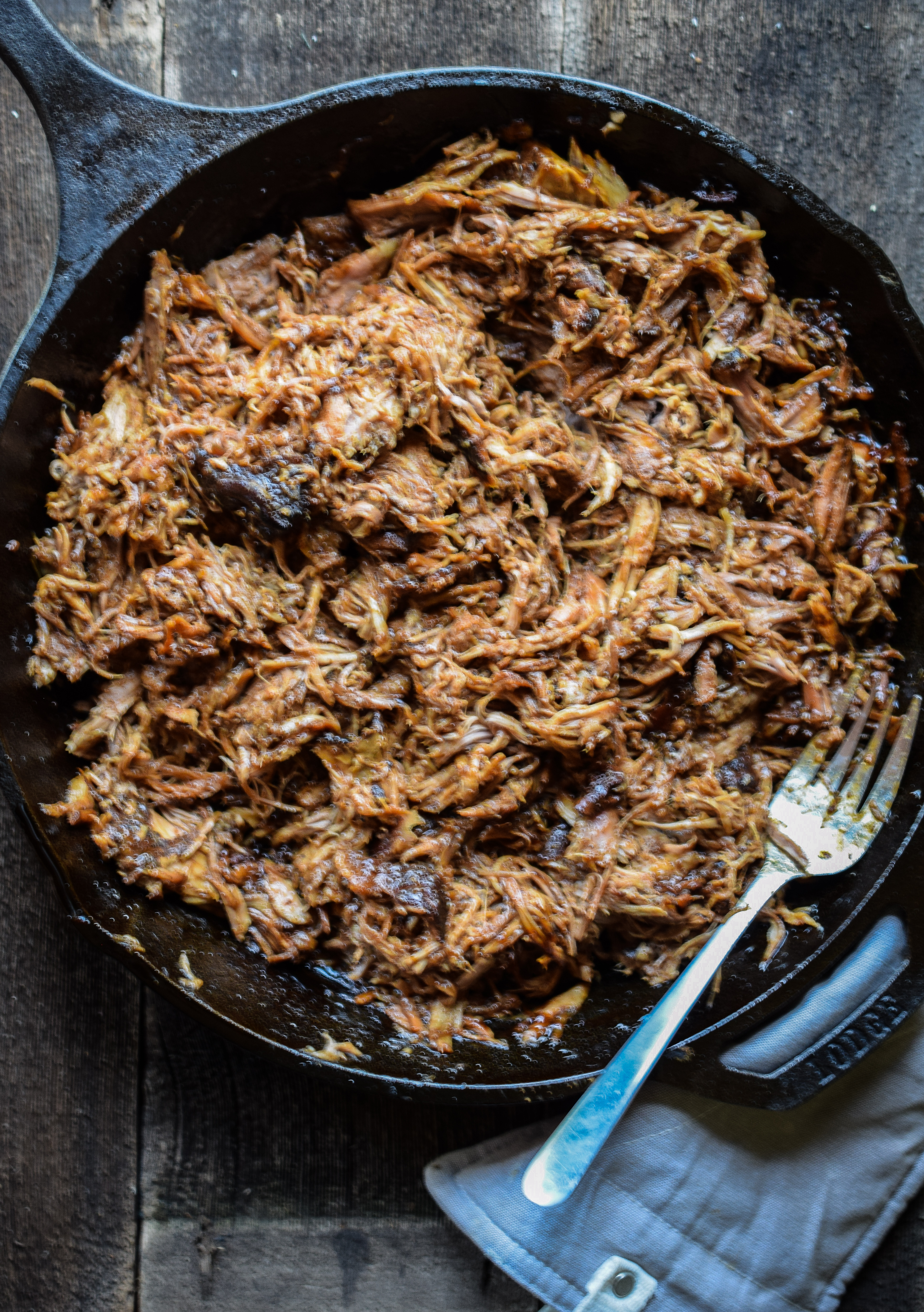 Both the slaw and the bbq sauce can be made up at any time while the pork is cooking, which adds up to bonus points, because this entire meal can be made in advance and tossed together when it's time to eat. How about that? I love days when dinner time rolls around  its already, basically done. All you need to do is sauce it, top it, and serve it.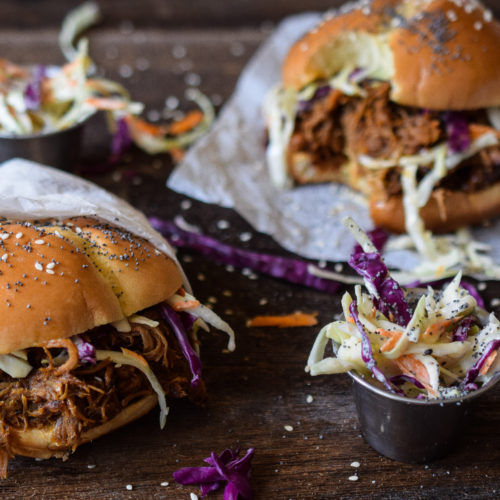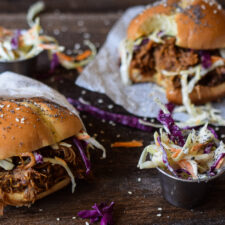 Pulled Pork Sandwiches
Pulled pork in a sweet, saucy, slightly tangy BBQ sauce, topped with a creamy cabbage slaw, on a soft bun
Print
Pin
Rate
Ingredients
5-8

lb

pork shoulder roast

pork butt

1

can beer or ginger ale

can sub water

8-12

good hamburger buns

for serving
For the Rub
3/4

cup

brown sugar

1

tbsp

onion powder

1

tbsp

garlic powder

1

tbsp

sweet paprika

1

tbsp

chili powder

1

tbsp

coarse salt

1

tsp

pepper
For the BBQ sauce
1

tbsp

oil

2

tsp

smoked paprika

2

tsp

sweet paprika

1

tsp

garlic powder

2

tsp

onion powder

6

oz

tomato paste

1

cup

molasses

1/2

cup

honey

1/2

cup

brown sugar

6

tbsp

apple cider vinegar

2

tsp

soy sauce

1

tbsp

salt

1/4

tsp

pepper
For the Slaw
1 1/4

cups

green cabbage

finely sliced into shreds

1/4

cup

red cabbage

finely sliced into shreds

1/2

cup

carrot

shredded

1

cup

mayonnaise

2

tsp

sugar

1

lemon

juice of

3/4

tsp

salt

1/2

tsp

coarse black pepper
Instructions
1/2 hour before cooking, remove pork from fridge and set on countertop to bring to room temperature.

Heat a couple tablespoons of oil, in a large skillet on medium high heat.

Mix together rub ingredients, and rub evenly all over the pork, on every side.

Sear rubbed pork on every side until very darkly seared. Set pork in a roasting pan or dutch oven.

Pour beer, soda or water around the pork, cover and cook for about 7 hours in a 300 degree oven.

To prepare bbq sauce, heat oil and spices in a small sauce pan on medium high heat, stirring frequently and toasting the spices; about 3 minutes total. Add tomato paste, molasses, honey, brown sugar, vinegar, soy sauce and all the other remaining ingredients and whisk to combine. Simmer on medium high for 10 minutes. Remove from heat, cover and set aside.

In a medium bowl, combine mayonnaise, lemon juice, salt, sugar and pepper. Add shredded carrots and cabbage, toss. Store, covered, in the refrigerator.

When the pork is done cooking, and can easily be pulled apart with two forks, pour half of the BBQ sauce over it and toss to combine. Add remaining BBQ sauce, or save it to serve on the side.

Serve on a bun, topped with creamy slaw.