When brisk, Fall temperatures, busy school-day mornings, and familiar, seasonal flavors come together... good things happen.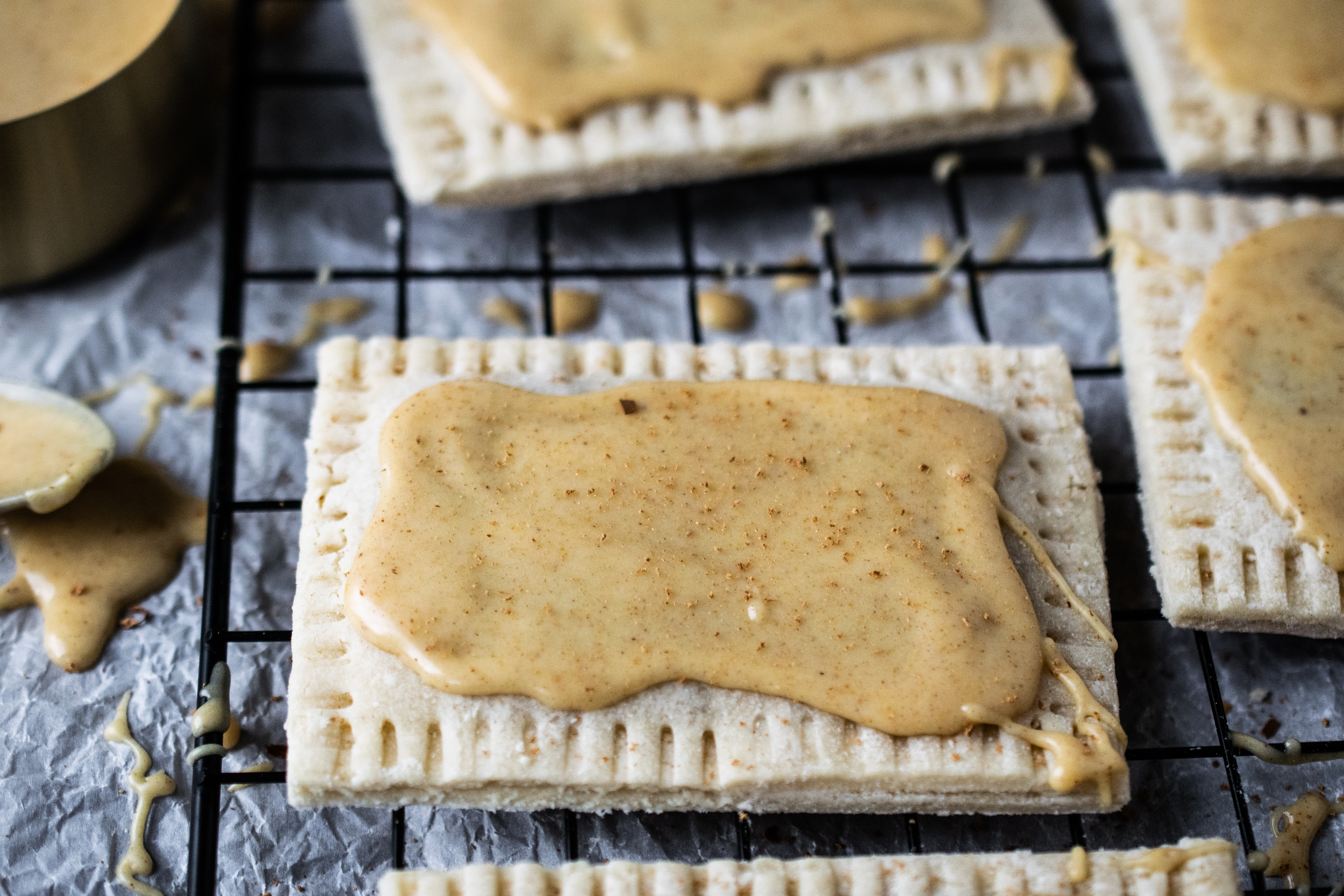 Like these Pumpkin Spice Toaster Pastries! Along with a nod to the convenience of the boxed version, these breakfast tarts, come with wholesome, pronounceable ingredients because they are made completely from scratch. There's no better way to start the morning, than with the magic of warm, pumpkin spice. And because it's hot and ready in seconds (and disappears just as fast), mornings out the door are made that much better.
Home canned pumpkin puree, and store bought canned pumpkin puree can be used interchangeably; but just be sure it's 100% pure pumpkin, without any added spices or other ingredients.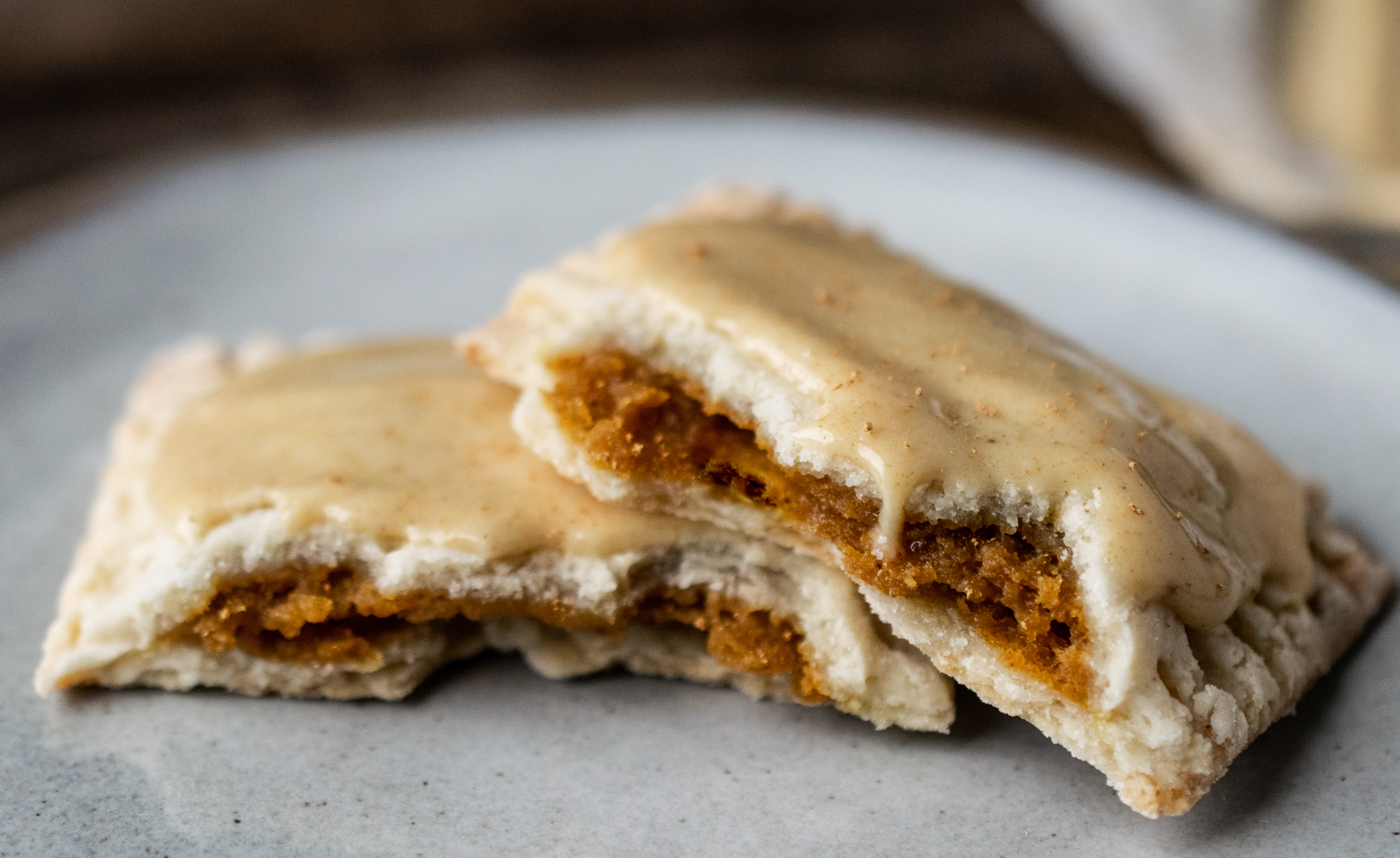 The filling for these toaster pastries is as easy as it gets. Whisk the ingredients. Done. (Easy, right?) The Cinnamon Spice Icing is just as simple. Note that it includes turmeric. This is not a necessary ingredient, taste wise. It's for color, and it just gives it a "pumpkin-y tint," but it's optional, and can be left out. The spices lightly flavor it; and the consistency and ingredients allow it to set and slightly harden atop the pastry top.
The most important instruction in this recipe, is to flour your workspace, and rolling pin generously.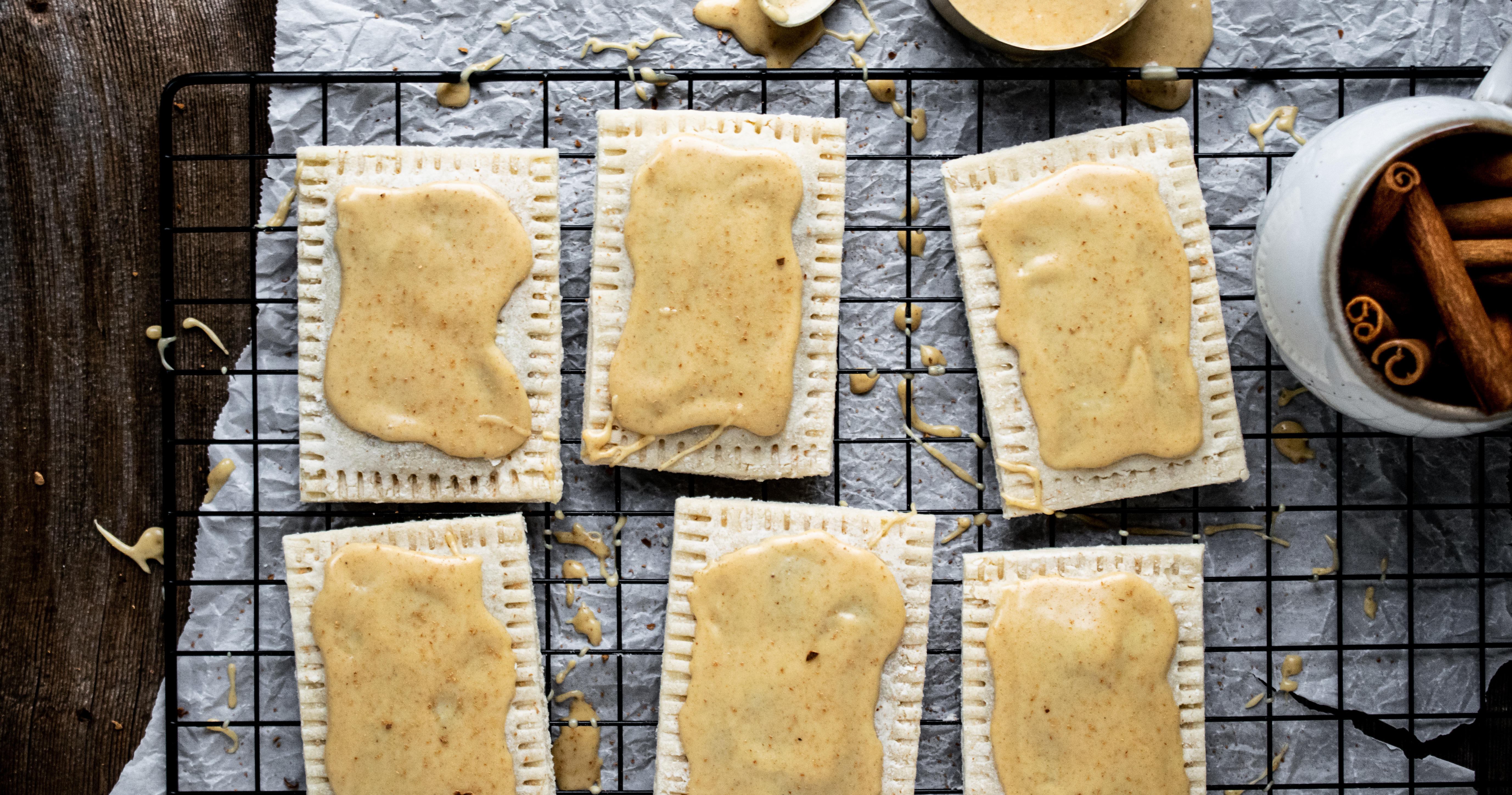 This recipe makes one dozen pastries, but doubling the batch and storing the backup in the freezer is a great way to keep an easy breakfast on hand. Just let them thaw out at room temperature on a covered plate.
To prepare pastries, toast on lightest setting until heated through, or microwave for 20 seconds. Filling will be H-O-T!
Enjoy on blustery, Fall school-day mornings, or cozy weekends.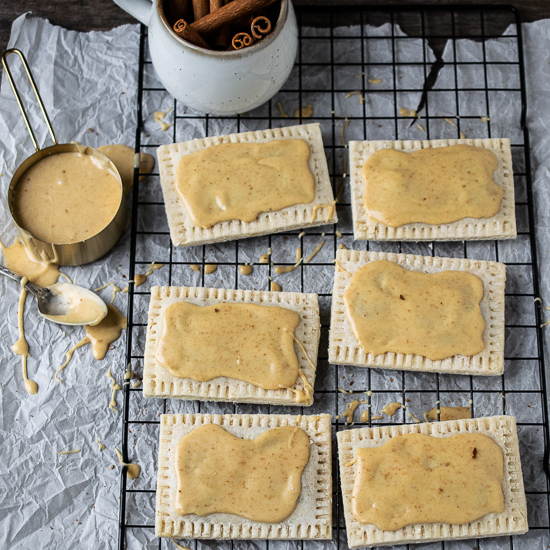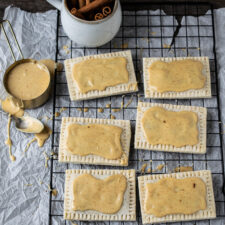 Pumpkin Spice Toaster Pastries
Pumpkin Spice and brown sugar filled Toaster Pastries, with Cinnamon-Spice Icing.
Print
Pin
Rate
Ingredients
Filling
1

cups

canned pumpkin puree

¾

cups

brown sugar

1

large egg

2

tablespoon

all purpose flour

1

teaspoon

cinnamon

¼

teaspoon

nutmeg

¼

teaspoon

ginger

⅛

teaspoon

clove

⅛

teaspoon

allspice

½

teaspoon

salt
Toaster Pastry Dough
2 ¾

cups

all purpose flour

1

large egg

1

cup

shortening

1 ½

teaspoon

salt

3

tablespoon

granulated sugar

2

teaspoon

white vinegar
Cinnamon Spice Icing
½

cup

powdered sugar

1

tablespoon

buttermilk

¼

teaspoon

turmeric

for color (optional)

¼

teaspoon

cinnamon

⅛

teaspoon

ginger

pinch

salt
Instructions
Whisk together all filling ingredients, cover and set aside.

Preheat oven to 350 degrees.

Combine dough ingredients together, either in a standing mixer using the dough hook, or kneading by hand, and continue the kneading for five minutes.

Divide the dough into equal halves.

With the surface very floured, roll half of the dough out into a ⅛" thick rectangular slab, that is 12" long by 22" inches wide.

Using a ruler or tape measurer, measure out and score the outer border of a large rectangle in the slab that measures 18 inches wide, by 8 inches long. Then, measure, score and cut 12 rectangles in total within the large rectangle. These will be two rows of 6 rectangles, each 3 inches wide by 4 inches long. Pull back the excess dough and set aside.

Using a spatula, transfer rectangles to a parchment lined baking sheet; these will be the bottoms of the toaster pastries. Keep an inch or so of room in between each one.

Fill the centers of each rectangle with one heaping tablespoon of the filling mixture, spreading it longways, and leaving the outer quarter inch of pastry dough dry.

Repeat the dough rolling, and rectangle cutting process on the other half of the dough. Again, keep the surface and rolling pin generously floured.

Lay the top rectangles right over the filling on the bottoms. Use the tines of a fork to press all the way around each pastry to completely seal the two pieces together.

Use a toothpick to poke several holes into the top layer, being careful not to pass past the filling into the bottom layer.

Bake in a 350 degree oven for 14-18 minutes, until edges are cooked and centers are set. Check periodically towards the end, and avoid letting the pastry tops crack. Cool on a wire rack.

Prepare icing. Sift powdered sugar first, if necessary, and whisk with icing ingredients. The turmeric is optional, as it is just for color. Spread onto completely cooled toaster pastries. Sprinkle with additional cinnamon, if desired. Icing will set within 15 minutes.

Store at room temperature, covered for up to four days, or freeze extra batches.

To heat, toast on the lightest setting, or microwave for 20 seconds. Filling will be hot!