This shredded chicken taco recipe is a two-for' because it's coming at you with a homemade Mango-Pineapple Hot Sauce! The sweet heat of the sauce is the perfect accompaniment to the shredded chicken. So much so, that you don't really need anything else with these, other than your cilantro and avocado, of course.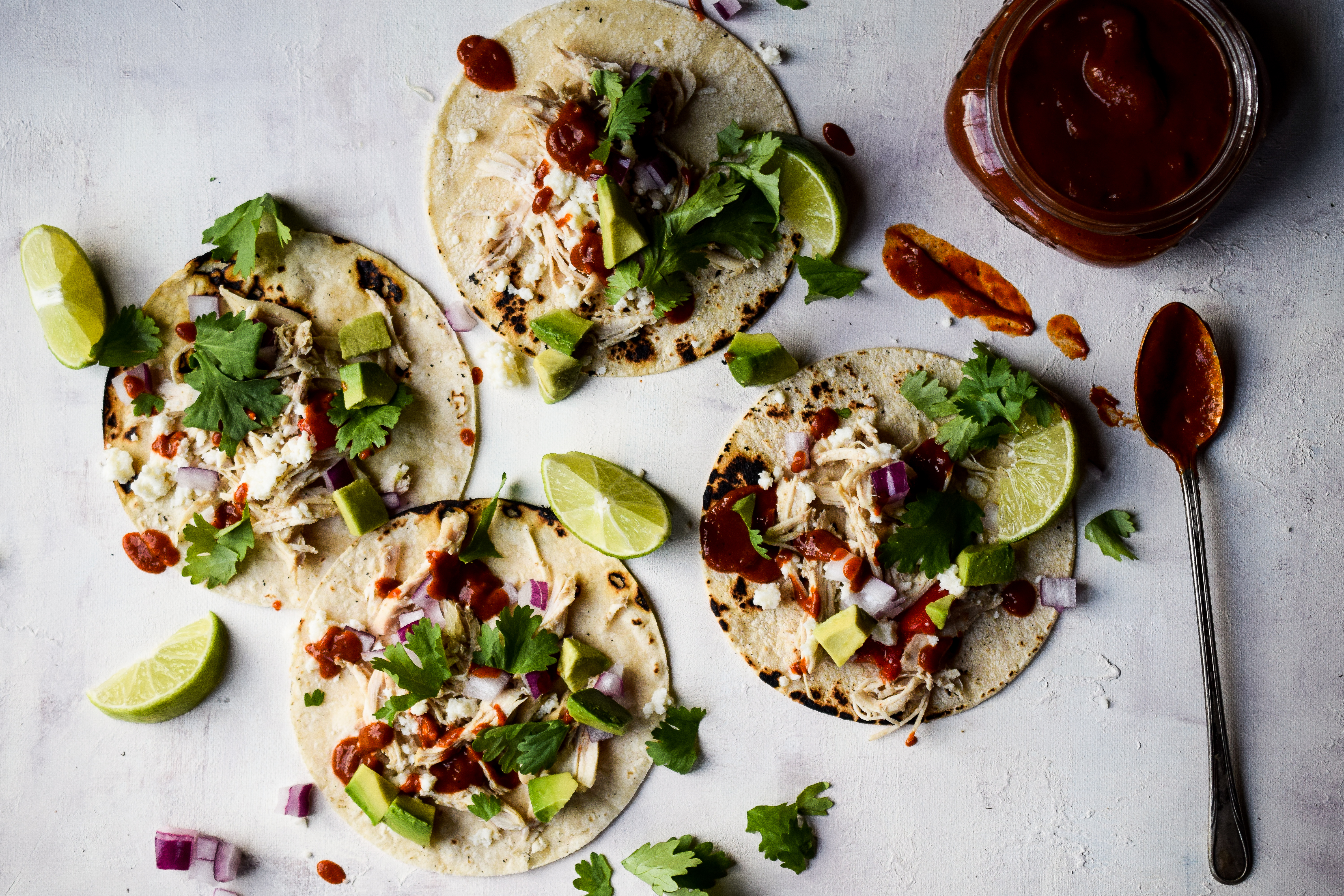 The chicken is extremely simple to make, and the hot sauce is very easy too, in fact it can be made while the chicken is in the oven.
Start off with bone-in chicken breast. You can certainly use boneless if that's what you have on hand. But the bone-in is usually less expensive, and it gives more flavor to the chicken and juices that it cooks in. Pull off the skin, and salt and pepper each breast. In either a small oven safe skillet or baking dish, scatter sliced red bell pepper, sweet onion, and a few garlic cloves. Nestle the salt and peppered chicken breasts in the vegetables.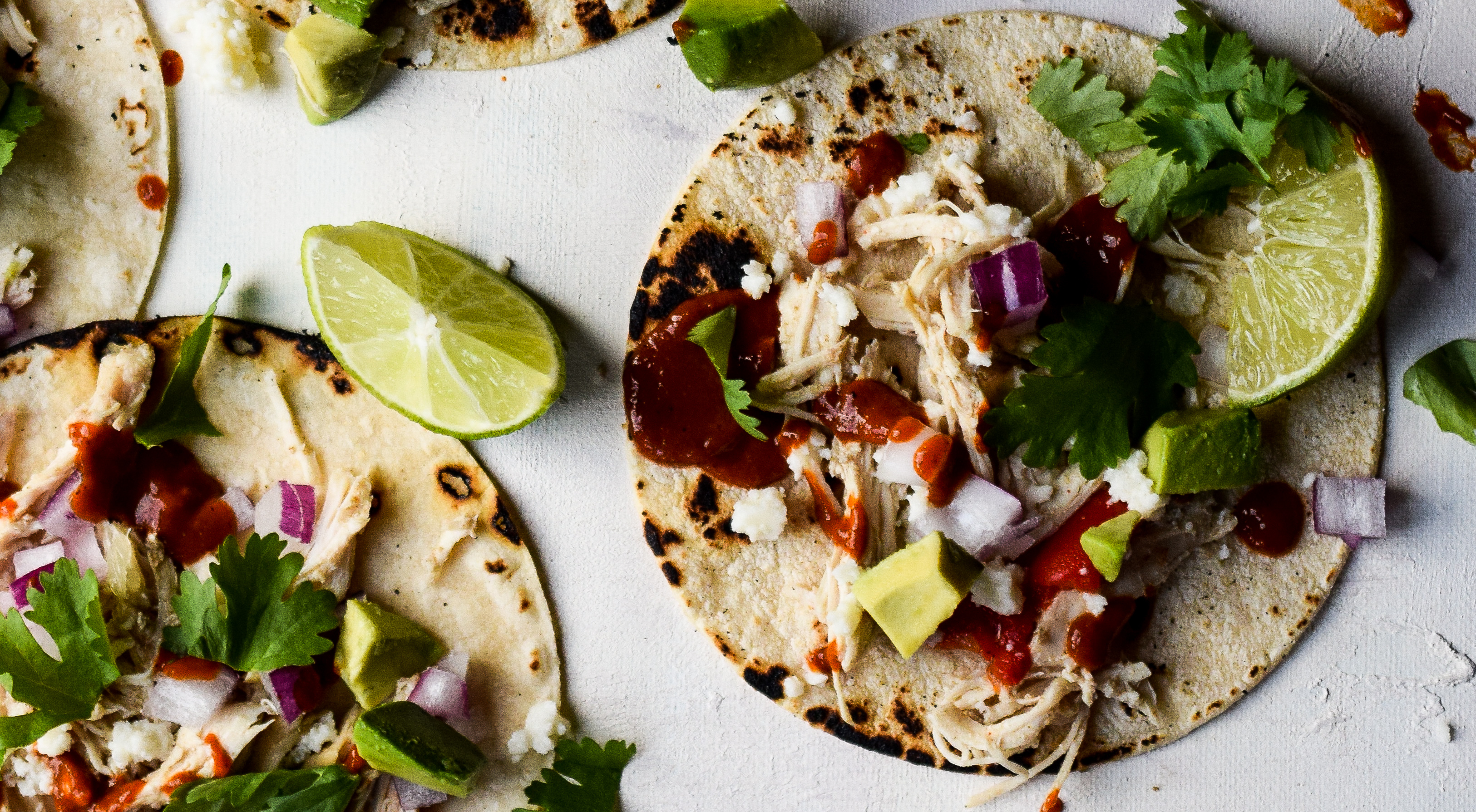 In a separate mixing cup, combine one half cup of chicken stock, with the cumin, onion powder, garlic powder and more salt and pepper. Pour over the chicken and vegetables. Cover with foil, or a lid and bake in a 375 degree oven until cooked through; about 45-55 minutes (depending on thickness).
While the chicken is cooking, heat a heavy, dry skillet to medium high heat. Do not add any oil or anything. Press the ancho chillies onto the skillet, and let them toast from the direct heat of the skillet. The ancho chillies won't take very long, less than a minute each side. You don't want to burn them. Remove them from the pan once you've toasted each side, and into a bowl. Pour hot water over them to rehydrate them and let them soak about 20 minutes. Add the large onion pieces, the garlic cloves, and the fresh hot pepper to the skillet and until dark marks appear.
With the vegetables toasted and the anchos hydrated, remove the stems and seeds from all of the peppers and put them in a bowl, along with the toasted onions and garlic. Add the cut mango, crushed pineapple, lime juice, vinegar, sugar, spices and a couple tablespoons of water. Use an immersion blender to blend everything until smooth. (You can also do this in the blender or food processor, whatever you've got on hand.)
Hot sauce can be stored in an airtight container in the refrigerator for up to 2 weeks.
Once the chicken has fully cooked through, shred away from the bone using two forks. Discard the bones, and mix together with the cooked onions, peppers, and accumulated juices.
Warm corn tortillas on skillet, top with Shredded Chicken and Mango-Pineapple Hot Sauce. Serve with avocado, cilantro and lime!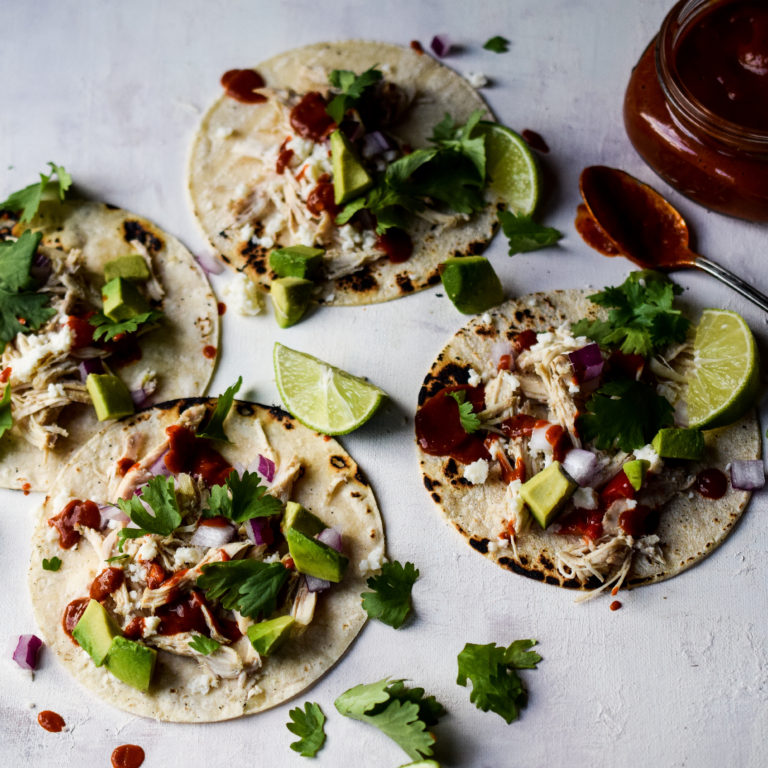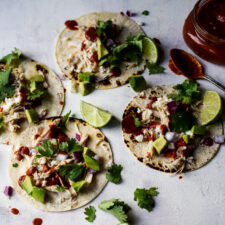 Shredded Chicken Tacos with Mango Pineapple Hot Sauce
Bone in chicken breast, simmered in peppers, onions and spices, shredded; served with corn tortillas and a homemade spicy mango pineapple hot sauce
Print
Pin
Rate
Ingredients
For the Shredded Chicken
2

bone in chicken breasts

1

red bell pepper

sliced

½

onion

sliced

3

cloves

garlic

peeled

½

cup

chicken stock

1

tbsp

cumin

1

tsp

sweet paprika

1

tsp

chili powder

Juice of one lime

1

tsp

salt
For the Mango Pineapple Hot Sauce
4

ancho chillies

1

hot pepper

like habanero, cow horn, etc

½

onion

cut into two quarters

3

cloves

garlic

peeled

½

cup

crushed pineapple

canned, undrained

½

cup

mango

fresh or frozen, chopped

1

tbsp

white vinegar

1

lime

juice of

1

tbsp

sugar

¼

tsp

cumin

½

tsp

sweet paprika

⅛

tsp

cayenne pepper

2

tbsp

water

½

tsp

salt
Instructions
Preheat oven to 375 degrees.

Scatter onion, garlic and bell pepper in a shallow baking dish or oven safe skillet

Salt and pepper chicken breasts; nestle them in with the garlic, onion and peppers.

In a small mixing cup combine stock, and spices; pour over chicken and vegetables. Cover, and cook until chicken is cooked through, about 45-55 minutes. Remove from oven and let stand to cool slightly.

When the chicken is done, and slightly cooled enough to handle, pull off the bone and shred with two forks. Discard bones and mix with the peppers and onions it cooked in. Cover until ready to use.

While the chicken is cooking heat a heavy, dry skillet to medium high heat. Do not oil. Add onion quarters, whole garlic cloves and whole hot pepper. In the same dry skillet, add ancho chillies and toast until chilies are toasted, around 45 seconds, and black marks appear on vegetables, about 3 minutes.

The chillies will be done in seconds, much quicker than the onion, garlic and pepper; when they are done, place toasted chillies in a bowl and pour hot water over them to submerge and rehydrate. Let them soak for 20 minutes.

When black marks have appeared on the onion quarters, garlic cloves and pepper, remove from pan.

Remove stem and seeds from hot pepper, and add to a bowl, blender or food processor. Add onion quarters and garlic. Drain the liquid from the ancho chillies and remove their stems and seeds; add the the bowl/blender/processor.

Add the crushed pineapple, mango chunks, vinegar, lime, spices, water and salt.

Blend in the bowl with an immersion blender (or blender/food processor) until completely smooth. If it is still too thick, add a tablespoon or two more water.

Warm corn tortillas on a skillet, top with shredded chicken, lots of hot sauce and serve with cilantro, lime and avocado.