This bright, sweet and spicy mango pico de gallo is the perfect addition to your chips and salsa bar, or on your favorite tacos. Try it on grilled chicken or fish, or top onto grilled steak for a healthy weeknight meal!
what do you eat spicy mango salsa with?
Spicy Mango Salsa is so good with anything grilled. Grilled chicken, grilled fish, shrimp, steak... all of the above. If you are looking to liven up your grill sides, this is the perfect way to do it; especially in the summer time. Pairing it with lean meats is a great option for those who are trying to eat healthy. It's also a wonderful addition to chips and salsa bars, and taco bars! Having the option of a sweet and spicy salsa is a fun and delicious way to mix it up for your guests and family.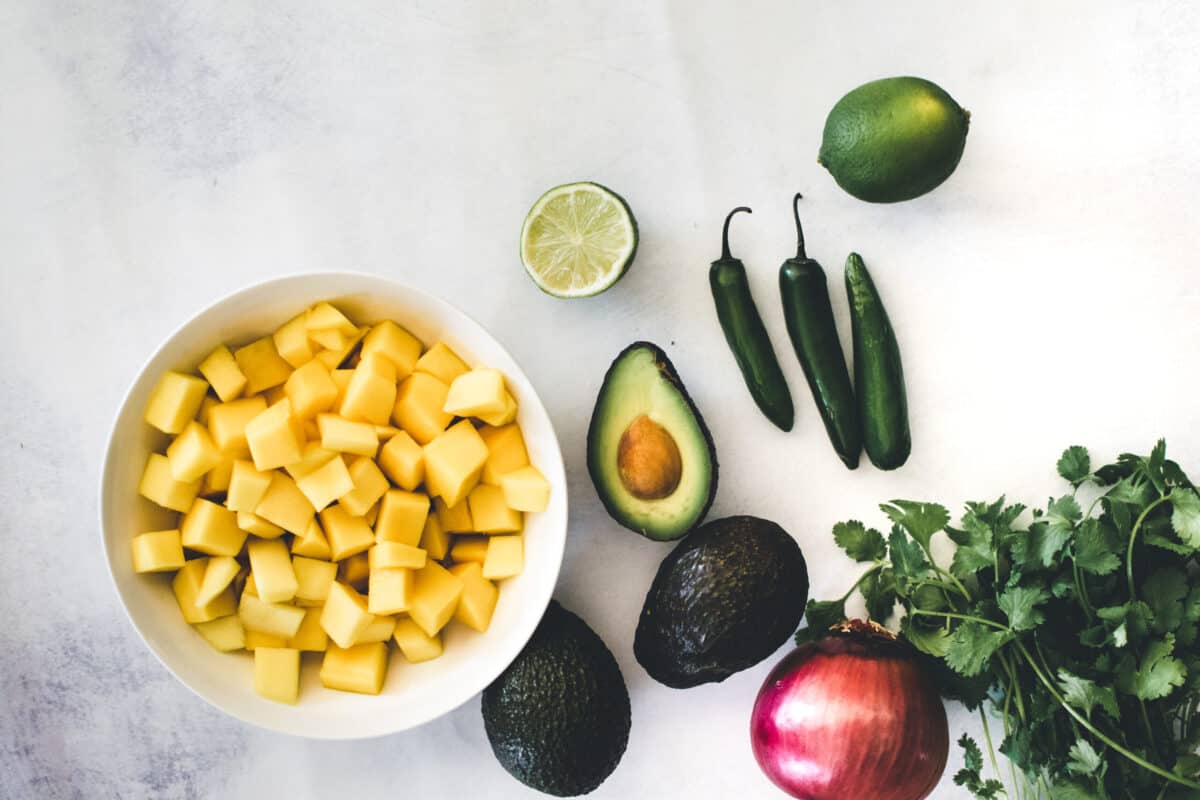 how long does mango salsa last in the fridge?
It can last in the fridge up to 10 days. Even if there is avocado in it! (As this recipe has.) The reason for that, is the lime juice. The lime juice acts as a natural preservative, and also helps the fruit stay fresh and vibrant; it's actually really cool. Check the salsa for any mold, and give it a sniff. If it smells good and looks good visually, and has a "normal appearance" then it's likely fine to eat.
how do you cut a mango for salsa?
If you've never had to cut a fresh mango before, don't worry. The first thing you need to do is look at the mango, and determine which way the pit lies. The pit of a mango, is not somewhat spherical, like a peach pit. It's more flattened and long, like an oval saucer.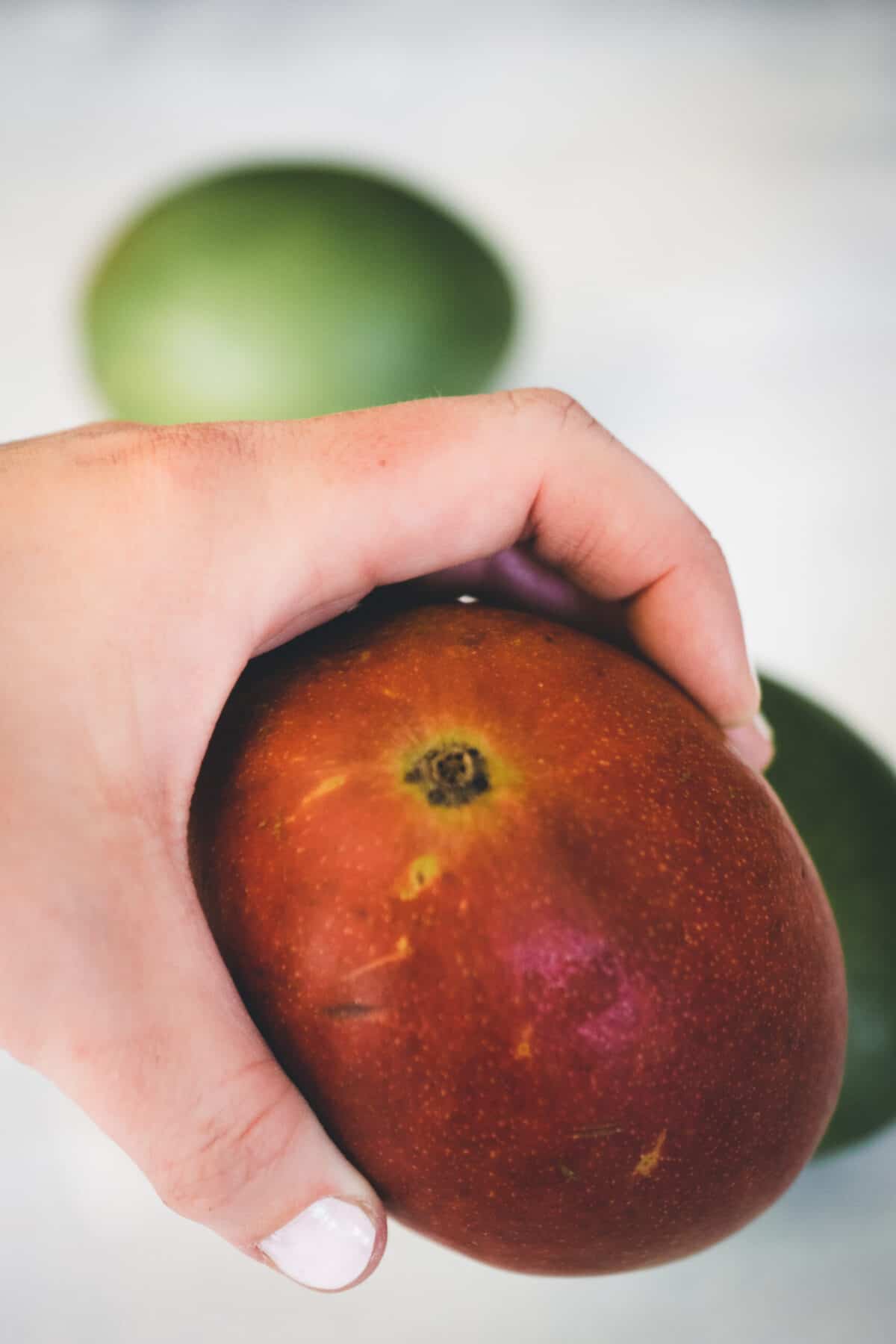 You can see which direction it lies by looking at the top of the mango where the stem would be, and observing how it's ever so slightly flattened one way. Cut parallel to wide side of the pit, shaving as closely to it as possible to obtain the most fruit. Don't go too close, as it gets tough surrounding the pit.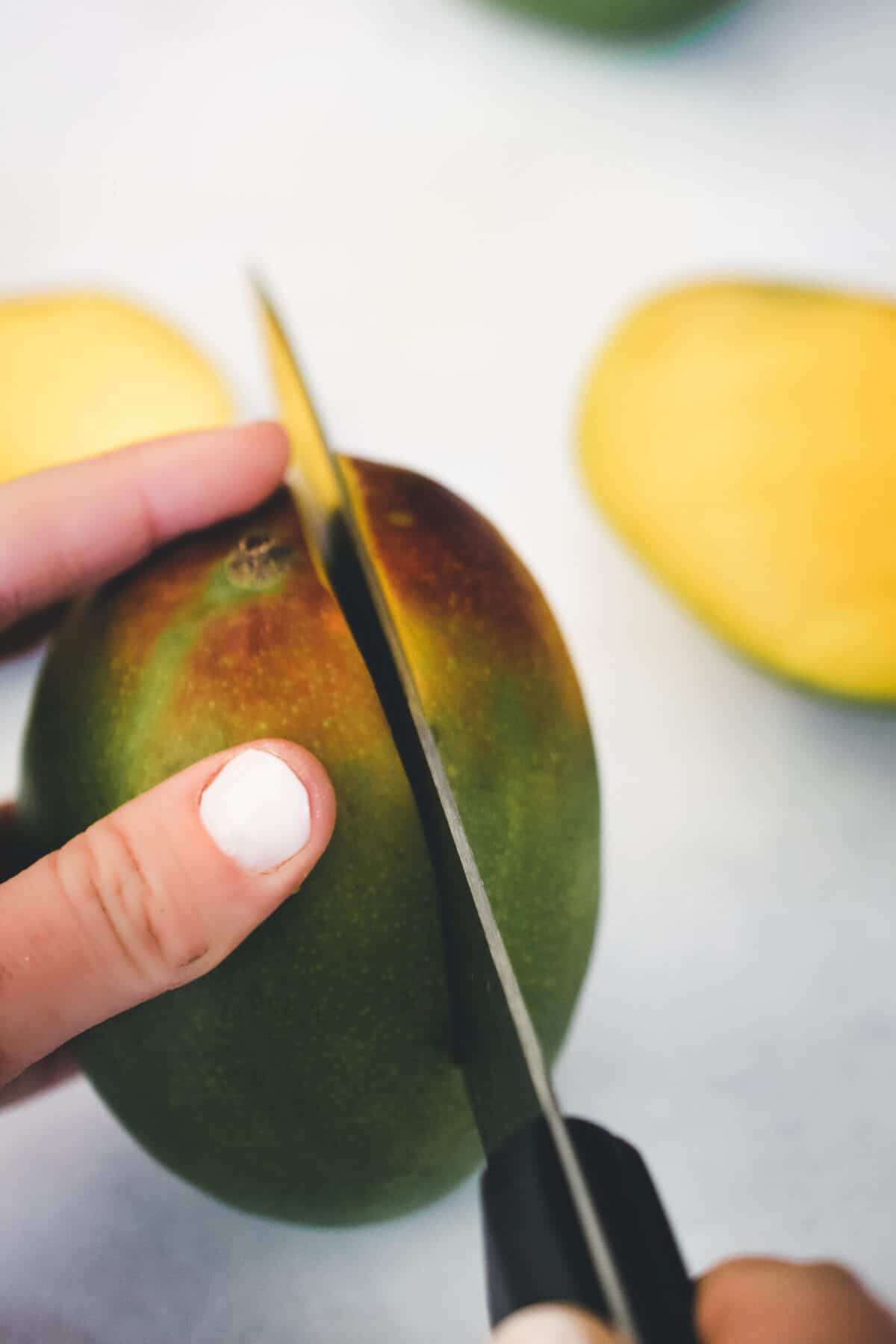 Once you've cut two sort of, fillets off of the pit, score them all the way down to the peel with a knife in a grid-like pattern. This way, you'll be able to invert it and slice the protruding cubes off with a sharp knife! It might feel awkward with the first mango, but you'll get the hang of it. If you have any questions, feel free to drop them in the comments. Yes, there is such a thing as frozen cubed mango. But. it's not the same. Delicious, yes. But you will really appreciate the freshness and juiciness of using fresh mango. Totally up to you though! (It also depends on what's available too, obviously.)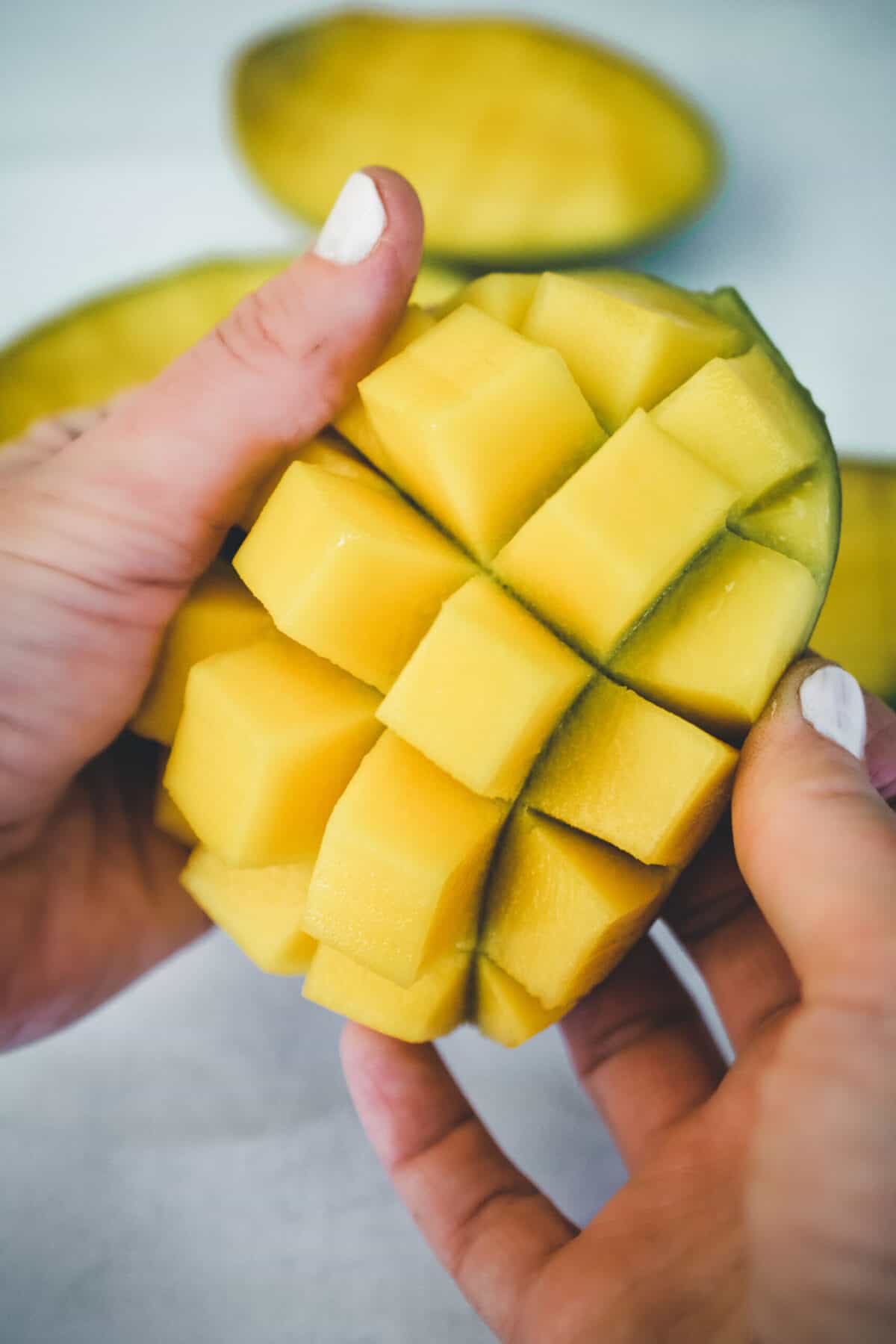 Once you've got the mango, onion, pepper, and avocado cut up and in a single bowl, it's as simple as adding chopped fresh cilantro, squeezing over fresh lime and tossing it together! You'll love the vibrant addition of Spicy Mango Salsa on grilled meats, and with your favorite tacos or chips and salsa bar.
helpful tip
While most of these ingredients last for reasonable amount of time in the refrigerator as they are, cilantro is not one of them. Follow these simple instructions and keep your cilantro fresh and edible, in the refrigerator for up to one month!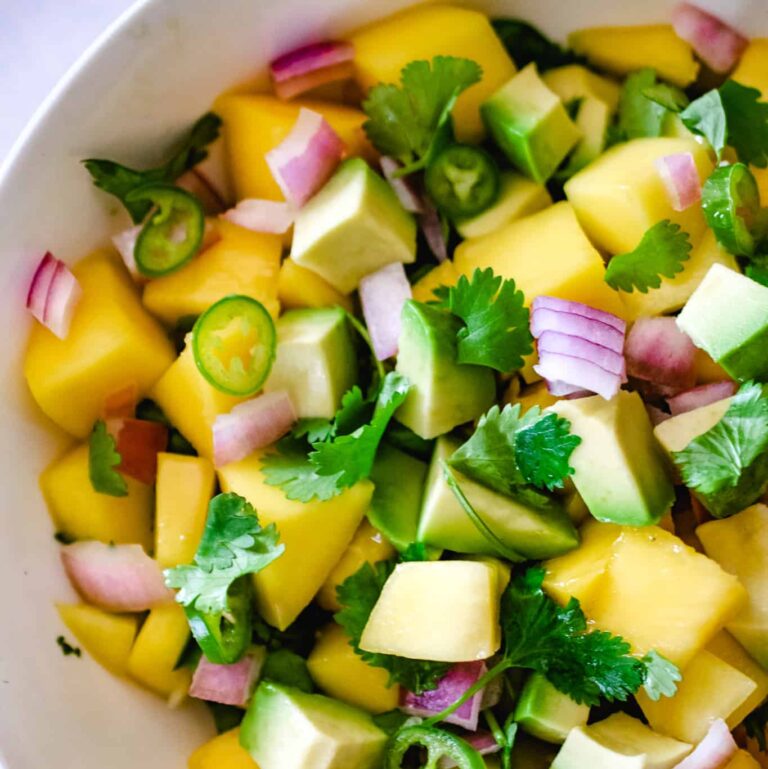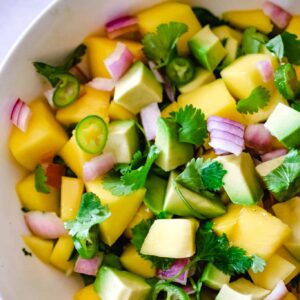 Spicy Mango Avocado Salsa
Fresh mango, avocado, jalapeno, red onion and fresh lime salsa
Print
Pin
Rate
Ingredients
1

large mango

ripe but not soft (diced)

1

large Serrano or jalapeno pepper

finely minced, or thinly sliced

1

medium avocado

diced

½

bunch fresh cilantro

chopped

1

medium red onion

diced

1

large lime

juice of (use 2 if the lime isn't yielding much juice)
Instructions
Looking at the mango, figure out which direction the pit runs flat, and then cut each side off, as close to the pit as possilble.

Score the inside of each mango side, running the knife through until you reach the skin, without going through. Make a checkerboard pattern.

Press thumbs into the peel, so that the cut inside spreads outwards and the squares pop out and can be cut off of the rind. Cut them off and place in a medium bowl.

Dice avocado and add to bowl.

Thinly slice the Serrano or jalapeno into the bowl; use a half for milder heat, and a whole for a spicier salsa. The ribs and seeds contain the most heat so add or remove them depending on your liking.

Chop cilantro and add to bowl.

Squeeze the juice of one lime over bowl, lightly toss.

Serve with chips, grilled chicken, fish or steak, or over your favorite tacos
Notes
fresh mango is preferred over frozen for this salsa, but if frozen is all that's available be sure to thaw first and pat the pieces dry
if the lime isn't yielding much juice, use two
limes that are dry can be microwaved for 30 seconds and then rolled between the palm of hand and counter top; this releases the juices
use fresh cilantro; see not on preserving fresh cilantro for weeks on end
serve as you would chips and salsa, in a salsa or taco bar, or as a topping for street tacos, grilled chicken or fish!
store in an airtight container for up to one week
the acidity of the lime can help to preserve the avocado (keep it from going brown) so toss the salsa well, and use plenty of lime juice if storing in the fridge for later use