Succulent, authentically seasoned, slow-simmered barbacoa beef tacos served, topped with fresh cilantro and onion.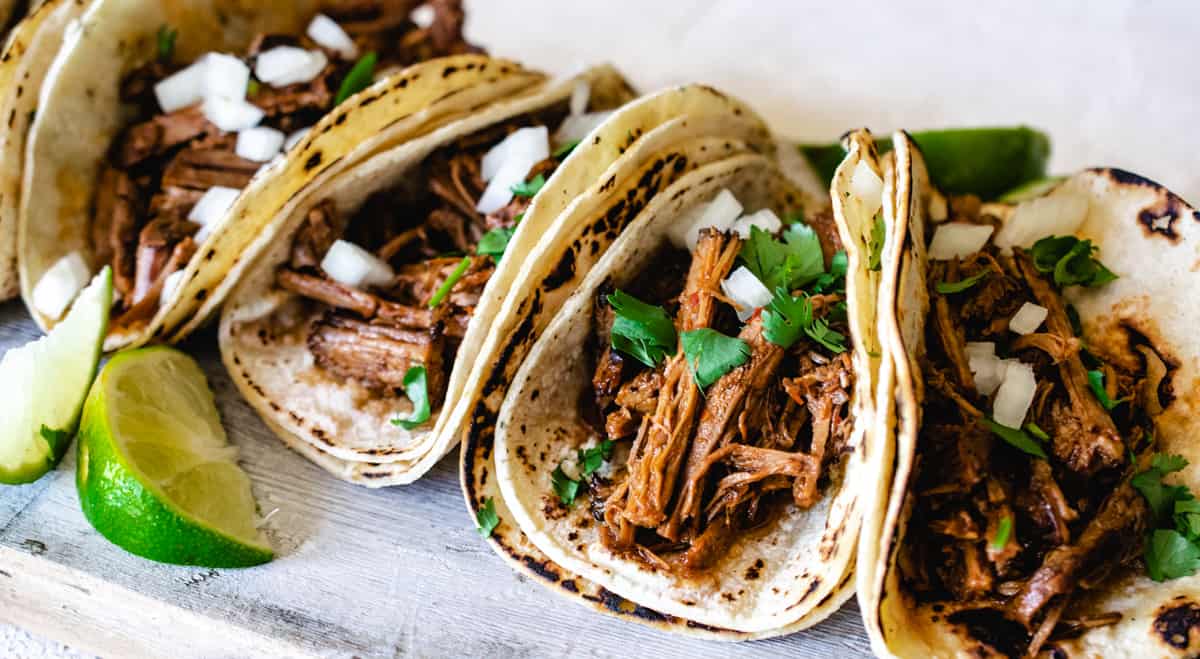 Beef barbacoa is all about the meat; serve on a small tortilla and stick to few toppings.
One of the best things about these tacos is that they can be served without a bunch of fussy toppings.
What Kind of Meat is Barbacoa?
Barbacoa refers to a preparation of meat that is slow simmered in a spiced broth until it falls apart. It is usually prepared from beef, goat, or sheep meat. To read more about how to do a traditional barbacoa pit in the ground, click here.
What does Barbacoa Taste Like?
Barbacoa is so much more flavorful than just regular shredded meat tacos. It has layers of flavors from the dried chilies, broth and the slow simmering that is so important for barbacoa.
How to Make it
Preparing the meat to go in the oven requires a few specific steps. Once everything is in the oven, you get to walk away and let it do it's thing for several hours.
Prepare the Dried Chilies
Using dried chilies is essential. You'll find these in the Mexican food aisle at the grocery store. You can research dried chili flavors by clicking here, but I recommend Ancho and Guajillo chilies.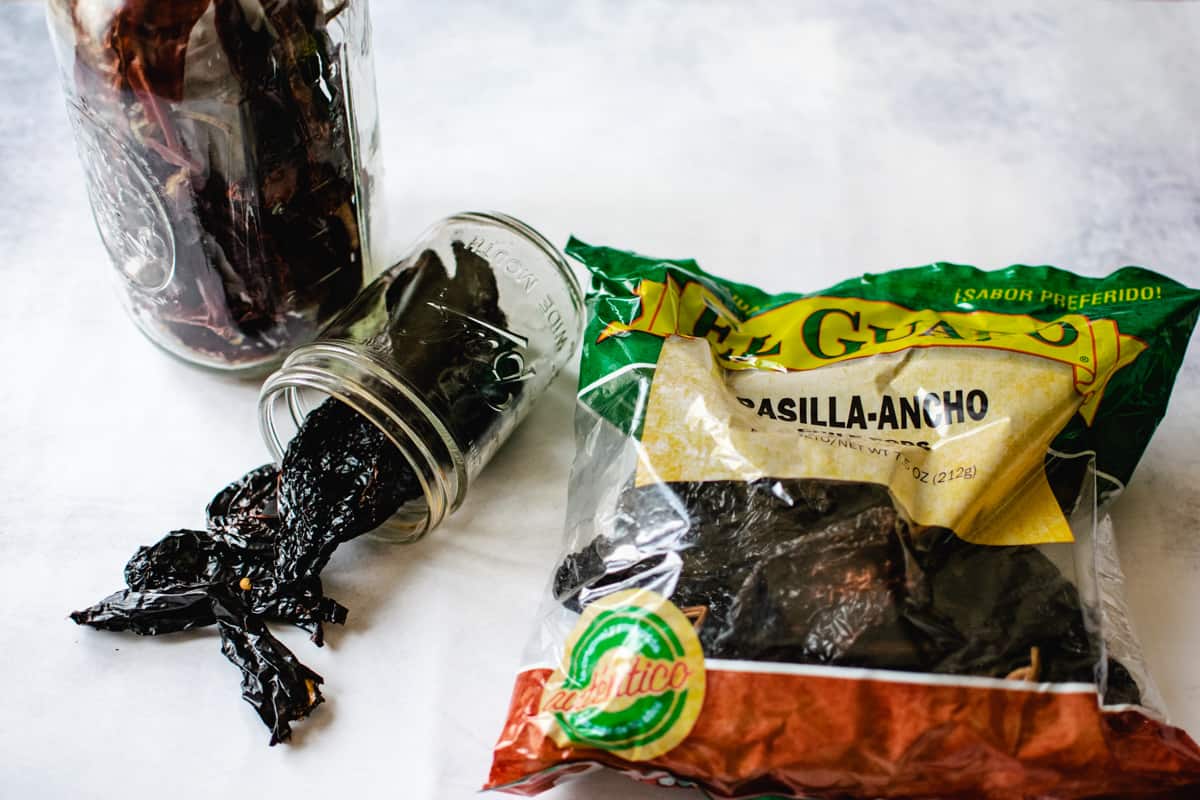 Ancho chilies will give a deep, almost chocolaty flavor that is key for an adobo, and Guajillo chilies are a staple in most any Mexican spiced sauce.
Remove the stems and seeds from the chilies. This can be done easily, without a knife by just tearing the stem off the top and splitting open the side of the pepper with your thumb. There, you can just shake out the seeds and discard them with the stems.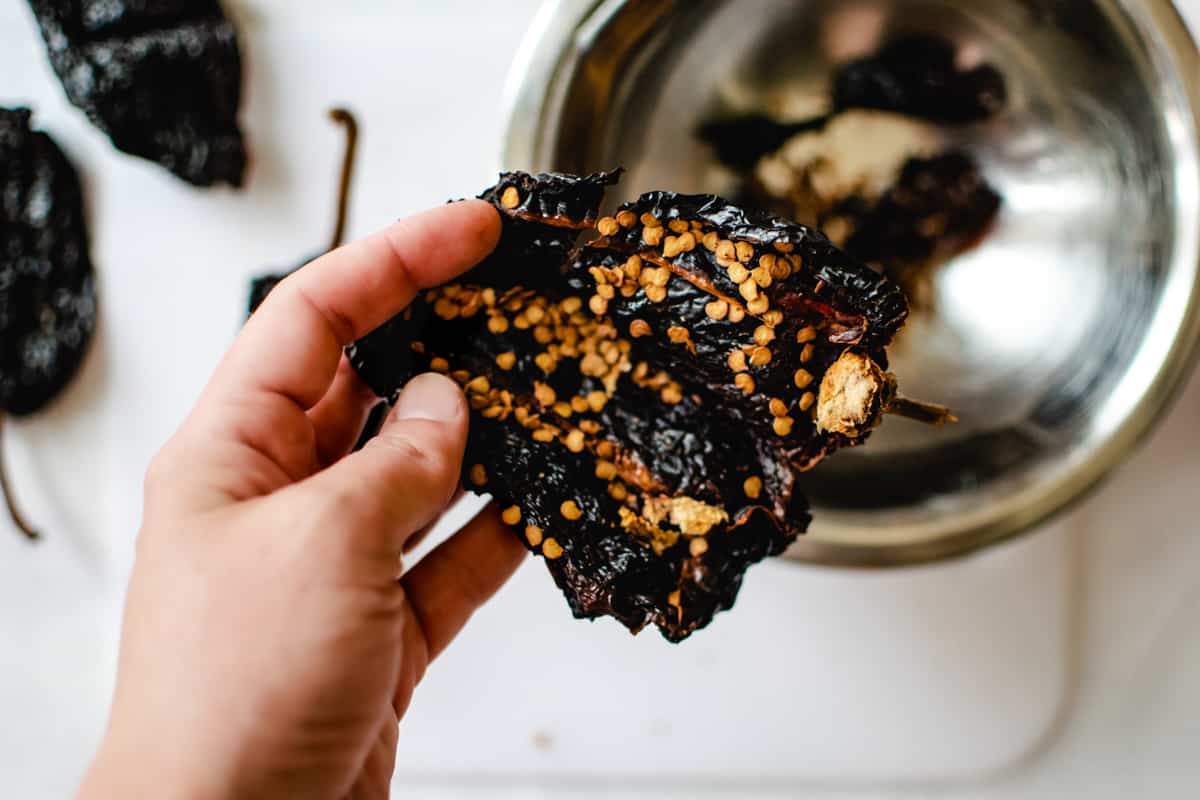 Once the stems and seeds have been removed, the chilies can be simmered in chicken stock with onion, garlic and spices to soften. After about 10 minutes, puree the contents of the pot until smooth. This is called an adobo. (Adobo can mean a variety of things, click here for a helpful article to clear things up.)
Cooking the Meat
Salt and pepper all sides of the meat, and sear on high heat in a skillet to form a nice crust. It's helpful to just use the dutch oven that you plan to simmer the meat in. Use two forks or tongs to turn the meat onto each side (including ends) to achieve a full sear all over the outside. You don't need to cook the meat through, this is just to create flavor through the "crust" that forms as the meat browns.
Once seared, pour the pureed chili mixture (adobo) over the meat. Add additional liquid such as beer, stock, or water to loosen up the consistency. Add bay leaves, cover loosely and cook low and slow until the meat falls apart.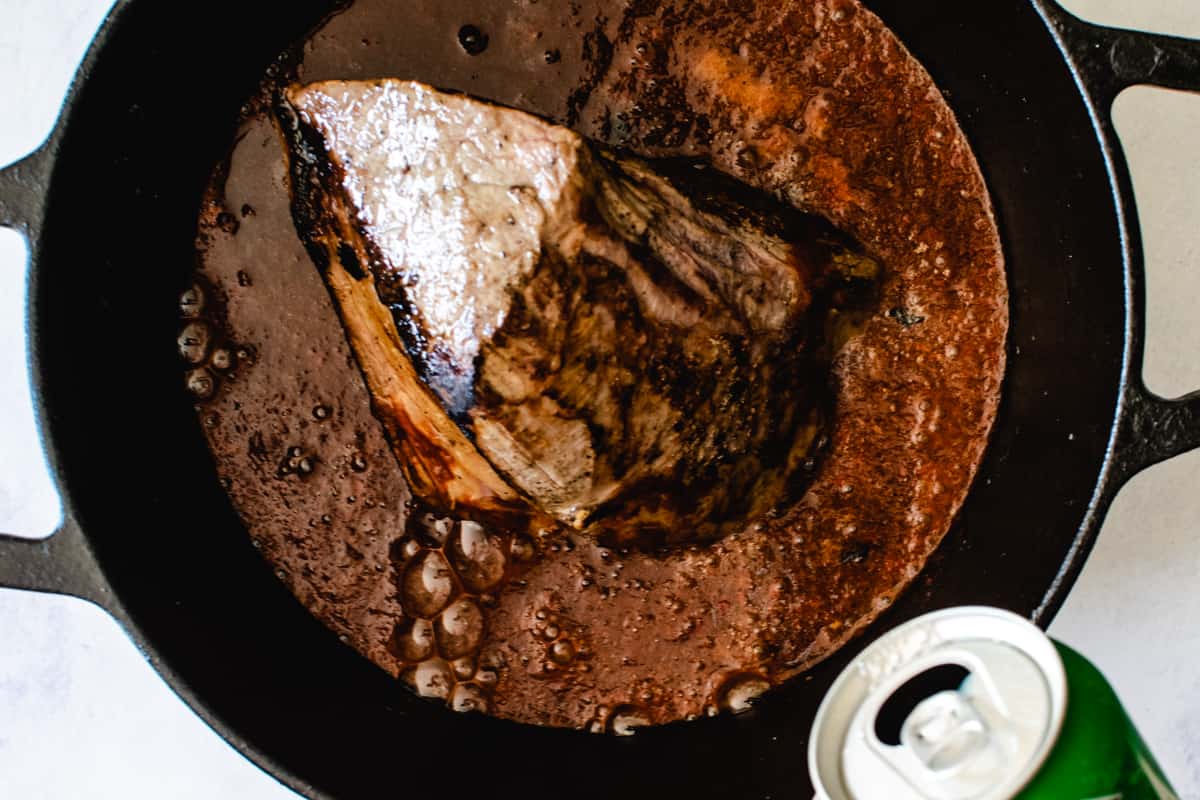 Cover loosely with foil or with a lid that has been set slightly off center. Cook at 275 degrees for 5-7 hours until meat is falling apart. Baste, or spoon juices in the pan over the meat every hour or two.
"Chunk" Apart the Meat
Once the meat can be easily pulled off with a fork with almost no effort or force, remove it from the oven. In the same pan that it's in, use two forks or dull knives to break meat apart into pieces. This doesn't need to be "shredded" so much as "chunked". You could even do this with a metal spatula.
How is Barbacoa Served?
This amazing, life changing meat doesn't need much but a taco shell, some cilantro and onion. A lime wedge, if you've got one. But the star of the show is definitely the meat and you don't want to cover that up with a ton of toppings.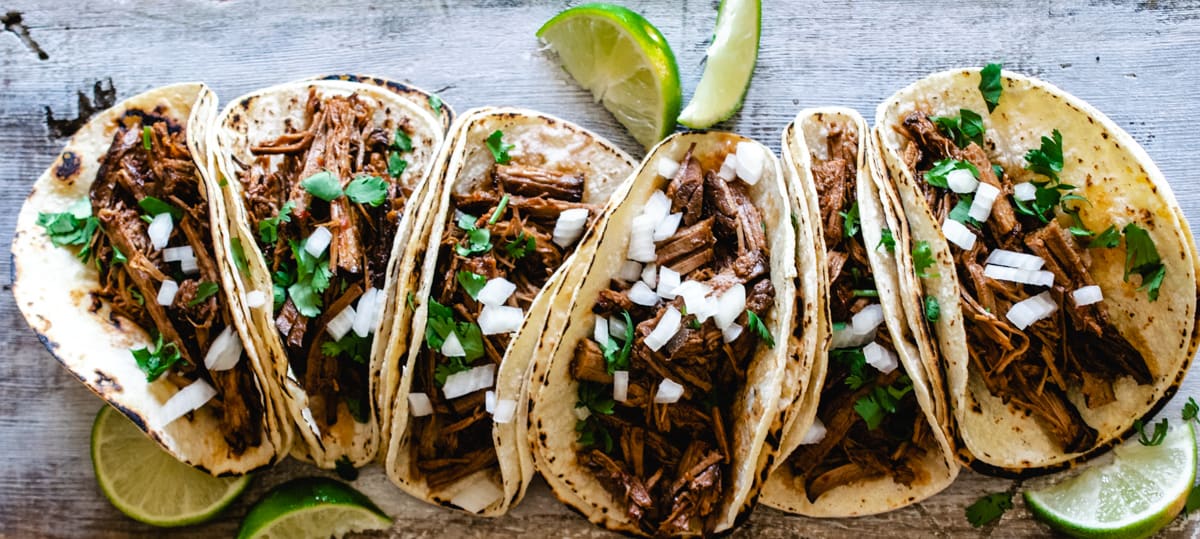 For more slow cooked goodness, try my BBQ Beef Sandwiches, and delicious Pulled Pork Sandwiches with Slaw.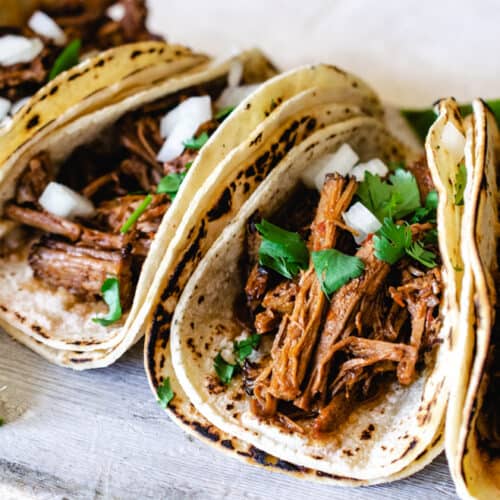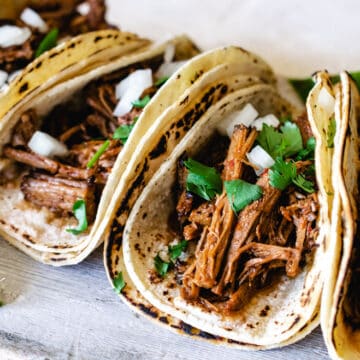 Beef Barbacoa Tacos
Authentic, succulent long simmered meat served on a corn tortilla with fresh cilantro and onion.
Print
Pin
Rate
Ingredients
4-5

lbs

chuck roast, beef

6

dried ancho chilies

3

dried guajillo chilies

1

onion

plus more for serving

3

cloves

garlic

32

oz

chicken stock

1

teaspoon

cumin

1

teaspoon

paprika

sweet, not smoked

1

teaspoon

Mexican oregano

3

bay leaves

salt and pepper

8

oz

lager beer, ginger ale, additional chicken stock or water

1

lime

plus more for serving

corn tortillas

for serving

minced onion

for serving

chopped cilantro

for serving
Instructions
Remove stems and seeds from chili pods by tearing off stems, and ripping pod open with thumb; shake seeds out.

Peel onion and chop into quarters.

Smash and peel garlic cloves.

Add chilies, onion, garlic, cumin, paprika, oregano and chicken stock to a sauce pan and simmer on medium high heat for about 10-15 minutes until chilies are soft. Set aside to cool slightly.

Puree chilies and stock mixture until smooth.

Salt and pepper all sides of the beef roast.

In a dutch oven on medium high heat, sear all sides of the roast until a dark crust forms. You don't need to use oil here.

Pour pureed chili mixture over seared beef.

Pour in additional liquid such as stock, beer, ginger ale or water and add bay leaves. Squeeze the juice of a lime over everything.

Cover meat loosely with foil or lid, and cook at 275 degrees for 5-7 hours until fall apart tender. Occasionally spoon or baste liquid over meat.

Use two forks, dull knives, or metal spatula to chunk the meat up into small pieces. Toss with remaining liquid in pan.

Serve on corn tortillas with minced onion, fresh cilantro and lime wedges.
Notes
Usually, stems and seeds can be removed by hand by tearing them off and shaking the seeds out. 
Ancho chilies provide a deep, chocolaty flavor, while Guajilla are a staple in Mexican cooking.
Sear the beef in the same dutch oven that you are going to braise it in. Don't use oil unless your pan is particularly stubborn with sticking. 
Use beer, stock, ginger ale or water as additional liquid, keeping in mind that sweeter is better. 
Don't serve with an abundance of toppings. The meat is the point of these tacos. 
Store prepared barbacoa in an airtight container in the fridge for up to 3 days. 
Nutrition
Serving:
2
g
|
Calories:
375
kcal
|
Carbohydrates:
18
g
|
Protein:
33
g
|
Fat:
19
g
|
Saturated Fat:
8
g
|
Cholesterol:
107
mg
|
Sodium:
249
mg
|
Potassium:
955
mg
|
Fiber:
6
g
|
Sugar:
9
g
|
Vitamin A:
4900
IU
|
Vitamin C:
9
mg
|
Calcium:
45
mg
|
Iron:
5
mg