Homemade triple berry frozen yogurt blended with with real ice cream and rolled in a shortcake crumb. It's everything you used to love about the ice cream truck... but better.
They are like the strawberry shortcake ice cream treats on a stick that we had growing up; remember those? Except these are even better because they've got triple the berries, they're swirled with frozen yogurt, and hand rolled in shortbread cookie crumbles (which means you can lay it on thick).
To make these treats, you can use your own berries, or buy frozen. Make your own whipped cream, or get some good quality store bought. And for the cookie crumble, you can use your own shortbread or sugar cookies, or grab some from the local bakery. (Links to all the homemade, from-scratch recipes for these to come in the next months--long before the warm weather hits, so check back.)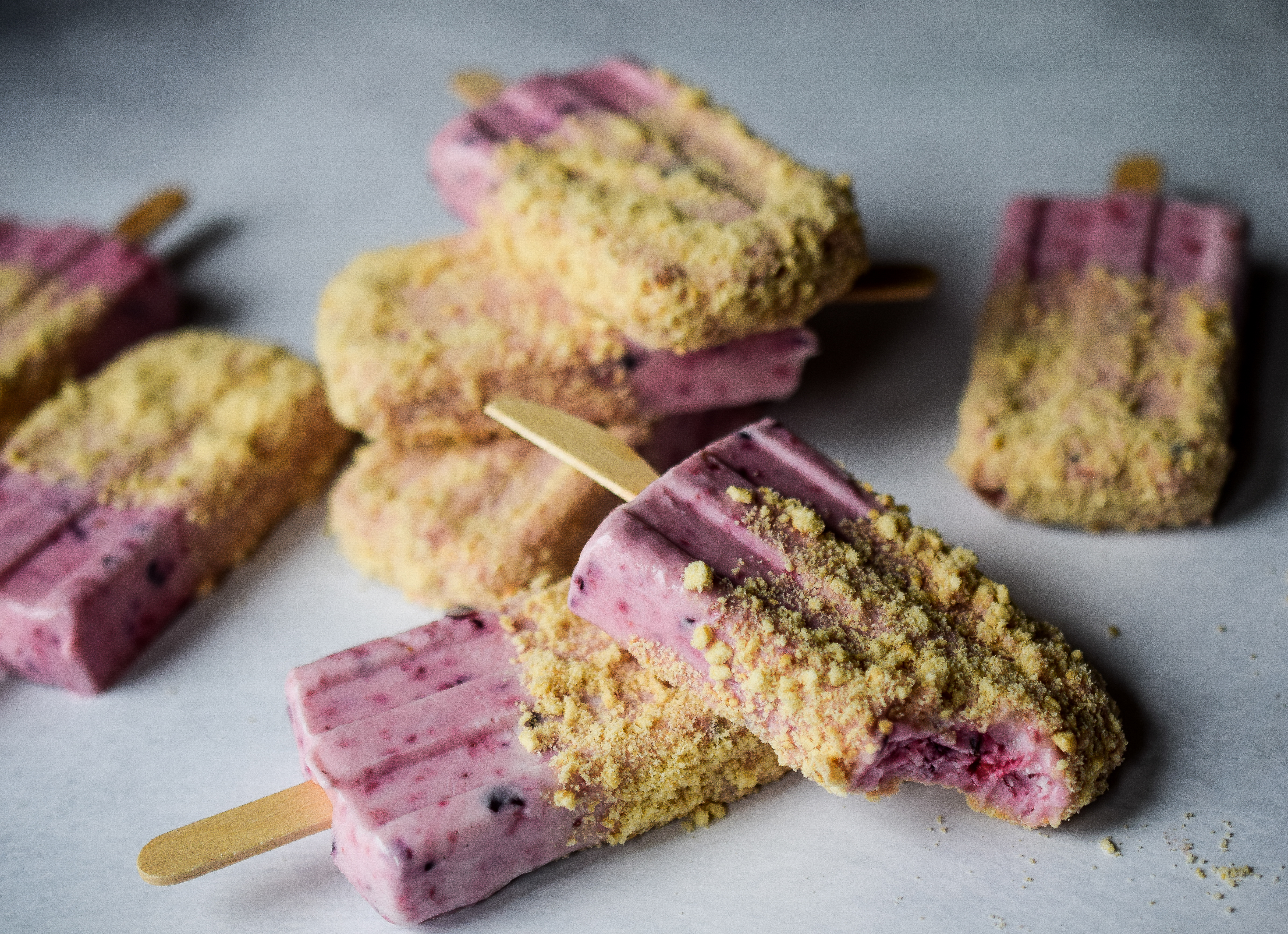 The process goes like this....
Pick a good mix of berries including blackberry, raspberry and strawberry. I used pre-frozen this time, because they thaw and there is enough moisture to make a puree with. You can use whatever you have access to or have on hand, but keep in mind that if you use fresh, you may need to add a couple of tablespoons of water to the puree process to thin it out. Pulse your berries in a food processor or blender until they are a slightly chunky puree.
Add 2 cups of vanilla frozen yogurt, ¼ cup granulated sugar and a splash of vanilla to the berry puree and mix until combined.
Pour the berry and yogurt mixture into popsicle molds, leaving about a ¼ inch headspace. Put covers and, or sticks into place and freeze until firm.
Using a shortbread like cookie, or the vanilla sandwich cookies, cream removed, crush in a plastic bag with a rolling pin until crushed to the consistency of coarse bread crumbs.
Once the pops are completely frozen solid, run them for about 20 seconds under warm water, just enough to get them to easily release from their molds.
Roll the pops in the cookie crumbs, and lay on a parchment lined cookie sheet. Place back in the freezer for 30 minutes before individually wrapping with plastic wrap.
Store in the freezer for up to 3 months.