Baked potatoes are a classic side dish that pairs well with almost anything, I think everyone can agree on that! Whether you're serving them alongside a grilled steak or a simple salad, they're always a crowd-pleaser. But did you know that you can make perfectly crispy and fluffy baked potatoes in your air fryer? Yes, it's true! Air Fryer Baked Potatoes are quick, easy, and oh so delicious.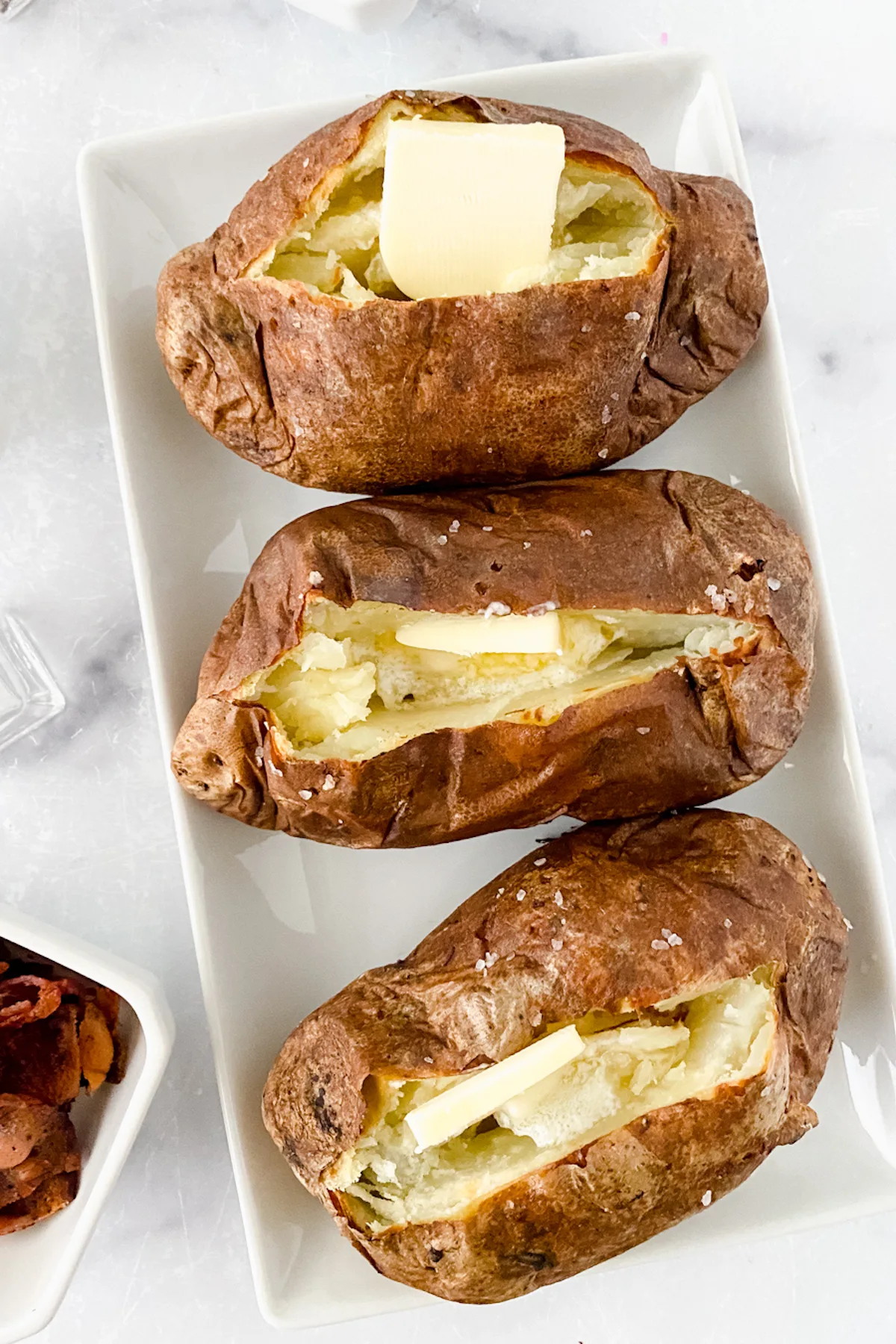 Forget letting the oven run for an hour and just grab that Air Fryer for the best baked potatoes you have ever had.
Take the time to check out how easy it is to use your Air Fryer and watch how less stressful making dinner becomes! Cooking time doesn't have to stress you out, use your kitchen tools to make dinner time easier.
Why Make Baked Potatoes in the Air Fryer
Making them in the Air Fryer results in a faster cooking time compared to traditional oven-baked potatoes
Crispy skin and fluffy interior
Easy to make individual portions or multiple potatoes at once.
Air fryer baked potatoes are a healthier option than deep-fried potatoes.
Using the Air fryer allows for even cooking and browning on all sides of the potato
Perfect for busy weeknights or whenever you want a quick and easy side dish.
Ingredients
Get all the info on these ingredients at the bottom of the page in the recipe card.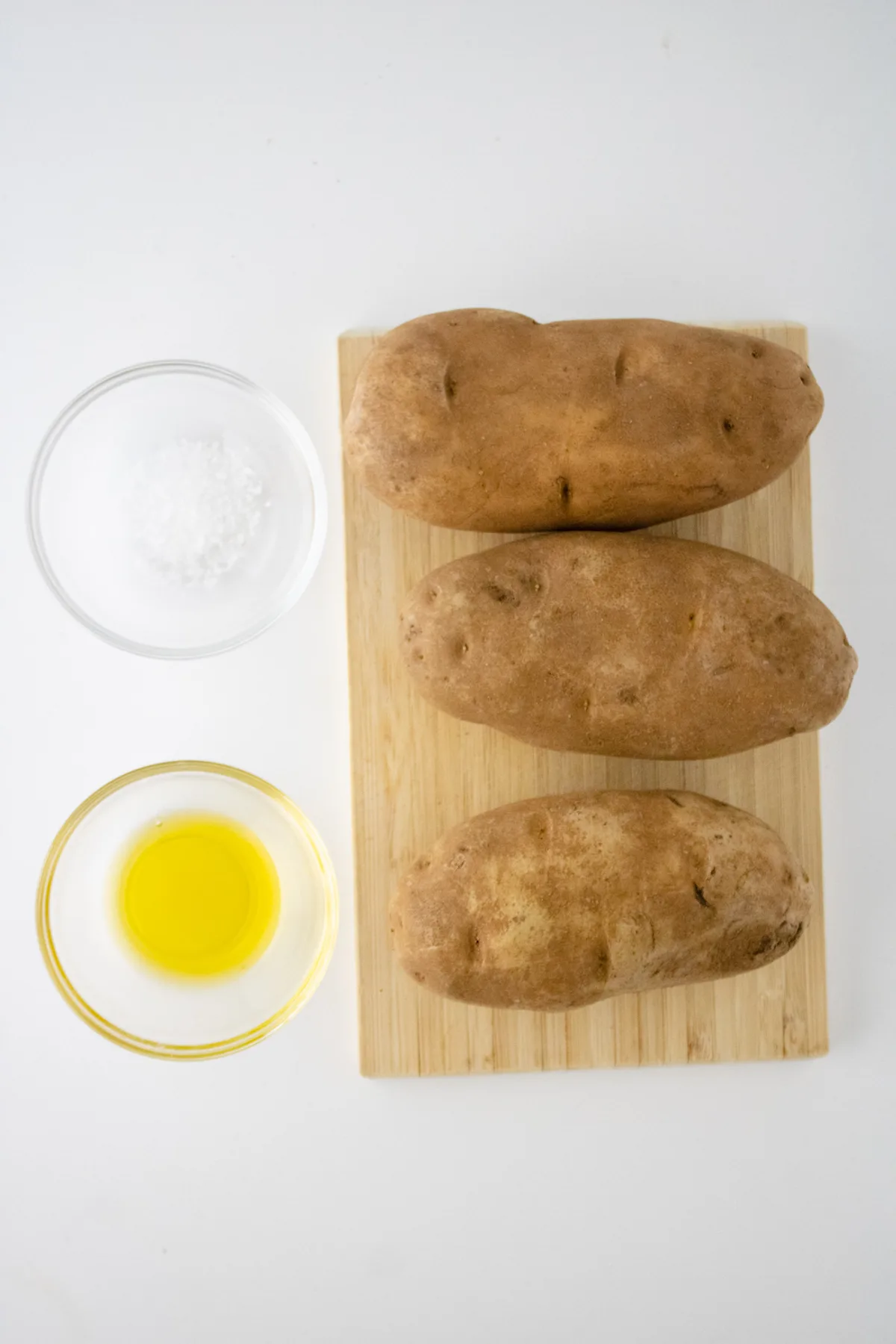 russet potatoes
olive oil- this is our personal cooking oil preference, you could trade this out for avocado oil or coconut oil if needed
Diamond kosher salt- again, a personal preference, if you like different salt, like sea salt or Himalayan salt, you can trade it out
How to Make Air Fryer Baked Potatoes
To achieve evenly cooked, crispy-skinned potatoes from your air fryer, follow these steps:
1. Preheat the Air Fryer to 400º F.
2. Scrub the potatoes clean and pat them dry with paper towels.
3. Using a fork, poke holes all around the potato - this allows steam to escape.
4. Drizzle olive oil over the skin of the potato and sprinkle kosher salt on top.
5. Place the potato in the basket of the Air Fryer.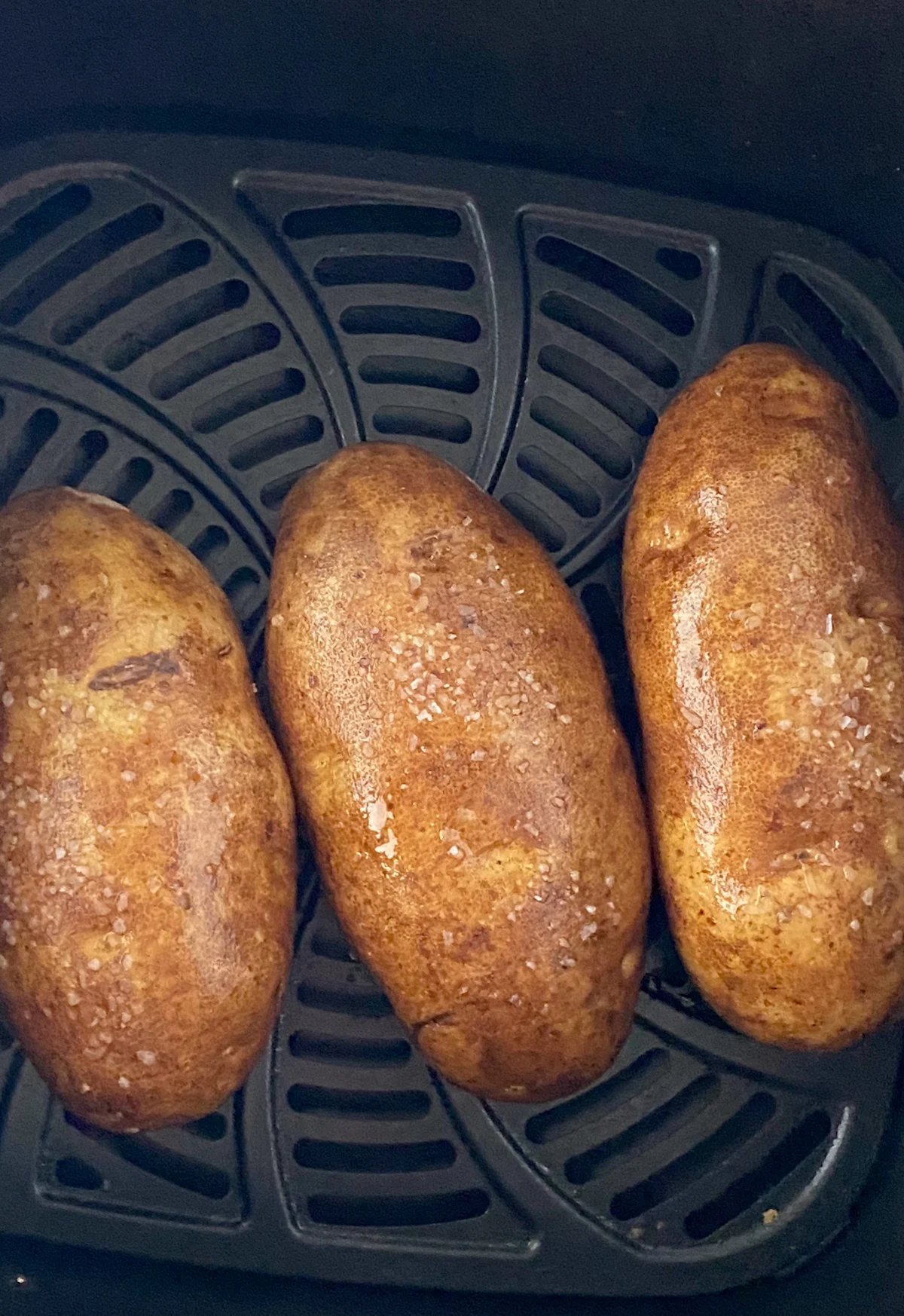 6. Cook for 20 minutes and then rotate it for even cooking on all sides.
7. Cook for an additional 10-15 minutes until it is fully cooked.
8. Slice open the potato and add your favorite toppings. Enjoy!
Storage
Baked potatoes can be stored in a breathable container at room temperature for up to 5 days. They do not need to be placed in an airtight container like most other things.
If you would like to store them for longer, cooked potatoes can also be wrapped tightly with plastic and then aluminum foil and stored in the fridge for up to 7 days.
It is not recommended to freeze baked potatoes - they tend to become mushy after thawing. If you want to preserve potato leftovers for longer, it's best to fry them into potato chips or hash browns and you can freeze them that way.
Tips for Making A Perfect Baked Potato:
Make sure to poke several holes in the potato to allow steam to escape. This will ensure that your baked potatoes cook evenly and don't explode while air frying.
Rubbing the potatoes with olive oil not only helps them crisp up in the air fryer, but also adds a nice flavor.
Don't overcrowd the air fryer basket. If you have too many potatoes in there, they won't cook evenly. Make sure to work in batches if necessary.
Large potatoes may require more time cooking, smaller ones may require less time.
You can also use this recipe to make sweet potatoes. They may require different cook times as well.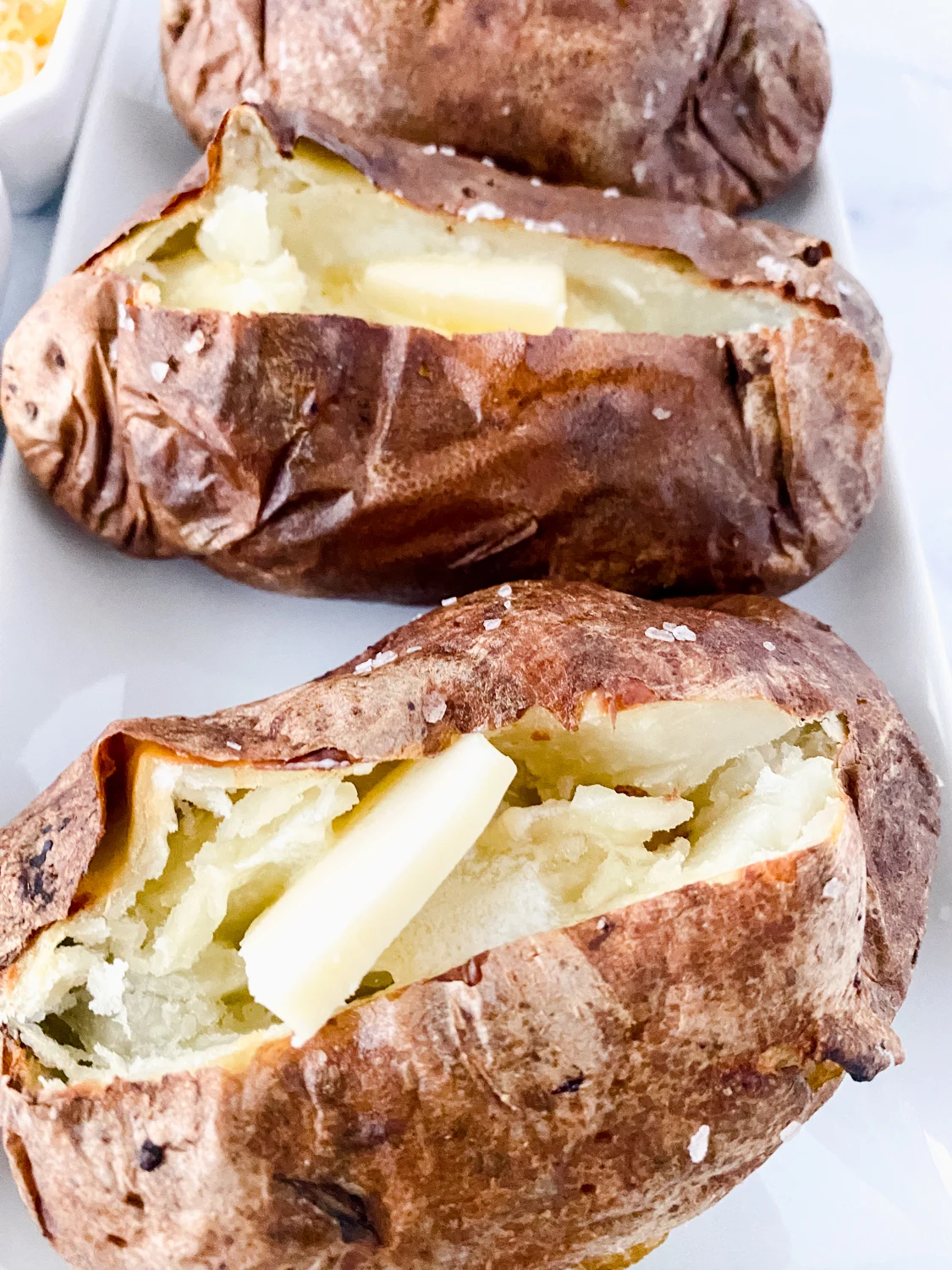 How do I know when my baked potatoes are done?
You can check for doneness by inserting a fork into the thickest part of the potato. If it slides in easily, the potato is done.
Can I use other kinds of potatoes besides russet potatoes?
Yes, you can use other kinds of potatoes for this easy recipe. Try making baked potatoes with Yukon gold or red potatoes. Just keep in mind that cooking times may vary depending on the size and type of potato you use.
It is important to know that this specific Air Fryer Baked Potato recipe was only tested with Russet potatoes.
Do I need to wrap the potatoes in foil before cooking them in the air fryer?
No, you don't need to wrap the potatoes in foil. In fact, wrapping them in foil will prevent the skin from getting crispy.
How many potatoes can I cook at once in the air fryer?
It depends on the size of your Air Fryer basket. Typically, you can fit about 4 medium-sized potatoes in a standard-sized air fryer basket. Just make sure not to overcrowd the basket, as this will prevent even cooking.
Do I need to flip the potatoes during cooking?
Yes, it's recommended to flip the potatoes halfway through cooking to ensure even browning on all sides.
Keep in mind that the potato skin will be HOT, so the easiest way to flip them over safely is to use tongs or an oven mit if you have larger potatoes that tongs may not pick up easily.
Can I add other seasonings besides salt?
Absolutely! You can experiment with different seasonings and spices to add flavor to your air fryer baked potatoes. Try adding black pepper, garlic powder, paprika, or rosemary for a different twist.
What toppings should I add to my potatoes?
The best way to make your baked potatoes is with whatever potato toppings you enjoy! This great side dish is easy to customize with any of your favorites. Here are some of ours:
Sour Cream
Shredded Cheddar Cheese
Bacon Bits
Chives
Butter
Greek yogurt
Salsa
Guacamole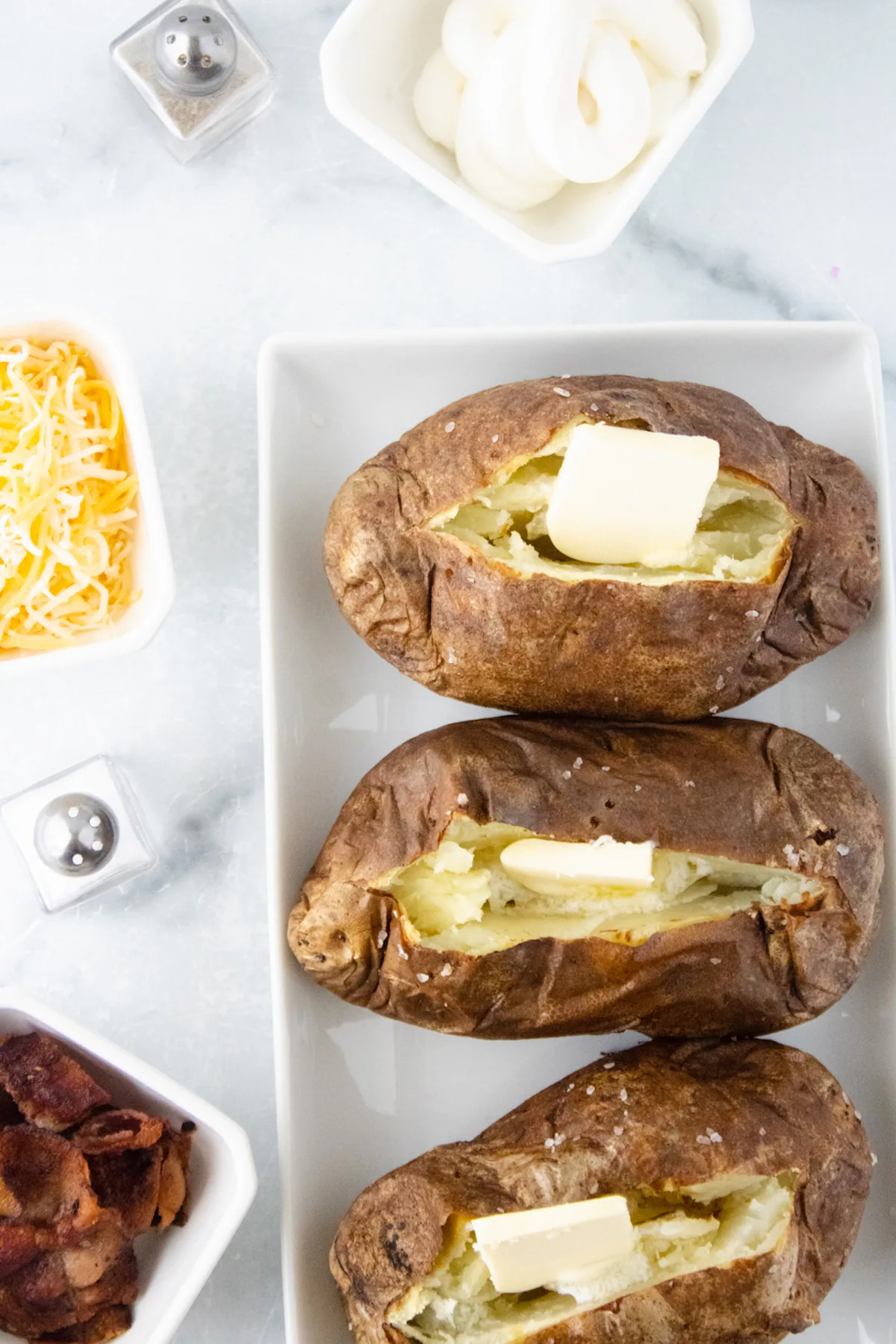 Air fryer baked potatoes are a quick and easy side dish that's perfect for busy weeknights or lazy weekends. With just a few simple ingredients and some helpful tips, you can make perfectly crispy and fluffy baked potatoes in your Air Fryer every time. Watch how fast this becomes your favorite way to make baked potatoes!
📖 Recipe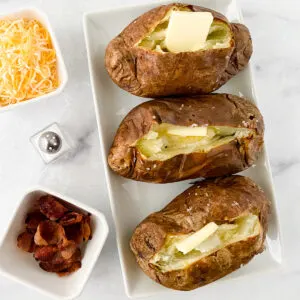 Air Fryer Baked Potatoes
Experience a fluffy inside and a crispy outside with these Air Fryer Baked Potatoes, an impeccable combination of texture and taste.
Print
Pin
Rate
Ingredients
3

medium russet potatoes

3

teaspoon

olive oil

1

teaspoon

Diamond kosher salt
Instructions
Begin by preheating your air fryer to a temperature of 400º F (200º C) to ensure it's nice and hot for when the potatoes are ready to be cooked.

While the air fryer is heating up, take your russet potatoes and give them a good wash under cold water. Use a scrub brush to remove any dirt and to clean the skin thoroughly.

Once the potatoes are washed, use a paper towel to pat them dry, making sure to remove as much moisture as possible. This step is crucial for achieving a crispy skin.

Take a fork and carefully pierce each potato several times. This will allow steam to escape during cooking and prevent the potatoes from bursting.

Drizzle a teaspoon of olive oil over each potato, making sure the skin is well coated. This will not only add flavor but will also help achieve that crave-worthy crispy texture.

Sprinkle a generous pinch of kosher salt over each potato. This will enhance the natural flavors and add a touch of savory goodness.

Place the potatoes in the air fryer basket, ensuring they are not overcrowded and have space to cook evenly.

Allow the potatoes to cook for 20 minutes. This initial cooking phase will start to crisp up the skin and cook the inside.

After the 20 minutes are up, carefully rotate the potatoes in the air fryer to ensure even cooking.

Continue cooking for an additional 10-15 minutes, or until the potatoes are golden brown and the skin is crispy to the touch.

Once cooked, remove the potatoes from the air fryer and let them rest for a couple of minutes.

To serve, use a sharp knife to make a slit in the top of each potato. Use a fork to fluff up the inside and then add your favorite toppings such as butter, sour cream, chives, cheese, or bacon. Enjoy your perfectly cooked Air Fryer Baked Potatoes!
Nutrition
Calories:
199
kcal
|
Carbohydrates:
37
g
|
Protein:
4
g
|
Fat:
4
g
|
Saturated Fat:
1
g
|
Polyunsaturated Fat:
1
g
|
Monounsaturated Fat:
3
g
|
Sodium:
13
mg
|
Potassium:
897
mg
|
Fiber:
5
g
|
Sugar:
2
g
|
Vitamin A:
4
IU
|
Vitamin C:
42
mg
|
Calcium:
26
mg
|
Iron:
2
mg