Hi there.
Welcome to The Frozen Biscuit.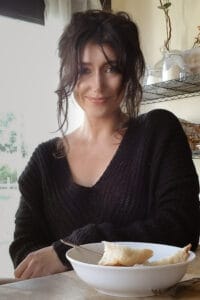 I'm Erin. I'm a wife and mom of four. I love to eat almost as much as I love to cook, and I'd take a bowl of pasta over a bowl of ice cream any day.
As a busy mom myself, I understand the allure of the boxed food aisle, and the drive through window. But, over the years I've figured new ways around those cravings (most of the time), broken other bad food habits, and saved tons of money doing so. By changing the way I grocery shopped and cooked, I've been able to feed my family of six for a fraction of the cost, and be a full time stay at home mom. We've also avoided a lot of icky preservatives, additives and unnatural ingredients along the way. And I've loved it so much, I started this blog as a way to share it all.
How it started...
When I became a mother to my first child and began cooking for someone besides myself, I didn't cook anything. I heated things up. I bought jars and heated those up. I bought frozen dinners and heated those up. I bought boxes that said 'just add water' and I heated those up. I still remember the time I was pouring a bottle of teriyaki sauce into whatever I was going to describe as stir fry, and thought, "my mom used to just make this sauce herself from scratch…why don't I ever make it?" That thought planted the seeds of change for many years to come; I decided it was time to really get real with the ingredients I was using. 
My family grew, and so did their appetites; along with my desire to feed them wholesome meals that their little bodies could grow from, or that fueled my hard working husband on his long days of physical labor. They needed real food. However, as a (now) family of six, we were on a real budget. Challenge accepted.
How it's going...
Today, I will have been on this journey for over ten years. I've tried a lot of new things with food. I've had lots of recipe successes and a few failures, but in each, I have learned so much. I've found very inexpensive ways to fill our refrigerator and pantry. I have developed a strategy for feeding my family, that has saved us thousands upon thousands of dollars. And the best part is that I know what is in the food that I feed my family. 
I'm so excited to share my food journey with you. Thanks for being a part of The Frozen Biscuit.