Candied jalapenos are a delicious, sweet, and spicy treat that anyone can make in the comfort of their own home! With only 8 simple ingredients, you can craft this zesty snack in just a few steps. Whether you're looking to add a little extra kick to tacos or want to top off your favorite salad with some unique flavor, candied jalapenos are sure to satisfy.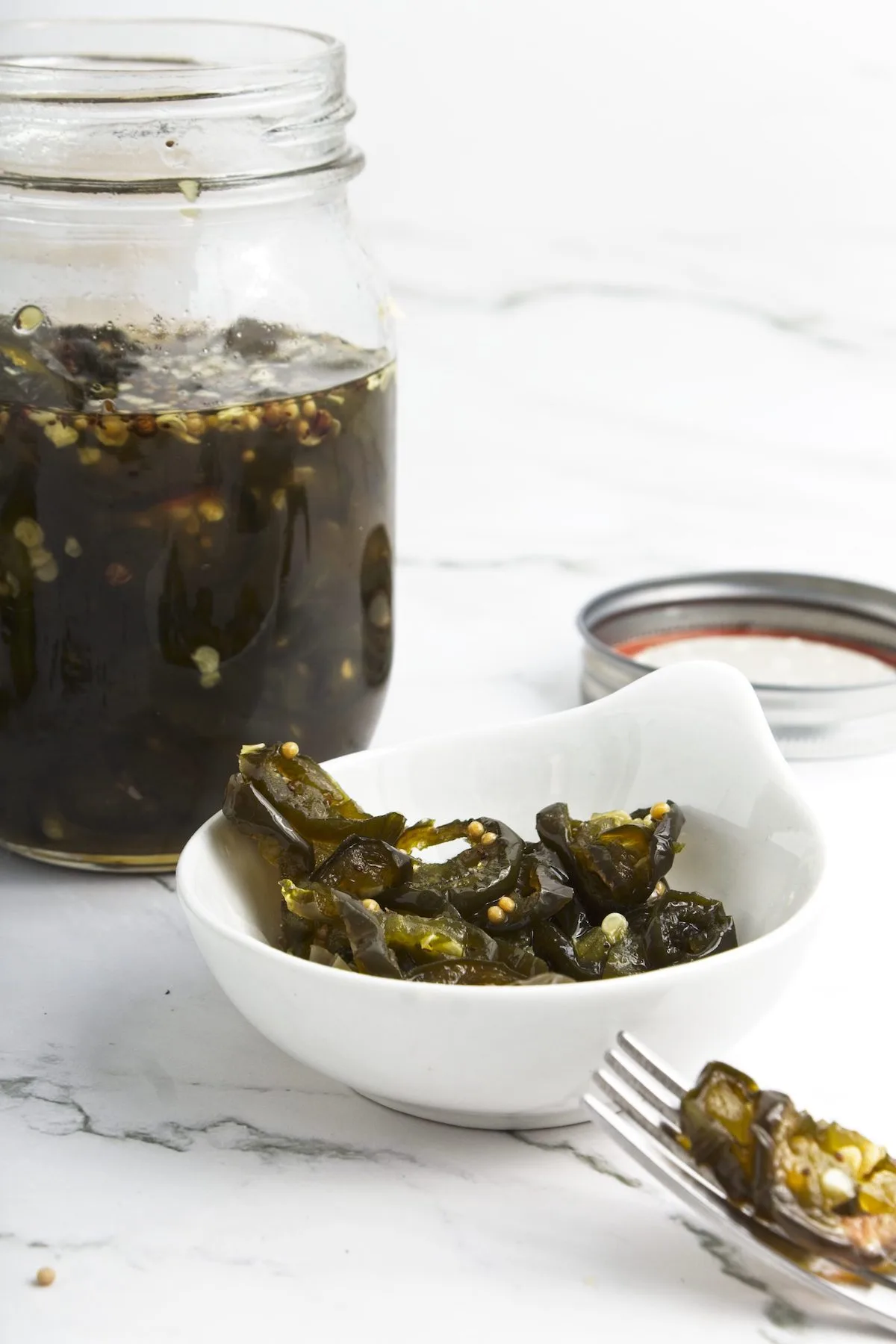 What are candied jalapenos?
Candied jalapenos are jalapeno peppers that have been cooked in white sugar, vinegar and spices to create a sweet and spicy syrup. This syrup is then poured over the peppers and allowed to cool.
The result is a wonderfully zesty treat that offers the perfect balance of heat, sweetness and tanginess. Candied jalapenos can be enjoyed as an appetizer or snack, added to salads or tacos for a kick of flavor, or used in various recipes such as salsas, sauces and jams.
No matter how you enjoy them, candied jalapenos are sure to add a unique touch of flavor to any dish!
What are some other names for Candied Jalapenos?
Candied jalapenos are also known as "candied chili peppers", "sweet chili peppers" or "pickled jalapenos". Additionally, this tasty treat is sometimes referred to as "cowboy candy", especially when paired with bacon.
No matter what you call them, candied jalapenos are sure to satisfy your taste buds! They're even called cowboy candy.
Why You Need Candied Jalapenos
Candied jalapeños provide a unique sweet and spicy taste that can bring a whole new flavor to traditional dishes.
They are incredibly easy to make and require only 8 ingredients, all of which are likely already in your pantry!
You can control the level of spice by adjusting the amount of jalapenos you use or the type of pepper you choose.
With both savory and sweet applications, candied jalapenos offer something for everyone!
Making them at home is much cheaper than buying them from a store, so you get more bang for your buck.
Ingredients to have on hand
Get all the info for the ingredients listed below in the recipe card at the bottom of the post.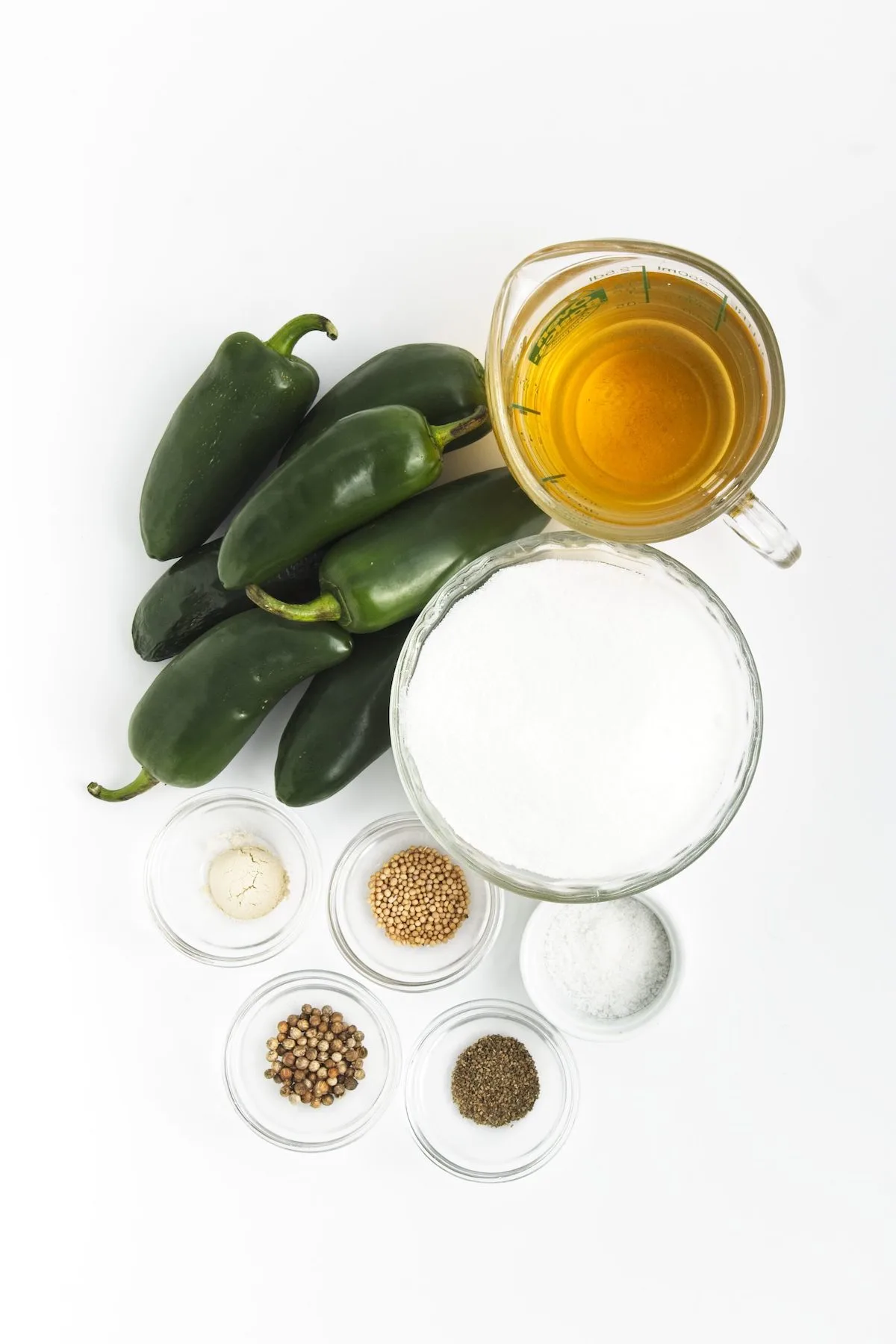 apple cider vinegar
granulated sugar
sea salt
whole mustard seed
whole coriander seed
garlic powder
celery seed
jalapeños
How to Make Candied Jalapenos
Be sure to have a clean glass jar on hand before starting.
Wash and dry jalapenos, then slice peppers into ¼ inch thick rounds after removing the stems. Discard any seeds that fall out.
In a large pot, combine vinegar, sugar, and all the spices. Heat over medium, occasionally stirring until sugar dissolves. Add sliced jalapeños and cook for 12-15 minutes until they're soft and have absorbed sugar.
Using a slotted spoon, strain jalapenos into the prepared jar, leaving liquid in the pot. Optionally, remove most of seasonings using a fine mesh strainer.
Return liquid to heat, boiling uncovered for 7-10 minutes until reduced by half and is very thick syrup.
Pour syrup over the jalapenos and cover with the lid.
Allow the spicy jalapeño slices and syrup to cool before eating and store in the fridge for up to 2 weeks.
Storage
Make sure to keep your jalapenos in an airtight container, like your glass jar, in the fridge for up to 2 weeks.
How spicy are jalapenos?
The level of spiciness in jalapeno slices can vary greatly depending on the type and variety. Generally, jalapenos are considered to be medium-spicy compared to other chili peppers, but they range from mild to hot depending on their maturity when picked and the growing conditions.
Jalapenos are also usually pickled or cooked before eating, which can reduce their spiciness.
However, if you're looking for a real kick of spicy flavor, opt for the hottest jalapenos you can find like the red ones. Remember that red jalapenos are hot peppers or more spicy peppers.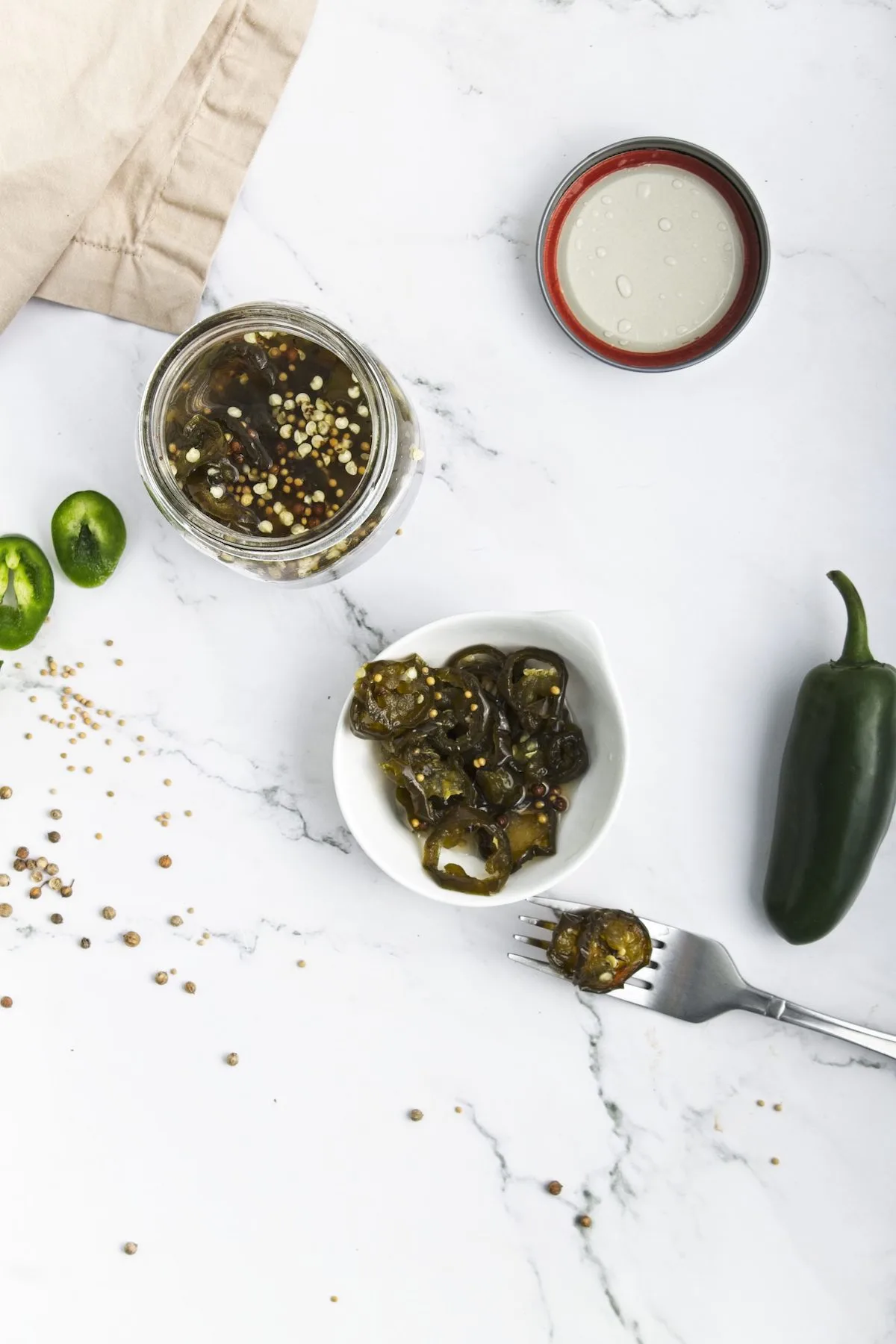 Can I double this jalapeño recipe?
Absolutely! This recipe is easy to double or even triple. Simply double or triple all of the ingredients listed in the recipe and follow the same steps as above.
The jalapenos can still be stored for up to two weeks if stored correctly in an airtight container or, the easiest way, mason jars or other glass pint jars.
Can you water bath candied jalapenos?
Yes, you can water bath candied spicy jalapenos. The key to water-bathing this jalapeno recipe is the sugar content. If the jalapenos are too sweet from the sugar, it can cause them to spoil faster and not be safe for consumption.
To understand how much sugar should be used when making candied jalapenos, start with a 2:1 ratio of sugar to jalapeno. This means that if you have 4 cups of sliced jalapeno, you'll need 8 cups of sugar.
Boil the mixture for a few minutes then place the mixture into heat-safe jars and process in boiling water for 10 minutes. Once done, they will last up to 8 weeks in an airtight container in the refrigerator.
Make sure you have plenty of sterile canning jars on hand if you are planning to can these peppers.
What can I serve candied jalapenos with?
Candied jalapenos are a versatile topping with endless possibilities. They make a great addition to burgers, hot dogs, tacos, macaroni salad, potato salad, and quesadillas.
You can also use them as a garnish for salads or even mix them into macaroni and cheese for an added kick. Additionally, they're perfect for pairing with cream cheese and crackers, adding something special to the classic appetizer.
If you're feeling creative, try using them as an ice cream topping or mixed into homemade ice pops - the sweet and spicy flavor adds a unique twist that will intrigue your taste buds!
What should do with leftover syrup?
If you have any leftover syrup that you didn't use when adding to your jalapenos recipe to the jars, you can save it for later. Anything that you normally put spicy condiments on, you may want to use this spicy syrup on.
This is also a great way to add even more flavor to your meat. Try brushing on some jalapeno syrup to a roast or meat that you plan on cooking low and slow. Watch how much flavor you can add by using just a few strokes of this syrup.
It is definitely a tasty addition you should try when you're looking for something different to add to your meal plan.
Tips and Tricks
Choose fresh jalapenos with bright, firm skin - no wrinkles or blemishes.
Use gloves when handling fresh jalapeños to avoid getting any of the capsaicin on your skin.
Cut off the tops and slice lengthwise before candying them for even cooking.
Cook on medium heat to prevent burning and sticking. Stir frequently.
Adjust sugar levels depending on how sweet you want your candied jalapenos to be.
Cool your jars of cowboy candy for at least 10 minutes before serving for a better flavor profile.
Making Candied Jalapenos really isn't hard! They're bursting with sweet heat flavor and are such a versatile ingredient or topping. Get excited to add some spicy slices to all sorts of dishes now.
📖 Recipe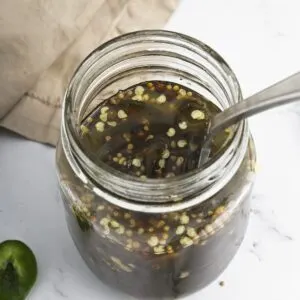 Ingredients
1

cup

apple cider vinegar

1 ¼

cup

granulated sugar

1 ½

teaspoon

sea salt

¾

teaspoon

whole mustard seed

¾

teaspoon

whole coriander seed

½

teaspoon

garlic powder

¼

teaspoon

celery seed

¾

lb

jalapeños
Instructions
Have a clean glass jar ready.

Wash and dry the jalapenos.

Cut the stems off and slice into ¼" thick rounds. Discard any seeds that fall out during cutting.

In a pot or saucepan, combine the vinegar, sugar, and all the spices. Heat over medium, stirring until all the sugar is dissolved.

Add the sliced jalapenos and return to the heat, cooking for 12-15 minutes until the jalapenos are soft and have started to absorb the sugar.

Strain the jalapenos into the prepared glass jar using a slotted spoon, leaving the liquid in the pot.

If you would like to remove some of the seasonings remove them with a fine mesh strainer at this point.

Return the liquid to medium heat and bring to a boil. Cook for an additional 7-10 minutes until the liquid has reduced by half and is a very thick syrup.

Pour the syrup over the jalapenos and place the lid on. Allow to cool before eating.

Store in the fridge for up to 2 weeks.
Notes
Take care when cutting a large amount of peppers. To prevent any burning on your hands, wear gloves.