Juicy burger grilled with a homemade, sweet and savory pineapple teriyaki burger sauce, stacked onto a sweet Hawaiian bun with melted cheese, lettuce, tomato and onion, and topped with a grilled pineapple ring and spicy mayo. 
Like saucy, sloppy things on a bun? Click for a recipe for the Crispy Buttermilk Fried Chicken Sandwich with Saucy Slaw.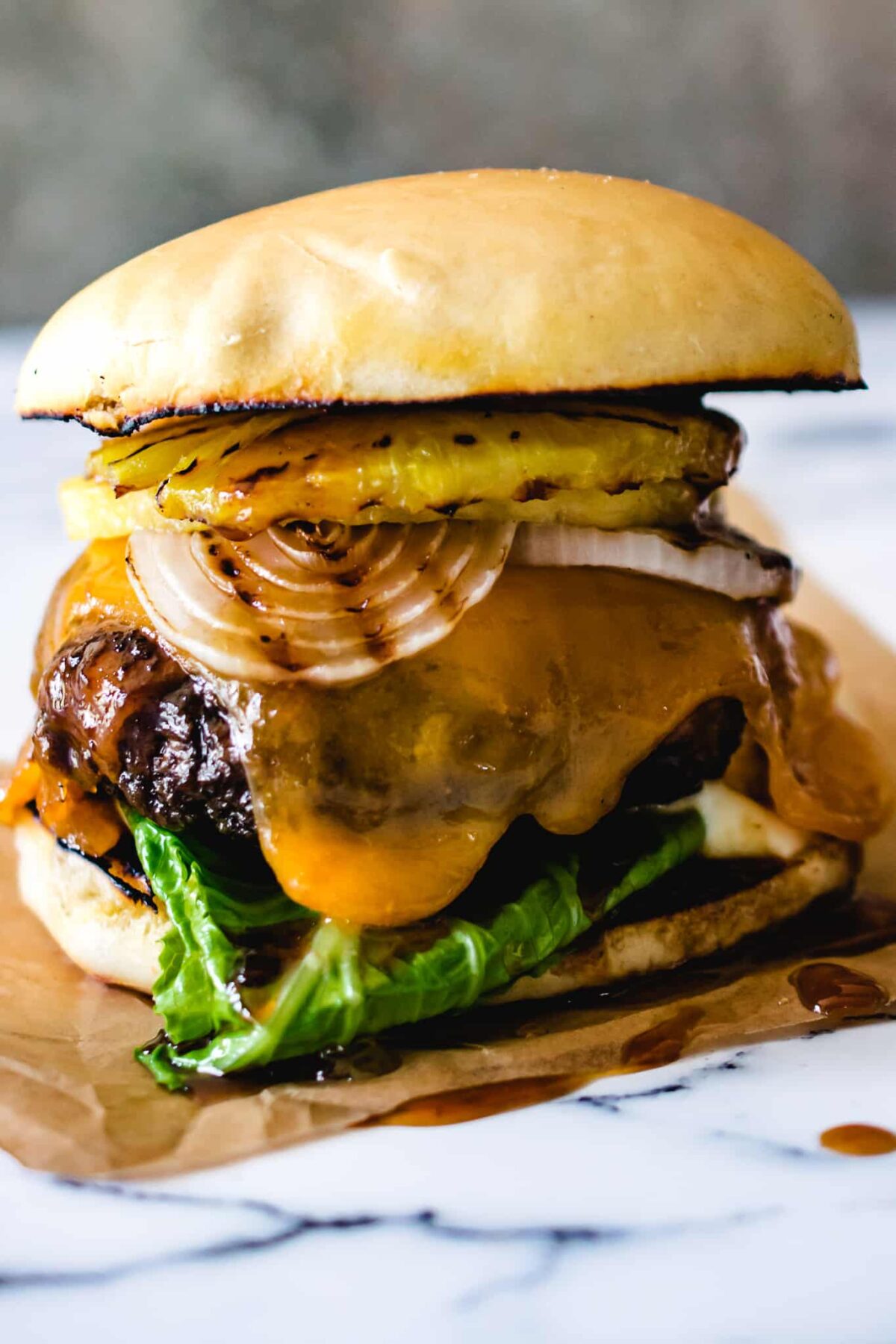 what is Aloha burger?
Aloha burger describes a type of burger that is typically basted with a thick, sweet and savory basting sauce and topped with a grilled pineapple along with they usual fixing's.
This recipe makes the sauce completely from scratch, blending real pineapple right into the basting sauce for even more, sloppy saucy flavor. The pineapple ring gets a light kiss from the grill, just enough to leave a char mark or two, and the Hawaiian style sweet bun is toasted to the end of it's life before being slathered with a kicked up mayo that stacks perfectly on top of melted cheese, lettuce, tomato and onion.
It's basically paradise on a burger bun. 
how to make the Aloha burger sauce
In a good blender or food processor puree the ingredients together. Use about a half cup of pineapple, fresh or canned rings. (If you choose canned, just reserve half the rings for the grill and also include the pineapple juice from the can into the puree.) Add two cloves of garlic (or two teaspoons minced garlic), molasses, rice wine vinegar, soy sauce, brown sugar, ginger and onion powder.  A few tablespoons of Hoisin sauce is optional and adds a little extra punch of flavor and richness, but is not required. 
Blend these ingredients together until smooth and thick. This sauce can be made in advance and stored in an airtight jar in the fridge for up to one week. Just be sure to discard any unused portion, if you have used a brush that has been in contact with raw meat and dipped back into the sauce during basting. To avoid having to throw out unused sauce, pour a portion into a small bowl that can be used with the basting brush and add more sauce as needed.
Brush prepared sauce onto burgers as soon as the patties hit the grill, and continue to do so as they cook, every couple of minutes for the sauciest, most flavorful burger. Flip and repeat, basting the other side just the same as the first. Cook until internal temp reaches desired done-ness (Fahrenheit):
Medium Rare: 135-140 degrees (good amount of pink); 4 minutes per side
Medium: 140-145 degrees (some pink); 5 minutes per side
Medium Well: 150-155 degrees (very slight pink); 6 minutes per side
Well Done: 160 degrees (no pink); 7+ minutes per side
See Burger Doneness Chart referenced from Delish for more info.
how to make the spicy mayo
The spicy mayo for the Aloha burgers, is not a make-or break item. But if you like a spicy kick, it's really easy to create this spicy mayo by combining equal parts regular mayonnaise (click for easy, homemade 2 minute mayo recipe) and Sriracha. Easy, right?
serve on a Hawaiian roll
The bun should be one of those sweet, doughy, delicious Hawaiian hamburger buns, like King's Hawaiian brand.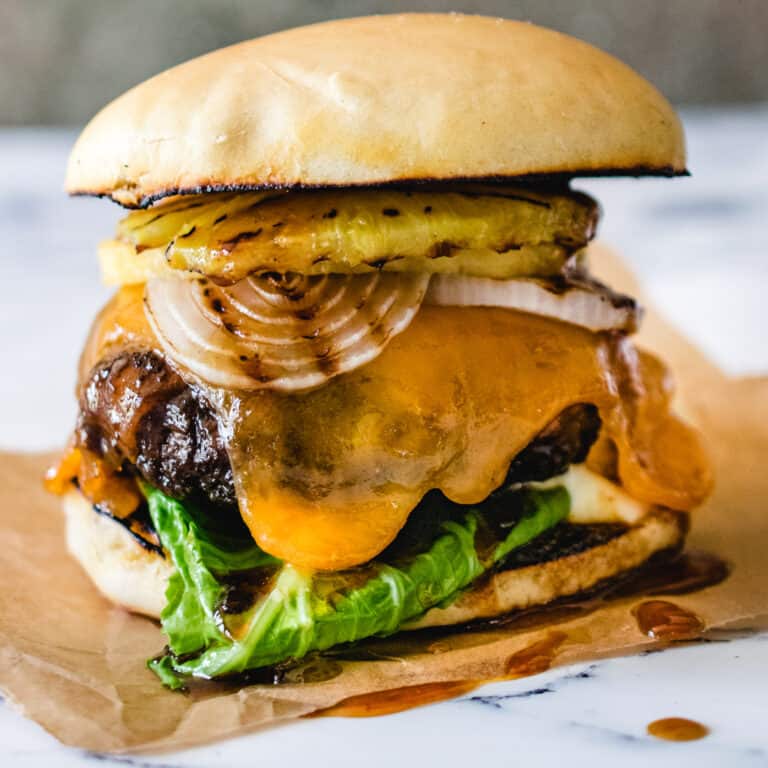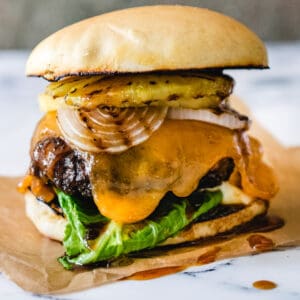 Aloha burger
Grilled beef burgers with a saucy, teriyaki pineapple basting sauce, topped with melted cheddar, grilled pineapple, and a spicy mayo; piled onto a Hawaiian bun with lettuce, tomato and onion. 
Print
Pin
Rate
Ingredients
1 ½

lbs.

ground beef

1

cup

pineapple

fresh or canned

2

tsp

minced garlic

about 2 cloves

⅛

cup

molasses

1

tsp

rice wine vinegar

⅓

cup

soy sauce

⅓

cup

brown sugar

1

tsp

ground ginger

½

tsp

onion powder

ground black pepper to taste

3

tablespoons

Hoisin sauce

optional

For Serving

6

Hawaiian hamburger buns

¼

cup

mayonnaise

2

tsps

sriracha sauce

optional, for kick

6

pineapple rings for topping

6

slices

cheddar cheese

for topping

lettuce

tomato and onion
Instructions
In a good blender or food processor combine pineapple, garlic, molasses, rice wine vinegar, soy sauce, brown sugar, ginger, onion powder, pepper and Hoisin sauce until smooth. (Store covered, in fridge until ready to use.)

Form completely thawed beef into 6 equal patties. Salt and pepper lightly.

On a hot grill, or cast iron skillet (wait until fully heated) cook patties on one side for 5-7 minutes, basting 2-3 times with sauce before flipping over and cooking on the other side and basting again 2-3 times. 

Remove patties to a plate and immediately top with cheese so that it melts. 

Lay down additional pineapple rings for just a minute per side to get a little char. 

Toast buns until edges are dark brown. 

Combine mayo and sriracha (for spicy mayo).

Serve buns with mayo, basted burger topped with melted cheese, grilled pineapple ring, and lettuce, tomato and onion.
Notes
Refer to post chart for burger temperature chart for doneness. 
If using canned pineapple rings, reserve some rings for grilling, and use the rest plus the juice in the Aloha basting sauce.
Store any previously made sauce in the fridge up to one week (it can be made in advance).
Make sure to separate any sauce used with a basting brush that has come into contact with raw beef.
Nutrition
Calories:
769
kcal
|
Carbohydrates:
68
g
|
Protein:
36
g
|
Fat:
39
g
|
Saturated Fat:
16
g
|
Cholesterol:
120
mg
|
Sodium:
1629
mg
|
Potassium:
761
mg
|
Fiber:
3
g
|
Sugar:
40
g
|
Vitamin A:
258
IU
|
Vitamin C:
24
mg
|
Calcium:
312
mg
|
Iron:
6
mg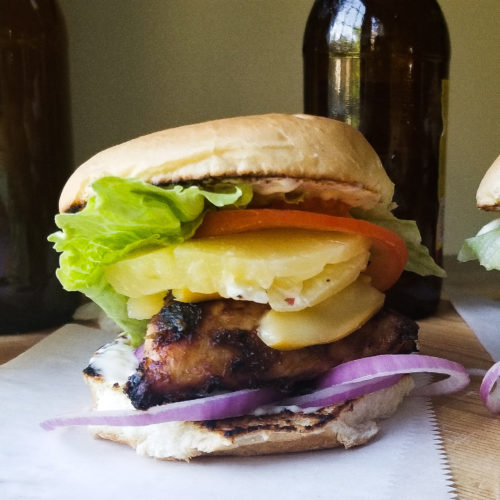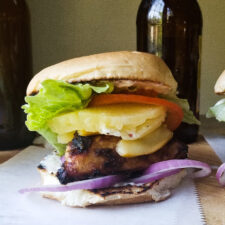 Aloha Chicken Burger
Juicy chicken breast, grilled and basted in a sweet and savory pineapple sauce, topped with grilled pineapple, and smoked gouda, on a bun.
Print
Pin
Rate
Ingredients
4

chicken breasts

4

freshly sliced pineapple rings

1

can pineapple chunks

2

cloves

garlic

½

shallot

1

tbsp

red wine vinegar

½

cup

soy sauce

pinch

black pepper
Additional Items
4

burger buns of choice

4

slices

smoked gouda

lettuce

tomato, red onion

mayonnaise
Instructions
Get grill prepared and ready to go.

Cut outer layer off of pineapple, and slice into ¼ inch thick slices, but do not remove the core until after you have grilled it. This will help keep it together on the grill.

Take thawed chicken breasts, and cut diagonally from thickest part towards the end, as to halve the chicken breast into thinner, burger-friendly portions. See picture. Salt and pepper both sides, and set aside in a shallow dish.

In a blender or food processor, add garlic, shallot, canned pineapple with juice, vinegar, soy sauce, and pepper, and blend until combined and smooth.

Pour sauce over chicken. Let sit for 30 minutes. Reserve remaining sauce for basting.

Grill chicken on a medium-low grill until internal temperature reaches 165 degrees. Baste every 5 minutes, turning. Top with cheese during last few minutes to melt.

Grill pineapple just until grill marks appear; when slightly cool, cut out the core with a knife.

Slice tomato, and onion thinly. Portion out lettuce. Spread mayo on top and bottom buns. Add onion onto bottom bun, top with chicken. Add tomato and lettuce. Serve!