These homemade gluten free graham crackers are so crispy because of the gluten free flour, so if you've tried countless failed graham cracker recipes, this one will make you happy. They are just like the real thing (only better), and are perfect for graham cracker crusts, smore's and dunking in milk!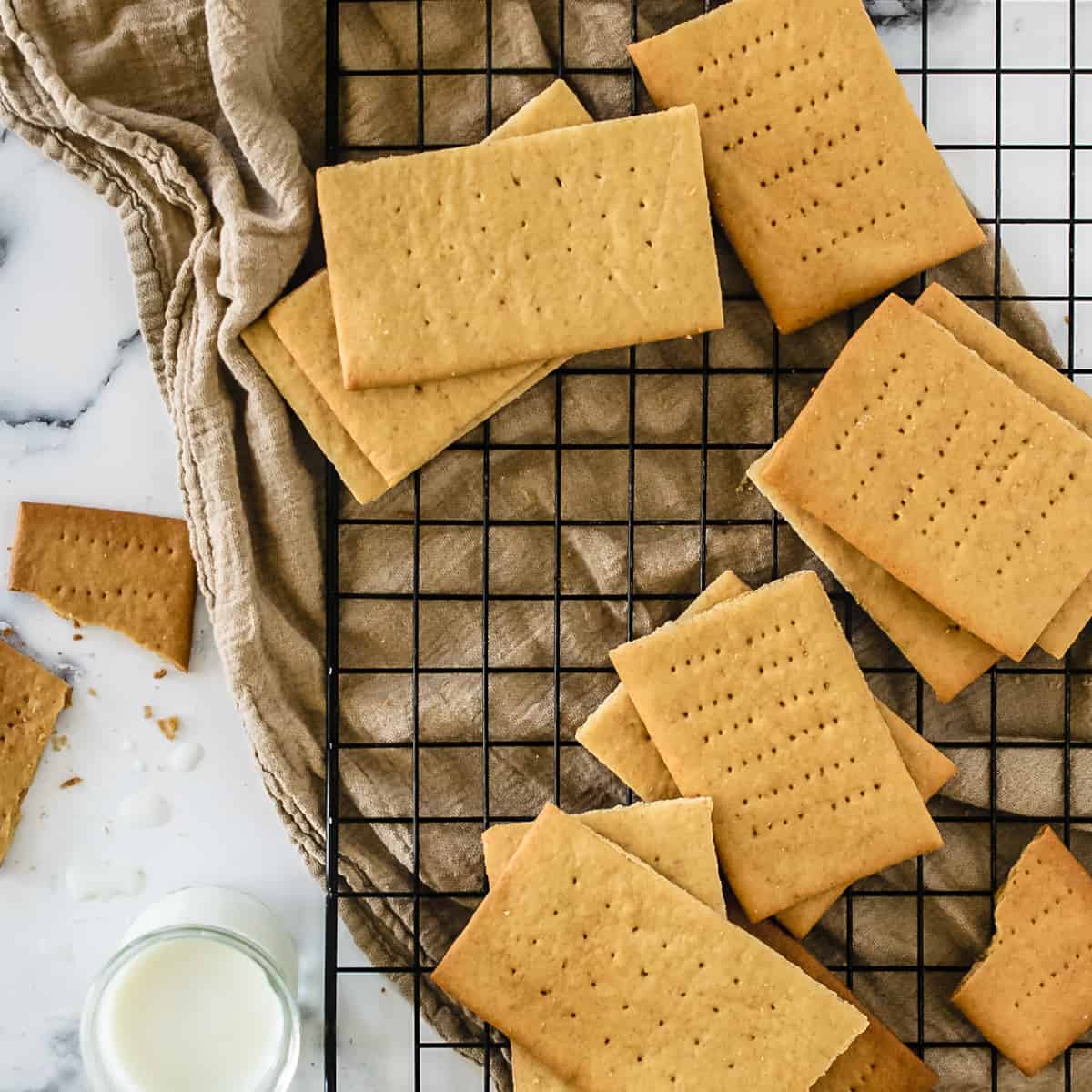 Why gluten free?
Whether you are gluten free or not, the gluten free flour is the necessary element to provide the light and airy crisp that all graham crackers should have, and that many other recipes lack.
It just so happens, because of the way the ingredients work together, that the best homemade graham crackers-- are gluten free graham crackers!
You can make the dough ahead of time and refrigerate until ready to use.
This recipe is a fun project for adults and kids to do together.
If you are just in need of gluten free graham cracker crumbs, like for a cheesecake crust, you don't even need to cut out nicely shaped rectangles or squares.
Ingredients needed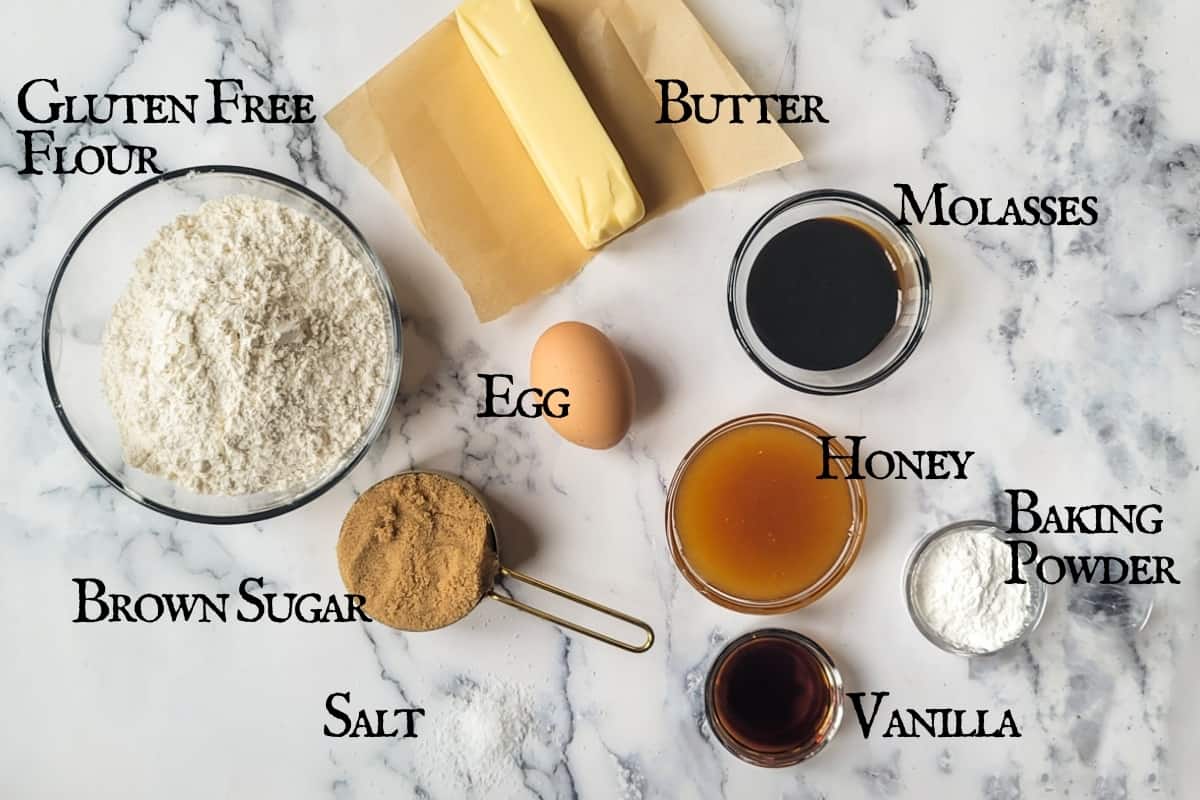 Choose an all-purpose gluten free flour mix like this one here, a similar blend of rice flour, tapioca starch and potato starches, or a homemade gluten free flour blend.
Use real butter here, don't try to use margarine or shortening, and allow it to soften at room temperature first.
Light or dark brown sugar are both fine.
Full flavor molasses is best, as this is one of the main flavors in regular or gluten free graham crackers.
Make the dough
Combine your dry ingredients in a large bowl using a wooden spoon, or in a stand mixer until evenly combined (photo 1). Add the remaining "wet" ingredients and combine until a sticky, thick dough has formed (photo 2).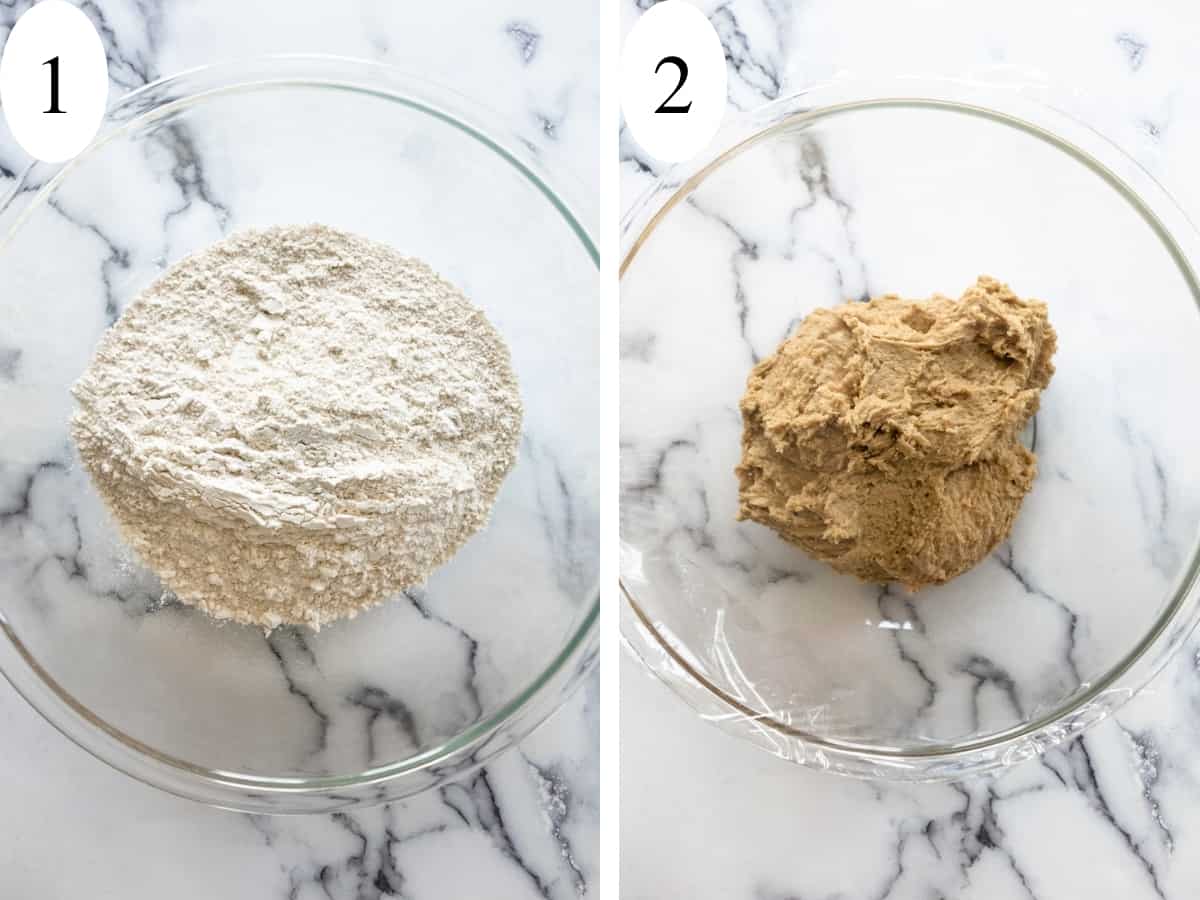 Chill the dough
It's very important that you chill the dough at this point for a minimum of one hour, covered. You can also let it chill overnight in the fridge.
Form the sheets
Once the dough has chilled, divide it into two portions. Work with one portion at a time, keeping the remainder in the fridge until you're ready to work with it.
Flatten each portion between two pieces of parchment paper (photo 3). Use a rolling pin to roll the dough into ⅛ inch thick sheets. (photo 4).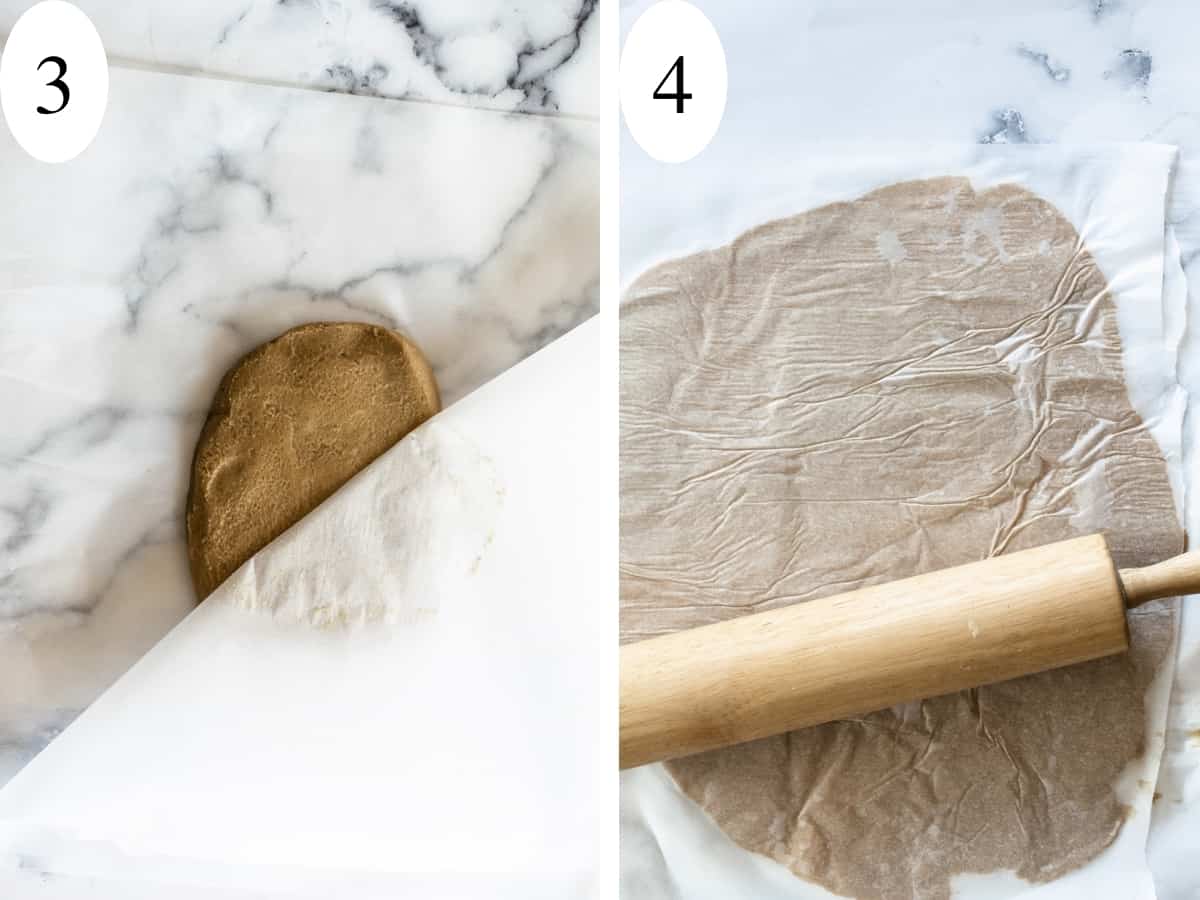 Peel off the top piece of parchment paper. Leave the sheet of graham cracker dough on the bottom piece parchment paper while you work.
Cutting the rectangles
Use a pizza cutting wheel, or a sharp knife to cut rectangles or squares, whichever you prefer. (Fun Fact: Technically, squares are a type of rectangle, but rectangles are not squares.)
You can eyeball it, and cut the crackers out free hand if you choose. As long as they fit on the baking sheet, you're good to go!
For precise measurements
If you want exact, uniform graham crackers, follow these measurements:
Trim the irregular edges from the sheets of dough to make one large 15x10-inch rectangle. In the large rectangle, cut 12 smaller rectangles, in two rows of six. They should be 2 ½ inches wide and 5 inches tall.
If desired, score each rectangle across the center. There, they can be broken in half once baked (resulting in two dozen graham cracker squares per sheet).
If your only use for the graham crackers, is for crumbs, just cut rough shapes out.
Use a toothpick or a fork to poke several holes into each cracker (photo 6). Do not skip this step. These holes are not just for looks. They are to allow extra air flow as the graham crackers bake, creating a light and airy "crisp".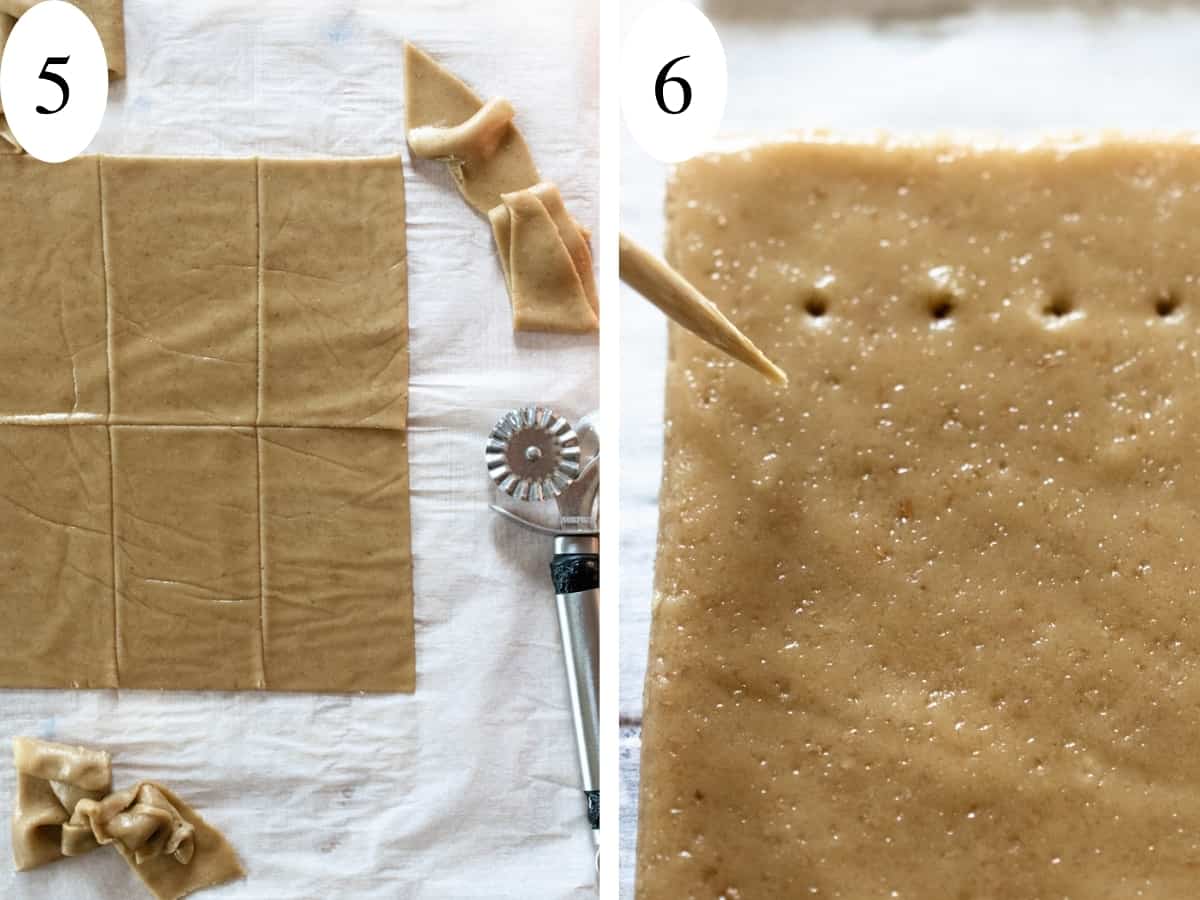 Keep the cut, hole-poked graham crackers on the bottom piece of parchment paper. In one motion, lift the paper with the crackers onto a baking sheet.
Bake the crackers until they are set and the edges are just beginning to toast. They will become crispier as they cool.
Wait until the crackers are completely cooled before breaking apart. They will break nicely at the lines where they are scored from being previously cut.
Tips and tricks
Use your baking sheet as a reference when rolling out the graham cracker dough. Aim for the length and width that will fit on the baking trays you will be using.
Cut and poke holes in the dough on the bottom piece of parchment paper. That way you can lift the entire sheet up and transfer the crackers to a baking tray.
Don't separate the unbaked crackers where the lines are cut; they'll bake together slightly, but then can be broken apart where they are scored, just like boxed graham crackers.
If baking multiple baking sheets at a time, rotate them halfway through the cooking time. This allows for more even baking and crisping of the graham crackers.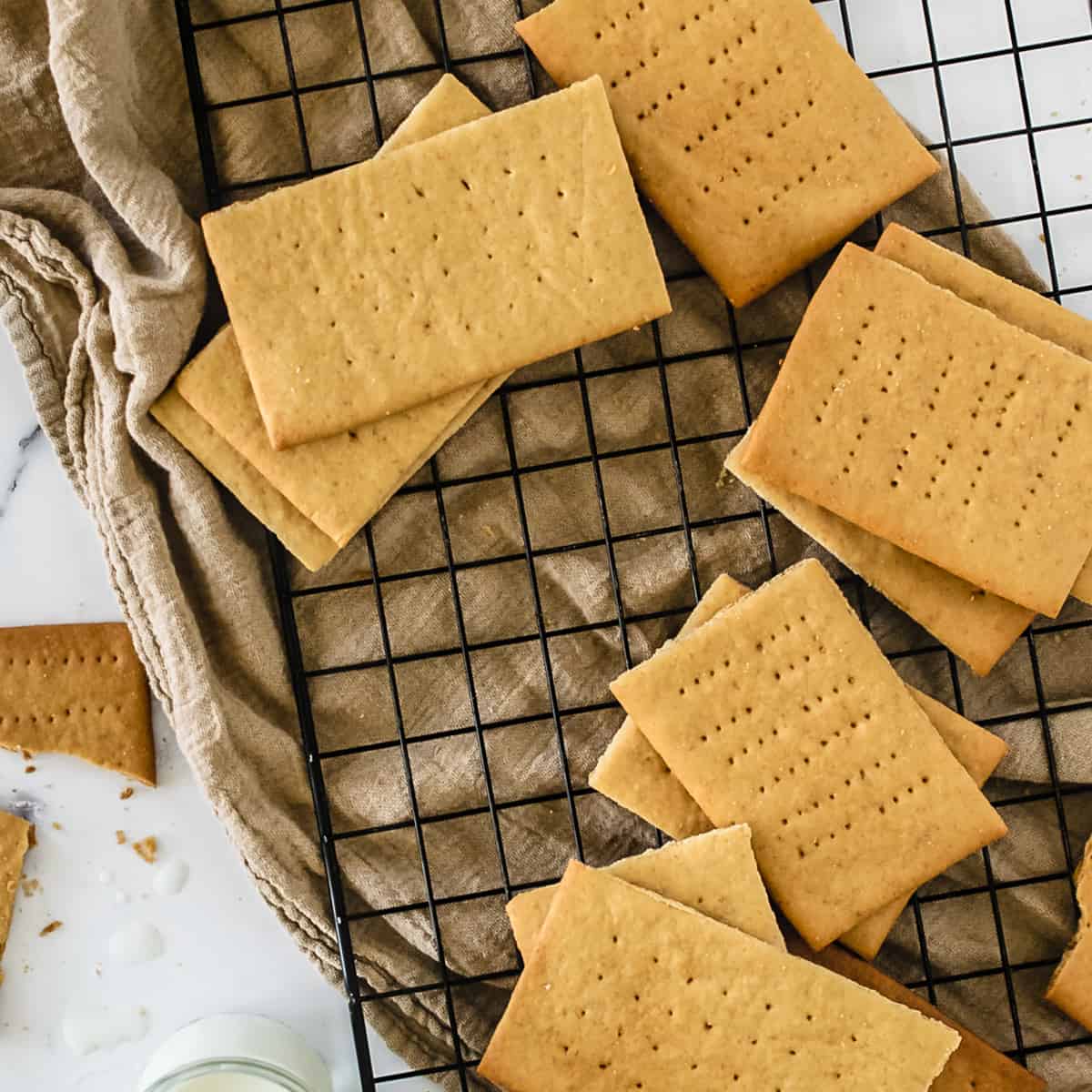 Ditch the boxed version, and try these other DIY homemade snacks instead:
Homemade Ham and Cheese Hot Pockets
Homemade Chef Boyardee Spaghettio's
DIY Frozen Pizzas (personal pan pizzas)
Homemade Poptarts (3 variations in 1 recipe- Chocolate, Cinnamon Brown Sugar, and Strawberry!)
Do you plan to make these, or maybe you already did? Leave me a comment with your feedback, or just a quick star rating in the recipe card below (1-5 stars).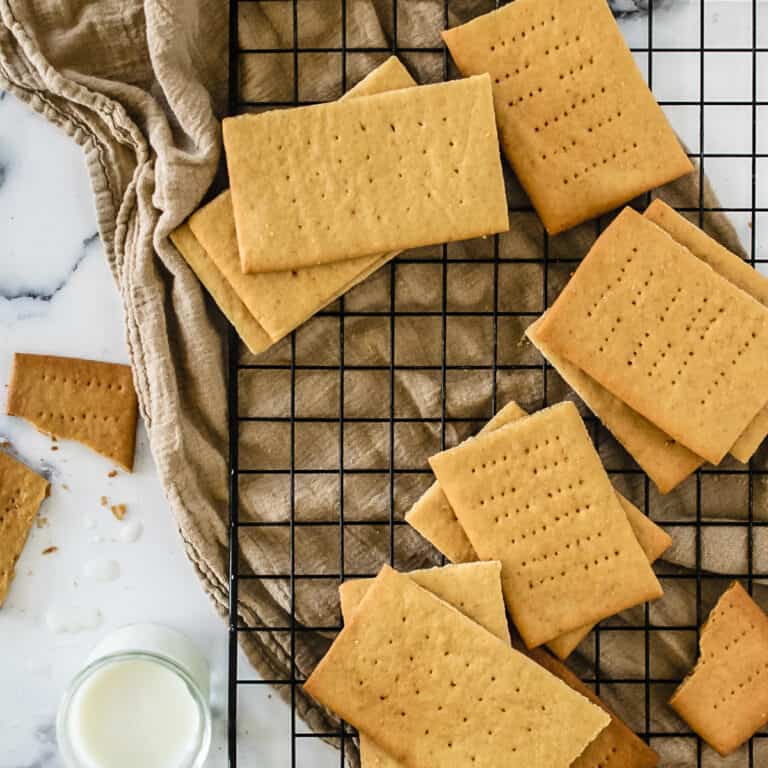 Gluten Free Graham Crackers
Light and airy, crispy homemade gluten free graham crackers with a touch of honey and rich molasses.
Print
Pin
Rate
Equipment
parchment paper

baking sheet

Pizza Cutter or sharp knife

Oven
Ingredients
2

cups

all purpose gluten free flour

⅔

cup

brown sugar

1

teaspoon

salt

1

teaspoon

baking powder

1

large

egg

¼

cup

butter

(½ stick)

1

tablespoon

molasses

2

tablespoon

honey

1

teaspoon

vanilla
Instructions
combine flour, sugar, salt and baking powder

Add egg, butter, molasses, honey and vanilla until dough is formed

Wrap in plastic wrap and chill for at least one hour

Preheat oven to 325 degrees

Divide dough into 2 or more portions. Roll the dough out between two pieces of parchment paper until it reaches a uniform thickness of ⅛th inch. (Do this directly on parchment paper.)

Use a pizza cutter or non-serrated knife to cut rectangles and trim off excess dough. (Directly on parchment paper.) Save excess dough to incorporate into subsequent rolling.

Transfer rectangles directly to baking sheet by lifting the parchment paper they are on, leaving them in place.

Pierce holes with a fork or toothpick.

Bake for 8-11 minutes until set.

Once cooled, re-cut the scored rectangles to release them into individual crackers.
Notes
Do the rolling and cutting directly on the parchment paper. Once you've removed the excess dough, lift the entire sheet of cut graham crackers to the baking sheet and leave them stuck together. They can be cut or broken where they are "scored" once they've baked and cooled. 
If baking multiple baking trays at a time, rotate them halfway through the cooking time.
Wait until completely cooled to break apart, graham crackers will crisp up fully when cooled. 
Roll the dough out using the baking tray as a reference and aim for a similar width and length with the dough sheet. 
Nutrition
Serving:
4
squares
|
Calories:
35
kcal
|
Carbohydrates:
8
g
|
Protein:
1
g
|
Fat:
1
g
|
Saturated Fat:
1
g
|
Cholesterol:
4
mg
|
Sodium:
62
mg
|
Potassium:
13
mg
|
Fiber:
1
g
|
Sugar:
4
g
|
Vitamin A:
8
IU
|
Calcium:
14
mg
|
Iron:
1
mg