This meatball recipe is a new favorite of my families. The sauce is extra rich because it has a little red, along with rosemary, cream, some shallot... wine and cream are some of my favorite flavors to cook into a sauce.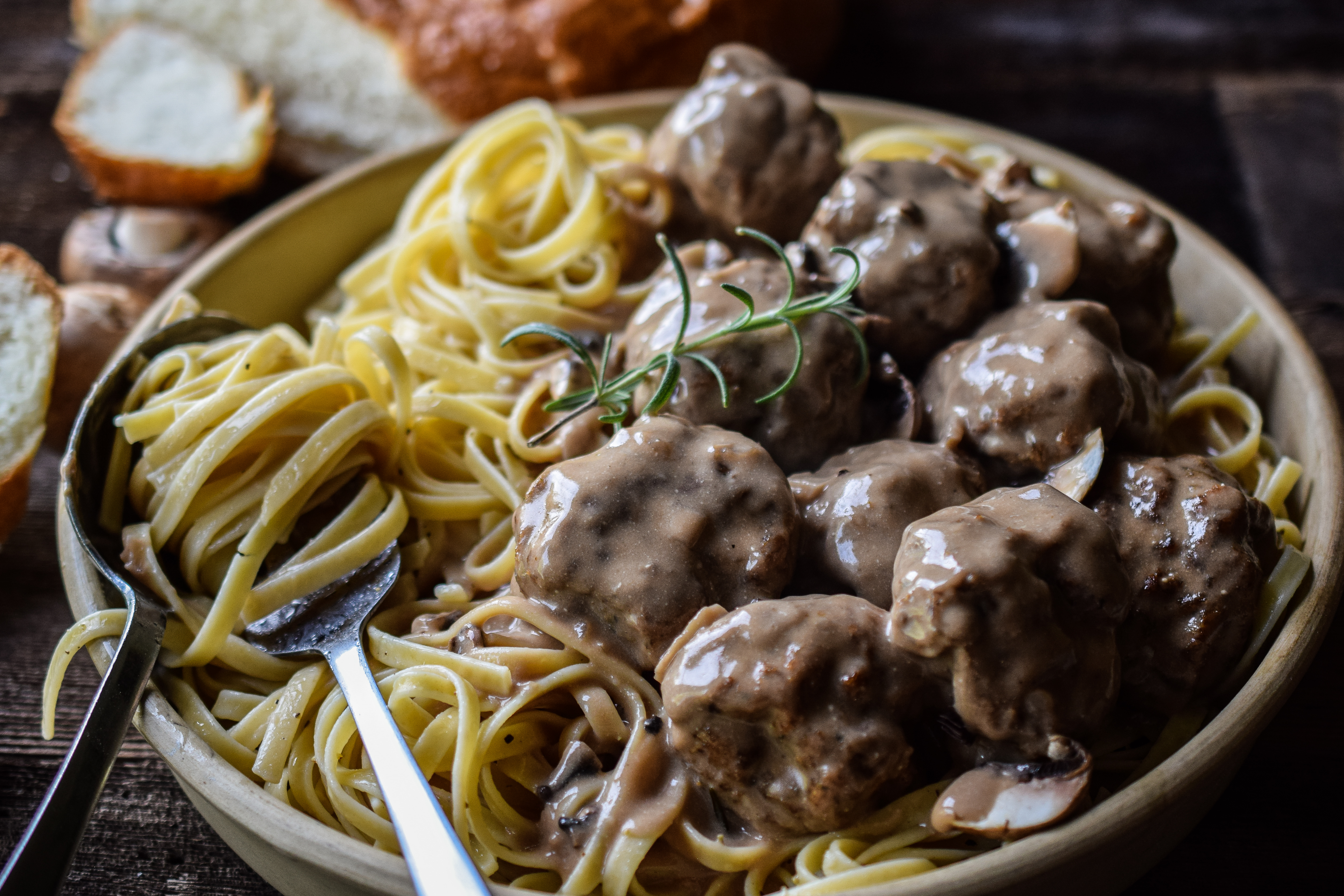 These meatballs are everything. They have herbs and cheese in them, and the consistency is exactly what a meatball should be. These are so tender, but they don't fall apart. They are so moist, and full of flavor, that they are good just on their own. Also, they cook up in the oven on a sheet pan; I find that I get a more uniform shape and that they cook more evenly.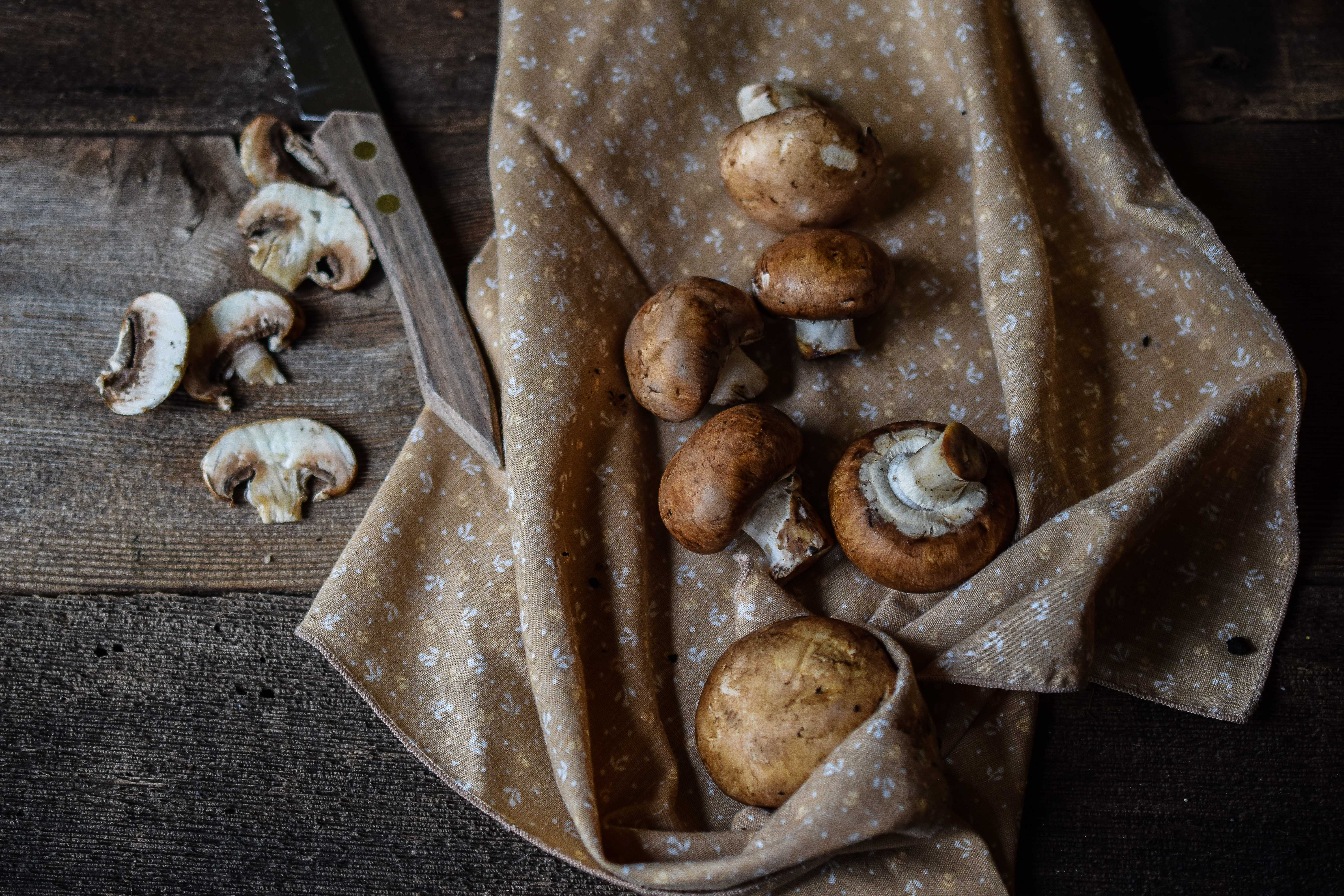 Don't ever wash your mushrooms. They get really slimy and soggy very easily that way. Instead, all you need to do is take a dry, clean towel, and just wipe them and rub off any dirt. They will then get sautéed in the pan with the shallot, rosemary spring and garlic and butter, just until everything is caramelized and delicious.
And the sauce. The sauce, the sauce. The. Sauce. This is the best sauce in the world. The flavor of the rosemary, garlic, butter and mushrooms that have caramelized on the pan, combine with red wine, beef broth and cream. It's nothing short of magical. It's a magic mushroom sauce!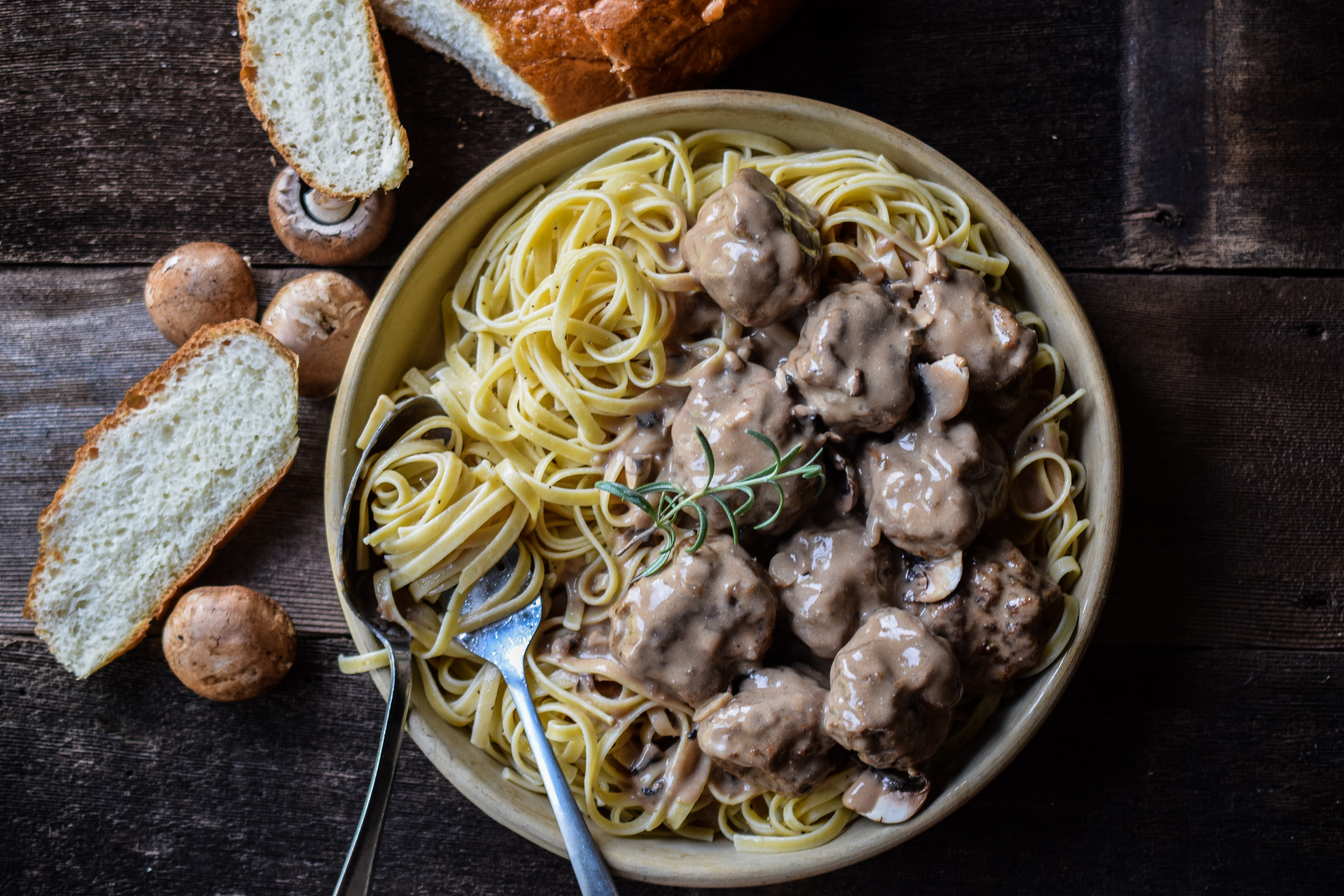 The process goes like this. First get your salted pasta water coming up to a boil, and cook the pasta to al dente, drain and toss with butter and coarse black pepper. During this time, you'll mix up your meatballs. If you use a mixer, you run the risk of getting the meat too compacted and that can result in a very dense texture, so if you do choose to use a mixer, combine all the ingredients except the meat, and then add the meat and blend only enough to get things incorporated. Or, you can avoid the risk all together and use your hands. You are more likely to get a springy, juicy meatball this way.
Once you have your meat mixed up, form 2 ½ inch balls. Yes, this is big. I think the standard size is 1 ½ inches. This should yield you about one dozen large meatballs.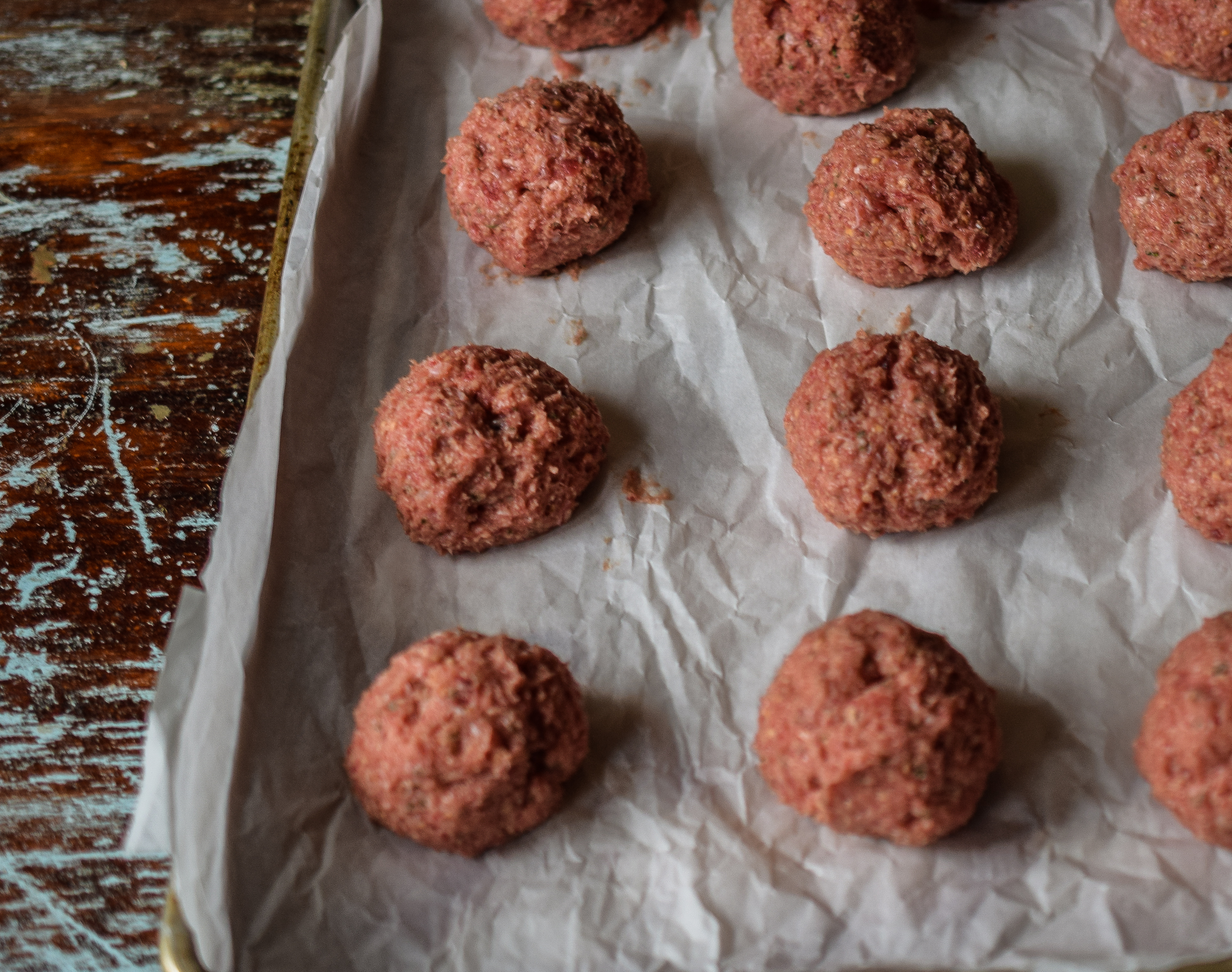 Lining a baking sheet with parchment paper prevents anything from sticking to the pan, and it also allows for a snappy cleanup. It's not a must-do, but if you don't use it, just be aware that you may need to remove the meatballs with a spatula, if there is any sticking. That way they won't break apart when you try to pull them off of the pan.
While the pasta and meatballs are cooking, make the sauce. In a skillet, saute` the butter, shallot, garlic, cleaned mushrooms and rosemary sprigs until caramelized. I like to use whole rosemary sprigs, only because I like to keep the sauce smooth. The flavor still gets in the butter, and on the pan and the sauce. The rosemary sprigs can be discarded right before serving.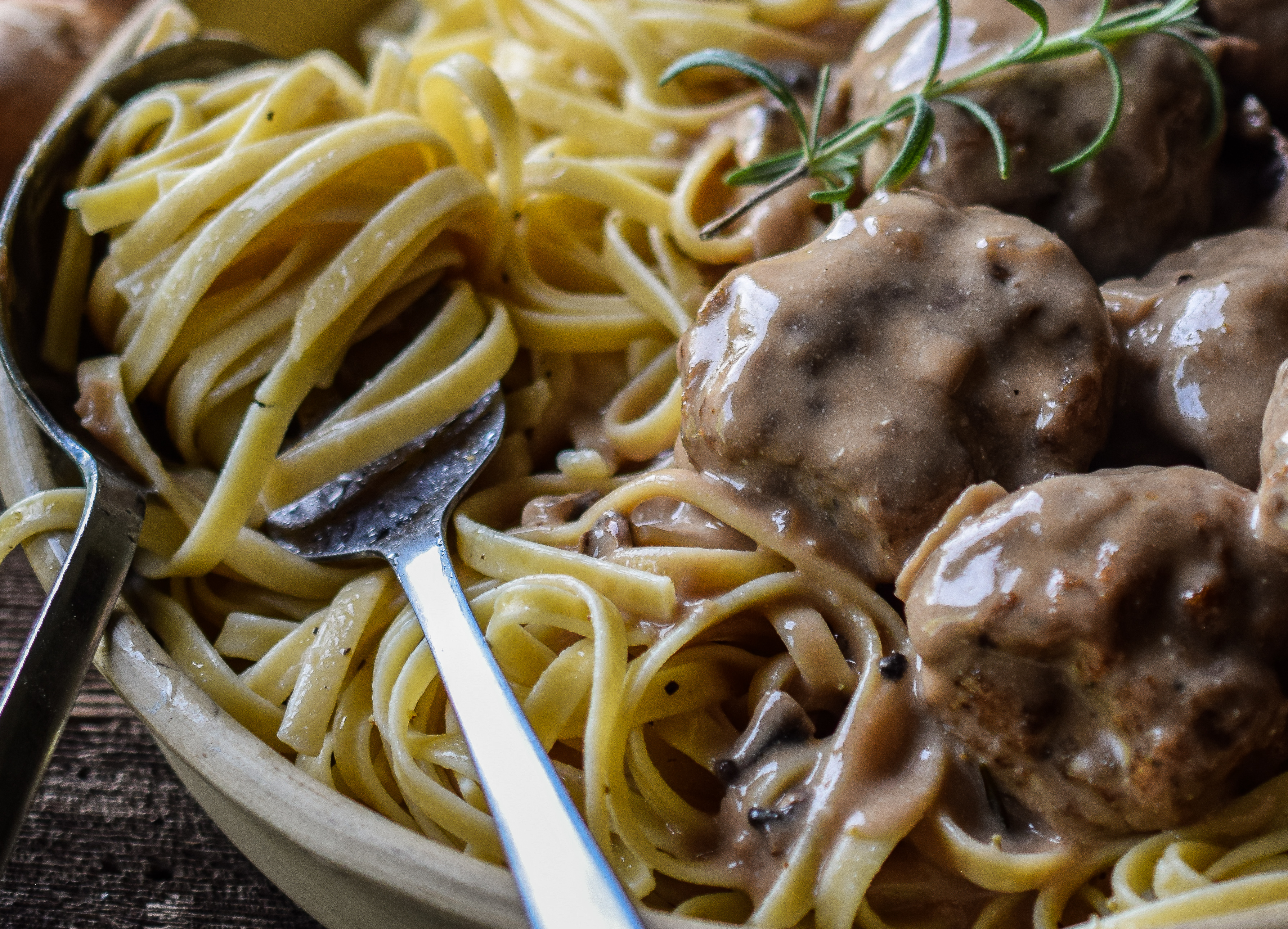 When everything looks caramelized in the pan, deglaze with the red wine. That is where you will pour the wine into the hot pan, and it immediately sizzles and brings up everything from the bottom of the pan. It is also, by the way, one of my favorite sounds. Use your spatula to make sure all the bits are no longer stuck to the bottom. Add the beef broth, and keep it on the same medium high heat that you have been using to saute. This way, things will reduce slightly, and flavors will become more pronounced. Give this about 10 minutes to happen.
Reduce the heat to low. Now is the time to add the cornstarch and cream, and simmer on low until thickened. If you aren't getting any simmering action though, you're too low. You need a little simmer, otherwise it won't activate the cornstarch to thicken up.
Once you are thickened, add your meatballs to the sauce, toss to coat, and remove from heat.
Serve them on buttered, peppered fettuccine. Delicious.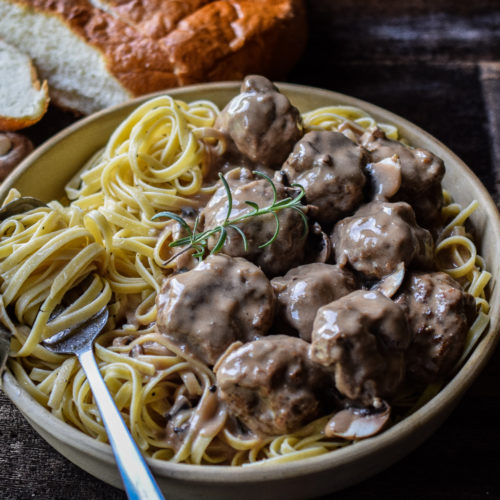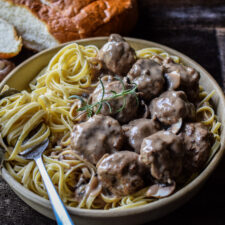 Meatballs in Mushroom Sauce
Perfectly tender meatballs with herbs and pecorino cheese baked in, in a creamy red wine and mushroom sauce; served over buttery peppery fettuccine nests.
Print
Pin
Rate
Ingredients
Meatballs
1 ½

lb

ground beef

1

large egg

⅓

cup

pecorino cheese

grated, can sub parmesan

1

tsp

onion powder

1

tsp

rosemary

crushed, or finely chopped

½

tsp

salt

pinch

pepper
Sauce
3

tbsp

butter

1 ½

cups

slice cremini or wild mushrooms

1

shallot

minced

2

cloves

garlic

minced

2

large sprigs rosemary

⅓

cup

dry red wine

3

cups

beef broth

2

tbsp

corn starch

dissolved in bit of water to make slurry

½

cup

heavy cream

salt and pepper to taste
To Serve
16

oz

fettuccine pasta

broken in half

4

tbsp

butter

1

tbsp

coarse black pepper
Instructions
Preheat oven to 400 degrees

Combine meatball ingredients, and roll into 2 inch balls. Arrange on a baking sheet and bake 25 minutes, until cooked through.

Cook pasta according to package directions, drain. Toss with butter, and coarse black pepper.

In a deep skillet, saute` butter, garlic, shallot, mushrooms, and whole rosemary sprigs on medium high heat until caramelized.

Add red wine and beef broth, and simmer for 15 minutes. Reduce heat to medium low,

Whisk in cornstarch slurry and cream; keep on a low simmer until thickened, about 5 minutes.

Add meatballs to the sauce, turn off the heat.

Serve meatballs and sauce on buttered, peppered fettuccine pasta.