Red Lobster is known for its delicious biscuits, but making them at home can feel like a scary task. Are they going to turn out half as good as those dang things are in the restaurant? It can be something that will keep you away from trying this recipe, but don't let it, because with the right ingredients and a bit of patience, you can create your own version of the iconic Red Lobster biscuit.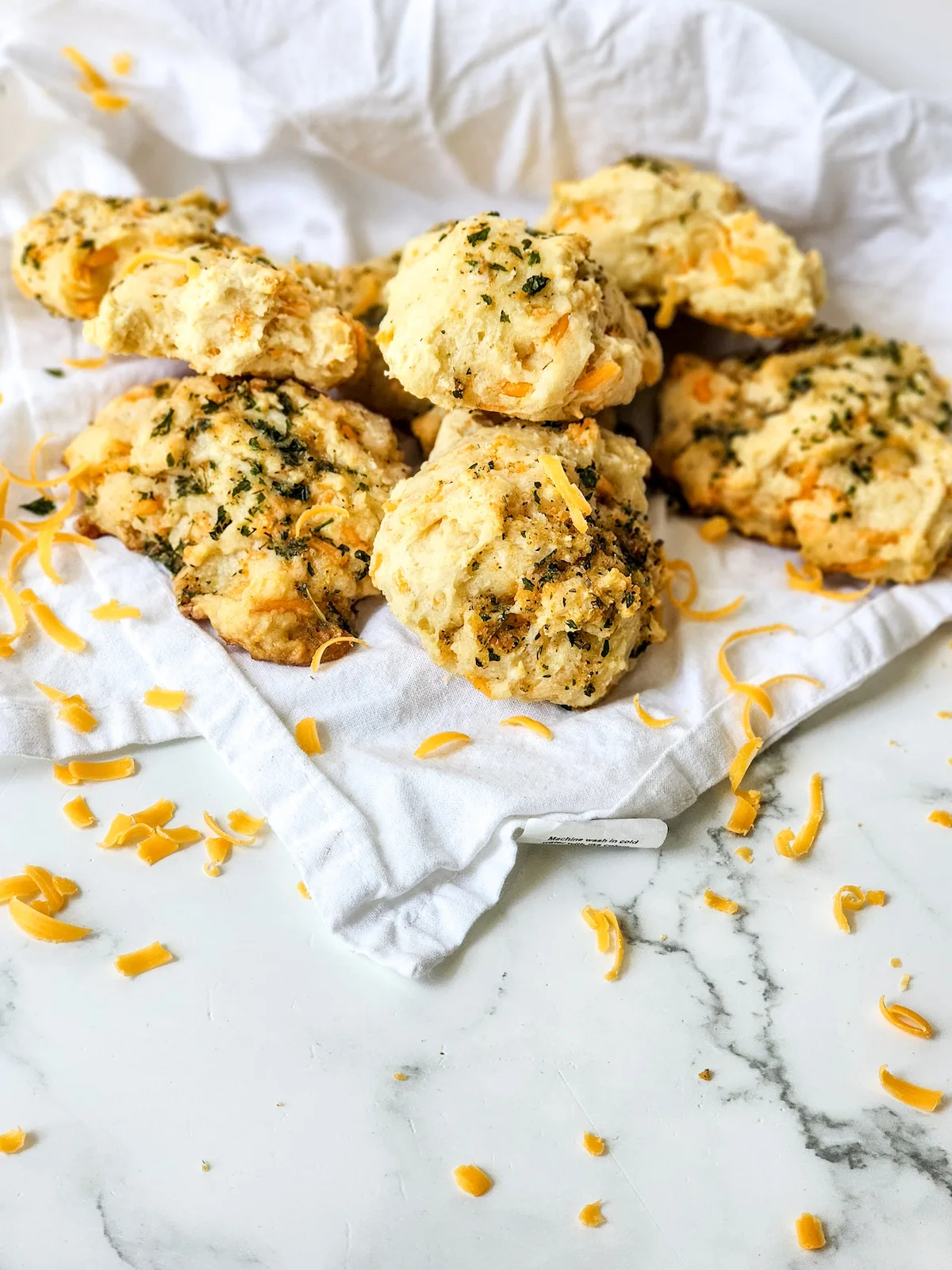 In this article, we'll explore how to make your own homemade Red Lobster biscuits using just a few simple ingredients and some basic kitchen tools. With a few easy steps, you'll soon have your very own batch of delicious Red Lobster biscuits that surely give the restaurant a rival for their money!
Are Red Lobster Cheddar Bay Biscuits drop biscuits?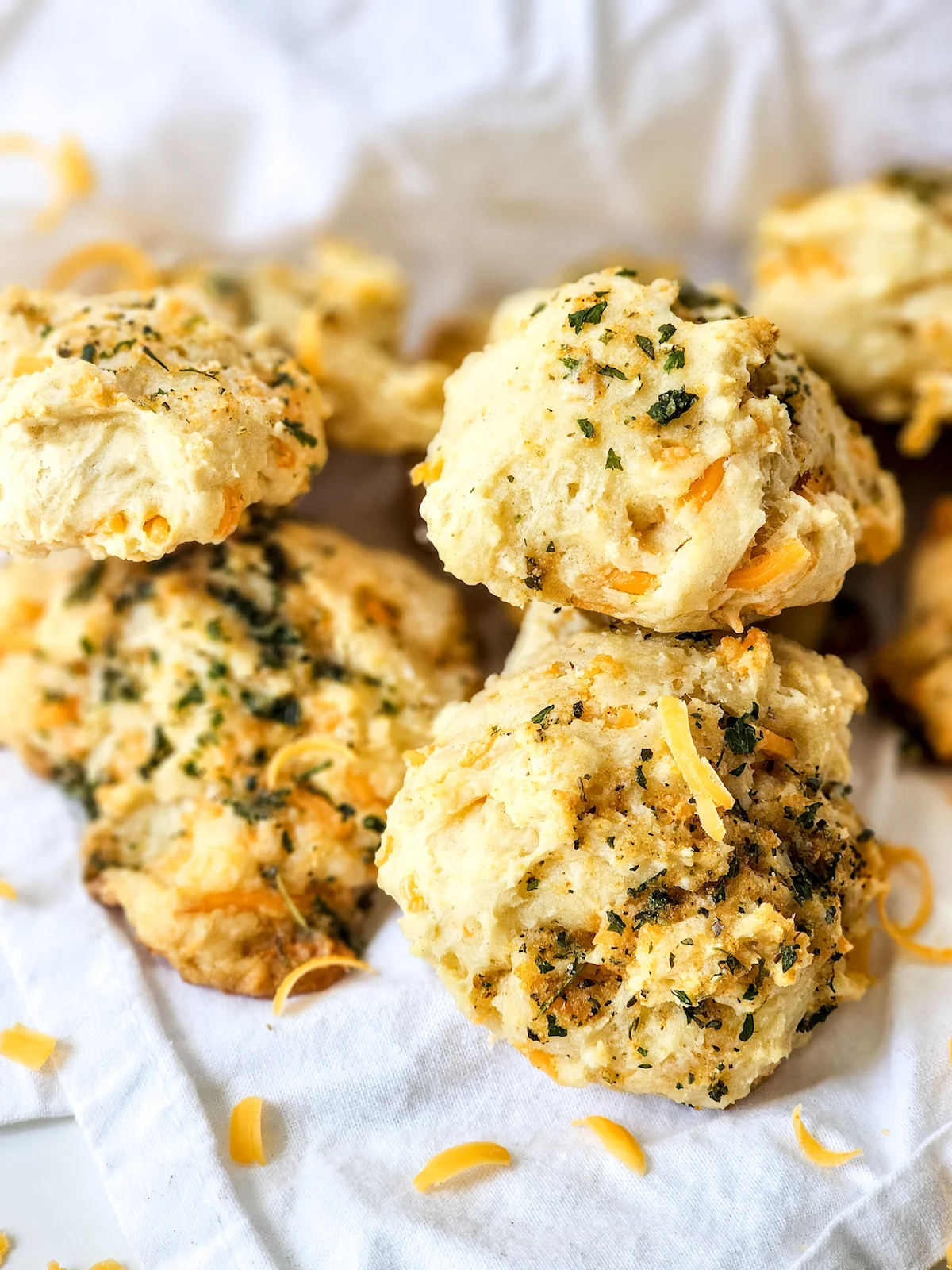 Yes, Red Lobster Cheddar Bay Biscuits are drop biscuits. The ingredients are simple and straightforward.
A drop biscuit is a type of biscuit dough that is dropped from a spoon or scoop onto a baking sheet, as opposed to traditional biscuits which require being rolled out and cut into shapes. This makes them much easier and quicker to prepare.
Drop biscuits are known for their crisp edges and soft centers, making them the perfect accompaniment to many dishes. Red Lobster Cheddar Bay Biscuits are an example of an especially popular drop biscuit recipe.
They combine buttery, garlic flavors with sharp cheddar cheese for a truly delicious treat.
Why You Need These Biscuits
​Save some money by making your biscuits at home
These warm biscuits go with so many homemade recipes
Each bite of these cheesy biscuits is flavorful and mouthwatering
Ingredients Needed
Get all the info on these ingredients and the full recipe below in the recipe card.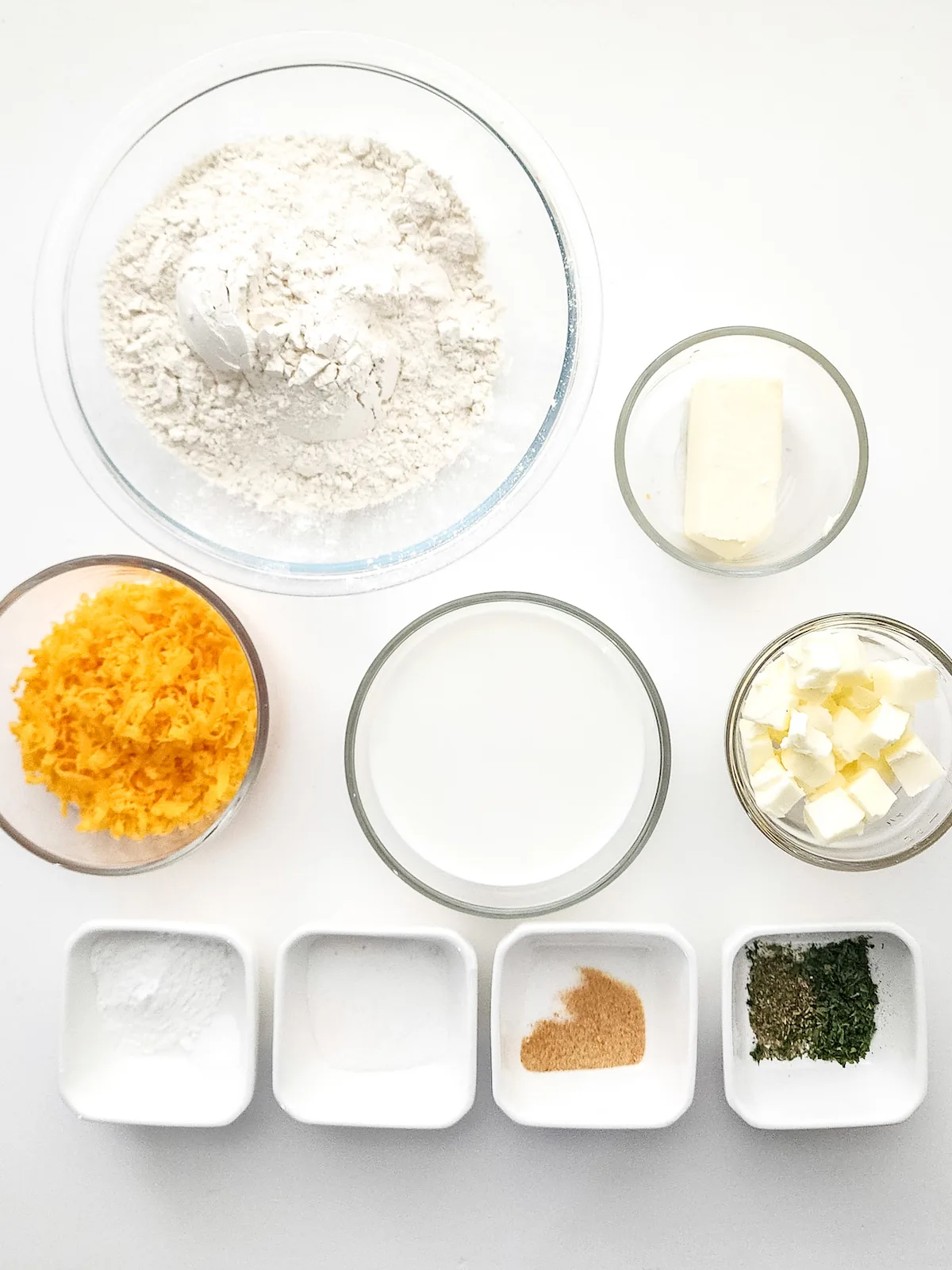 Biscuit Dough
all purpose flour
baking powder
baking soda
white granulated sugar
garlic powder
salt
cold butter, cubed
milk
sharp cheddar
Garlic Butter
salted butter
dried parsley
garlic powder
Italian seasoning
How to Make Red Lobster Biscuits
To begin, preheat the oven to 400 degrees Fahrenheit. Next, prepare a baking sheet by covering it with parchment paper.
Combine flour, baking powder, baking soda, sugar, garlic powder, and salt in a large bowl. Whisk the ingredients together until well blended.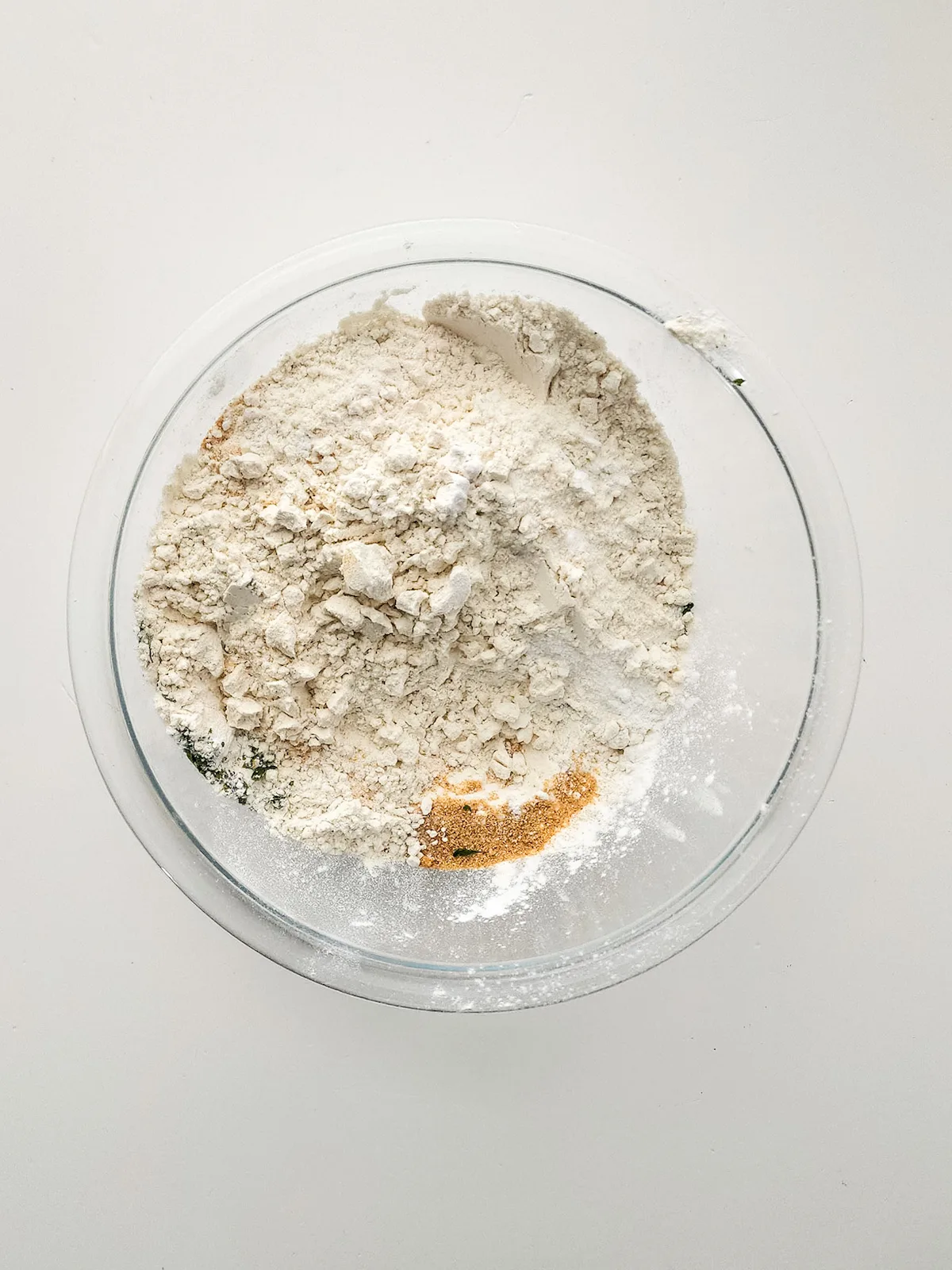 Add the cubed cold butter and use a fork or pastry cutter to blend it with the dry ingredients until it reaches pea-sized consistency.
Pour the milk into the bowl and carefully fold it together with a rubber spatula until a thick, sticky dough forms.
Add grated cheddar cheese and gently fold it into the mixture, ensuring the cheese is evenly dispersed throughout the dough.
Scoop large tablespoon-sized dollops of dough and transfer them to the prepared baking sheet that's been covered with parchment paper. The beauty of Red Lobster's buttery biscuits lies in their slightly imperfect edges, so don't worry about making each one perfectly round.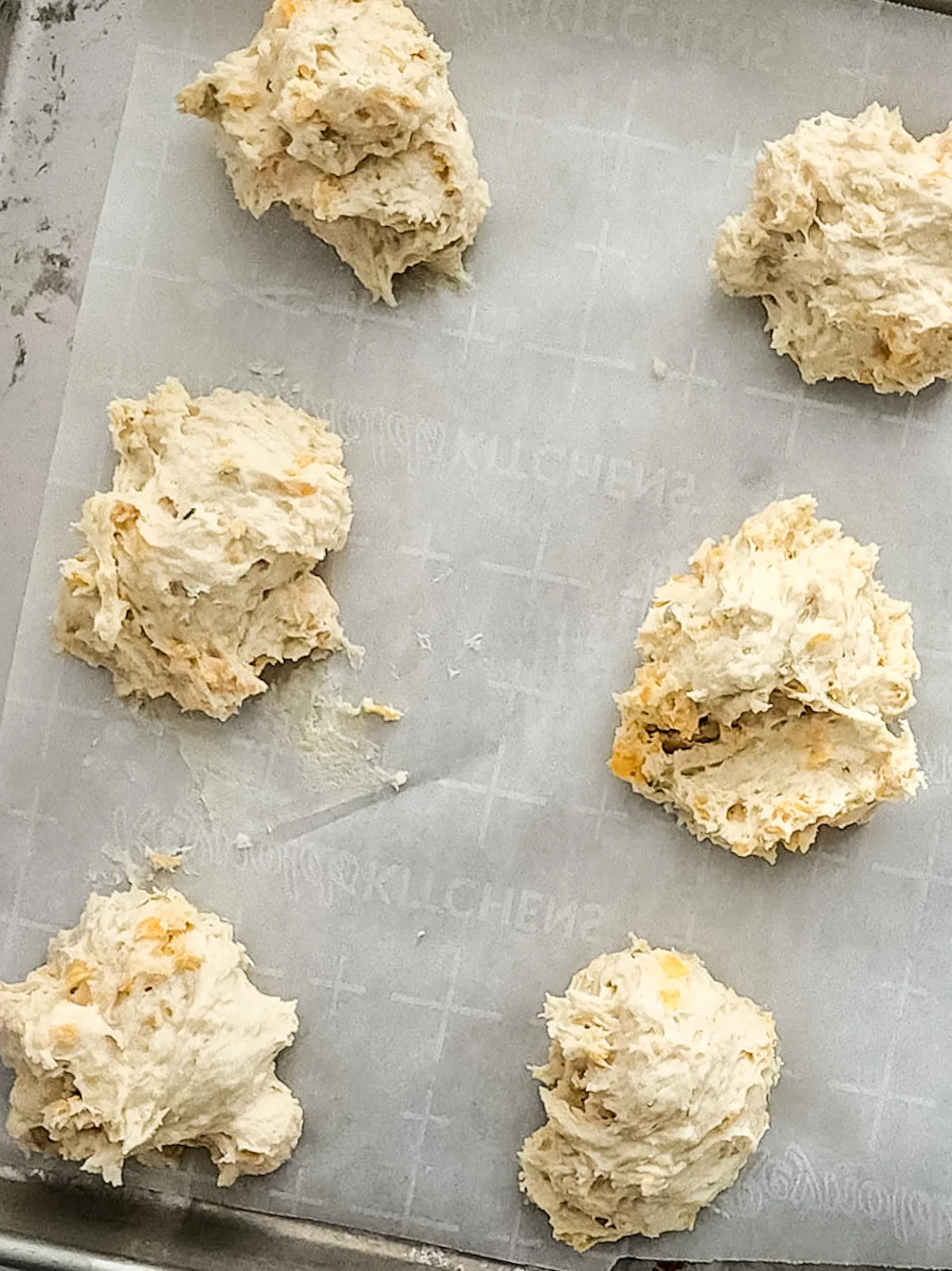 Bake the copycat Red Lobster biscuits in the oven for 17-20 minutes or until their tops take on a golden hue.
5 minutes prior to completion, start preparing the garlic butter for the biscuits.
Combine melted butter with parsley, garlic powder, and Italian seasoning. Whisk until fully mixed.
Upon removing the homemade cheddar biscuits from the oven, generously coat them with the savory garlic butter sauce.
Enjoy while they are still warm and fresh out of the oven!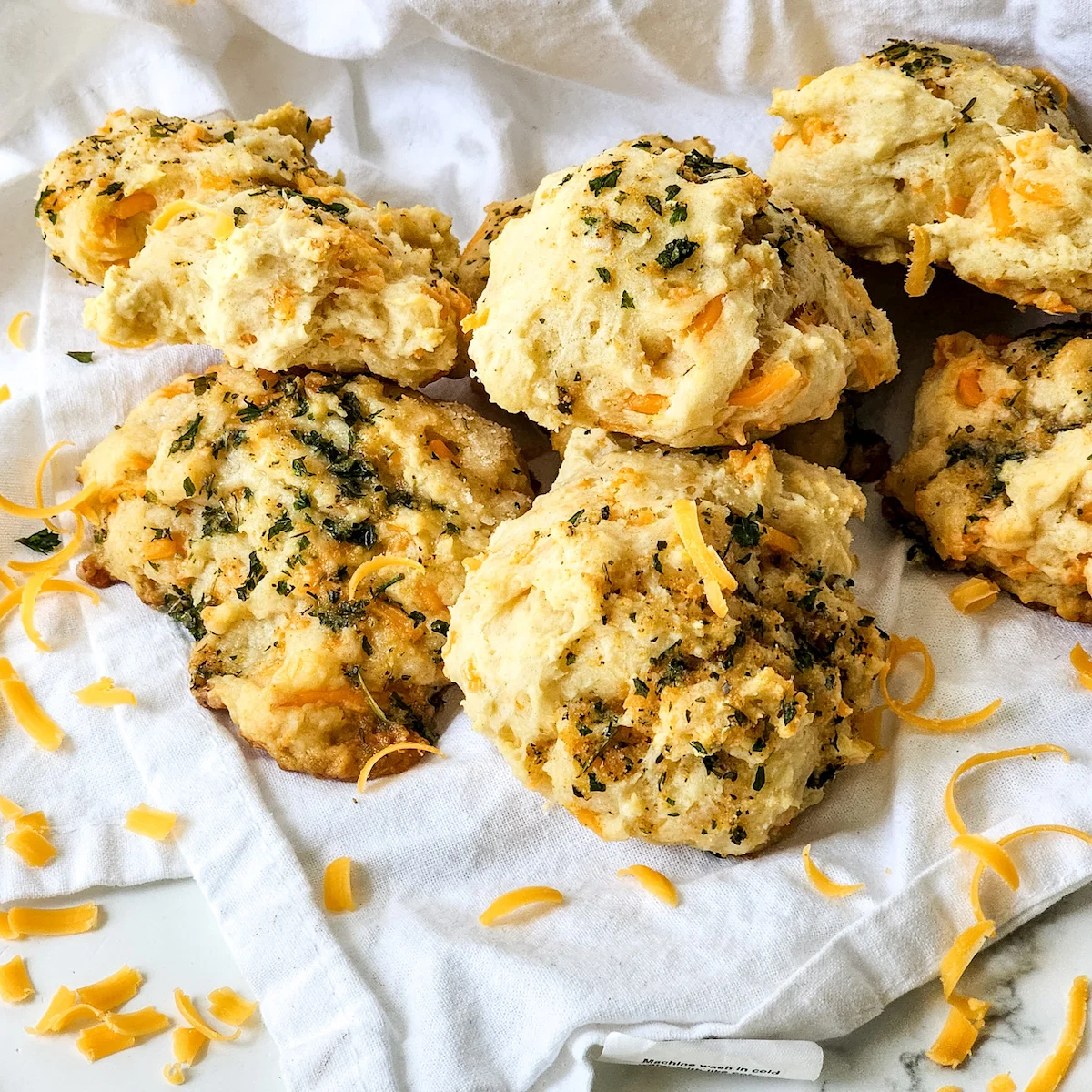 Storage
To store the homemade Cheddar Bay Biscuits, allow them to cool completely before transferring them into an airtight container. Place a layer of parchment paper or wax paper between each biscuit layer to prevent sticking. Store the biscuits at room temperature for up to three days.
Alternatively, you can also freeze them for up to six months. To reheat, place the biscuits on a baking sheet and warm in the oven at 350°F for 10-15 minutes. Enjoy!
What's the easiest way to cube butter?
When cubing butter, the easiest way to do so is by first freezing it. Cut the butter into cubes while it is still in its wrapper, then place it on a plate and transfer that into the freezer for about 20 minutes.
After the butter has hardened, pull out the wrapper with the solidified cubes and use a sharp knife to cut them further down to size.
Another option is to use an ice cube tray! Simply cut your butter into even pieces and place them in each individual cube tray section.
Once frozen, remove from tray and you'll have perfectly cubed butter ready for baking!
Some people will recommend using a food processor to help cube up the butter if this is your first time doing so. But I don't find that as helpful or useful, so it's not the suggestion I usually give for cubing butter.
Can I freeze Red Lobster Biscuits?
Yes, you can freeze Red Lobster Biscuits! Make the biscuits using this copycat recipe.
Once finished, let them cool completely before transferring them to an airtight container or a freezer safe container.
Place the biscuits in a freezer bag and store in the freezer for up to 3 months. When ready to eat, simply let them thaw in the refrigerator overnight before reheating in a 350 degree oven or in the microwave.
I find the oven gives them the best texture the next time you're trying to reheat them. I also suggest making some extra garlic butter mixture to add to the tops of the biscuits once you've reheated them.
Recipe Variations
While I think this copycat Cheddar Bay Biscuits recipe is darn close to the real thing, here are some other variations you can try to make slightly different, but still delicious biscuits!
To make even more flavorful biscuits, you can stir in a few tablespoons of minced herbs like rosemary or thyme to the wet ingredients.
You can also sprinkle the butter cubes with some grated Parmesan cheese or other cheeses before baking to give your biscuits an extra cheesy kick.
Other variations include stirring in dried fruit like raisins or cranberries for a sweet surprise, or adding spices such as nutmeg, cinnamon, allspice, or cloves for an exotic flavor.
You can also top the biscuits with everything from chopped nuts to poppy seeds and sesame seeds for added crunch and texture.
When all else fails, add more cheese. You can never go wrong with more cheese.
No salted butter? No worries! Instead, try adding some salt to the garlic butter. In addition, you could use garlic salt instead of garlic powder.
Instead of regular milk, try whole milk or even buttermilk for even more rich flavor!
If you want another homemade biscuit easy recipe or two, try these Crisco Biscuits or these Cheddar Pomegranate Biscuits (perfect for the holidays).
And there you have it: a tried-and-true recipe for delicious Red Lobster Biscuits! No matter what they look like, these buttery biscuits are sure to be a hit. Enjoy your homemade biscuits with family and friends, or as a special treat for just yourself. I hope you find this Red Lobster Biscuit recipe easy to make and as delicious as we think it is.
📖 Recipe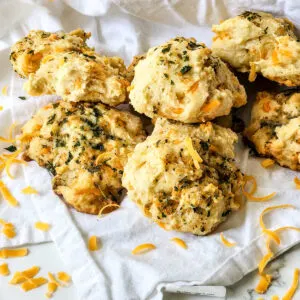 Ingredients
Biscuits
2

cups

all purpose flour

1

tablespoon

baking powder

¼

teaspoon

baking soda

1

teaspoon

white granulated sugar

¾

teaspoon

garlic powder

½

teaspoon

salt

⅓

cold butter

cubed

1

cup

milk

1

cup

sharp cheddar

grated
Garlic Butter
¼

cup

salted butter

melted

1

teaspoon

dried parsley

½

teaspoon

garlic powder

½

teaspoon

italian seasoning
Notes
Directions:
Preheat the oven to 400 degrees fahrenheit and prepare a parchment covered baking sheet.

In a mixing bowl combine the flour, baking powder, baking soda, sugar, garlic powder and salt. Whisk this together

Add in the cold cubed butter and use a fork or pastry cutter to blend it with the dry mixture. The butter should be pea sized by the time you have mixed it all in.

Add the milk to the bowl fold together with a rubber spatula until a thick but sticky dough forms.

Pour in the grated cheddar cheese and fold into the mixture, spreading the cheese evenly throughout the dough.

Take large tablespoon sized dollops of the dough and transfer to the parchment covered baking sheet. Part of the Red Lobster's biscuit look is its imperfect edges, so no need to try to create the perfect round biscuit.

Place the biscuits in the oven for 17-20 minutes or until the tops have slightly started to brown

About 5 minutes before the biscuits are done, prepare the garlic butter.

Add the parsley, garlic powder, and italian seasoning to the melted butter and whisk together thoroughly. You can taste to see if it is salty enough for your liking.

Once the biscuits have been removed from the oven, heavily brush them with the garlic butter sauce.

Serve while still warm and enjoy!
Notes:
If you only have unsalted butter add extra salt to the garlic butter or opt for garlic salt instead of garlic powder