a sweet and savory side
Fall is flying on by, and just as I was beginning to feel like I was ready for it; in come the season's first evening snow flurries, and Christmas ornaments line the shelves of every store. I'm noticing that the seasonable and familiar flavors of pumpkin, nutmeg and sage are bit-by-bit being replaced with chestnuts, peppermint and pomegranate. Mind you, it's not even Halloween yet.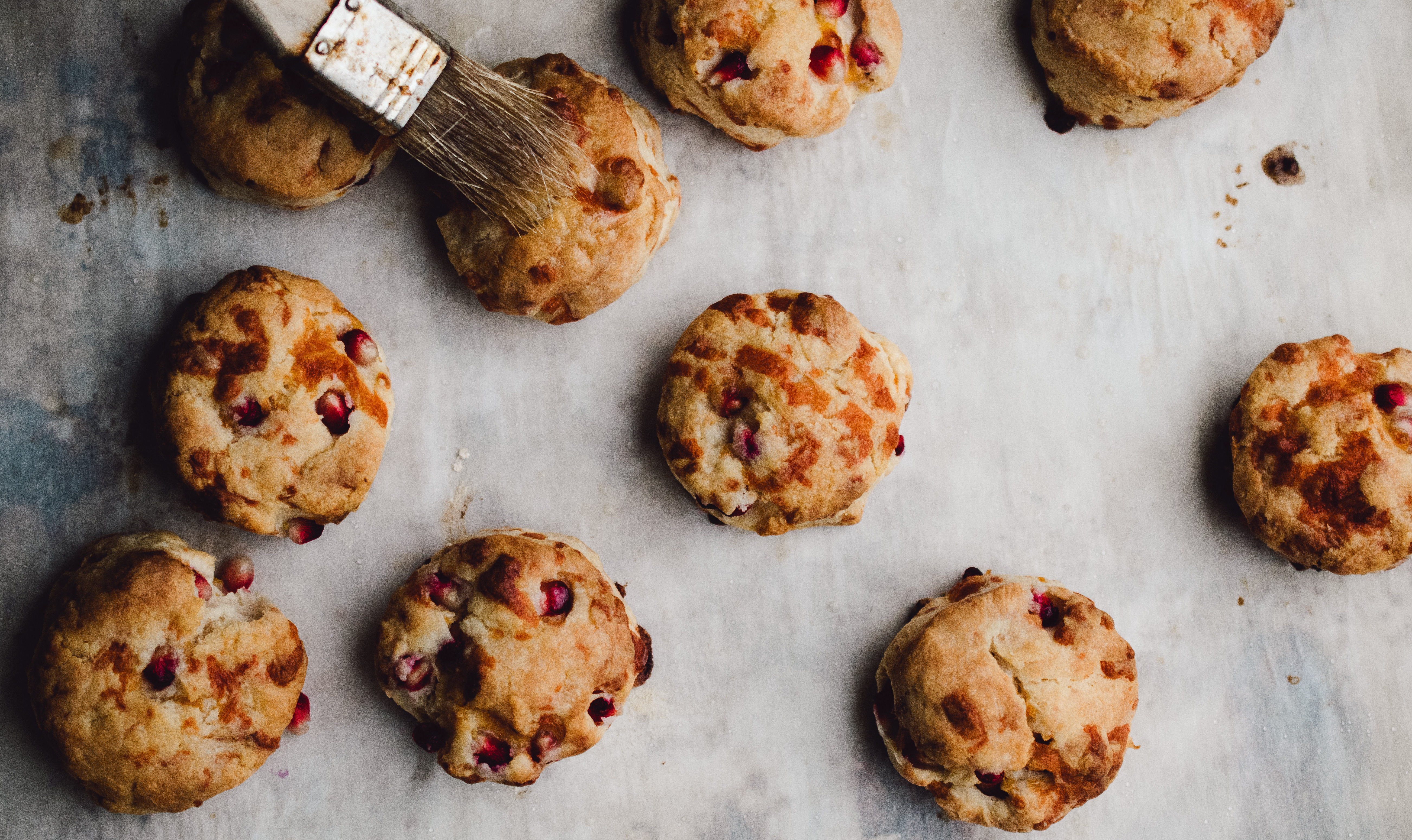 I feel like I had better get on the holiday recipe train before we're all moving on to Valentine's day, though. Coincidentally enough, pomegranates were on sale today! My grandma used to give us pomegranates as special gifts when I was little, and they have not lost their luxuriousness to me. My daughter always begs me to buy pomegranates, and I can never justify the price of those things.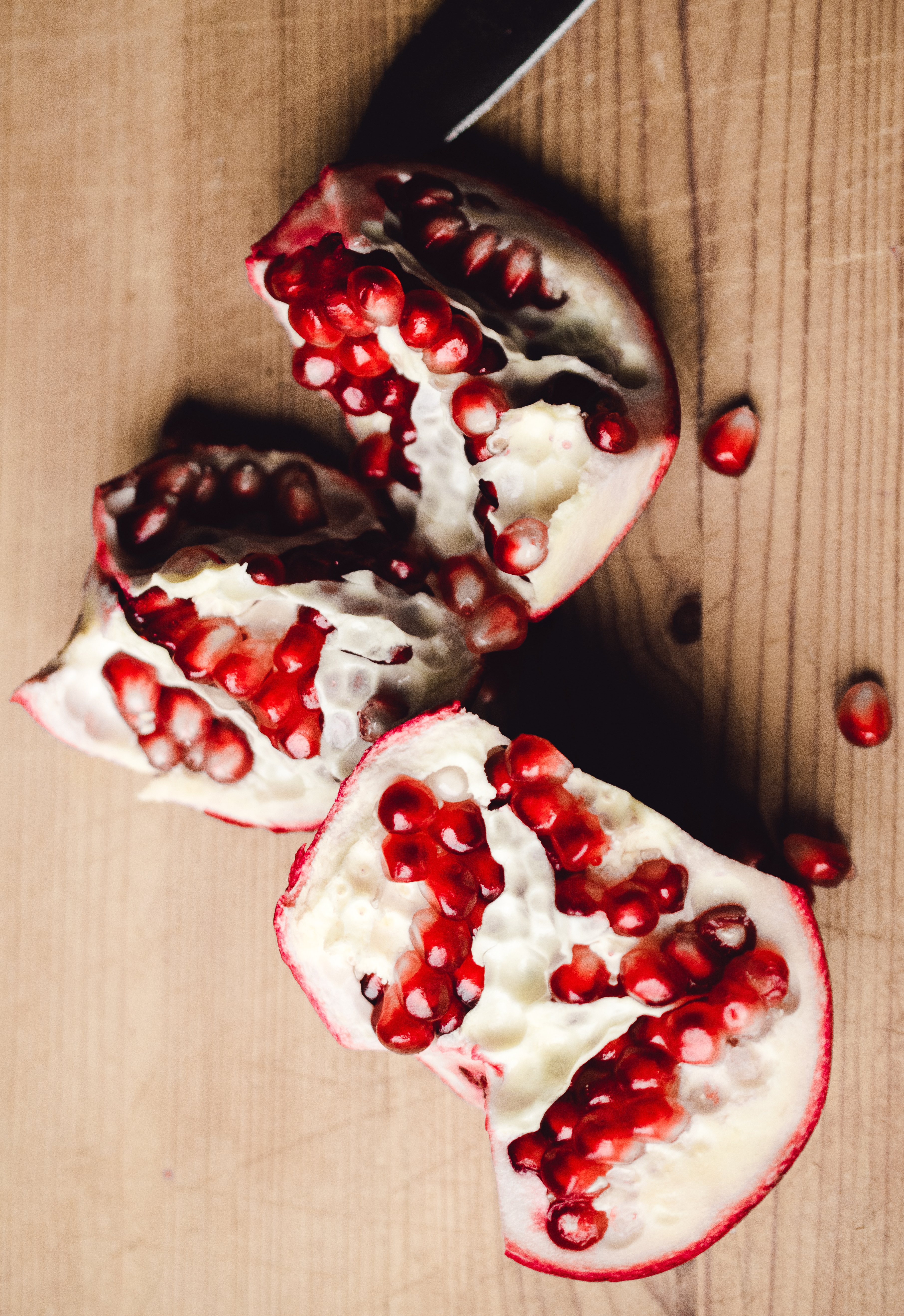 pomegranate recipes
The holidays are an exception though. I love seeing all of the creative and gorgeous salads and desserts and drinks (oh my!) that come out for the season, starring the lovely pomegranate. I, myself, am a sucker for a sweet and savory together, and I was noticing there weren't a whole ton of savory pomegranate recipes out there. Spoiler alert: I made one. (Also, if you are into savory fruit recipes, Apple Pecan Roast Chicken is a great cold weather dinner recipe.)
Cheddar Pomegranate Biscuits, a the perfect blend of savory, sharp cheddar and bursts of sweet pomegranate. I enjoy them on their own warm, with a little butter. However, my ultimate dream for them, is on a Holiday dinner plate as sweet and savory vessel for the stuffing and potatoes. But I really think these biscuits are so versatile and in our house, they are a new holiday tradition.
drop vs rolled biscuits
Maybe I'm alone here, but I've often pondered whether the drop or the roll biscuit is superior. I use both methods, and my dough for each one is slightly different. If I'm making biscuits and gravy I always do a drop biscuit. I just don't see the point in dirtying up the extra dishes and counter to make a biscuit that's going to get slathered in gravy.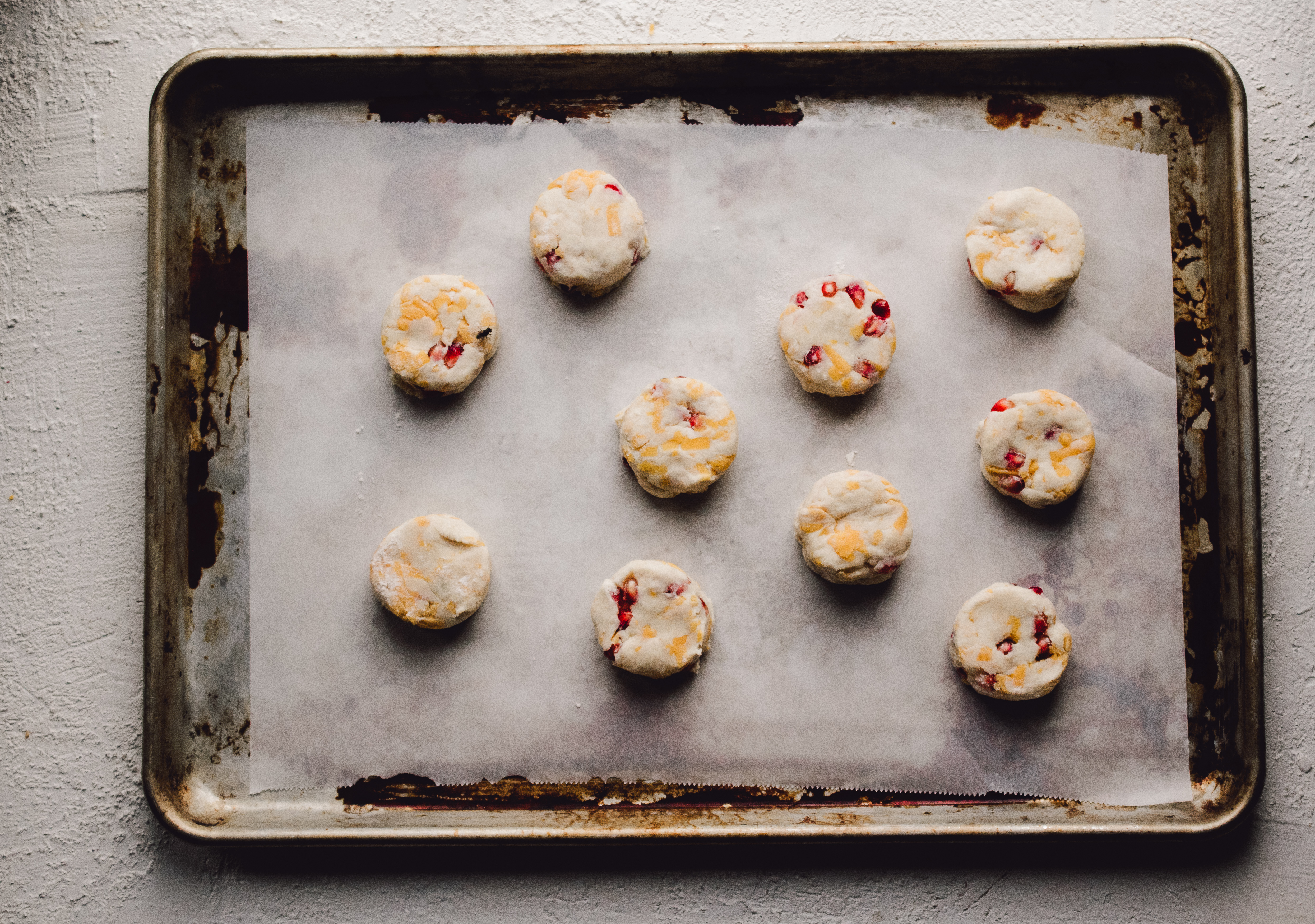 However, I do like the look of a pretty, rolled biscuit, and there are some pretty cute biscuit cutter shapes out there these days.
For these Cheddar Pomegranate Biscuits, I go with a dough that is actually right in between a drop and a roll. It doesn't get flat out rolled smooth with a pin, but it does get pressed with the palms of the hand, and cut with a typical biscuit cutter. This gives it a slightly more rustic texture, and look, which I prefer with the recipe. It also means that the dough can be "wetter" and that means a moister, softer biscuit. (Think, the inside of the KFC biscuit.)
shortening vs butter
Ok, so I already have my own opinion formed about this. I've used the butter when I've had it, thinking that butter makes everything better, right? Wrong. Atleast, that's my opinion when it comes to biscuits. I prefer the texture of a biscuit when I use shortening because it acts more like a KFC biscuit. Sorry, but those things are amazing, and I am not going to act like I don't know. But I do brush melted butter on before and after, because, to address the initial question, butter usually does make everything better.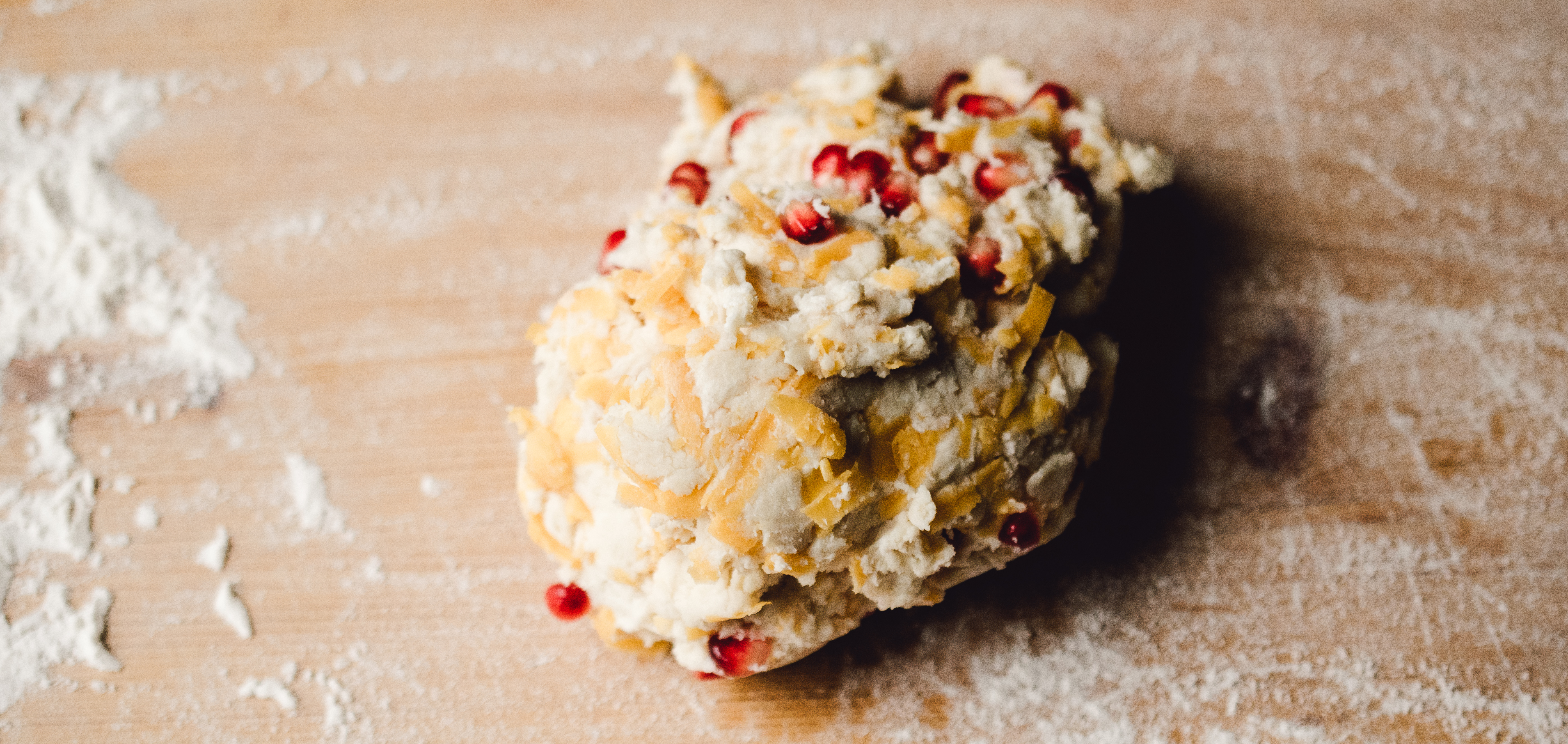 Now, I am not a queen biscuit maker, nor am I from the South, so I have done a lot of research on the subject, just to make sure I'm not crazy. Turns out, it's a matter of opinion, and there's some really good extra information on the shortening vs butter debate, in this article about fats in biscuits, from Southern Kitchen.
My final answer? Shortening in the biscuit dough is way better for the biscuits final texture; it's soft and fluffy, rather then crumbly. But, butter is delicious, so be sure to brush some melted butter on right before baking, and right after they come out of the oven. Heaven.
rolling biscuits
As I mentioned, this is technically a rolled biscuit, but the dough consistency is in between the texture of a drop biscuit and a roll biscuit. It's extremely soft, so a good floured surface is necessary. But you don't roll the dough with a pin and cut it, you just want to gently press it into a thick disc and begin cuts.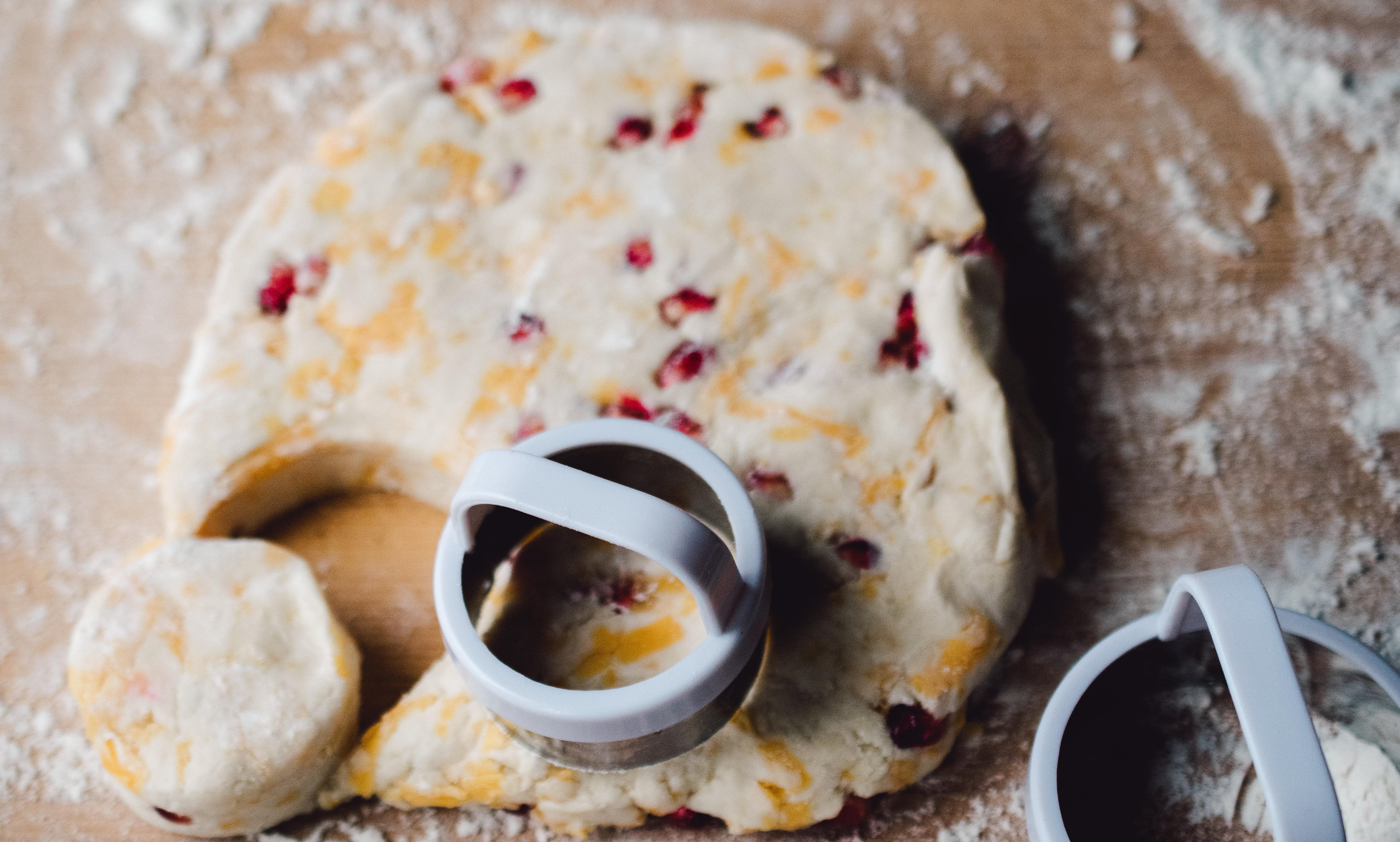 Before all of this happens, the dough has to combined. That's done using the standard technique of cutting the shortening into the dry ingredients before adding the buttermilk. (If you don't have buttermilk, regular milk can substituted by adding a half teaspoon of vinegar or lemon juice to it, and letting it sit and curdle for 5 minutes.) Once the milk has been incorporated, the shredded cheddar and pomegranate seeds can be folded in gently, just until combined. Don't overwork the dough.
Turn the dough out onto a generously floured surface and press into a 1 ½ inch thick disc. Use a medium biscuit cutter to cut biscuits, laying them on a baking sheet as you go. Reform the stray dough pieces into a smaller dough disk and repeat the process until all the dough has been formed.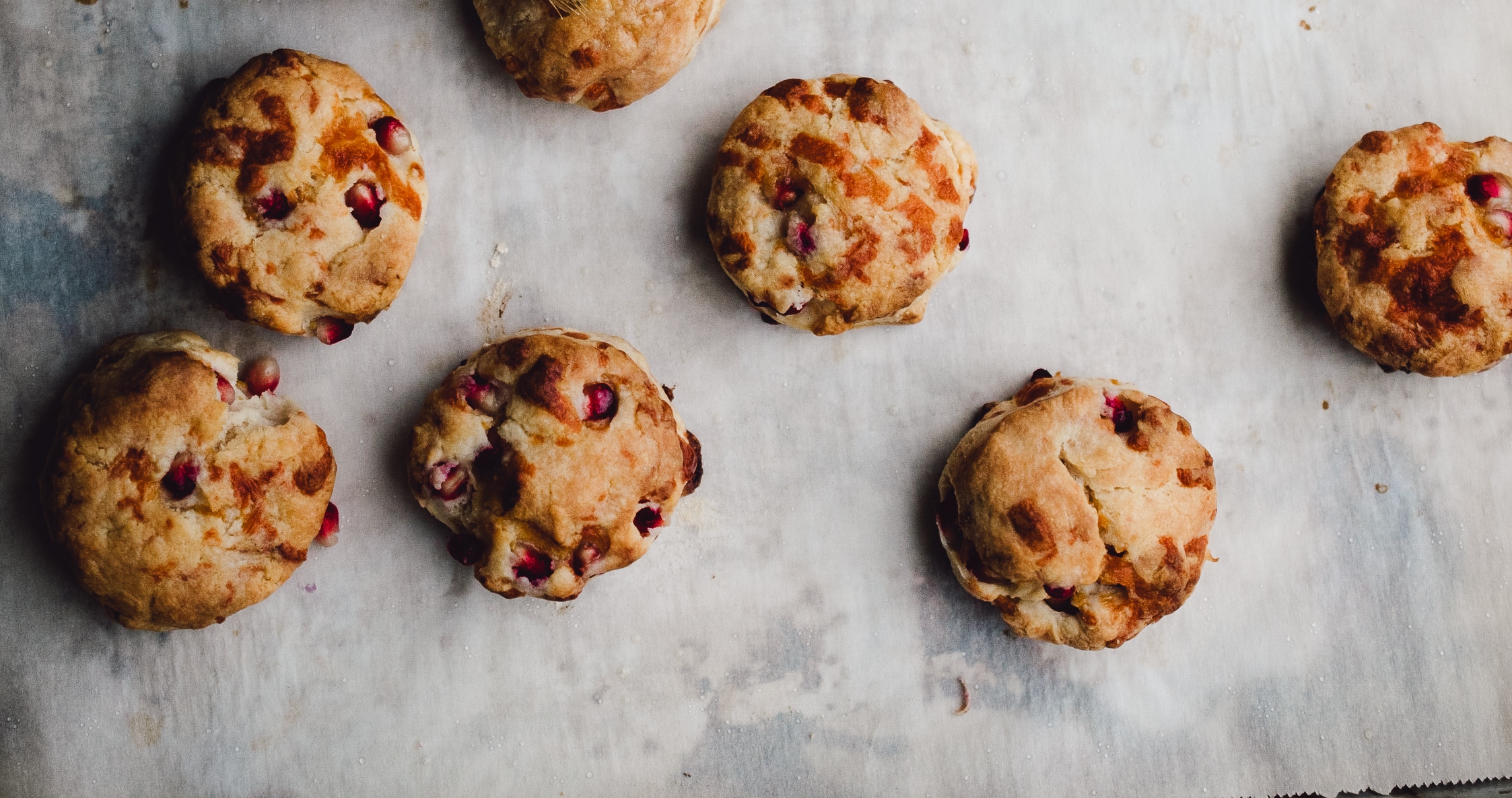 Brush each biscuit with melted butter. Bake at 450 degrees for 10 minutes, or until golden brown. Brush with melted butter again after pulling them out.