I love having a few fast, one-pot meals in my back pocket. And if they are of the pasta variety, even better. It only takes about 20 (ish) minutes, to make this beautiful and rustic pasta dish. With flavorful, crispy sausage, sweet sundried tomatoes, and a creamy wine and parmesan sauce, this rich and comforting dish doesn't really require any sides. Maybe a piece of crusty bread for all the bowl-scrapers out there, myself included. If you don't identify as a bowl-scraper, this sauce just might convert you.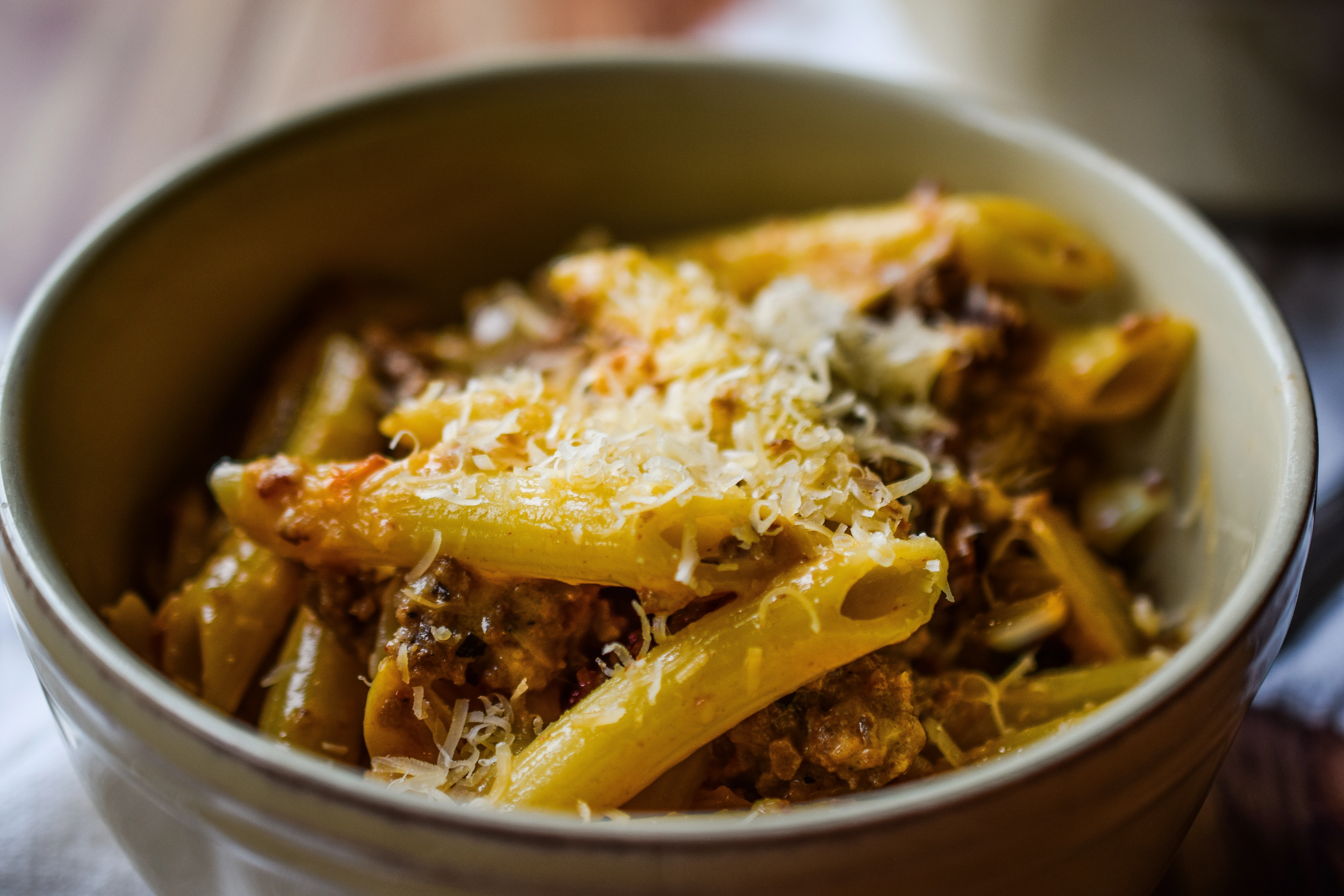 As I mentioned, this dish can be done in under 30 minutes; in the time it takes to fry the sausage and boil the pasta really. The ingredients are extremely straight forward. Choose a short cut pasta like penne or rigatoni, something like that, and you really should use a wine that you'd also want to drink. Cooking wines...I don't really understand their purpose in life? Like, we have good, inexpensive wine out there.
When I'm choosing cheese, it really depends on budget. You can find some very expensive (very delicious) Parmigiano-Reggiano, or you may opt for the store brand parmesan cheese. I'll be honest- I've never met a Parm I didn't like, and I don't discriminate. I use the Parm that fits my budget at the time, and it's always good.
When you choose sundried tomatoes, get the jarred ones packed in oil, and then just let them sit between a couple of paper towels for a bit to absorb the extra oil. They don't need to be completely dry, just similar to how you'd blot a piece of greasy pizza.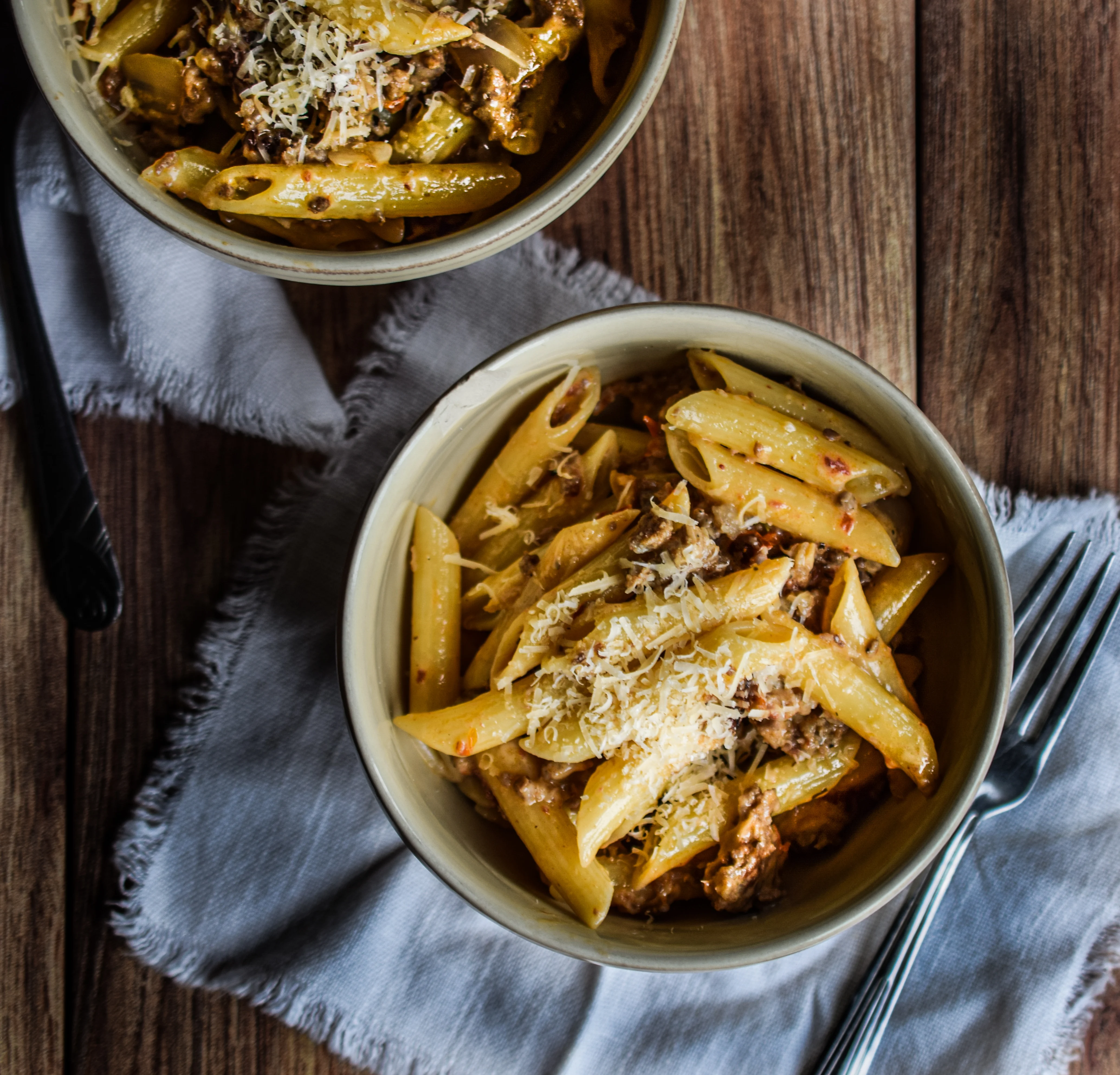 Multitasking is the name of the game with this one, and it's what makes this such a fast dish to make. But it's super simple and the ingredients are minimal. Bring your water to a boil and cook your pasta at the same time you start cooking the sausage, and while those are going, get your onions, garlic and other ingredients ready to go.
Before draining the pasta, scoop out about a half cup of the pasta cooking water and set it aside. It'll go into the sauce and help silky-it-up. About halfway through the sausage cooking process, is when I add the onion and garlic. I don't like to do it too soon, because garlic burns so fast, and eew. This has shown to let the sausage get perfectly crispy, the onions sweet and caramelized and the garlic perfectly fragrant all in the same pan. So easy.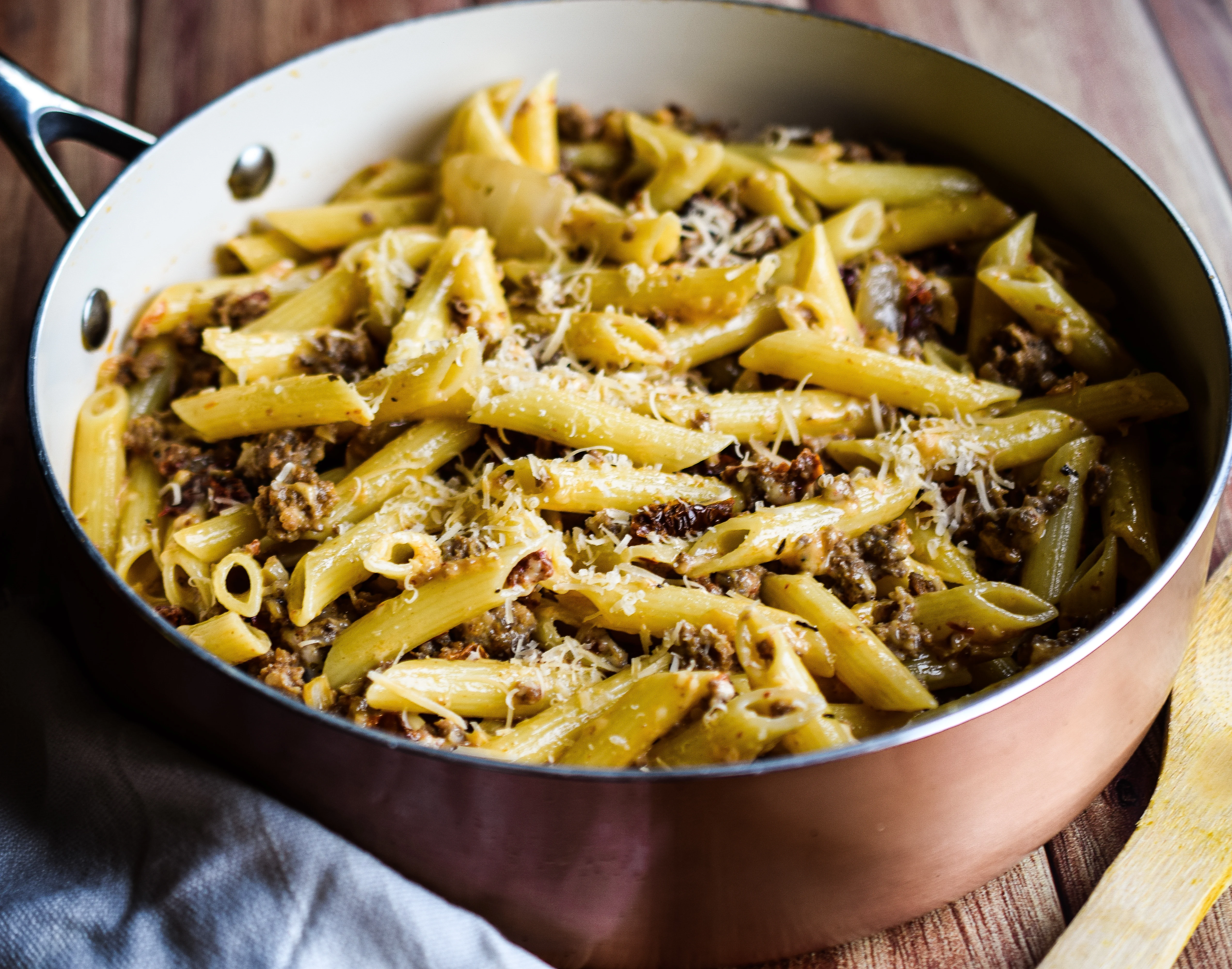 Once the sausage, onion and garlic look perfectly crisped and caramelized, the wine gets poured in and makes a theatrical fwooosh! sound, as it loosens up every last heavenly, browned bit off the bottom of the pan and incorporates all of that flavor into the wine as it simmers down. And simmer down, it needs to do, just to cook the alcohol out and reduce a bit. I leave it on a medium-high-high heat, just to move things along faster.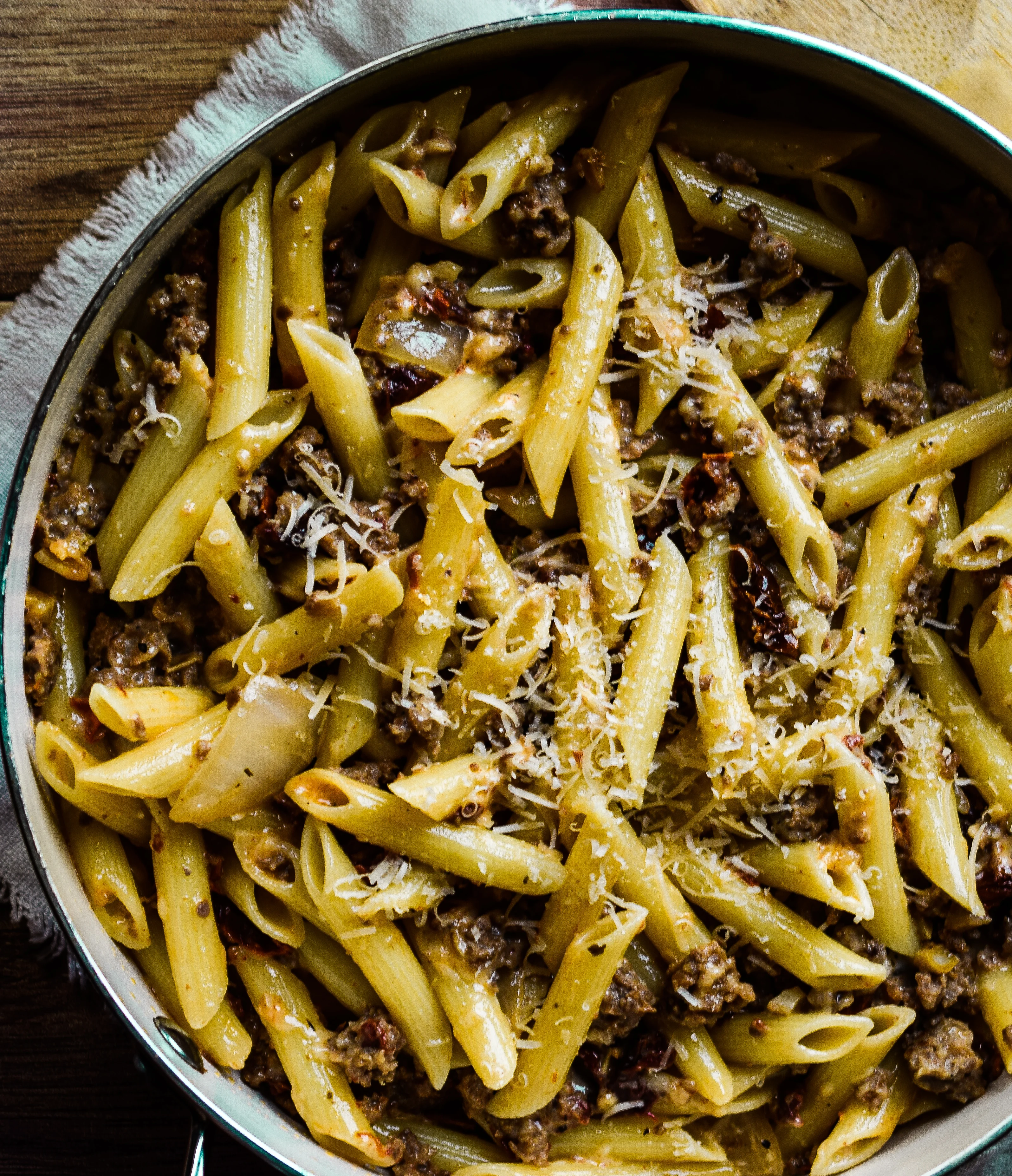 When that has reduced, all that needs to be done is add everything in the pan; the al dente pasta, starchy water, the sun dried tomatoes, the heaviest of all the creams, and the parm. Sometimes I like to add a pinch of red pepper flakes, but sometimes the sausage is spicy enough. Also, the cheese and the sausage are normally salty enough that i don't add any.
So that's it! I love this recipe, not only because it's so quick to make, but I really think it's a good example of my favorite types of food. Simple, good ingredients, beautiful to look at, and family-style comfort food. And it's pasta. The other love of my life.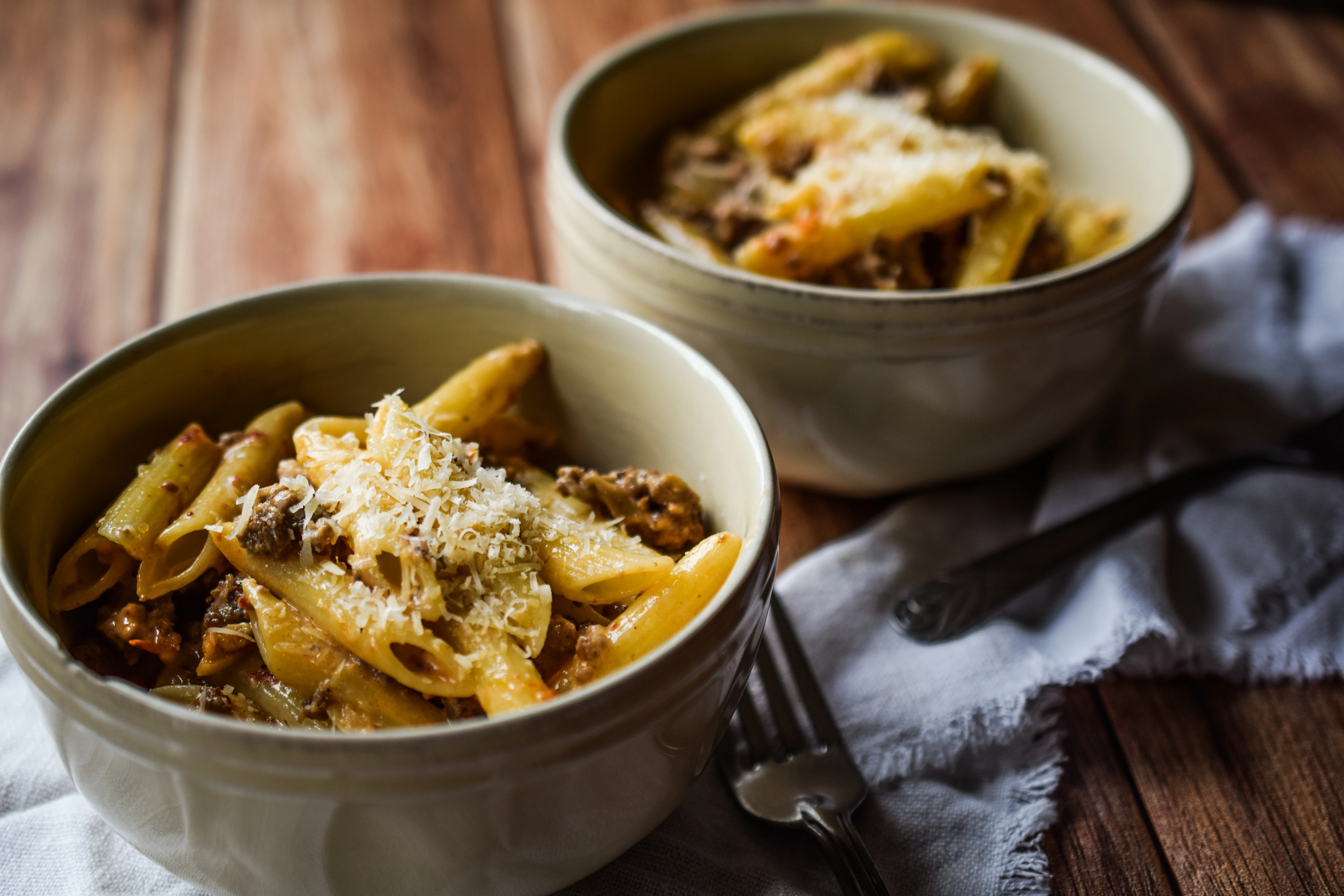 📖 Recipe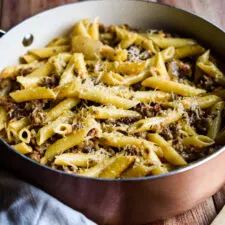 Sausage and Sun Dried Tomato Penne
Crispy sausage, caramelized onion, garlic and sundried tomatoes, in a creamy wine and parmesan sauce, tossed with al dente penne pasta
Print
Pin
Rate
Ingredients
1

lb

ground pork sausage

1

medium sweet onion

4

cloves

garlic

minced

1

lb

uncooked penne pasta

or other short cut pasta

½

cup

sun dried tomatoes

blotted of oil, roughly chopped

1

cup

dry white wine

pinch

crushed red pepper flake

optional

1

cup

freshly grated parmesan cheese

grated off wedge
Instructions
In a deep skillet, add ground sausage and begin to saute on medium high heat. Halfway through cooking, add sliced onions and minced garlic and continue to cook until sausage is browned and crispy, and onions are caramelized.

Meanwhile, bring a large stockpot of salted water to a boil, and cook pasta to al dente, according to directions; right before draining, reserve ¾ cup of the starchy pasta cooking water, set aside.

When the sausage is crispy and onions are caramelized, deglaze the pan by pouring in the cooking wine, simmer on medium/high-high heat 3 minutes until slightly reduced.

Lower heat to low, add pasta, reserved cooking water, chopped sundried tomato, and parmesan cheese. Toss until melted and smooth. Season with crushed red pepper flake, optional.

Toss, remove from heat, serve immediately with extra parmesan cheese.