Can we just start by saying, heirloom tomatoes are having such a moment right now, right? Such a moment. I see them everywhere I turn, and I love it.
I never really want to deconstruct the heirloom tomato too much, because it's so beautiful to start with, and I want to try to preserve that. It's like each one has a personality of its own. I love the round, striped ones that show off a whole new set of colors on the inside, once you've cut into it. This heirloom tomato flatbread is a great way to use those beautiful, garden fresh beauties.
Also try this heirloom tomato pasta dish.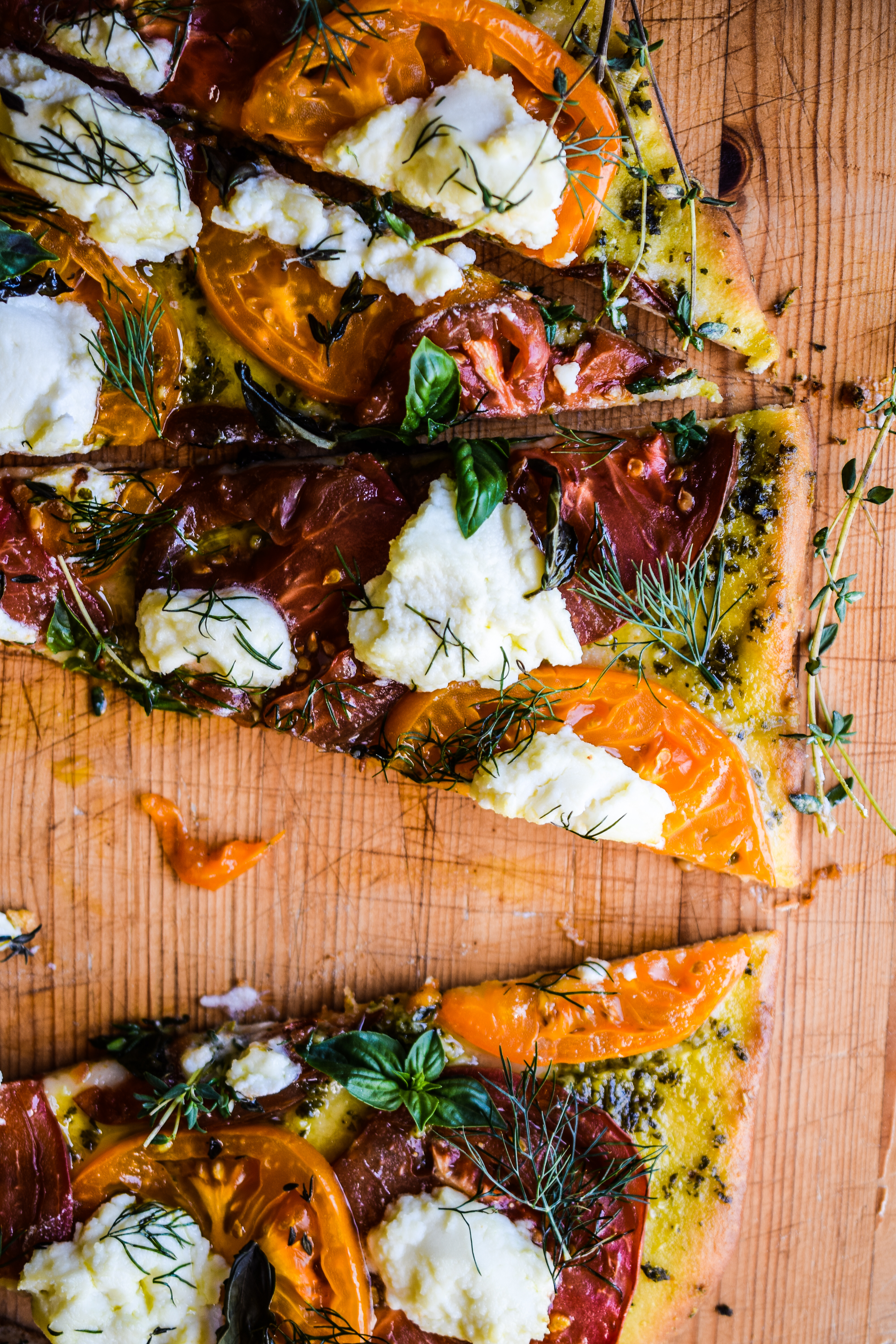 This recipe can get as hands on or hands off as you want it to. It's meant to showcase the tomato, so the sauce is minimal, like a scaled-down pesto. I like to keep frozen pizza dough on hand, and just thaw it out when I need to, but you can find it at any grocery store, and many pizza joints will sell it to you as well. You could go out and purchase ricotta, but---BUT---homemade ricotta cheese is extremely easy and the flavor of homemade ricotta is next level yummy. I've got a really easy recipe for it, right here.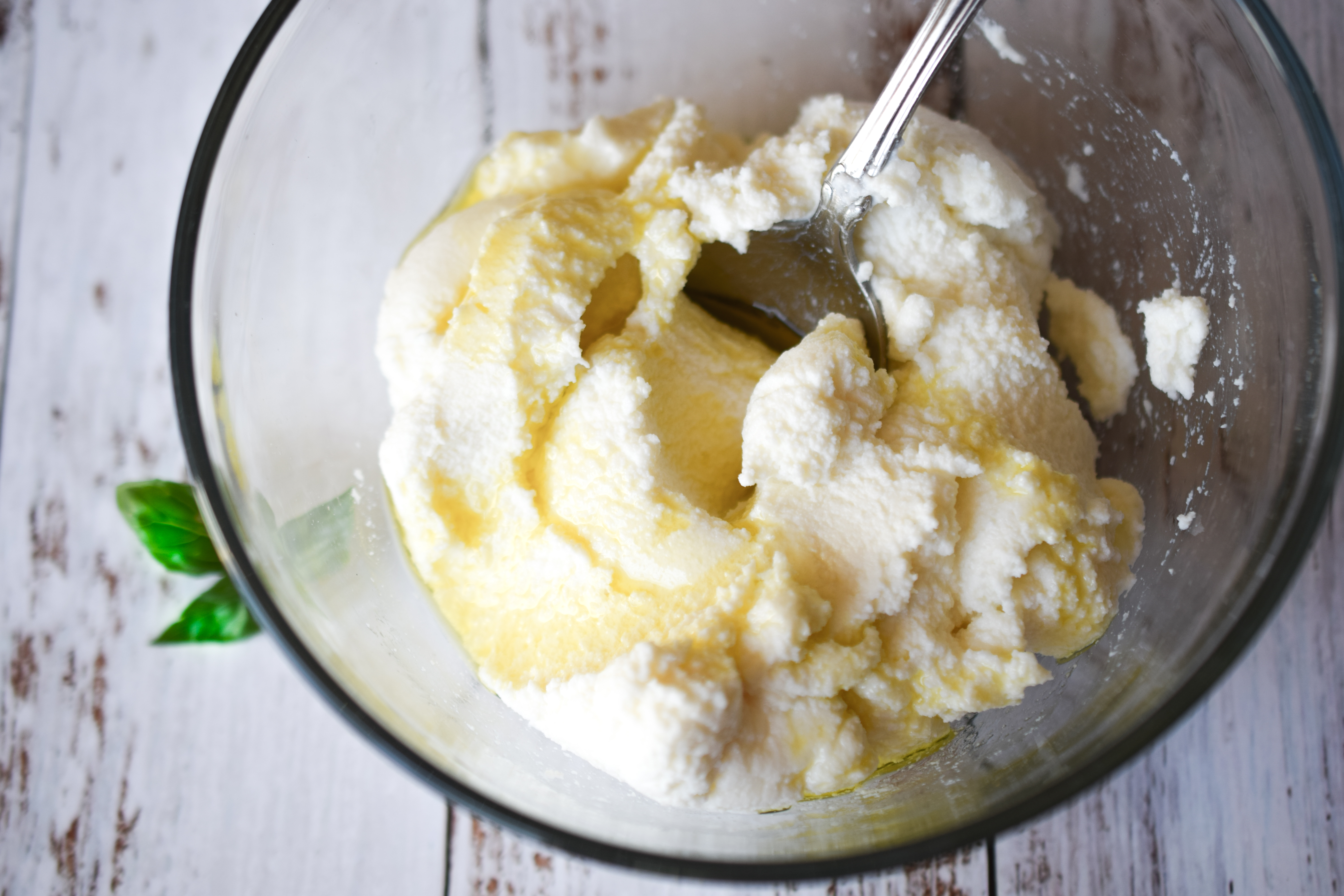 Whether you opt for the hands-on or hands-off approach to this flatbread, the star of the show is the tomato, so make sure you choose tomatoes with good "personalities".
The beauty of this recipe, is that it doesn't have to be perfect. When you go to roll the dough out, don't worry about the perfect shape or smooth edges. As long as it has a semi-uniform thickness, and fits on the initial pan you're golden. Initial pan, because it needs to par-bake first so that it can be set directly on the rack later.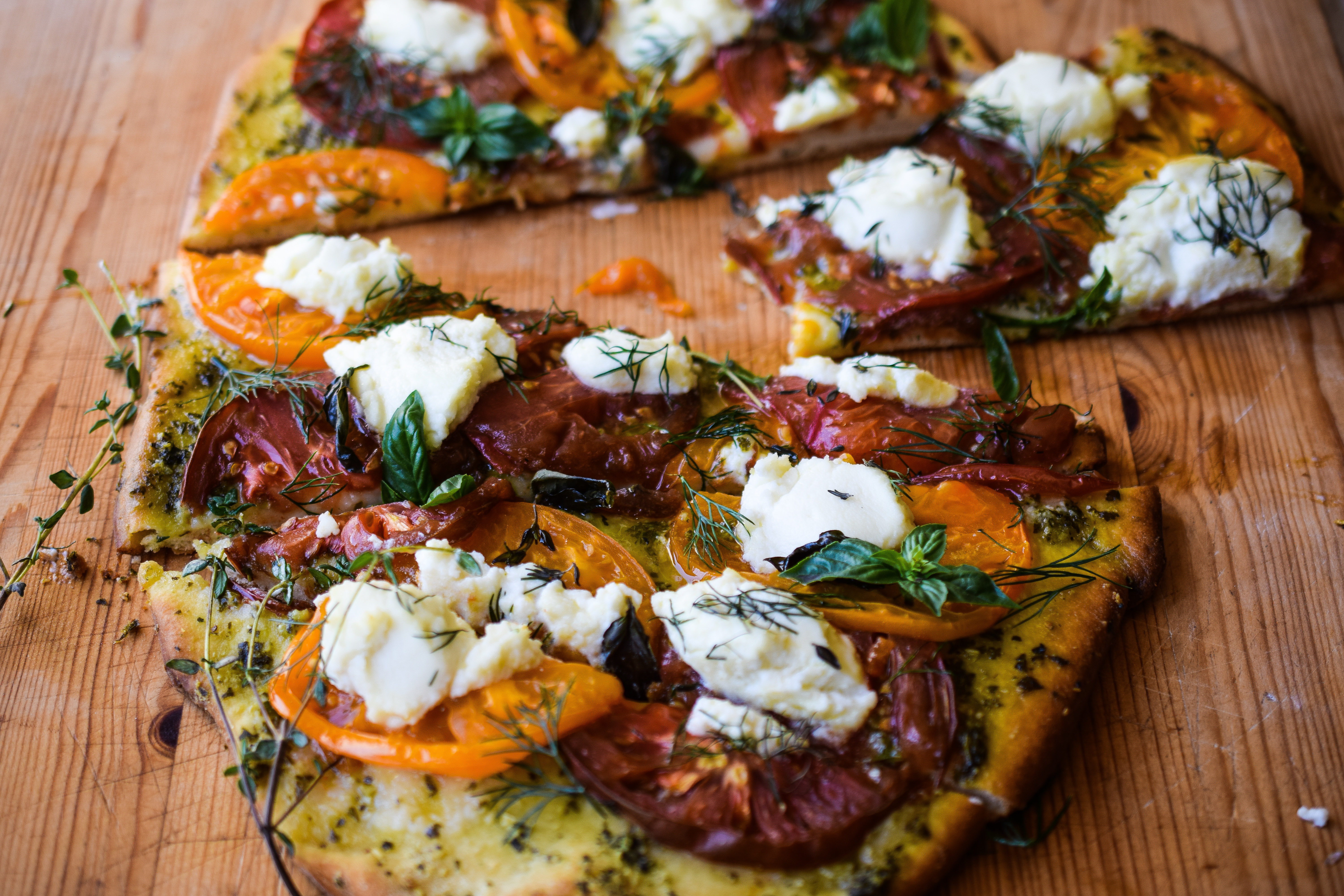 Once you have that solid base, it's all extremely quick and easy from there.
The light sauce takes seconds to make, and is so fresh and delicious. Give the ingredients a few pulses in the food processor, and then apply it edge to edge. Aaaall the way to the edge. It makes the edges crispy and beautiful. I put the pan that I used for par-baking the bread on the bottom rack underneath the flatbread, to catch any small amount of oil that might drip off the edges.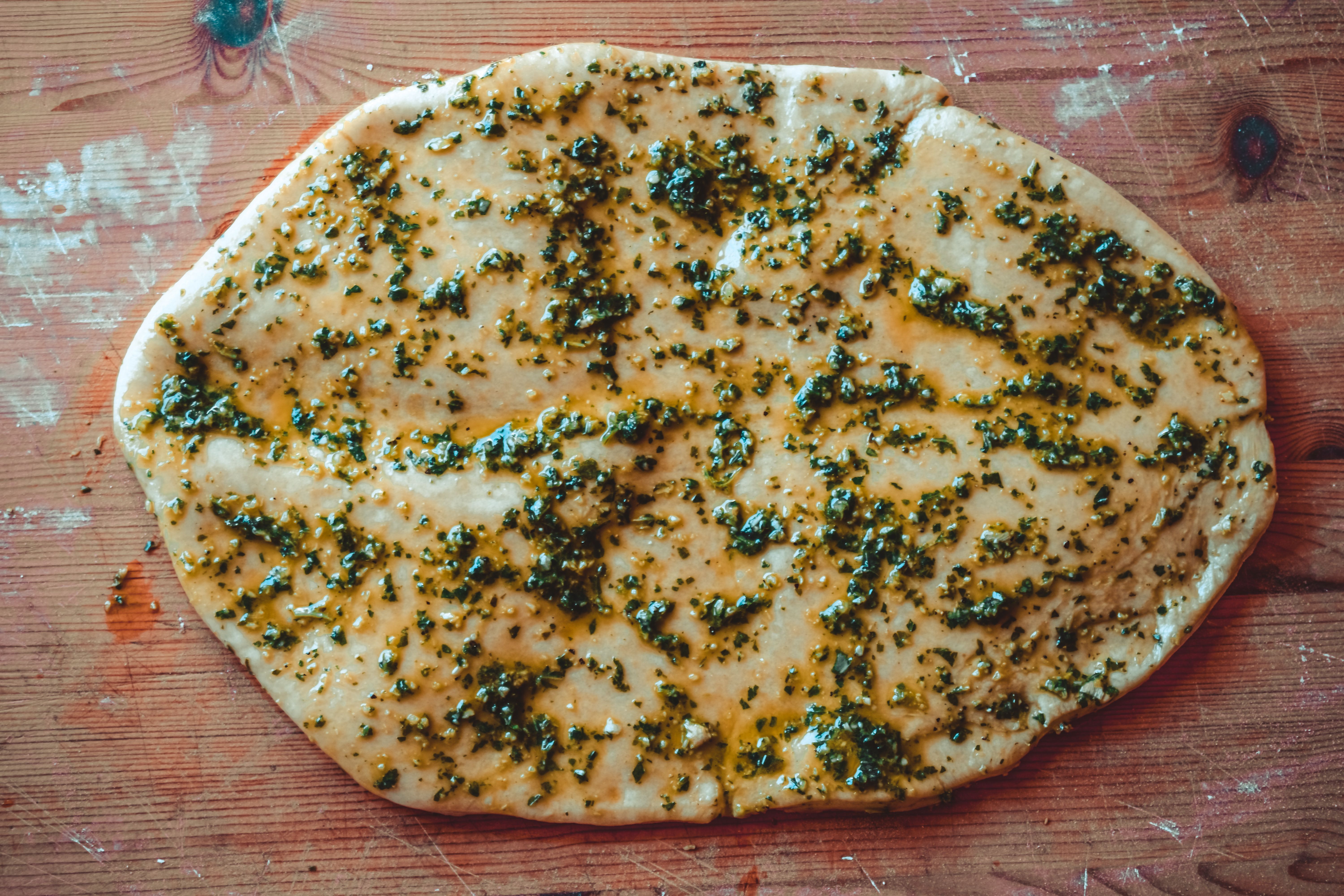 When the tomatoes get sliced, they need to be no thicker than a quarter of an inch, and I actually go thinner than that, otherwise its just to heavy and the liquid in the tomatoes can pool up. If they are super juicy, pat them dry with a paper towel, before arranging in a single layer on top of the sauce.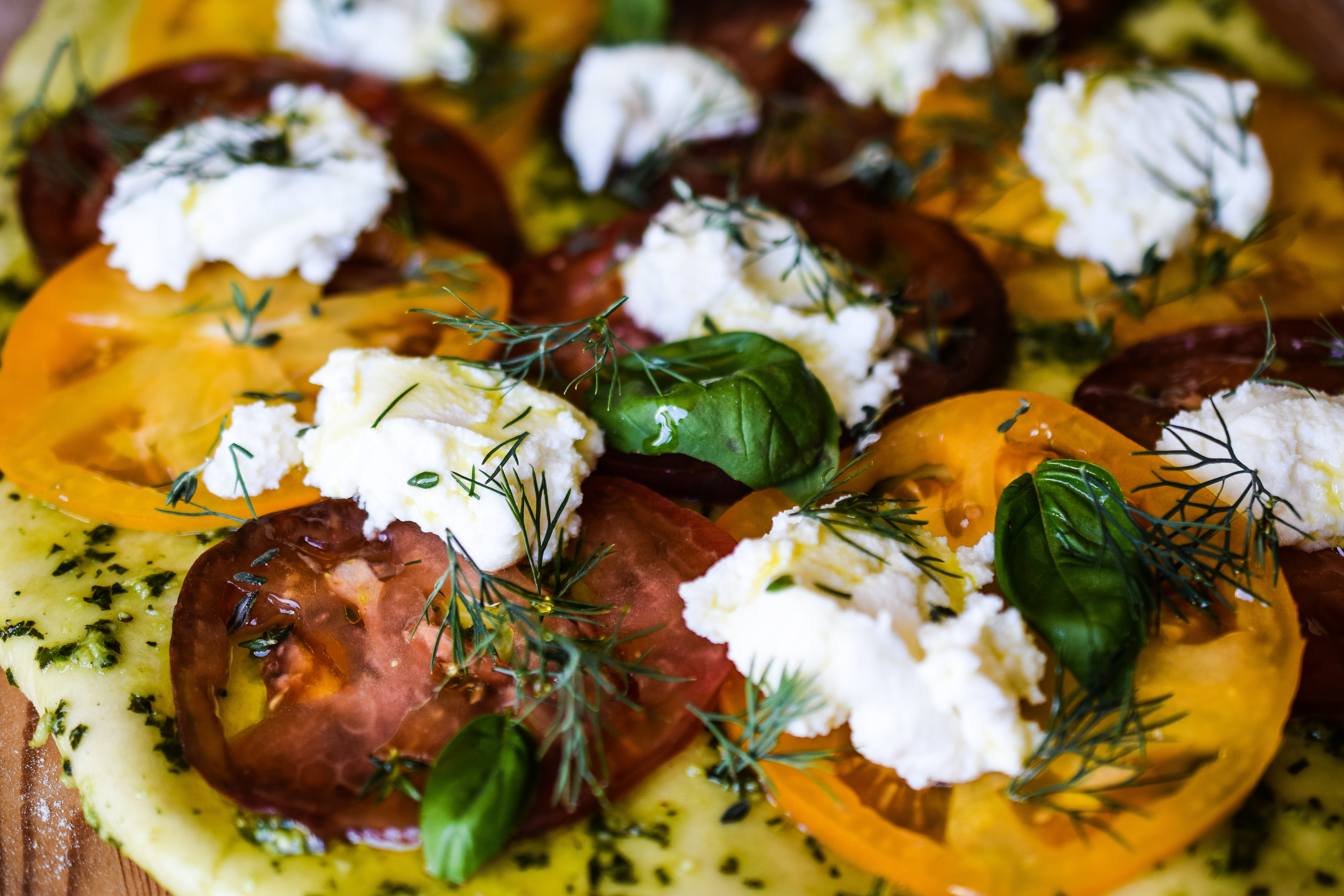 Now for the ricotta. The sweet and slightly nutty cheese gets just a touch toasted in the oven, which only brings out the flavor more. Personally, I can't get enough, and I don't have a cap on how much is too much. The more I see, the merrier I be. Give me all the ricotta. Plopped randomly over the tomatoes, heavy on the plop.
Finish with a couple pinches of coarse salt and pepper, and extra fresh herbs. Bake at 400 degrees until crust is golden brown and ricotta is lightly toasted.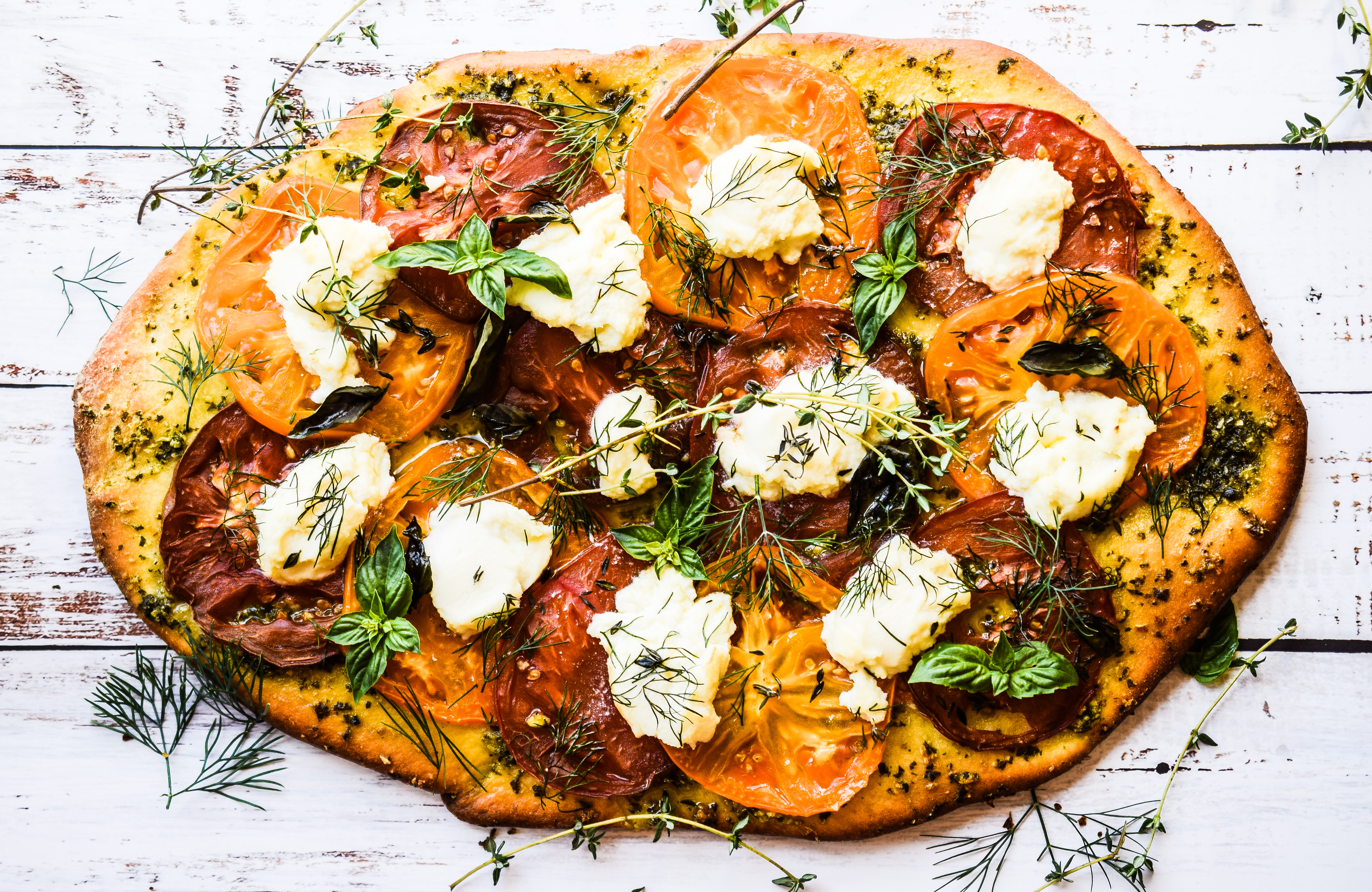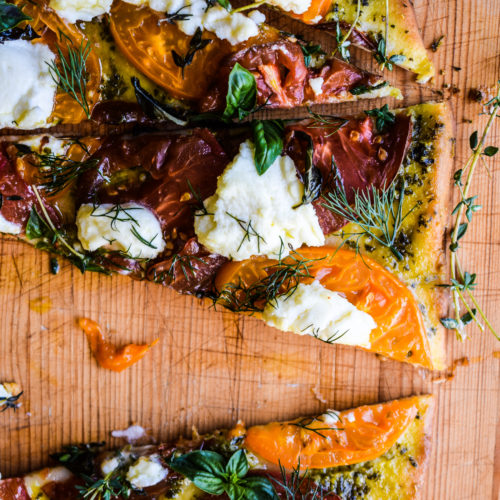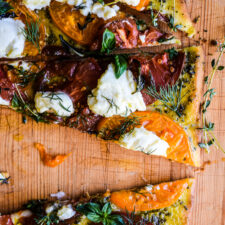 Heirloom Tomato, Herb and Ricotta Flatbread
A rustic flatbread recipe, with a light herb sauce, heirloom tomatoes and ricotta cheese
Print
Pin
Rate
Ingredients
1

medium pizza dough

¼

cup

extra virgin olive oil

4

cloves

garlic

1

cup

fresh basil

3-5

sprigs fresh thyme

3-5

stems fresh dill

½

cup

parmesan

grated

1-2

heirloom tomatoes of choice

depending on size

1

cup

ricotta cheese

coarse salt and coarse ground pepper
Instructions
Preheat oven to 400 degrees.

Roll out prepared pizza/flatbread dough on a floured surface to uniform thickness, about 9x13 inches in area.

Transfer to a baking sheet, or stoneware and bake for 5-7 minutes, until bottom is no longer raw.

In a food processor, combine oil, garlic, fresh herbs, parmesan, and pinch of salt and pepper, and pulse until combined.

Spread on par-baked flatbread from edge to edge, making sure to get all the outer edges completely.

Top with thinly sliced heirloom tomatoes, single layer. Lightly salt and pepper over the tomatoes.

Top with piles of ricotta cheese, and more fresh herbs.

Bake at 400 degrees about 15 minutes, until crust is golden brown.

Slice in a zig-zag pattern and serve.