Homemade ricotta cheese takes just 3 ingredients, and about 15 minutes! You'll never go back to store bought, and you can customize the flavor with herbs and seasoning.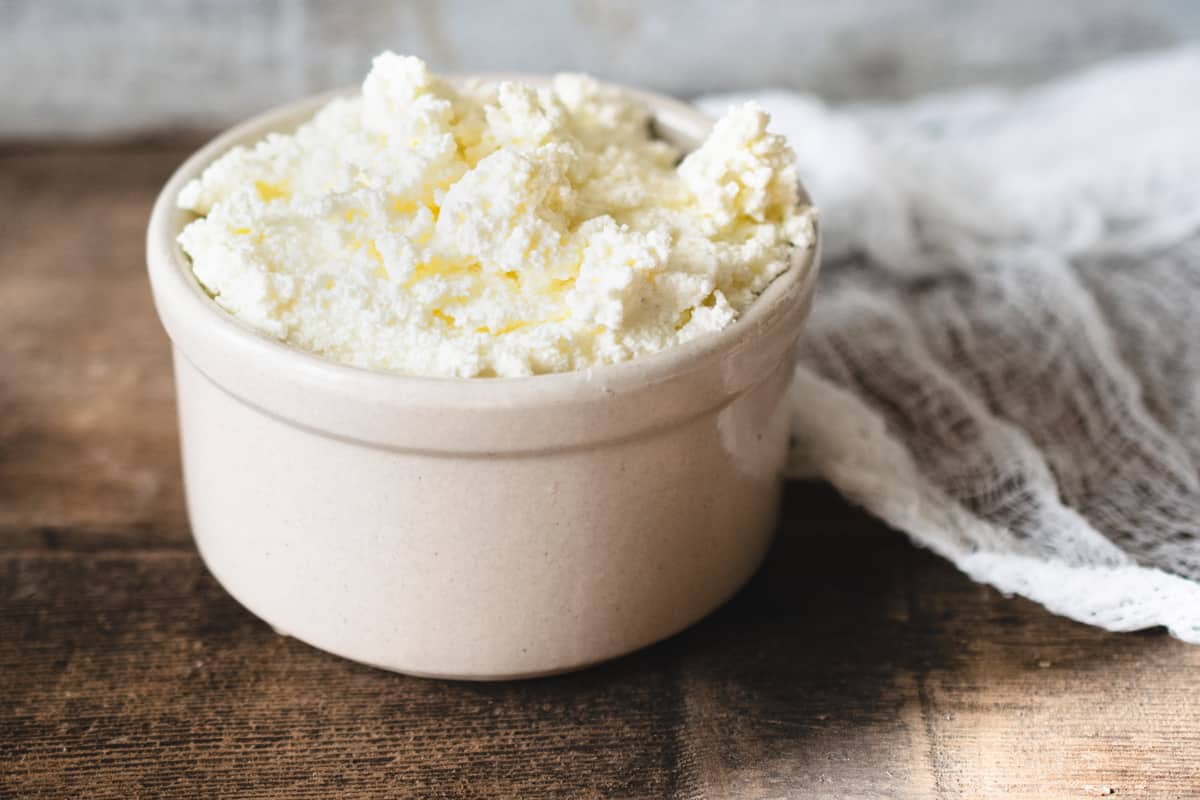 Homemade ricotta cheese is so much more delicious than most ricotta cheeses from the grocery store. It's also extremely easy and uses very basic ingredients from your pantry and fridge.
If you want to know how to make ricotta cheese, scroll on, and check out my easy 30 minute Homemade Mozzarella Cheese recipe!
Why this recipe is great
The reason that ricotta cheese is so convenient, is that it only uses a few simple ingredients that you likely already have on hand or can easily pick up at even the smallest of grocery stores.
Using a combination of milk, heavy cream, and a bit of vinegar or lemon juice (an acid) is all you need to create delicious ricotta cheese at home.
Consider adding fresh herbs to the ricotta cheese, such as chives or dill. You can also roast garlic until soft, and fold it into the ricotta cheese for a roasted garlic and herb ricotta cheese dip!
Ingredients needed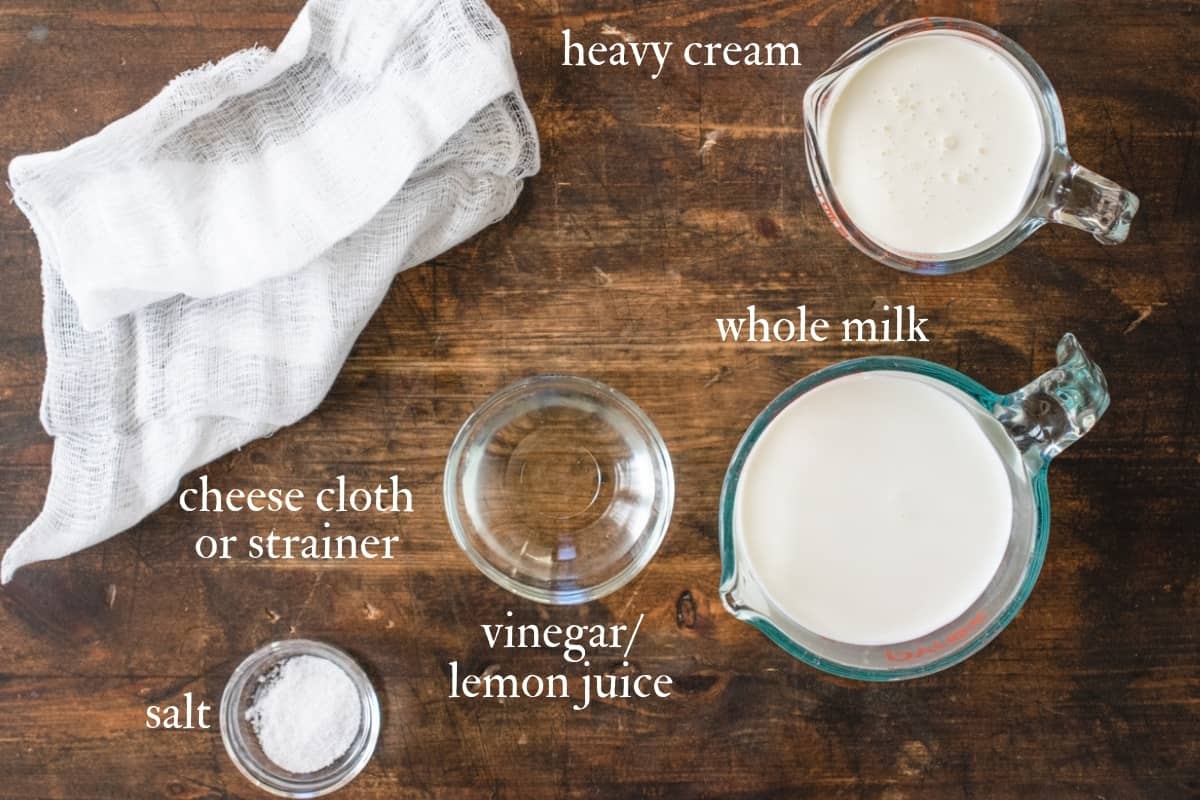 Heavy cream is also known as whipping cream. The fuller fat heavy creams (as opposed to half and half or light creams) are best for making ricotta cheese.
Whole milk is preferred over 2% or less fattening milks. While, you can used these lesser fat milks, the resulting ricotta won't be as rich and you'll end up with less ricotta cheese.
White vinegar, or good white wine vinegar are both perfect. Lemon juice can also be used interchangeably in this recipe, as it's the acid that causes the curds and whey to separate.
Fine salt (a.k.a. regular table salt) is better than kosher salt or coarse salt in this recipe because it doesn't interfere with the texture of the ricotta.
Cheese cloth should be folded to be two layers thick. If you don't have access to cheese cloth, use a fine mesh strainer or even a coffee filter.
How to Make it
Heat the milk and cream in a pot almost to a simmer (photo 1); it will develop bubbles, but don't bring it to a full boil. Remove the pot from the burner and stir in the vinegar/lemon juice and salt. You'll notice right away some curds begin to form (photo 2). Let it sit for a good five minutes to let the curds completely form.

After about 5 minutes the curds have separated from the whey. The whey is the thin, pale liquid that the solid curds are suspended in. Pour the whole pot over cheese cloth or fine mesh strainer (photo 3) to separate the curds and whey. Allow it to strain for 5-20 minutes (photo 4).

If you like a looser, wetter ricotta let it strain for a shorter period of time. For a firmer ricotta, let it go for up to 30 minutes, or gather the cloth together to form a bag and give it a gentle squeeze to strain out remaining liquid.
Tips and Tricks
Avoid milks that are UHT (ultra high temperature) pasteurized, as the proteins have been destroyed and they won't form curds.
For a thicker ricotta, strain the curds longer, for a looser, more moist ricotta, strain the curds for less time.
Don't have cheese cloth? I've had success using the following in place of cheesecloth to strain the curds: a coffee filter, muslin cloth, new and clean nylon, and a fine mesh strainer.
You can also strain the curds directly over the sink if you use a colander underneath the straining material to hold it up.
How long does ricotta cheese last?
Homemade ricotta cheese will stay fresh in the fridge, covered for up to 5 days.
What can I use ricotta cheese for?
Ricotta cheese can be used in baked goods, dolloped on pizza, it can be flavored and made into dips, as ravioli filling, as a spread or condiment, and in an infinite amount of other ways.
Can you freeze ricotta?
Technically, yes, and it isn't harmful to eat. However, it does change the texture and it may no longer be desirable in a number of ways and recipes.
Can I use organic milk to make ricotta cheese?
Many organic milks are UHT (ultra high temperature) pasteurized, which affects it's ability to coagulate and form curds, therefore check the carton and avoid organic milks that are UHT pasteurized.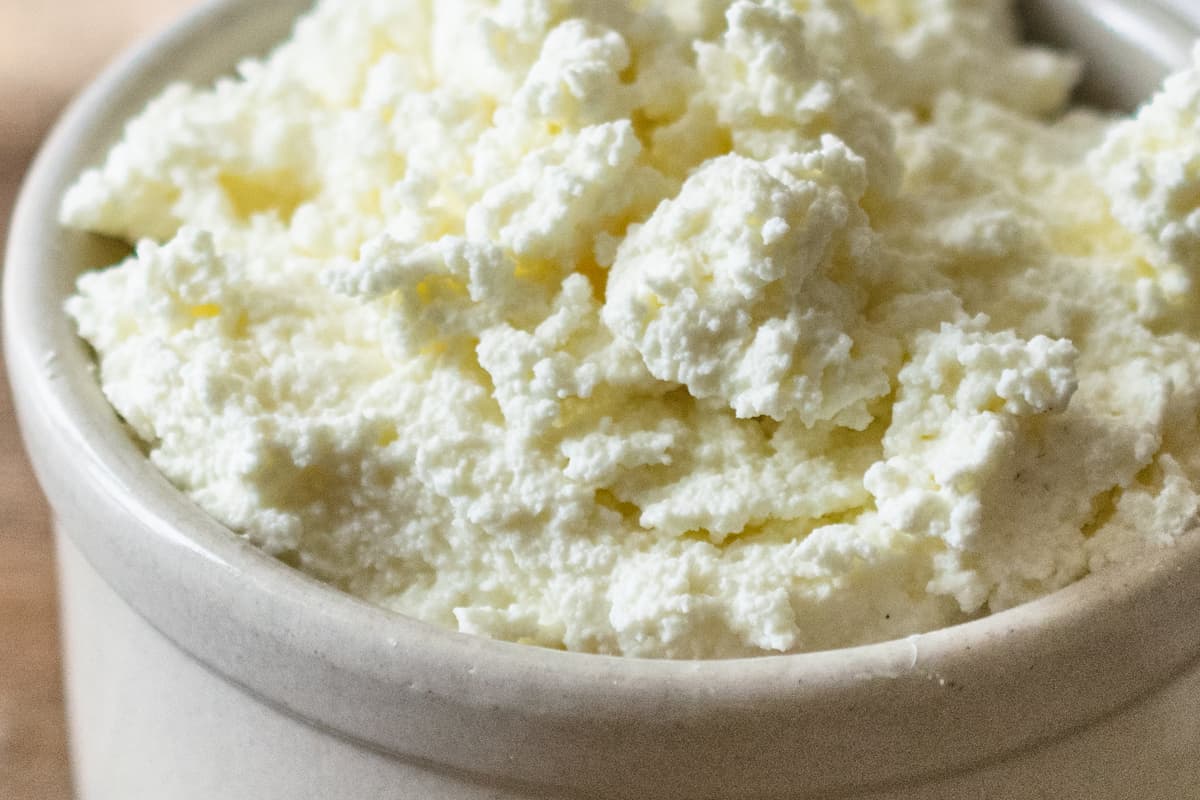 More Homemade Kitchen Staples
If you love the idea of being to make your own pantry and kitchen staples, then you will be delighted by these how-to hacks, DIY ingredients, and pantry staple recipes:
Do you like the idea of making your own pantry staples and ingredients? Check out my entire category on Pantry Staples!
Give this recipe a rating using the stars in the recipe card below (1-5 stars), and that helps to deliver this recipe to others that might find it useful.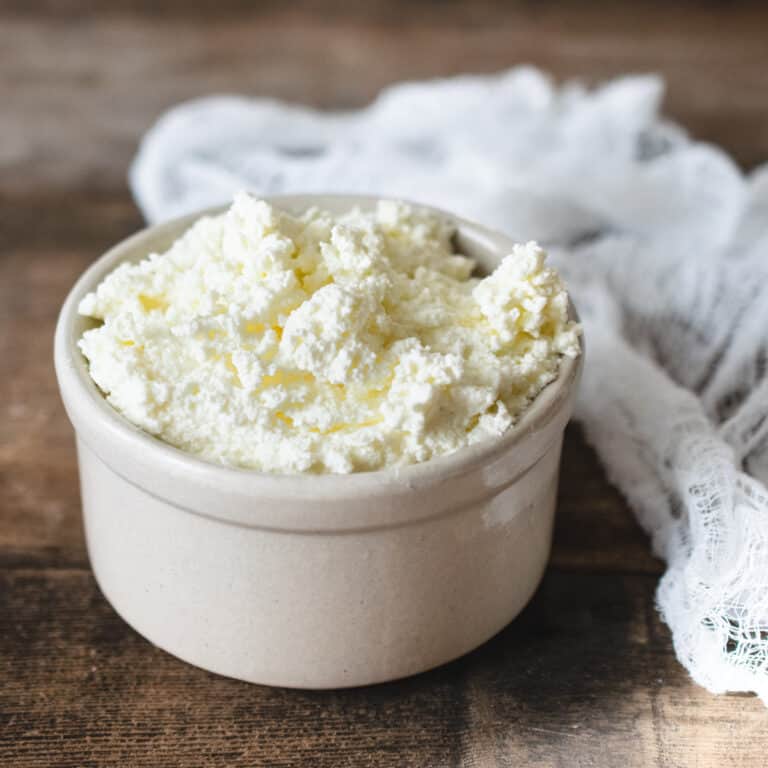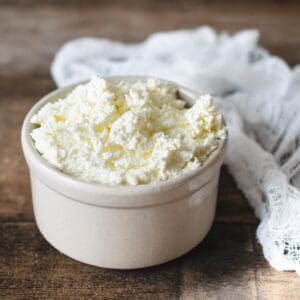 Homemade Ricotta Cheese
Quick and easy homemade ricotta cheese recipe, using just a few basic ingredients.
Print
Pin
Rate
Ingredients
2

cups

whole milk

1

cup

heavy cream

2

tablespoon

white vinegar

white or lemon juice

½

teaspoon

fine salt
Instructions
Add milk and cream to a sauce pan. Bring just up to a simmer (not boil) over medium high heat.

Remove from heat, stir in vinegar and salt. Let sit for 5 minutes for curds to form, you should see them lumping up on the back of the spoon and in the mixture.

Pour mixture through two layers of cheese cloth (or 3 layer for a thicker ricotta) and allow the thin, pale liquid to strain out into a bowl or container. You can also do this directly over the sink if you use a colander underneath the straining material to hold it up.

What is left in the straining material is the ricotta cheese! Store in a container in the fridge for up to 5 days.
Notes
Whole milk and heavy cream is preferred for this recipe.
Choose a basic white vinegar, a good white wine vinegar or lemon juice as the acid for this recipe.
If you don't have access to cheese cloth, use a coffee filter or fine mesh strainer. 
Strain the curds longer for thicker ricotta, and for less time for looser, more moist ricotta. 
Nutrition
Serving:
1
g
|
Calories:
112
kcal
|
Carbohydrates:
3
g
|
Protein:
2
g
|
Fat:
10
g
|
Saturated Fat:
6
g
|
Cholesterol:
37
mg
|
Sodium:
146
mg
|
Potassium:
80
mg
|
Sugar:
2
g
|
Vitamin A:
427
IU
|
Vitamin C:
1
mg
|
Calcium:
69
mg