If you've tried making homemade General Tso's Chicken, but it always ends up soggy and nothing like takeout, try these sure-fire tips for better-than-takeout General Tso's at home.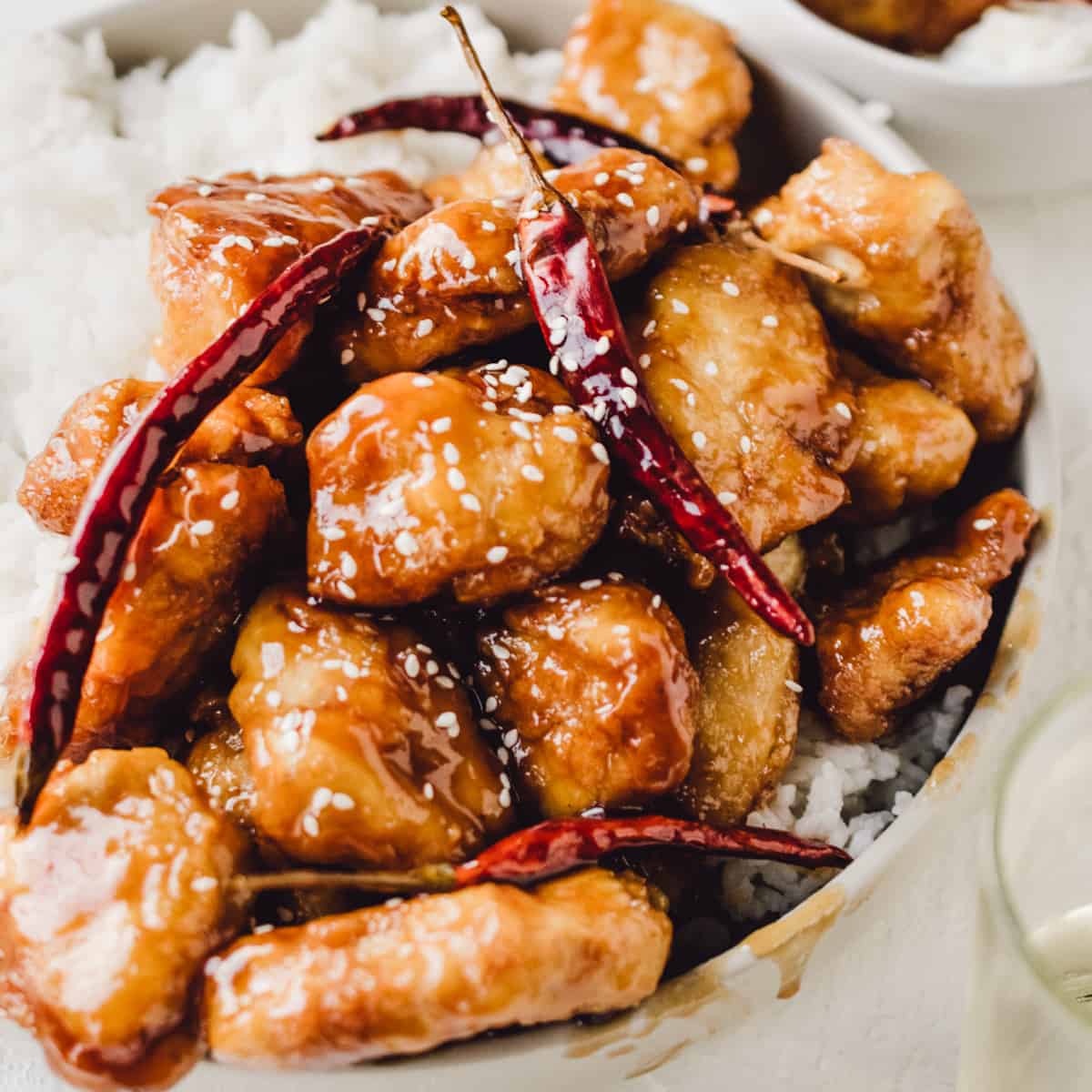 There's a reason people buy takeout. There's a certain something people often miss when it comes to making these coveted dishes at home.
General Tso's Chicken is one of those dishes. Luckily, there are quick and easy- but specific- steps to take to ensure that you end up with homemade General's that's even better than takeout.
Today, I'm sharing that recipe with you, and the important techniques needed to make it perfectly every time. That means crispy chicken that stays crispy, in a perfectly flavored General Tso's sauce that even includes the little red chili pods.
(Recipe includes a gluten free option).
Scroll on to crack the General Tso's code, but don't forget to check out these Food Truck Noodles. Springy, delicious Asian noodles that taste just like the noodles from food courts and food trucks!
Important ingredients
You need to use a blend of all purpose flour and rice flour. The rice flour is what makes the breading stay crispy, along with the tips on draining the pieces once their fried.
For a gluten free option, use a gluten free all purpose flour like this one in place of both the all purpose flour and rice flour, as gluten free all purpose flour contains rice flour.
Use dried, red chili pods, like a chile de arbol. You can find these in virtually any grocery store in the Mexican food aisle.
Sesame seeds are also great for sprinkling on the finished dish, and give a complete, take-out style taste.
Once the chicken has been prepared, it must be fried in oil. Don't attempt to use olive oil, you need to use a light frying oil like vegetable oil.
Breading Station
The dredging and batter station should be done in a 3-part, double dredge fashion.
Dredge the chicken pieces in the flour dredging mix, then dip them in the egg mixture, then back into the rice flour dredging mix again. Doing this creates a breading that not only sticks, but stays put while frying.
Do all of the pieces and set them on a plate to fry.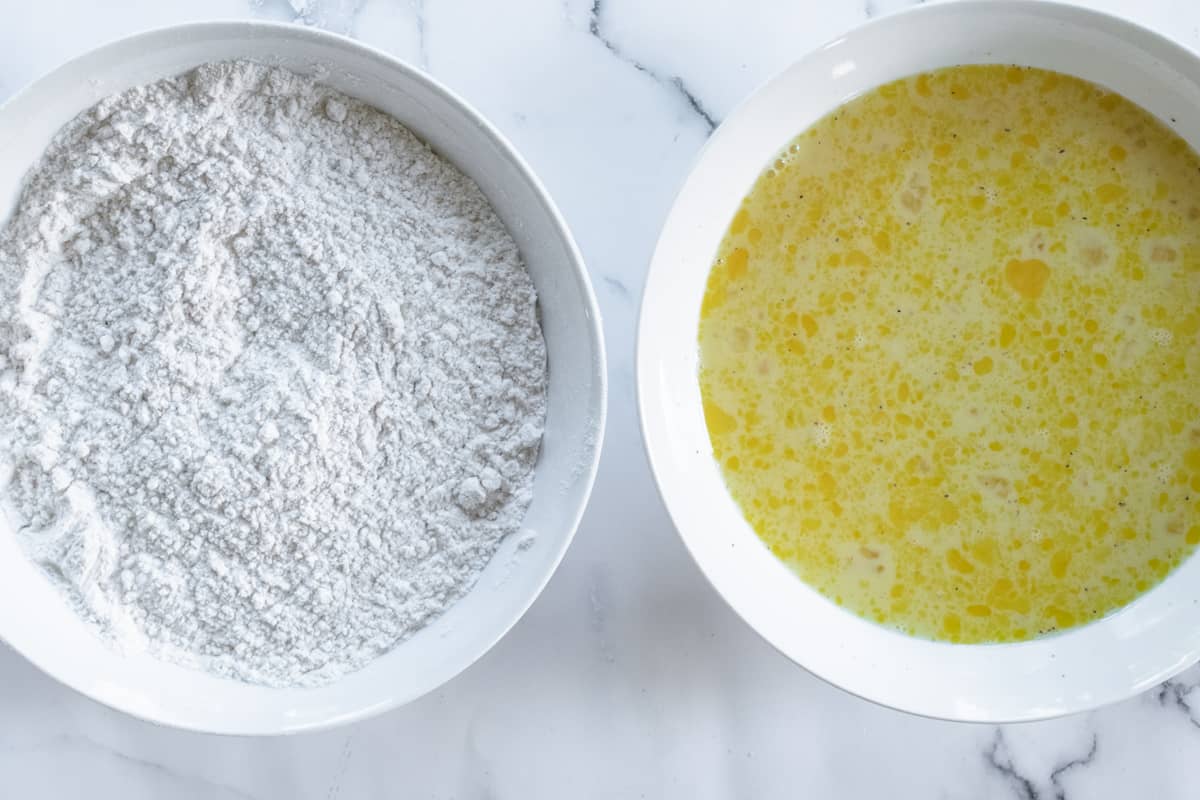 Frying and draining the chicken
Heat the vegetable oil to 350 degrees Fahrenheit. If it's smoking, it's too hot. You only need about an inch or two of oil, because you can flip the chicken pieces.
While waiting for the oil to come to temperature, prepare the draining station. Instead of laying the fried chicken pieces directly on paper towels, use a cooling rack over a paper towel or parchment paper lined baking sheet.
This elevates the chicken over the paper towels, while still allowing the grease to drain. If you lay the chicken directly on the paper towels, it creates a steam effect and steams the freshly fried chicken, which makes the breading soggy very quickly.
Transfer the fried chicken pieces out of the hot oil and onto the draining station until all the pieces are done, like shown below.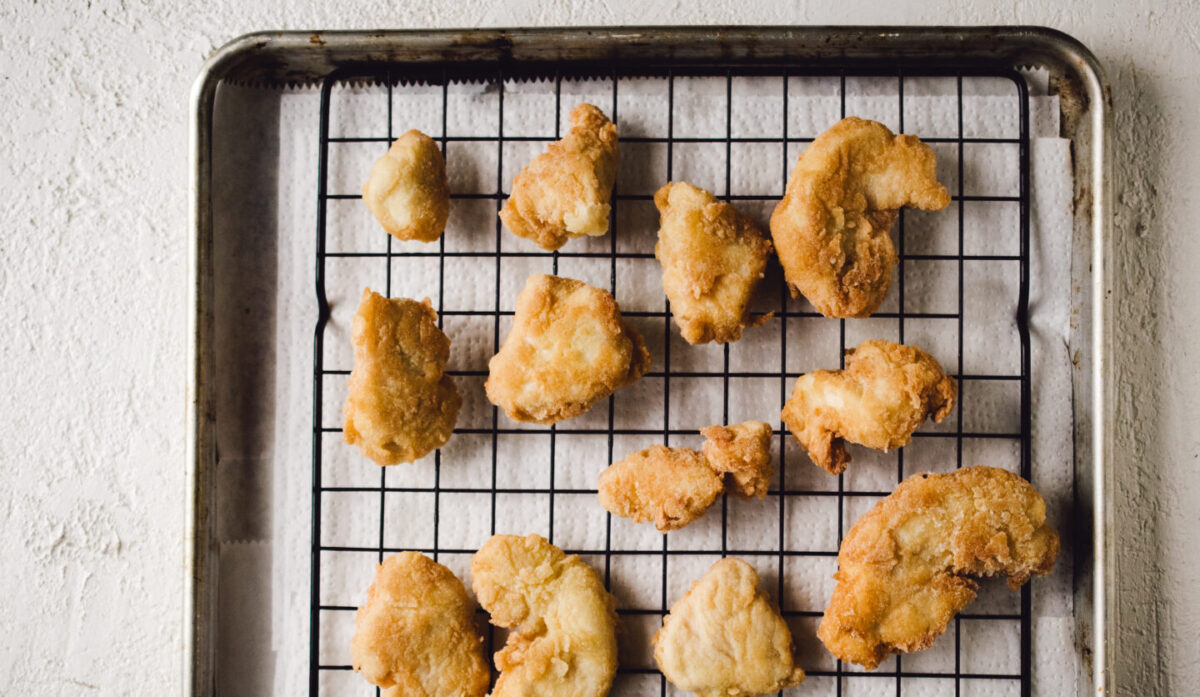 Sauce and toss
Once the chicken pieces are fried and the sauce is made, all that's left to do is toss it together. If you have a cast iron skillet, this is the perfect time to use it. Cast iron will give the sauce and the chicken a take-out-esque sear and caramelization.
If you don't have one, use a regular skillet. Heat the dry skillet to medium high heat.
The General Tso's sauce can be made a day or two in advance and refrigerated, or when you begin the recipe. It only takes a couple of minutes to whisk up.
Get your chili pods ready! I use 8-10 for this recipe. For extra spiciness, let the chili pods soak in the sauce for anywhere from 30 minutes to overnight.
Pour the sauce into a fully heated skillet, on medium to medium-high heat, along with the dried, whole red chili peppers (unless you've already added them to the sauce). The sauce should immediately begin to simmer and thicken up. If it's too hot, reduce the heat.
Let the sauce simmer for two minutes. Add the fried chicken pieces, and toss to coat. Remove from heat, and serve immediately with steamed rice, and sesame seeds.
And there you have it. Homemade General Tso's Chicken that's rivals take out!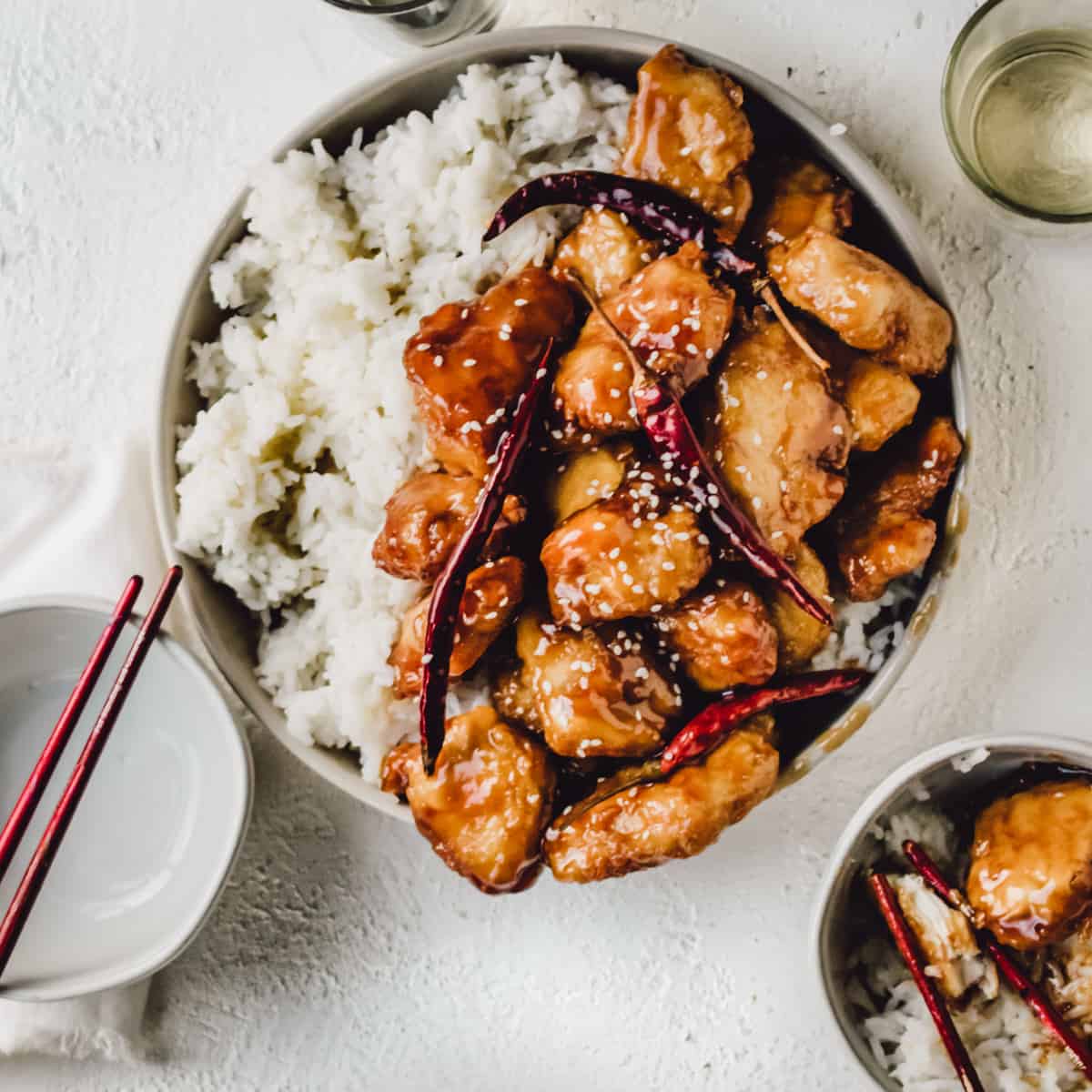 If you tried this recipe, leave a star rating 1-5 in the recipe card below. If you have any thoughts or questions, feel free to leave them in the comments section below.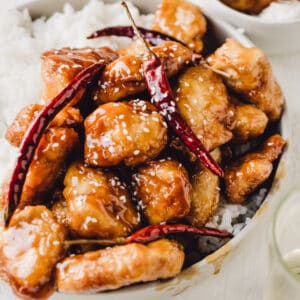 Homemade General Tso's Chicken
Breaded, deep fried pieces of crispy chicken, tossed in an Asian sweet and spicy, savory General Tso's sauce.
Print
Pin
Rate
Ingredients
2

pounds

chicken breast

1-2 inch pieces

vegetable oil

for frying
For the Dredge
1

cup

all purpose flour

can substitute gluten free all purpose flour

1

cup

rice flour

½

teaspoons

garlic powder

1

teaspoon

ginger

ground

½

teaspoon

granulated sugar

½

teaspoon

salt

more or less to taste

pepper

to taste, optional
For the Egg Wash
6

large

eggs

1

tablespoon

soy sauce

salt and pepper to taste

optional
For the Sauce
½

cup

soy sauce

¼

cup

granulated sugar

1

teaspoon

ginger

ground

1

teaspoon

garlic powder

or minced garlic

½

teaspoon

onion powder

1

tablespoon

corn starch

can substitute 2 tablespoons of all purpose flour

1

tablespoon

rice wine vinegar

½

cup

water

6-8

dried chili pepper pods
For Serving
sesame seeds

for garnish

steamed white rice

for serving
Instructions
Prepare the Sauce
Mix together all sauce ingredients, leaving out the chili pods for now for a milder flavor. If spicier sauce is desired, add chili pods to the sauce to soak while the rest of the recipe is prepared (you can also do this a few days in advance for even more kick).
Prepare the Chicken and Frying Oil
Cut thawed chicken into bite size pieces, pat dry. Salt and pepper to taste (optional).

Combine the dredging ingredients in one medium sized bowl and egg wash ingredients in another bowl of the same size.

Working with one piece of chicken at a time, dredge each chicken piece first in the flour mixture, then dip in the egg, then back in the flour mixture again to coat; set aside on a plate. Repeat with each chicken piece.

In a large, heavy skillet, heat 1-2 inches deep of oil to medium-high heat, or 350 degrees Fahrenheit with a thermometer. If the oil is smoking, it's too hot.

Once the oil has come to temperature, begin frying the prepared chicken pieces, working in batches. Set the pieces in the hot oil, with some room between each of them. Fry on that side until golden brown, about 2-3 minutes. Turn, and repeat for other side. Set finished pieces onto a wire rack over a paper towel lined baking sheet, making sure the chicken pieces are elevated at least half an inch over the paper towels. Don't crowd the chicken stack it, which will steam it and make it soggy. Repeat batches until all the chicken is fried. REMOVE OIL FROM HEAT-DRAIN IMMEDIATELY OR PLACE IN A SAFE PLACE TO COOL WHERE IT CAN'T BE PULLED DOWN BY CHILDREN-OIL STAYS HOT AND DANGEROUS FOR AT LEAST ONE HOUR AFTER BEING REMOVED FROM HEAT.

Heat a shallow, dry skillet (preferably a cast iron skillet, if possible) on medium to medium-high heat.

Give sauce a quick whisk to combine any ingredients that have settled, and pour into the hot skillet, along with the dried chili pods if they haven't been added to the sauce yet; simmer for 2 minutes until sauce begins to thicken. (If you substituted flour for corn starch, simmer for 4 minutes.)

Add fried chicken pieces to thickened sauce, and toss to coat. Remove skillet from heat.

Sprinkle chicken with sesame seeds in the skillet.

Serve with steamed white, brown, or cauliflower rice and sesame seeds.
Notes
For a gluten free version of this dish, substitute all purpose flour with gluten free all purpose flour. Prepare the rest of the dish as normal.
Elevate fried chicken pieces on a cooling rack at least ½ an inch over paper towels or any surface to allow steam to escape (so they don't become soggy).
Don't crowd the chicken while frying, or draining. 
Sauce can be made in advance and stored in refrigerator for up to one week.
For a spicier sauce, make the sauce in advance and add chili pods directly to the sauce to soak. They can soak from 30 minutes for a mild kick, or longer for a spicier kick. The longer they soak, the spicier the sauce will be.
For a mild sauce, only add the chili pods to the sauce with the chicken, and toss to coat. Don't serve chili pods to anyone who desires a mild flavor.
Nutrition
Serving:
1
g
|
Calories:
478
kcal
|
Carbohydrates:
50
g
|
Protein:
45
g
|
Fat:
9
g
|
Saturated Fat:
3
g
|
Cholesterol:
283
mg
|
Sodium:
1695
mg
|
Potassium:
751
mg
|
Fiber:
2
g
|
Sugar:
10
g
|
Vitamin A:
448
IU
|
Vitamin C:
2
mg
|
Calcium:
45
mg
|
Iron:
3
mg