Oh yes. This is it. The title is a mouth full, and so is the pasta. This homemade ravioli is jumbo sized and filled with buttery roasted, butternut squash and ricotta cheese. It's then tossed in browned butter, walnuts, fried sage, crumbled bacon and a finely grated nutty cheese. It gets very lightly fried so that the edges have just a slight bite to them that you'll never forget. Just typing this post is enough to make me decide that we are having this for dinner tomorrow.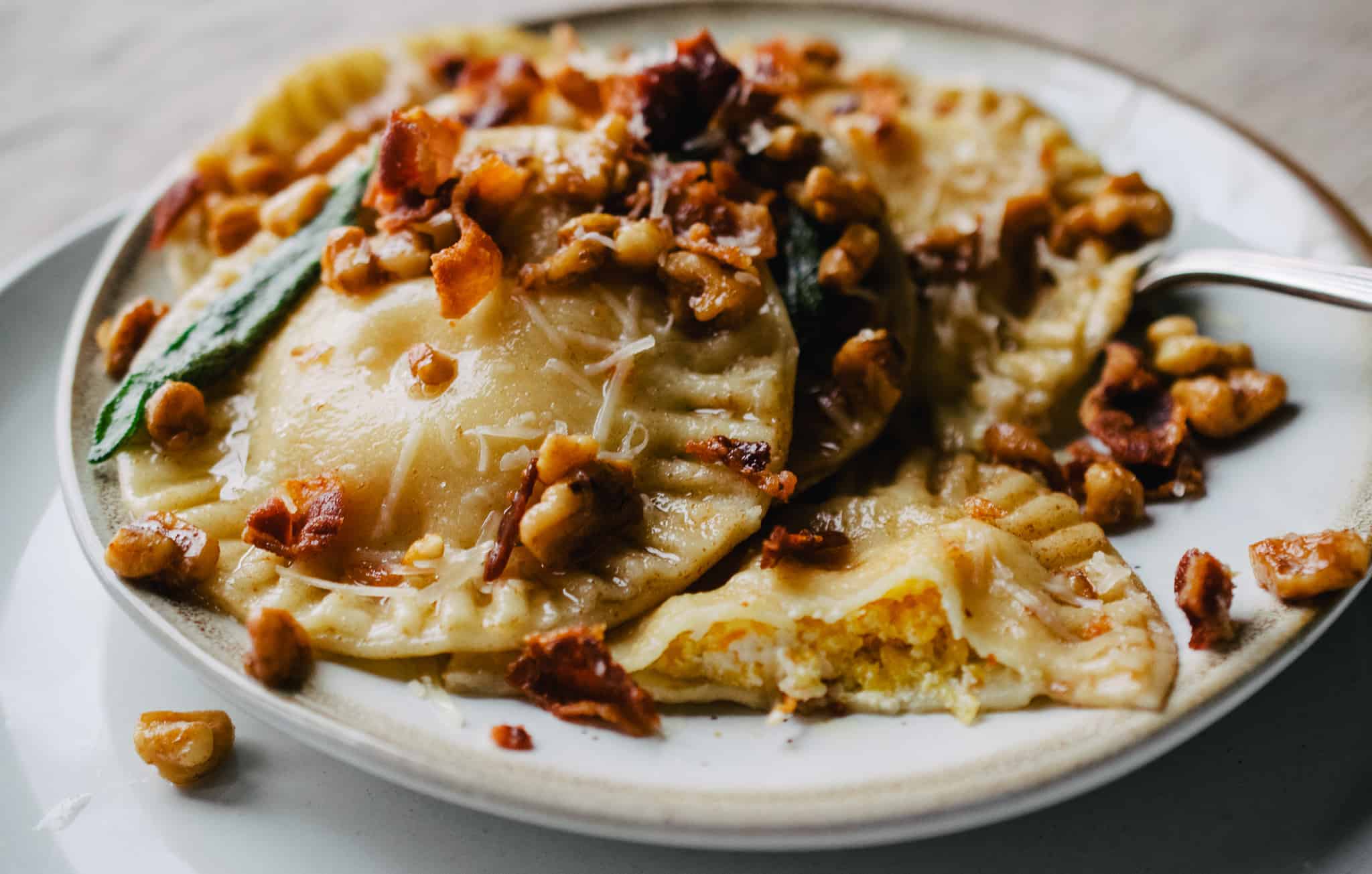 choose whether to purchase store bought or make your own ricotta
This is a total side note, so if you already know it isn't for you to make a simple cheese, scroll on down. But first know, it's really easy! You can get even more homemade if you'd like to make your own ricotta cheese; it takes about five minutes. Five minutes! and just 3 ingredients. That being said, most store bought ricotta cheeses are very delicious. Either way, it doesn't change this recipe. Just a little side note in case you're interested 🙂
browned butter
Have you had browned butter? Ohh, it is not something that can be described through type. Maybe by a more skillful writer. But I highly suggest that if you haven't had the immense pleasure of experiencing the wonder that is browned butter, stop what you are doing right now (ok, maybe not right now, but as soon as possible) and brown yourself some butter. It gets foamy on top while the magic occurs underneath where it becomes deep, and amber in color, and begins to smell nutty, rich, and even more buttery. Life changing on its own, and out of this world when you add any random ingredients to it and toss it with something. In this case walnuts and sage. So good. Steals the show, steals my heart.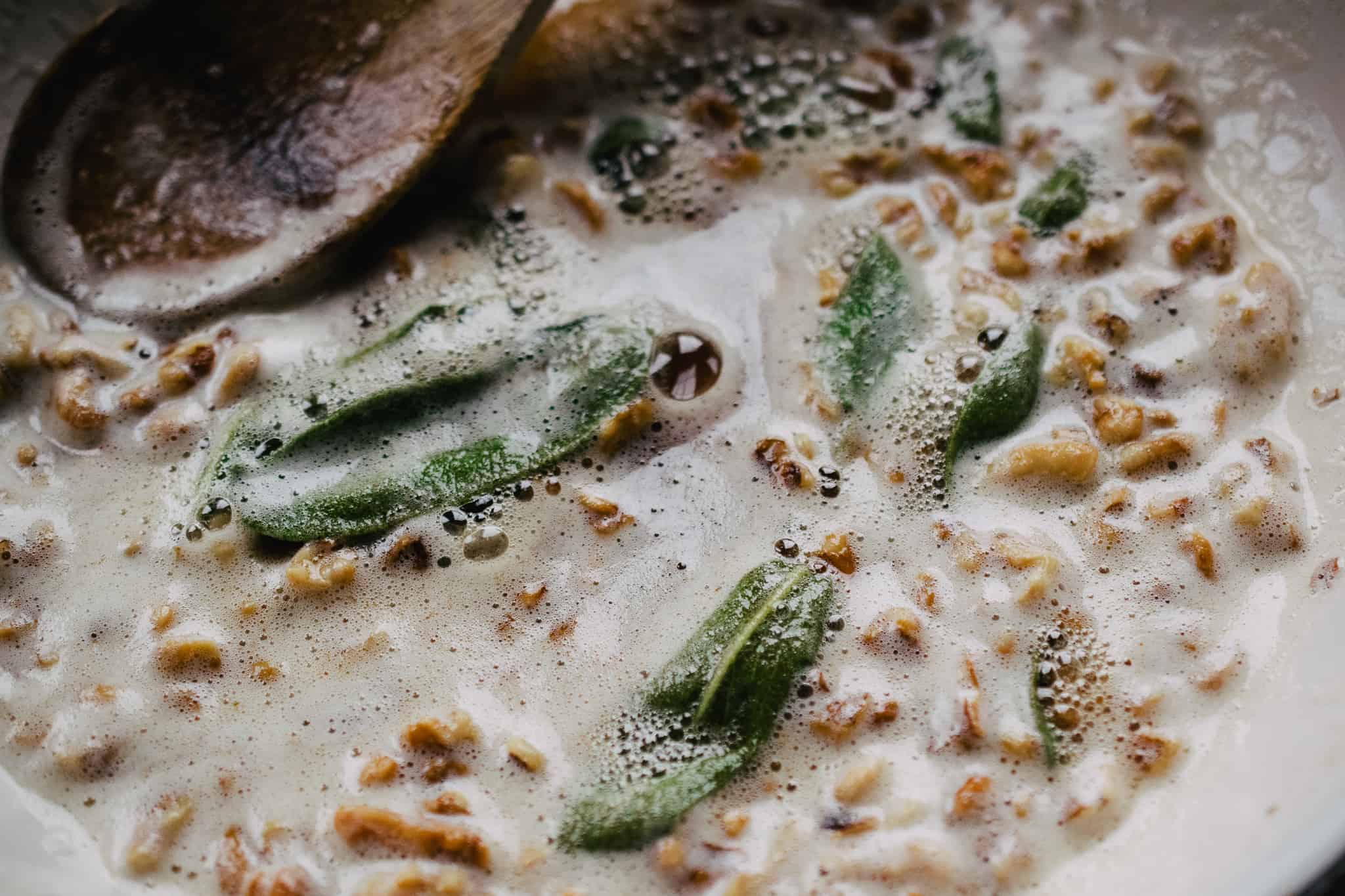 The edges of the ravioli, which are now filled with sweet, creamy, buttery butternut squash and ricotta, get ever so slightly browned on their edges in the already browned butter. This is because they get slid into to the pan and tossed into the browned butter ingredients long enough to slightly fry the outer outer edges. It adds an indescribable and irresistible bite that you will be hooked on for good.
Does homemade ravioli sound like too much hands on for your style? If you think it sounds and looks good, and would like a simpler, equally cozy pasta dish starring the squash, try this Roasted Acorn Squash Pappardelle Pasta dinner, (By all means, purchase any long ribbon pasta variety from your grocery store and toss this one together in minutes. It's an amazingly delicious dinner, that's simple and quick.) If you think the flavors of this sound good, but need to go a little less hands-on the the Roasted Acorn Squash Pasta is for you.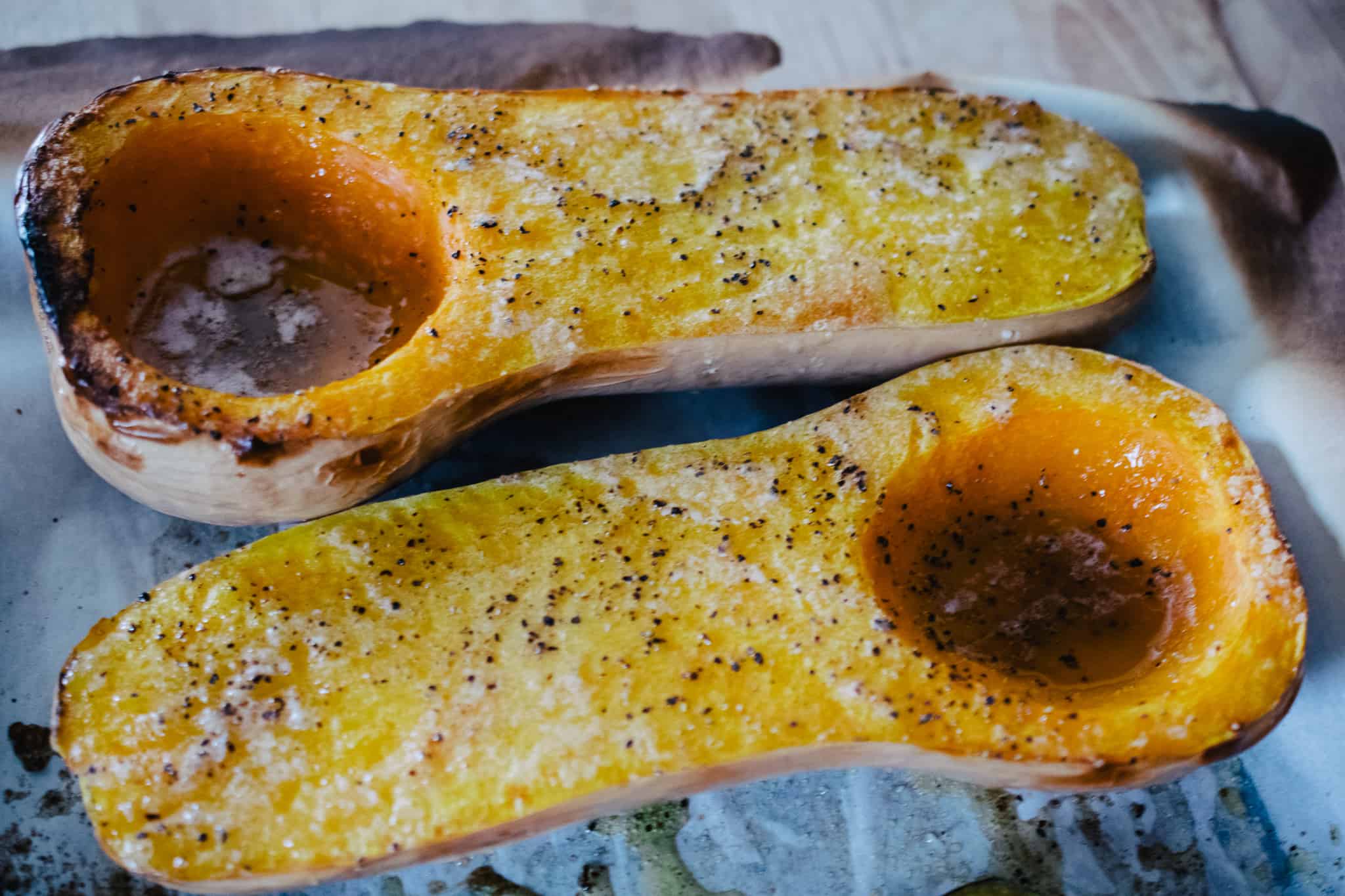 prepare the filling and bacon first
The butternut squash roasting is a really hands-off process. Preheat the oven to 350 degrees. Cut the squash in half and scoop out the seeds. Lay it on a baking sheet and slather it with butter and salt and pepper.
When it's cooled enough to handle, scrap it out into a bowl with a fork and use that fork to combine it with the ricotta cheese. This will be the ravioli filling; just those two ingredients.
The bacon can be cooked on a paper towel lined plate in the microwave to keep it from crowding the stove top. If you'd rather use the oven or stove top, go for it! I like the microwave because I just need it to cook and it just feels simpler to me, for this dish. Once it's cooled, it crumbles right up and will get tossed with the ravioli at the end, but that's later on.
How easy is that so far? Salt and pepper squash, roast, microwave the bacon. Simple!
how to make ravioli
If you've never made ravioli before, don't be scared! I promise, it's really easy. You don't even have to have a special ravioli cutter, or ravioli mold maker either. I just use a biscuit cutter for round raviolis, or a pizza cutter or knife if I'm making them square. A fork is all the equipment you'll need to seal them up! (With smaller ravioli, you can get away without pressing the edges with the tines of a fork, but I like the extra reinforcement for the jumbo ravioli, as they are heavier in the filling.)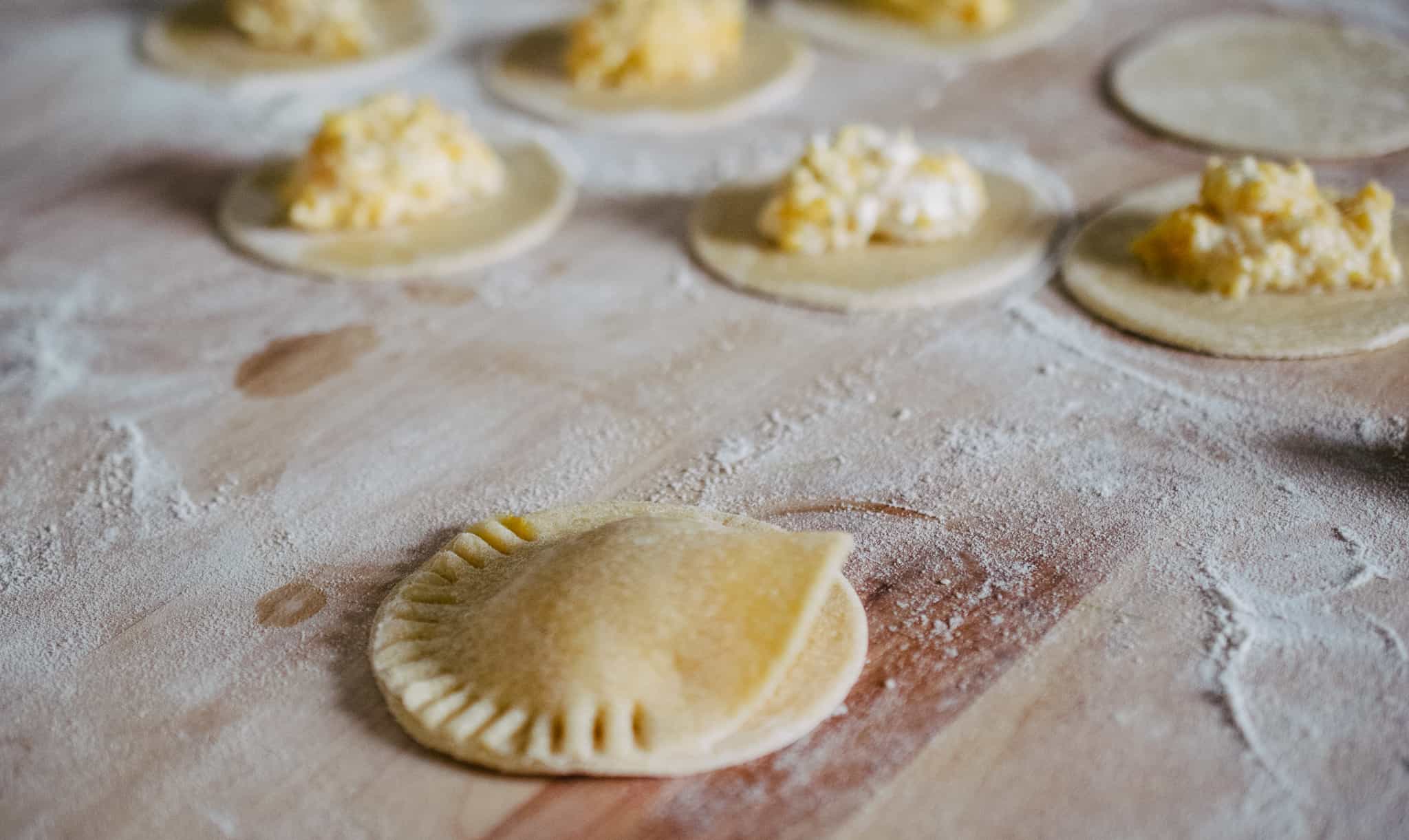 Roll the dough out using a pasta roller. You can use a hand crank pasta roller (I've linked the one I use, below because it works great, and takes up very little space in my kitchen). Or, the attachment that goes on your standing mixer, if you have that. The process is the same, and either method works just fine, so don't sweat it if it's your first time. You may have to do a few practice rolls, but you know what they say... practice makes perfect-ish. In all honesty, I screw up every few sheets if I'm not paying attention to what I'm doing. But it's no big deal. Pasta dough is forgiving like that, just roll it up and run it back through. It's almost therapeutic!
Start by pressing the dough into thin-ish sheets, about 1/4 inch thick. Easy pasta is all about the 'ish. Make sure they are nice and floured before rolling through the thickest setting on the roller. Then one by one, roll it through a thinner setting until you are somewhere a little thicker than the thinnest setting. On most pasta rollers, that number is a 6. This is perfect for ravioli.
Once all of the pasta sheets are rolled out and laid out on a floured surface, start cutting the circles. A biscuit cutter works perfectly for these jumbo raviolis, but if you don't have a circular biscuit/cookie cutter, use a pizza cutter wheel or sharp knife to cut 3" squares. Fill half of the shapes (remember the other half needs to go on top) with a heaping tablespoon of filling. Dip your finger in water and lightly moisten the outer edges. Place the top shape on and go around the edges with a fork, pressing the tines into the dough to seal it together.
The raviolis only need to boil for about 3 minutes until the pasta dough is cooked, yet slightly firm to bite. Then they get tossed with the magic that is browned butter, walnuts, fried sage and crumbled bacon. Oh, and cheese. Oh so yummy.
assembling the ravioli dinner
This is the easy part! Brown butter in a skillet with chopped walnuts. Add sage and the cooked ravioli and toss, letting the raviolis slightly fry and get a bit browned. Remove from heat and toss with the crumbled bacon. Serve immediately and garnish with Parmesan cheese.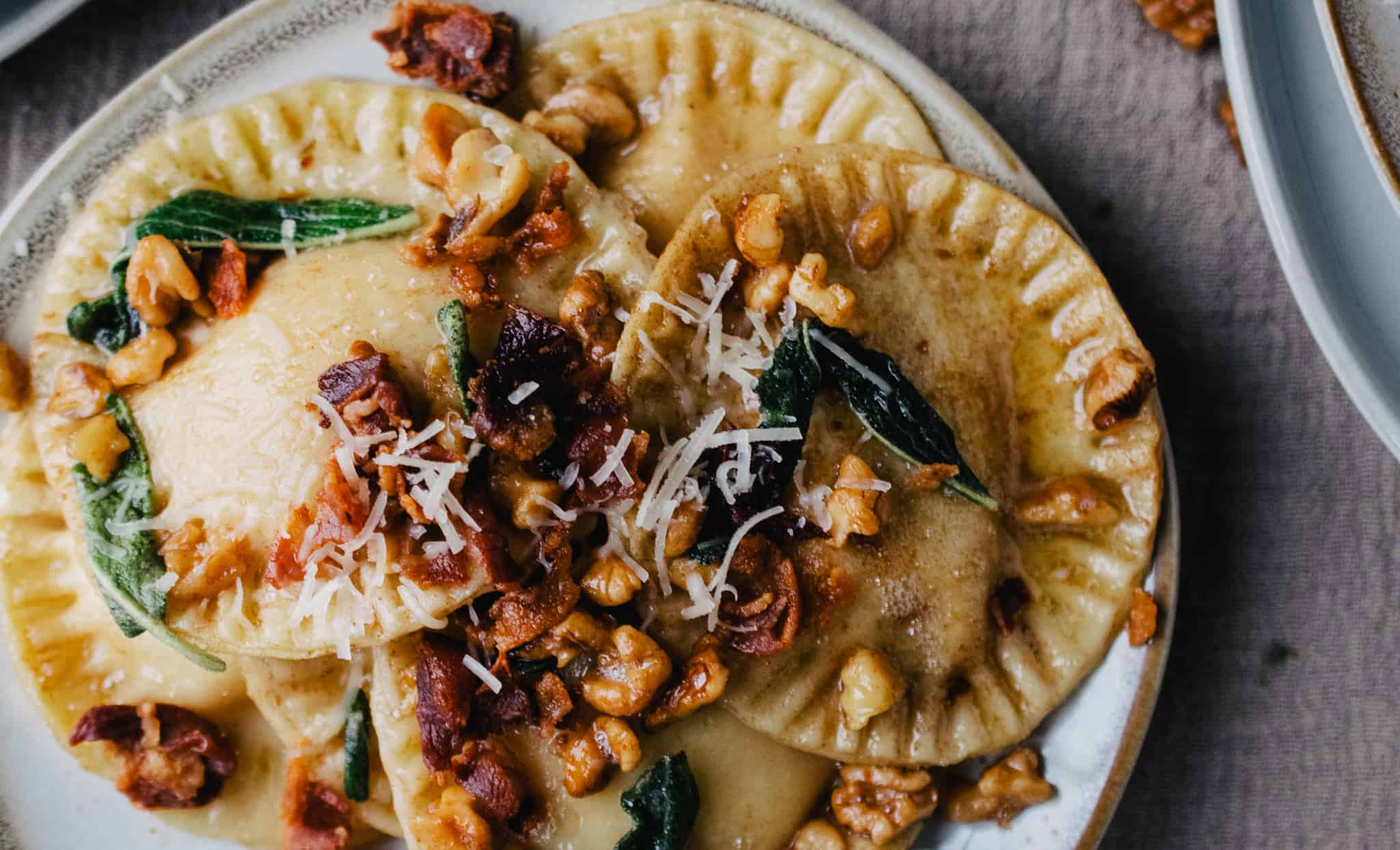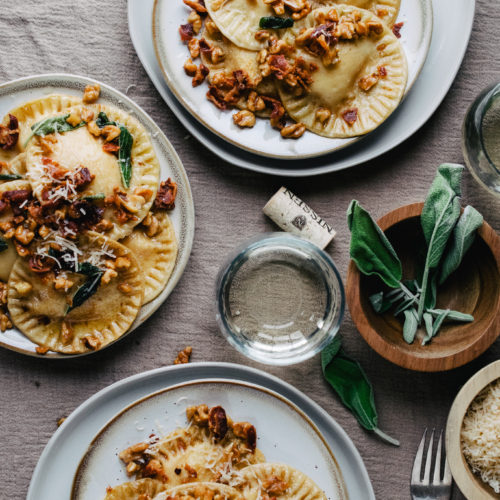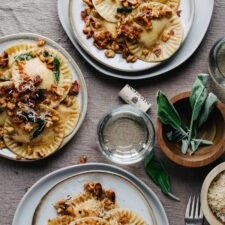 Butternut Squash Ravioli with Browned Butter, Walnut, Bacon and Fried Sage
Ricotta and butternut squash filled raviolis, tossed in browned butter, chopped walnuts and fried sage with crumbled bacon
Print
Pin
Rate
Ingredients
Pasta Dough
2

cups

all purpose flour

plus more for dusting

2

large eggs
For the Filling
1 1/2

cups

roasted butternut squash

1

cup

ricotta cheese
For the Sauce
1/2

cup

butter

1/2

cup

chopped walnuts

1

handful fresh sage leaves

1/4

lb

cooked bacon

crumbled into pieces
Instructions
For the Filling
Preheat oven to 350 degrees.

Cut squash in half, scoop out the seeds and spread butter all over it. Season with salt and pepper, and place on a baking sheet.

Bake for 45-60 minutes until squash is fork tender.

Let squash cool enough to be handled and scrape the cooked squash into a bowl (one and one half cups worth) and combine with ricotta cheese.
For the Pasta
Combine flour and eggs in a mixer using a dough hook or by hand until dough ball is formed and knead for 5 minutes.

Turn out onto a floured surface and divide into 4 equal portions.

Roll out through a pasta roller starting on thickest setting, working your way through each setting until 1/8" thick, making sure to keep the sheets floured to prevent sticking. This is around a #6 setting on many machines, or a couple of numbers thicker than the thinnest setting.

Using a biscuit cutter, cut circles into the dough (or use a ravioli, pizza cutter, or knife to cut 3 inch squares)

Fill half of the circles with a heaping tablespoon of the squash/ricotta filling. Lightly moisten the edges with water.

Use the tines of a fork to press the matching top dough together. Repeat with all the raviolis.
Assembling the Dish
Heat butter and walnuts in a skillet on medium high heat until butter becomes foamy and starts to deepen in color.

Add sage and cooked raviolis. Saute until sage and raviolis begin to develop a subtle browning color.

Remove from heat. Toss with crumbled bacon, and Parmesan cheese. Serve right away with a little more Parm sprinkled on each serving.
Notes
Don't forget to cook the bacon ahead of time, I use the microwave on a paper towel lined plate. 
The filling can be made in advance.
The dough can be made in advance and covered until ready to roll out. 
Roast the squash and garlic together.