This butternut squash ravioli is so decadent with delicious pockets of pasta filled with sweet butternut squash and ricotta cheese, then tossed with brown butter fried sage, crispy bacon and toasted walnuts.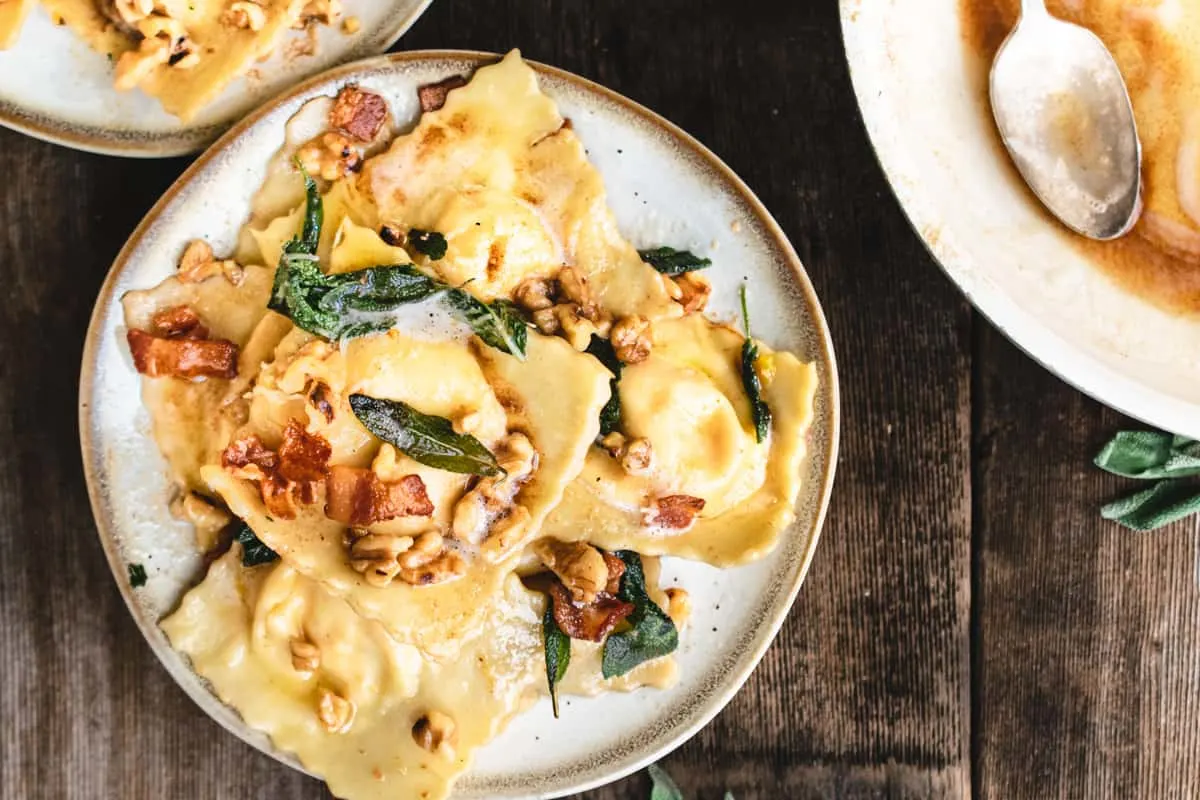 The pasta dough, ravioli filling, or the fully filled and cut raviolis can be made in advance the day before, and tossed together later.
It's an elegant dish, without being over the top.
It is so full of flavors and textures, that it doesn't need a side dish to accompany it.
Ingredients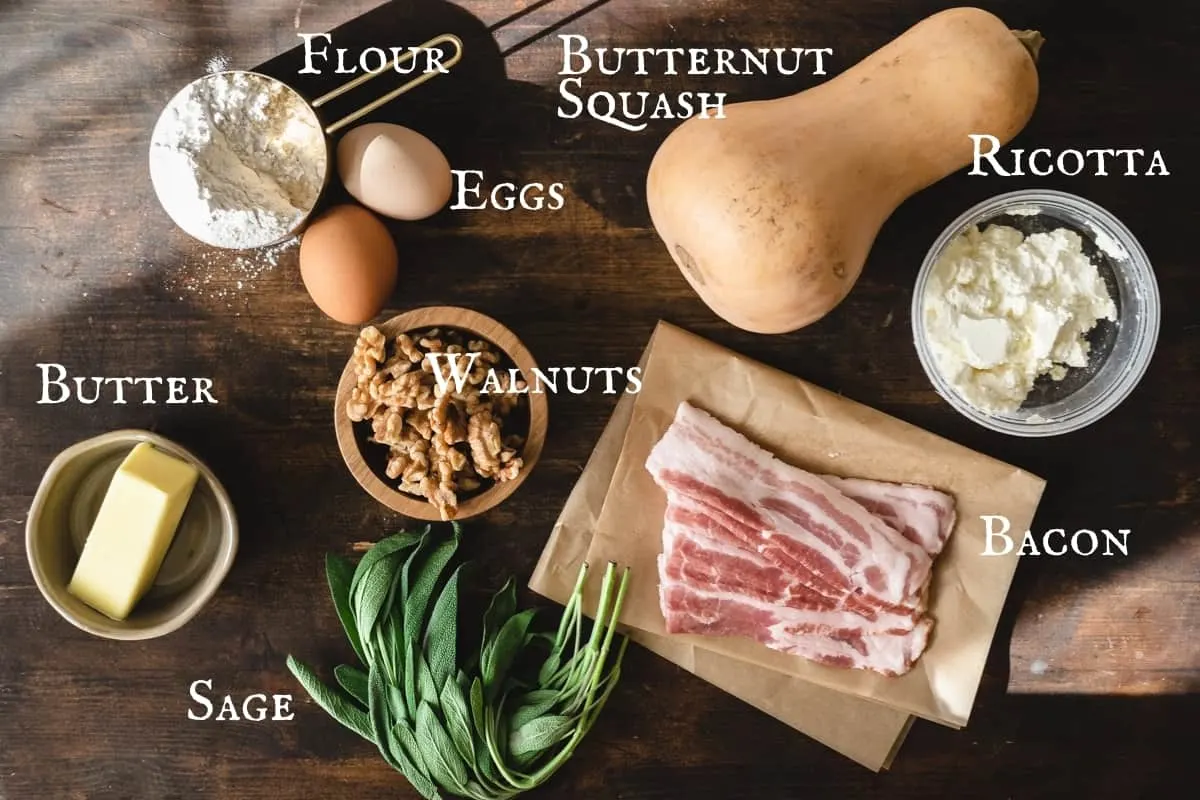 Do not attempt to substitute the butter. Browned butter's delightful flavor comes from toasting the milk solids. You cannot substitute margarine, or any sort of alternative fat butter to make browned butter.
All purpose flour can be used to make this pasta dough, or you can also use semolina flour.
Use fresh sage leaves, rather than dried herbs. They get crispy in the butter and adds a special something to the dish.
If you are using walnut halves, be sure to give them a rough chop, or choose chopped walnuts.
The pasta dough in this recipe works best with large size eggs.
You can use store bought ricotta cheese, or homemade to make this dish even more special, or choose a quality store brand.
Bacon can be swapped with pancetta, or it can be left out completely.
Although not a required ingredient of this recipe, Parmesan cheese is always a nice addition to sprinkle on right before serving.
Instructions
This is a slightly hands-on recipe, that involves a little bit of labor and love. But it's completely worth it.
It's very helpful to get the bacon out of the way first.
This is one of the few times that I prefer to actually cook it in the microwave, on paper towel lined plate where it can cook without having to be watched.
If the microwave method doesn't appeal to you, you can fry it in a pan while the squash is in the oven.
To roast the squash, heat the oven to 400 degrees.
Cut the butternut squash in half length-wise, and use a spoon to scoop out the seeds as well as any stringy pulp (photo 1). Place the scooped out halves on a baking sheet (photo 2).

Poke the flesh of the butternut squash several times with a fork (photo 3); this way the butter, salt and pepper can seep into the squash and further flavor it inside.
Spread butter all over the squash, liberally salt and pepper both halves, and place an extra butter pad in the hole where the seeds were (photo 4).

Roast the seasoned squash halves for about 1 hour, until it's fork tender (photo 5) and let cool enough to handle. (While it roasts, you can make the pasta dough.)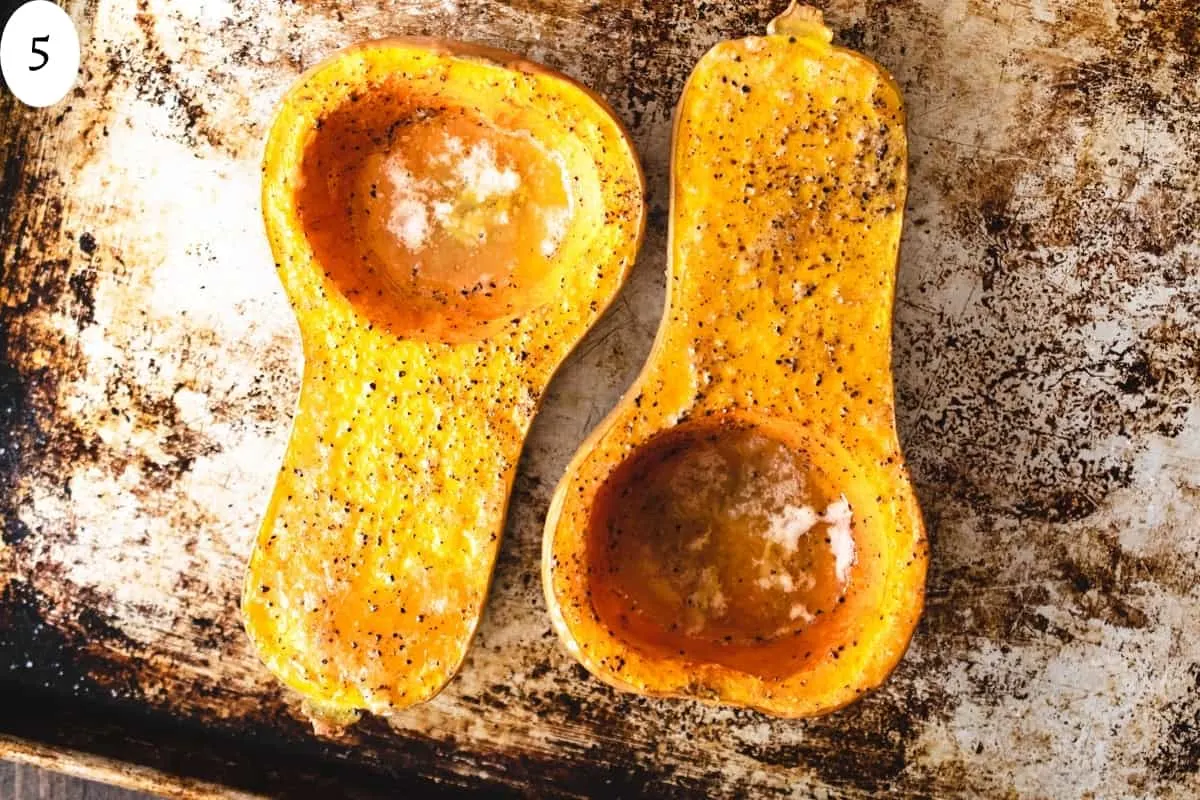 Once the squash is cooled, pull the skin away or scoop the meat away from the skin with a spoon, and puree it (photo 6). Add the ricotta cheese, and mix with the pureed squash until just combined (photo 7). Set this aside until ready use (photo 8).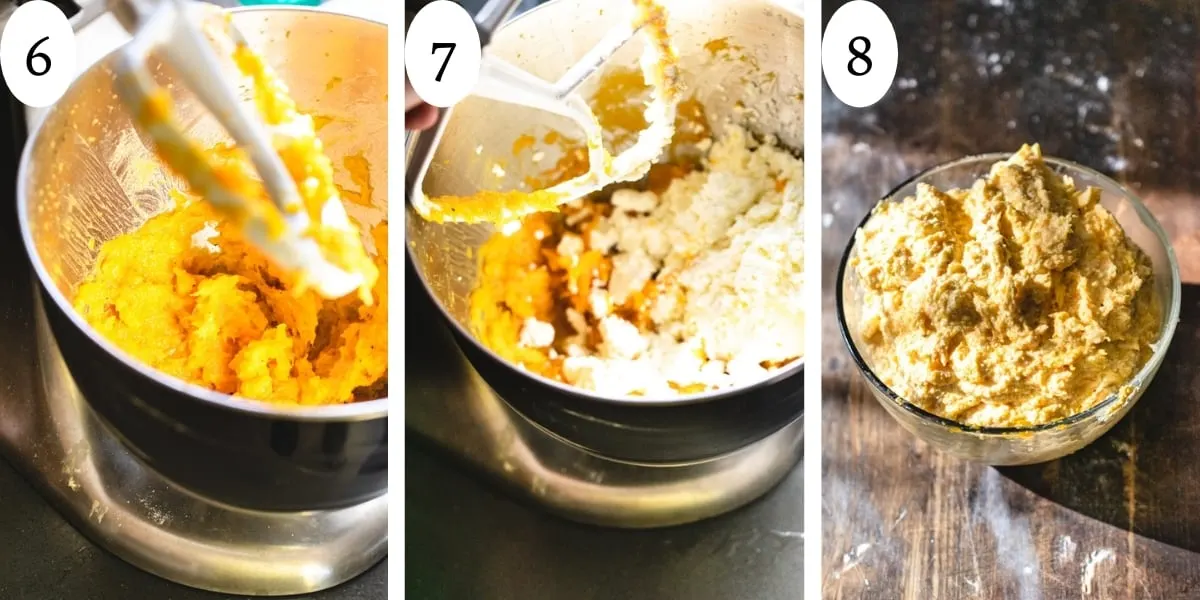 Combine the flour, salt, eggs and oil in a stand mixer with a dough hook until combined.
Cover in plastic wrap, and let rest on the counter top (photo 9) while the squash roasts. This allows the glutens to relax and the pasta dough to become flexible, soft and silky for rolling.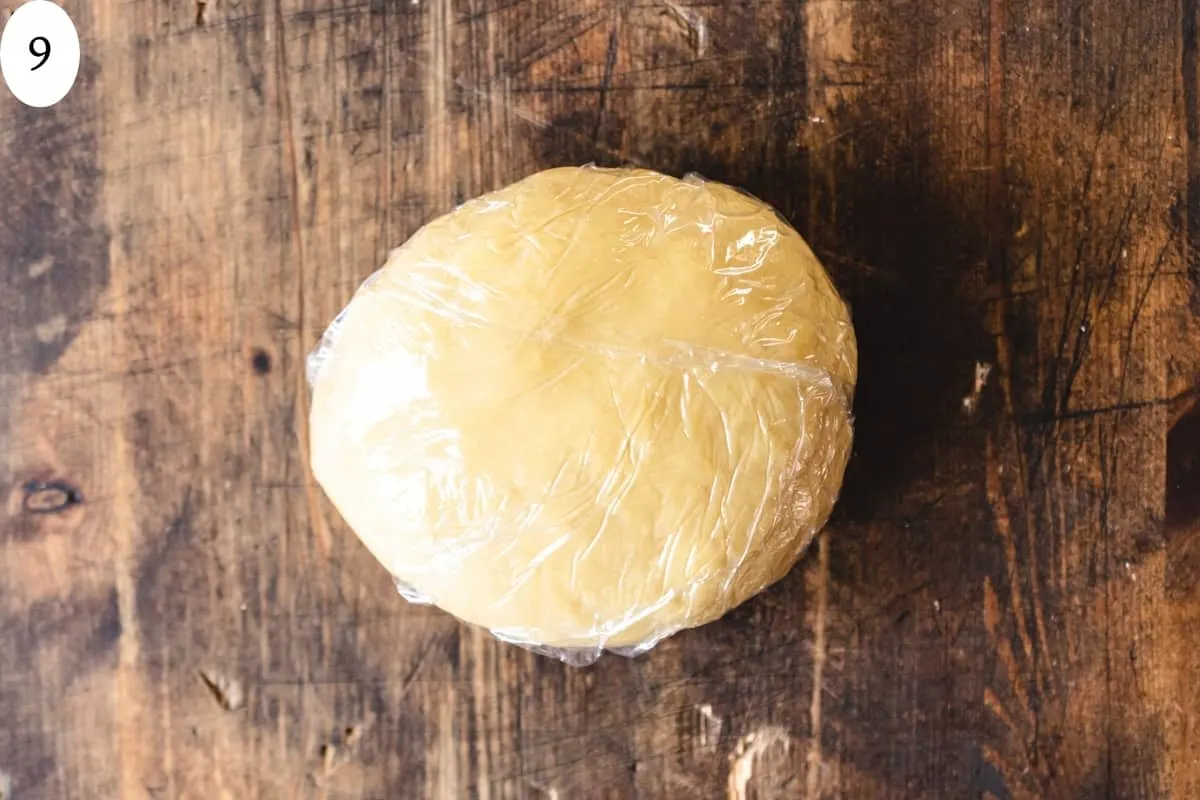 Once the pasta dough has rested, it's time to start making pasta sheets for the ravioli. Dust your work surface and the dough with a bit of flour to avoid sticking.
Cut the dough into halves (photo 10), or even fourths for easier handling.
Flatten the pasta with your hands so that you can begin running it through the widest setting of a pasta roller (photo 11).
Fold both ends toward the center, one on top of the other (photo 12) and run the pasta through the widest setting again as shown in (photo 13) and repeat the folding and rolling two more times.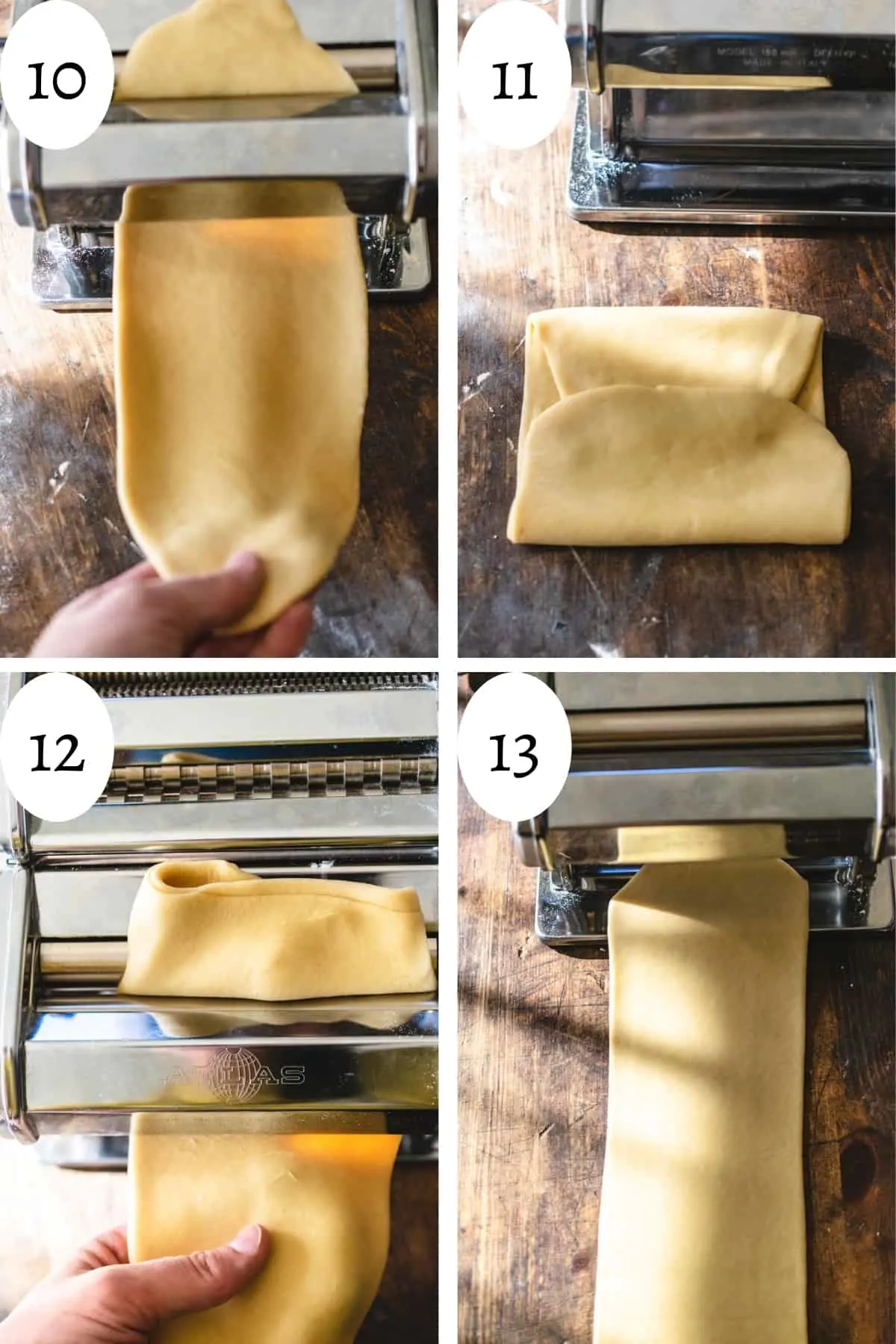 Finally, run the pasta sheet through each of the settings (no folding), from widest to down to the second or third to last setting. (The thinnest settings will likely be way too thin to accommodate the ravioli filling.)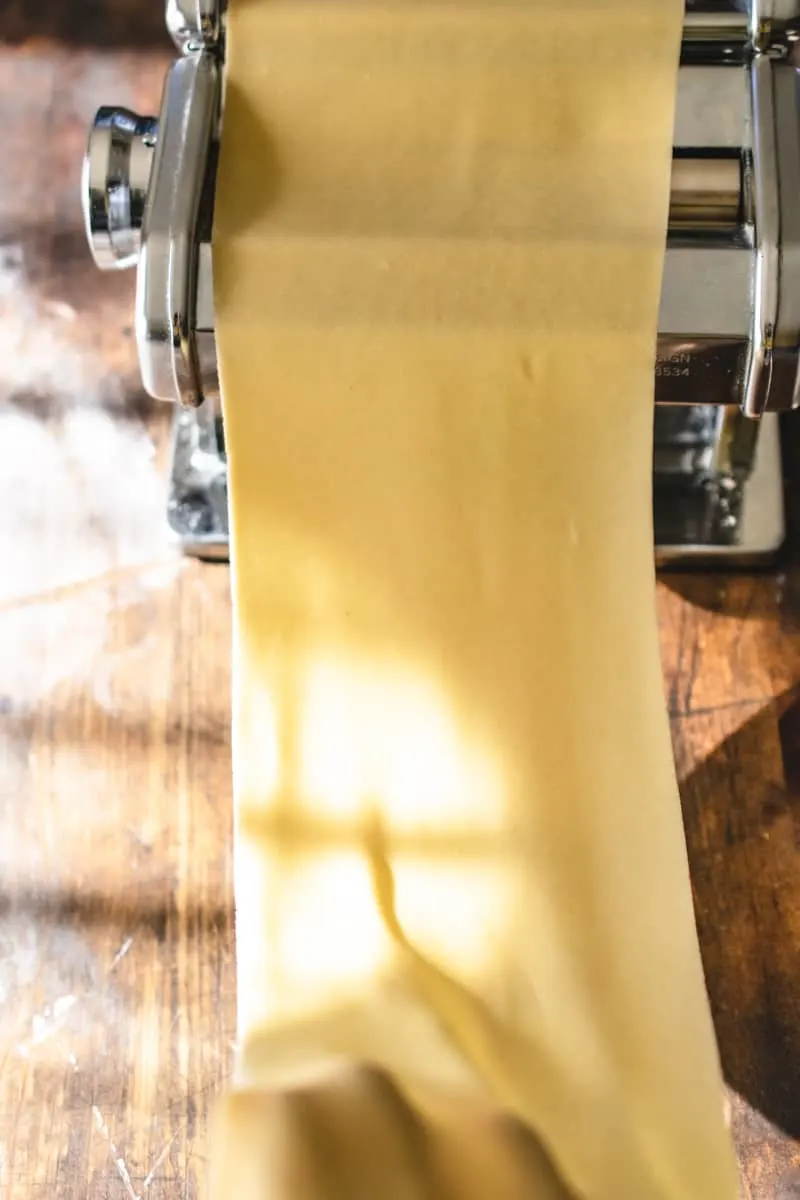 Lay the pasta sheets down and fill 1 heaping teaspoonfuls in rows of 2 each, 2 inches apart as shown (photo 14).
Lie another sheet over the top, and use your hand to cup the pasta sheet around each pile of filling (photo 15).
Use a ravioli wheel, pizza cutter or knife to cut the raviolis into 2 inch squares (photo 16).
Bring a large pot of salted water to a boil, and cook the raviolis for about 1 minute (photo 17), drain immediately. Do not overcook them.
Once the ravioli is cooked, the rest is a breeze and actually only takes a few minutes.
In a large skillet, add the butter, sage and walnuts and begin to cook on medium high heat until the butter turns amber in color, and looks foamy (photo 18).
It should smell slightly nutty, and the sage leaves should look slightly crisp and darkened in color.
Add the cooked ravioli and crispy bacon pieces (photo 19), and toss. Grate a little fresh parmesan over the top, if desired (photo 20).
Recipe Tips
Don't mix the ricotta with hot squash puree.
Be sure to measure the flour properly; if the dough is too sticky add only 1 tablespoon at a time until the dough pulls away from the sides of the bowl.
If you don't want to make the pasta dough itself, you can often ask your local Italian restaurant to sell you some.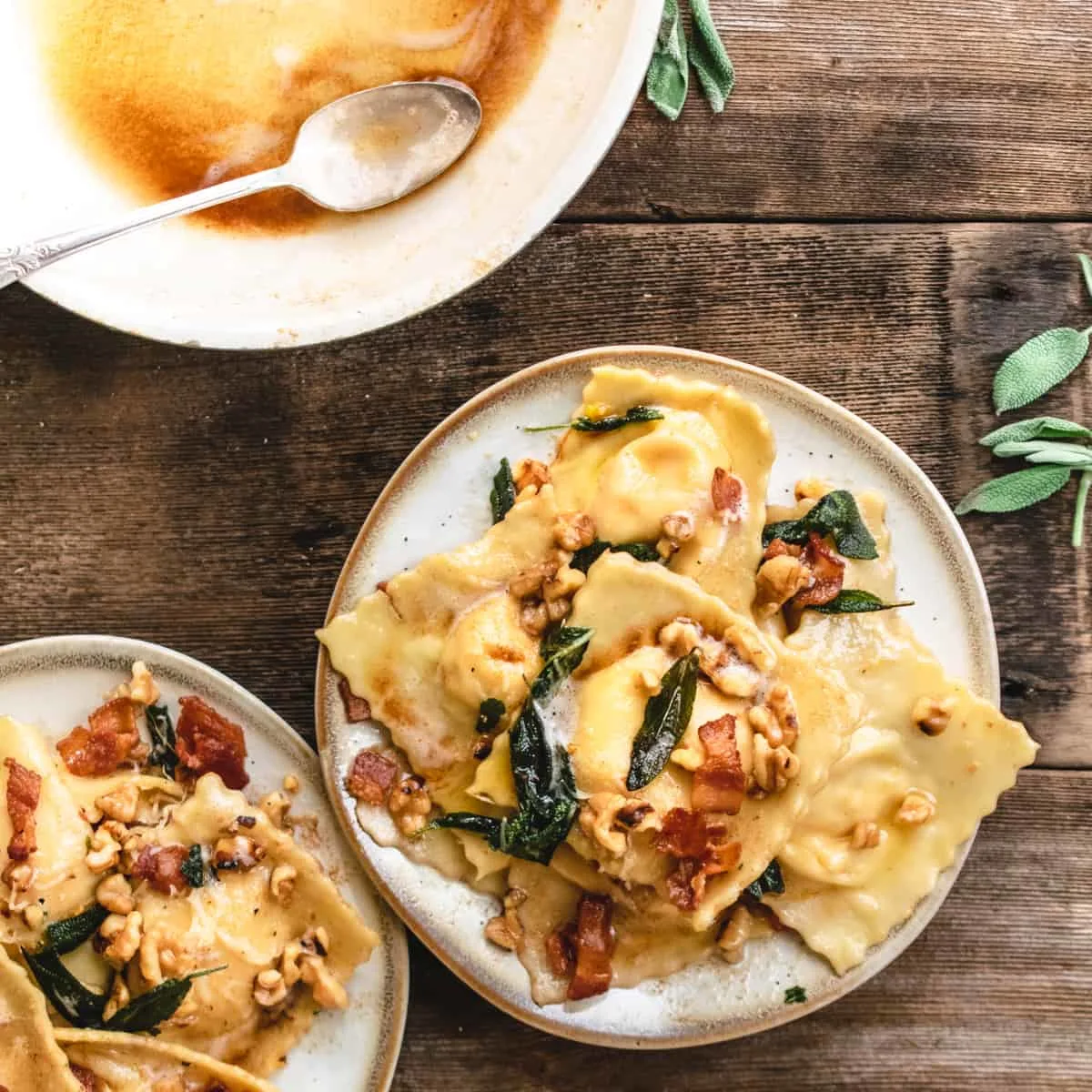 More Fall Favorites recipes Include:
Did you try this recipe? Leave me a rating below!
📖 Recipe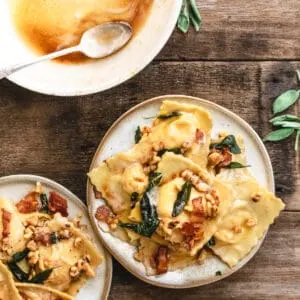 Butternut Squash Ravioli with Browned Butter Fried Sage, Walnuts, and Bacon
Ricotta and butternut squash filled raviolis, tossed in browned butter, chopped walnuts and fried sage with crispy bacon.
Print
Pin
Rate
Ingredients
Pasta Dough
2 ¼

cups

all purpose flour

plus more for dusting

4

large

eggs

1

tablespoon

olive oil

½

teaspoon

salt

optional
For the Filling
1

butternut squash

halved

butter

salt and pepper

1

cup

ricotta cheese
For the Sauce
½

cup

butter

1 stick

1

cup

walnuts

chopped

1

handful fresh sage leaves

½

lb

bacon

cut into pieces and fried
Instructions
First, cook the bacon pieces either on a paper towel lined plate in the microwave on high for 6-8 minutes, or fry in a pan until crispy. Drain, set aside.
For the Filling
Preheat oven to 400 degrees.

Cut squash in half, scoop out the seeds and spread butter all over it. Season with salt and pepper, and place on a baking sheet.

Bake for 60 minutes until squash is fork tender.

Let squash cool enough to be handled and scrape the cooked squash into a bowl (one and one half cups worth) and combine with ricotta cheese. Set aside
For the Pasta
Combine flour, eggs, oil, and salt in a mixer using a dough hook or by hand until dough ball is formed, cover with plastic wrap and let rest at room temperature for one hour.

Turn out onto a floured surface and divide into 2 or 4 equal portions.

Roll out through a pasta roller starting on thickest setting, working your way through each setting til the second or third to last one, making sure to keep the sheets floured to prevent sticking. This is around a #7 setting on many machines, or a couple of numbers thicker than the thinnest setting.

Lay out one sheet, and pile heaping teaspoon of ricotta and squash filling 2 inches apart.

Lay a second sheet over that, and allow it to settle on, using your thumbs to press down around the filling.

Use a ravioli wheel, pizza wheel or knife to cut 2 inch wide squares.

Bring a large pot of salted water to a boil, and cook raviolis for one minute; strain immediately.
Assembling the Dish
Heat butter, sage and walnuts in a skillet on medium high heat until butter becomes foamy and starts to deepen in color.

Add cooked raviolis and bacon. Toss. Garnish with Parmesan cheese (optional), and serve right away.
Notes
Don't forget to cook the bacon ahead of time, I use the microwave on a paper towel lined plate, but you can fry in a pan and drain.
The filling can be made in advance.
The dough can be made in advance and covered until ready to roll out.
The raviolis can be made in advance, covered and stored in the fridge for up to 2 days, and boiled the same way.
Leftovers can be stored in the fridge for up to 5 days, then sautéed in a skillet on medium heat to warm up.
Nutrition
Calories:
507
kcal
|
Carbohydrates:
33
g
|
Protein:
11
g
|
Fat:
37
g
|
Saturated Fat:
13
g
|
Cholesterol:
110
mg
|
Sodium:
216
mg
|
Potassium:
415
mg
|
Fiber:
3
g
|
Sugar:
3
g
|
Vitamin A:
8210
IU
|
Vitamin C:
16
mg
|
Calcium:
128
mg
|
Iron:
3
mg