Diced potatoes, fluffy beaten eggs, rich country sausage gravy, and layers of cheese baked until piping hot and bubbly. Sausage Gravy Breakfast Casserole can even be made in advance and frozen!
hangover breakfast
Sausage Gravy Breakfast Casserole is also dubbed 'Hangover Casserole', but you don't need hangover to experience it's awesomeness. Nor does it need to be breakfast time. We eat this from the afternoon to dinner time. It's great to pop in the oven on a lazy weekend morning, and graze on leftovers for dinner. Whether you layer it up in advance and freeze it until ready to bake, or bake it right up after assembling, you can't go wrong with this dish. It's the best kind of comfort food. It's sloppy, it's savory, and it's satisfying.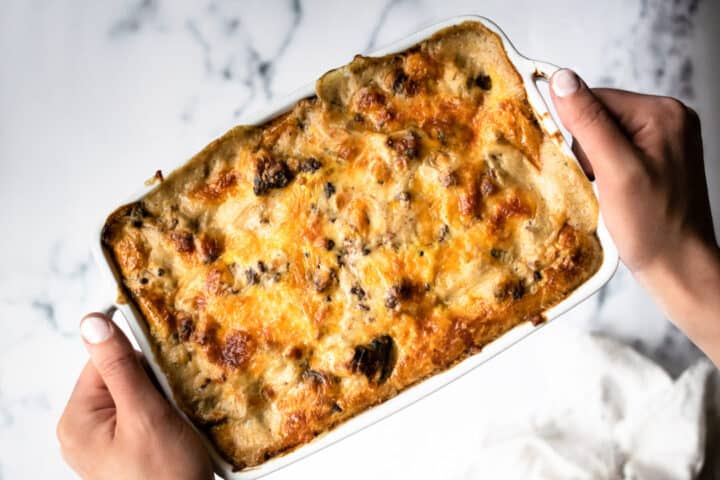 make ahead brunch
Definitely whip this up and bake on the spot, but also keep in mind these make ahead brunch tips:
If baking the next morning or so, you probably won't miss the baking dish that you freeze it in the night or two before.
If you are making this quite a ways in advance, opt for a disposable baking tray, like one of these.
When making the day of, consider making a double or triple batch. Freeze the extra casseroles for a future morning, or busy weeknight dinner.
Add 30 minutes to the cooking time for frozen, make ahead breakfast casseroles.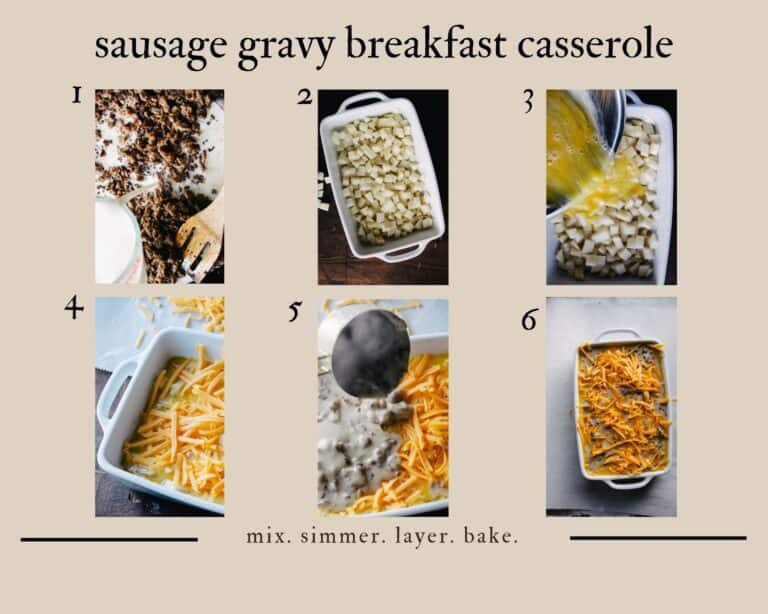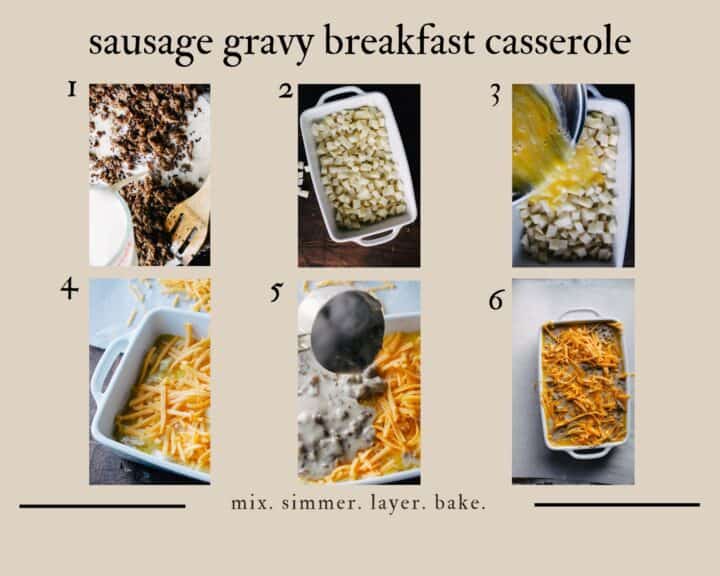 how to make homemade sausage gravy
Start with the gravy. It's the only thing that needs to cook outside of the oven, and as it's doing so, you'll be able to prep all the other ingredients for assembly. Homemade sausage gravy is what makes this breakfast casserole amazing, and if there is one thing you should make in a cast iron pan, it's homemade country sausage gravy!
cast iron vs anything
To make the homemade sausage gravy, use ground pork in a nice, hot skillet. If you have the option to use cast iron, this would be the time. Sausage gravy wants to be cooked in a cast iron skillet! If you don't have one, don't let that stop you; you're favorite skillet will work great. Just don't forget that cooking on cast iron completely elevates the flavor and texture of anything you cook in it; and a properly cared for skillet will last you for generations.
brown the sausage until it's very crispy
Brown the sausage up until it is super crispy. Emphasis on super. Because this is going into a gravy, there is no such thing as too crispy, so long as it doesn't cross over into burnt territory. Watch it, and when it looks like it cannot get any darker without burning, then it's done.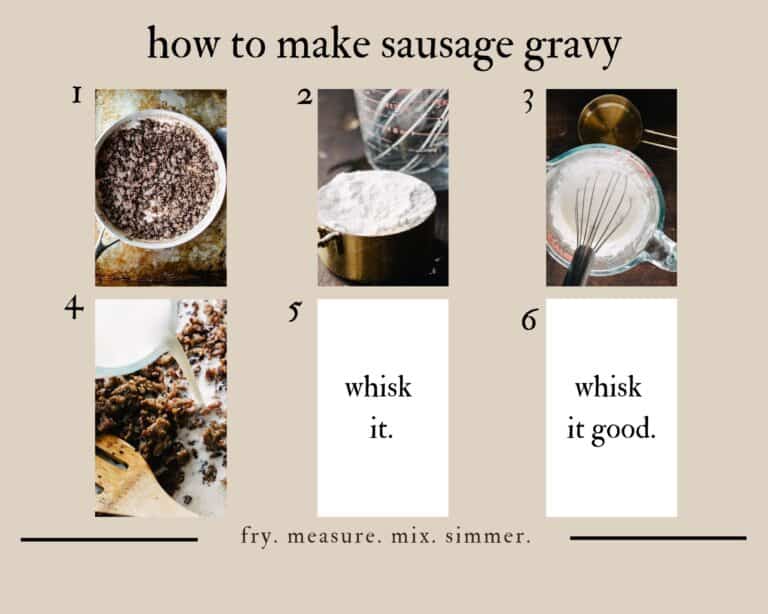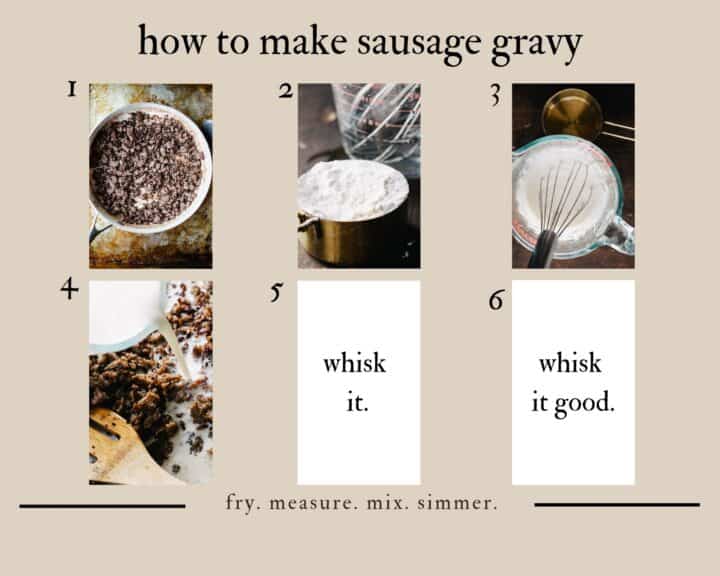 Drain excess grease. (The pan can be wiped, and the sausage can be drained on towels to eliminate more fat.) Traditionally, some of the fat is wanted for the sake of the flavor of the gravy. Personally, I drain the grease, but I don't wipe the pan.
Reduce the heat to medium.
Whisk up the flour and water until there are no lumps of flour. Once the grease has been drained, add the milk to the pan, and then whisk the flour mixture in. Salt and pepper to taste.
The gravy is done once its simmered for at least 5 minutes, is thickened, and the flour taste in no longer detectable.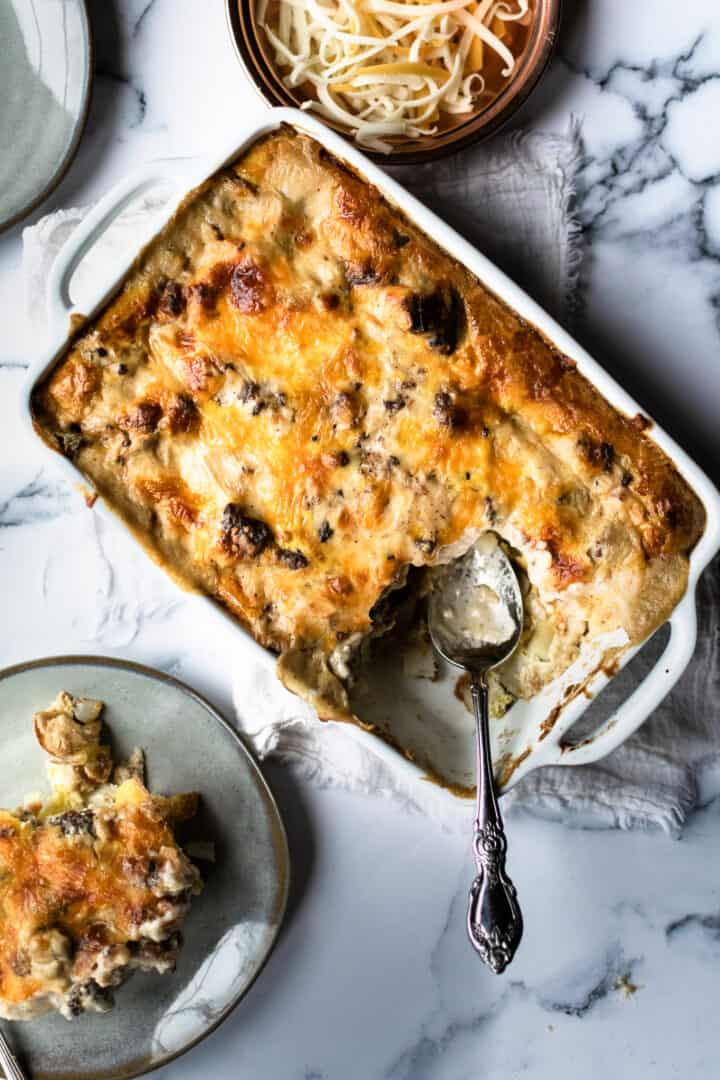 prep the other ingredients
Use the time that the sausage is browning, and the gravy is simmering, to preheat the oven and prepare the casseroles other ingredients.
Peel and dice 3 pounds of russet potatoes. Make sure to dice them into uniform cubes, about ¼ inch in width.
Beat the eggs in a medium bowl and season lightly with salt and pepper.
Shred the cheese. A blend of Monterrey Jack and Cheddar, or something similar is perfect.
Grease the bottom and sides of the casserole dish (if the gravy is done, use that as the greaser) to prevent sticking.
layer the casserole
Start by layering the diced potatoes in an even layer. This should be about halfway up the sides. Press them down with your fingers, to prevent too much egg from coming through.
Pour the eggs over the potatoes evenly.
Sprinkle another light layer of cheese over the egg layer. This provides a slight barrier from the sausage gravy.
Using a large spoon or ladle, spoon the gravy onto the casserole evenly.
Sprinkle the top with plenty of shredded cheese. Looks like it's going to be good, doesn't it?
casserole baking tips
If the casserole looks on the full side, consider baking it on a parchment lined baking sheet, to catch any spills that might bubble over. Bake in a 350 degree oven for 45 minutes, to an hour, until the potatoes are tender.
If the cheese is getting too browned, simply cover with foil or a lid, and continue to bake until done.
If you are baking a previously made, frozen casserole, add 30 minutes to the baking time, and check the top for over-browning. Cover lightly with foil if necessary.
more make ahead breakfasts
If you're looking for other make-ahead breakfasts, try these Pumpkin Spice Toaster Pastries! They are a cozy and homemade version of Pop-Tarts. Easy, homemade "Instant" Fruit and Cream Oatmeal, is a remake of those oatmeal packets that kids love so much, minus the extra additives.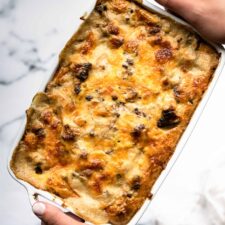 Sausage Gravy Breakfast Casserole
Diced potatoes, fluffy beaten eggs, scratch made sausage country gravy, and bubbly cheddar cheese, baked in a casserole dish. Can be made ahead and refrigerated or frozen for overnight breakfast casserole.
Print
Pin
Rate
Ingredients
For the Country Sausage Gravy
1

lb

ground pork

4

cups

milk

½

cup

flour

whisked into ¾ cup of water until lumps are completely gone

salt and black pepper to taste
For the Rest of the Casserole
3

lbs

russet potatoes

peeled and diced into ¼ inch cubes

6

large eggs

beaten, seasoned with salt and pepper to taste

8

ounces

cheddar cheese

Monterrey Jack blend (or similar blend, shredded )

salt and pepper to taste
Instructions
Preheat oven to 350 degrees.

Whisk together flour and water until smooth and lump-free. You'll have something that is about the consistency of pancake batter.

Dice the 2 pounds peeled potatoes into ¼ inch cubes, and whisk the 6 eggs along with salt and pepper to taste.

In a heavy skillet on medium high heat, add ground sausage and cook until completely browned and very crispy. It should look very dark in areas, and have a lot of crisp texture to it. The crispier the better, (without burning). Remove from heat, drain excess grease.

Add the 4 cups milk, flour slurry (½ cup flour+ ¾ cup water), and salt and pepper. Return to heat and simmer on medium until the gravy bubbles and thickens. Taste that salt and pepper level is to your liking. Turn off heat.

Grease a 13x9 inch, or equivalently large casserole dish with either a small amount of butter, or a bit of the gravy. Layer the diced potatoes first, in an even layer, press down into the dish.

Pour beaten eggs evenly over potatoes.

Sprinkle with half of the shredded cheese.

Spoon on the sausage gravy over the cheese, in an even layer.

Top with remaining shredded cheese. If it looks pretty full, put it on a baking dish, to catch any overflow or drips.

Bake in a 350 degree oven for 45 minutes to 1 hour, until potatoes are completely tender. Test by piercing them with a fork. If you notice that the cheese is getting too dark, cover with foil or a lid, and continue to bake until done.

If you are making this ahead, complete the entire assembly instructions; cover and freeze. Frozen casserole will need to add 20-30 minutes cooking time.
Notes
Pre-made, frozen casseroles will cook at the same temperature of 350 degrees plus about 30 minutes. 
If top of casserole is browning too quickly, cover with foil. 
Shred cheese by hand; any blend of cheddar, Monterrey jack, or similar cheese of your liking is great. 
Test that the casserole is done by piercing potatoes with a fork; they should be tender. If they feel to firm, continue to cook, covered, at 10 minute intervals. 
Recipe can be doubled or increased as needed to make more make-ahead breakfast of brunch dishes for later. Freeze either in casserole dish or disposable aluminum baking trays.