Sausage Gravy Casserole is layers of diced potatoes, fluffy beaten eggs, rich country sausage gravy, and layers of cheese baked until piping hot and bubbly. It can even be made in advance and frozen!
Sausage Gravy Breakfast Casserole is also dubbed 'Hangover Casserole', but you don't need a hangover to enjoy it. Nor does it need to be breakfast time.
We eat this from the afternoon to dinner time. It's great to pop in the oven on a lazy weekend morning and graze on leftovers for dinner.
This is also a perfect dish to make in advance to keep in the freezer, then transferred directly to the hot oven from frozen.
See the recipe notes section at the end for more tips on freezing this dish.
It's the best kind of comfort food. Warm, layered, savory, and satisfying.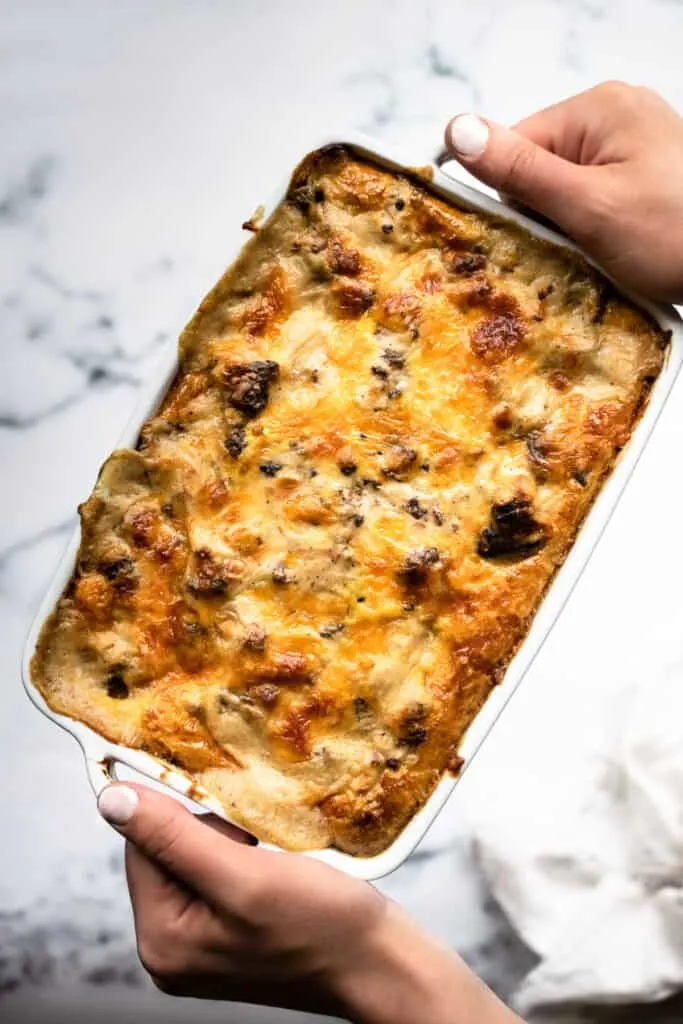 Ingredients
The ingredients for this breakfast casserole are minimal. All you need is:
Sausage- country style.
Potatoes- russet, peeled, and diced.
Eggs- large or medium.
Cheese- mild to medium cheddar cheese, Monterey jack, or similar.
Milk- whole milk is preferred, or 2% (although 1% can be used, the gravy won't be as rich. Skim milk is not advised.)
Flour- all-purpose flour, for thickening the gravy.
How to Make Sausage Gravy Casserole
The Gravy
Begin by making the sausage gravy. It's the only thing that needs to be cooked outside of the oven.
As it is cooking, you'll be able to prep all the other ingredients for assembly.
Fry the sausage in a hot skillet until it's browned and super crispy. Drain all but 1 tablespoon of the grease.
Remove the pan from the heat to pour the milk in.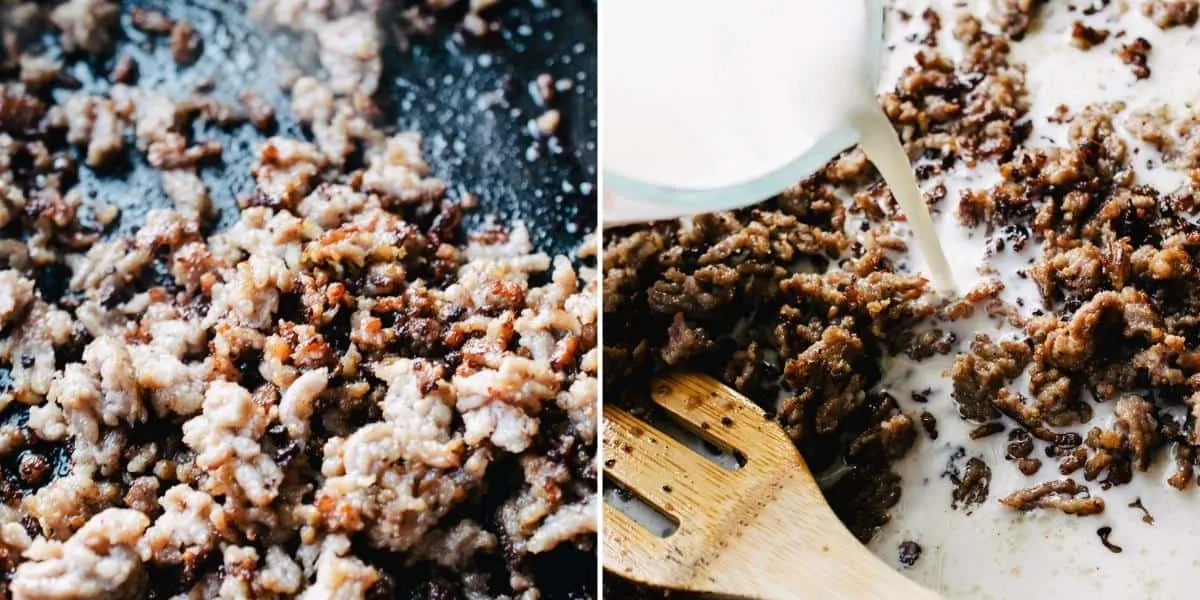 Whisk together the flour and milk to form a thickener, then whisk that into the milk and sausage.
Return the pan to heat.
Simmer the homemade gravy on medium to medium-high heat, whisking constantly until thickened and the flour "taste" is no longer detectable.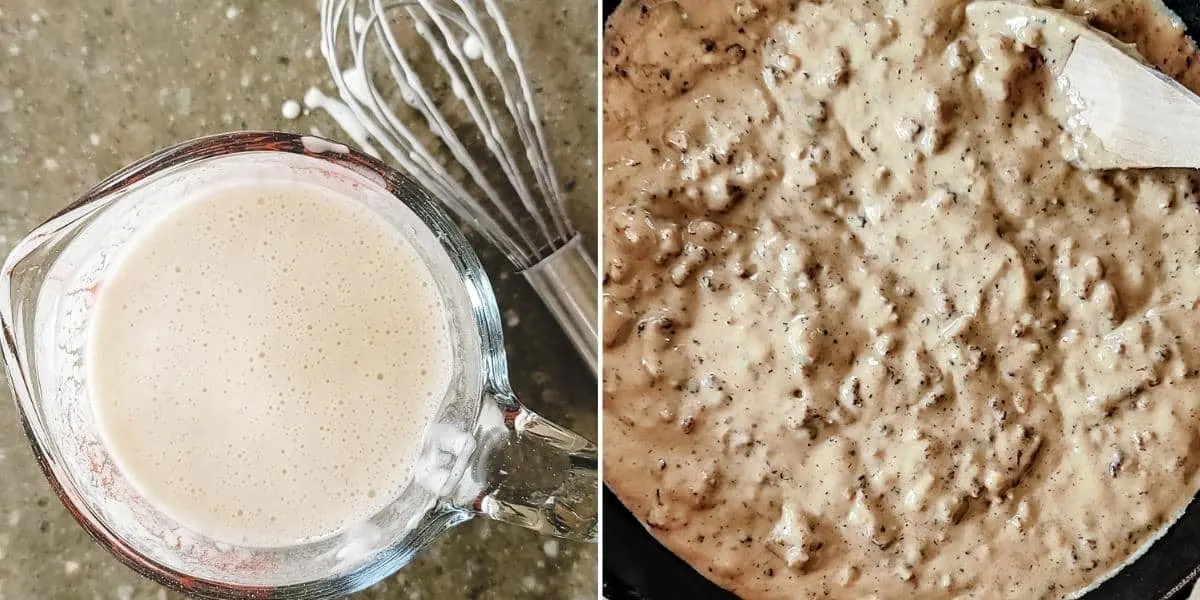 Once the gravy is finished, remove it from the heat and set it aside.
Prep
Peel the potatoes, rinse and slice into ¼ inch cubes.
Beat the eggs in a medium bowl and season lightly with salt and pepper.
Shred the cheeses.
Spread a spoonful of the sausage gravy over the bottom of a casserole dish to prevent sticking.
Layer and Bake
Start by layering the diced potatoes evenly on the bottom of the casserole dish until they reach halfway up.
Pour the beaten eggs over the potatoes evenly.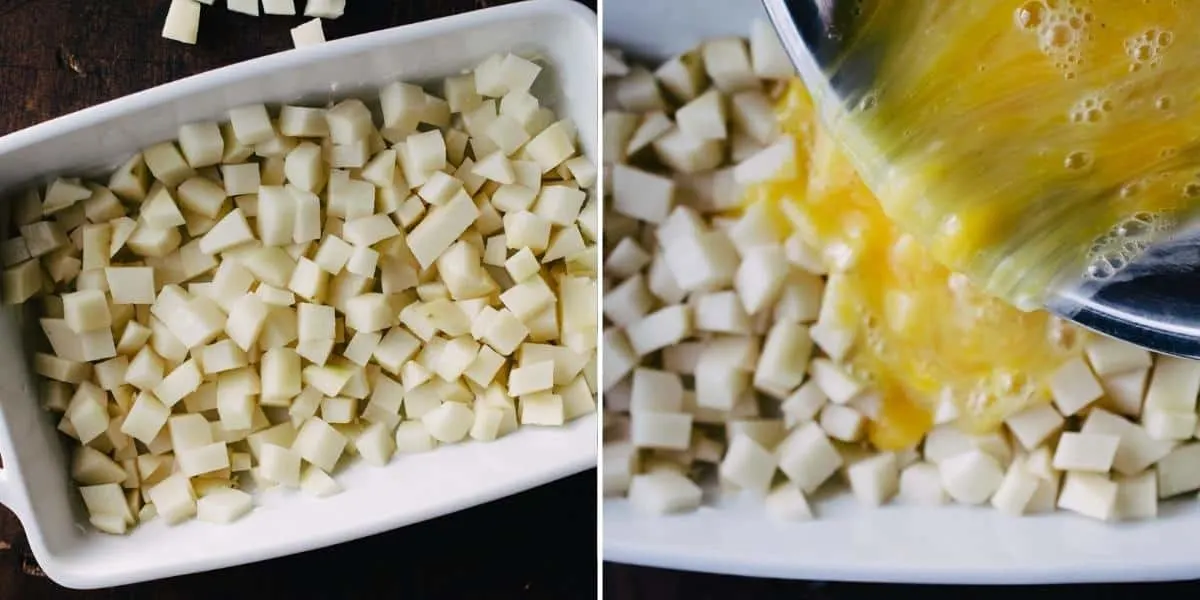 Sprinkle a light layer of cheese over the beaten egg layer. This provides a slight barrier to the sausage gravy.
Using a large spoon or ladle, spoon the gravy over the casserole evenly, trying not to disrupt the structure of the casserole too much.
Sprinkle the top with plenty of shredded cheese, and bake for one hour in a 350 degree Fahrenheit preheated oven.
The breakfast casserole is done when the potatoes are fork-tender, and the cheese is melted and golden on the edges.
Storage
Let the casserole cool thoroughly before storing it in the refrigerator. Cover this great recipe with aluminum foil or store in an airtight container and refrigerate for up to 2 days. Reheat individual portions in the microwave as needed.
You can also freeze leftover casserole for up to 3 months, but it's best to only freeze after it has cooled down completely. Wrap the dish tightly with plastic wrap before putting a layer of aluminum foil on top. Defrost in the refrigerator overnight and reheat in a 350 degree Fahrenheit oven until warmed through.
You can also reheat individual servings in the oven or microwave rather than having to reheat the whole thing.

Recipe Tips and Tricks
To cut the cooking time down, microwave the diced potatoes for 3-4 minutes on a plate, or fry them until they are partially cooked, before layering in the casserole.
If the casserole looks really full, bake it on a baking sheet lined with foil to catch any spills.
If the cheese is getting too browned in your creamy gravy, cover the baking dish loosely with foil and remove it at the last 5 minutes.
This easy breakfast casserole recipe would also be great served over some of your favorite, easy biscuits or hash browns.
The baking time required may change depending on your type of baking dish and the thickness of the casserole.
Spray the baking dish with nonstick cooking spray to help get the casserole out of the dish easier.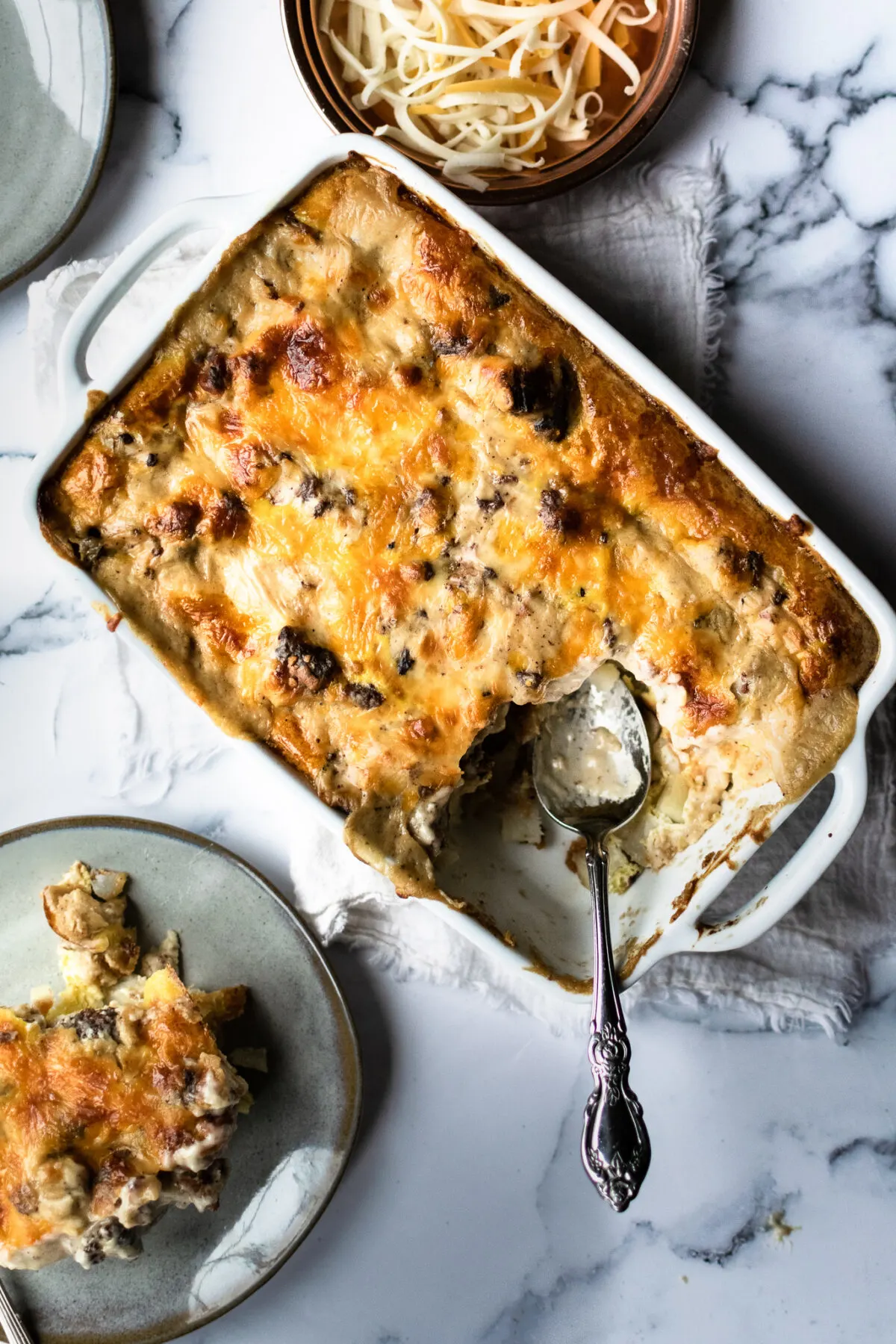 Can you make this breakfast casserole recipe ahead of time and freeze this for later?
Yes, this is a great meal for meal prepping and one that is perfect for freezing for later.
To make and freeze for later, assemble the casserole as you would to bake it, but instead cover it tightly with foil and freeze for up to 4 weeks.
Cook the frozen casserole, covered in foil for 1 hour 15 minutes in a 325°F oven, removing the foil during the last 15 minutes.
Can I make this ahead of time?
You can make the gravy ahead of time and store it in an airtight container or ziptop bag in the refrigerator and then assemble everything else the next day, or whenever you choose to make it.
This sausage gravy recipe is perfect for making ahead of time and making meal time easier.
I wouldn't recommend making it any longer than the night before you plan to bake it.
What to serve with this recipe?
Try serving this homemade sausage gravy casserole with fresh fruit or your favorite classic biscuits.
​Can you double this recipe?
Yes, this is a great, hearty casserole to serve to a large crowd. If you plan to double this recipe, I would make the second portion in it's own baking dish. If you pile too much into one baking dish, it may overflow or take too long to cook.
Recipe Variations
Next time you make this recipe, here are a few other options you can try out!
​Add in bacon or scrapple to the gravy casserole recipe.
Trade out your sausage choices and flavors for more fun sausage gravy. I used country style sausage but you can use milk, hot, or spicy breakfast sausage or a sausage mixture.
Instead of potatoes, you can use crescent rolls or homemade biscuits. Whatever you choose will be a huge hit for sure.
You can add some fresh veggies like bell peppers and onions to the egg mixture. They're both great options for a delicious breakfast.

More yummy sausage gravy recipes
Did you try this recipe? Leave a rating or comment below!
📖 Recipe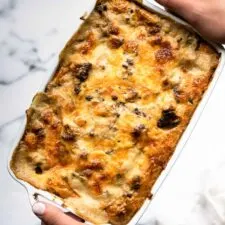 Sausage Gravy Breakfast Casserole
Diced potatoes, fluffy beaten eggs, scratch made sausage country gravy, and bubbly cheddar cheese, baked in a casserole dish. Can be made ahead and refrigerated or frozen for overnight breakfast casserole.
Print
Pin
Rate
Ingredients
For the Country Sausage Gravy
1

lb

ground pork

4

cups

milk

½

cup

flour

whisked into ¾ cup of water until lumps are completely gone

salt and black pepper to taste
For the Rest of the Casserole
3

lbs

russet potatoes

peeled and diced into ¼ inch cubes

6

large eggs

beaten, seasoned with salt and pepper to taste

8

ounces

cheddar cheese

Monterrey Jack blend (or similar blend, shredded )

salt and pepper to taste
Instructions
Preheat oven to 350 degrees.

Whisk together flour and water until smooth and lump-free. You'll have something that is about the consistency of pancake batter.

Dice the 2 pounds peeled potatoes into ¼ inch cubes, and whisk the 6 eggs along with salt and pepper to taste.

In a heavy skillet on medium high heat, add ground sausage and cook until completely browned and very crispy. It should look very dark in areas, and have a lot of crisp texture to it. The crispier the better, (without burning). Remove from heat, drain excess grease.

Add the 4 cups milk, flour slurry (½ cup flour+ ¾ cup water), and salt and pepper. Return to heat and simmer on medium until the gravy bubbles and thickens. Taste that salt and pepper level is to your liking. Turn off heat.

Grease a 13x9 inch, or equivalently large casserole dish with either a small amount of butter, or a bit of the gravy. Layer the diced potatoes first, in an even layer, press down into the dish.

Pour beaten eggs evenly over potatoes.

Sprinkle with half of the shredded cheese.

Spoon on the sausage gravy over the cheese, in an even layer.

Top with remaining shredded cheese. If it looks pretty full, put it on a baking dish, to catch any overflow or drips.

Bake in a 350 degree oven for 45 minutes to 1 hour, until potatoes are completely tender. Test by piercing them with a fork. If you notice that the cheese is getting too dark, cover with foil or a lid, and continue to bake until done.

If you are making this ahead, complete the entire assembly instructions; cover and freeze. Frozen casserole will need to add 20-30 minutes cooking time.
Notes
Pre-made, frozen casseroles will cook at the same temperature of 350 degrees plus about 30 minutes.
If top of casserole is browning too quickly, cover with foil.
Shred cheese by hand; any blend of cheddar, Monterrey jack, or similar cheese of your liking is great.
Test that the casserole is done by piercing potatoes with a fork; they should be tender. If they feel to firm, continue to cook, covered, at 10 minute intervals.
Recipe can be doubled or increased as needed to make more make-ahead breakfast of brunch dishes for later. Freeze either in casserole dish or disposable aluminum baking trays.