These baked butternut squash halves bake up so sweet and tender. With just a little butter, salt and pepper they are an effortless way to create a delicious side or flavorful filling.
Baking butternut squash is a really easy way to enjoy the squash alone, as a side dish, or to prepare it for use in other recipes.
The best way to cook butternut squash in the oven is also the most delicious and happens to be extremely easy.
The only ingredients you need are butter, salt and pepper.
The only tools you'll need are a sharp knife, baking sheet, and something to scoop out the seeds with such as a spoon. You can throw down a piece of parchment paper or aluminum foil for easy cleanup if you like.
How to choose a butternut squash
An average sized squash can be anywhere between 1 ½ to 2 pounds in weight.
Look at the skin on the butternut squash.
If there is any green whatsoever, it's not ripe.
The skin should be hard, one solid color, and matte--not glossy anywhere.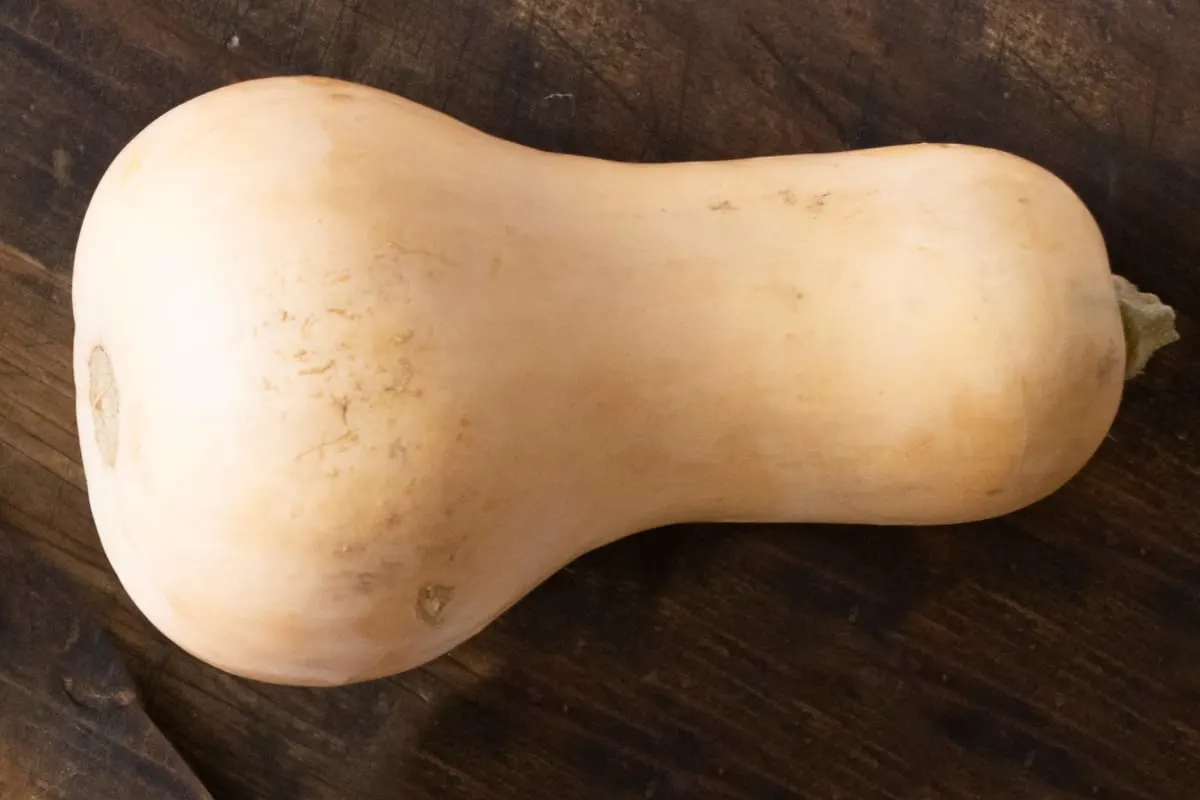 You might find a few dings or dents in the skin of the squash and that's totally normal.
Preparation
Preheat the oven to 400 degrees Fahrenheit. Position the rack in the middle section.
Use a very sharp chef's knife with about an 8 inch blade to handle the large fruit.
Butternut squash has a hard rind, and if your knife is dull, it can be difficult to slice through. You can slip and injure yourself if you're not careful.
Cut from the top where the step was down vertically through to the bottom.
Scoop the seeds out with a spoon, as you would when carving a pumpkin.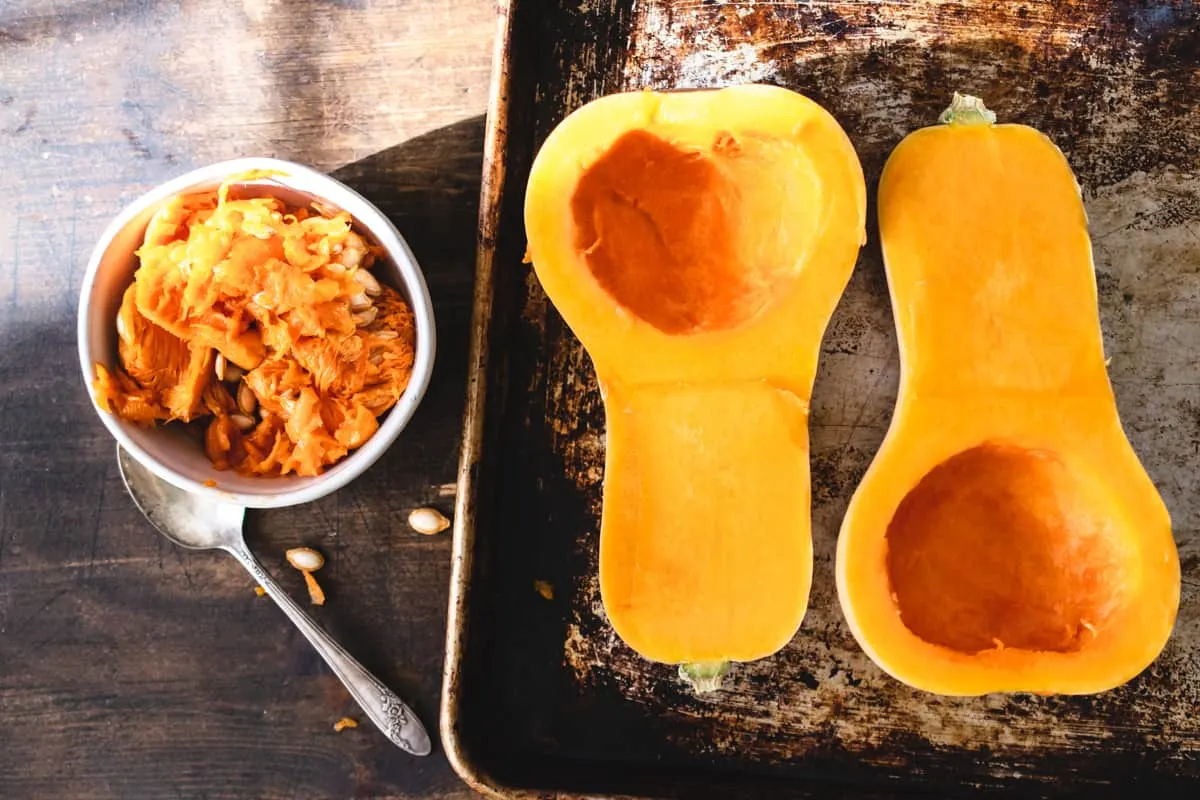 You can use olive oil, however butternut squash is infinitely more delicious when roasted with butter.
The butter caramelizes and browns deliciously, and it wells up in the cavities of the squash turning toasty and delicious for drizzling over the squash later.
Poke the squash halves all over the tops that face upwards using a fork. This not only helps steam to escape, but it lets some of the butter melt and drip down inside.
For easy cleanup after baking the butternut squash, line the baking sheet with parchment paper or foil.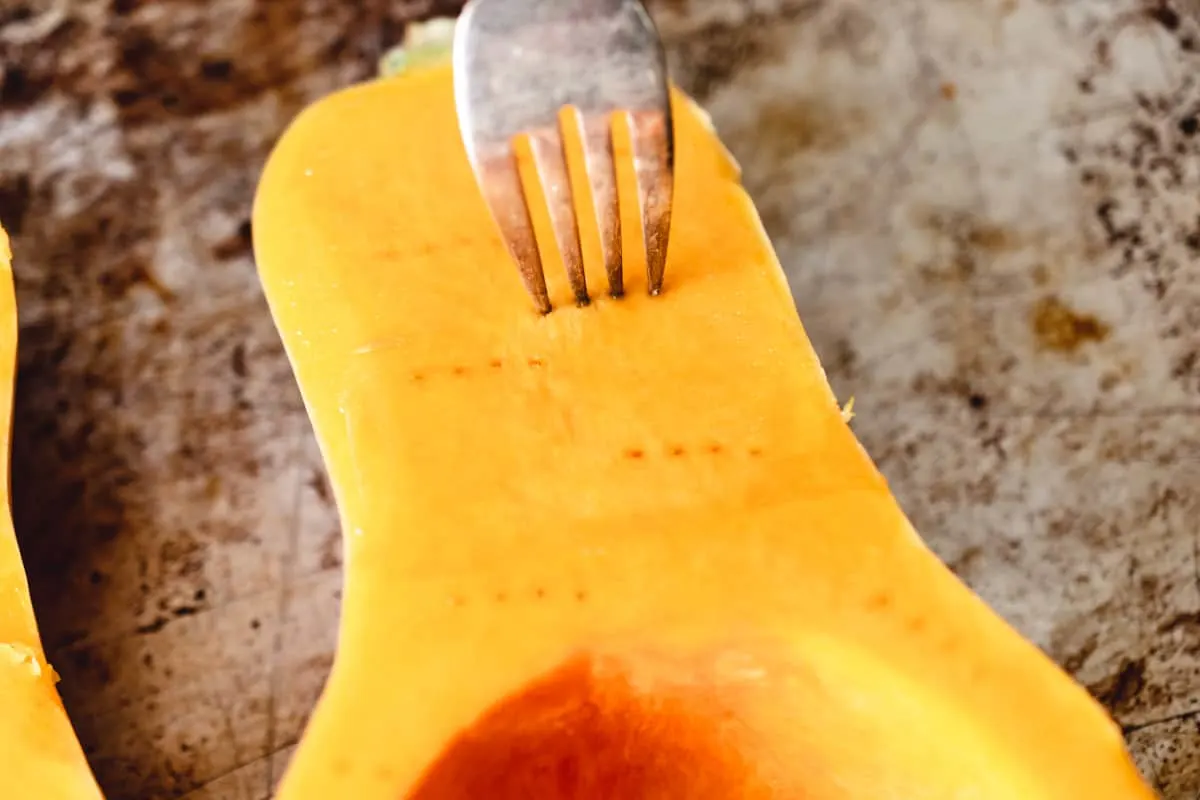 Spread about 1 tablespoon of softened butter over the tops of the butternut squash halves after they've been pierced with a fork.
Place one additional pad of butter inside each cavity, and salt and pepper liberally.
Coarse ground pepper and kosher salt work really well on baked butternut squash, because they add texture that compliments the little caramelized edges that will form during the baking process.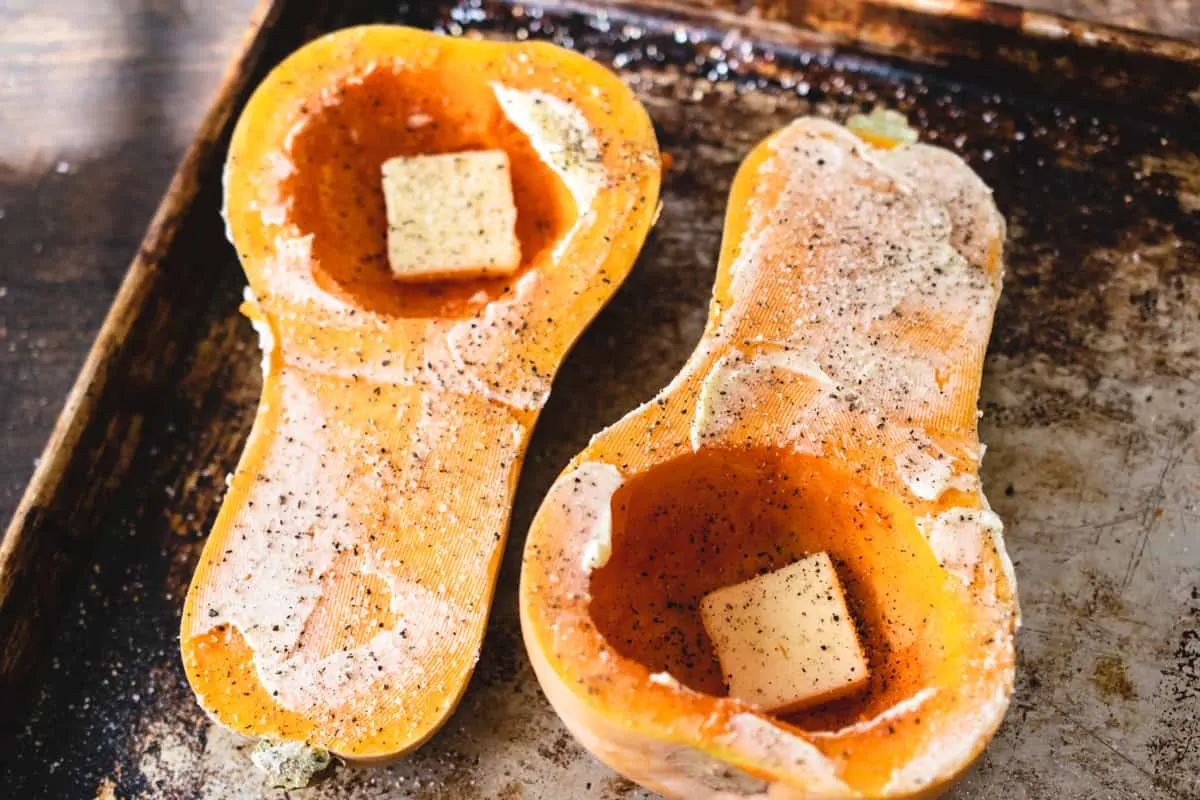 Bake
Bake the squash halves at 400 degrees Fahrenheit for about one hour, checking at 45 minutes just in case.
Some smaller squashes weighing less than 1 ½ pounds may take less time.
Larger squashes weighing over 2 pounds may take up to 90 minutes.
If you notice the halves getting too browned, just place a piece of foil loosely over the tops and remove during the last 10 minutes.
The butternut squash is done baking when it's fork tender, meaning that it's tender enough to easily stick a fork in without much resistance.
You'll also notice the beautiful browning and sweet caramelization that has happened on the edges and surface of the squash.
Eat
There is no incorrect way to enjoy this beautiful and delicious baked butternut squash halves.
You can eat it right out of the skin, or slice the squash short ways, in ½ inch slices and enjoy it with skin on.
Baking it makes the skin tender enough so that you can just leave it on and eat it.
You could also choose to let the baked squash halves cool, then scoop the squash out with a large spoon for use in soups, sauces, or pasta fillings.
You can even make these types of preparations ahead of time and freeze the pureed squash for use in the perfect recipe later.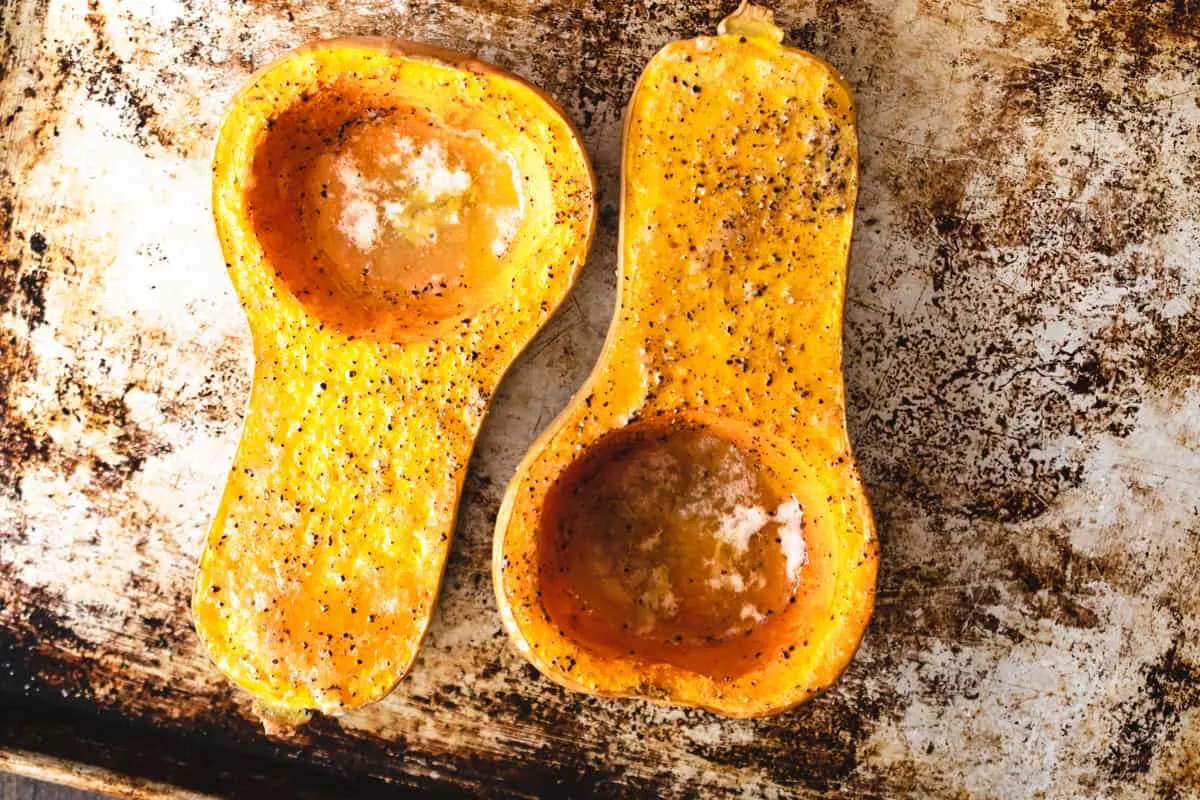 Related Recipes
Try these butternut squash recipes, and other similar dishes.
If you tried this recipe for oven baked butternut squash, leave a rating in the recipe card, or drop questions and comments below.
📖 Recipe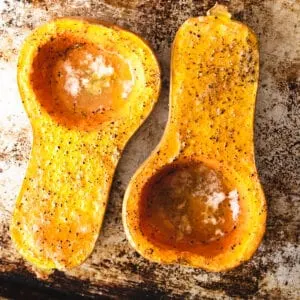 How to Bake Butternut Squash
Easy instructions for how to roast butternut squash in the oven.
Print
Pin
Rate
Ingredients
1

butternut squash

4

tablespoons

butter

1

teaspoon

kosher salt

½

teaspoon

coarse ground black pepper
Instructions
Preheat oven to 400 degrees.

Cut the butternut squash in half lengthwise from stem to the bottom.

Scoop the seeds and pulp out of the cavity.

Lay on a baking sheet and spread 1 tablespoon of softened butter on each half.

Sprinkle the top of each half liberally with salt and pepper.

Place a pad (1 tablespoon) of butter in each cavity.

Roast for about 1 hour until fork tender.
Notes
Choose a squash that doesn't have any green spots, has matte (not shiny) skin.
A few dings and dents are normal.
Butter roasts better on the squash and is recommended over olive oil for this recipe.
Don't forget to stab the squash halves on their cut side up, with a fork several times before buttering.
Coarse salt and coarse ground pepper adds good texture and is preferred for roasting/baking the butternut squash.
Small squashes may only need to cook for 45 minutes, larger ones may need to go as long as an hour and twenty minutes.
The squash can be tested for doneness by poking a fork in the flesh to see if it's "fork tender".
Nutrition
Calories:
94
kcal
|
Carbohydrates:
23
g
|
Protein:
2
g
|
Fat:
1
g
|
Saturated Fat:
1
g
|
Cholesterol:
2
mg
|
Sodium:
605
mg
|
Potassium:
680
mg
|
Fiber:
4
g
|
Sugar:
5
g
|
Vitamin A:
19956
IU
|
Vitamin C:
39
mg
|
Calcium:
107
mg
|
Iron:
1
mg