Do you need to bake a butternut squash but aren't sure how? This short and easy guide will show you exactly how to roast squash without any unnecessary details!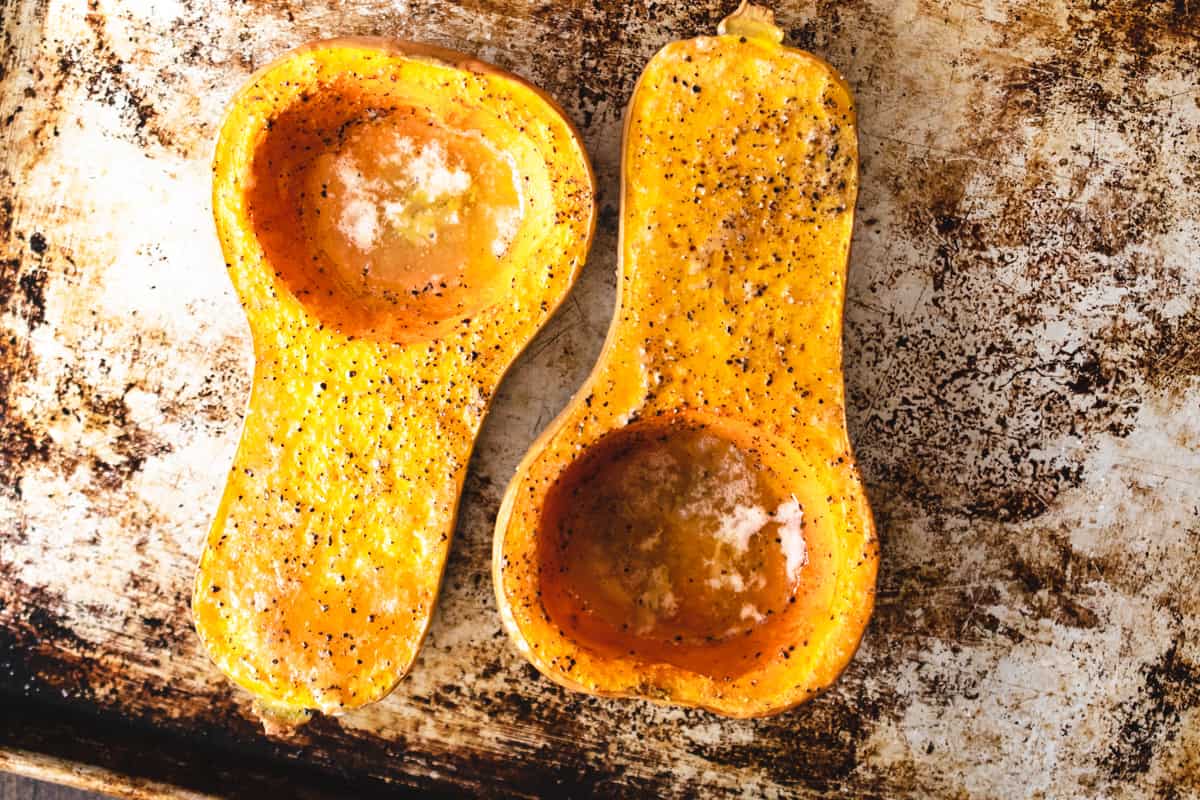 Choosing a good one
You'll need to asses the skin on the butternut squash. If there is any green whatsoever, it's not ripe. The skin should be hard, one solid color, and matte--not glossy anywhere.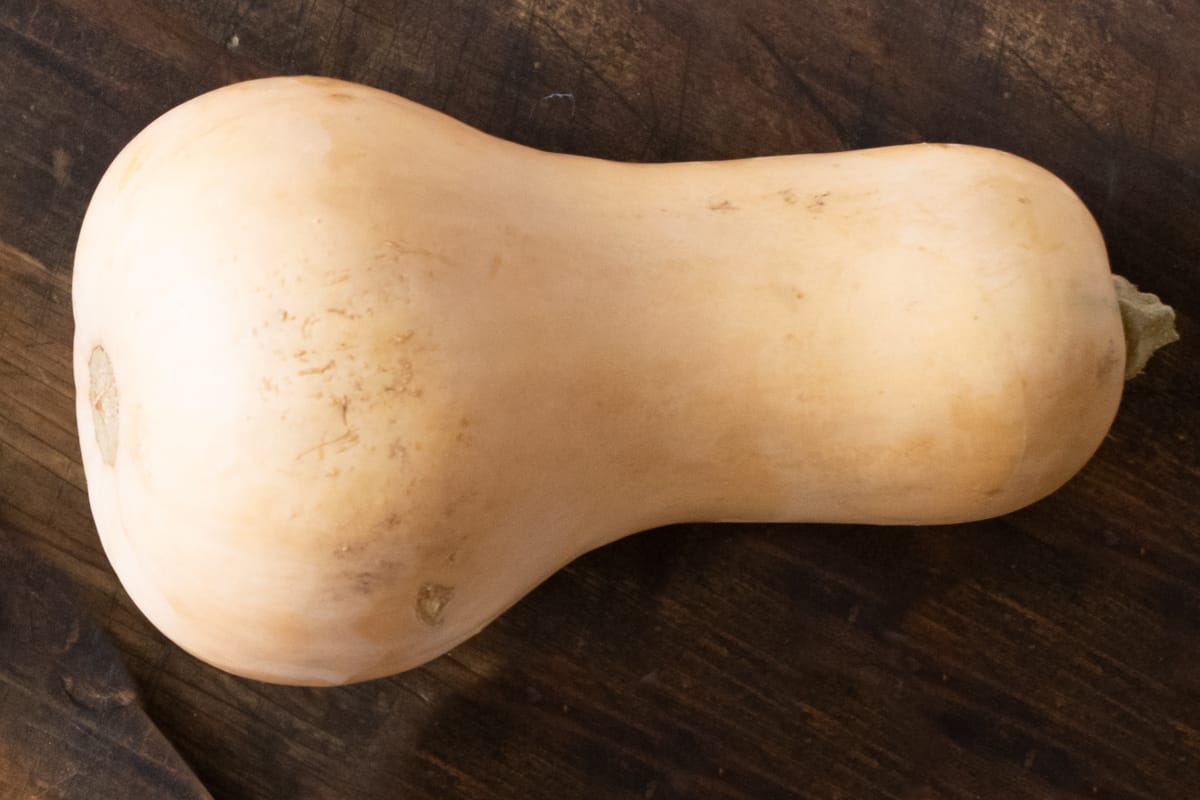 Also keep in mind that a few dings and dents are ok; that's normal.
Cutting and seeding
Get your oven preheated to 400 degrees, and the middle or middle-low rack positioned.
You need a very sharp chef's knife with about an 8 inch blade to handle the large fruit. Butternut squash has a hard rind, and if your knife is dull, it can be difficult to slice through. You can actually slip and injure yourself.
Cut from the top where the step was down vertically through to the bottom, and lay each half face up on a baking sheet.
Scoop the seeds out with a spoon, as you would when carving a pumpkin.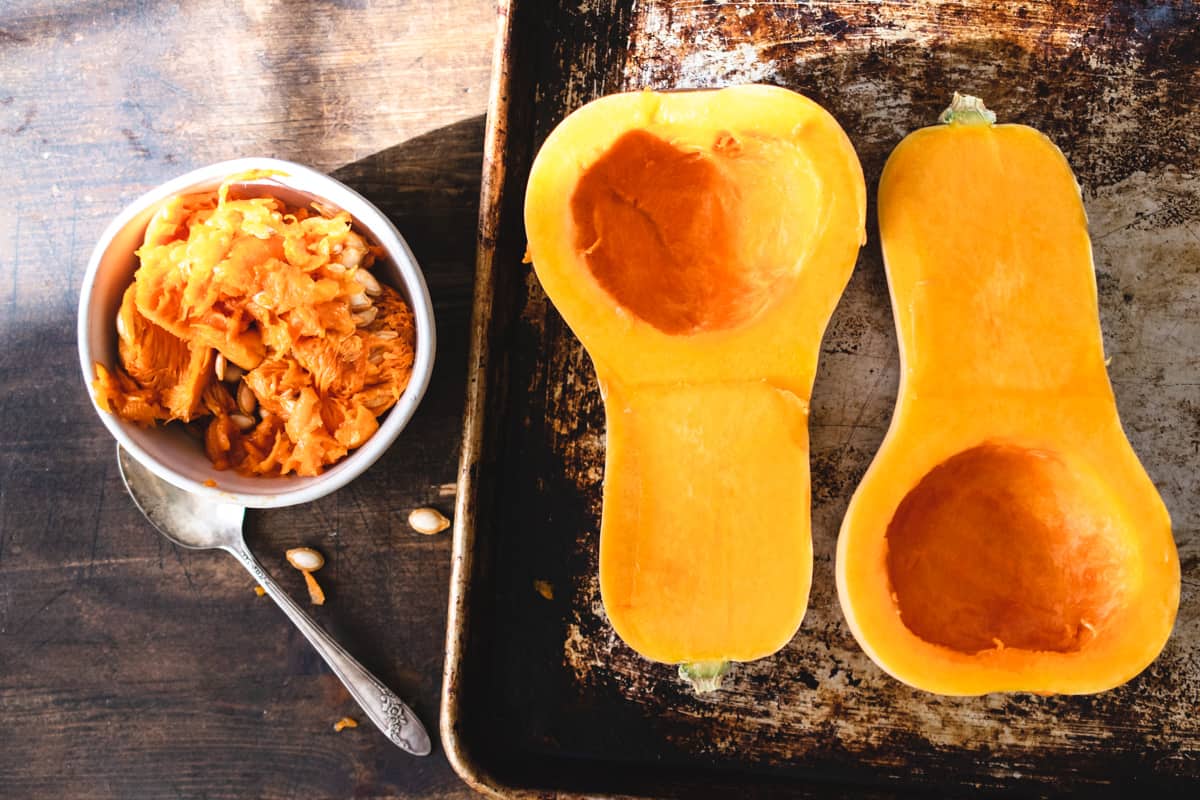 Baking
Some people like to use olive oil over butter, and while you can do that, butternut squash is so much more delicious when roasted with butter.
The butter caramelizes and browns deliciously, and it wells up in the cavities of the squash making a sort of browned butter squash drizzle that you can use. It's amazing.
Poke the squash halves all over the tops that face upwards using a fork. This not only helps steam to escape, but it lets some of the butter melt and drip down inside the meat. Yummy.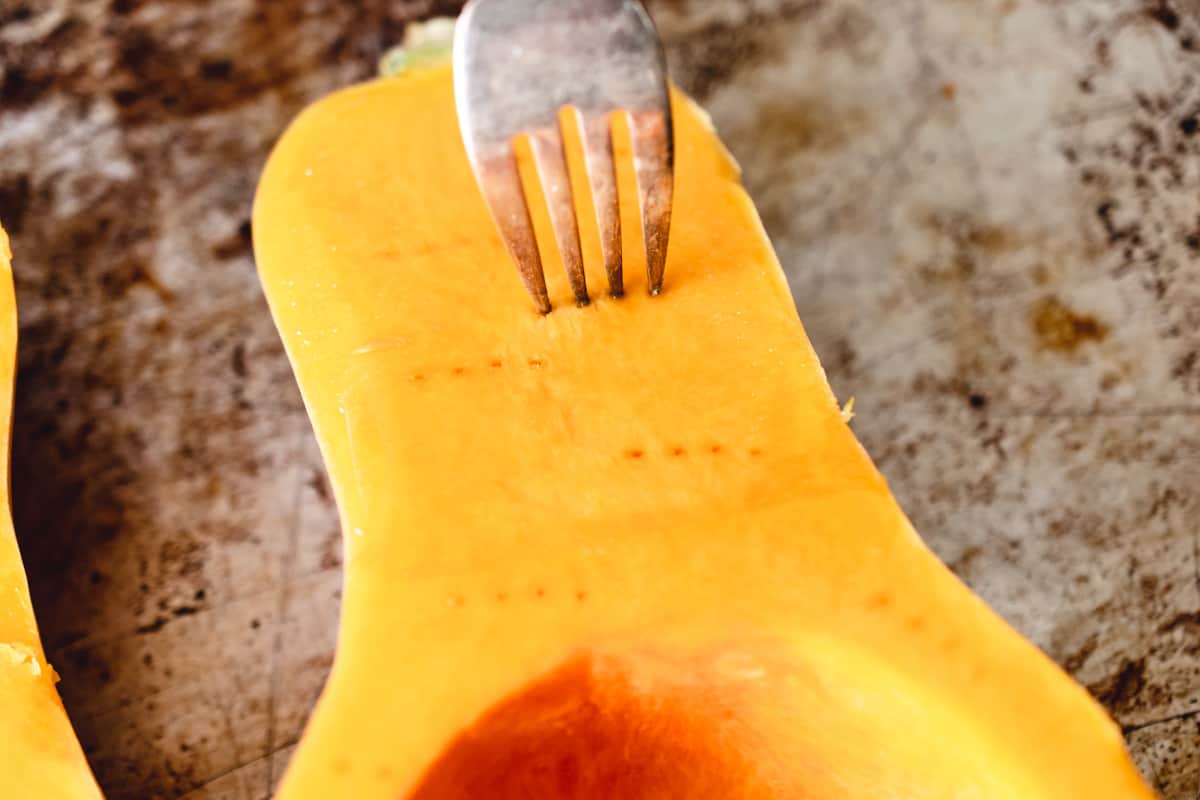 Use about 1 tablespoons of softened butter for each half and spread it all over the top of the squash, over the holes that you poked and inside lining the cavities where the seeds were scooped out.
Then, place one additional pad of butter inside each cavity, and salt and pepper liberally. For roasted squash coarse ground pepper and kosher salt work really well because they add texture that compliments the little caramelized edges that will form.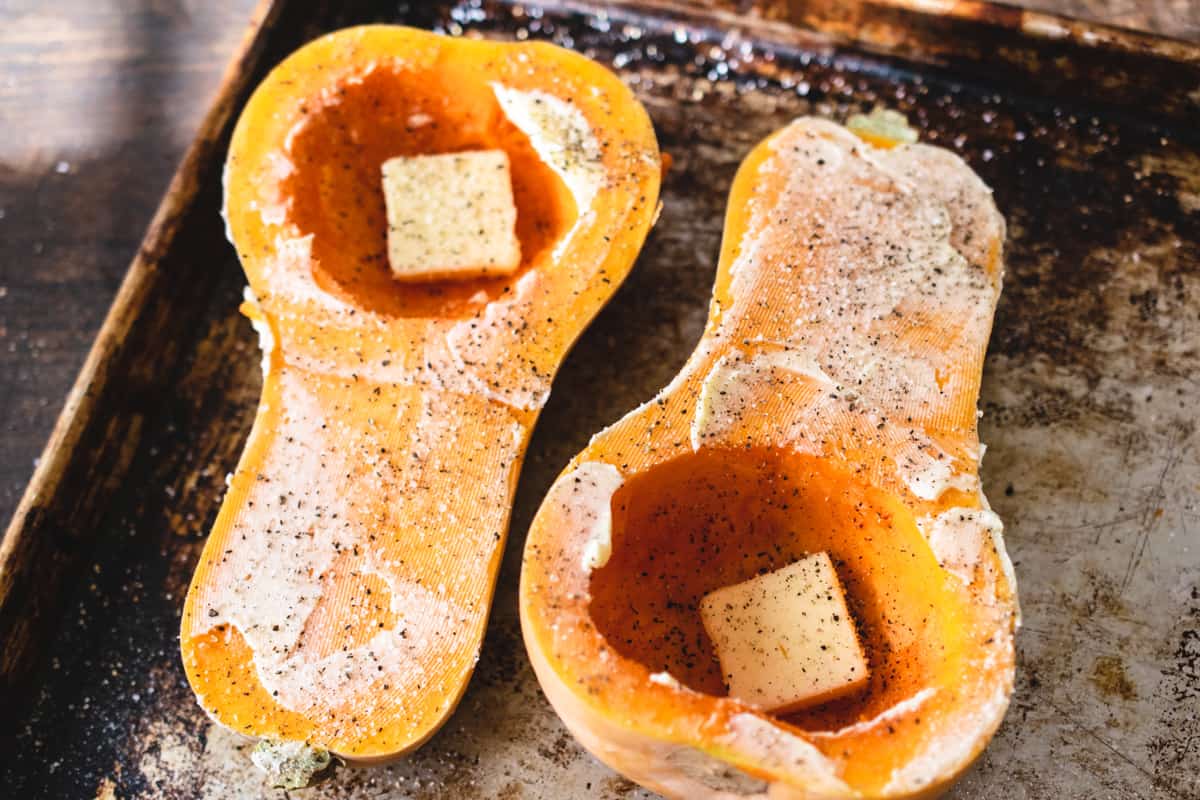 Bake the squash halves for about one hour, checking at 45 minutes just in case. Some smaller squashes may take less time. Larger squashes may take up to an hour and twenty minutes.
How to know it's done
The butternut squash is done baking when it's fork tender. This means literally that it's tender enough to easily stick a fork in without much resistance. This is more tender than knife tender, so make sure you use a fork.
You'll also notice the beautiful browning and sweet caramelization that has happened on the edges and surface of the squash. That is where the best flavor is at, and it's what makes roasted butternut squash so incredibly delicious.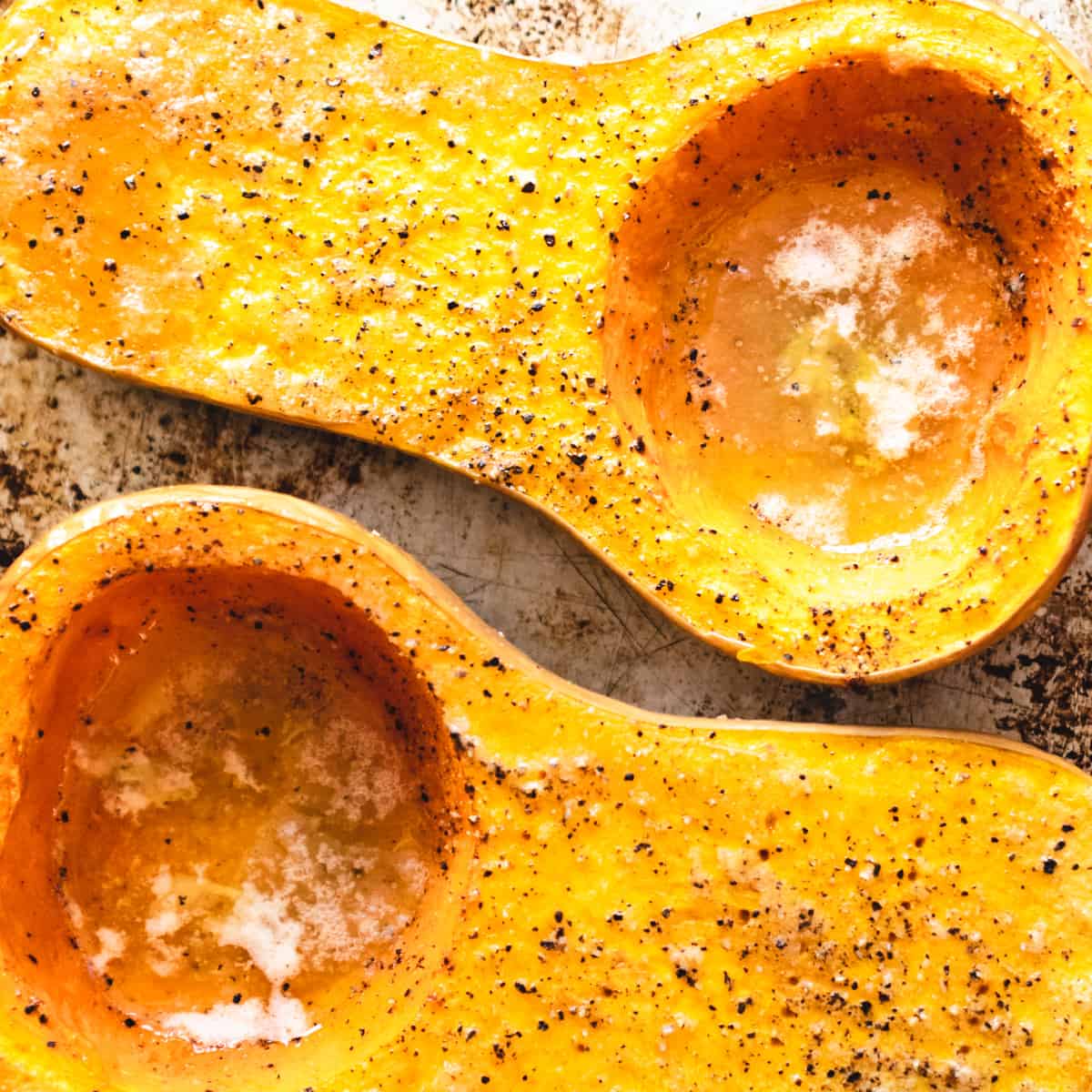 Recipes that use squash: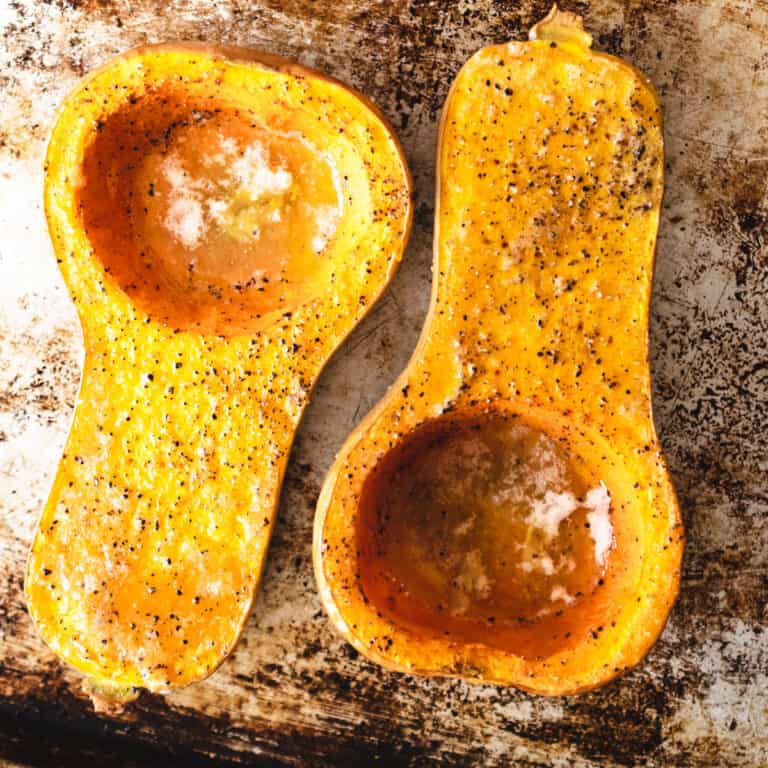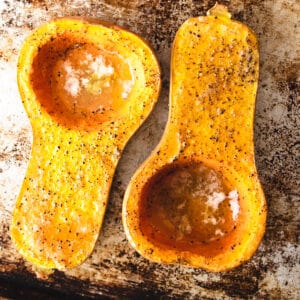 How to Bake Butternut Squash
Easy instructions for how to roast butternut squash in the oven.
Print
Pin
Rate
Ingredients
1

butternut squash

4

tablespoons

butter

1

tsp

kosher salt

½

tsp

coarse ground black pepper
Instructions
Preheat oven to 400 degrees.

Cut the butternut squash in half lengthwise from stem to the bottom.

Scoop the seeds and pulp out of the cavity.

Lay on a baking sheet and spread 1 tablespoon of softened butter on each half.

Sprinkle the top of each half liberally with salt and pepper.

Place a pad (1 tablespoon) of butter in each cavity.

Roast for about 1 hour until fork tender.
Notes
Choose a squash that doesn't have any green spots, has matte (not shiny) skin. 
A few dings and dents are normal.
Butter roasts better on the squash and is recommended over olive oil for this recipe. 
Don't forget to stab the squash halves on their cut side up, with a fork several times before buttering. 
Coarse salt and coarse ground pepper adds good texture and is preferred for roasting/baking the butternut squash.
Small squashes may only need to cook for 45 minutes, larger ones may need to go as long as an hour and twenty minutes.
The squash can be tested for doneness by poking a fork in the flesh to see if it's "fork tender". 
Nutrition
Calories:
94
kcal
|
Carbohydrates:
23
g
|
Protein:
2
g
|
Fat:
1
g
|
Saturated Fat:
1
g
|
Cholesterol:
2
mg
|
Sodium:
605
mg
|
Potassium:
680
mg
|
Fiber:
4
g
|
Sugar:
5
g
|
Vitamin A:
19956
IU
|
Vitamin C:
39
mg
|
Calcium:
107
mg
|
Iron:
1
mg