Ditch the frozen bag of fries and make your own homemade crinkle cut french fries. These are as crispy as the come, and they are so fun to make.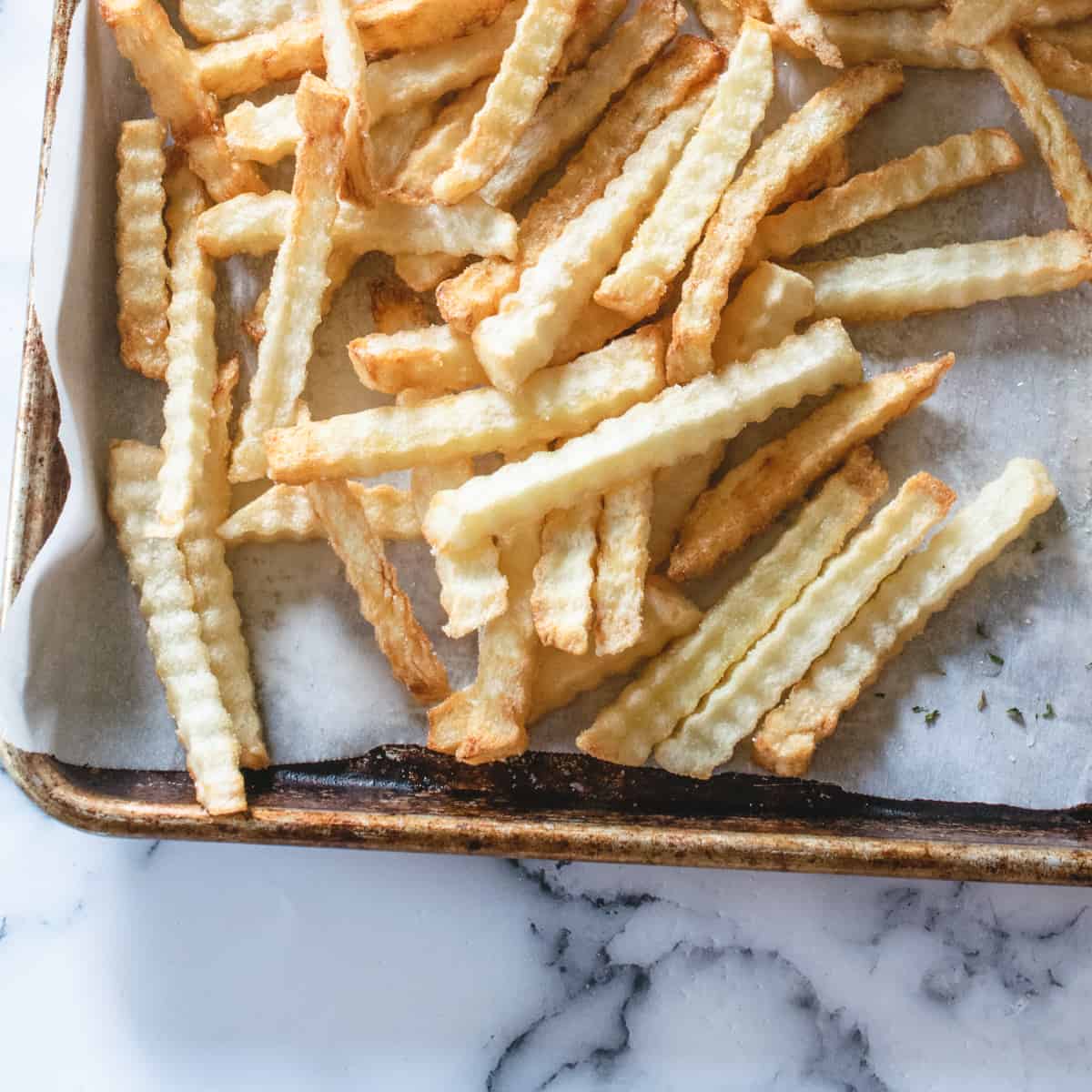 People will always crave these wavy, delightfully crispy fry shape. The way the ketchup and fry sauce clings to them, and the way the ridges allow them to resist any sogginess is all thanks to that wavy shape.
Did you know that you can make them at home? Yes! You can.
What do you need?
To make these crispy, crunchy beauties you'll need Yukon gold or russet potatoes and a crinkle blade knife like this one here.
Rice flour is optional, but helps up the crispy factor. Dusting the fries with rice flour prior to frying absorbs every last bit of moisture from the fries, while also helping create the crispiest surface possible. It's not visible in any way on the fries.
No rice flour? You can make your own rice flour for pennies. Check out my easy instructions on how to make rice flour.
Can you freeze them for later?
Absolutely. Par fry the cut and prepared french fries and then lay them out on a baking sheet in a single layer. On that baking sheet, freeze them until frozen solid. Then they can be removed and stored in a freezer bag until ready to cook.
There's more details about freezing and cooking from frozen in the recipe notes.
How to cut and fry them
For the crinkle cut, there's no getting around having to use a french fry blade or "crinkle cutter". Luckily, you can find these for about six dollars online, and often even cheaper. They are so worth it!
Once you've cut the fries, "shock" them in an ice water bath. Not only does this preserve the color, so they don't get brown as they sit, but this absorbs the excess starch which can make them gummy and soggy.
Dry them all the way off. Even a little extra water can cause your oil to violently boil over, and that can be a huge safety hazard. Test the oil first with one french fry, and work in batches.
As I mentioned, the rice flour isn't required but it does help absorb any extra moisture. It also adds an invisible coating that makes the fries even crispier, since rice flour is a must have for crispy deep frying.
Remove the fries when golden brown (only par fry them if you're planning on freezing them) and toss with salt right away. Don't let them sit in a pile, and don't use paper towels to drain them, as this makes them soggy.
Either serve them right away, or lay them out in a single layer on a baking sheet or wire rack.
What to serve with them
Crispy, crunchy crinkle cut french fries deserve to be dipped in the best. Try: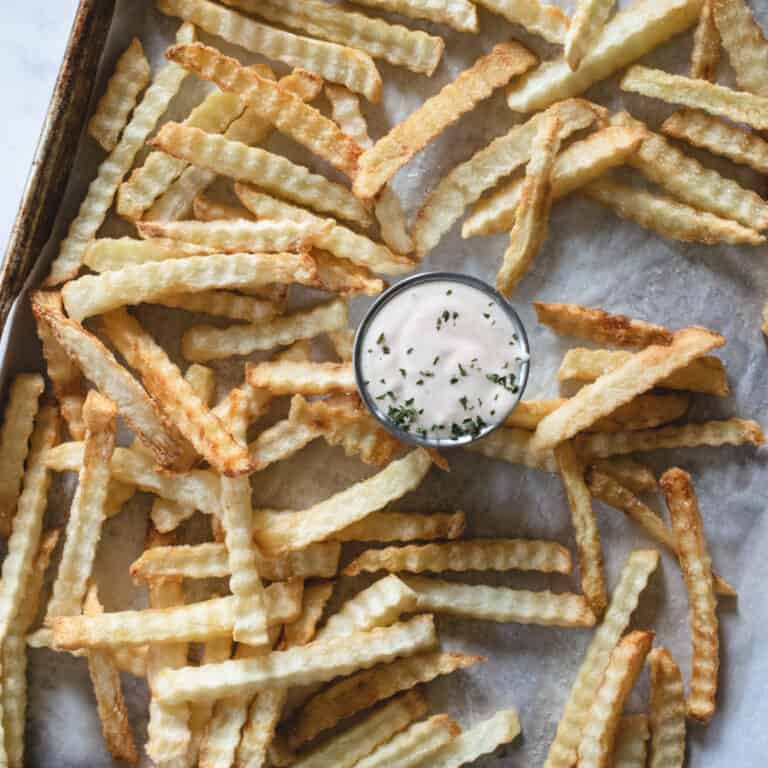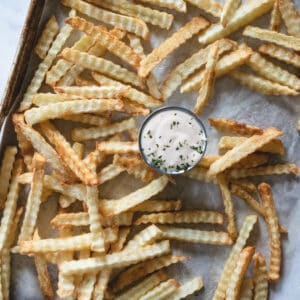 Crinkle Cut French Fries
Crispy, crunchy wavy cut french fries made homemade. Can be fried right away of frozen for baking or frying later.
Print
Pin
Rate
Equipment
Crinkle Knife (French fry cutter)
Ingredients
2

lbs

potatoes

about 5-6 russet or Yukon Gold

3

tbsp

rice flour

optional, for dusting

salt

to taste

vegetable oil

for frying
Instructions
Pour oil into a deep pot, to about 3-4 inches deep. Heat to 350 degrees. (This is around medium high heat, but not smoking.)

Use crinkle knife to cut ¼ inch parallel cuts through the potatoes, then cut those cross wise, at ¼ inch wide to create ¼ inch sticks with wavy edges.

Soak the cut french fries in an ice bath for 20 minutes to absorb excess starch.

Remove from water and dry thoroughly with a towel.

Toss the dried fries with rice flour to absorb excess moisture and aid in extra crispiness (optional).

In a few batches, deep fry french fries in oil until golden, about 8 minutes. See recipe notes below for instructions for freezing. (If freezing for later use, only fry half way.)

Remove cooked fries from the oil using a slotted spoon or deep frying basket, lie in a single layer and toss immediately with salt. Repeat with remaining batches until all the fries are cooked.
Notes
Dusting cut fries with rice flour is not required, but helps make them more crispy. 
If you're planning to prepare these for storage for the freezer, and for later cooking, just follow the directions as they are written but par fry the fries half way. Arrange par fried french fries in a single layer on a cookie sheet and freeze until solid, then store in a zipper bag and freeze until ready to cook.
To cook from frozen, fry in 350 degree oil for 3-5 minutes until golden brown or bake at 400 degrees in the oven until crispy and golden, about 20 minutes. 
Do not drain fried fries directly on paper towels, as this can make them soggy. Instead lay them on a hard baking sheet or fry, toss with salt and serve right away. 
Discard of used oil once cooled, or strain and reserve for one more use. Let hot oil come to room temperature in a safe place where it won't get knocked over or pulled down by children-even cooling oil can cause life threatening burns. 
Nutrition
Serving:
1
g
|
Calories:
208
kcal
|
Carbohydrates:
29
g
|
Protein:
3
g
|
Fat:
9
g
|
Saturated Fat:
7
g
|
Sodium:
9
mg
|
Potassium:
637
mg
|
Fiber:
3
g
|
Sugar:
1
g
|
Vitamin C:
30
mg
|
Calcium:
18
mg
|
Iron:
1
mg