From the crunchiest fried breading that stays crispy, to gluten free baking, knowing how to make rice flour is a handy trick and only takes about 90 seconds!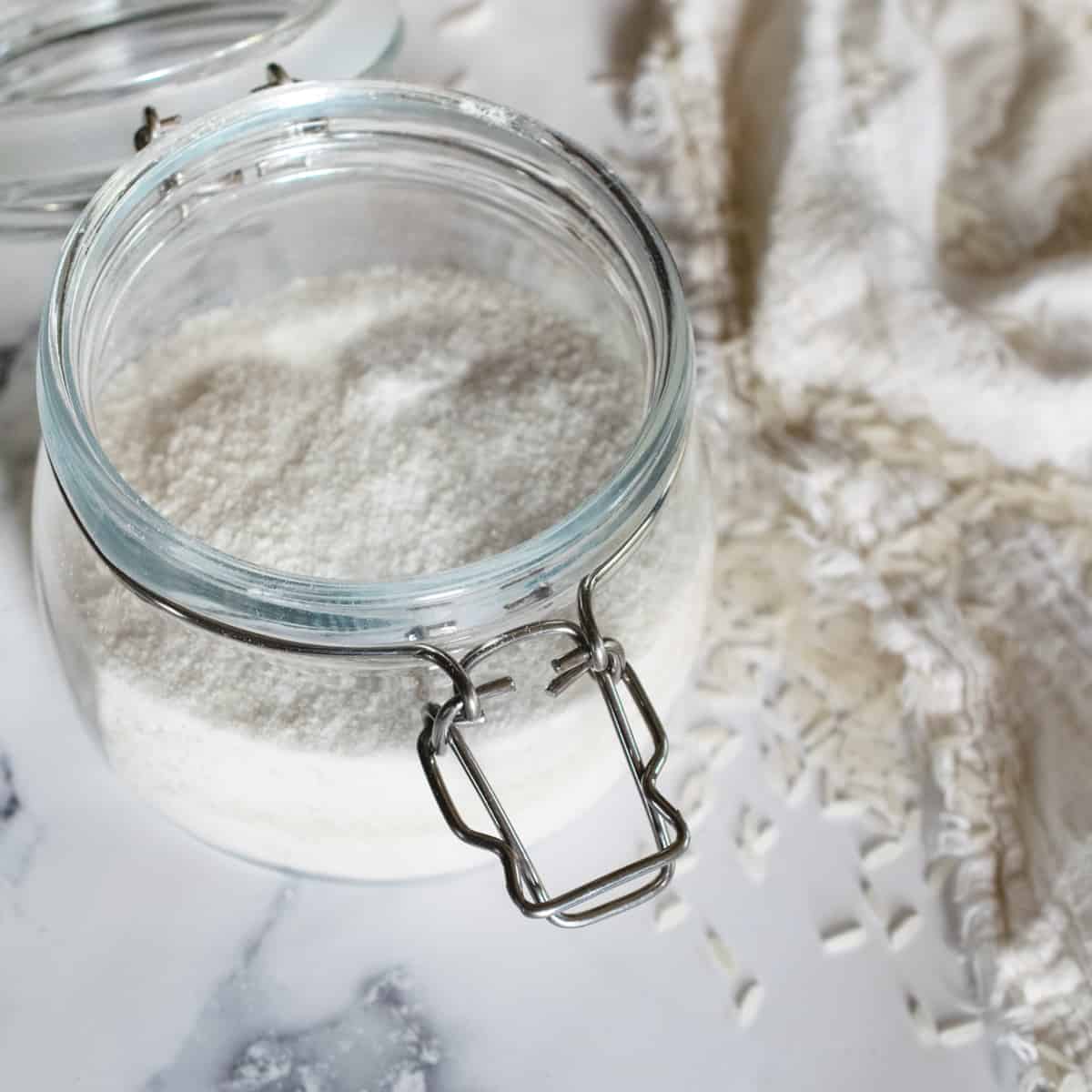 Rice flour can be tricky or expensive to purchase but it can be easily made it home using just one ingredient-- you guessed it: rice! My favorite use for rice flour is in making crispy, fried and breaded items Like General Tso's Chicken or homemade Onion Rings extra crispy. Using rice flour truly makes these foods stay crispy to the last bite.
It's also used widely in gluten free baking, such as making perfectly airy and crisp, homemade Graham Crackers.
What you need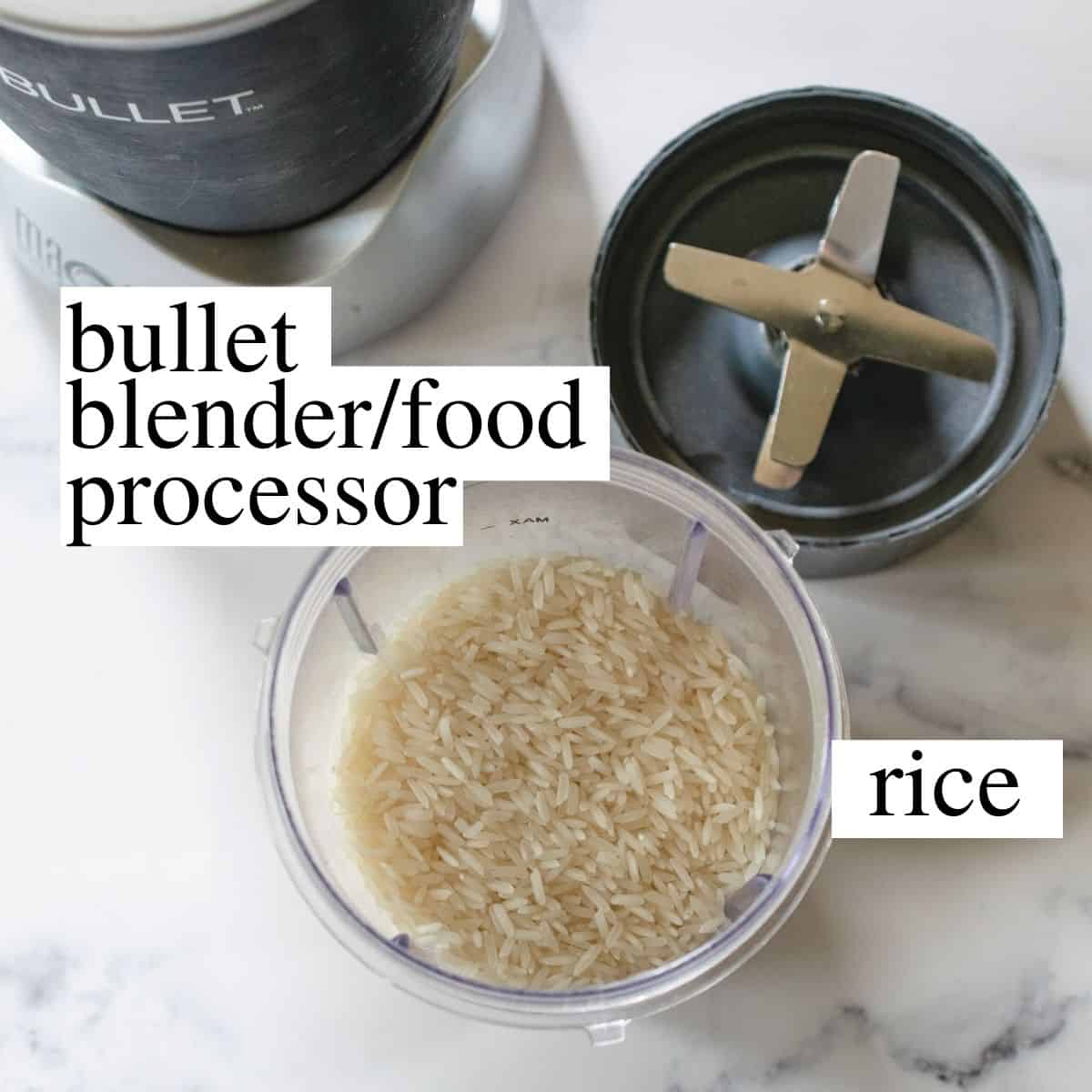 Blender
A high power blender, like a bullet blender (such as Nutri Bullet) or high powered blender (such as a Ninja), or a food processor with a good blade. Low powered blenders will likely not work to pulverize the rice grains.
Rice
Generally, the shorter the grain of rice the higher the starch content, which in turn means the "stickier" the cooked rice.
You can see this very clearly when comparing basmati rice, a very long, thin grain rice, with Arborio rice, a shorter fatter grain rice. When cooked, the basmati rice doesn't clump together much; the individual grains stay relatively loose. It is absolutely divine with dishes like Indian Butter Chicken. In contrast, the Arborio rice is full of starch, and is used in dishes like risotto. (Arborio is also similar to sushi rice, which clearly clumps together and is very sticky.)
Standard long grain white rice makes for a good "all purpose" rice flour, and work especially well for fried foods to baked goods.
A glutinous rice or sweet rice, like sticky rice, is typically a good choice for chewy Asian dumplings; it doesn't contain gluten.
Brown rice is a great option for pancakes, muffins and quick breads due to it's nutty and complex flavor.
How to make it
Simply put the rice in the blender/processor and pulse a few times to get the grains broken up. Then run the blender on full power for 30-60 seconds until you've achieved a fine powder.
You'll want to feel the flour between your fingers, and if it feels gritty, keep going. It might look powdered to the eye, but you'll be able to tell more accurately by feeling it.
This will vary depending on your blender or processor's power, but shouldn't take longer than a minute or two at the most.
Sift it
Once the consistency feels uniformly fine, pass it through a mesh strainer or sifter just for good measure to remove any hard pieces of rice that would be detectable in your recipes otherwise.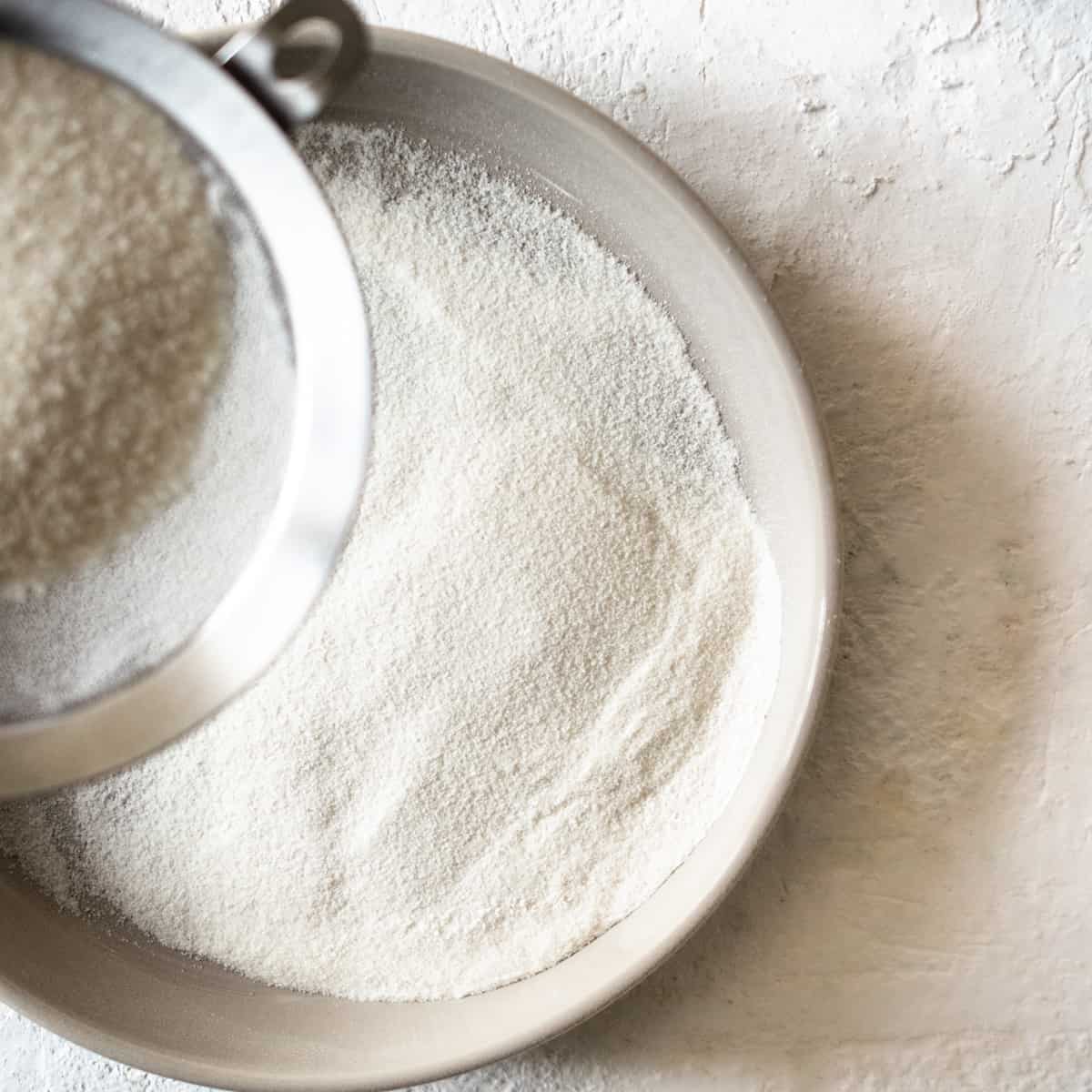 The finished rice flour can be stored in the pantry for anywhere between 6 months and several years! Not bad for a minute of your time, is it? Storage times depend on the type of rice, so refer to your rice's package or this guide for storing instructions.
FAQ's
What can I use rice flour for?
Rice flour can be used in gluten free baking, crispy breading or coatings for deep fried foods, Asian dumplings and noodles, and as a gluten free thickener for soups and stews.
Are rice flour and rice powder the same?
No. Rice powder is much coarser, and doesn't dissolve easily in water like rice flour.
How do I substitute rice flour for all purpose flour?
Substitute rice flour for all purpose flour directly using the same measurements but add ½ teaspoon of xanthan gum per 1 cup of rice flour in baked goods.
When does rice flour expire?
In general, white rice flour lasts for 5 years in the pantry, while brown rice flour will last for up to 6 months.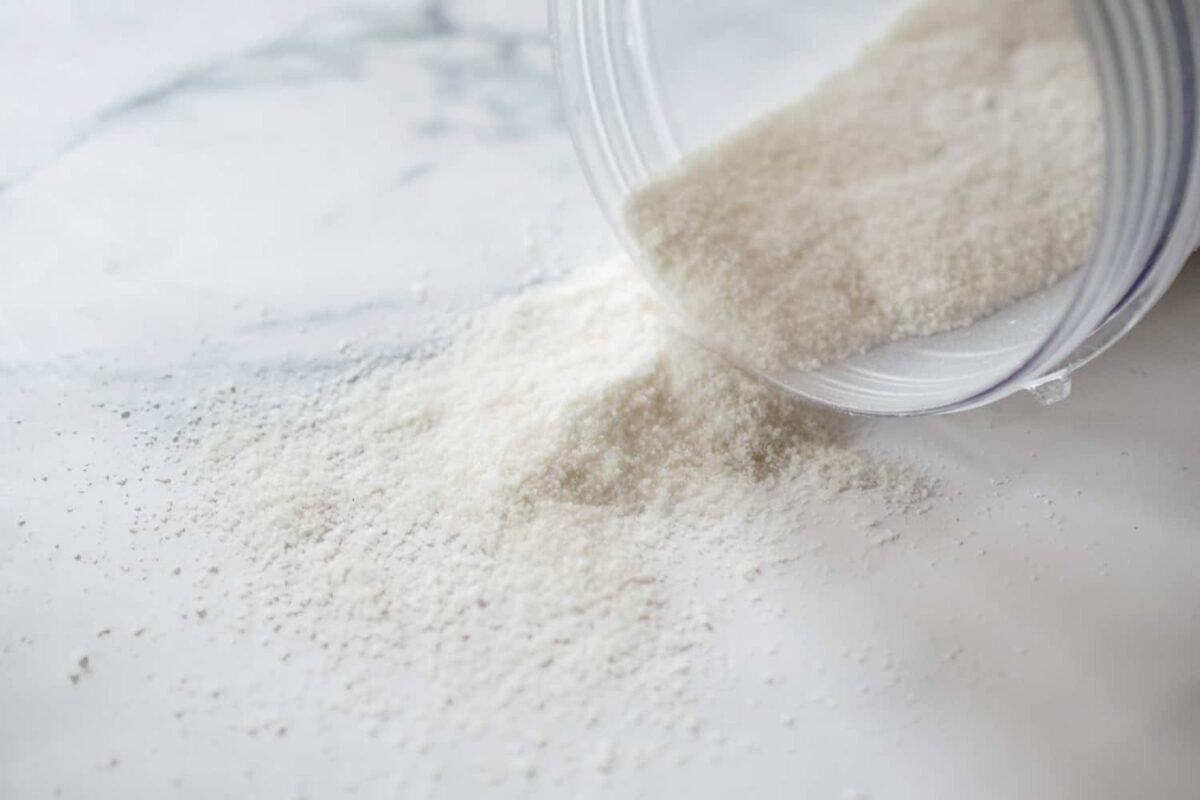 Recipes using rice flour...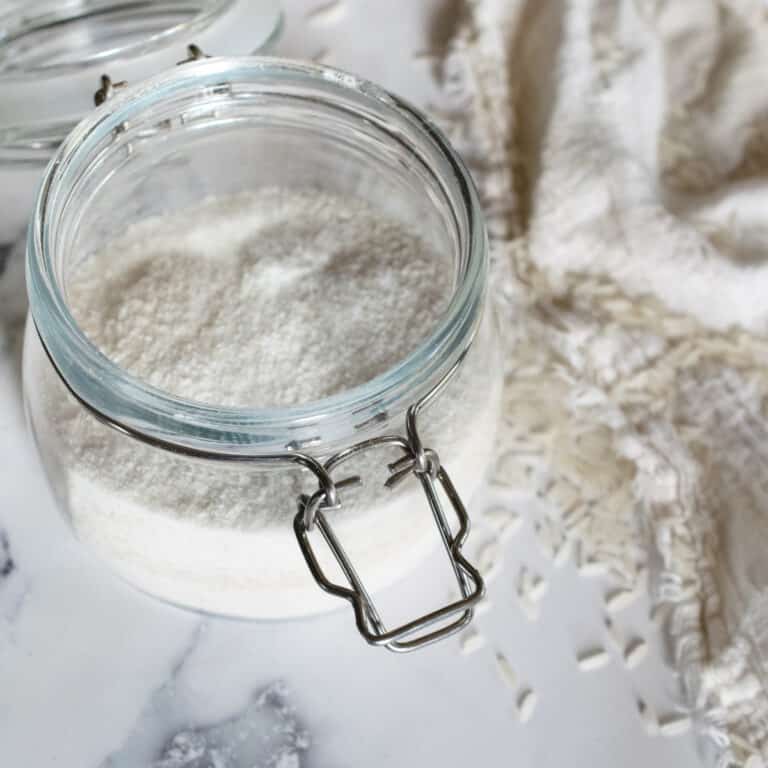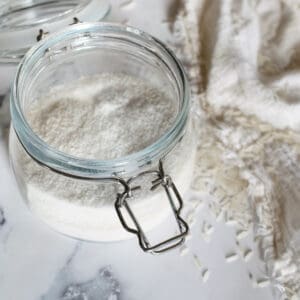 Rice Flour
How to make rice flour in less than two minutes for gluten free baking, crispy fried breaded foods, and gluten free thickeners, plus much more.
Print
Pin
Rate
Equipment
high powered blender (like a Nutri Bullet, Vitamix or Ninja) or grain mill
Ingredients
1 ½

cup

long grain white rice
Instructions
Measure dry rice (1 ½ cups) into high powered blender, or food mill.

Pulse a few times to break up the grains of rice, and then run on high speed until powder forms (about 1 minute) that is fine and not gritty when felt between the fingers. If you have to do this a second time, for an additional minute, let the rice flour cool down for a minute (it might be warm).

Tap the rice flour through a mesh strainer to remove any large pieces.

Store in a cool pantry in a closed container for up to 5 years (for white rice flour) or 3-6 months (for brown rice flour).
Notes
A low powered blender is likely not powerful enough to pulverize the grains into a powder. You'll need a high powered blender or bullet style blender (Like Nutri Bullet, Vitamix or Ninja) OR a food mill.
Feel the powder between your finger tips. Although it can appear to be fine, if it feels gritty, keep going until it is the consistency of whole wheat flour (which is slightly less fine than all purpose). 
If you spend more than 1-2 minutes of running rice through the blender, let the rice flour cool if it gets hot. 
Use in gluten free baking and cooking, and in dredges and breading mixes for extra crunch and crispiness. 
Nutrition
Serving:
2
tablespoons
|
Calories:
84
kcal
|
Carbohydrates:
18
g
|
Protein:
2
g
|
Fat:
1
g
|
Saturated Fat:
1
g
|
Sodium:
1
mg
|
Potassium:
27
mg
|
Fiber:
1
g
|
Sugar:
1
g
|
Calcium:
6
mg
|
Iron:
1
mg