Did you know that you can make tons of condiments with mayonnaise? Ranch Dressing, Tartar Sauce, and Cole Slaw Dressing are just a few. Making your own mayonnaise and then replacing all those condiments with your own homemade condiments, can save you tons of money, and a lot of icky ingredients.
how is mayonnaise made?
Mayonnaise in it's simplest form is an emulsion of egg, an acid and oil. That's it! (Typically, you want to add a bit of sugar and salt to it for flavor.) A lemon mayonnaise recipe is no different than a mayonnaise recipe with vinegar. It's the action of the acid with the egg and oil, that causes the silky, creamy resulting mayo. Use the two interchangeably, depending on what you have on hand. Either one will give you great tasting mayonnaise in a matter of seconds.
It's delicious, it's cheap, and it can be a very versatile condiment to have in your fridge. You can also add additional ingredients to it, so you can call it aioli, and be fancy!
ingredients in miracle whip
Are you more of a Miracle Whip person? Miracle Whip is just zesty mayonnaise. Scroll down for simple instructions for how to make homemade Miracle Whip.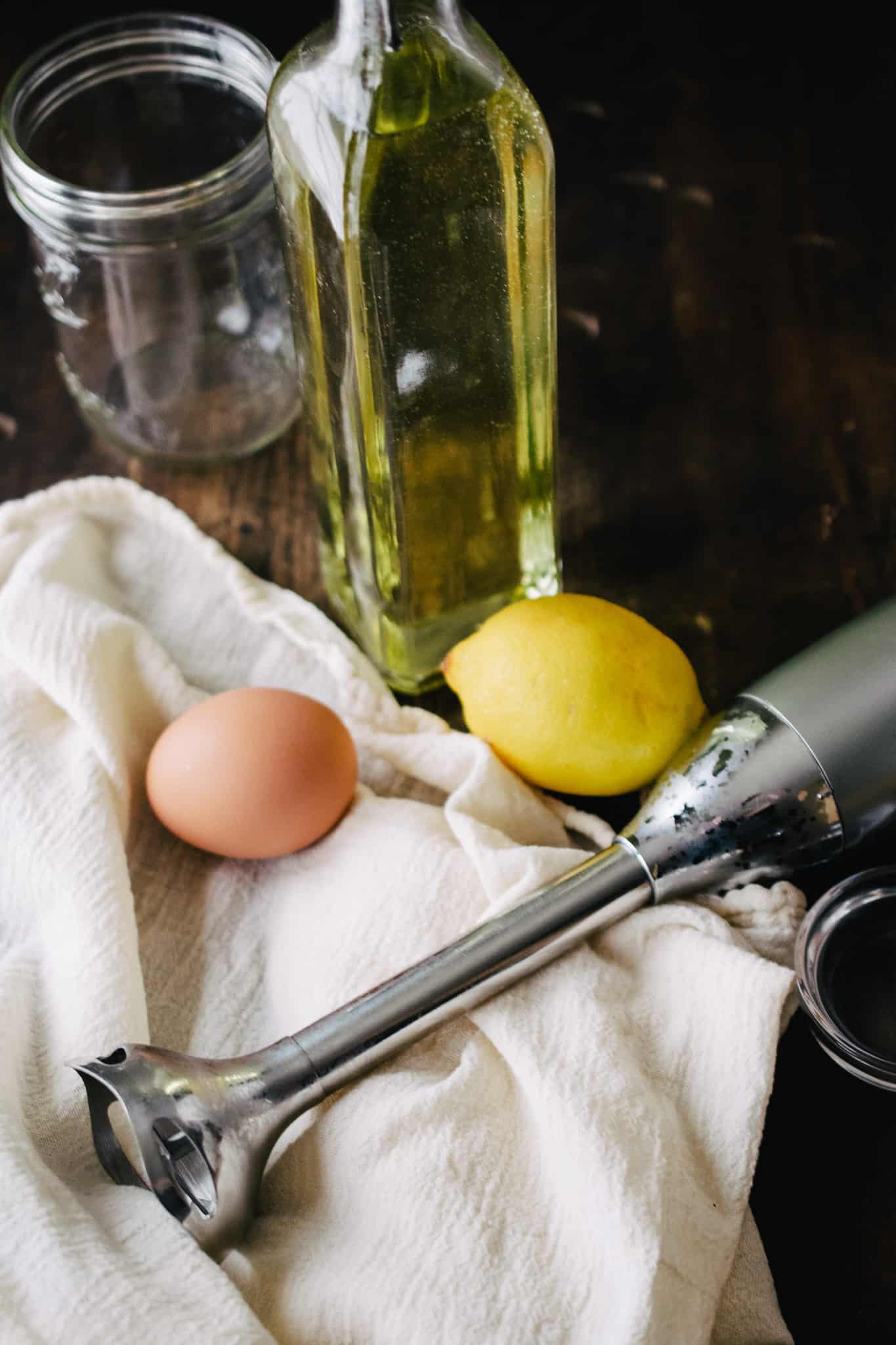 There are several methods for making mayonnaise including by hand with a whisk and bowl, blender, immersion blender, or food processor. It's not the tool or appliance that makes the mayonnaise so much as the method. They all use the same basic process which is emulsifying egg and oil with an acid to create a creamy, thick, silky texture. Some recipes call for lemon juice, while some call for vinegar but they are actually interchangeable. They are both acidic enough to make the magic happen, so use what you prefer or what you have on hand.
immersion blender method
This method is listed first, because, in my opinion it's the best. It's certainly the fastest and easiest. Some might argue that the texture is not quite as thick as you'd get using slower methods but I've found that adding a bit of extra oil thickens it up. As is the case with any method, counter intuitive as it may seem. But adding oil actually does thicken it.
To make homemade mayo using this super quick method, begin by cracking your egg into a glass jar or glass liquid measuring cup that is relatively close in size to your immersion blender. It needs to be able to reach to the bottom though. Add the lemon juice or vinegar to the egg and top with the oil.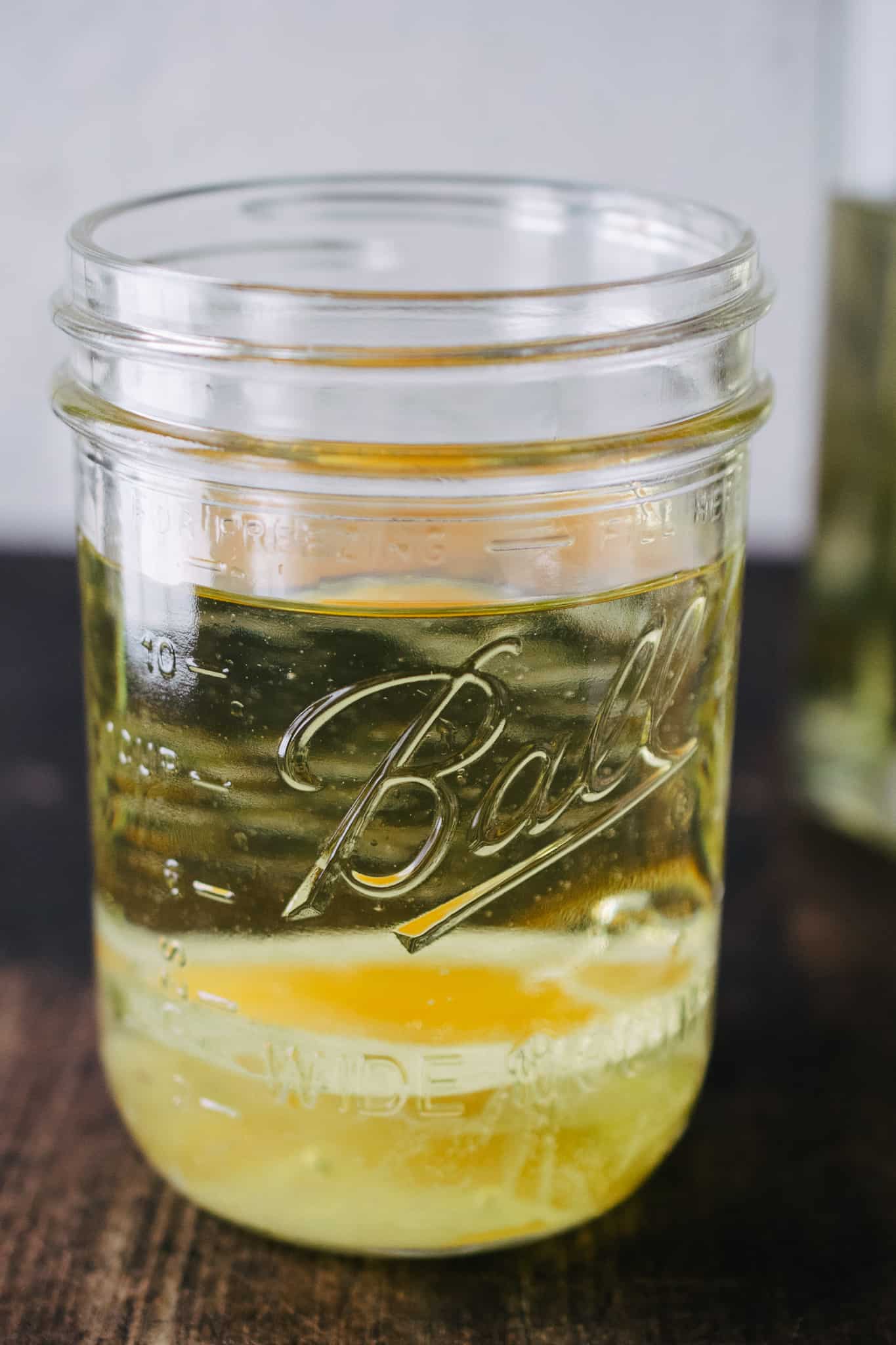 Don't worry about seasoning yet, that comes after it's been turned into mayo. Gently lower the immersion blender into the jar and cover the egg on the bottom of the jar. This is why you need to first make sure that your blender head will fit neatly into the bottom. It doesn't have to be a snug fit, it just needs to cover the egg, as shown below. The immersion blender should be off, when you lower it in here. Do not, I repeat, do not turn it on until you have it placed properly.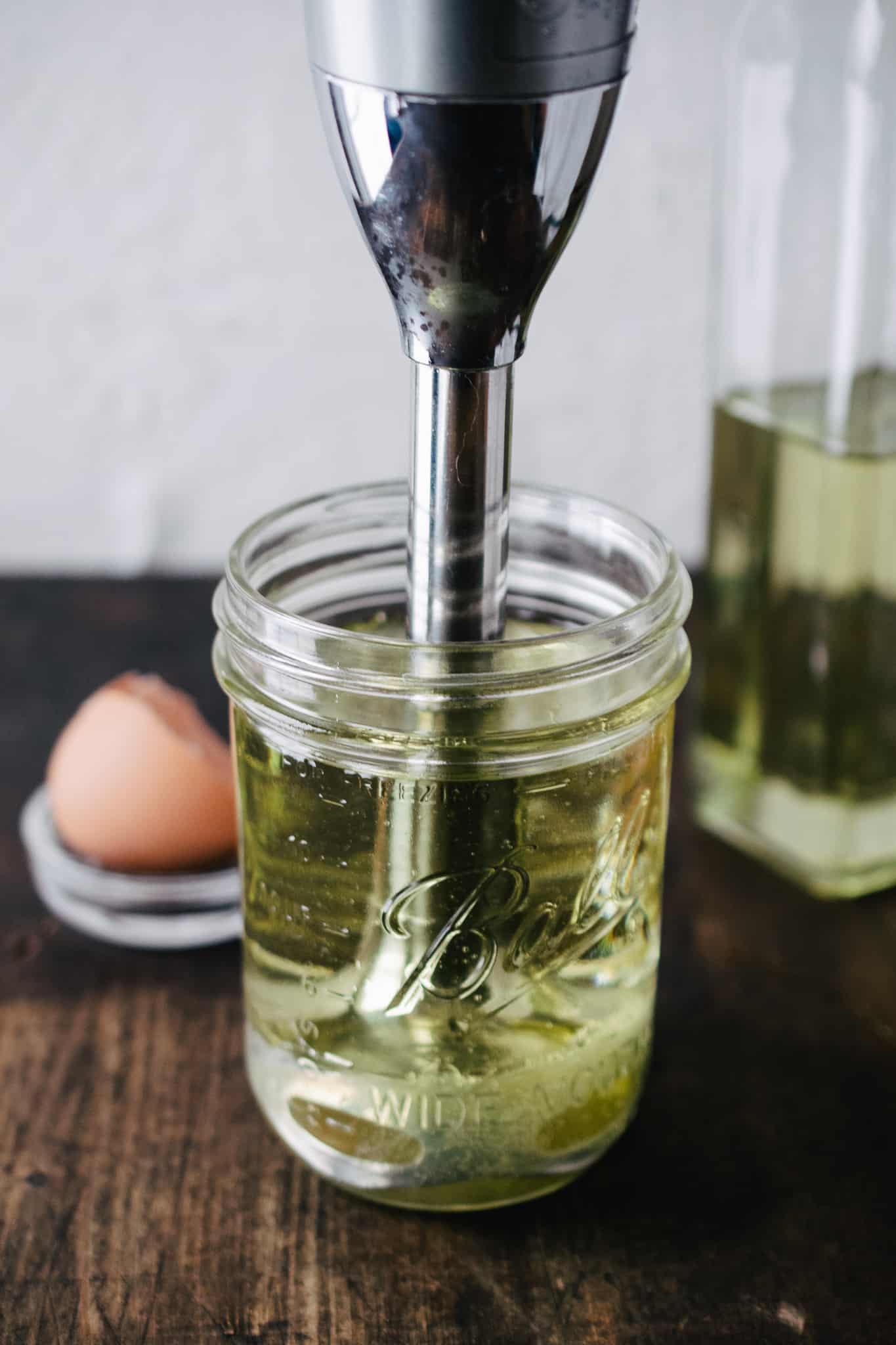 Once the immersion blender head is covering the egg yolk, turn the blender on medium speed, while leaving it sit flush on the bottom of the jar. You will begin to see things swirling around down there starting with the egg yolk itself.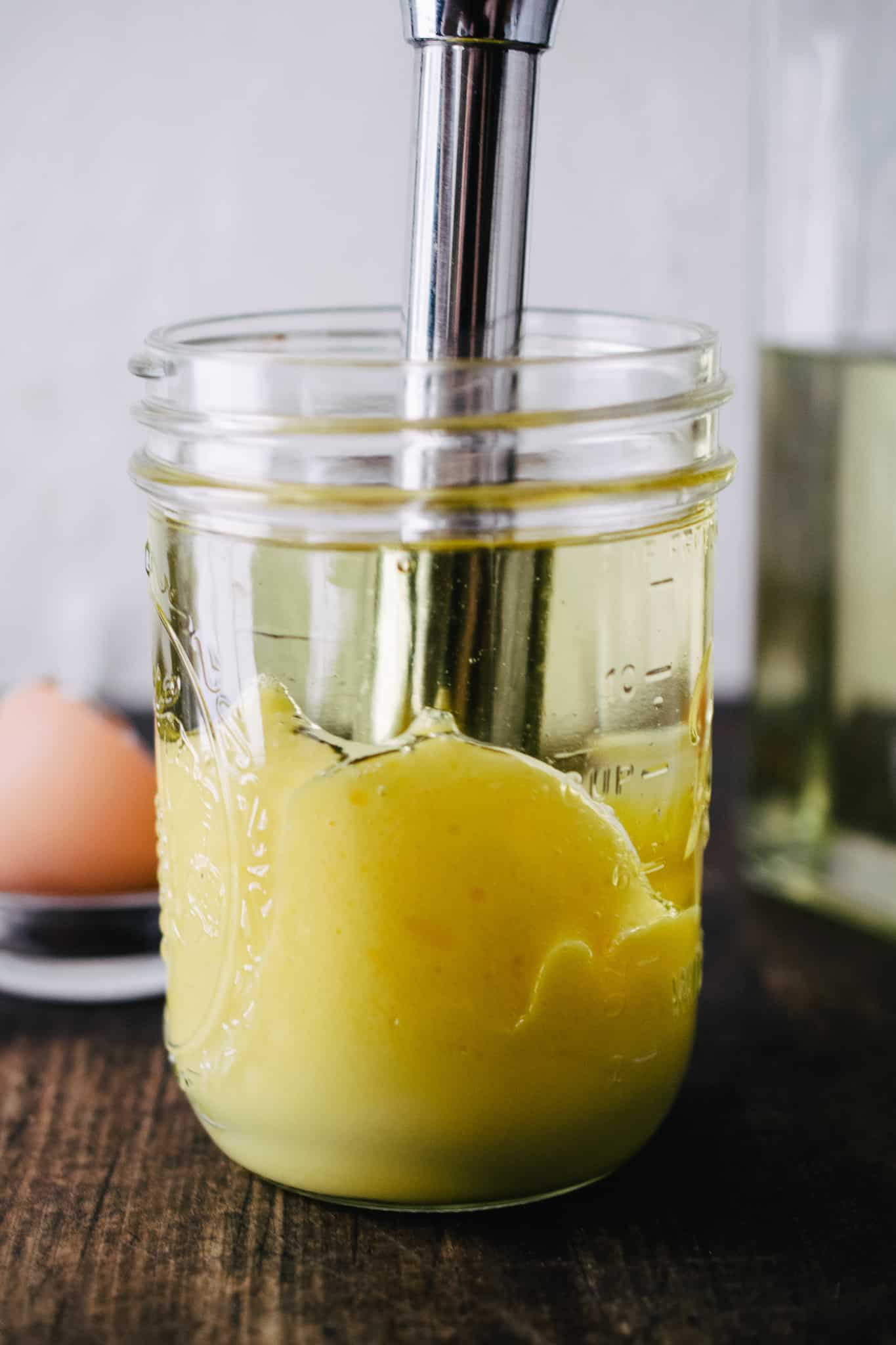 Leave it down there and you will see things begin to lighten in color and combine.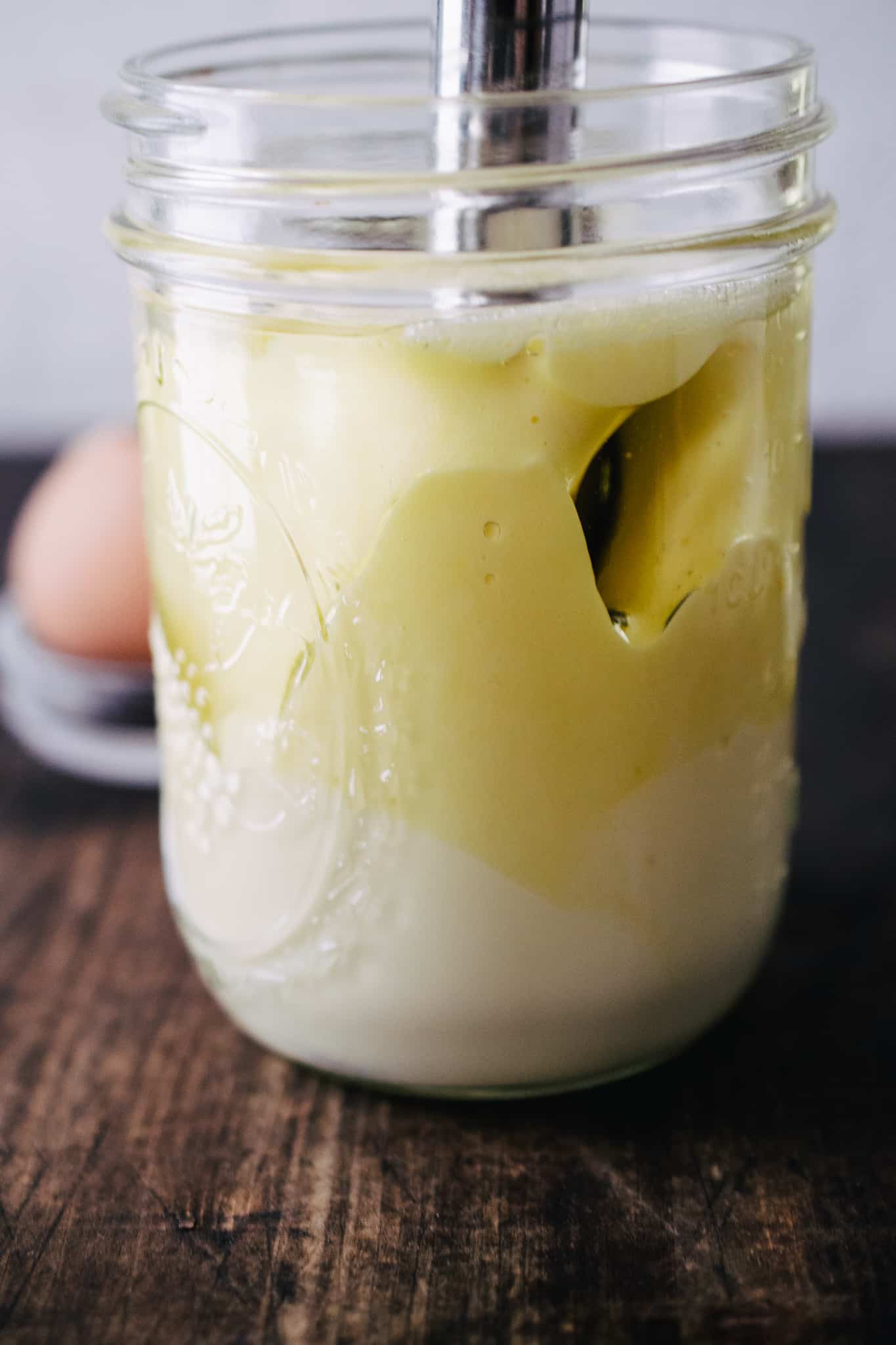 Once things have become emulsified (blended and pale light yellow in color) on the bottom half, raise the still turned on immersion blender up towards the surface and give it a couple of pumps up and down to blend everything together.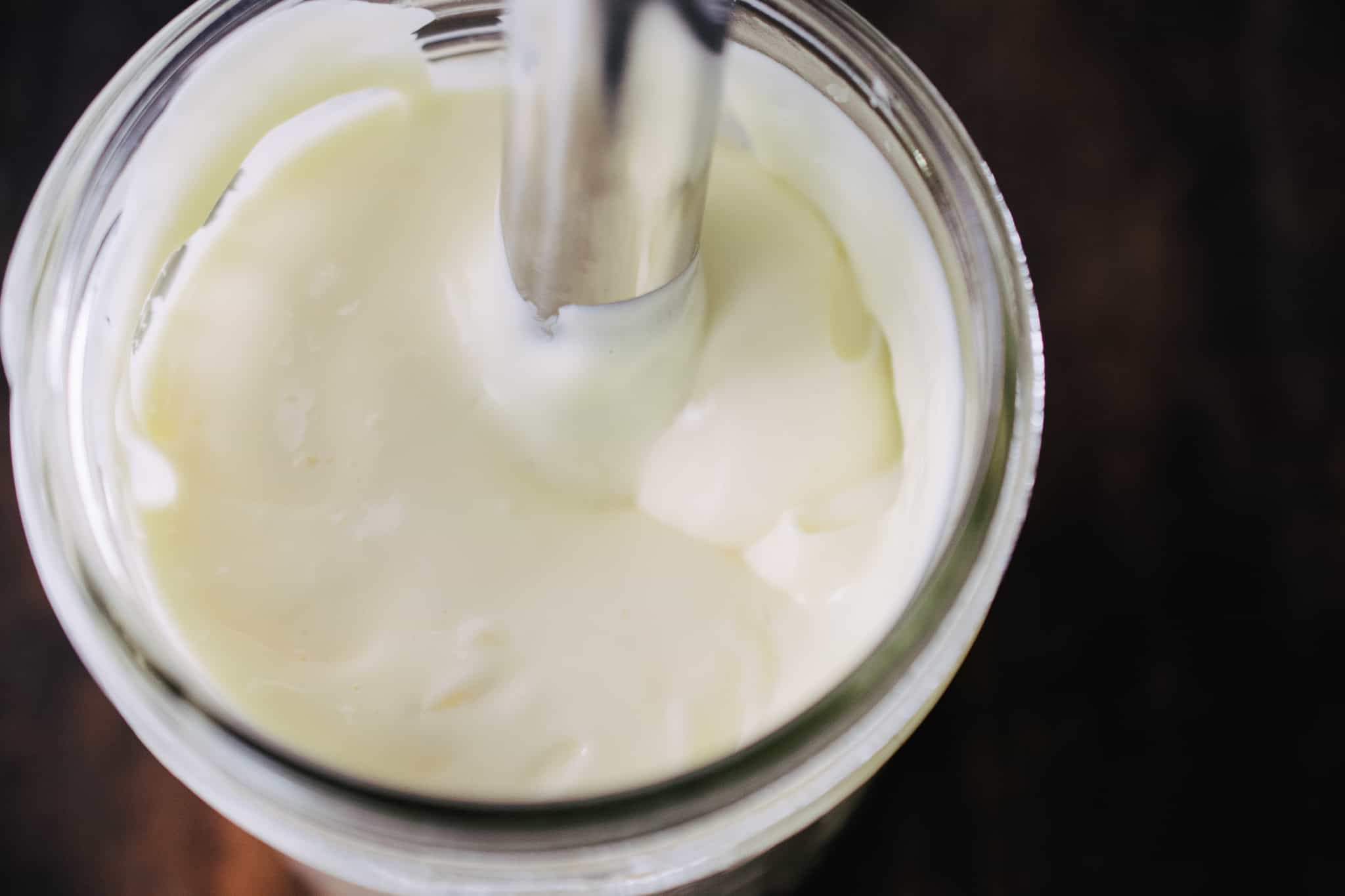 This is by far my favorite method, and I have to admit it was a long time coming before I started using it. One of the first bloggers I ever met, Amy, a homesteader from A Farmish Kind of Life, actually introduced me to this method and it's the way I prefer the most. (She's a pretty nifty gal with a ton of useful how-to's even if you're not a homesteader.) The reason being, time. It takes seconds as opposed to minutes with the other methods, and it's pretty amazing to watch it come together.
blender or food processor method
Same methodology as above, but this one takes a steady hand, and a little more patience. You add the egg and acid to the blender or processor, like usual but instead of adding the oil all at once, you have to do it in a very thin stream until it's all in. You have to exercise patience and just let it trickle in slowly. Otherwise your mayonnaise will "break" which means it will become a liquid mess that never thickens. It's gross. And you have to start over.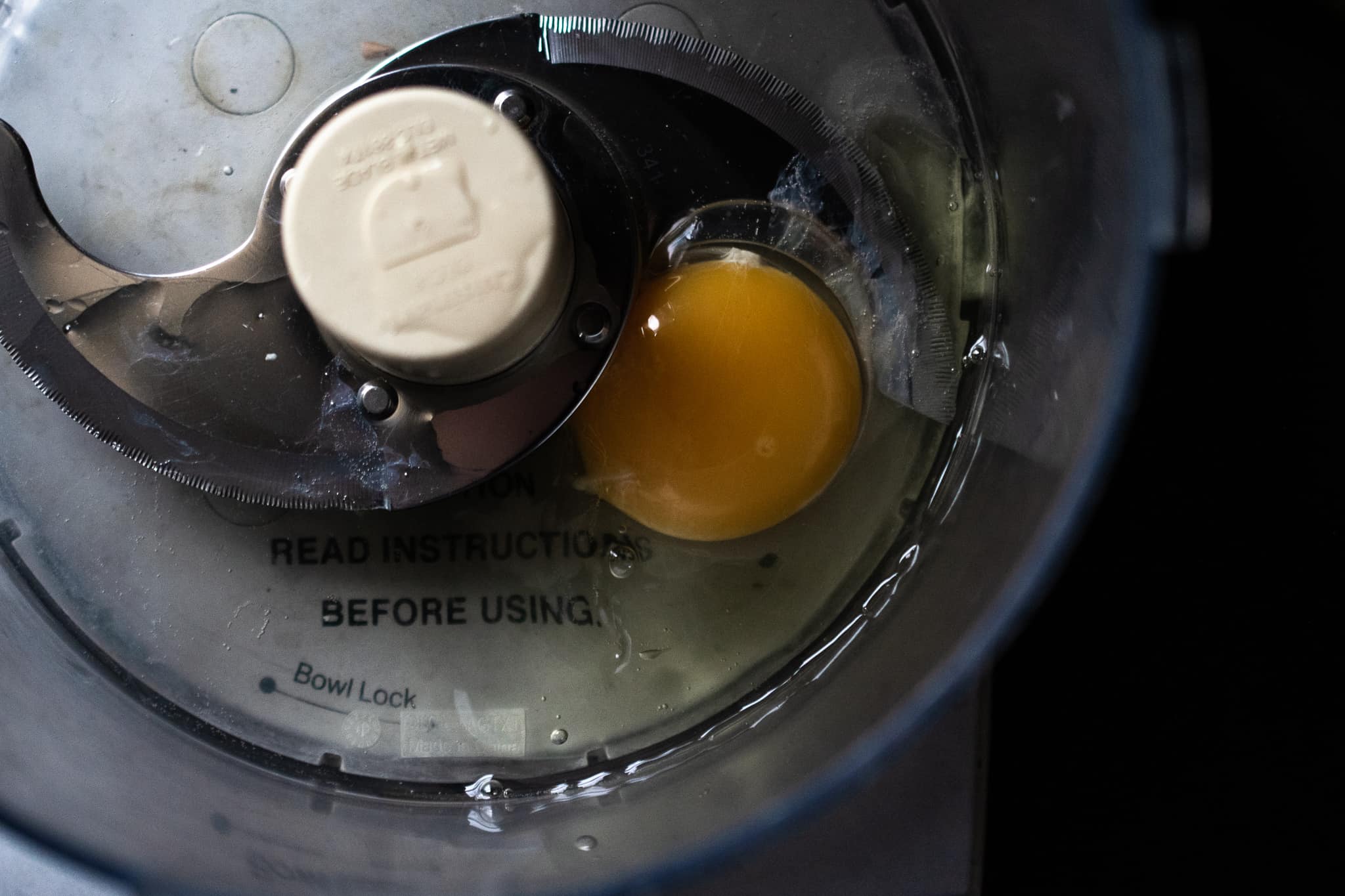 This has happened to me numerous times because I would become impatient and start drizzling the oil in a bit faster than I should have. And in seconds, what was shaping up to be a thick and luscious homemade mayo turns into a liquid, sloppy pool that cannot be salvaged. So, either be patient and careful or use the immersion blender 🙂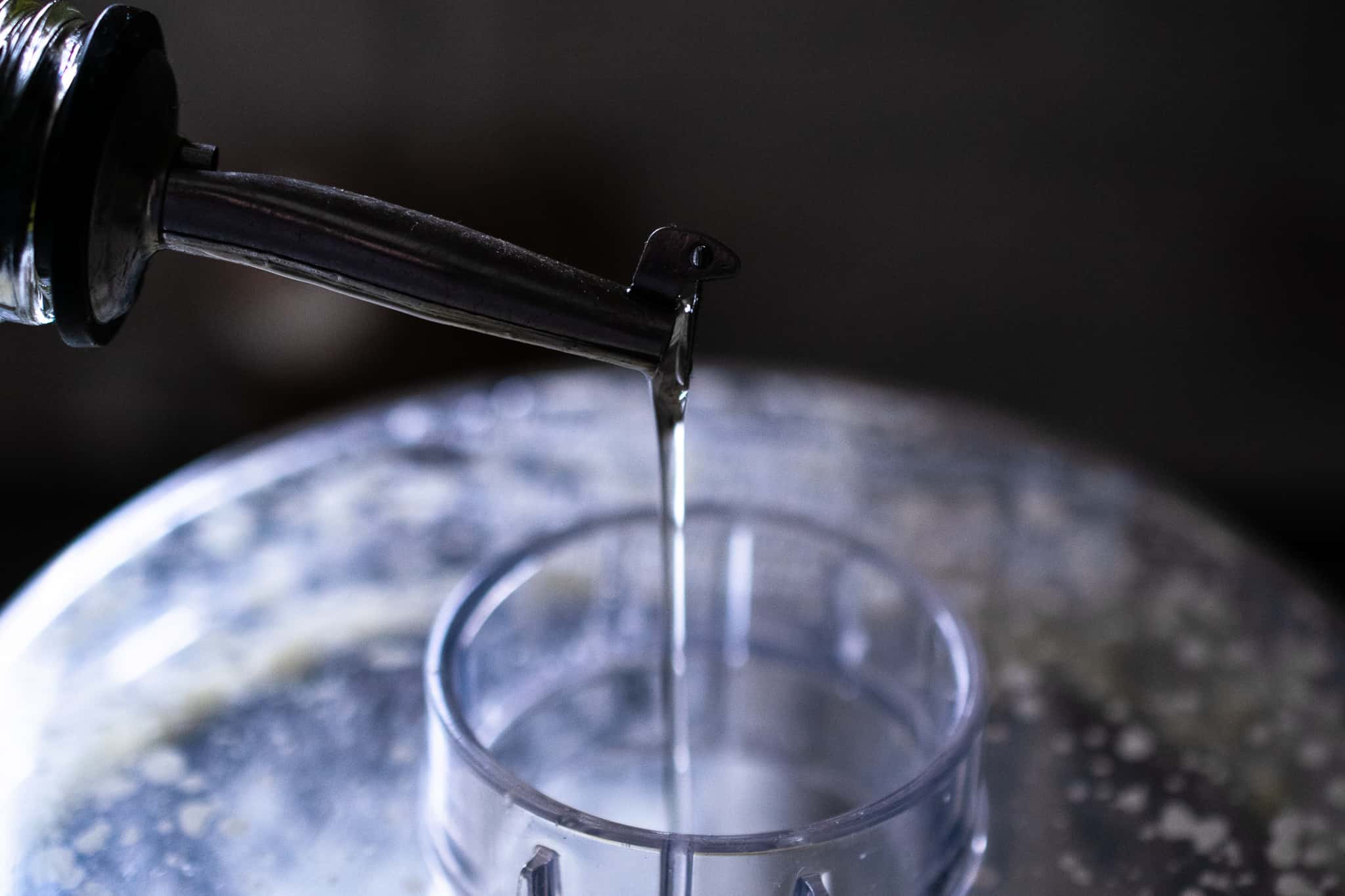 homemade miracle whip
Some people are just Miracle Whip People. My husband is one of them. Miracle Whip is zesty mayonnaise. It's very easy to make, it's just a souped up mayonnaise with "zesty" things in it. When you have your mayonnaise completed, add a quarter teaspoon more sugar, a quarter teaspoon more vinegar, and a pinch of paprika and garlic. Now you've got Miracle Whip.
how long does homemade mayonnaise last
Most resources will say that 5 days is the maximum amount of time to preserve homemade mayonnaise in the refrigerator. Store bought mayonnaise has added preservatives in it, which is why it can be stored safely, opened in the refrigerator for months. Since fresh mayonnaise doesn't have these ingredients in it, we have to keep in mind that we are talking about storing raw eggs that have been opened, so 5 days is a good rule of thumb for storing fresh mayonnaise in the fridge.
is homemade mayonnaise safe?
There is a great article which talks about food safety in terms of the growing popularity of urban farming and raising backyard chickens. We have our own chickens and I use their eggs to make mayonnaise, but it's important to keep them healthy and clean to avoid contamination. In this article, you can find useful information on how salmonella is transmitted and what to do to reduce your risk of exposure. It is especially important if you are consuming under cooked or raw eggs.
the many uses for mayonnaise
There are so many uses for mayonnaise! Did you know that if you substitute mayo for butter when making grilled cheese, you get a crispier crust? Mayonnaise is also the base for Ranch Dressing which is extremely simple to make homemade. Salad dressings, condiments, casseroles, and dips of all kinds often call for mayonnaise. It's amazing the things we can easily make homemade, rather than purchasing yet another item at the store.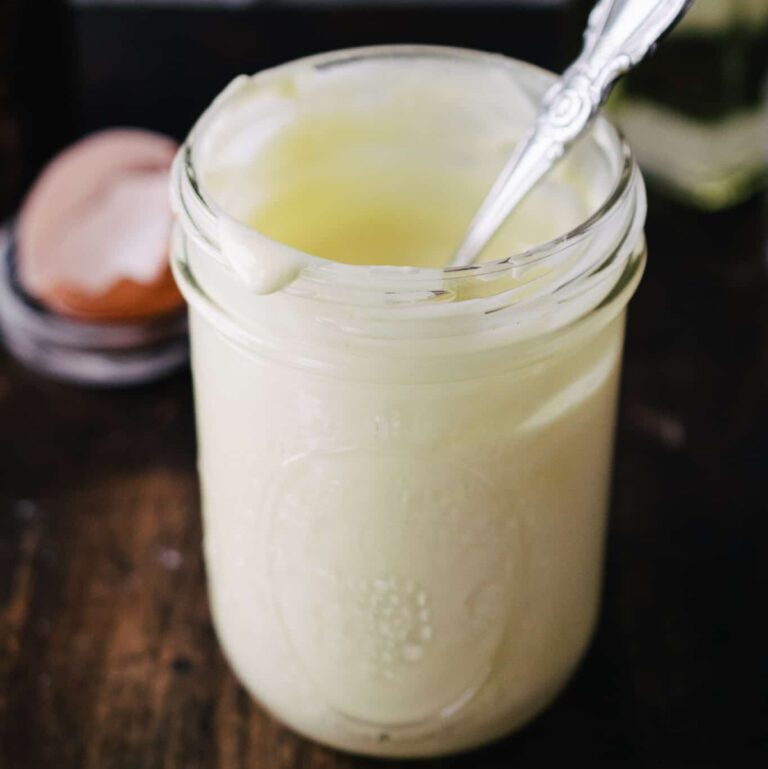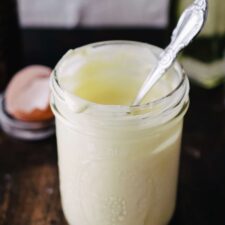 Homemade Mayonnaise
Easy mayonnaise recipe, using just eggs, oil, salt, sugar and an acid.
Print
Pin
Rate
Ingredients
1

large egg

1

tablespoon

lemon juice or white vinegar

1 ¼

cups

neutral oil like vegetable or canola

or other neutral flavored oil

½

teaspoon

fine salt

½

teaspoon

sugar
Instructions
Immersion Blender Method
Add egg and acid (vinegar or lemon juice) to the bottom of a narrow jar or glass measuring cup that is slightly larger than the head of your immersion blender.

Gently pour oil over the top. Insert immersion blender (in the OFF setting) into the oil until it covers the top of the egg, flush with the bottom of the glass. Turn it to the on position.

Leave it in the on position, pressed onto the bottom of the glass for about 15 seconds; you'll see a pale yellow emulsion begin to form. Once fully formed on the bottom (30 seconds max), slowly bring the immersion blender to the surface, and give it a few pumps up and down to fully blend.

Blend in the salt and sugar. Done!
Food Processor Method
In a food processor, mixer, or by hand with bowl and whisk combine eggs and vinegar/lemon juice until lightened and pale in color.

Add oil in a slow, THIN stream. Patience is a virtue. As you go, mixture will thicken. 

Once all the oil has been added and it resembles mayonnaise, then add salt and sugar. Blend. store in an airtight container for up to two weeks.
Notes
Use a neutral tasting oil, like vegetable oil or light olive oil. If you want to use extra virgin olive oil, do a blend of ½ cup EVOO to ¾ cup neutral oil.
If the mayonnaise seems thin, add a little more oil; it seems counter intuitive, but that will thicken it up. 
Using the immersion blender method is the fastest, easiest way by far. 
If you use the blender or food processor method, you must add the oil in a very thin, steady stream over the course of 3-5 minutes. If you go to fast, it will "break" and become a thin mess that won't come together. You'll have to start over at this point, or slowly add the broken mixture to a freshly blended egg yolk along with another ½ cup of oil in a clean, fresh bowl. 
Season with salt and sugar after the mayonnaise is formed. 
Add additional seasonings, if desired, to flavor your mayo and make an aioli.
For a copy cat Miracle Whip Recipe, add ¼ teaspoon each more of vinegar and sugar, along with a pinch of garlic powder, and sweet paprika.