This Whole Wheat Bread Recipe could not be softer, or easier, and it requires less hands-on time than going to the store!
Whole wheat lends a sweet, and nutty flavor to whatever you make with it. It also has many undisputed health benefits, and is in my opinion, the only kind of bread to make a peanut butter jelly with. That part might be disputed.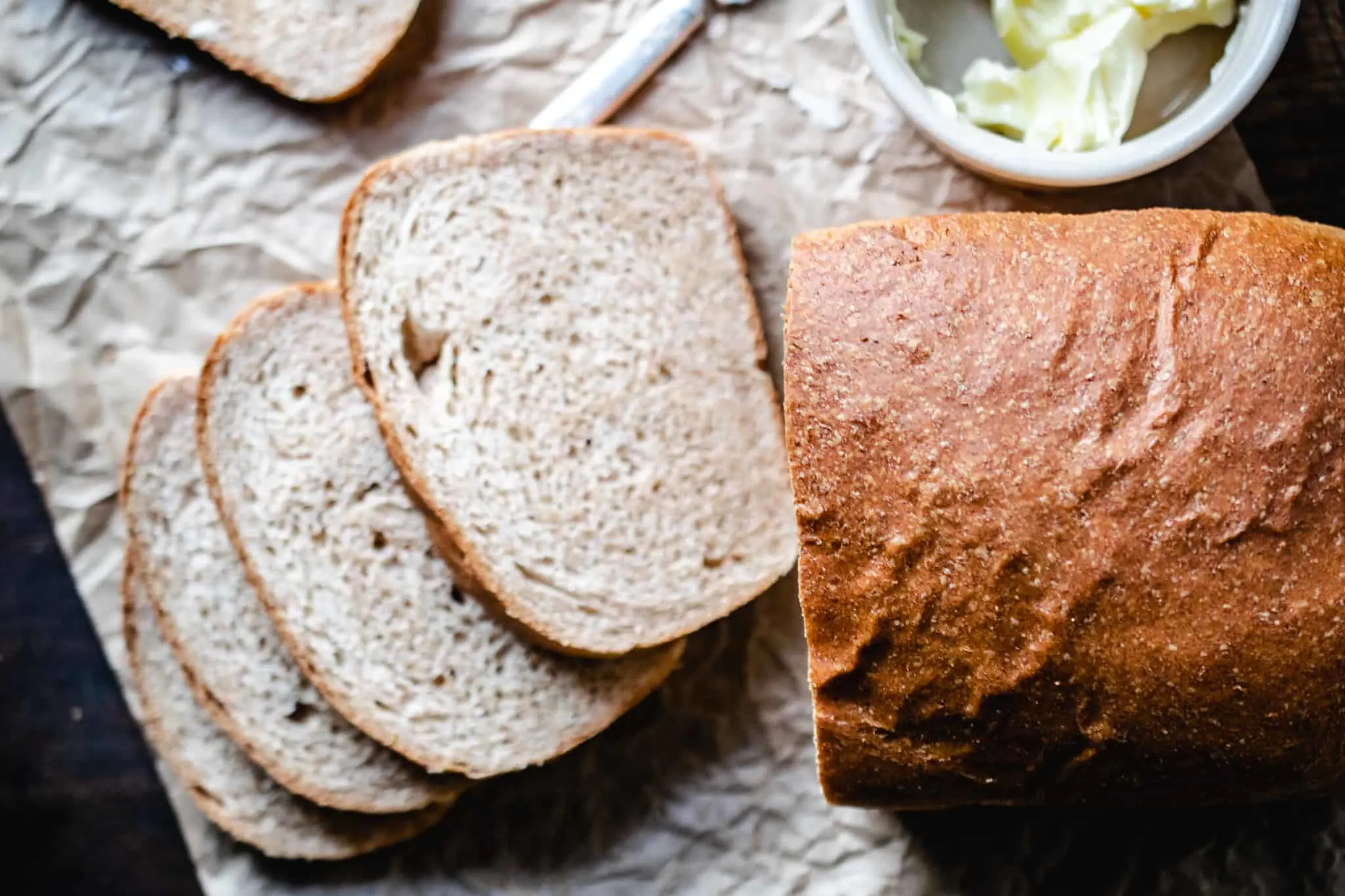 Making bread can be hard
It's been a challenge to create a whole wheat bread recipe that matched the goodness of the loaves from the stores. Bread dough used to frustrate me yes, but whole wheat bread dough would just send me over the edge.
My dough was either too wet and sticky, or too hard and stiff. It wouldn't bake up soft and tender the way white bread would; instead it would be dense and crumbly.
Eventually, I gave it a rest (no pun intended), and focused on building my white bread baking skills.
I didn't come back to wheat flour for a while, but when I did I had a new attitude and a new skill set based on what I did know about white breads.
Isn't it funny how sometimes you just need to walk away from something, and when you come back it makes more sense?
If you're whole wheat bread baking story sounds anything like mine, and you're still frustrated, keep reading.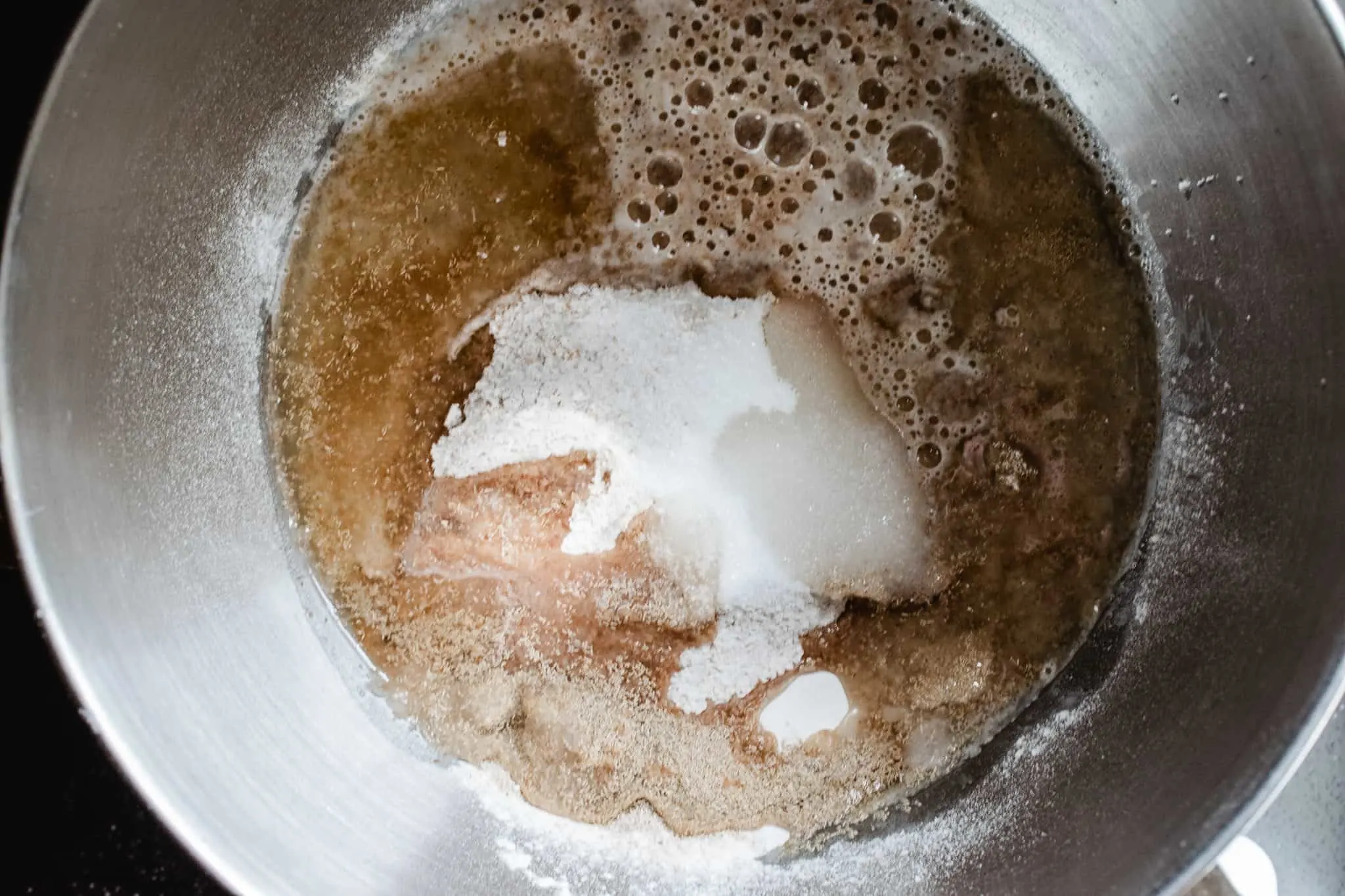 whole wheat bread dough troubleshooting
I'm going to go through the process of making this simple whole wheat bread recipe, and the ways in which it's a bit different than an all-white loaf, and how to adjust for that. This recipe works using a mixer, your bare hands, or a bread machine. (Bread machine people: just dump the ingredients in and set it for the whole wheat cycle:)
We're also going to do a bit of homemade whole wheat bread troubleshooting. There are some common issues that can frustrate the bread baker when it comes to whole wheat vs white bread. Here, we are going to go over how to fix those issues. Because it's not just about the perfect recipe. It's also about what you do with it, and the process you go through.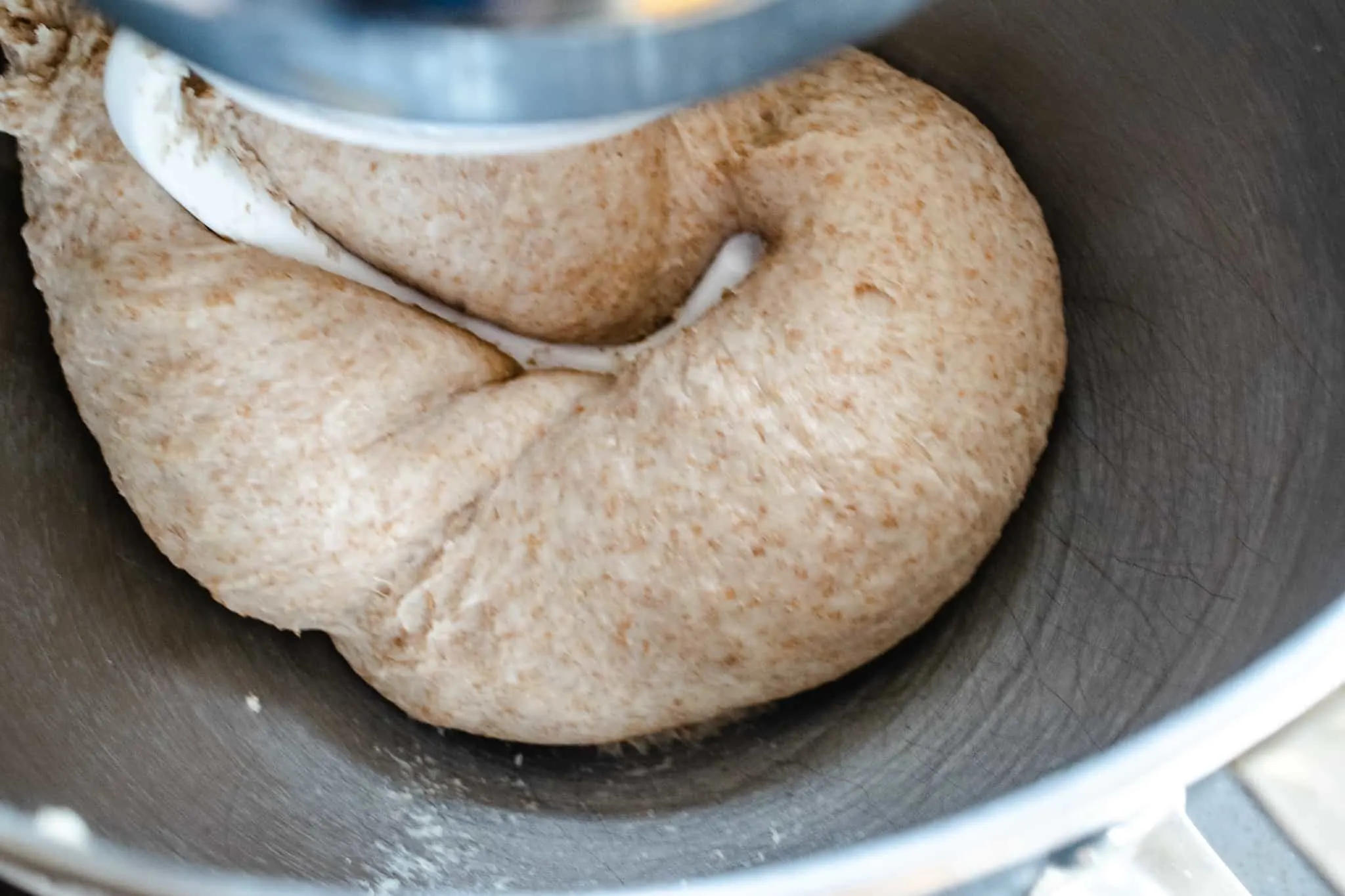 whole wheat bread hydration
Whole wheat flour requires more liquid than white. The best way to think of this, is just that its a tougher version of the grain. The extra liquid will soak into the bran, and hydrate and soften it so that it's not crumbly and dry, or dense.
Getting the liquids mixed with the other ingredients and letting them sit and soak it all in is helpful to soften the wheat flour. If you use the whole wheat bread setting on your bread maker, it typically does this step for you. If you are using a mixer, go ahead and blend everything up and let it sit and soften for 15-20 minutes. Then proceed to kneading the dough.
As you knead, or as your mixer's dough hook kneads, you'll notice the dough go through changes. Paying attention to the consistency and the hydration level is important. The dough will need to be a bit wetter than white dough, to start. As it gets kneaded it will tighten up. It's always possible, with any recipe, that you might need to add a tablespoon more of water or flour depending on the consistency.
The dough needs to be as soft as possible, while able to form a ball. Eventually it will stick to the hook and pull away from the sides of the bowl. That's when you know you've nailed the consistency of this bread dough! If it's too wet and not wanting to form, add a tablespoon more of flour. Don't go more than one tablespoon at a time, either way. The same goes for adding more water if it's looking very stiff: a little goes a long way.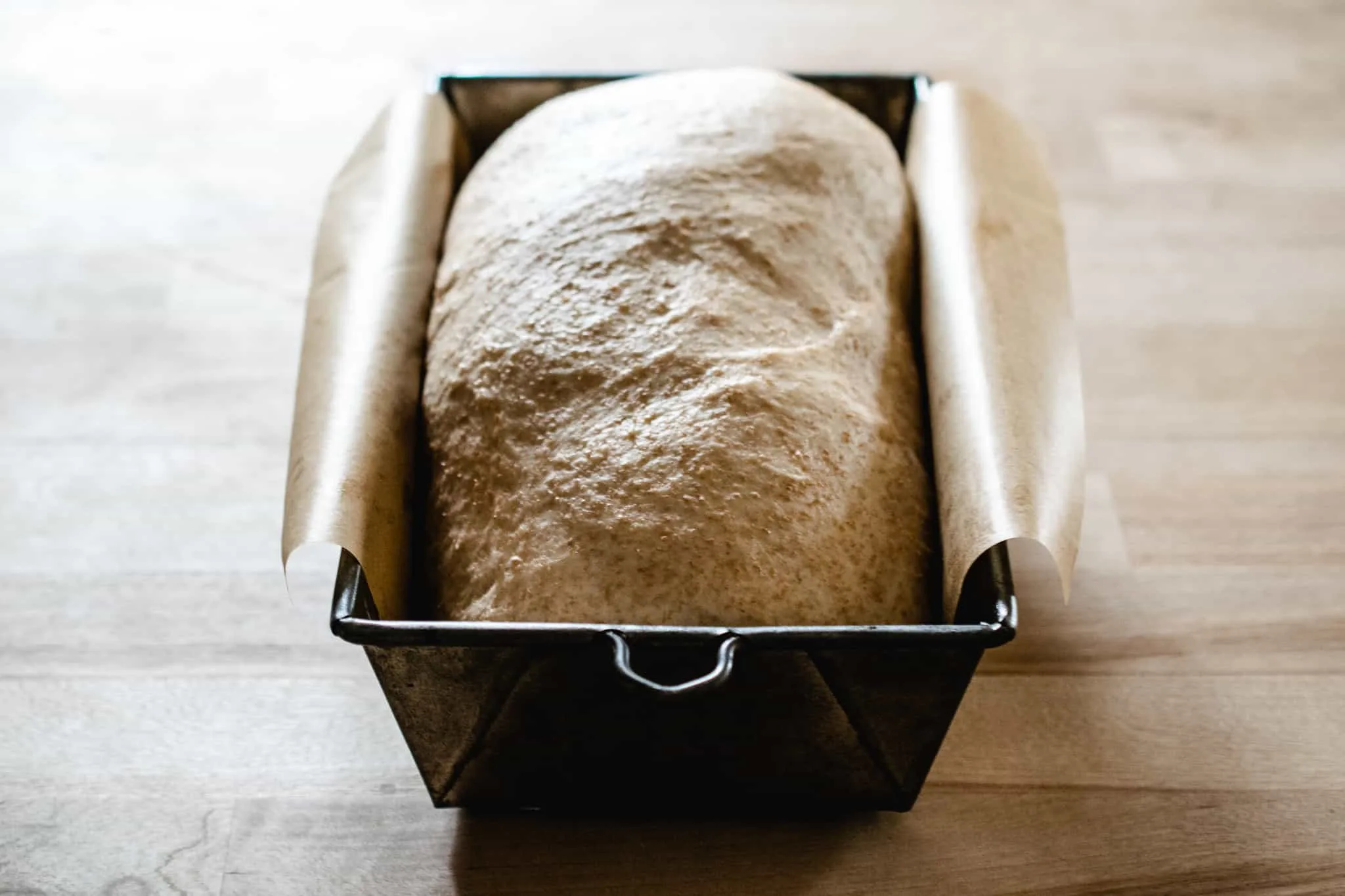 how to get whole wheat bread to rise
There are many different reasons why whole wheat bread dough isn't rising. Whole wheat bread does take much longer than white bread to rise, just because of the bulk of the wheat. It's not as light as white flour, so understandably, it's going to take longer to rise. Using a blend of half whole wheat and half all purpose flour, like this recipe does, will help keep things light and fluffy.
Using too much sugar can also prevent the dough from rising. Whole wheat has a naturally sweet flavor, so don't overload it with sugar.
You also do not want to add more yeast. Sure, adding extra yeast can make the bread rise higher and faster--at first. But it will only spring back and "snap" like a rubber band, collapsing in on itself during the baking process. I call this "Batman Bread". You can read about my struggles with Batman Bread in this post on basic white bread loaves.
Whatever bowl you use to let the dough rise, make sure to grease it lightly and turn the dough around in it slightly to coat it. This keeps it from developing a skin while it sits, that prevents the surface from stretching to allow for the rise. Also make sure to cover it to keep it moist. Not tightly, and not with a heavy towel. I find that a piece of plastic wrap lightly set over the bowl works perfectly.
Choose a non drafty, somewhat warm area for the rise. In the winter time this may be hard, but just know that the colder and dryer the air is, the longer the rise will take. In the summer time, and when it's humid the dough will rise more quickly. Just pay attention and take mental notes as you figure out how the dough acts in your house.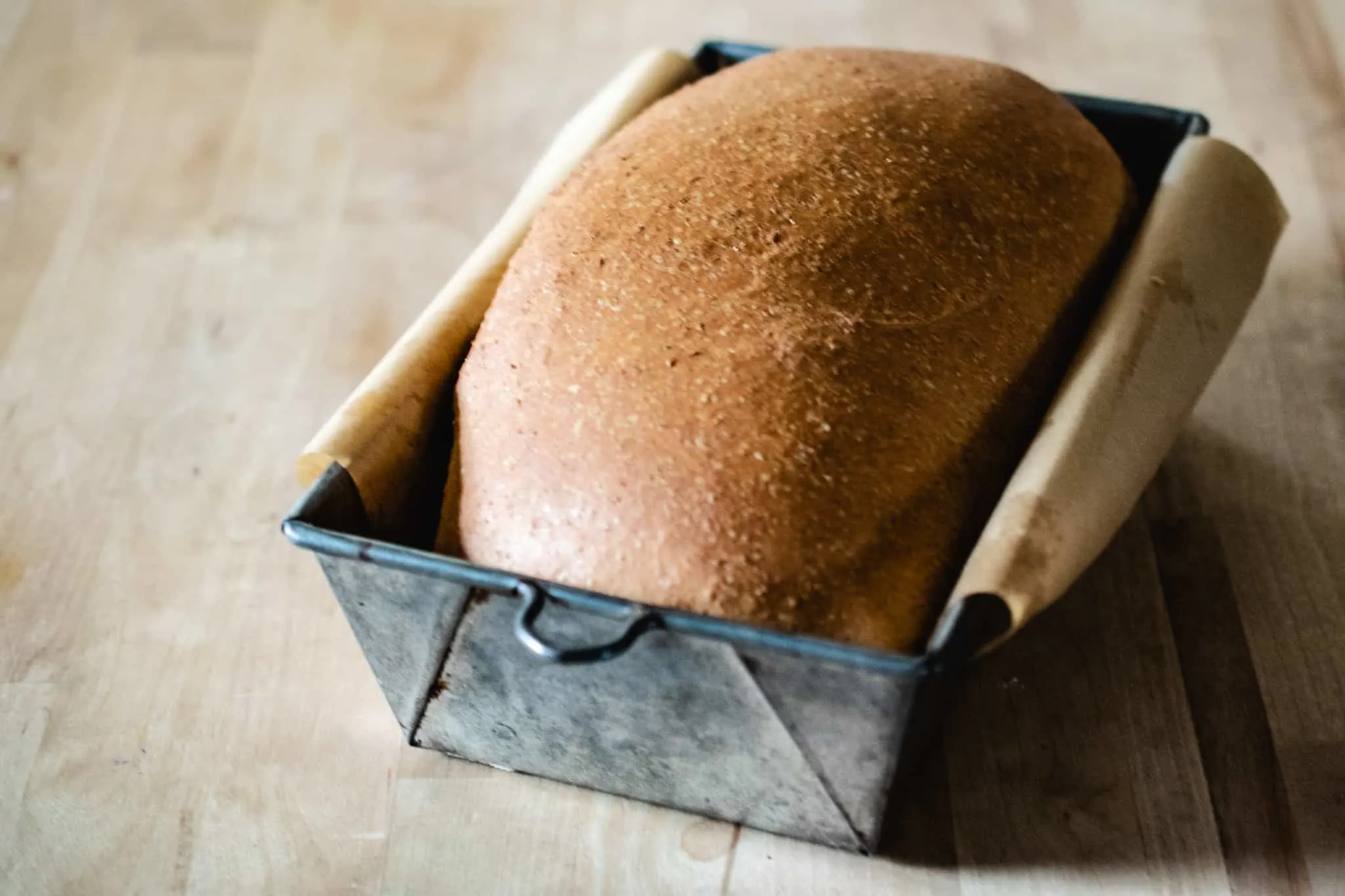 how to shape a sandwich loaf
Once you've observed a perfect, airy, pillowy rise on your bread, it's important to keep that intact. You don't want to just man handle your dough and jam it in a pan. You want to turn the dough out onto a floured surface and "tuck" the ends and sides into and under itself. Then you can lay it in a greased or parchment lined bread pan.
Here's a great video that shows exactly how to form the perfect sandwich loaf.
Give the bread a second rise in the pan, while the oven preheats. It still may take a bit longer than a white loaf, but your patience will pay off. Once the bread has risen over the top of the loaf pan pop it in the oven for 35-40 minutes. It's done when the internal temperature is 190 degrees and the top is brown and golden.
📖 Recipe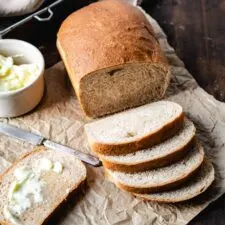 Whole Wheat Sandwich Bread
Impossibly soft, sweet and nutty whole wheat slicing bread, perfect for sandwiches!
Print
Pin
Rate
Ingredients
1 ½

cup

whole wheat flour

1 ½

cup

all purpose flour

2 ½

teaspoon

instant yeast

3

tablespoon

sugar

1 ¼

teaspoon

salt

¾

cup

lukewarm water

⅓

cup

vegetable oil

3

tablespoon

whole milk
Instructions
Add all ingredients to a stand mixer and combine until sticky.

Let it rest for 20 minutes to allow the grain to soak up the liquids and soften.

Proceed with kneading the dough with the dough hook for about 8-9 minutes. Dough should eventually pull away from the sides of the bowl. If it's too wet add a tablespoon of flour. If it's to dry add a tablespoon of water.

Dough should be smoother now and easy to form a ball with. Transfer to a large, butter greased bowl and cover loosely with plastic wrap. Set in a warm, non drafty place to rise until doubled in size, anywhere from 2 to 3 ½ hours.

Remove from bowl and set on a floured surface. Preheat oven to 350 degrees and grease a bread pan or line with parchment paper.

Stretch the dough into a rectangle that is about the length of the pan, and then form into a loaf shape by tucking the edges underneath itself.

Tuck into the pan and cover lightly with plastic wrap and let the dough rise again until the top is taller than the sides of the pan.

Bake for 30-40 minutes until golden brown. (Internal temperature should be 190 degrees.)

Let cool completely before slicing.
Notes
Use instant yeast, not "rapid rise". If using active dry yeast, dissolve it in the warm water for the recipe until top is foamy (about 5 minutes) before adding them to the bowl of other ingredients.
If using a bread maker just add ingredients as recipe calls for and set for the whole wheat cycle.
Let cool completely before slicing.
See video on forming loaf if you need tips!