Do you think making homemade pasta dough from scratch is too difficult or inconvenient? There is nothing quite like fresh, homemade pasta. When you can get around to making it… it's so worth it. The thing about the hand made stuff is that it only requires a very simple sauce or a few very basic ingredients to become a phenomenal, tasty dish. It doesn't take much. The fact that it goes a long ways in terms of feeding a big family, is a bonus.
how to store fresh pasta dough
Don't get me wrong, I have four kids and it's a stretch for me to sit around rolling pasta dough every single time we need it; we eat A LOT of it. But, did you know you can make a big batch, and freeze it? The recipe I've included below is enough for one huge dinner, with leftovers. So if you are planning on adding a lot of ingredients to it, it can actually be divided in half and the other half can be frozen. 
Or, you can double, or triple the recipe for freezing. Don't roll it out into your pasta shape before freezing. It is best to freeze pasta dough in ball form. If you have several batches worth to freeze, divide those into individual batches worth, dust the ball with flour, and wrap in saran wrap. Put the wrapped dough balls in a freezer safe container or zipper bag. So to be clear, the recipe below is one very large batch, or two regular batches. A double recipe would be four regular batches, and so on. 
If you are planning on using it soon, it can be stored, wrapped, in the refrigerator for up three days. 
how to thaw frozen pasta dough 
There's really only one good way to thaw pasta dough, and that is on the counter. Never in water, never in the microwave, and never uncovered. It needs to remain in the wrapping, and given a good 3 hours to thaw completely at it's own pace. 
the easiest homemade pasta dough recipe
This homemade pasta dough recipe only uses two ingredients. Eggs and flour. That's it! You can add a pinch of salt, but I always salt the water, and for that reason I feel that the pasta itself doesn't need it. Another ingredient I opt to omit is the oil. When I roll out the pasta dough, I find that it is much easier to keep the long strands from sticking when I don't use oil. The dough is less gummy, and less sticky. My strands come out the other end of the pasta roller separated, rather than sort of perforated and needing to be pulled apart. 
It's very important to use lots of flour on your work space when making fresh pasta. Just like with any other dough, this keeps things from sticking. Work in batches, and keep the dough that is waiting to be made into pasta covered so that it doesn't dry out. 
homemade pasta without a machine 
Roll out and form into any shape that your roller or pasta attachment will allow. Flour the pasta sheets well to make sure they don't go in and come out sticking together. 
If you don't have a hand roller, or an attachment for your standing mixer, or any other fancy pasta shape maker, you can still make beautiful pasta easily! Consider ravioli, and fill with your favorite cheeses, vegetables or meats, or go for a very wide-cut pappardelle pasta. Pappardelle is by far one of my favorite cuts, and even though I have a roller that gives me fettuccine, I often hand cut pappardelle because I love the extra-wide ribbon. Pappardelle is between 2 and 3 centimeters wide, which is why it's so easy to make by hand: less cutting. Another option would be tagliatelle, which is slightly narrower than pappardelle, but wider than fettuccine. Honestly, you don't need to go measure-crazy here.
If you are looking for an even easier homemade pasta shape to cut, lasagna is about as easy as it gets! Roll out your sheets, and layer your favorite lasagna recipe. It never fails to amaze me how next level a lasagna recipe can taste when I use fresh cut lasagna pasta. It's hard to go back after that! 
how long to cook fresh homemade pasta 
Cooking fresh pasta takes nowhere near the time that dried pasta takes. You may not even want to walk away from the pot because you are only looking at a 1-3 minute cooking time, depending on the thickness of the pasta. alt the water well (about a tablespoon for a large stock pot). Do a test strand first, so that you can get a good idea ahead of time, otherwise test a strand every minute as it's boiling. Drain immediately; pasta can go from perfect to overcooked in a very short time. 
Try any of these pasta shapes with your favorite sauces, family recipes, or mix it up and have some fun with what's in season! Whatever you choose to put into your dish, it's guaranteed to be delicious when tossed with homemade pasta! If you're looking for a little inspiration, try this Pasta with Vodka Sauce, or a light, yet spicy Lemony Red Pepper and Summer Squash Pasta.
The pasta-bilities are endless! (Sorry, how could I not?)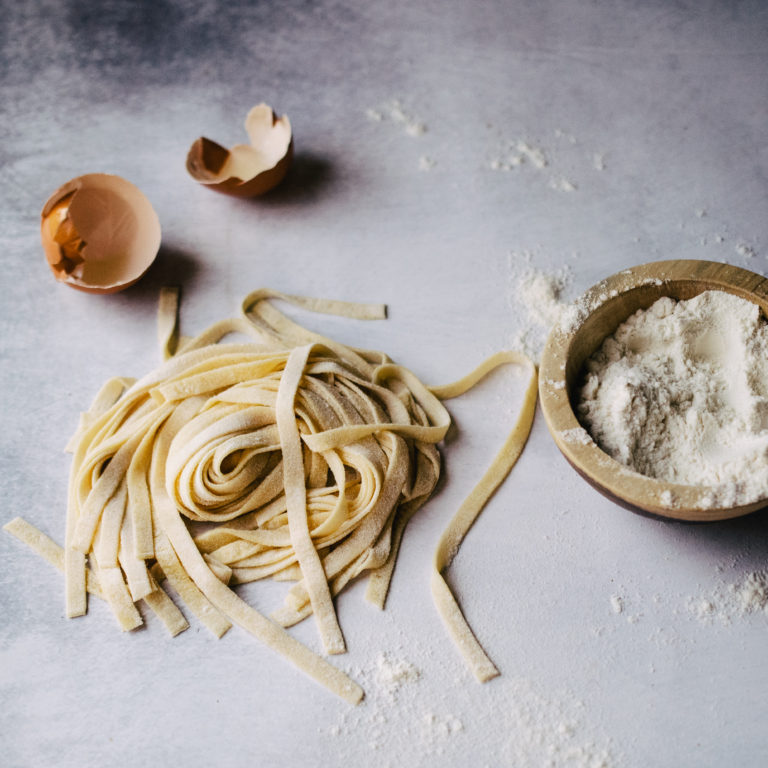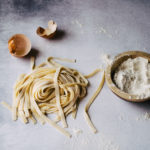 Print Recipe
Basic Homemade Pasta Dough
Simple and basic pasta dough for rolling out delicious, homemade pasta at home.
Ingredients
2

cups

all purpose flour

plus more for dusting

2

large

eggs
Instructions
Combine flour and eggs, in a food processor, using the dough hook, standing mixer, or just knead it well by hand.

Work in batches of 4 to 6, begin to roll out pasta into sheets starting with the thicker setting, to the desired thickness, and finally to the desired shape, dusting lightly with flour as you go to prevent sticking.

To cook, bring a large stock pot of water to a boil, salt generously and boil gently for 1 to 3 minutes.