Do you think making homemade pasta dough from scratch is too difficult or inconvenient? It doesn't have to be! Once you get the hang of it, homemade pasta dough is very easy and fun to make.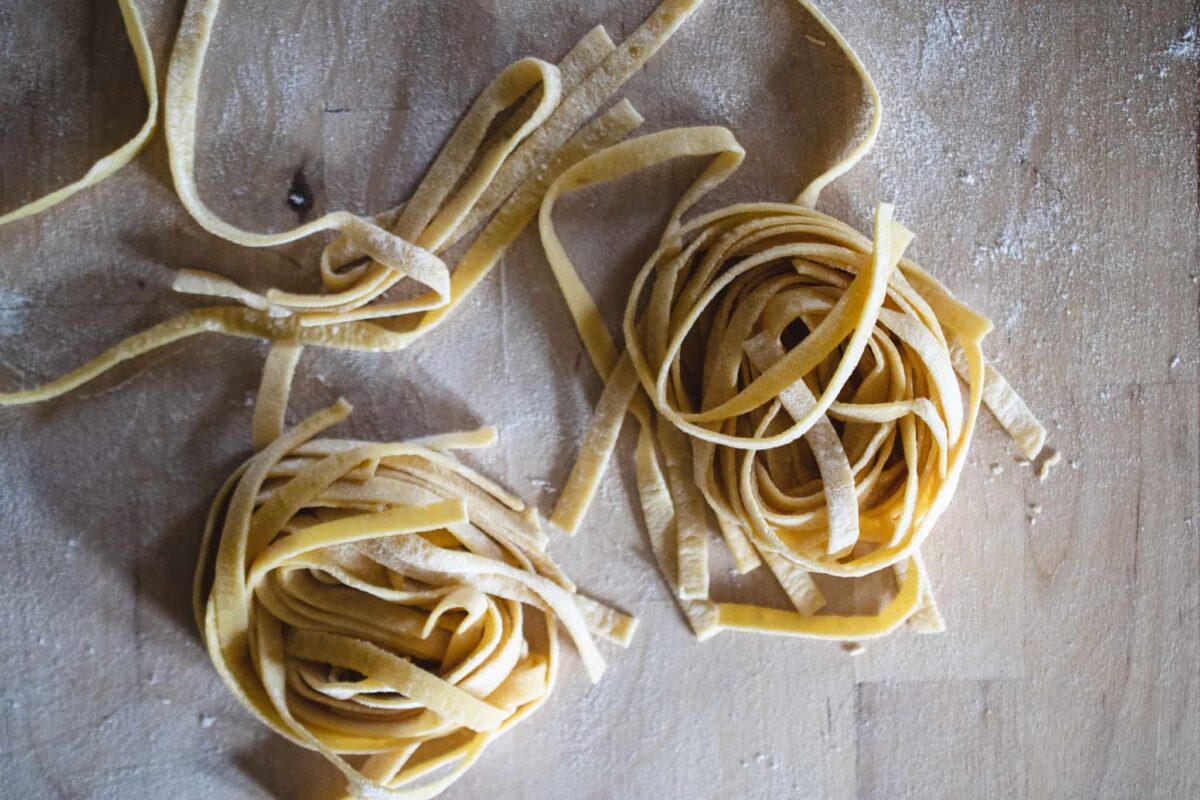 The thing about the hand made stuff is that it only requires a very simple sauce or a few very basic pantry ingredients to transform into a phenomenal, tasty dish. Pasta With Greens disguises green vegetables into a pesto like sauce that the pickiest eaters will want second helpings of. Summer Squash Pasta is a light and simple pasta dish with plenty of lemon, Parmesan cheese and red pepper flake that's ready in minutes. 
Storing fresh pasta dough
You can make the dough following the recipe as is, and either roll it out and make the pasta right away, or tuck it into a nice little ball, dust it with a bit of flour, and wrap it in plastic wrap to store in the fridge for up to 3 day days.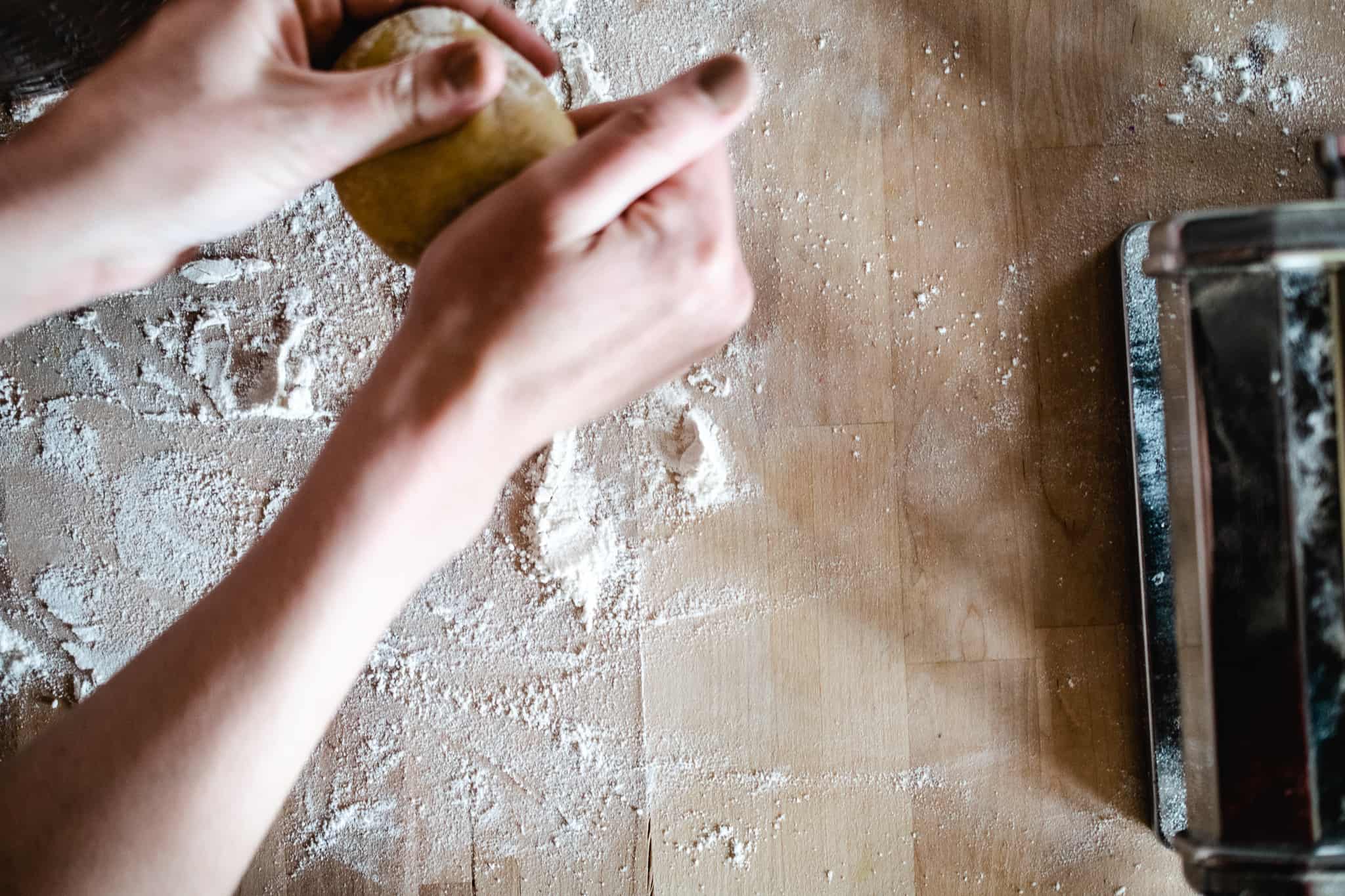 Frozen pasta dough
For freezing fresh pasta ribbons, ravioli or cut pasta shapes, scroll two paragraphs down; this section is for freezing the entire batch of dough before forming the pasta shapes.
If you have limited time, make double or triple times the recipe, and form it into multiple balls. I find it best to split each recipe worth in half when it comes to freezing. That way, if I don't need an entire batch, I can use just a half batch. So, for a single recipe, freeze in two balls, for a double recipe, freeze in 4 balls, and for a triple recipe, freeze in 6 individual balls.
Divide those into individual batches worth, dust the balls with flour, and wrap each one separately in saran wrap. Store the plastic wrapped balls in a freezer zip lock bag, or other air tight container. So to be clear, the recipe below is one fairly large batch, especially if you are tossing it with vegetables or meat. To put this into perspective, our family uses a whole batch for my homemade Fettuccine Alfredo, and it leaves leftovers. If I am tossing it with other things, like my Pasta Primavera for example, a half batch is completely sufficient. Aim for more, until you know how the size of the batch works for your household and cooking style.
can you freeze fresh pasta?
This is different than freezing the dough itself, as talked about above. To freeze fresh pasta that has already been rolled out and cut, just freeze them on a tray first (you don't need to cover it or anything, because you'll pull it back out to bag it. If they are ribbons, gather them into nests. If you have made ravioli or short cut pasta, freeze it scattered on a baking sheet until frozen solid. Then the nests or raviolis, or pasta pieces can be tossed into one bag and frozen together.
How to thaw frozen pasta dough 
There's really only one good way to thaw pasta dough, and that is on the counter. Never in water, never in the microwave, and never uncovered. It needs to remain in the wrapping, and given a good 3 hours to thaw completely at it's own pace. Roll it out the way you would if it were newly fresh, and use flour for dusting. 
What ingredients are in pasta dough?
For homemade pasta dough, you only need three ingredients. Eggs, oil and flour. That's it! You can add a pinch of salt, but I always salt the water, and for that reason I feel that the pasta itself doesn't need it. 
Let the pasta dough rest
It's important to let the dough rest for at least 30 minutes, wrapped in saran wrap. This allows the glutens to be absorbed, which is what helps the dough to stretch and become smooth. 
Rolling homemade pasta 
It's very important to use lots of flour on your work space when making fresh pasta. Just like with any other dough, this keeps things from sticking. Work in batches, and keep the dough that is waiting to be made into pasta covered so that it doesn't dry out. Roll the small batches through the largest setting of the feed, and repeat again and again as you work down to the thinner settings. Once you've achieved the desired thickness, roll it through the feed that corresponds to  the pasta shape and size you want.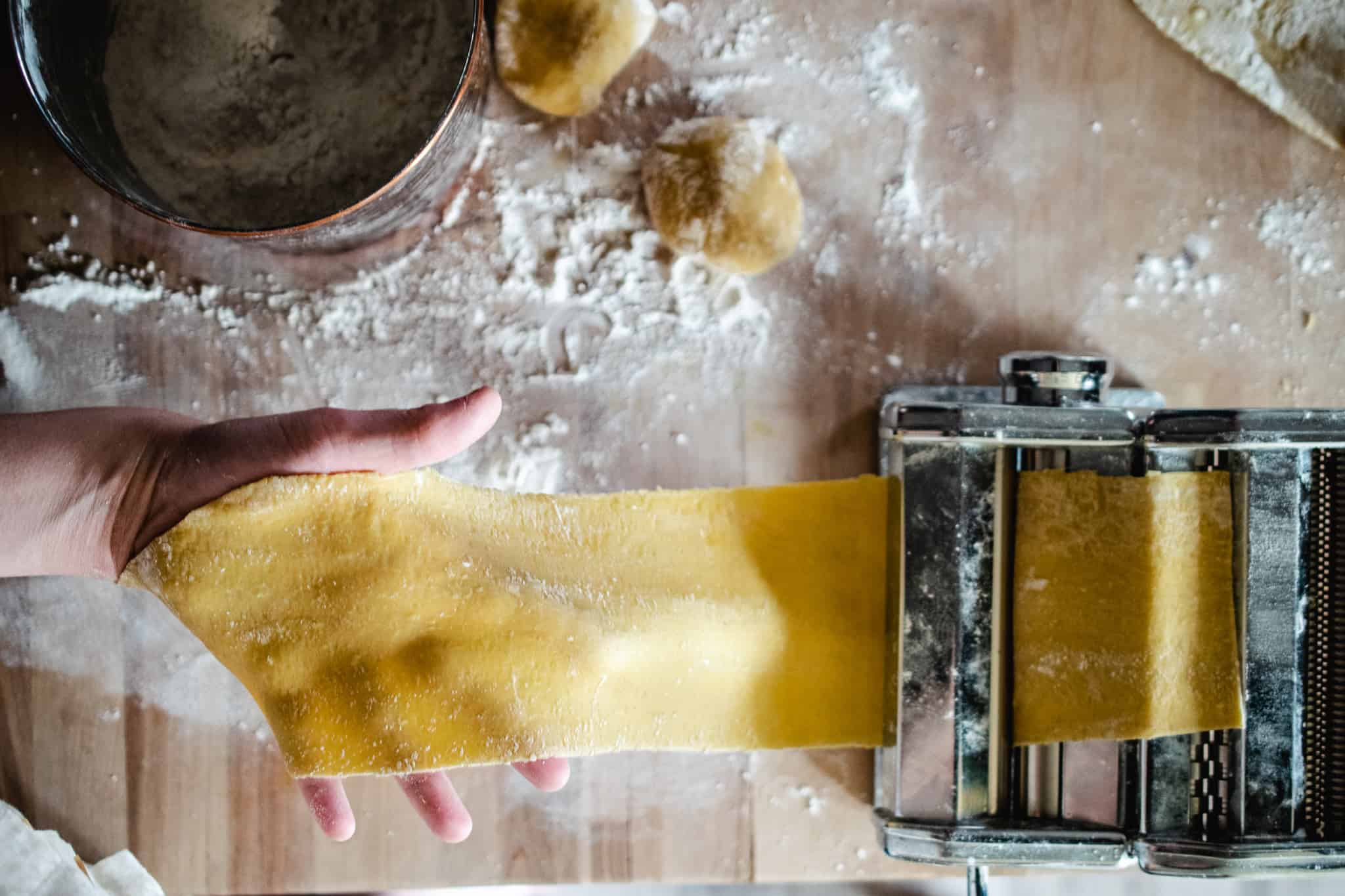 Rolling pasta dough without a machine
If you don't have a hand roller, or an attachment for your standing mixer, you can still make beautiful pasta easily! Use a rolling pin and work on a well floured surface to roll the pasta out in batches to a uniform thickness.
Cutting pasta without a machine
Consider ravioli, and fill with your favorite cheeses, vegetables or meats, or go for a very wide-cut pappardelle pasta. Pappardelle is by far one of my favorite cuts, and even though I have a roller that gives me fettuccine, I often hand cut pappardelle because I love the extra-wide ribbon. Pappardelle is between 2 and 3 centimeters wide, which is why it's so easy to make by hand: less cutting. Another option would be tagliatelle, which is slightly narrower than pappardelle, but wider than fettuccine.
If you are looking for an even easier homemade pasta shape to cut, lasagna is about as easy as it gets! Roll out your sheets, and layer your favorite lasagna recipe. I love referring to Inside the Rustic Kitchen's huge variety of different lasagnas to mix it up! It never fails to amaze me how next level a lasagna recipe can taste when I use fresh cut lasagna pasta. It's hard to go back after that! 
How long to cook fresh homemade pasta 
Cooking fresh pasta takes nowhere near the time that dried pasta takes. You may not even want to walk away from the pot because you are only looking at a 1-3 minute cooking time, depending on the thickness of the pasta. alt the water well (about a tablespoon for a large stock pot). Do a test strand first, so that you can get a good idea ahead of time, otherwise test a strand every minute as it's boiling. Drain immediately; pasta can go from perfect to overcooked in a very short time. If the noodles are very thin, such as the chewy, delicate Ramen style noodles that I like to use for my Food Truck Noodles.
Try any of these pasta shapes with your favorite sauces, family recipes, or mix it up and have some fun with what's in season! Whatever you choose to put into your dish, it's guaranteed to be delicious when tossed with homemade pasta! If you're looking for a little inspiration, try this Pasta with Vodka Sauce, or a light, yet spicy Lemony Red Pepper and Summer Squash Pasta.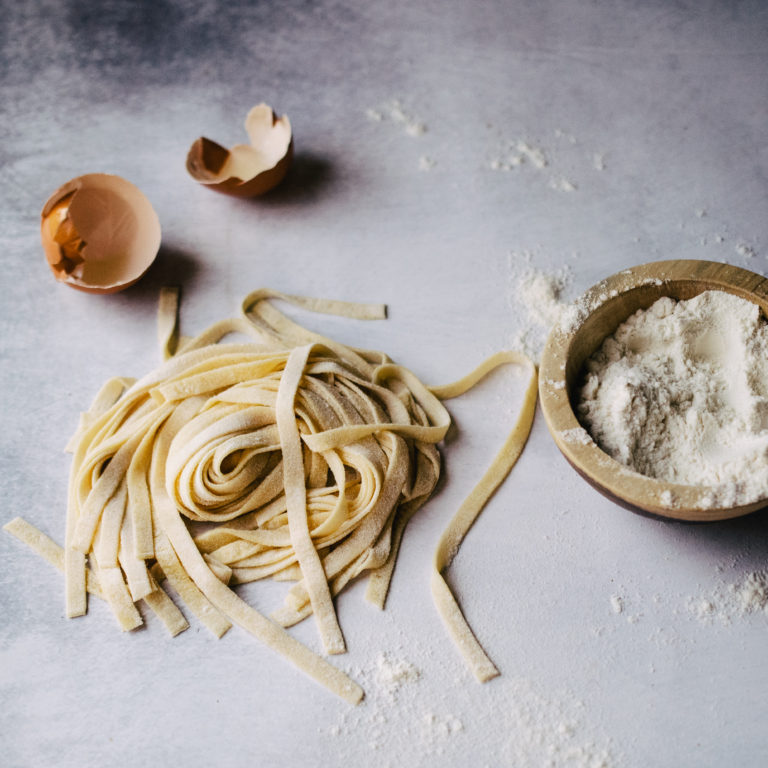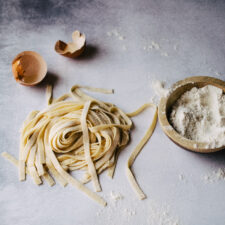 Basic Homemade Pasta Dough
Simple and basic pasta dough for rolling out delicious, homemade pasta at home. 
Print
Pin
Rate
Ingredients
2

cups

all purpose flour

plus more for dusting

2

large eggs

1/8

cup

olive oil
Instructions
Combine flour and eggs, in a food processor, using the dough hook, standing mixer, or just knead it well by hand, kneading until smooth ball forms.

Work in batches of 4 to 6, begin to roll out pasta into sheets starting with the thicker setting, to the desired thickness, and finally to the desired shape, dusting lightly with flour as you go to prevent sticking.

Let the sheets air dry on the counter for about 15 minutes before feeding through the desired cutting side. Arrange each batch into "nests".

To cook, bring a large stock pot of water to a boil, salt generously and boil gently for 1 to 3 minutes.
Notes
To freeze pasta dough, form into ball, dust with a bit of flour and wrap well in saran wrap or freezer zip lock bag. 
The dough will start off looking shaggy; continue to knead until smooth ball is formed. If it is still too dry, add a teaspoon or two of water. 
Conversely, if the dough is too wet to form a ball, add more flour, 1 tablespoon at a time. 
Form pasta ribbons or shapes can be air dried on dry surface, pasta drier, or in nests. Fresh pasta ribbons and ravioli can be cooked immediately and don't need to dry. 
If the pasta ribbons are struggling to come out cut from the pasta roller, it's possible the dough is too sticky. Try dusting them with more flour, or letting the sheets air dry a bit on the counter before rolling them through the cutting side. 
Before forming ribbons into "nests" dust them with a tad bit more flour to prevent them from sticking. 
Boil in salted water.