The smoothest, creamiest homemade stove top macaroni and cheese recipe ever. Oodles of curled noodles the smoothest cheese sauce, and a pinch of black pepper (optional). What's not to love about mac n cheese?
Who doesn't love having a mac and cheese night! Obviously, the kiddos love it; but let's be honest, who grows out of creamy, dreamy, macaroni and cheese? I know I never will. (Speaking of foods that we don't outgrow), when was the last time you had a hot pocket?
My Ham and Cheese Hot Pockets are made with a gooey 100% real cheese sauce, tavern sliced ham, in a soft and buttery wheat crust. 
Looking for something a little lighter, that still involves pasta and cheese?
Try delicious Pasta Primavera, with fresh, healthy spring veggies.
(Hint: you can top this with grilled chicken or shrimp and you've got a 20 minute dinner; no sides required!)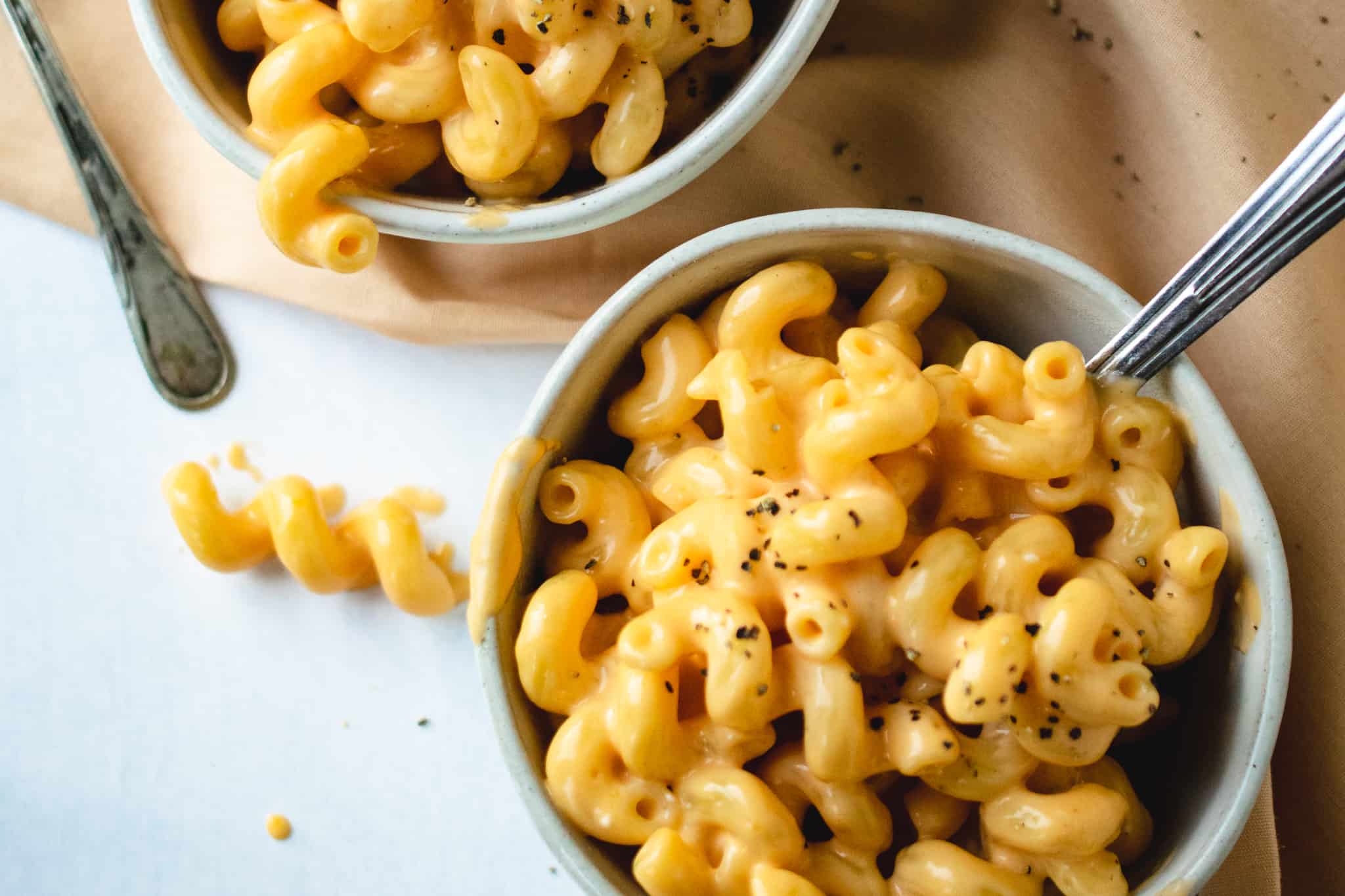 And what's not to love when it's made from real cheese, right on the stove top in fifteen minutes? We have this almost once a week in our house.
skip the flour in stove top macaroni and cheese
It's better not to use a flour roux (the flour whisked in butter to aid as a thickener) when it comes to macaroni and cheese on the stove top. Baked mac and cheese is another story. Stove top macaroni and cheese is best made without the use of flour, because the flour stifles the cheesy gooey-ness. It gums it up, and gives it a bit of a
grainy texture
. There's a time and place for flour, but that's for
baked macaroni and cheese
, because it adds thickness and structure to the casserole like dish. Stove top macaroni and cheese... it's all about the saucy-ness. So we skip the flour, and we make a really smooth, and silky cheese sauce.
how do we make cheese sauce smooth?
There are a few secrets to making the cheese sauce creamy and sauce-like for a stove top mac n cheese. The first, is in the type of cheese used. Adding a bit of an emulsifier, will act as an anchor for all the other cheese to melt and get saucy, rather than stringy like regular melted cheese. You can do this in the form of dollop of cream cheese. This literally blends the melted cheese, with the other liquids in a cheesy emulsion that results in the best, homemade cheese sauce ever. Or, if your macaroni and cheese taste is more along the lines of that of the brand that rhymes with "Delvita"... (Listen,
and you didn't hear this from me
.) You can ask your deli for a hunk (2 ounces or so) of American cheddar cheese, and shred it yourself. Substitute that in as part of the total amount of shredded cheese. (There are organic brands of American cheese, if you are interested in going that route.) It really does make it insanely cheesy. Like, next level smooth and cheesy. But, for those that are not keen on American cheese, opt for the cream cheese.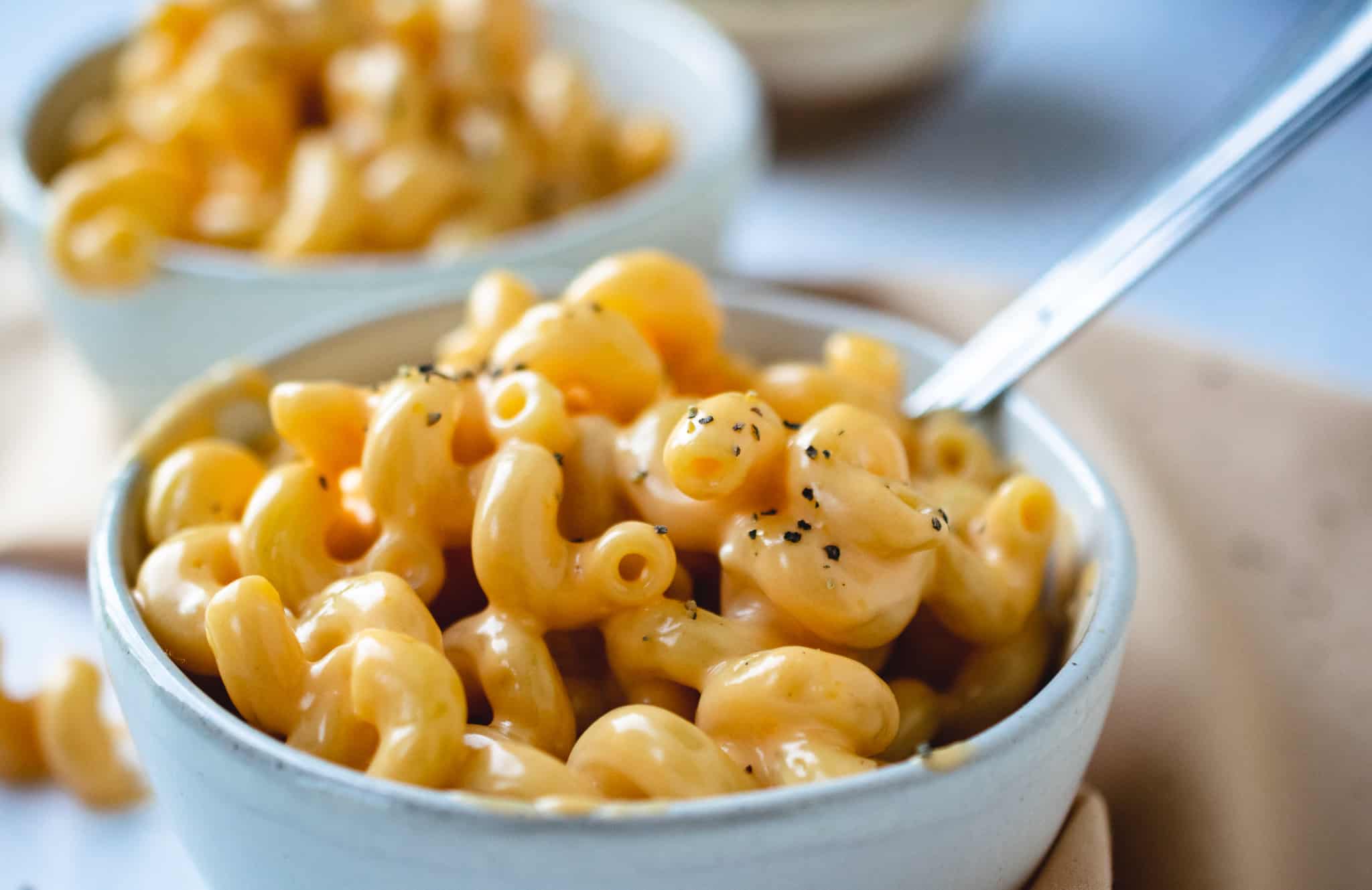 there's usually cellulose and potato starch in shredded cheese
It's most important that you don't use pre-shredded cheese. This kind of cheese is convenient, but it has anti-caking ingredients (like cellulose or potato starch, among a few) that will totally ruin the ability of your cheese to melt properly. It will be clumpy resist melting smoothly. Not exactly what we're going for in a creamy mac and cheese.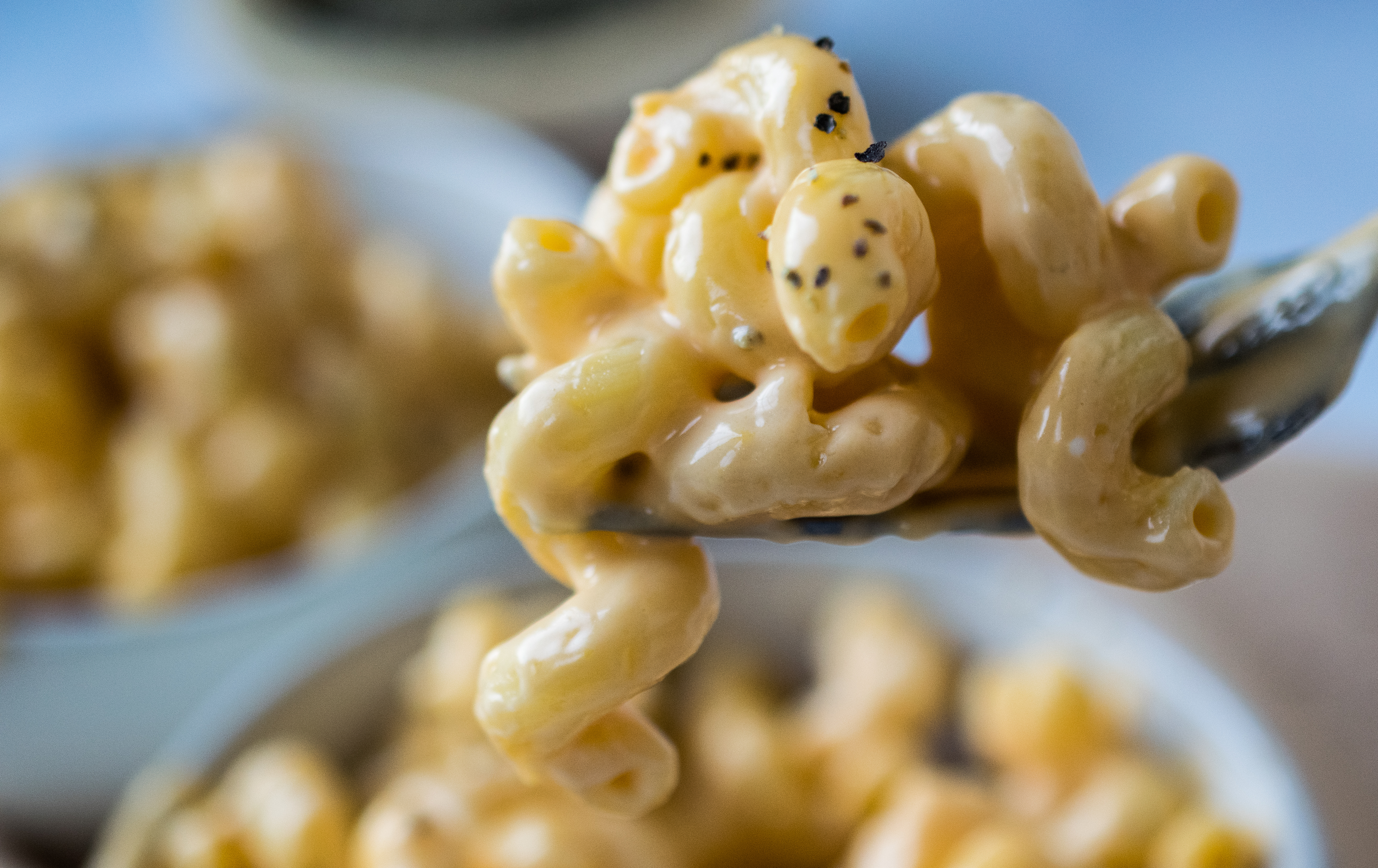 how to make homemade macaroni and cheese
Bring your water to a boil, always salted, and cook your pasta til al dente, and drain. Reserve a half cup of starchy pasta water for later. With the pasta out of the pan, and the burner set to
the lowest setting possible to melt cheese
, add your butter, cream, cream cheese (or American cheese from the deli) and shredded cheddar.
what's the best cheese for macaroni and cheese?
Regular, medium cheddar cheese is perfect. It melts great, and it's classic. Sharp cheese is great too, but it's not as good about melting, so if you want to use sharp cheddar, use a blend of 50/50 sharp and mild or medium. The sharper the cheddar cheese, the more patient you are going to need to be when melting it. Use the lowest setting, and don't crank the heat up or you risk "breaking the cheese". You won't recover from that, and you'll be left with clumps of cheese curd, separated from liquid. This is the result of too high of heat. And remember, sharper cheddar cheeses are typically more sensitive to heat. Low and slow. It'll melt, just be patient. And stir. Other good melting cheeses include Gruyere, Havarti, and white cheddar. Ask your local deli what a good melting cheese is, if you want to explore your options. But you can't go wrong with cheddar; it's a classic. If you haven't noticed, the way you melt the cheese is key. For more on the
science of cheese melting (you know you want to) click here
. It's one of my favorite easy to understand articles on melting cheese. It's full of important info that you need to be aware of anytime you're trying to make an awesome cheese sauce. Stir, stir, stir until you see things have mostly melted. (If you feel you need to up the heat, go ahead a little. But remember, cheese melts the smoothest on the lowest possible heat.) Then go ahead and add your pasta and starchy water back to that pan, along with a pinch of salt and black pepper and toss until everything is silky, creamy and macaroni-and-cheesy-dreamy. Consume multiple helpings without guilt. If all this melt-y cheese talk has got you in a saucy, cheesy mood, you might want to take a peek at my
copy cat Arby's Beef 'n Cheddar
. It's got that signature Arby's sauce and Arby's cheese sauce piled on razor thin roast beef between a poppy seed onion bun. It's really good. Happy cheese melting!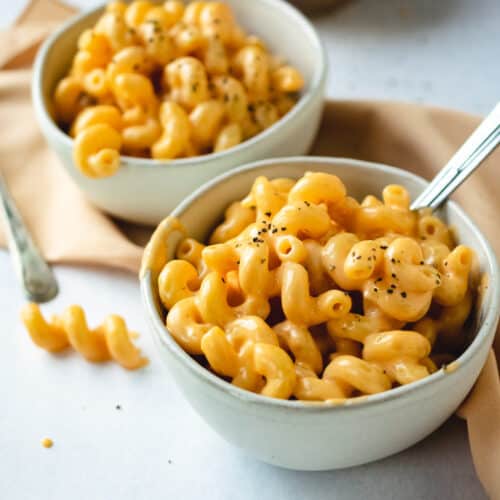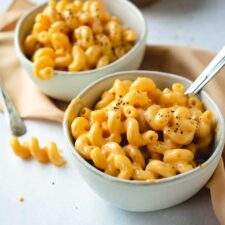 Homemade Stovetop Macaroni and Cheese
Delicious creamy, smooth and cheesy homemade macaroni and cheese on the stove top.
Print
Pin
Rate
Ingredients
8

ounces

dry elbow

shells, or cellentani pasta

½

cup

starchy pasta water

reserved

3

tbsp

butter

4

oz

cream cheese

or organic American cheese, shredded

½

cup

heavy cream

can substitute milk, or half and half

8

oz

cheddar cheese or white cheddar

shredded off block

salt and pepper to taste
Instructions
Bring a large pot of water to a boil, salted. Cook pasta according to package instructions.

Right before draining, ladle out ½ cup of that starchy water for later. Drain, pasta in a colander, and leave set aside for now.

In the same pan, on low heat, add the butter, cream cheese/American cheese, milk and shredded cheddar. Stir until melted and smooth. Keep heat on lowest setting to melt the cheese.

Add the cooked pasta and starchy water back to the pan. Turn off the heat. Toss until silky and coated, and salt (if necessary) and pepper to taste and serve right away.
Notes
for 12 oz of cheese: this is ¾ of a 1 lb, or 16 oz block
taste test for salt, it probably won't need it
heat cheese sauce on lowest setting possible to melt the cheese
sharp cheese don't melt as well and don't get silky the way a mild or medium cheddar, for example does
use cream cheese or organic American cheese, shredded; this helps to "anchor" the other cheese and  create a silky smooth cheese sauce
can use low fat milk instead of cream