Impossibly soft, homemade hamburger buns that can be customized with sesame seeds, poppy seeds, minced onion, or left plain. 
use a bread machine or lowest mixer setting (or knead by hand)
This recipe works for buns by hand, in standing mixer, or the bread machine and it will give you super soft hamburger buns every time. There is also the option to do wheat buns by following the easy substitution method in the recipe below.
by hand
You can easily make soft, homemade hamburger bun dough using no equipment whatsoever, other than a bowl and spoon. Combine all the ingredients until a nice, sticky evenly combined dough has been formed. Then turn the dough out onto a floured surface and knead by hand for 10 minutes. The kneading time is important. You don't want to under knead, because you'll have tough buns. On the other hand, over kneading can overwork things and cause the finished baked product to be crumbly. So keeping an eye on the time is a good idea when kneading by hand.
Start by combining the dry ingredients. Add the wet and then the butter in pieces to fully combine with a wooden spoon.
in a stand mixer
Adding all the ingredients to a standing mixer, and letting the dough hook combine everything on the lowest setting is a simple way to get the mixing and the kneading done in one bowl. Make sure you scrape the bowl every so often until all of the ingredients are fully combined. Because the dough is a little bit more aggressive than the by hand method of kneading, 4-5 minutes is a good time to let the dough hook knead.
If using the by hand or stand mixer method, transfer the dough to a greased bowl, covered and let double in size. This will take anywhere from 1-2 hours.
in a bread machine on the dough setting
The most hands off method, and perhaps the most accurate when it comes to kneading and rising time, is in the bread machine on the dough cycle. All of the ingredients are thrown into the machine and set to the dough cycle, where they will be combined, kneaded and let to rise for the perfect length of time at the perfect temperature.
forming the burger buns
Forming the burger buns is a simple process. This recipe makes 8 buns. Dividing the dough into 8 equal parts at the beginning ensures that you come out with evenly sized buns. (If you have a kitchen scale, you could determine the exact weight of each one by dividing the entire dough weight by 8, and separating it into 8 equally heavy dough portions.) I find that eyeballing it works well every time. Start by getting the dough into one even oval. Divide the oval first in half, then those two halves into equal halves, and again to yield 8 equally portioned dough sections.
Without working the dough too much, pull every edge together underneath one side, pinching it together on the bottom, revealing a smooth, even top. Flatten it with your fingertips, gently. Work each portion into a flat, 4-5 inch discs and lie them on a baking sheet. Cover and let rise until doubled in size. The recipe card below has more visual instructions on what this process looks like.
this bun recipe can be customized!
Another reason why this recipe is so great is it's versatility. They are great left untouched and baked as is. However, you could choose to top with poppy seeds, sesame seeds, everything bagel seasoning, minced onion... you're the boss here! They are also delicious brushed with melted butter. Brushing with a light egg wash before baking (which is just a beaten egg) will give you super golden, shiny bakery style looking buns.
Splitting the top before the second rise, so right after you place them on the baking sheet, gives a nice, tall split top bun. It also helps the dough to rise which means it'll be slightly softer inside.
For additional information and how to make homemade bread of all shapes and loaf styles, check out my post on Bread for Beginners. It's a super simple approach to homemade bread baking using one recipe for 3 different loaves, and visual instructions on how to make them!
However you like your burger buns, this recipe will definitely fit that need. Happy bun making!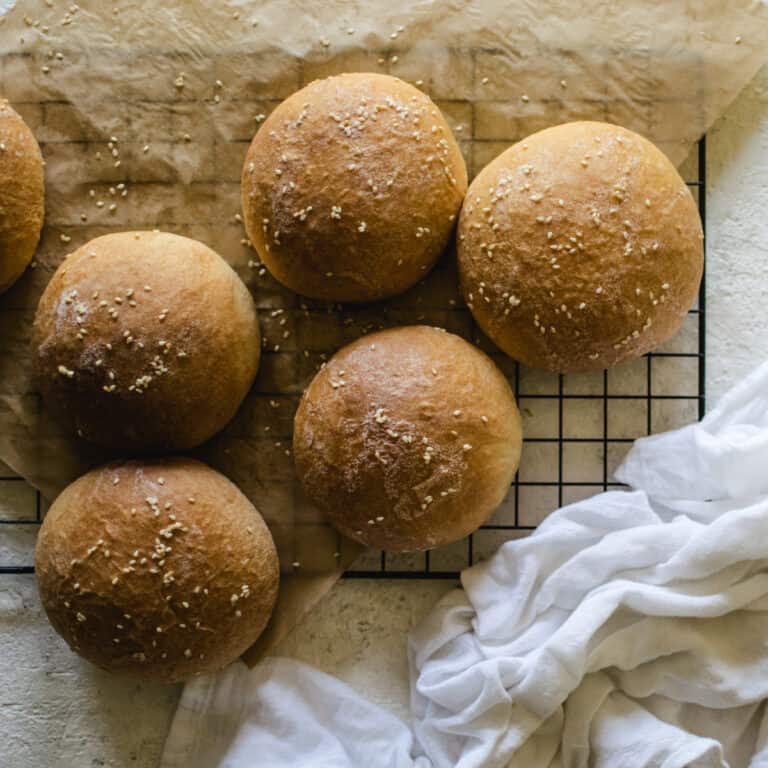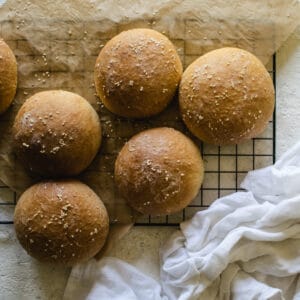 Hamburger Bun Recipe
A basic, versatile soft burger bun recipe that can be made by hand, in a stand mixer, or the bread machine.
Print
Pin
Rate
Equipment
bread machine (optional)

stand mixer (optional)

bowl and wooden spoon
Ingredients
3

cup

all purpose flour

or 2 cups all purpose and 1 cup whole wheat flour

2

tbsp

sugar

1 ½

tsp

salt

1

large egg

2 ½

tsp

instant yeast

if using active dry yeast, the yeast needs to be dissolved into the water first and left to sit for 5-10 minutes until foamy on top

¾

cup

warm water

3

tbsp

butter

softened

additional melted butter or egg wash

for brushing (optional)

sesame seeds

poppy seeds, or minced onion, for topping (optional)
Instructions
Combine all ingredients (besides brushing and topping options) either in a bowl with a long handled spoon, or in a stand mixer using the dough hook. Alternatively, add all ingredients (except brushing and topping options to the bread machine and set to the dough cycle.) Make sure that dough is forming a soft ball. If it's dry add a tbsp. water at a time; if wet, sprinkle in more flour one tablespoon at a time. It needs to be as soft as possible, but able to hold a ball shape.

Knead dough for 7-8 minutes in standing mixer, or 10 minutes by hand on a floured surface. Return dough to a greased bowl, cover.

Let rise, covered, in a warm, non-drafty area of the house about 45-60 minutes. Check it at 30 minutes, especially on warm or humid days. Letting it rise too long can cause it to collapse and result in dense, crumbly bread.

Once doubled in size, turn out again onto a floured surface and divide the dough into 8 equal portions. This can be eyeballed fairly accurately by dividing dough into equal fourths, and then dividing those fourths in half each.

I have found that the best way to form a perfectly round burger bun is to turn the piece of dough inside out on itself, pinching each piece around to the other side. This forms a perfect ball with all the creasing on the bottom.

Flatten each ball, crease side down into round disks, about 4 inches wide and ½ inch tall.

Place on parchment lined baking sheet. Choosing to split the tops with a sharp knife will give a "split top" roll, but they can be left alone. It's up to your preference.

Preheat oven to 350 degrees.

Bake for 15-20 minutes until golden brown.

Wait until cool to split through the center. Use with your favorite condiments for your favorite burgers and sandwiches!
Notes
If no access to a bread machine, knead all ingredients together for 20 minutes. Place in a large greased bowl, cover with a cloth, and let rise 60 to 80 minutes until double in size.
 Resume with directions after "dump dough onto generously floured work space...
If desired top with seeds or minced onion or Everything bagel seasoning. (Brush first with melted butter or egg white.)
Egg white will help seeds stick better than butter. 
Nutrition
Serving:
1
g
|
Calories:
274
kcal
|
Carbohydrates:
54
g
|
Protein:
10
g
|
Fat:
2
g
|
Saturated Fat:
1
g
|
Cholesterol:
28
mg
|
Sodium:
605
mg
|
Potassium:
135
mg
|
Fiber:
3
g
|
Sugar:
5
g
|
Vitamin A:
52
IU
|
Calcium:
22
mg
|
Iron:
3
mg