Knowing how to make tomato paste is one of the most useful and convenient ways to use up fresh tomatoes. It's concentrated tomato flavor, that won't take up much space at all.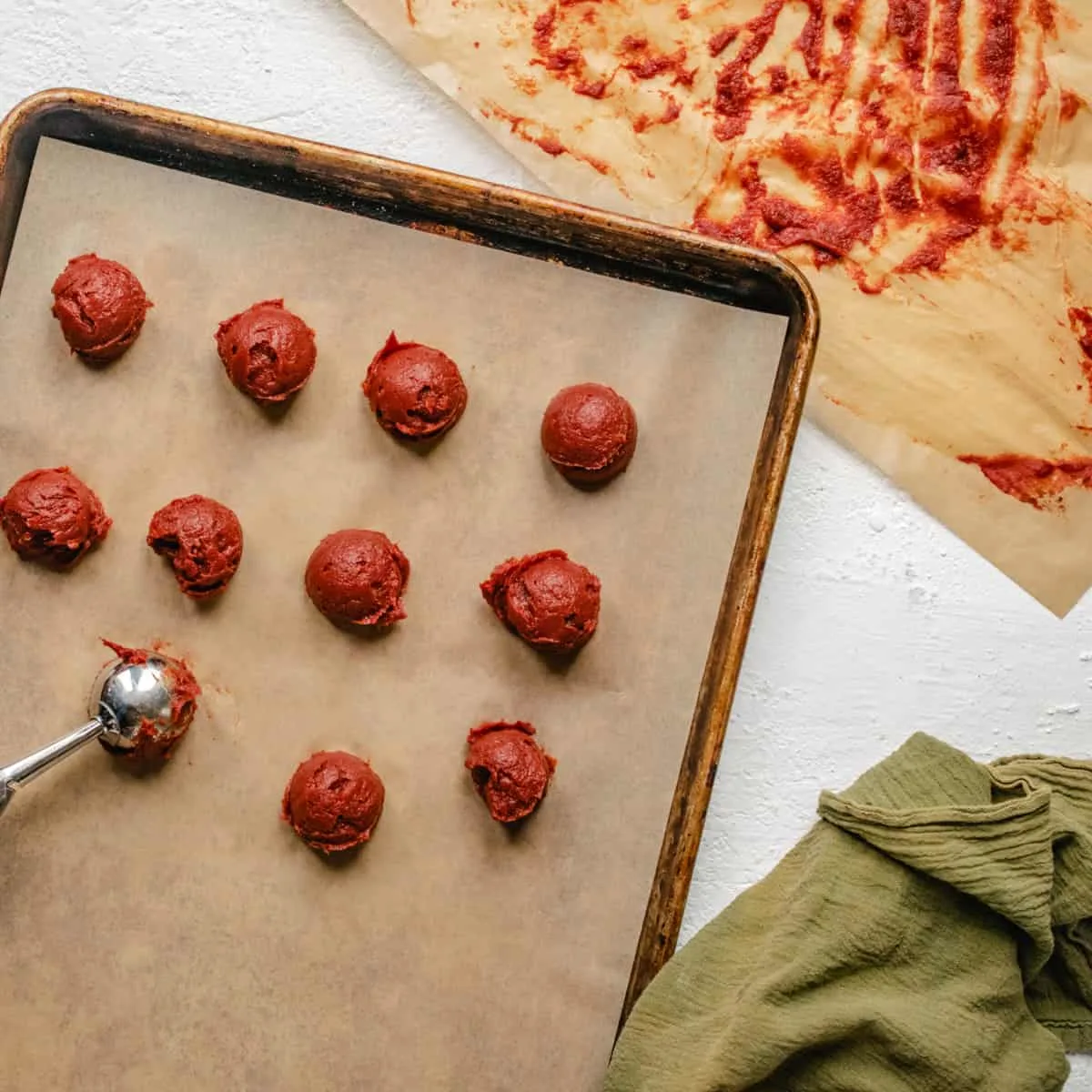 One of the best ways to preserve fresh tomatoes is by making tomato paste, because it literally concentrates all that glorious tomato flavor into compact, easy to access flavor.
You might even argue that it's better than making tomato sauce because you can get pounds of tomato flavor into a couple of tiny jars, or a little baggie in the freezer.
This method for making tomato paste from fresh tomatoes works with a variety of tomatoes, of all different colors.
This is wonderful when you've worked all spring and summer to find yourself blessed with more gorgeous tomatoes than you have room for, or can give away!
This pantry staple ingredient bumps up the flavor of soups, stews, sauces and much more, and when it's made from fresh tomatoes, the taste is phenomenal and so worth the effort.
Why make your own homemade tomato thick paste?
The reasons are endless, but here are just a few of our top reasons.
It's a great way to use up extra tomatoes before they go bad
It saves you a trip to the grocery store
You can make your own paste for a fraction of the cost of those tiny jars at the store
You will never run out of paste when you need it for thickening pasta sauce or spaghetti sauce, jazzing up any pasta dishes, or when you need a quick thickening agent for tomato soup
Ingredients and Tools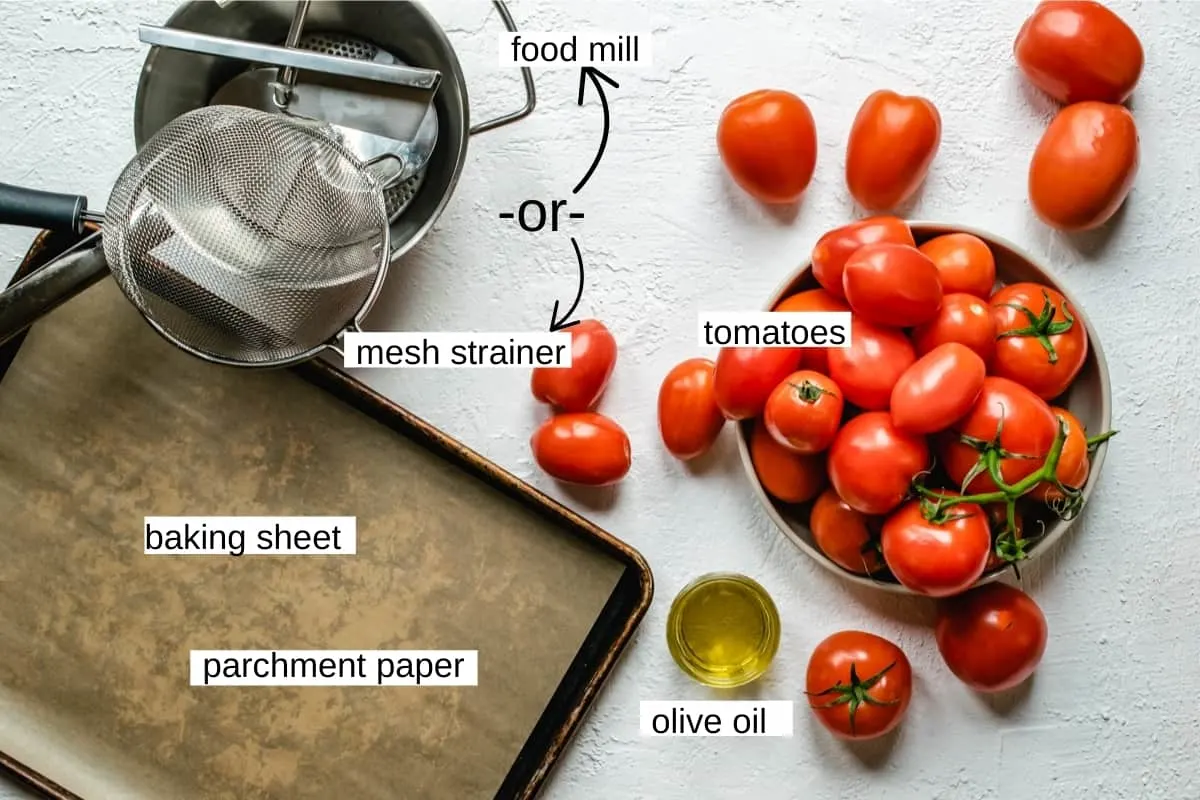 Get more info on these 2 simple ingredients in the printable card at the bottom of the post.
Tomatoes- Roma tomatoes are often the tomato of choice for making tomato paste, because they contain very little moisture, but any tomato can be used that is plum sized or larger, including yellow, orange and purple varieties.
Baking sheet- DO NOT USE ALUMINUM unless you lay down parchment paper or a silicone mat, because the acid in the tomatoes will react with the aluminum and create an unpleasant taste.
Olive oil- Only if you plan on storing your tomato paste long-term in the fridge; to freeze it does not require any oil.
Food mill or mesh strainer- Although a food mill is easier to use (and inexpensive) a mesh strainer will also suffice to separate the skins and seeds, as long as the mesh isn't too fine.
How to Make Tomato Paste
Step 1. Rinse and core tomatoes. Slice whole tomatoes in half length wise, and use a sharp paring knife to remove the core.
The core starts at the top of the tomato where the stem was attached and goes about halfway down the center, in a cone shape.
It can be easily removed by cutting a triangular shape from the top center, downwards as shown (below, left).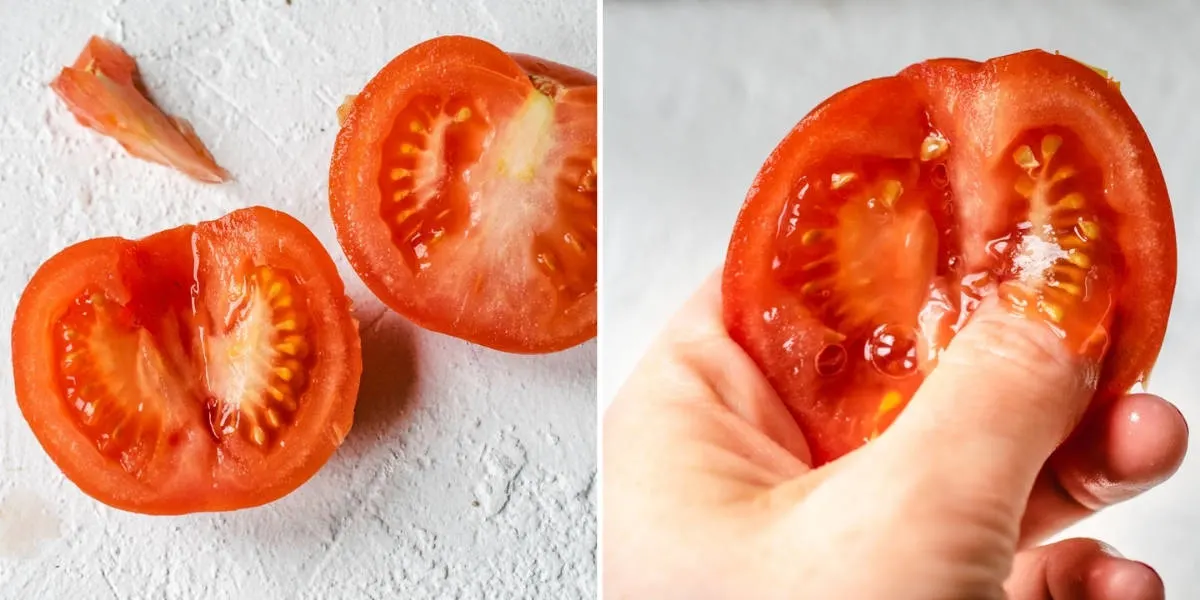 Step 2. Deseed tomatoes. Remove the jelly-like seed area by using your thumb to scoop it out as shown (above, right).
Step 3. Add the cored and seeded tomatoes to a large pot, on medium heat and cover with a lid.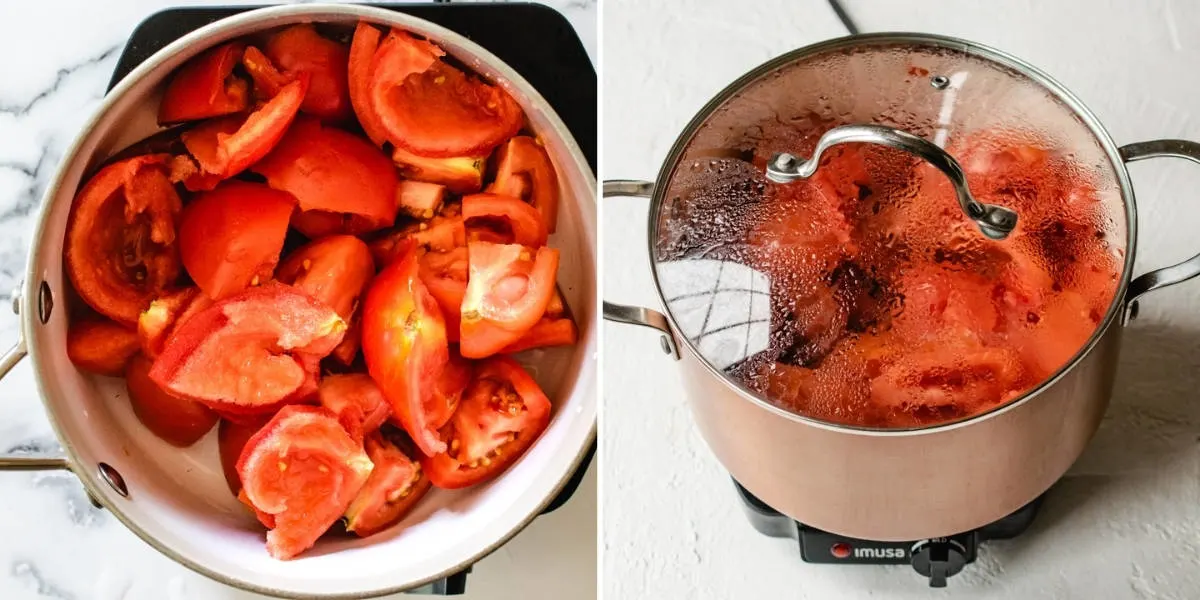 Let the tomatoes cook on medium heat until they start to soften and release their juices; stirring occasionally to allow even heat distribution.
Step 4. Simmer. Once the tomatoes have begun to soften and begin to fall apart (below, left), remove the lid and increase heat to medium high. Simmer until tomatoes are fully soft and skins are falling off (below right).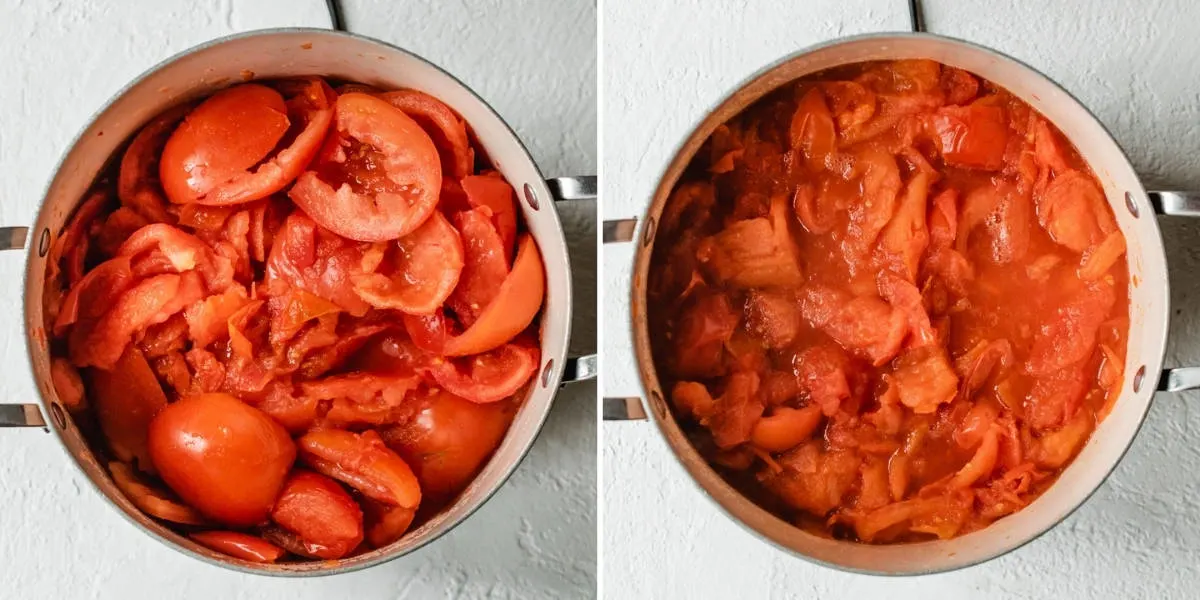 Remove from heat.
Step 5. Strain the tomatoes. Place a food mill or strainer over a large bowl. Use the crank or push the tomatoes through until the seeds and skins have been separated, then discard.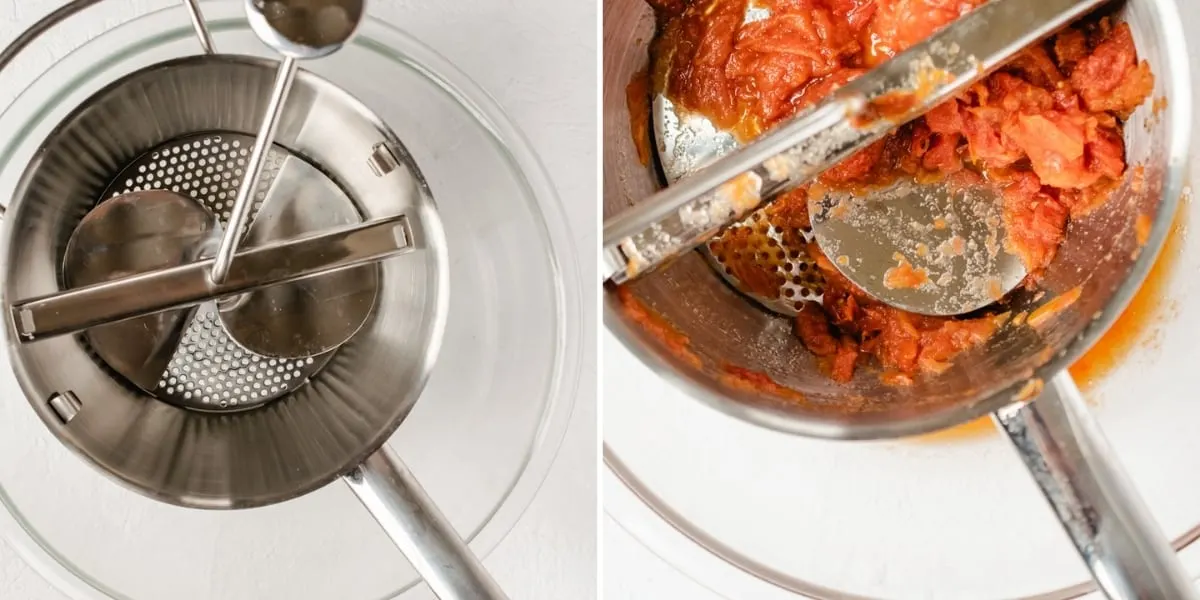 Step 6. Bake the tomato pulp. Spread the tomato puree in an even layer on a baking sheet.
If you are using an aluminum baking sheet (which most are), then you need to lay down parchment paper or a silicone mat, otherwise the acid in tomatoes and aluminum will react.
Place the baking sheet in a 275 degree Fahrenheit oven for 45 minutes.
Step 7. Scrape, bake longer on low heat. Use a spatula to scrape up the pulp, and re-spread it out, as evenly as possible. Lower the heat to 200 degrees Fahrenheit and bake. (See recipe notes.)
Depending on the amount of tomatoes used, the baking time will vary. However, be sure to scrape, and spread it out every 60-90 minutes until darkened in color and paste like. (Think the consistency of toothpaste.)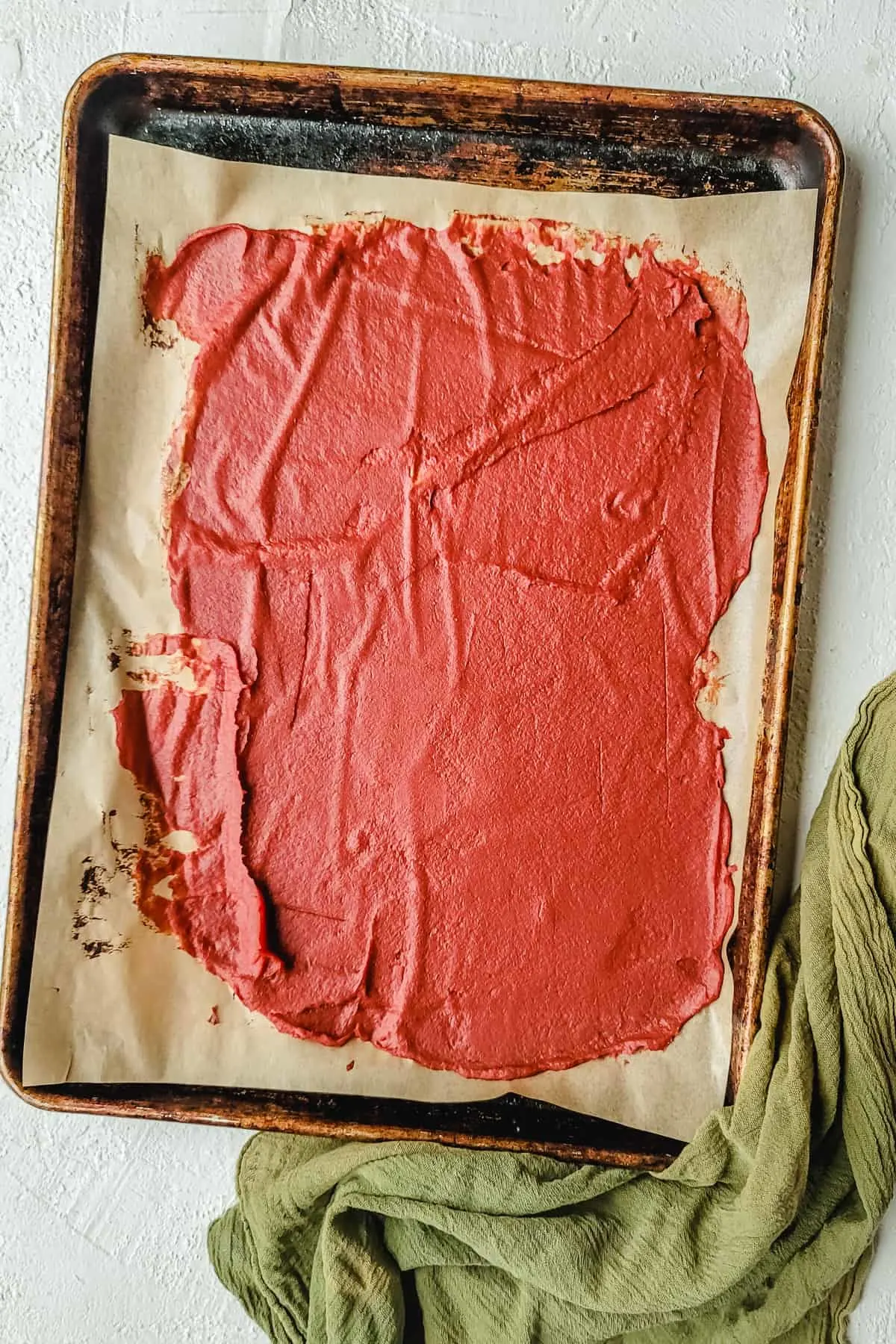 Step 8. Store. Once thick and paste like, scrape it all up for storing. It won't take long to cool, and in fact, it's not necessary to cool it much at all.
Storing tomato paste in the freezer
Storing tomato paste in the freezer is the most reliably stable, and convenient way to store it.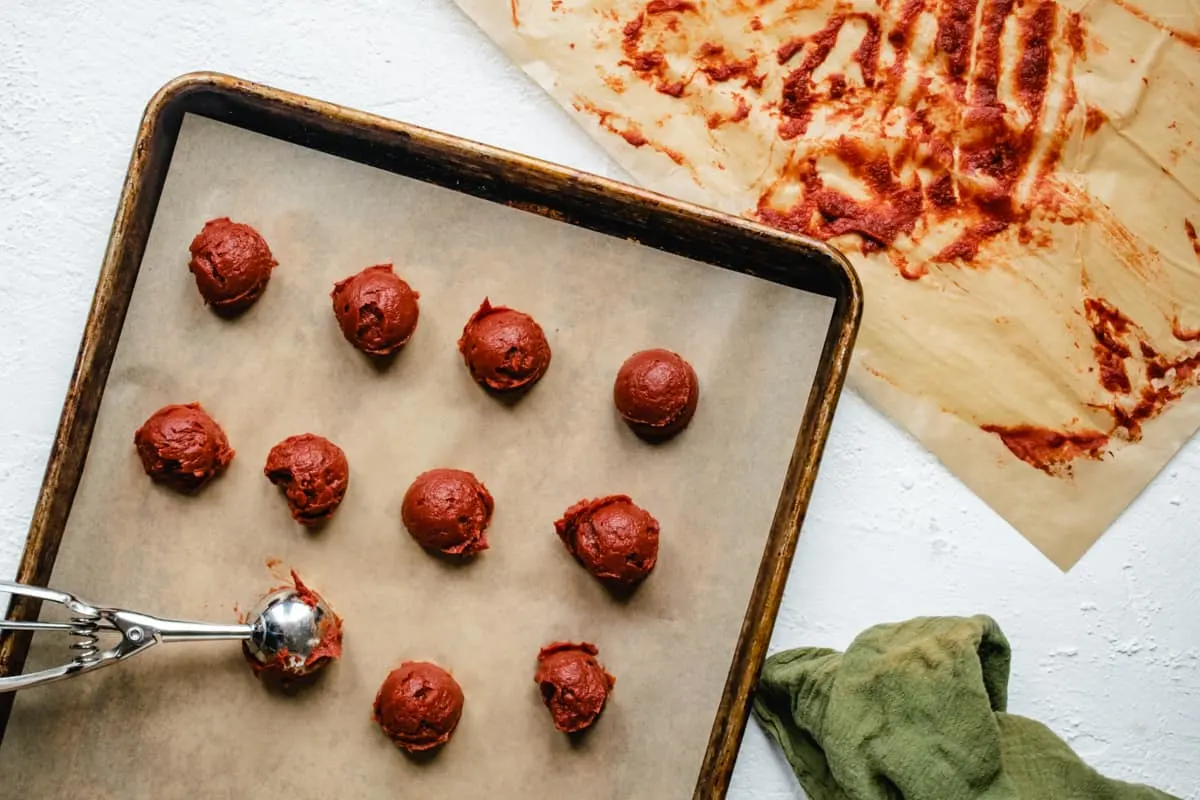 First, line a baking sheet, tray or plate with parchment paper and dollop 1-2 tablespoon portions onto it.
Freeze until solid, toss in a plastic bag and store in the freezer for up to 6 months!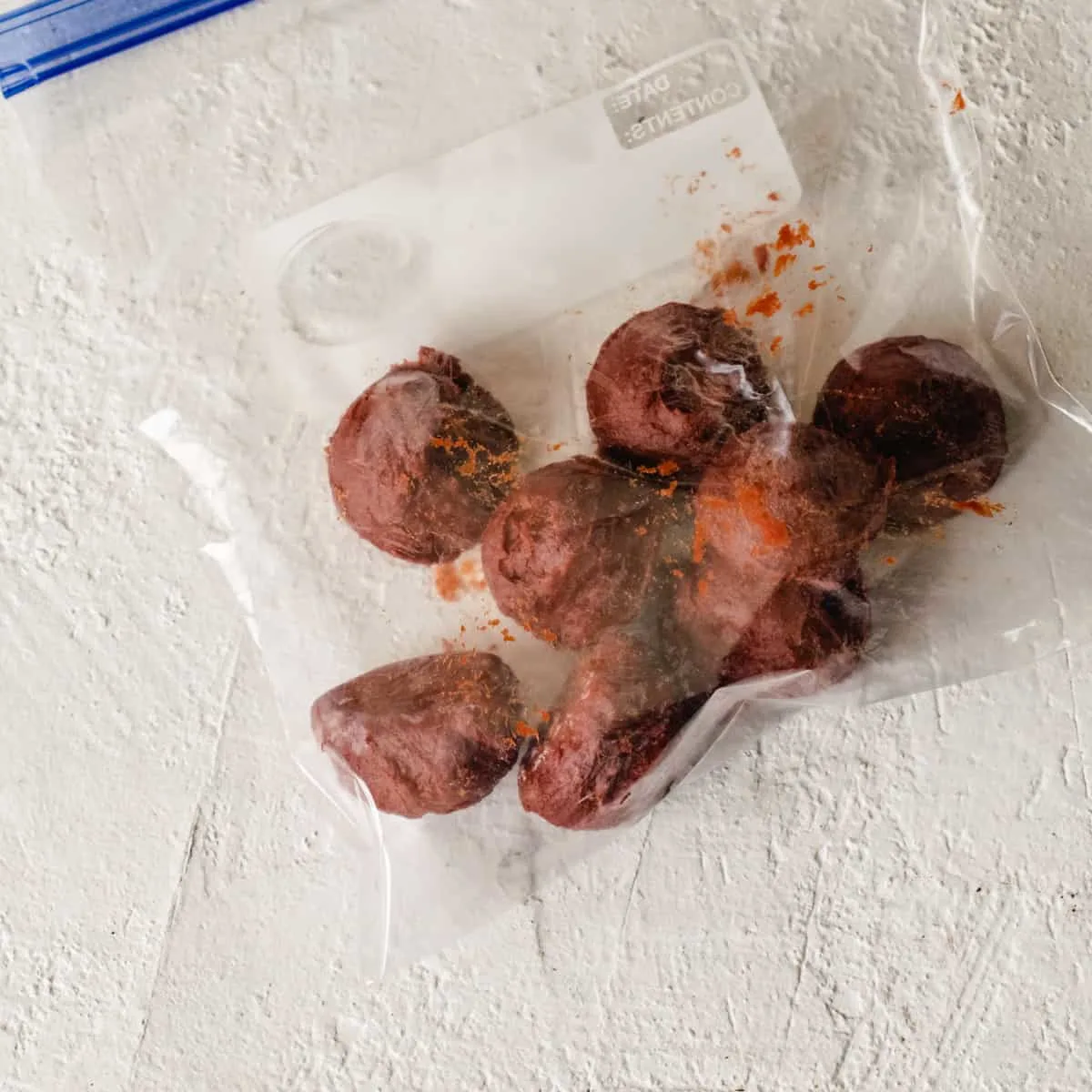 When you are ready to use the homemade tomato paste, just remove one or two of the portions to use as the recipe calls for. Alternatively, you can use an ice cube tray and fill each compartment with your own tomato paste.
Then once you have frozen it solid, pop the cubes out and place the frozen paste cubes in a freezer safe bag and place in the freezer.
When you are ready to use it, use it, just grab a cube or two and you'll be ready to go!
Storing tomato paste in the fridge
Pack the paste into a container, removing as many air bubbles as possible, by pressing the paste down as you lop more on top, then top with a small amount of olive oil to seal air out.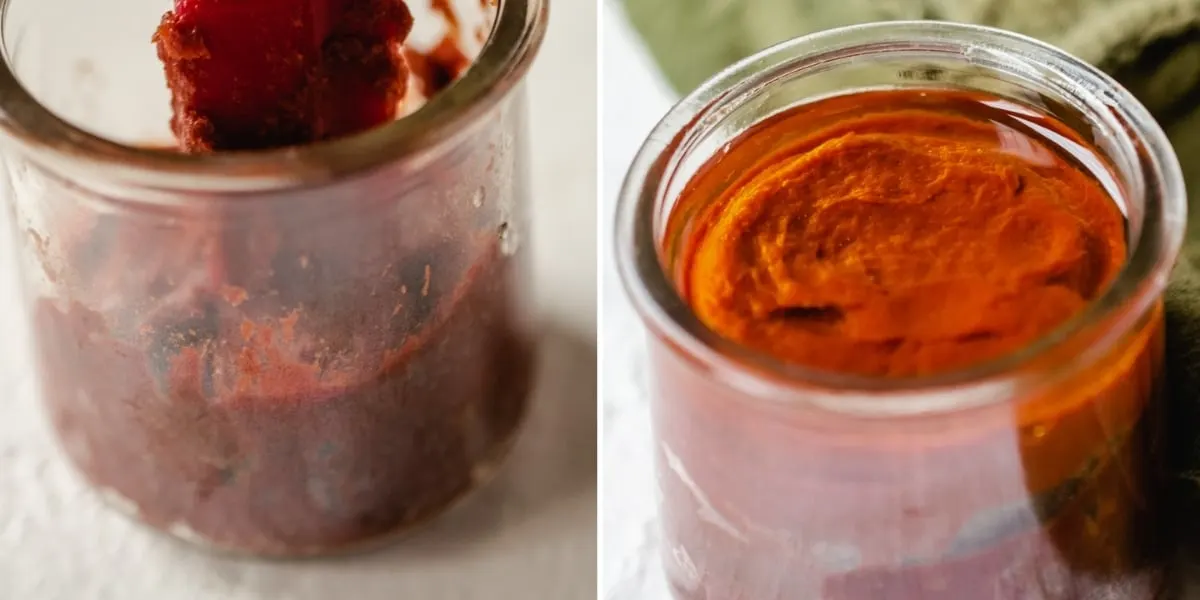 Cover tightly with a lid, and store in the fridge for up to one month.
Use a clean spoon every time to remove tomato paste, and make sure to keep sealed with oil and a lid.
FAQ's
What makes tomato paste thick?
Evaporating all the moisture out, not only makes tomato paste thick, but also concentrates the flavor.
Is tomato paste the same as tomato puree?
No. Tomato paste is a concentration of tomato purée.
What can tomato paste be used for?
Flavoring soups, sauces, chilis, stews and many other things.
Can you make tomato paste from canned tomatoes?
Yes, you can make tomato paste from canned tomatoes. Start by draining the canned tomatoes of their liquid. Then place them in a saucepan over medium heat and cook until most of the liquid has evaporated.

Once reduced, give the mixture a few minutes to cool before blending it up in a food processor or blender until smooth and thick. Then store your homemade tomato paste in mason jars with a thin layer of olive oil over the top to seal out air and moisture and keep it fresh for up to one month in your fridge.

However, I will say that I think the tomato paste made with fresh tomatoes like we use in this recipe has way more flavor. And, you don't have to worry about any extra water content that you may have when using canned tomatoes.

Can you store homemade tomato paste at room temperature?

Homemade tomato paste can be stored at room temperature, but it's not ideal. If you store this paste in an airtight container with a thin layer of olive oil over the top, it will last for about two weeks.

However, bacteria can start to form on the surface after that time. So for maximum freshness and shelf life, it's best to store homemade tomato paste in the refrigerator in an airtight container. This way, you can enjoy your fresh tomato paste for longer. Or you can freeze using the method shared above.

Can I add herbs or spices?
Yes, you can add herbs or spices to your homemade tomato paste. This will depend on the flavor profile you are looking for. If you prefer a subtle flavor, opt for dried herbs and spices like oregano, basil, garlic powder, and onion powder.

But if you want a more intense flavor profile, use fresh herbs like parsley or oregano leaves and some sea salt.

By adding herbs and spices to your paste, you can create an even more flavorful end result that's perfect for pizza sauce and other dishes.

Use homemade tomato paste in these recipes, and more...
📖 Recipe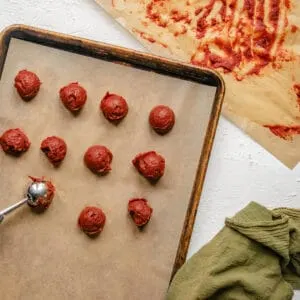 Tomato Paste
Easy, flavorful homemade tomato paste that can be used to add flavor to countless dishes
Print
Pin
Rate
Equipment
Food mill or mesh strainer
Ingredients
5-10

lbs

tomatoes

Roma

1

tablespoon

olive oil

extra virgin
Instructions
Wash and cut tomatoes into quarters. Roma tomatoes won't need to have juicy insides removed, but if using a juicier variety, pull the jelly inside out with fingers. Add tomatoes to a pot.

Heat cut tomatoes on medium low heat until they begin to break down and become soft. Stir occasionally to avoid sticking. Once they release more moisture the heat can be increased to a medium simmer until tomatoes are reduced by half.

Preheat oven to 275degrees. Lightly rub olive oil over a large, rimmed baking sheet such as a half sheet pan (use parchment paper for aluminum baking sheets).

Work cooked tomatoes through a food mill or mesh strainer to remove skins and seeds. Pour strained tomato pulp onto oiled baking sheet.

Spread tomato pulp evenly over baking sheet so that there is a uniform thickness less than ¼ inch but thicker than ⅛ inch. (Too thin and it will burn.)

Bake at 275 degrees Fahrenheit for 45 minutes to1 hour, using a bench scraper or rubber spatula to scrap up and redistribute tomato pulp evenly every 20-30 minutes (closer intervals towards the end of cooking) until thick and darkened in color. You will notice a reduction in size as the moisture evaporates and it becomes a paste.

Reduce heat to 200 degrees Fahrenheit, and continue to cook, scraping and re-spreading every 60 minutes. This will take anywhere from 2-4 hours for 5-10 pounds of tomatoes.

Cool tomato paste. Divide into 3-6 tablespoon portions by scooping spoonfuls onto a cutting board or spooning into ice cube trays. Freeze solid, then when frozen the portions can be collected into a zip lock freezer bag and stored in the freezer for up to 5 months.
Notes
Don't use aluminum to bake on without laying down parchment paper or a silicone mat.
Any more than 10 pounds of tomatoes will likely require 2 or more baking sheets, and possibly a larger pot.
Roma or plum tomatoes work best as they have the least amount of moisture to evaporate, although any variety will work. Just be sure to remove the white core, jelly inside around the seeds.
Check tomato paste during cooking time and scrape up/redistribute often to avoid burning.
Do not spread paste too thin, as this will increase the risk of burning it.
Nutrition
Serving:
1
tablespoon
|
Calories:
21
kcal
|
Carbohydrates:
4
g
|
Protein:
1
g
|
Fat:
1
g
|
Saturated Fat:
1
g
|
Sodium:
5
mg
|
Potassium:
215
mg
|
Fiber:
1
g
|
Sugar:
2
g
|
Vitamin A:
756
IU
|
Vitamin C:
12
mg
|
Calcium:
9
mg
|
Iron:
1
mg