Tomato paste is an ingredient that makes delicious dishes even more flavorful. It's the perfect way to preserve excess, fresh tomatoes without taking up much room.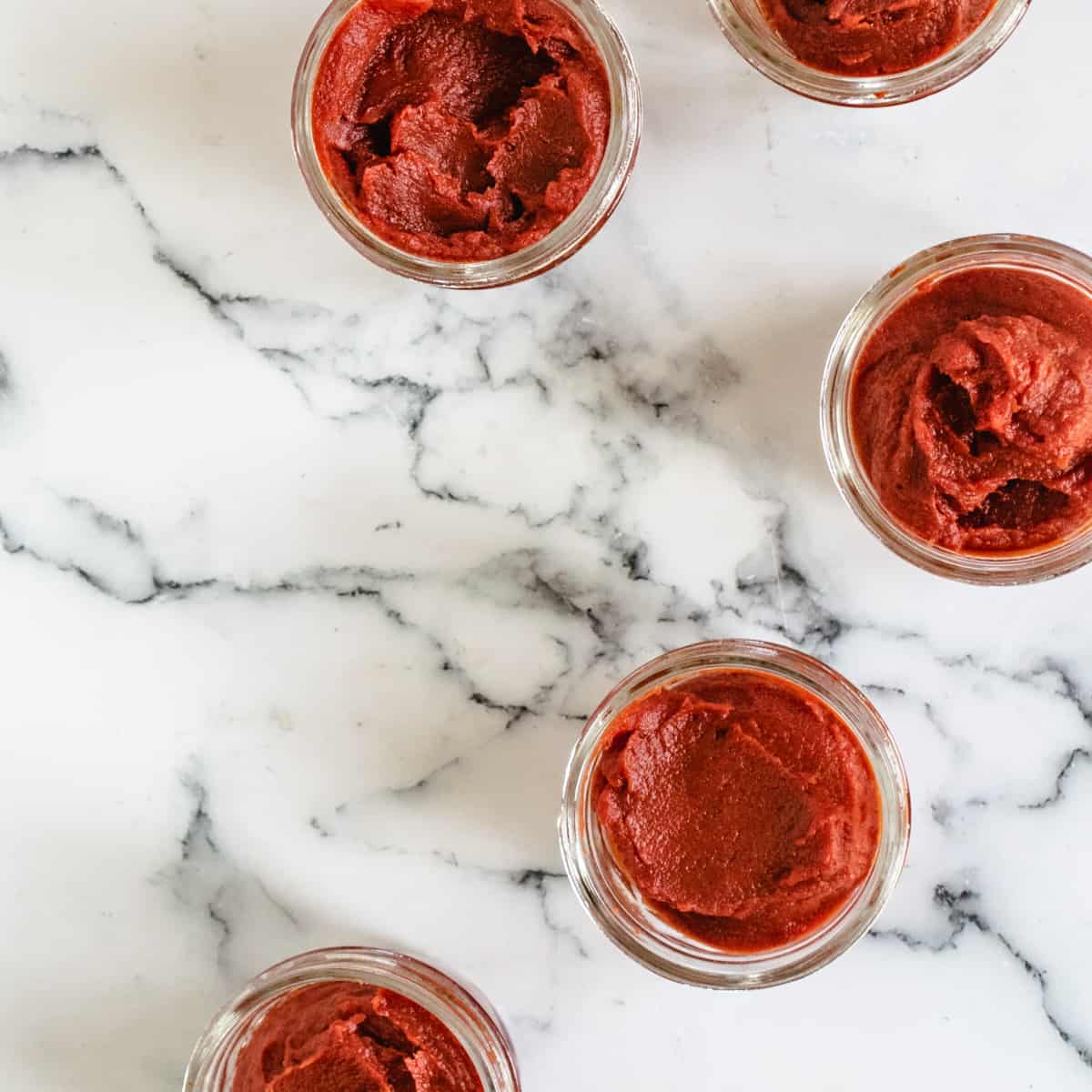 Tomato paste is a must-have pantry ingredient used in more dishes than a person can count. A tiny bit bumps up the flavor of soups, stews, sauces and much more.
Homemade tomato paste tastes better
The flavor is so much better than the typical store bought cans, unless you are paying for high-priced imported tomato paste. This is an added bonus that comes from preserving tomatoes in paste form.
The best way to preserve tomatoes before they go bad
When it comes to fresh tomatoes, whether you grow them or just bought too many at the store, it's always good to have some go-to preserving methods. This way, you don't have to throw the tomatoes out, and you still get fresh tomato flavor later on when you're ready to use them.
The best way to use up all those tomatoes before they go bad (especially if you have a lot) is concentrating them into a paste.
The biggest benefit of making them into a paste, is that the storage methods are efficient and flexible. You can freeze the paste, can it for pantry storage, or store it in jars in the refrigerator. You might consider a combination of these methods depending on the quantity of tomatoes.
How to make it
Can tomato paste be frozen?
Freeze tomato paste is in individual scoops of 2-3 tablespoons each, on a cutting board or in ice trays until solid, then store frozen portions in a zip lock freezer bag for up to 4 months.
I like silicone ice trays, because they release everything without sticking. Here's a guide to the best from The Spruce Eats.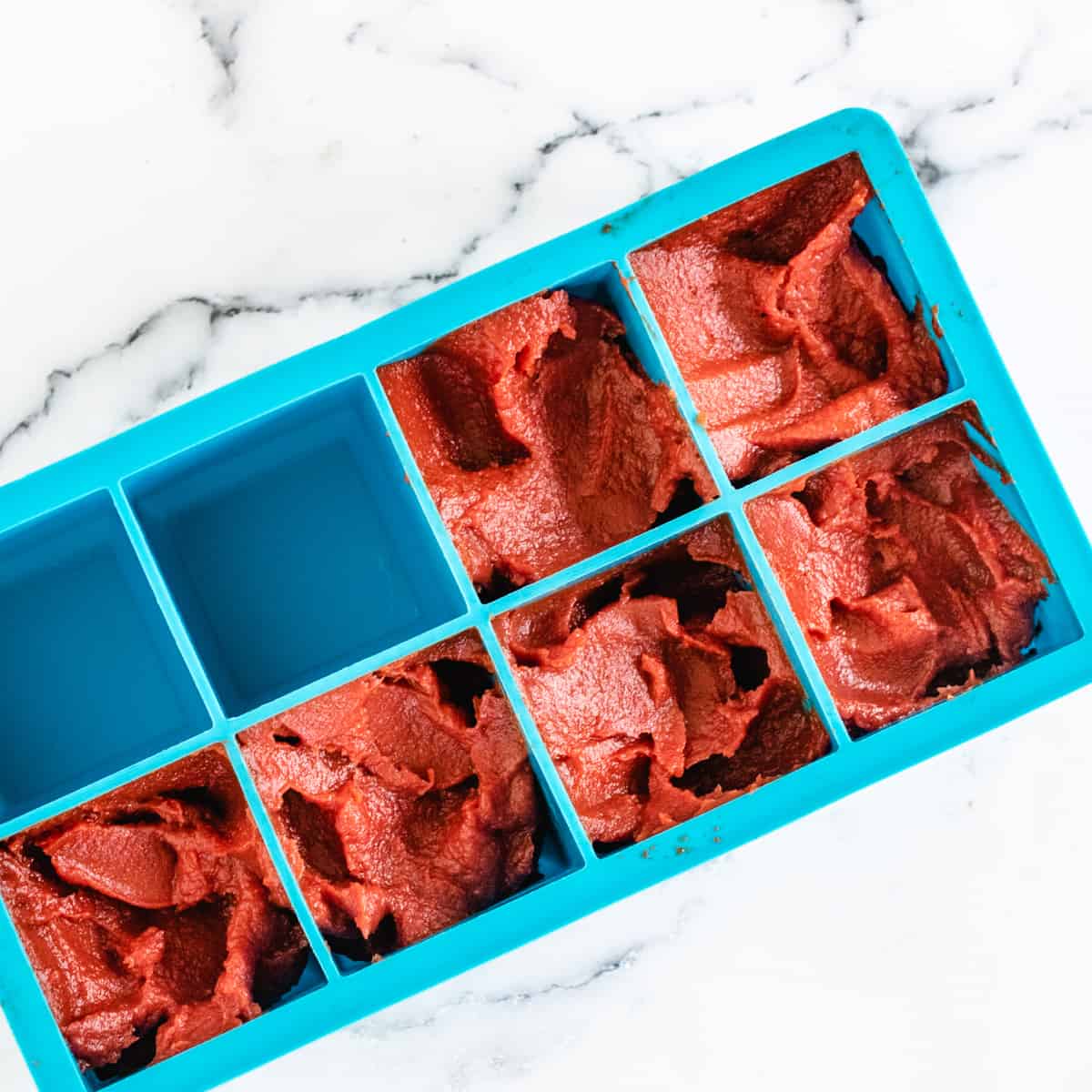 What's tomato paste used for?
Tomato paste adds acidity and depth of flavor to soups and sauces. It also a main ingredient in sloppy Joe's and chili.
Can tomato paste be substituted for tomato puree?
Tomato paste is a thick, concentrated form of tomato pulp, and tomato puree is a simmered, unseasoned puree of tomatoes. Since the paste is more concentrated than puree, add 2 parts water to 1 part paste when substituting for tomato puree.
Will tomato paste thicken sauce?
Tomato paste doesn't work well to thicken soups, stews or sauces that are already prepared and on the thin side. However, using tomato paste instead of watery purees, adds concentrated flavor while helping to prevent the sauce from becoming thin from the beginning.
Recipes with tomato paste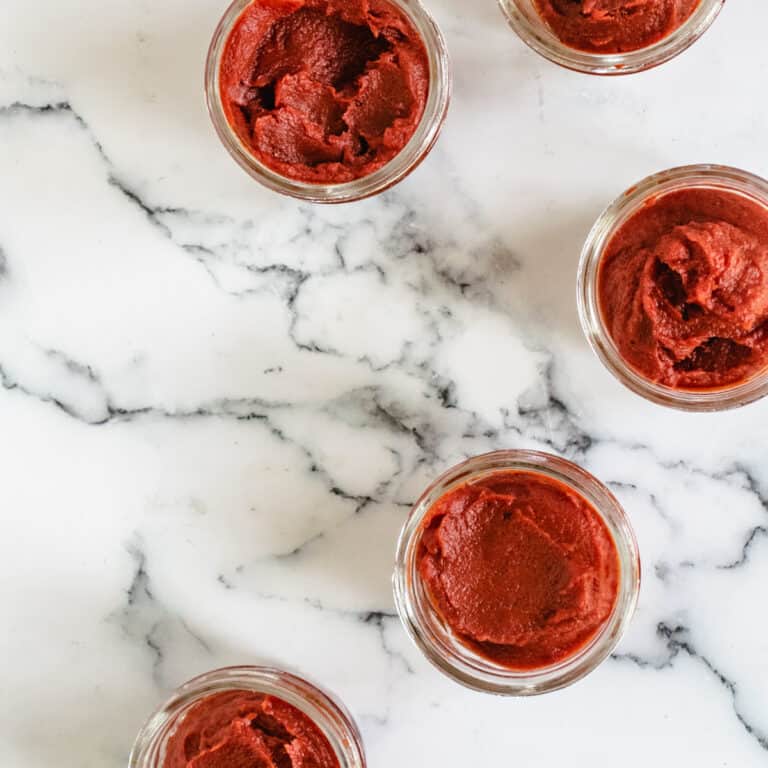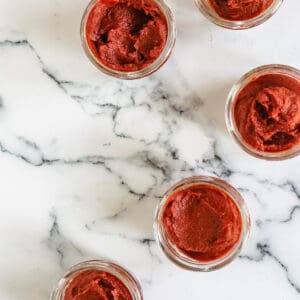 Tomato Paste
Easy, flavorful homemade tomato paste that can be used to add flavor to countless dishes
Print
Pin
Rate
Equipment
Food mill or mesh strainer
Ingredients
5

lbs

tomatoes

Roma

1

tbsp

olive oil

extra virgin
Instructions
Wash and cut tomatoes into quarters. Roma tomatoes won't need to have juicy insides removed, but if using a juicier variety, pull the jelly inside out with fingers. Add tomatoes to a pot.

Heat cut tomatoes on medium low heat until they begin to break down and become soft. Stir occasionally to avoid sticking. Once they release more moisture the heat can be increased to a medium simmer until tomatoes are reduced by half.

Preheat oven to 225 degrees. Lightly rub olive oil over a large, rimmed baking sheet such as a half sheet pan.

Work cooked tomatoes through a food mill or mesh strainer to remove skins and seeds. Pour strained tomato pulp onto oiled baking sheet.

Spread tomato pulp evenly over baking sheet so that there is a uniform thickness less than ¼ inch but thicker than ⅛ inch. (Too thin and it will burn.)

Bake at 225 degrees for 2-3 hours, using a bench scraper or rubber spatula to scrap up and redistribute tomato pulp evenly every 20-30 minutes (closer intervals towards the end of cooking) until thick and darkened in color. You will notice a reduction in size as the moisture evaporates and it becomes a paste.

Cool tomato paste. Divide into 3-6 tablespoon portions by scooping spoonfuls onto a cutting board or spooning into ice cube trays. Freeze solid, then when frozen the portions can be collected into a zip lock freezer bag and stored in the freezer for up to 5 months.
Notes
Roma or plum tomatoes work best as they have the least amount of moisture to evaporate, although any variety will work.
Check tomato paste during cooking time and scrape up/redistribute often to avoid burning. 
Do not spread paste too thin, as this will increase the risk of burning it. 
 
Nutrition
Serving:
1
tbsp
|
Calories:
21
kcal
|
Carbohydrates:
4
g
|
Protein:
1
g
|
Fat:
1
g
|
Saturated Fat:
1
g
|
Sodium:
5
mg
|
Potassium:
215
mg
|
Fiber:
1
g
|
Sugar:
2
g
|
Vitamin A:
756
IU
|
Vitamin C:
12
mg
|
Calcium:
9
mg
|
Iron:
1
mg